The term mature has a lot of connotations behind it. We want to be super clear on what we mean when we use this term, so there is no confusion whatsoever. When we talk about mature dating apps or mature singles dating sites, we are referring to online dating for people who want to pursue long-term relationships and commitment. And more specifically, we are addressing singles who are older in their years, like senior citizens as well as older business professionals who can range anywhere in age from their mid-30s and up.
If this sounds like you, you should definitely check out our five best mature dating apps for 2023! You are bound to find singles who are in your general age range, conduct themselves in a mature and professional manner, and who want what you want: a serious and committed relationship with no games!
Top 5 Dating Apps for Older People​
These are the top five mature dating apps that you need to check out if you are in search of singles over 50. We highly recommend these sites to anyone looking for a serious, committed relationship, looking for singles who are business professionals, or anyone who is tired of spinning their wheels just going on casual dates. Try one out today and begin meeting older singles in no time at all!
#1: eHarmony​
Fast Facts
Year Started: 2000
Most Popular Country: United States (92.1% of users)
Gender Ratio: 51% men and 49% women
Active Members: 16 million
Monthly Users: 4 million
Paid Subscription: eHarmony cost starts at $35.90 a month
Match System: Compatibility Matching System and Personality Quiz
Best For: Serious relationships and serious dates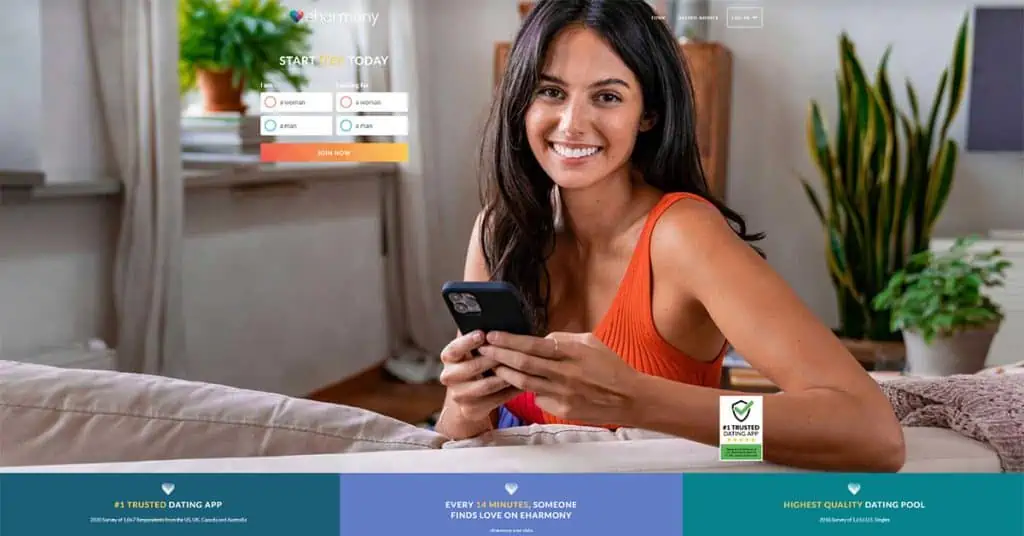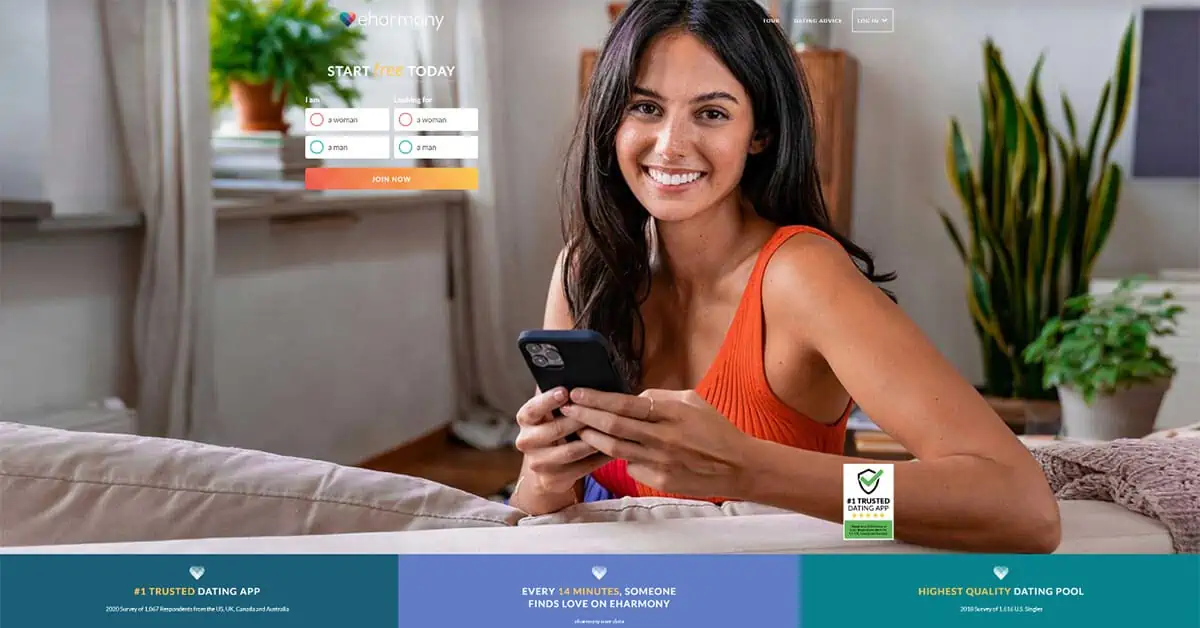 eHarmony is the perfect mature dating app for those in search of older singles or professional singles. eHarmony prides itself on setting up compatible matches that result in marriages and serious, committed relationships. They have been doing it for over 20 years now! Many of their customers tend to be older in age and are intent on seeking deep connections with other like-minded singles, so this is the perfect place to be if you want to meet mature matches.
Whether you're a professional single who is in their 40s and seeking someone special who is professional, mature, and looking for a committed relationship or a senior whose spouse has long since passed and you want to find true love again, eHarmony is the best mature dating app to be using in 2023! It also doesn't hurt that eHarmony has 16 million active members. There are plenty of mature singles out there! One of them could be your special someone!
---
#2: Christian Mingle
Fast Facts
Year Started: 2001
Most Popular Country: United States (88.3% of users)
Gender Ratio: 44% men and 56% women
Active Members: 15 million
Monthly Users: 3.5 million
Paid Subscription: Christian Mingle cost starts at $14.99 a month
Match System: Personality and compatibility testing
Best For: Serious relationships that are God-centered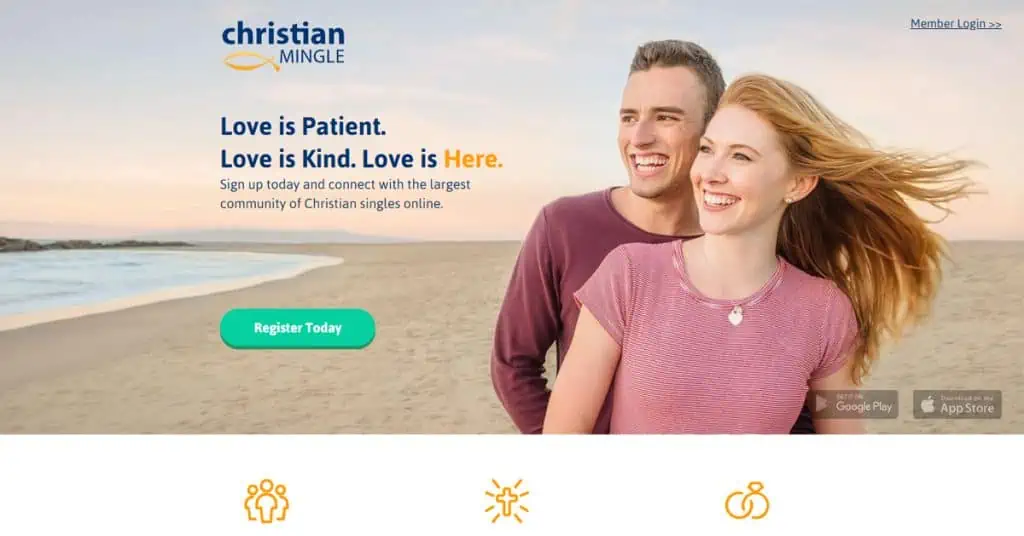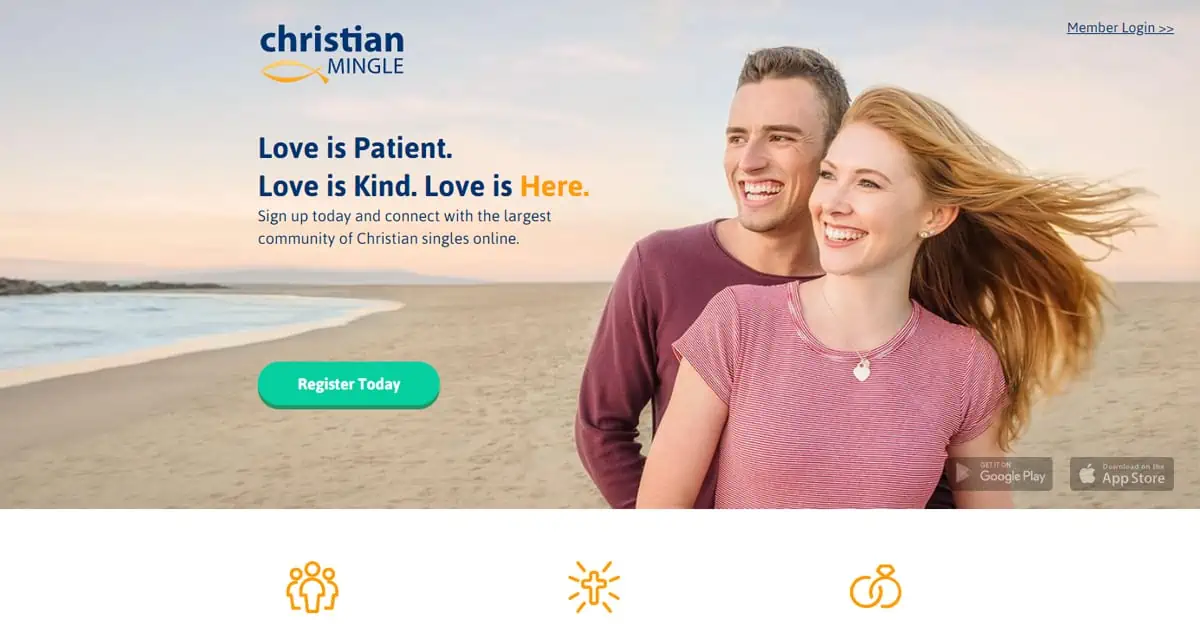 Christian Mingle is an online dating app where a majority of its users are looking for serious relationships and long-term commitments. This makes it a good fit for mature singles and a top contender for being one of the best mature dating apps out on the market. Specifically, Christian Mingle caters to those looking for relationships that are God-centered, so it might not be the most ideal fit for all older singles out there. Nonetheless, it is a great place to find singles who are not interested in casually dating and thinking more about serious relationships.
We feel that Christian Mingle, more so than the niche mature dating apps, has a real advantage because they have so many active members. The current number sits at 15 million. This means that your candidate pool could be enormous! Paid members can enjoy unlimited messaging and find out who has been browsing their profiles. There is also a cool feature that allows users to go stealth and browse other user profiles incognito!
---
#3: OurTime​
Fast Facts
Year Started: 2011
Most Popular Country: United States (90.83% of users)
Gender Ratio: 58% men and 42% women
Active Members: 1,500,000
Monthly Users: 8.9 million
Paid Subscription: Ourtime cost starts at $15.96 a month
Match System: In-depth personality testing
Best For: Older singles looking for serious relationships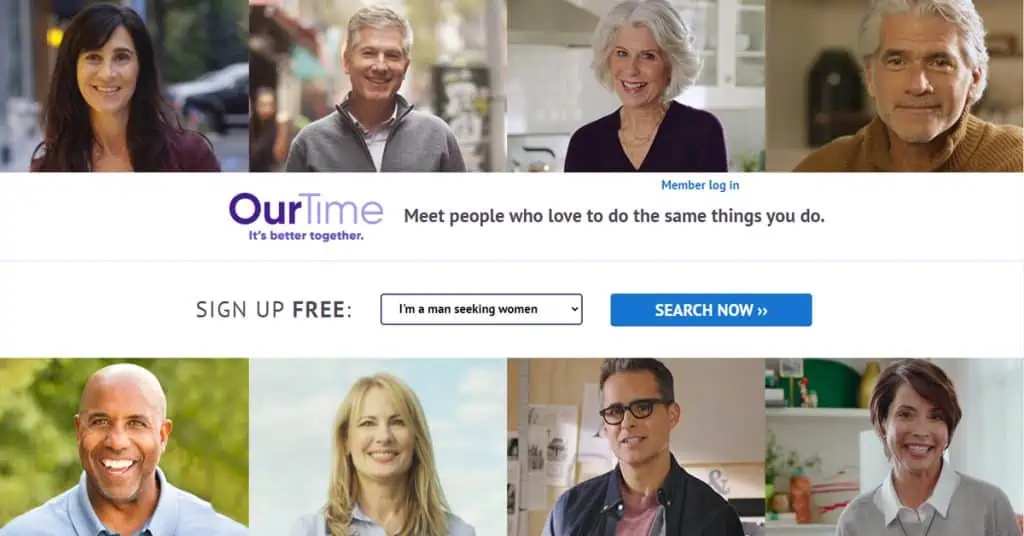 OurTime is a niche mature dating app that typically caters to singles over 50. This site tends to be a smaller volume market, yet OurTime has a fairly large user base: 1.5 million regular users! In addition, they have 8.9 million visitors each month to their site! Typically, niche dating apps don't have the membership numbers, resources, and reach of other generic dating apps like eHarmony or Christian Mingle to prove all that effective at finding users a wide set of quality singles. But OurTime breaks that stereotype and is definitely one of the best dating apps for older people to be using this year!
In addition to its large number of users, OurTime has a ton of great features that mature singles will love using. You can send virtual gifts to your matches as well as use the visibility boost to make sure your profile ranks in your matches' top results! You can also be notified instantly when someone has read a message you sent and customize your profile's background in order to stand out among the crowd of other older singles using the site.
---
#4: SilverSingles​
Fast Facts
Year Started: 2002
Most Popular Country: United States (98.78% of users)
Gender Ratio: 53% men and 47% women
Active Members: 100,000
Monthly Users: 800,000
Paid Subscription: SilverSingles cost starts at $24.95 a month
Match System: Search filters deliver results by location, age, appearance, education, income level, beliefs, etc.
Best For: Older singles looking for serious relationships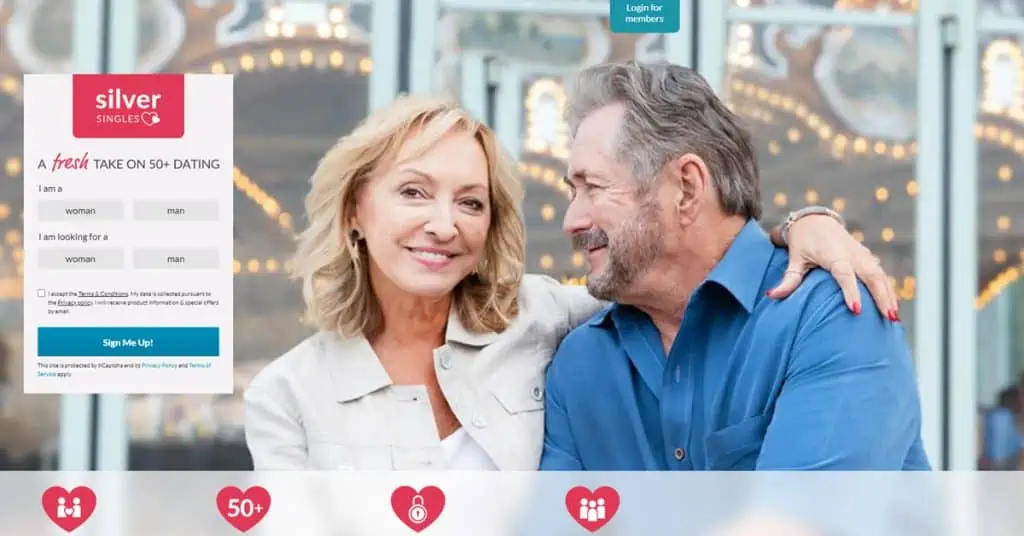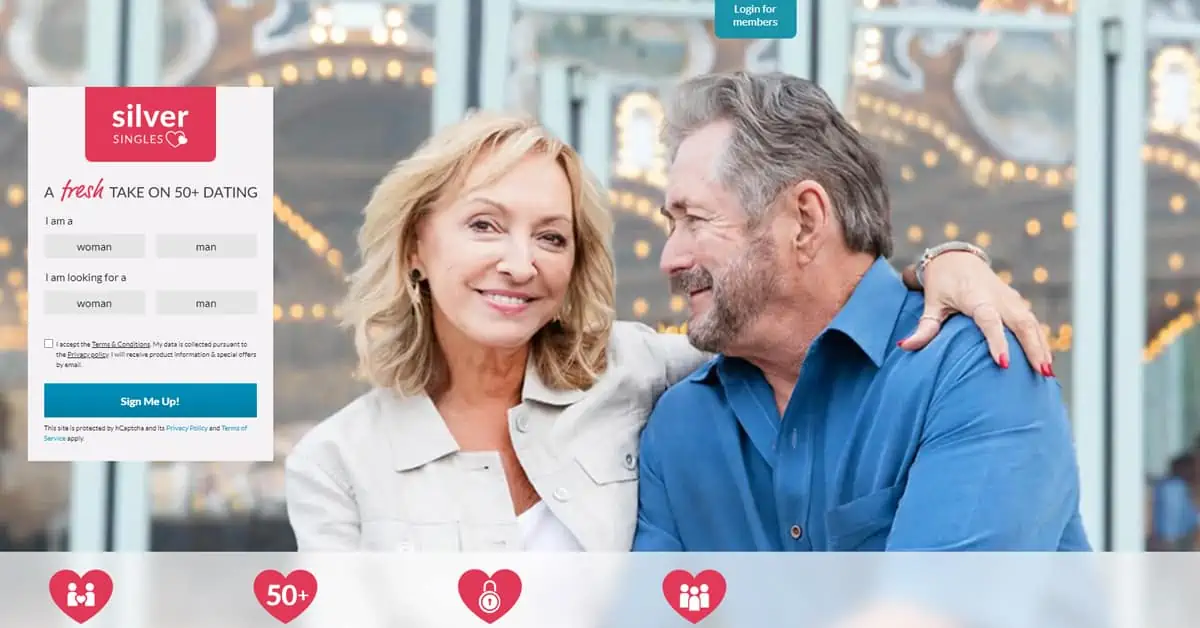 Similar to the OurTime dating app, Silver Singles specializes in matchmaking with singles who are over 50. This site caters to similar clientele, but they also take a page from eHarmony's book and conduct in-depth personality testing where they use psychological matching to produce compatible relationships, long-term commitments, or marriages that last. Silver Singles is the perfect mature dating app for older singles who are divorced or widowed and want to find true love again with someone special.
Silver Singles is the second niche mature dating app to appear on our list, and there is a reason for this. While you are guaranteed to find singles over the age of 50 years old here, you will not find as many matches as you could at a site like eHarmony or Christian Mingle which have millions of users. Silver Singles is much smaller than fellow niche dating app OurTime. They only have 100,000 active users. Still, older singles with a premium membership can enjoy unlimited communication, 20 extra matches per day, and a host of other features when they join Silver Singles!
---
#5: Elite Singles​
Fast Facts
Year Started: 2013
Most Popular Country: United States (98.78% of users)
Gender Ratio: 43% men and 57% women
Active Members: 13 million
Monthly Users: 2 million
Paid Subscription: Elite Singles cost starts at $31.95 a month
Match System: In-depth personality testing
Best For: Serious relationships with other successful, professional singles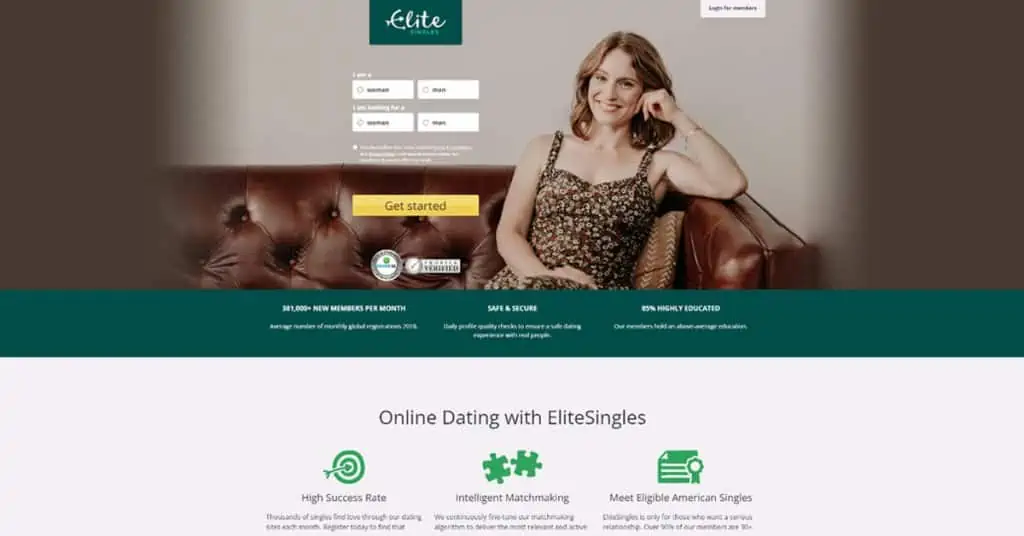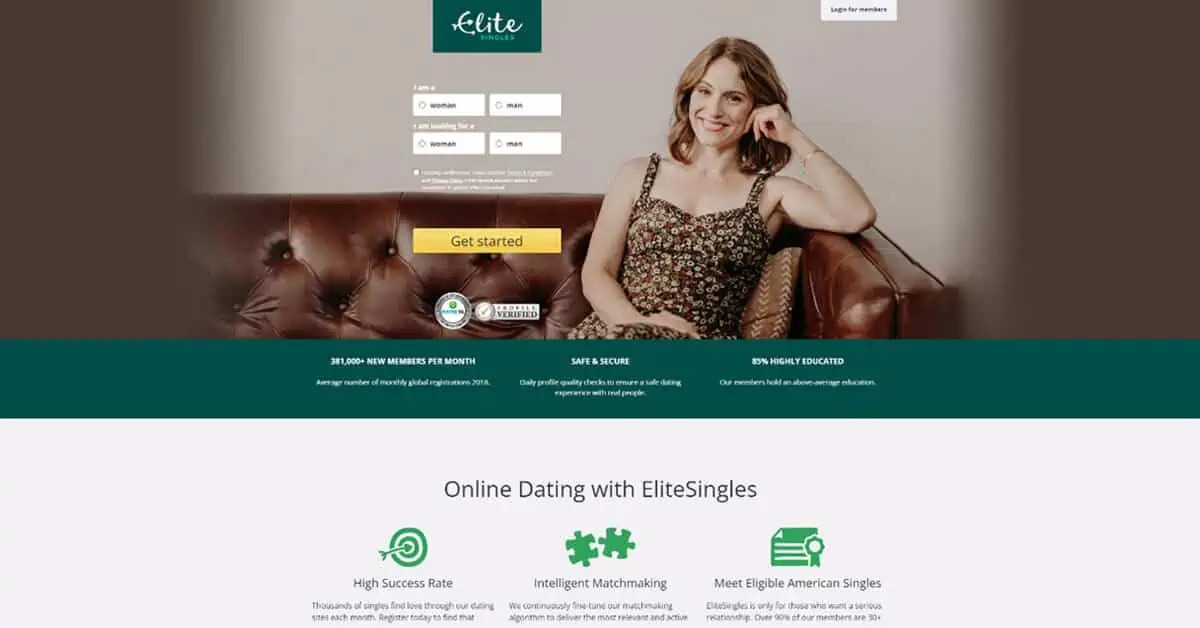 As mentioned earlier, the idea of mature singles also includes those who are in the professional realm. And that is exactly why we decided to include Elite Singles on our list as well. There are plenty of professionals out there who are looking for serious relationships, and they could be as young as their mid-30s or all the way up in age to their 70s or 80s! No matter what your age, you can go to Elite Singles and find matches who are professional, successful people that desire serious relationships and commitments.
This mature dating app has become so popular amongst professional singles that there is a waiting list to become a member. They currently add 300,000 every month! Once you have joined, there are a ton of great features to enjoy. This includes getting three to seven quality match suggestions any given day you use the app. You will only be matched to premium members, and you can enjoy unlimited messaging with other professional, mature singles!
---
Why Are These the Best Dating Apps for Older People?​
There are several factors we took into consideration as we put together this list of the best mature dating sites for 2023. We pride ourselves on delivering only the best dating apps for the situation at hand. If you are older or a professional and you are looking for a serious relationship, you can know you have found the best of the best!
Here are the factors we looked at in our search:
Our Dating Apps are Reliable and Trusted​
Each mature dating app has years of experience in the online dating market and offers top-rated services to its customers. They have had the time and history to make their fair share of mistakes and adjust accordingly to their customers' needs. More importantly, they have had the time to build a good and trustworthy reputation for themselves!
eHarmony: Founded in 2000
Christian Mingle: Founded in 2011
OurTime: Founded in 2011
Silver Singles: Founded in 2002
Elite Singles: Founded in 2013
Additionally, each of these dating apps uses SSL encryption to safeguard all personal and financial information that their users share with the site.
Our Dating Apps Allow You to Find Mature Singles Quickly​
Once you begin using these apps, you will find that access through your mobile device is really going to cut down on the time it used to take to meet new people. Just by hopping onto your smartphone or tablet, there is the potential to meet scores of qualified candidates in a matter of minutes! And you can access these dating apps any time of the day or night!
Our Dating Apps Use Detailed Compatibility and Personality Tests​
Each dating app for finding mature singles uses some form of advanced compatibility or personality testing in order to generate quality results. A site like eHarmony is going to have compatibility testing that delves into psychological principles. Sites like OurTime and Elite Singles contain top-rate search filters that form matches based on factors like appearance, age, level of income, beliefs, interests, and many more.
Our Dating Apps Have a Large Volume of Users​
There are millions of members at each of the mature dating apps we recommend. This allows users to widen their pool of potential candidates and increase their chances of finding the perfect mature single. In the case of Silver Singles, they do have a lower number of active members, but they are a niche mature dating app, so we will make an exception there!
eHarmony: 16 million active members
Christian Mingle: 15 million active members
OurTime: 1.5 million active members
Silver Singles: 100,000 active members
Elite Singles: 13 million active members
Our Dating Apps Come with Free Trials​
You can try out each of our dating apps for free to see how well you like them before putting any of your money on the line. Although they offer limited features and capabilities compared to a paid membership, it still does give the user a good taste of what to expect.
How Can I Meet Mature Singles?​
What are some of the best ways that I can meet mature singles in my day-to-day life? Although it might not be worded exactly this way for everyone, this is a question that many people ask themselves when they are in search of a serious relationship with someone who is mature and like-minded. Life can get busy for professionals, and older singles can have a hard time getting back into the dating scene. Check out 5 of the best ways to network and meet new people any time of the year!
Spend Time Away From Home
If you are at home all the time, chances are that you are not going to meet any new people! Get out of the house and hang out in places where there is a chance of running across people you might not know. It's simple. Eat out at a restaurant with a friend. Go to a coffee shop. Go swimming at a public pool. Hang out in the park on a nice day. Head out on an errand to the supermarket even! Getting out of the house is going to increase your visibility and get you meeting and seeing all sorts of people. This is going to up your chances of meeting mature singles!
Attend Activities and Events
Even more so than simply hanging out around town and out in public in general, community activities or events can allow you to meet mature singles that might share a common interest. You might be able to meet someone at a local concert or music festival that shares the same taste in music.
A lot of communities hold beer and wine festivals once a year. You could meet and bond with someone over a refreshing brew or a bottle of red. Perhaps your community is holding a marathon. If you are into running, you could attend and possibly meet another mature single who is into the same activity.
Community Service and Volunteering
You can meet all sorts of people when you give back to your community and spend your time serving or volunteering. This includes mature singles! Many professional types enjoy using their money and status as a way to help others, and there are a lot of older singles who may be retired and have time to help somewhere on a weekly basis as a way to keep themselves busy. Whenever you might find yourself in life, you can count on community service and volunteer work as a good way to meet new people and, hopefully, someone who is a mature single looking for a serious relationship!
Network With Friends and Family
It never hurts to ask your friends and family if they know anyone who might be interested in getting together. Beyond your personal network are your friends' and family's individual networks and these can be excellent resources for expanding your search and allowing you to meet others that you might otherwise never run into in your day-to-day. And a recommendation or an in from a family member, relative, or friend can go a long way! They can do some legwork to help you get a date or meetup time set up!
Use Our Best Mature Dating Apps
Use the dating apps for older people and professionals that we recommend in this review! They are easy to set up and use. They can be used on iOS and Android devices. They will allow you to meet a wide range of quality, mature singles all from the comfort and convenience of your smartphone, tablet, or desktop PC!
In fact, sign up for a free trial membership today and get started.
The Best Mature Dating Tips​
Check out these tips and best practices for using senior dating apps:
Do good research on each dating app before you end up using it. Read professional and user reviews to get more information.
Look out for fake profiles or spam accounts on the dating app. And report suspicious activity to the site.
Create an online profile that really stands out in the sea of other user profiles. Include good photos, and lots of information about yourself, and use a lot of positive language when describing yourself and what you are looking for.
Be wary of anyone asking you for money or trying to communicate with you outside of the dating app.
Be honest about who you are and your intentions for starting a relationship. If you conceal something about yourself or blatantly lie to your match, you might have some major explaining to do later. and that is not going to help you out in the trust department either.
Mature Dating App FAQ
Mature dating apps can be the perfect option for many people over 50 looking for a new relationship but for others it might not be. We realize that there are many questions that can come up during the decision making process. For this reason we have put together a list of the most frequently asked questions that we receive and have answered them in detail below.
What Is the Best Site for Finding Mature Singles?
We highly recommend eHarmony or Christian Mingle if you are playing the numbers game. these are, by far, the biggest dating apps based on the number of users. You will mathematically have the best chances of successfully finding someone who is compatible with you!
If you want to use a site where you know you will find someone who is over 50 and ready for a serious relationship, check out OurTime or Silver Singles. And Elite Singles is the best, hands down, for finding professional singles over 30!
Are These Mature Dating Apps Safe and Secure To Use?
Yes, each of these sites has been in the online dating market for years and is well-loved by many users across the world. You can read reviews online and find a lot more positive feedback compared to negative experiences or stories. Each uses SSL-encrypted connections to keep all customer information safe and secured, be it personal or financial. These sites are effective at matching singles up for long-term success and keeping them while doing it!
Should I Use Ourtime or Silver Singles for Finding Older Singles?
We would personally recommend OurTime. They have a far larger user base, and that will allow you to cast a wider net! Or here is a crazy idea. Try using both sites and see what happens. That should really wider the search even more and increase your chances of finding the right person!
Why Does Elite Singles Have a Waiting List?
There is a large demand to get into this site, with many professional singles desiring to find serious relationships with other like-minded singles who are successful in their career and in their personal lives. The result is that only 300,000 members are added each month. It is the most difficult mature dating app to join, to be sure, but it could be well worth the wait.
Can I Meet Professional Singles Over 50 Using Elite Singles?
Absolutely. We would say that the majority of users at that site are between ages 30 and 50, but there is skewing on either side of that range. There are 20-somethings that use the site, as well as singles who are older than 50!
Will I Run Into Fake Profiles on These Dating Apps?
There is a good chance that you might. Although there are vetting systems in place, there are not perfect and fake profiles can make their way onto these sites. If you ever find one or see any suspicious activity, report it to the site.
Is the Free Trial Worth It?
We feel like it is! Sure, you did not have all the communication features you could have with the paid membership. And your ability to view other profiles is going to be limited. But using the free trial lets you try out each dating app before paying for the service.
Are There Free Dating Apps for Older People?
Yes, they are known as free trial memberships, and they are available at each of the mature dating apps featured here in our review! Head over to the top of the page and start a free trial today that will help you find love again in your old age or a serious relationship with another professional!