Are you a highly educated, career-oriented single looking to meet an equally successful partner? If so, this is your lucky day — that's precisely the dating pool in which Elite Singles claims to specialize.
As a member of the Sparks Network, the dating app promises an "elite" experience "designed for educated and successful single professionals seeking a committed, long-term relationship with someone who fits their high demands."
---
---
But does the "elite" dating app live up to its name and mission statement? That's what this Elite Singles review is all about finding out.
We'll rate and review the dating app, give step-by-step instructions on the sign-up process, and lay out the available membership plans and their costs. Of course, our assessment isn't the only one you'll have to go by; further down the page, we include a compilation of Elite Singles reviews written by a mix of current and former members. Why settle for one opinion when you can compare an entire array of feedback?!

Our team has independently researched all products and services that we have listed on this page. If you sign up or purchase through our links, we may receive a commission. See how it works.
Introduction to Elite Singles
We'll begin our Elite Singles review with an overview of the company's history and successes, followed by their approach to online dating for professionals and our system for rating them as an online dating app!
A Brief Overview of Elite Singles' History and Success
For the most part, Elite Singles lives up to its billing as the flagship dating app of Spark Networks — whose ownership includes Christian Mingle, Zoosk, Jdate, and Silver Singles. The service does an excellent job of providing members with high-quality, compatible matches, and the price tag helps to maintain a slightly more affluent user base.
Elite Singles in 2023
Over 85% of Elite Singles members hold an above-average level of education.
Elite Singles has admitted 381,000 new members each month since 2018.
The platform is available for use in over 20 countries.
Elite Singles introduces 2,000 new couples each month.
The largest markets include the US, the UK, Australia, New Zealand, Canada, Ireland, and South Africa.
Elite Singles' Unique Approach to Online Dating
The basis for matchmaking at Elite Singles is based on its comprehensive personality and compatibility testing: the Five Factor Model Theory of Personality Traits by McCrae and Costa. This testing takes the better part of 20 minutes during the initial sign-up process, so it's an essential factor in the matchmaking methodology here.
Elite Singles Matchmaking in a Nutshell
New members take the Five Factor testing.
Elite Singles uses the test results to inform daily matches.
Members get 3-7 matches each day.
"Have You Met?" are daily wildcard matches and come in swipe-style format.
There's no search function. Members can only interact with their daily match suggestions.
Is Signing Up for Elite Singles Worth It?
Elite Singles is worth it if you're looking for serious relationships with other professional singles. These are people who hold above-average education or work in high-paying career fields (or both). Elite Singles won't be worth it for every single person. Still, if you're successful in your professional or personal life and consider yourself highly educated, it's worth it to join as a premium member!
Good Reasons to Join Elite Singles
You hold a degree beyond a simple high school education.
You're interested in serious relationships with other professionals or well-read singles.
You're looking for someone who works in high-paying career fields like law, medicine, education, or business.
Start an Elite Singles Free Trial Today!
Our Ratings
Elite Singles is an above-average dating app that does a lot of things very well. At the same time, the company could do more to live up to its brilliant branding as a dating service for established, well-educated singles.
Overall:

| Category | Score |
| --- | --- |
| Features | 3.5 |
| Ease of Use | 4.7 |
| Match Quality | 2.5 |
| Cost | 4.3 |
| Active User Base | 2.2 |
| Overall | 3.4 |
The dating service claims that 85% of its members have above-average educations. However, there are few safeguards in place to ensure that users have the educational backgrounds or career success they claim. It appears that Elite Singles is relying on its higher-than-average premium subscription cost to maintain its "elite" member base and weed out less established customers.
What We Like
While conducting our Elite Singles review, we found the profile setup process extremely easy to complete, and the results from the personality test were surprisingly robust and rewarding, considering the modest length of the quiz. They do an excellent job of producing personality profiles for their members that provide a wealth of knowledge about themselves and their matches.
Available via website and dating app.
Thoughtful, scientifically sound questionnaire.
In-depth personality test results.
Detailed match profiles.
Available to straight, gay, and lesbian singles.
New matches daily.
One thing we were impressed with was the ability to like or comment on matches' profile sections and individual photos. It's a standard feature on social media platforms but less common on dating apps. We appreciate the flexibility it gives members to introduce themselves; commenting on a specific picture or "About Me" section feels more natural than opening a conversation with a personalized message.
What We Don't Like
However, once you get beyond the detailed profiles, Elite Singles needs more features. For the price, we'd like to see video chat capabilities implemented – as video chat is one of the most effective tools for verifying a person is who they say they are.
A limited number of features.
No video chat function.
No enforcement of "elite" education or salary standards.
Too many scam profiles.
Higher than average premium membership pricing.
Even though our Elite Singles review left us wanting more features and additional steps taken to ensure its "elite" member status, we recommend giving this dating app a try.
Who Is Elite Singles Best For?
Elite Singles markets itself as a dating app for high-value singles looking for long-term relationships with other established and educated individuals. So, if you're a career-oriented person with a degree in need of some companionship, Elite Singles might be the perfect dating app for you! Gay, straight, and lesbian users are welcome.
Demographics and User Base
Check out more of the specifics on Elite Singles and its base of members:
Fast Facts
Details

User Base

All singles (18 or older)  

What Kind of  Relationships?

Meaningful relationships with professionals (85% of members hold an above-average education)

Average Age

30-55 years

Total Profiles Registered

2+ million

Active Members

1.7 million

Gender Distribution

44% men to 56% women 

 
Relationship Types Best Served by Elite Singles
Elite Singles is a dating app that caters to singles looking for serious, meaningful relationships with other professionals. You're not going to find casual dating or hookups on this site. There's a significant compatibility factor present at Elite Singles, and there's no better evidence for this than the Five Factor Model Theory of Personality Traits testing!
The Elite Singles Compatibility Matching System
All good dating apps have their unique approach to creating quality matches between the singles using their service. As a part of the Sparks Network of dating sites, Elite Singles falls in line with many of its sister sites in terms of matching singles, but they also bring their unique touch to the proceedings.
How the Compatibility Matching System Works
The root of the matchmaking methodology here is the Five Factor Model Theory of Personality Traits by McCrae and Costa. The site uses each member's unique answers (along with their dating preferences and criteria) to inform the first round of daily matches. Members get 3-7 quality matches per day along with some wildcard connections (Have You Met?").
Because Elite Singles' methodology is rooted in compatibility and personality testing, they take the reins when it comes to matching. Elite Singles then hones its match suggestions based on which profiles members are most interested in or interact with the most. There's no search function for performing your searches. It's all determined by Elite Singles, which results in a guided search (and communications) based on compatibility principles.
The Role of Personality Assessments in Matchmaking
McCrae and Costa's Five Factor Model testing is the bedrock upon which the entire matchmaking process is built at Elite Singles, much like many of the other Spark Network dating apps. It's a twenty-minute (or more) part of the sign-up process and covers a wide range of compatibility aspects like education, lifestyle choices, occupation, values, and interests.
Elite Singles' Communication Features
The most important thing to know about communicating with other members on the Elite Singles dating app is that it's viable only if you're a premium member. Free trial users are severely limited in how they can interact with other singles, so much so that there's no alternative but to upgrade the free trial to a membership plan.
Guided Communication
What we mean by "guided communication" is that there's no search function available at Elite Singles. The site provides daily matches, and members are limited to communicating their match suggestions. These communications include sending messages and leaving comments on other members' profiles and photos.
Secure Messaging
All messaging systems are completely safe and secure via an SSL-encrypted connection. Anything discussed on the platform between members is kept entirely private and confidential. There have been no instances in Elite Singles' past where they misused or mishandled private information or conversations to sell off to third parties for marketing purposes. 
Elite Singles' Membership Options
To review the Elite Singles dating app, we went through the same process required of all new members. We registered an account, set our preferences, and completed the personality test.
First, we tried out the free basic membership. Then we upgraded to premium and used the service to the fullest, browsing through our matches and reaching out via the available communication methods when we saw profiles we liked. By the end of our Elite Singles review, we'd gotten the entire customer experience!
Free vs. Paid Memberships
Elite Singles offers a free trial of its service in the form of a basic membership plan. This trial gives new users an introduction to their service and allows them to get a feel for the community in which they'd be joining. The basic membership comes with the following capabilities:
Science-backed personality profile
Match suggestions
Upload photos
Receive messages
Free users cannot see their matches' photos – the pictures are heavily blurred. However, you can see their name, "matching score," and location. You can also visit their profile page, which includes an "About Me" section, an overview of their personality test results, and information about their profession, physical attributes, hobbies, and interests.
Premium Membership Benefits and Pricing
The cost of an Elite Singles Premium membership depends on the duration of the package you choose and the promotions or offers that may be available at the time of purchase. For example, the Premium Classic plan – the most popular plan amongst members – is often discounted by 21%, lowering the monthly rate to $21.95.
As a Premium member, you'll receive everything included in the basic plan as well as the following added benefits:
Access to detailed explanations of personality test results.
Your profile is suggested to other members more frequently.
The ability to see which members visit your profile.
Unlimited sending and receiving of messages.
Ability to view all your matches' photos.
Leave comments on matches' profiles and pictures.
The "Have You Met?" feature matches you with up to 20 additional profiles daily.
Access your premium features on the Elite Singles apps on iOS and Android.
Discounts and Promotions
Premium packages come in durations of 1, 3, and 6 months. The longer your membership contract, the less you pay per month. All subscriptions must be paid in full at the time of purchase. Elite Singles does not offer monthly installment payment plans.
Creating Your Elite Singles Profile
We created a brand-new profile and tested the service as part of our Elite Singles review. Overall, it was a straightforward and pain-free process.
Upon landing on the EliteSingles.com homepage, you're greeted with a registration box that asks for your gender and the gender you're looking to meet. From there, you're swiftly guided from one step to another, and before you know it, there's a full selection of matches staring you in the face.
The longest step of the creation process is the personality test. Fortunately, the questions were interesting and entertaining, so the time flew by. Let's walk you through the entire sign-up process from start to finish so you know what to expect.
1. Download the Elite Singles App (Optional)
You can create your account through the Elite Singles dating app if you prefer using an Apple or Android device. It is available for download free of charge from the Apple App Store or Google Play.
Once it's downloaded, you can register directly through the Elite Singles app by providing your email address and password and completing the personality test – just as you would on the website.
One of the advantages of using the Elite Singles dating app is that you'll receive push notifications directly to your device whenever someone visits your profile, shows interest, or sends you a message. You can also use it to contact their Customer Care team.
The Elite Singles app also makes it easy to make in-app purchases, including buying a subscription. Your premium membership will then be managed through the Apple App Store or your Google Play account, making the upgrade process much quicker since your payment method is already linked.
---
2. Register Your Profile
If you choose to sign up on the Elite Singles website, you'll be greeted with the registration form on the homepage. It asks for your gender, the gender of the partner you're looking for, your email address, and a password.
Next, you're asked to read the Terms and Conditions and Privacy Policy and check off a box acknowledging they've been read.
After you check the box, you can select the "Get Started" button to enter your basic info and preferences and begin the personality test. Elite Singles asks that you provide your first name when prompted to enter a username.
---
3. Set Your Preferences
Before you answer the personality test questions, you're asked for your first name and match preferences. Most of the questions ask for specific preferences regarding potential partners, then ask how important it is that your matches fit your answer.
They ask for the following partner preferences:
Age Range
Height Range
Distance You're Willing to Travel
Desire to Have Children
Willingness to Date a Partner with Children
Education
Income
Smoking and Drinking Habits
Ethnicity
Religion
---
4. Take the Personality Test
Now that you've entered your basic information and partner preferences, you'll be taken to the Elite Singles personality test. The test takes approximately 25 minutes to finish.
The test was created in cooperation with psychologists and relationship experts and is based on the Five Factor Model theory of personality traits developed by McCrae and Costa. It's divided into sections that focus on your personality traits, attitudes toward relationships, and communication skills.
You should answer each question as honestly and intuitively as possible. Some are quite abstract, such as asking you which picture out of a selection of 2-4 shapes or patterns you appreciate more.
Once you've completed the test, your results are analyzed and compared to other members, and your profile is activated. The most compatible matches are then presented on your home profile page.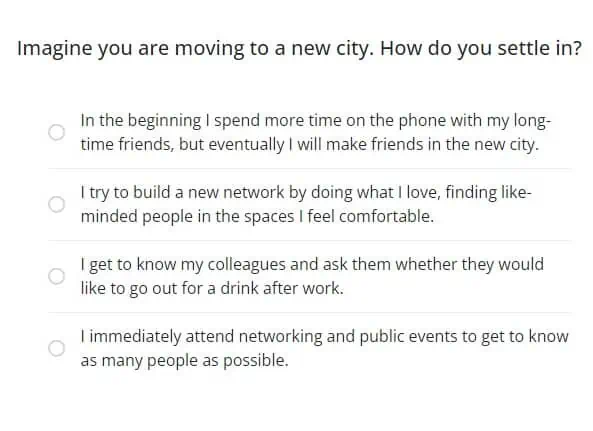 If you don't have time to complete the test in one sitting, you may exit the website and resume it later. Just click "save progress" and log out. The next time you log back in, you will return to the question you left. However, if the test is not completed within 15 weeks, your progress will be deleted, and you'll need to start over from the beginning.
---
5. Review Test Results
After you've completed the personality test, you may review the results on your home page. Click on the Personality tab on your profile to open a visual summary of your scores for each trait, along with a brief description. Select the corresponding icon to see a detailed breakdown of what each trait means.
If you strongly disagree with the personality test results, you can always contact Elite Singles' Customer Care team and inform them that you don't agree with the outcome. If your personality has been misrepresented, they'll reset the test and let you retake it.
However, Elite Singles recommends that you wait to see your first matches before reacting to your personality profile. They say that your matches may exceed expectations regardless of your belief in the results, in which case retaking the test is unnecessary.
---
6. Check Out Your Matches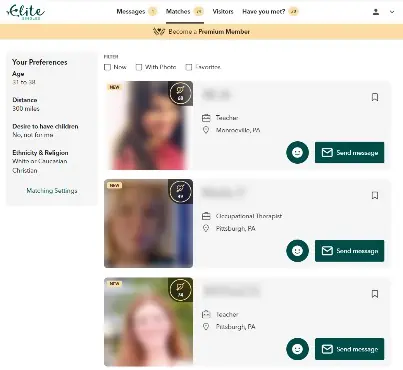 Once you've completed the personality test, Elite Singles matches you with compatible members. Your matches are based on a combination of your test results and the preferences you selected.
"Convinced that the best relationships are between people who are not 100% identical but enjoy a mixture of common denominators and complementary characteristics." Elite Singles website
You are not able to search for other members. You can only see the profiles they've recommended for you as matches. The spokespeople behind Elite Singles claim that their reasoning for limiting the number of members you can view is that they "prefer quality to quantity."
The dating app also filters out inactive members from your match results automatically. You should get a response from whichever match you choose to contact.
---
6. Upload Photos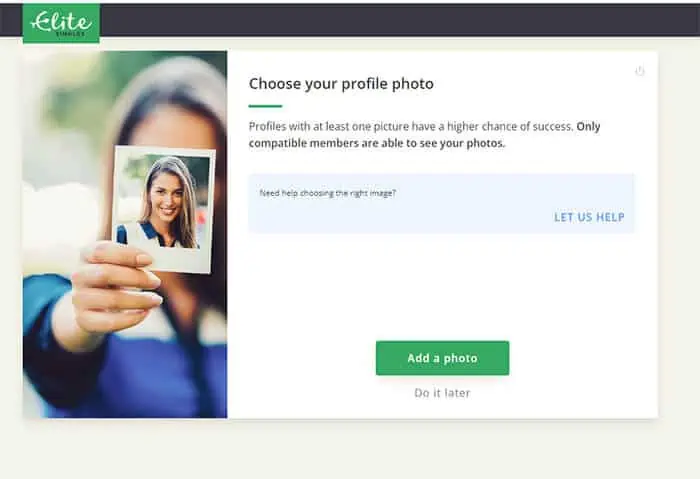 Now, it's time to upload a profile picture and up to 23 additional photos to give your matches a better idea of how you look. Choose pictures in which you're clearly shown and happy to show other Elite Singles members.
Log in to your account and click the "Upload a Photo" button under the silhouette of a person. This will open a window that allows you to select photos from wherever they're stored on your hard drive. Elite Singles only accepts pictures in JPG, GIF, PNG, or BMP formats. The file size cannot exceed 9.7 MB.
What We Don't Like
You may also add photos to your Elite Singles profile by linking to your Facebook page and importing them.
To do so, click the blue Facebook "Connect" button. This will open a Facebook login page in a new window. Log in and select "ok" to permit Elite Singles to access your profile and photos.
Now, you'll be able to see the albums and photos you have stored on Facebook. Select the images you wish to import to Elite Singles and press "Save."
---
7. Contact Your Matches
All that's left to do now is start contacting your matches! As soon as you click on one of their pictures, they're notified that you are interested enough in them to view their profile. If you want to take things a step further, you have the following forms of communication available:
Send a Smile: Sending a smile is an informal way to express interest to a member whose profile you liked.
Send a Personalized Message: Write a message containing whatever you want to introduce yourself and get to know them better.
"Like" or Comment on a Profile Entry or Photo: You can hit the thumbs-up button to "like" any of your matches' profile entries or pictures. Or you can write an entire comment under them by clicking on the speech bubble. Type a remark or question that gets you noticed and opens an exciting dialogue.
Send a Photo Request: Adds you to another member's match list and prompts them to upload a photo.
Whenever you perform any of these actions, your match will receive a notification, and the interaction will appear in their messages. Hopefully, it'll be the start of a long successful romance! All that's left to do now is find your perfect match, get to know each other and go on a date.
How to Delete an Elite Singles Account
Getting rid of your Elite Singles account is a cinch. You can do it in a few simple steps. Be warned that once you've deleted your account, there's no retrieving it or accessing old messages with your matches. To use Elite Singles once more after account deletion means that you'll need to create a brand-new account altogether.
Let's see how to delete your Elite Singles account: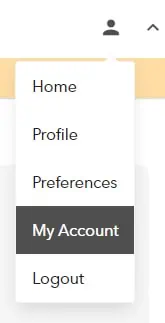 Click on "My Account" – Go to the human silhouette icon in the top right-hand corner of the screen and click on "My Account," which appears in the drop-down menu.
Click on "Delete My Account" – At the bottom of the menu, you'll see an option for "Delete My Account." Click on the link at the end of the sentence to continue to the next step.
Choose a Reason for Deleting Your Account – Before deleting your Elite Singles account, you need to provide a reason for doing so. Once you've submitted an answer, click "Continue" to move to the final step.
Enter Your Password – Before deleting your account for good, enter the password for your Elite Singles profile. Then click "Confirm" to finalize the process.
Account Deletion Instructions (Found in Help Center)

There are instructions for deleting your Elite Singles account available in the Help Center. Click on "Help" in the site's footer menu. Then click "Delete account" under "Popular Search Terms" on the next page.

Then click on "How Do I Delete My Profile?"
Elite Singles Customer Service
The Elite Singles website features an extensive customer support section with multiple methods of receiving assistance. On the Help homepage, you'll find a search bar and popular search terms to find articles dealing with your specific issue. Below that section, you'll find some basic frequently asked questions and links to additional FAQs, separated into four categories.
Getting started
Manage your account
Meet someone new
Billing and subscriptions
If you are still looking for the answer you need among those resources, you can always contact customer care. Their customer service team is available from Monday to Friday via the contact form.
Customer Service Pros and Cons
Pros
Cons

Helpful search function for issues.
Detailed articles for most common problems.
Extensive FAQ section.

Customer Care is only available Monday through Friday.
No customer service phone number or instant chat function.
Must wait for Customer Care request to be answered.
To submit a request, provide your email address and user ID, along with the general topic and as many details as possible. You can also attach screenshots if you're experiencing a technical problem. Upon submitting your request, you will automatically receive a notification that it was received, along with a reference number for your ticket.
The Elite Singles customer care team promises to answer your request as soon as possible.
Elite Singles' Mobile App
Elite Singles can be used on mobile devices like smartphones and tablets for a dating experience on the go! You can visit the website using your device's web browser or download the mobile app from Google Play or the App Store. This means that Elite Singles can be used on Android or Apple devices/products.
App Features and Functionality
As far as we can see, the website and the mobile app function in the same fashion. The mobile app setup is slightly different because it's being used on a smaller screen, so some menus and navigation will be different. Other than that, you will experience the same features, perks, and benefits whether you're on the website or the app.
Compatibility
Elite Singles is available as a mobile app at Google Play and the App Store. They are free to download and allow in-app purchases. This means that new users can upgrade their free trial to a premium membership within the realm of the app instead of having to log in to the Elite Singles website.
Google Play
Rated 1.9/5 stars
Based on 13.2k reviews
1+ million downloads
Free to download the mobile app
Allows in-app purchases
App Store
Rated 3.0/5 stars
Based on 17.3k reviews
Free to download the mobile app
Allows in-app purchases
Frequently Asked Questions
Our Elite Singles review might not have covered everything you were looking to have answered. That's why we added an FAQ section with some of the most common questions we get concerning the Elite Singles dating app!
Is Elite Singles Worth the Money?
Yes! If you're single and looking for a long-term relationship with someone of a similar educational or professional background, Elite Singles is worth the cost.
Does the Elite Singles App Offer a Free Trial?
Yes, in the form of its basic membership. Free users can create a profile, take the personality test, and see their matches. However, you won't be able to see matches' photos or use most of the communication features without a premium membership.
How Do I Reach Customer Service for Elite Singles?
There's a Customer Care section on the Elite Singles app and website alike. If you can't find the answer to your question in the FAQ library, you can submit a contact form on the Help page.
How Long Does the Personality Test Take To Complete?
The Elite Singles personality test takes approximately 25 minutes to complete. If that's too long, you can answer some of the questions, take a break, and come back to finish the test later.
How Does Elite Singles Match Members?
Elite Singles uses a proprietary algorithm to match members based on the results of the personality test and the preferences they've selected.
Can I Redo My Elite Singles Personality Test?
Yes, if you feel like your personality test results are inaccurate, you can submit a Customer Care request to reset the test so you can take it again.
How Do I Cancel My Premium Membership?
To turn off the automatic renewal of your premium membership, visit the Customer Care section of the Elite Singles app or website, select the article about membership cancellations, and follow the link to the online cancellation form.
Does Elite Singles Issue Refunds?
Yes. If you made a purchase in error or believe you shouldn't have been charged, you can contact the Customer Care team and ask for a refund.
What's the Elite Singles Matching Score?
The matching score calculates compatibility based on you and your match's respective test scores, preferences, shared interests, and hobbies.
Who Owns Elite Singles?
Elite Singles is owned by Spark Networks Services – a conglomerate of dating apps.
Are My Private Personal Details Secure?
Yes. All profile data is transmitted in encrypted form and inaccessible to third parties. Elite Singles uses a secure URL, and the company does not provide any information to third parties, nor do they contact members on behalf of third parties. They also employ an in-house fraud team that monitors and investigates suspicious behavior.