If you're a Jewish single (or hoping to start a relationship with one), you'll be glad to know that we've discovered a dating app dedicated to making your romantic dreams come true: Jdate.
Our Jdate review will rate the dating app in five different categories and discuss what the service does well and where it could improve. Then we will share a step-by-step guide to becoming a member, from signing up for Jdate to creating a profile, browsing matches, and communicating with other singles.
Our Jdate review compares which features are available for free and which require a paid subscription. You'll also find detailed descriptions of each of their functions. So, enough with the introductions — it's time to figure out if Jdate is worth your time!
---
---

Our team has independently researched all products and services that we have listed on this page. If you sign up or purchase through our links, we may receive a commission. See how it works.
Introduction to Jdate
This Jdate review will take an in-depth look at Sparks Networks' number one demographically based dating service.
A Brief Overview of Jdate's History and Success
Jdate is the top dating service for Jewish singles overall, joined by over 240,000 users in the United States. Its premium membership base falls mainly into the 25-34 and 55+ age groups, skewing slightly older on average than most online dating platforms – primarily when they don't cater to a specific group. But we'll talk more about Jdate's members later.
The Jewish matchmaker is the most popular niche brand in the Sparks Networks' portfolio, a collection of apps that includes Christian Mingle (Christians), Elite Singles (Educated/Successful), and Silver Singles (Seniors). The platform has been catering to Jewish singles since 1997.
Jdate 's Unique Approach to Online Dating
Jdate is nearly identical to Spark Networks' other religion-based dating service: Christian Mingle. Signing up and creating a profile is the same. Neither app requires users to answer a lengthy compatibility quiz before receiving their matches, which significantly cuts down on setup time. From the time you enter your email address and password to when browsing Jewish singles in your area takes about five minutes.
Regardless of how you access Jdate, whether the website or dating app, the service is straightforward to use; both platforms are well-designed and easy to navigate. It's as simple as clicking on pictures of Jewish singles, reading their profiles, and sending Smiles or messages to the people you like. You'll immediately know how to browse your matches and communicate.
During our Jdate review, we met several attractive singles who were communicative and open to going on a date. However, while they're mostly the same in appearance and features, Jdate scored higher in our ratings. While the premium membership costs a bit more, the quality of the matches is better, and the user base is more active.
Is Signing Up for Jdate Worth It?
Jdate is worth it, but only if you're Jewish or interested in serious dating or meaningful relationships with Jewish singles. Jdate won't be worth it for singles looking for casual dating or romance. Jewish singles and those using the Jdate platform desire solid and profound relationships that lead to long-term commitments or marriage.
Our Ratings
Let's look at how we rated the Jdate dating app using our five-point review process. To get our overall Jdate review rating, we looked at the site's features, usability, match quality, membership cost, and user base. Each category got a score, and then we pulled the average to get to 4.2 out of 5 stars!
Overall:
| Category | Score |
| --- | --- |
| Features | 3.0 |
| Ease of Use | 4.9 |
| Match Quality | 4.5 |
| Cost | 3.2 |
| Active User Base | 4.5 |
| Overall | 4.0 |
We highly recommend Jdate for finding love with Jewish singles based on these review numbers. There's no other dating app like it! But no dating app is perfect, of course, so we've included the significant pros and cons we found during our Jdate review:
What We Like
Jdate is responsible for 52% of Jewish marriages that began online, a super high success rate for a niche dating app.
They cater to Jewish singles looking for long-term relationships or marriage.
Jdate has an active membership base of motivated singles.
The platform offers on- and offline events for its members.
Jdate is available in 5 different languages.
What We Don't Like
Jdate is not for casual hookups, romance, or dating.
The site's demographic focus limits the size of the dating pool.
Free trial users must upgrade to a premium subscription to communicate with other members.
Jdate doesn't use a sophisticated algorithm to determine matches.
Who Is Jdate Best For?
Jdate is best for meaningful relationships with Jewish singles, but who exactly are the people who use Jdate on a day-to-day basis? Let's examine the demographics of their user base to get a better idea of those who enjoy Jdate's perks, benefits, and services.
Demographics and User Base
Our Jdate review also involved researching the dating app's membership base. After all, it's essential to know what kind of dating pool you're joining!
| Fast Facts | Details |
| --- | --- |
| User Base | All singles (18 or older) |
| What Kind of Relationships? | Falling in love with or finding meaningful romance or relationships with Jewish singles. |
| Active Members | 240,000+ |
| Visitors Per Month | 180,000 |
| Gender Distribution | 53% men to 47% women |
| Average Age | 30-50 years |
Relationship Types Best Served by Jdate
Jdate is for straight, gay, and lesbian singles looking to make connections with friends or romantic partners. Members can specify that they're seeking the following relationship types in their search preferences: Friend, Dating, Long Term Relationship, Marriage, Marriage & Kids.
The dating app is marketed toward Jewish singles, but you don't have to be a member of the tribe to create an account. If you're not part of the religion, you can also use Jdate to help find a Jewish mate.
The online dating service is also for singles who speak one of the five languages in which Jdate is available: English, Hebrew, French, German, and Spanish.
The Jdate Compatibility Matching System
Jdate is like its sister sites (SilverSingles, Elite Singles, and Christian Mingle) in that it uses the same matching system. It's a combination of simple personality testing that all new members must complete when signing up for a new account with Jdate's advanced search filters, which allow members to search based on factors like appearance, gender, age, location, and many more.
How the Compatibility Matching System Works
There are three primary components to the matching system:
Profile Details – Jdate uses the details you include in your bio and your profile information to inform the match suggestions. New members must answer questions during sign-up that pertain to the Jewish faith, such as synagogue attendance, kosher practices, and which sect of Judaism they belong to.
Self-Authored Summary – Beyond the details that members can include in their profile, they can write more about who they are and what they're looking for in a relationship in the self-authored summary section of the profile. If there's anything other members should know about you, this is your golden opportunity to use your creative writing skills!
Interests – All Sparks Network dating apps will offer new members a comprehensive list of interests, hobbies, and activities that can be added to their profiles. Members can add as many that apply to their Jdate profile so other singles on the app can learn where they might have some common ground.
Search Filters – The basis search filters include gender, age, distance, religion, and relationship type. And then there are advanced filers that break the search down by factors like synagogue attendance, level of education, ethnicity, willingness to relocate, etc. And, of course, there are the search filters that Jdate provides to its members so they can search for singles that match up with their personal dating parameters and criteria.
Jdate's Communication Features
Jdate is a dating app that is simple in concept and design. It's best for finding meaningful relationships with Jewish singles, and it comes with a straightforward messaging system that doesn't come with anything extra that complicates matters.
All You Need to Know:

Is that paying members can enjoy no-limits messaging with other singles at Jdate, while free trial members cannot message anyone unless they upgrade their free trial to a premium account. The one exception to this rule is that free trial members can receive, read, and respond to messages sent their way by paying members of Jdate.
And that's about it! Jdate members can only send messages to one another. The only other way to communicate is by sending likes to other members, a feature that both free and paid users can use.
Jdate's Membership Options
To conduct a thorough Jdate review, we created a profile, uploaded pictures, and wrote a summary about ourselves – every step required to bring the profile to 100% completion according to the app.
First, we got as much out of the service as possible while using a free membership. We tried a few different search queries, browsed compatible profiles, and sent smiles to some of our matches.
Once we'd tried every feature available without paying, we bought a premium subscription. That unlocked several new benefits and made it possible to exchange messages with other members. We'll look at each of the membership packages and what they cost below.
At this point, we've experienced everything Jdate has to offer!
Free vs. Paid Memberships
Most of the Jdate reviews on other sites claim that the Jewish dating app offers free trials. This is incorrect. A real free trial is when a prospective subscriber is given access to premium membership for a short period. But first, they provide payment information because if the trial user doesn't cancel the service before the end of the trial, it's automatically renewed as a paid subscription.
Free Features
Upload up to 6 photos
Search the member database
View daily matches
Read full profiles
Only see members' first picture
Read and reply to messages sent by paid subscribers
Send a Smile
Like LookBook matches
View your Activity lists (I Viewed, My Likes, Mutual Likes)
Jdate allows customers to sign up and create a profile for free but with significant restrictions. You can find your matches, see their main photo, and read their profiles, but you can't do much to communicate otherwise.
To get the most out of Jdate, you need to upgrade to a premium membership. It wasn't until we subscribed that our Jdate review felt like being an actual customer using the service as it was intended. It drastically improved the overall experience of using the matchmaking service for Jewish singles.
Paid Features
All the features available to free users
Unlimited messaging with paid subscribers
Receive notifications when your messages are read
Browse anonymously without notifying the profiles you visit
Hide online status
Remove your profile from searches and matches
See all of the other member's photos
See who liked your profile
See who visited your profile
See who visited your Messaging+
Send messages that can be read and replied to by all Jdate users, even if they don't have premium memberships.
It's imperative to buy a premium membership if you're a guy since, often, you'll be the one sending the first message. Since premium members can send and receive notifications with free users, women can get away without upgrading their accounts and still attract plenty of attention from other singles.
Premium Membership Benefits and Pricing
Jdate sells three premium membership plans. They come in 1-, 3-, and 6-month long packages. The duration of the subscriptions is the only thing that sets the three memberships apart. The premium features are the same regardless of the length.
Auto-Renewal
Heads up! Jdate memberships are automatically renewed when they expire unless you cancel your subscription first. When your plan is renewed, it will be for the same length as your previous membership.
If you're using the Jdate app, you can manage your subscription in Google Play or the Apple App Store. Cancel your subscription at any time by going to your Account Settings page on the Jdate website, then clicking Manage Subscription. Choose "stop your subscription" to turn off automatic renewal. Your plan will end once the current term expires.
Spotlight
Spotlight is an additional feature that both premium and free members can purchase. It's like the Boost function seen on other well-known dating apps.
| Duration | Cost |
| --- | --- |
| 1 Day | $2.99 |
| 7 Days | $7.99 |
| 30 Days | $19.98 |
Spotlight highlights your profile with a blue badge, helping it to stand out amongst other members and moving you to the top of people's browse sections. The added visibility increases your chances of receiving attention from other singles.
Discounts and Promotions
The longer-term plans reduce the cost per month. The only catch is that you must pay the entire membership total upfront. Doing so saves you $30 per month compared to renewing your subscription monthly at $59.99. There are no installment plans available. Still, it's worth paying for the whole six months if you can afford it.
Creating Your Jdate Profile
Signing up with Jdate takes very little time to complete. You can finish your profile and start browsing singles within minutes of creating your account. The process is equally simple on the Jdate dating app and website.
Step #1: Visit the Homepage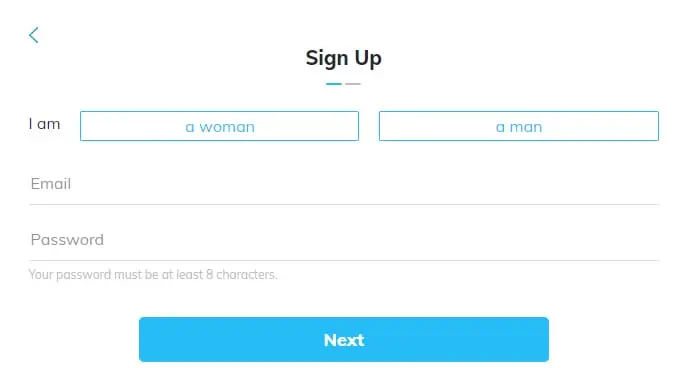 To start, all you do is fill out two primary sign-up forms on the home page. Choose your gender, enter your email address, and set a password. On the next page, you'll be asked for your name, birth date, and zip code.
Step #2: Upload Photos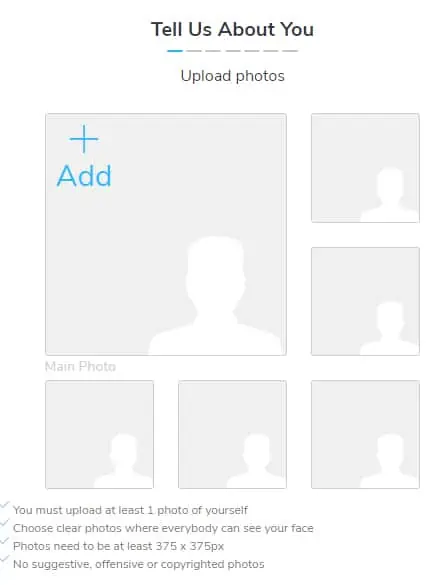 After creating your account, Jdate asks you to upload pictures. You must upload at least one to continue with the profile creation process. You can either link your Facebook account and transfer some photos from there or upload them from your computer or mobile device.
Ensure your main photo was taken recently and features a clear shot of your face. You can use your other images to show more of your personality and include some friends and family. Try to avoid having other people in the picture to avoid confusion.
Step #3: Fill Out Your Details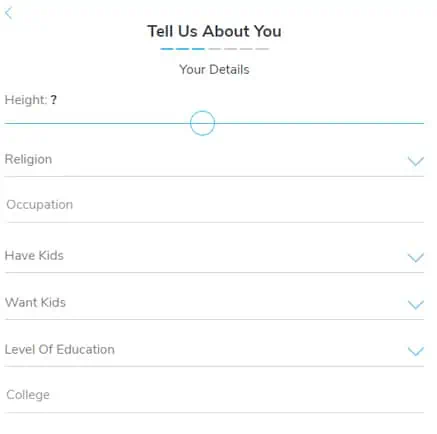 Next, you're asked for some basic details. After deciding whether to use your first name or a username of your choosing on the dating app, you'll enter your height, religion, occupation, whether you have and want children, and your level of education. This information will be used to calculate your compatibility with other members.
Since Jdate caters to Jewish singles, the following options are listed under "Religion":
Conservadox
Conservative
Culturally Jewish
Hasidic
Modern Orthodox
Orthodox (Baal Teshuva)
Orthodox (Frum)
Reconstructionist
Reform
Traditional
Willing to Convert
Other
You'll also be asked about synagogue attendance. How frequently do you practice your religion? You can choose one of the following answers:
Attend synagogue every Shabbat,
Attend synagogue some Shabbats,
Attend synagogue on High Holidays,
Attend synagogue occasionally,
I'll tell you later about synagogue attendance, or
Attend synagogue rarely or never
This section also asks about your adherence to eating Kosher. There are four options available:
Kosher at home only,
Kosher to some degree,
Kosher at home and outside, or
Not Kosher
Step #4: Write a Summary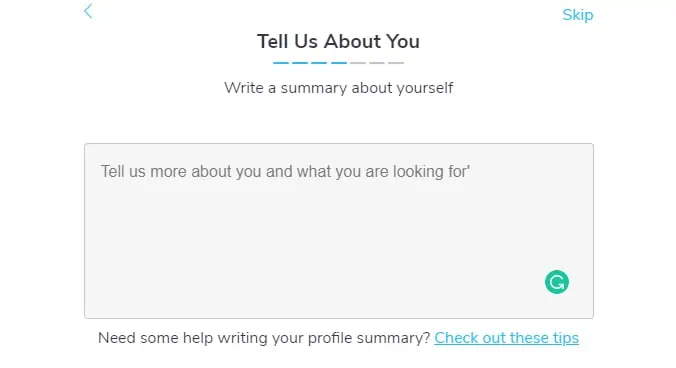 Now it's time to get a little creative! After you've filled out your basic details, it's time to tell your future matches something about yourself. Write a summary of why you're on Jdate and what you're looking for. Are you searching for friendship or romance? What are you looking for in a partner?
If you get stumped, Jdate offers a link to an article with helpful tips for writing a compelling profile summary. Check it out and get some inspiration, then let these singles know who you are!
Step #5: Choose Your Interests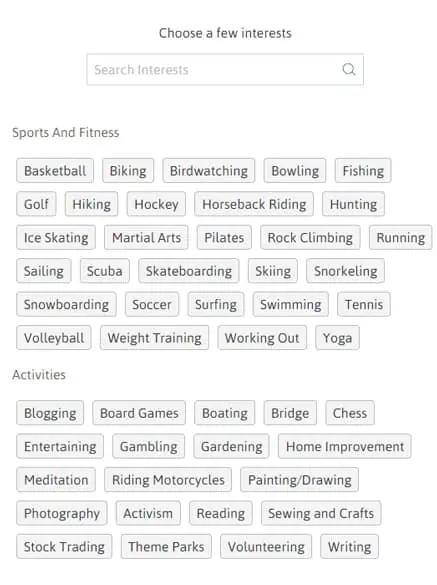 Don't worry; the next step is an easy one. All you must do is choose some interests from a list of different topics and hobbies. The interests are divided into six categories: Sports and Fitness, Activities, Arts and Entertainment, Travel, Music, and Eats and Drinks.
Try to pick a handful of interests in several different categories. You're only required to choose one interest, but we recommend doing more. These answers will affect your compatibility ratings.
Step #6: Set Your Search Parameters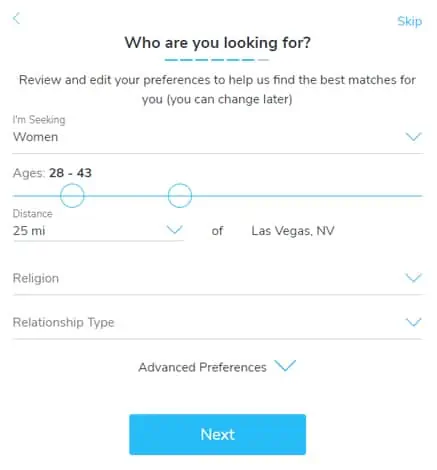 Finally, it's time to set your search parameters! This is where you decide which singles will appear on your browsing page. Select the gender you're seeking, an age range for potential partners, your desired relationship types, compatible religious backgrounds, and an acceptable distance they can live from your location. You can cast as broad or as narrow of a net as you please.
You can either stop there or set advanced preferences for more refined matches. You can limit your search based on level of education, synagogue attendance, kosher, smoking and drinking habits, having or wanting kids, willingness to relocate, and marital status.
The pickier you are, the harder it will be to find singles who match your criteria. So, we advise only setting preferences for qualities that are absolute deal breakers.
Steps 7 – 9: Upgrade Your Account, Browse Your Matches, and Send Likes and Messages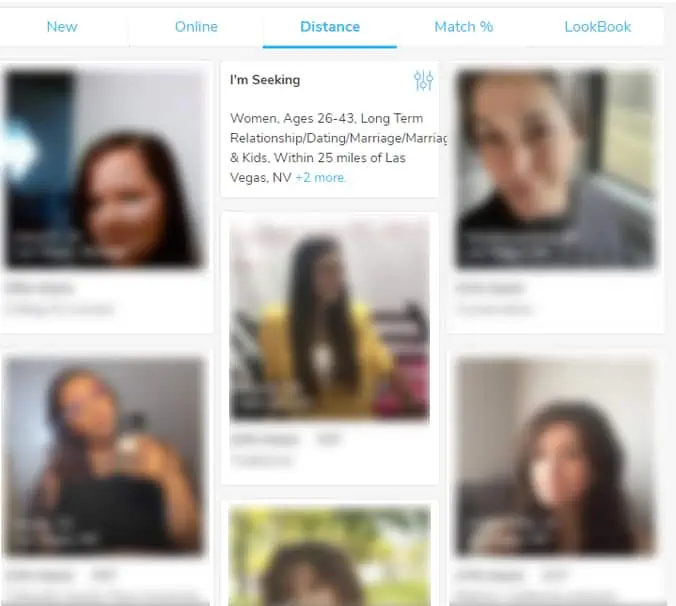 You're all set up! At this point, you can either upgrade your membership or start using Jdate for free. If you're serious about meeting Jewish singles and making connections, we suggest you subscribe first. Click the "Get All Features" link at the top right corner of the page and follow the steps to pay for your premium membership.
You're officially on the market! All there is to do now is scroll through profiles and look for any singles that catch your eye. If you like their picture, click on them to open their profile page, where you can read more about them and see other photos.
Like what you see? Send them a smile or a personalized message to get the conversation going. This is where the fun begins! Good luck out there!
How to Delete a Jdate Account
If you want to delete your Jdate account permanently, it can be done in a few easy steps:
Click on the icon with your profile picture on it (the top righthand corner of the home screen).
Under "Account Settings," click on "Profile Display Settings."
Select "Permanently Delete Profile" and finalize the cancelation.
Something important to remember is that deleting your Jdate account and profile permanently means that you'll never be able to retrieve it again. If you want to delete your Jdate profile permanently, make sure it's something you want to do! That profile and all the connections you made, as well as the messages you sent or received, will be gone forever.
Jdate Customer Service
Customer support can be found on the Jdate Help page. There you'll find a database of articles dedicated to various issues related to Accounts, Matches, Messaging, and Profiles. You can either click on one of those four categories to find the article to address your problem or type your topic into the search bar.
If none of the existing articles help to address your issue, the Jdate Help page also features a "Contact Us" button. It will ask you to fill out a customer support form with your email address, the subject of your request, and a detailed description. You can also attach any screenshots or documents that may give the customer service agent a better understanding of your problem. You should receive a response to your ticket within the next business day.
Upon conducting our Jdate review, we were slightly disappointed that there weren't other methods of contacting the company's customer support staff. We'd love to see a 24/7 customer service hotline as an alternative to the request form.
Pros
Cons

Jdate features lots of articles with answers to the most common problems.
The customer request form lets users submit tickets for topics not covered in the FAQ library.
Most account issues can be managed on the Account Settings page without needing the involvement of customer support.

There are no alternative methods of contacting customer service, such as a telephone number.
Issues submitted via request form are only answered on business days.
The FAQ section could be more robust than some competitors.
Jdate's Mobile App
Jdate can be used on your desktop computer, and you can access the platform using the web browser on your mobile device as well. In addition, Jdate also offers a dedicated mobile app available at the App Store and Google Play.
App Features and Functionality
Going back and forth between the website and the mobile app doesn't require much of a learning curve. All Jdate features remain constant between each method of use. The design of the mobile app is slightly modified so it can be used much more efficiently on a smaller screen. But by and large, there are few differences, which makes using Jdate super easy on all fronts.
Compatibility
The mobile app is available at the App Store and Google Play:
App Store
Rated 3.5/5 stars
Based on 7.8k reviews
Free to download
Offers in-app purchases
Google Play
Rated 1.5/5 stars
Based on 936 reviews
Over 100,000 downloads
Free to download
Offers in-app purchases
Frequently Asked Questions
Check out our frequently asked questions which come directly to you from our readers and customers. Everything you could ever want to know about the premier online dating platform for Jewish singles is right here.
Do You Have to Be Jewish to Have a Profile on Jdate?
No, you don't. Jdate was created for Jewish singles, but there are no religious requirements to use the dating app. Some members aren't Jewish themselves but desire a Jewish partner.
Can I Use Jdate if I Don't Speak Hebrew?
Of course! Jdate is available in five languages: English, French, German, Spanish, and Hebrew.
Can I Hide My Profile While Browsing through My Matches?
Yes, anonymous browsing is one of the many features included in the premium membership. You can also hide your online status and remove your profile from other members' browsing pages if you so choose.
Can You Try Jdate for Free?
Yes, but with limited capabilities. You can create a profile, upload up to six pictures, and see your matches. You can read other members' profiles but only see one of their pictures. Free users can also send smiles, but they can't read or send messages unless they're replying to a premium member using Messaging+.
Do Jdate Members Have Success Finding Romance?
Absolutely – more than most dating apps. 52% of married Jewish couples who met online found each other on Jdate.
Is Jdate Safe?
Yes. Jdate has numerous safety measures in place, including reviewing every profile update and photo that's uploaded.
What Do Other Jdate Members See on My Profile?
Other members can see the pictures you've uploaded, the basic details you entered when setting up your profile, any interests you selected, and your written summary. To view your profile as it appears to other members, click the "Preview Profile" link on your profile page.
Who Can View My Photos on Jdate?
Any Jdate member can view your main photo. Only premium members can see any additional pictures you uploaded to your profile.
Does Jdate Offer Free Trial Memberships?
No, not in the traditional sense. However, Jdate does allow members to use their service for free with limited features. Free users can create a profile, upload pictures, browse members' profiles, and send smiles.
Does Jdate Offer a Mobile App, and Is It Free?
Yes, you'll find the Jdate app for free in every major app store.
Does Jdate Sell Member Data?
No, Jdate doesn't sell its customer's data.
Is Jdate Right for Me?
Definitely! Jdate is the leading dating app for Jewish singles. It boasts an active membership base and unmatched rate of success, responsible for 52% of Jewish marriages that originated online.