SilverSingles is a niche dating app that has been around since 2002 and caters primarily to older singles looking for love and serious relationships. Initially glancing at the app, it looks great on paper for a site of its size: they have 800,000 visitors per month, 100,000 active members, and 2,000 couples are matched up every 30 days!
But at the end of the day, is SilverSingles a good app? That is precisely what we will find out in this SilverSingles.com review!
---
---

Our team has independently researched all products and services that we have listed on this page. If you sign up or purchase through our links, we may receive a commission. See how it works.
Introduction to SilverSingles
SilverSingles is a part of the Spark Network of dating apps, the same company that oversees names like Elite Singles, Jdate, Zoosk, Christian Mingle, and many others. SilverSingles is their offering to singles over 50 looking for meaningful relationships, marriage partners, or long-lasting romance.
A Brief Overview of SilverSingles' History and Success
SilverSingles started in 2002 and has grown over the past 20 years to a steady base of 800,000 members, 100,000 of which are active on the app each week. Nearly 99% of all members come from the US, but the site is also available to use in Canada, Australia, France, Germany, and the United Kingdom.
Although it's a niche dating app for seniors and mature singles, SilverSingles caters to any singles over the age of 18. Seniors don't need to be limited to dating just seniors! And some young people want to find true love or romance with someone who's older and has more life experience.
SilverSingles' Unique Approach to Online Dating
If there were any "heart and soul" to SilverSingles and its matchmaking methodology, it would have to be the fifteen-minute questionnaire that all new users complete during the registration process. Like Elite Singles, SilverSingles uses the Five Factor Model of Personality Traits (McCrae and Costa) to determine what each new member of the app is like.
Based on what SilverSingles learns about you from the questionnaire, they use this information to come up with three to seven quality matches per day. You also get twenty wildcard matches each day for a little more variety, which can spice things up! SilverSingles comes with no search feature, so members can only view profiles that have been suggested via their daily matches and wildcards.
Is Signing Up for SilverSingles Worth It?
SilverSingles is a terrific senior dating app that's worth the time and money if you're older and you desire to find a long-term, meaningful relationship with someone your age. And with 800,000 registered members, there's a great dating pool to experience.
4 Reasons SilverSingles Is Worth It
You're over the age of 50. The average user is between 48 and 52 years old, but everyone is typically more senior in age and looking for the same kind of relationships.
SilverSingles is reasonably priced, ranging anywhere from $19.95-37.95 per month (they cover 3-, 6-, and 12-month timeframes).
Your goal is a serious relationship where commitment and compatibility are important factors.
The platform is easy to use and understand. It comes with simplified features and an intuitive setup, which makes it perfect for those who need to be more tech-savvy.
Start a SilverSingles Free Trial Today!
Our Ratings
Is SilverSingles a good app? Check out our official ratings of SilverSingles in 2023! This dating app came out with an overall average of 4.5/5 stars in our book!
Overall:
| Category | Score |
| --- | --- |
| Features | 4.3 |
| Ease of Use | 4.9 |
| Match Quality | 4.5 |
| Cost | 4.5 |
| Active User Base | 4.1 |
| Overall | 4.5 |
We examined how easy it was to use the site, the total cost to be a member, the features you get with a membership, and how many active users are out there that you could match with.
What We Like
There's always something to love about an online dating app. These are the best attributes of SilverSingles, some of the best reasons to join the dating app in the first place!
Nearly Exclusive User Base – When using SilverSingles, there are not a lot of surprises with the kind of people you will be meeting. The average user on this app is between the ages of 48 and 52, and a large majority of the users are over the age of 50. This community is also one that is like-minded. Many users are here for love and serious relationships.
Good Overall Month Traffic – Though the site has fewer users than mainstream competitors like eHarmony or Match, SilverSingles is home to about 100,00 active members and over 800,000 visitors per month. That is decent for a smaller, niche dating app! SilverSingles is known to match up to around 2,000 couples per month.
Excellent Testing – Although the compatibility and personality testing is long and quite extensive, they are extremely thorough, and they cover a lot of topics, giving SilverSingles a ton of matchmaking material to work with! This is how they can supply each member with 3-7 quality matches a day, as well as 20 wildcard matches.
Decent Vetting System – Because fewer members are using the site, it simplifies things for SilverSingles in terms of vetting their current members. This site does have fake profiles and spam accounts slip through the system, but they can be dealt with more quickly with only 100,000 active members than at a mainstream dating app.
Easy-to-Understand Memberships and Terms – There are three membership plans available at SilverSingles, and they all come with the same features and terms. The only differences between them are their length and their respective price points. There are no weird adds-on, upcharges, or hidden fees anywhere to be found. What SilverSingles has to offer is easy to understand and can be laid out.
What We Don't Like
All dating apps come with some downsides. These are the aspects of SilverSingles that we're not too keen on, and if you need clarification on whether this site's right for you, these are some excellent reasons to investigate other dating platforms.
Limited Free Trial Account – You'll be limited in what you can do with SilverSingles' free trial account. You cannot fully access the mobile app. You will not be able to send messages to other members. And you will not be able to view pictures on the profiles you visit with the free trial.
Shorter Memberships Are More Expensive Per Month – While you can experience savings paying for a longer membership with a reduced monthly rate, you will have to pay full price for a shorter membership. While you could pull the trigger on a 6-month or 12-month plan, you might only need something that lasts around three months, and you will not get any price reduction.
Smaller Userbase – SilverSingles is a niche dating app. There is no way around it. There are only 100,000 active members, which means that you will have less than half of the dating pool you would find at a place like eHarmony. If you want to widen your options, we recommend one of the mainstream services. They have search filters that can narrow your preferences down to older singles.
Time-Consuming Personality Quiz – You are going to put some time into that personality quiz and compatibility testing when you create your profile. The entire process could take anywhere from 15 minutes to half an hour. While you will get some suitable, quality matches as a result of your work, the process is, nonetheless, time-consuming compared to a lot of other dating apps.
Fake Accounts and Profiles – While the vetting systems at SilverSingles are decent, and the app puts its best foot forward in taking down fake profiles and shutting down scammers, the truth is that bots, fake accounts, and scammers are something that can pop up from time to time the site. Like with any online dating app, users need to be vigilant and report suspicious activity when they see or experience it.
Who Is SilverSingles Best For?
SilverSingles is a good dating app for seniors and mature singles, but there's more nuance here than meets the eye! Going over who the website and mobile app are best for might be redundant, but we're going to do it anyway.
Demographics and User Base
Although SilverSingles is relatively uniform in its user base, it's also quite nuanced! Let's take a closer look at the kind of singles you'll find at SilverSingles. You might be surprised to see a few people using the app that doesn't even fall within the quintessential age range that you'd expect at a senior dating app.
| Fast Facts | Details |
| --- | --- |
| User Base | Senior singles (but anyone over 18 can join) |
| What Kind of Relationships? | Meaningful relationships and commitments |
| Average Age | 48-52 years |
| Active Members | 800,000 |
| Paid Subscribers | 100,000 |
| Gender Distribution | 53% men to 47% women |
The fact is there are young singles out there interested in dating someone older, more experienced, or mature. People who end up joining SilverSingles are typically over 50, but some end up on the platform and are in their mid-to-late 40s, too (or even younger). And on the flip side of the coin, some seniors prefer to date younger. This explains the existence of younger users on the app.
There doesn't appear to be any age vetting system to ensure everyone matches the demographic they are trying to reach, but that's probably by design, so senior singles can meet younger people. The only age restriction to becoming a member is that you need to be over 18.
Relationship Types Best Served by SilverSingles
SilverSingles is best for seniors and older singles interested in meaningful relationships. It's not a dating site for someone looking for casual dating or romance. And it's not a place to find hookups!
Check out SilverSingles if you're looking for:
True love
A marriage partner
Your soulmate
Long-term relationships or commitments
Relationships that are marked by compatibility
Meaningful romance
The SilverSingles Compatibility Matching System
Now we're going to address how SilverSingles helps its customers find matches that fit their dating preferences. The platform uses a few methods to help seniors find true love, romance, or meaningful relationships. Some of them are staples of the Sparks Network, but there are a few techniques that remind us of eHarmony's methodology as well!
How the Compatibility Matching System Works
Like Elite Singles, SilverSingles uses the Five Factor Model of Personality Traits as its official questionnaire for new members of the app. Anyone who creates an account, and a complimentary profile must undergo this testing as it's the basis for the entire matchmaking system at the site.
Once new members have let SilverSingles know more about who they are and what they're looking for in dating and future relationships, SilverSingles goes to work finding viable, promising matches. SilverSingles does all the work regarding matchmaking and provides its premium members with 3-7 daily matches and 20 wildcards each day!
The Role of Personality Assessments in Matchmaking
SilverSingles' method for creating compatible connections between its members reminds us of many of the processes found at eHarmony. Personality testing and compatibility questionnaires play a prominent role in the methodology of both dating apps. This is the foundation on which SilverSingles' matchmaking process is built.
SilverSingles and eHarmony also do all the heavy lifting when it comes to searching for the correct matches. Members cannot do searches on their own (neither site has a "search" function) but must instead rely on each platform to provide the correct matches for them. The search for singles who fit your dating preferences is limited, yes, but there's less burden on you when the process is left to the matching algorithm at SilverSingles.
SilverSingles' Communication Features
SilverSingles is relatively light on features in the first place, so there's little to talk about when the subject of communication features is brought up. Free members cannot communicate with other members on the app, so messaging and other forms of contacting singles on this platform are a feature that's exclusive to paying members with a premium subscription plan.
Guided Communication
Premium members can send messages to other singles on the SilverSingles app, but it's limited to the daily matches and wildcards that the site provides its members each day. Because there's no search function available with this service, members are limited to communicating only with the singles that SilverSingles has suggested in its daily matches. This is what is meant by "guided communication."
Secure Messaging and Video Chats
Not only can matches enjoy unlimited messaging, but they can also meet face-to-face using the video chat feature! All messaging and video chatting systems at SilverSingles are overseen by an encrypted connection meaning that members can send messages safely and securely. All messages or conversations are kept private between the parties involved.
Send Virtual Smiles
This is technically a form of communication that free members can use at SilverSingles, but it's rather generous to call this "communicating." Sending a smile on the platform is the equivalent of sending likes or liking someone's profile on a social media site. Yes, it expresses interest, but it's a far cry from having a real conversation or building a relationship. 
SilverSingles' Membership Options
There are two ways that you can use SilverSingles. You can join as a free member and have access to a limited number of the membership features, or you can commit to a premium subscription plan and use SilverSingles for all it's worth!
Check out everything you'll need to know about SilverSingles' membership and a free trial:
Free vs. Paid Memberships
Is SilverSingles a good online dating app? There is no better way to find out than to take advantage of a free trial account! This allows you to test out SilverSingles and get an idea of the features and functions they offer without having to pay any membership fees!
It comes at absolutely no cost to you!
Free Trial Features
What can I do with this free trial account anyways? This is one of the more limited free trial offers we have seen, so there are only a handful of the regular features and functions here that a non-paying customer can enjoy for free.
Create and build a profile.
Take the personality quiz and compatibility testing.
Get daily match results based on your test results and dating preferences.
Look through other members' profiles.
Send Virtual Smiles to generate interest in your profile.
What Don't You Get

Unfortunately, these are the features you'll miss out on as a free member. The free trial can only carry you so far! 

    • Unlimited messaging with other members 
    • Complete access to the mobile app
    • You can't view profile photos
Premium Membership Benefits and Pricing
The free trial account at SilverSingles is alright, but it could be more impressive in its features. This is a great incentive to get a membership at SilverSingles.com and take advantage of some of these crucial features.
The SilverSingles dating site offers its customers three membership plans, and each of them has the same features, but they all come at different price points because each plan varies in length. We have attached a table below breaking down these three plans, their respective price points, and the cost of each plan per month!
Overall, we liked the pricing of the SilverSingles online dating app. We felt that it was reasonable for what you ended up getting, and we like the idea that you could invest in a longer plan and save some money!
Discounts and Promotions
We strongly urge our readers to go with either a 3-month or 6-month membership at SilverSingles. Yes, the overall cost is more. But if you look at the monthly breakdowns, you'll discover that you save a lot of money.
Love can take time. You might be using SilverSingles for a year before finding the right person. Imagine going with a 3-month membership and having to renew it four separate times over the year. That comes out to $455.40. A 6-month membership ends up begin $335.40.
It is up to you what is best for your needs, but just be aware that the monthly rate is much more affordable with the longer memberships!
Creating Your SilverSingles Profile
We took the time to go through the entire sign-up process at SilverSingles so we can tell you exactly what to expect. It took us roughly 15 minutes to complete the questionnaire and create our online profile. We could also see it taking 20 minutes or longer if you wanted to take your time with the answers.
Step #1: Visit SilverSingles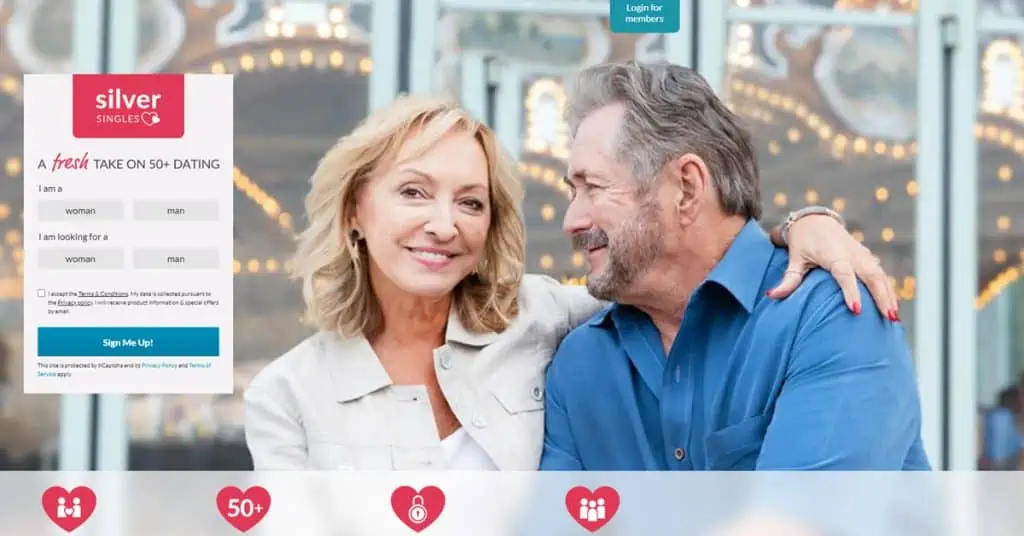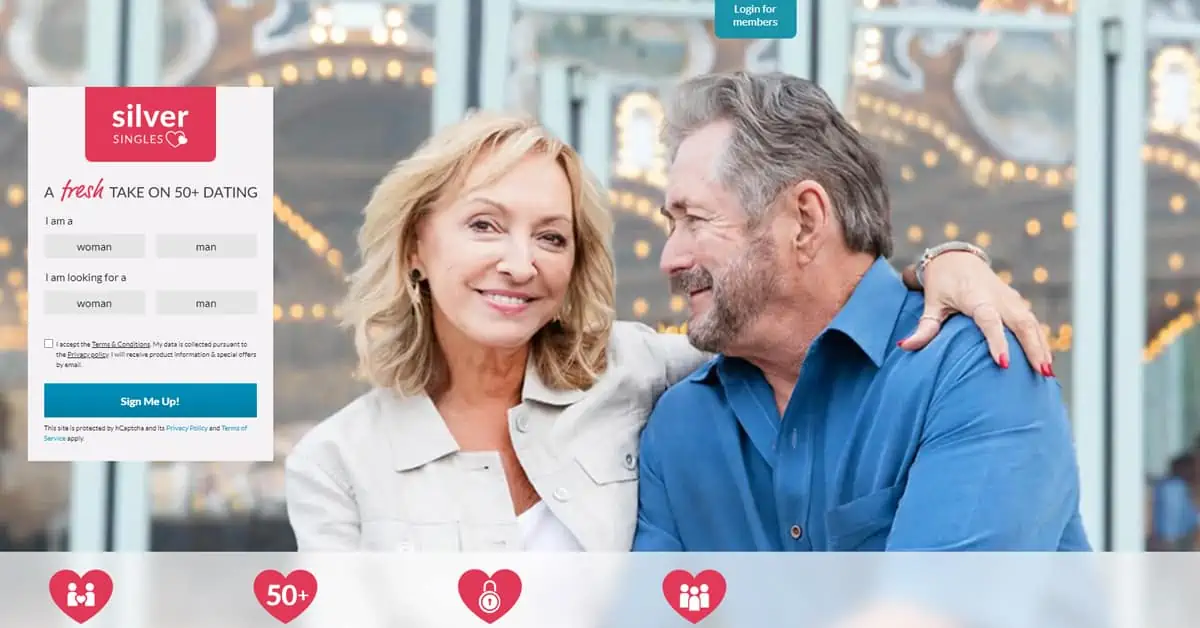 Begin by heading over to the SilverSingles website. This will be the first image you see when you click the Sign-Up button. You will want to click on Continue to proceed.
Step #2: Enter Basic Information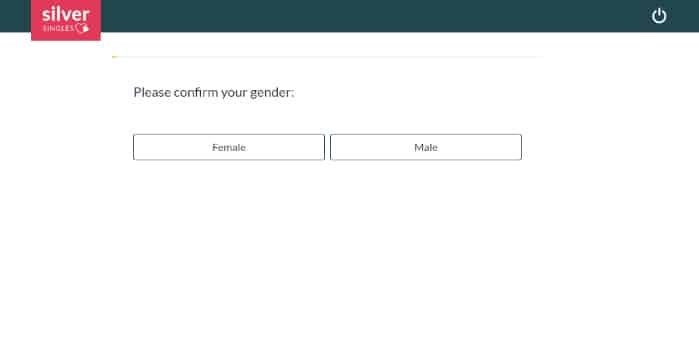 On the following few screens, you will be asked some basic questions. They will be asking for your sex as well as what kind of partner you are looking for. Once you submit your answer, you will automatically be taken to the next question.
Step #3: Complete the Questionnaire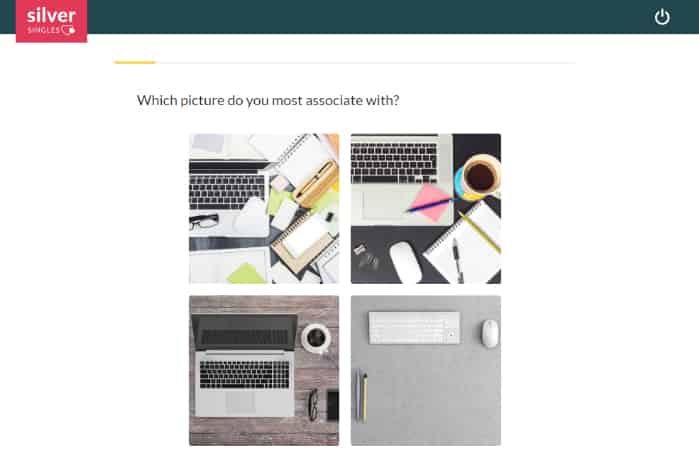 You will then be launched into the SilverSingles questionnaire, where you will spend the bulk of the sign-up process. It will be a long series of personal questions, anywhere from 25 to 45.
Have no fear; it is not dull! There are a lot of questions that we ran into that made us think, and that helped to keep the sign-up process interesting for us!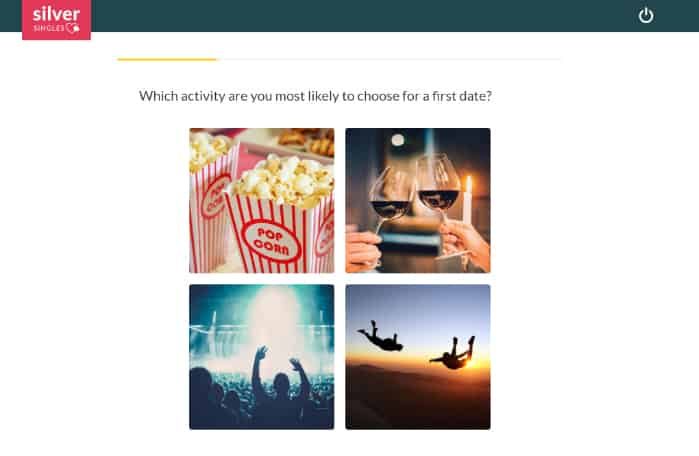 There are a lot of questions that came without visuals, but we wanted to draw your attention to a few examples of these. The questionnaire is broken up well, going back and forth between basic questions and questions that use engaging visuals to gauge personal preferences or tastes.
Step #4: Transitional Page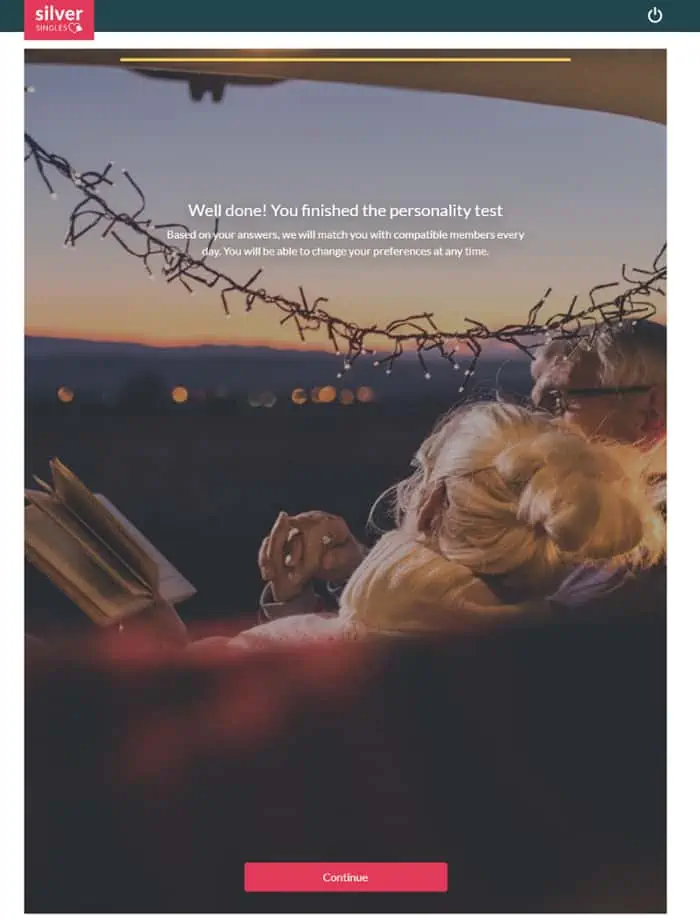 Once you have completed the questionnaire, you will get this big, beautiful image of a couple enjoying a relaxing evening as if they had just finished a hard day's work. But the work is not done quite yet for you. Click continue to get to the final leg of sign-up!
Step #5: Provide a Profile Photo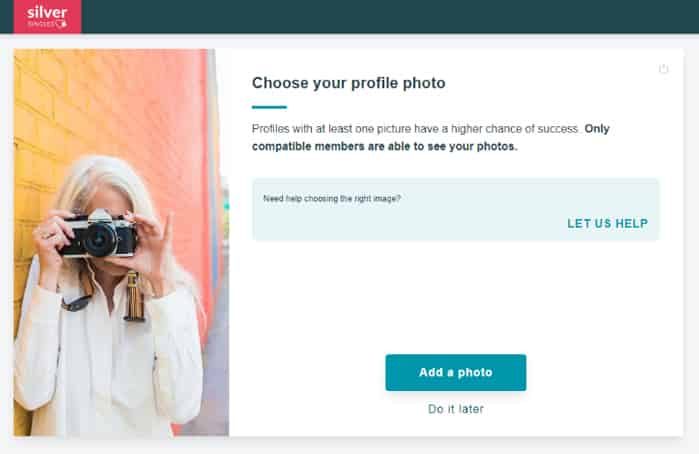 You will be asked to submit a photo for your profile. You can skip it for the time, but you can also add a picture right away, be it from your PC, social media, or Google Drive.
Step #6: Written-Word Questions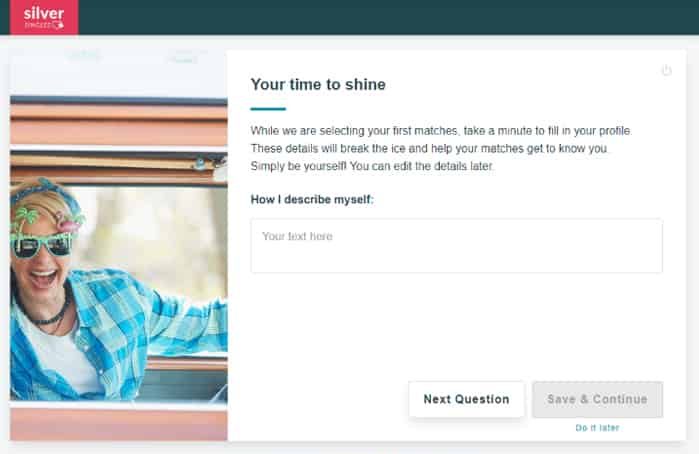 Now we get to the final portion of the sign-up process, where you will be asked specific questions, and you can make a written response. There might be about 8 to 10 of these, and you can make them as long or as short as you want!
Step #7: Become a Member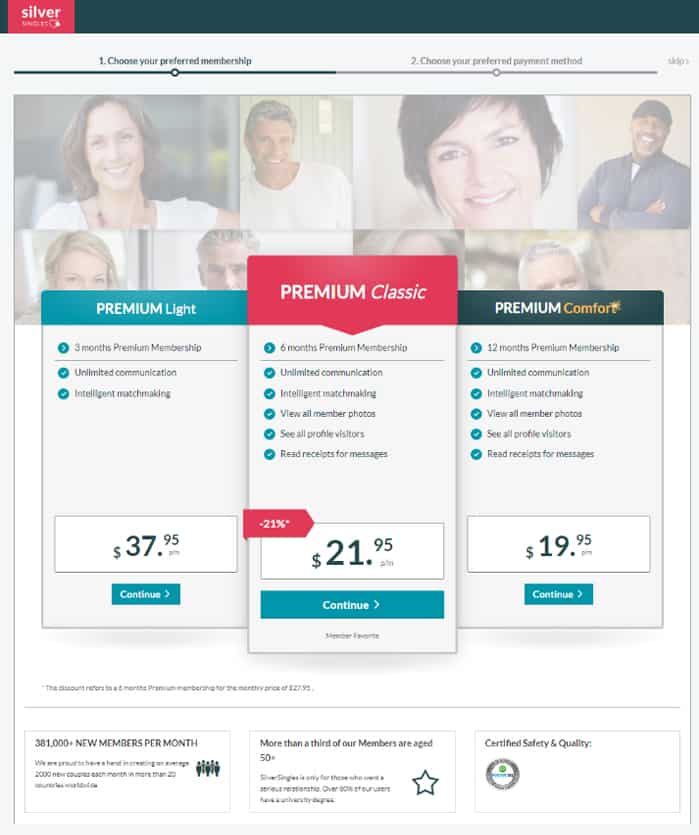 Once you have filled out all the written-response questions, you will be taken to the page where you can choose a membership plan. Select one that best fits your needs and budget, and then hit the Continue button.
Step #8: PickYour Payment Method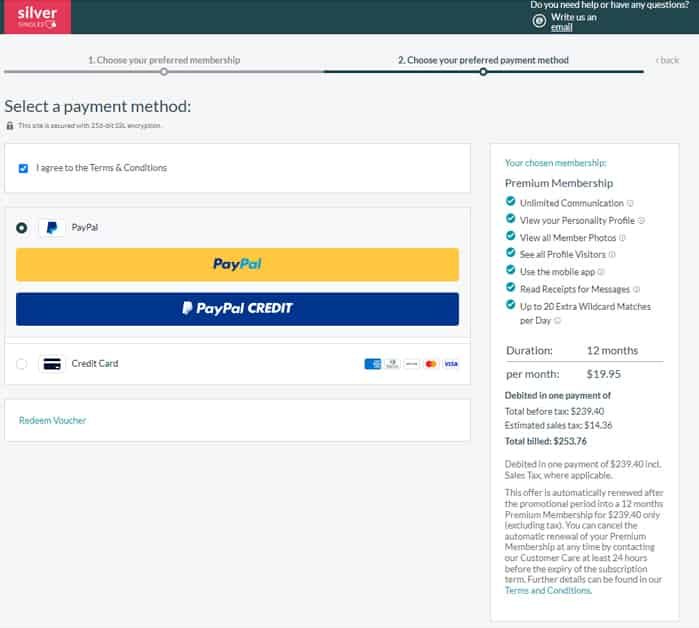 The next screen is where you will firm up payment for the plan. Just remember that all plans are paid in one lump sum on one day. Be sure you have the funds to pay for everything right up front. There are no payment plans at SilverSingles.
And that is about it! Once you have paid for your SilverSingles membership, you are free to use all the exciting features the app offers, and you can begin looking for older singles!
Conclusion
As we said earlier, this process should only take about 15 minutes. But if you do not want to rush through and put some careful thought and consideration into how to craft your profile, we could see it taking 20 minutes to half an hour.
Overall, the sign-up process was well-constructed and thorough, as it covered many relevant topics! It might be a tad long, but it is well worth the time because it helps the user to create a fleshed-out, quality online dating app profile.
How to Delete a SilverSingles Account
Deleting your account at SilverSingles only takes a few steps to complete. Once it's deleted, though, it's gone for good. The process is irreversible. So, be sure you're at peace with parting forever with your SilverSingles account. If you want to become a member again, you'll need to create an entirely new account from scratch.
Follow these simple steps to delete your SilverSingles account:
Click on the main menu and select "My Account."
Next, click on "Delete My Account."
A deletion link will appear that says, "to delete your profile, please click here." Click on the link to continue.
Provide a reason for deleting your account. Then click "Continue."
Enter your password in the next step and click "Confirm" to officially delete your SilverSingles account.
SilverSingles Customer Service
In conducting SilverSingles reviews for 2023, we found their customer care team helpful, informative, professional, and friendly. There are also several ways to contact SilverSingles if you have any questions or need assistance. Check out the table below for a full rundown of contact methods.
Toll-Free Helpline
Contact customer support via toll-free phone at (001) 800 942 5989. The hours of business are Monday through Friday, 8 am-5 pm (Mountain Time).
Email
Send emails and other messages to info@silversingles.com.
Fax
Send faxes to the following numbers: +1 (646) 760-2453 or +49 (30) 868-000-311.
Troubleshooting Page FAQ Center
This page is an excellent resource for members as it allows them to bypass phone or email assistance and instead walks them through common problems or issues. SilverSingles has dealt with many customer service concerns and requests since 2002, and they have been able to pinpoint many frequent issues and commonplace problems that customers might experience.
And they have boiled these down into their troubleshooting page and offer it as a resource for customers who want to solve problems and issues on their own!
SilverSingles members do not even have to pick up a phone or reach out to customer service. Using the troubleshooting page and FAQ center, they can work their way through the problem on their own if they so choose! There are links to specific questions like "how do I manage my email notifications?" or "how do I cancel my premium subscription?"
Generic Contact Form
SilverSingles has included a generic contact form that allows you to include a subject line, provide your email address to the site, send messages, and attach any files that might be applicable, be they Word files or photos.
A customer care member at SilverSingles will respond to your message by sending you an email within a 24-hour timeframe.
Additional Contact Information
While there is a US office, SilverSingles' home office is in Germany. Just be mindful of the time zone differences if you need to contact the home office for anything.
Corporate Offices (Germany)
Spark Networks Services GmbH
Kohlfurter Strasse 41/43
Berlin, Schleswig-Holstein 10999
SilverSingles United States
Spark Networks Services GmbH
3300 N. Ashton Blvd, Suite 240
Lehi, UT 84043
Unfortunately, SilverSingles has yet to include a 24/7 customer service hotline or a live chat feature for their members to experience around-the-clock support. This is a feature we would love to see added sometime soon!
SilverSingles' Mobile App
Here's the thing with SilverSingles: you must be a member to download the mobile app. This is uncommon with many dating apps, but SilverSingles uses this as an incentive to get its free members to upgrade. You must pay money to become a premium member of the website to enjoy the luxury of the mobile app. It's technically considered one of the membership features.
App Features and Functionality
The features between the SilverSingles website and the mobile app are the same. The functionality is slightly different; the mobile app has a modified menu design and configuration that makes navigating the platform on a smaller screen much more manageable.
Compatibility
SilverSingles is available for free download at Google Play and the App Store. The dating site can also be accessed using web browsers on desktop computers and mobile devices like smartphones and tablets. Mobile users don't have to download the app to use SilverSingles on their phones. They can always open the site up using their mobile web browser.
Google Play
Rated 2.9/5 stars
Based on 2.28k reviews
100k+ downloads
Free to download
Offers in-app purchases
App Store
Rated 3.3/5 stars
Based on 4.6k reviews
Free to download
Offers in-app purchases
Frequently Asked Questions
To top off our 2023 SilverSingles review, we've included some extensive FAQs that address many of the common questions and curiosities that customers have about the SilverSingles dating app. If there's anything we have missed in the review, we'll touch on it here.
Is SilverSingles a Good Dating App?
If you are over 50 and your endgame using a dating app is to find love or someone interested in a long-term relationship or commitment, SilverSingles is a good dating app to use in 2023! They have three great, affordable memberships that offer users the opportunity to get 3-7 quality matches each day, as well as 20 wildcard matches from time to time! There are also a ton of SilverSingles reviews out there citing this dating app as one of the best for older users in 2023.
How Long Will It Take Me to Find Love at SilverSingles?
You will not find any reviews of SilverSingles out there that could answer this question! The process of finding love or a serious relationship on any dating app is going to look different for everyone. Some people know what to say and do to attract others to them quickly, and there are people for whom it takes more time to lay that groundwork.
There is no concrete guarantee that we can make that says you will meet someone special or the love of your life in this many days, weeks, or months. Choose the membership plan that best fits the timeframe you would need to meet someone. If you feel it will take longer, go with the 3-month or 6-month plan. Or vice versa.
Can I Use the SilverSingles Dating App for Free?
You can use SilverSingles for free, and we say it this way because the free trial account is so limited in terms of its features. With a free trial at SilverSingles, users can create a profile, look through other members' profiles, take the personality questionnaire, find some matches near them (without photos), and send virtual smiles. What free trial members cannot do (and need a membership to do so) is send messages to their matches or any member profiles they viewed. They also cannot use the SilverSingles mobile app or view any pictures on any of the profiles they encounter on the site.
What Is the Best Deal SilverSingles Is Offering?
If you are going off the cost-per-month, the best deal that SilverSingles is currently extending to their customers is the 6-month premium plan. At $27.95 per month, the 6-month membership will officially run you $355.40 for an entire year's worth of SilverSingles features and benefits. Compare this to renewing a 3-month membership of $37.95 for a year for a total of $455.40! Longer-term plans cost a lot less per month at SilverSingles!
How Popular Is SilverSingles on the Dating App Scale?
SilverSingles is a niche dating app that is used primarily by older singles. Nearly all their users are 50 years of age or older. Compared to dating apps like eHarmony or Match, they are a much smaller operation. They have a total of about 100,000 active members, but they experience around 800,000 users in their average monthly traffic and have about 50,000 new sign-ups every week. For being a niche dating app, they serve their clientele well. They reportedly match up to around 2,000 couples each month!
Is There an App for SilverSingles?
Yes! When you become a paying member of SilverSingles, you will have access to their dating app, which allows you to use the site anywhere you go on both iOS and Android devices! Something to keep in mind is that the app is not available to those using the free trial account. You must be paying for SilverSingles' services to use their app.
Does SilverSingles Have Fake Accounts or Spam Profiles?
While there are a lot of mainstream dating apps out there that sometimes seem inundated with scammers, spam accounts, and fake profiles, we were surprised to see that SilverSingles has a reasonably decent grasp on shutting down bad activity when they see it. From what we could see in this SilverSingles review, scammers and fake accounts do slip through the system, but the follow-up vetting team is exceptionally diligent in putting an end to such things.
One thing is for sure. When SilverSingles show their members their daily matches or their 20 wildcard matches for the week, these are all with real people! We have yet to see an incident where the weekly or wildcard matches linked a member up with a fake or fraudulent account.
Is the SilverSingles Dating App Exclusively for Older Singles?
Yes, SilverSingles caters to an exclusive community of singles, those 50 years of age or older. This is a great dating app to be used if you are older and are mainly looking for love or a serious relationship. People that typically use SilverSingles are not looking for casual relationships, but there are some exceptions to the rule. Most members know what they want: serious relationships and commitments.
We found that the average user at SilverSingles is anywhere from 48 to 52 years of age! And this is just the average. Plenty of users fall into that older range of 55-65 as well.
What Features Come with a Membership That Don't Come with the Free Trial?
Three prominent features set apart the membership from the free trial at SilverSingles. For one thing, members of the app have full access to the SilverSingles mobile app. This allows them to use the site any time of the day or night from any mobile device, be it iOS or Android! As a member, you can also enjoy unlimited messaging with other members, and you can view any photos posted on other members' profiles. As a free trial user, you can view all profiles, but you cannot see any pictures!
Is SilverSingles.com Legit?
The 100,000 active members and 800,000 who chose to visit the site every month think so! We tested the app to see how diligent they were with customers' sensitive information. The site uses SSL-encrypted connections for its operating and messaging systems. All personal o financial information that customers share with the app is kept completely safe, secure, and confidential.
Something that struck us in doing our SilverSingles reviews was that fake profiles and spam accounts are, by and large, absent from the site. Having a smaller user base must make for better, more efficient vetting! You might get something here and there, but nowhere near the frequency you see at more significant sites like eHarmony or Match.
What Is Auto-Renewal and How Does It Work?
Each paid membership at SilverSingles is set to renew automatically once the plan has ended. Customers can select this feature to "off," or they can contact customer service to have this feature disabled. They need to be sure and do this before their plan is up! Auto-renewal is for the convenience of the customer. They do not have to reapply for a new membership. Instead, auto-renewal will automatically charge the customer for the same plan they had before at the same price.
How Much Does SilverSingles Cost? And How Is the Membership Billed?
SilverSingles offers three separate membership plans. The 1-month plan costs $695.40, with the cost per month being $54.95. The 3-month plan costs $455.40, with the price per month being $37.95. And the 6-month plan costs $335.40, with the cost per month being $27.95. Memberships are paid in one shot, one lump sum! Customers can pay for these memberships using PayPal, Visa, Mastercard, American Express, or Diner's Club.