Cost of OurTime Dating App
OurTime is the perfect dating app for singles who are over 50 and are looking to find serious relationships or fall in love. They have over 1 million active users which means a large dating pool awaits those who visit the site!
OurTime comes with a variety of membership plans, and they are all reasonably priced and quite affordable! Newcomers to the app can also begin a free trial account as a way to test out the app and get a taste of a few of the site's many features.
How much does OurTime cost? Is there a monthly plan that will fit my personal budget? We will be covering the OurTime dating site cost and show you what is included in each plan. We are confident there is a plan in here for you! Get ready to mingle with older singles at OurTime today!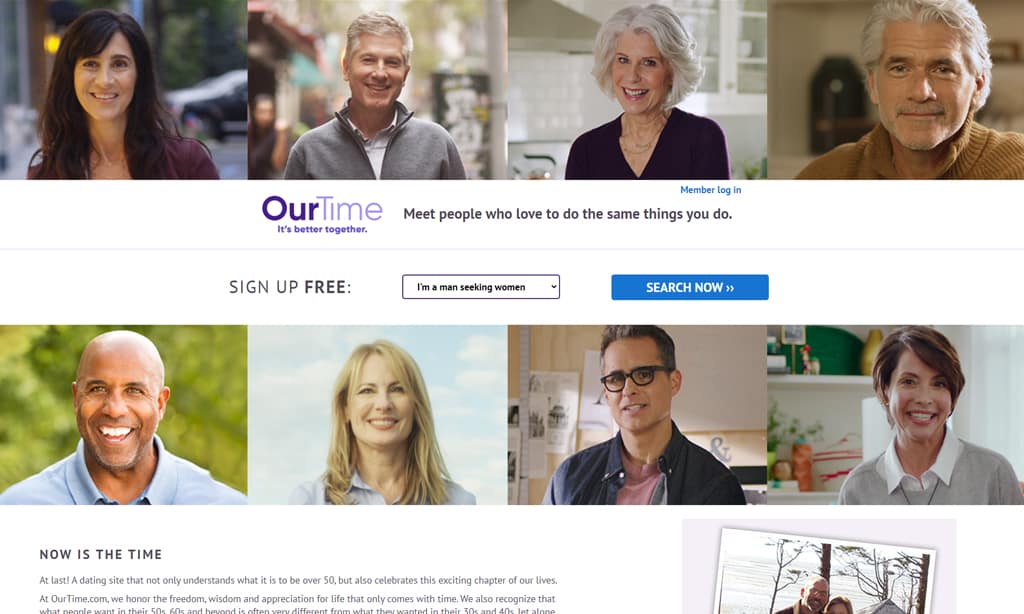 OurTime comes complete with three different membership plans that all allow customers to chat with one another, experience unlimited messaging, and see who has viewed and liked your profile!
Length of Plan
Price
Price for a Year
6 Months
(Standard Subscription)
$95.76
$191.52
1 Month
(Standard Subscription)
$34.96
$419.52
6 Months
(Value Subscription)
$119.76
$239.52
Examine the prices carefully. You get more for your money when you go with one of the long-term plans! A one-month plan auto-renewed over the course of one year will cost you a pretty penny versus going with two six-month plans.
The features that you will experience at OurTime are completely your decision and based on what membership plan you end up purchasing. In some cases, it makes more sense to go with an OurTime dating site cost that covers more months. Choose wisely!
Membership Plan
Features Available
6 Months
(Value Subscription)

Full mobile app access
Message and profile highlights help your online profile to stand out over others
Message read notifications pop up when your messages are read by other singles

6 Months OR 1 Month
(Standard Subscription)

ConnectMe: a private phone line to talk with other singles without you having to share your personal number
NotifyMe: get notifications when a certain single logs into the site
MatchMe: request to appear in a specific single's daily matches
PromoteMe: get placed in the top search results using this feature
Virtual Gifts: purchase virtual gifts that make you stand out more to other singles
There are a number of ways to pay for your membership at OurTime.com. They accept all major credit cards as well as PayPal and e-wallet Skrill!
They even accept mailed-in checks for those who want to do things in the old-school method. You simply need to select the option called "other" and you will find a place to send in your paper check through the mail.
Visa
Mastercard
American Express
Discover

Diners Club
Skrill
PayPal
Mail-In Check
Each account set up at OurTime will automatically auto-renew at the end of the plan. Unless the customer states otherwise, they will be charged again for the same plan once the previous plan has hit its expiration date.
OurTime Free Trial Accounts
Just like with any other dating app, OurTime offers its customers a free trial. Older singles can test out the app to see if is one that is suitable for their purposes. Free trials provide an amazing opportunity to test out multiple dating sites at one time without having to pay a penny!
While the free trial is not going to cost you anything, you are not going to have access to all features, capabilities, and functions that you could be getting with a paid membership. At the end of the day, our official recommendation is to do a paid subscription to capitalize on all the bells and whistles.
Paid Features vs Free Features
As you can see, it is well worth your time to pay for a membership at OurTime. While the free trial can save you some scratch and allow you to use the app in a limited capacity, you are simply missing out on too many features that could give you a leg-up in finding other older singles!
Best Alternatives to OurTime.com
If OurTime does not strike you as the right dating app for you to be using this year, may we suggest some great alternatives that might get the job done?