The eHarmony dating app is one of the juggernauts of online dating, primarily catering to singles looking for long-term committed relationships. The company was founded 21 years ago (August 2000) by Neil Clark Warren, a clinical psychologist who utilized his expertise to develop the proprietary questionnaires and matching algorithms upon which the app is built.
According to eHarmony, their compatibility system matches users based on their core traits and values and considers areas of shared common ground and development potential. The app looks to pair members whose personalities together will result in specific characteristics typically associated with happy couples.
---
---

Our team has independently researched all products and services that we have listed on this page. If you sign up or purchase through our links, we may receive a commission. See how it works.
Introduction to eHarmony
Let's review the basics before we get into the fine details of this eHarmony review. We'll do an overview of the history and success that eHarmony has seen since 2000, discuss their unique approach to online dating, and discuss what makes it an online dating app worth joining!
A Brief Overview of eHarmony's History and Success
eHarmony was founded in 2000 by clinical psychologist Neil Clark Warren. Its mission is the creation of meaningful relationships and connections between its members. Everything is based around Warren's patented 32 Dimensions of Compatibility testing, which examines the traits that make for long-term, satisfactory relationships! Long-term commitments are the name of the game at eHarmony.
A Harris Interactive study suggested that, on average, 542 people are married every day in the United States after having met on a dating app. If accurate, that would represent approximately four percent of all marriages in the country credited to eHarmony! eHarmony claims that its service has helped introduce over 600,000 married couples.
Fast Facts
Ease of Use – Effortless to use.
Time to Sign Up – Approximately 45 minutes
Membership Cost – $$$
Number of Members – 66 million members / 29 million (US)
Customer Support – https://eharmony.custhelp.com/
eHarmony's Unique Approach to Online Dating
eHarmony is well-known for its 32 Dimensions of Compatibility testing which gauges connections between members of the app based on a plethora of criteria. Premium members can review their test results and access compatibility reports and compatibility scores on each of the daily matches they get from eHarmony.
Another notable aspect of the eHarmony approach to online dating is the lack of a search feature. eHarmony does all the matchmaking for its members and supplies all daily match suggestions. They do all the legwork, and members must trust the compatibility scores. eHarmony keeps its members from doing a proactive search for themselves.
Is Signing Up for eHarmony Worth It?
Yes, eHarmony is a dating app that's worth it! But you need to have a certain online dating endgame in mind if you want eHarmony to be a good fit for your needs. It's not for every person out there (especially those who are into casual dating).
So, are you uncertain if eHarmony is the right dating app for you? Don't worry another second about it; let's show you five reasons why eHarmony will be worth the time and money!
5 Reasons eHarmony Is Worth It
eHarmony is for finding meaningful relationships marked by compatibility. It's not a dating app for finding hook-ups or casual dating experiences.
You want to find a long-term commitment, a marriage partner, or your soulmate.
Despite a higher membership price, you'll find a quality service that's chockful of value. eHarmony's 32 Dimensions of Compatibility testing is unparalleled!
You don't do any of the work searching for your matches. eHarmony does all the legwork for you; they are the matchmaking professionals!
eHarmony is a well-known and trusted online dating platform founded in 2000. They have a large, active dating pool of 16+ million.
Start an eHarmony Free Trial Today!
Our Ratings
Our eHarmony review goes over five primary rating categories to generate an overall rating for the platform. Unsurprisingly, eHarmony does well in our book when it comes to building and fostering meaningful relationships and finding true love.
Overall:
| Category | Score |
| --- | --- |
| Features | 4.9 |
| Ease of Use | 4.6 |
| Match Quality | 4.8 |
| Cost | 4.0 |
| Active User Base | 4.8 |
| Overall | 4.6 |
We like the platform so much that we assigned it a 4.6 out of 5 by pulling an average of the five rating categories: features, ease of use, match quality, cost, and active user base.
What We Like
There's a reason eHarmony has maintained its status as one of the top dating apps in the game for over two decades. If that describes you, we strongly recommend signing up for eHarmony! The service is very good at what it sets out to do: introduce compatible singles looking for serious long-term relationships.
And here are a few more reasons why we like eHarmony overall as a dating app for meaningful relationships and connections.
Large Active User Base – If you're looking for your dream match, it sure does help to have a large pool of potential partners from which to choose! eHarmony has been in the dating app game for over two decades now, amassing a membership base of over 66 million members, approximately 16 million of whom are active weekly. Talk about casting a huge net!
Focus on Building Lasting Relationships – As we've mentioned throughout our eHarmony review, this dating service was specifically designed for singles looking to form serious long-term commitments. If you're ready to settle down and find your life mate, eHarmony is the dating app for you.
Driven By Science – What makes the eHarmony app so unique is its use of science to match compatible members. The app focuses on your common ground and development potential upon initially opening the compatibility page, with even more in-depth information only a click away! You can click on any of your matches' "compatibility scores" and access a treasure trove of information about both parties' personalities and relationship potential.
Hover over any of the sections to read about your score compared to your match's. You'll also see a graph that once again highlights your compatibility score, with smaller graphs lining the perimeter of the chart. It's broken up into four major quadrants, with each bar representing a different personality trait.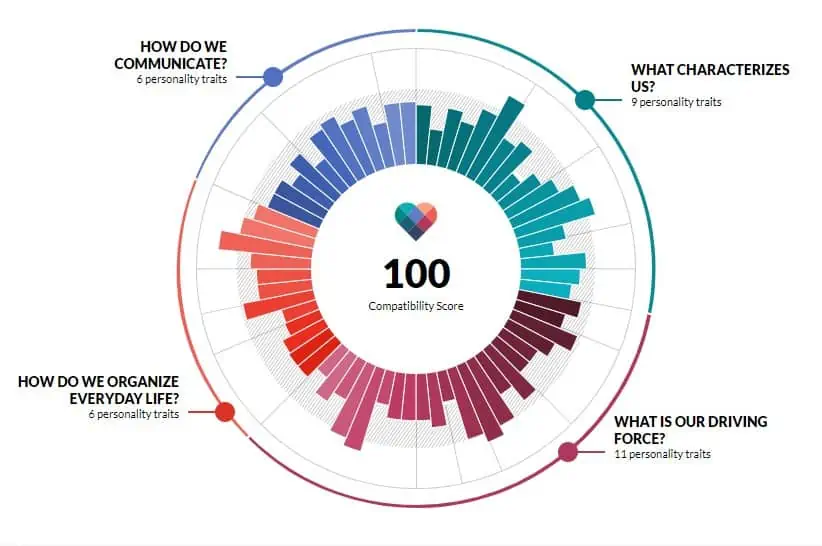 Detailed Breakdowns Explaining Matches – Again, one thing the eHarmony app never shies away from is providing detailed reasons for why you've been matched with the people you have. You can find every characteristic covered by the relationship questionnaire listed with the scores for you and your potential partner. No other dating app provides its users with such robust data.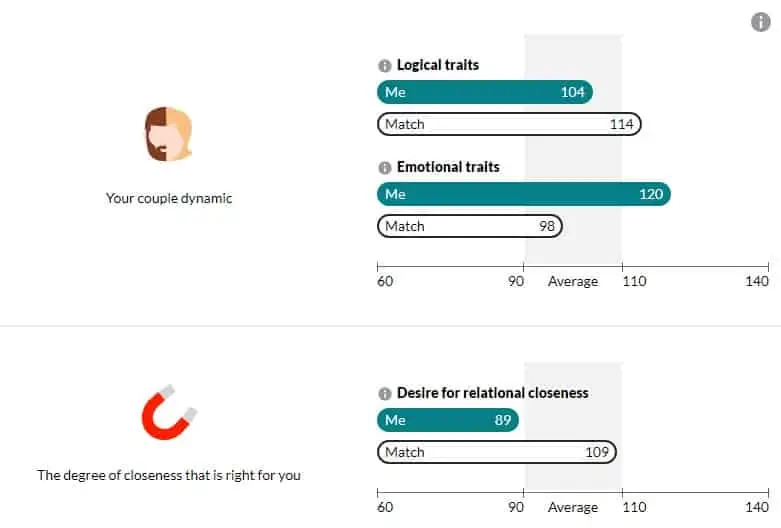 Fun and Creative Features – Another thing our eHarmony review revealed about the dating service is that they make interacting with your matches as pain-free as possible. Rather than limiting your communication methods to simple "likes" and messages, they provide a variety of ways to break the ice.
Our favorite is literally called "icebreakers." By clicking on the "ice breaker" button, eHarmony sends your match a series of five questions to answer or pictures from which to choose. You are given the same. Then the app compares your results, giving the two of you a natural conversation starter without any of the awkwardness of opening a dialogue.
New Matches Provided Daily – If you haven't met anyone you like amongst your current crop of matches, have no fear – the eHarmony app provides you with a handful of new matches every day! Fortunately, such a massive and popular dating app always has new members joining, which means an ever-growing number of opportunities!
High Rate of Relationship Success – The best thing about the eHarmony dating app is its proven effectiveness. The company has introduced over 600,000 married couples – and that number grows by over 500 more every day! This is a dating service that takes its mission exceptionally seriously!
What We Don't Like
Several aspects of eHarmony are less than ideal, but there's not enough bad to undo the good you experience when using the online dating app. Nonetheless, these are the areas where we feel eHarmony is lacking or could be doing better.
Lengthy Sign-Up Process – If you're impatient or hate answering questions, eHarmony may not be for you because their sign-up process is one of the longest in the game. From start to finish, you're looking at about 45 minutes to have your profile filled out and ready to contact your matches. The time commitment is worth it if you're serious about finding a long-term partner, but frustrating if you need more time to find a long-term partner.
Not for People Looking For Casual Hook-Ups – eHarmony explicitly states that its mission is to introduce people looking for long-term committed relationships. If you're looking for a quick hook-up or something freakier, this service is not for you. If the eHarmony questionnaire discovers that you're looking for a purely physical encounter, they may deny your membership.
Lacking a Search Option to Find Specific Profiles – Sometimes it would be nice to have more control over the profiles you see. eHarmony limits your options to your matches, and no search function will allow you to check out members with whom you aren't deemed compatible. This is a setback if you're looking for the hottest profile pictures without worrying about the personality stuff.
Limited Features for Free Members – It can be frustrating not being able to see your matches' photos with a free membership. It would be nice to see what options they have for you before spending any money.
Matches Paying Members with Free Profiles – One thing the eHarmony app doesn't tell you is which of your matches are also paying members. So, you may see someone you like and not be able to communicate with them since they won't be able to see your photos or respond to your personalized messages.
Does Not Cater to Gay and Lesbian Members – eHarmony doesn't cater to gay and lesbian relationships. If you're looking for same-sex dating options using the same algorithm as eHarmony, the company also offers a dating app called Compatible Partners.
Sends You Lots of Emails – If you sign up for the eHarmony app, prepare for boatloads of emails. Every time someone looks at your profile, you get an email notification. And that's in addition to the daily messages of encouragement or notices that you have new matches. If you don't like spam, you'll want to set up some inbox rules to hide the massive amounts of mail they send.
Who Is eHarmony Best For?
eHarmony is not the right dating app for everyone. It's better suited for some people than it is for others. And this is mainly due to the mission of eHarmony and the kind of relationships they're known for creating.
So, who is eHarmony best for? And when is it worth the time and money to become a premium member of the app? We'll discuss these matters below as we go over the eHarmony member-based and the kinds of matchmaking and relationships that fall into the platform's wheelhouse.
Demographics and User Base
What are the people who use eHarmony generally like? There is a well-known "type" that enjoys eHarmony and its unique approach to online dating.
| Fast Facts | Details |
| --- | --- |
| User Base | All singles |
| Average Age | 25-34 years |
| Total Profiles Registered | 66+ million |
| Active Members | 16+ million |
| Gender Distribution | 48% men to 52% women |
Relationship Types Best Served by eHarmony
If you're a heterosexual single in search of a serious, committed relationship, you'd be hard-pressed to find a dating app better suited to your needs than eHarmony.
A substantial majority of the user base is at an age when they're looking to settle down and start a family or at least find a long-term partner.
Most users fall between the ages of 25 and 34 years old, with women making up 52% of the profiles versus 48% of men.
Over 600,000 married couples have found true love at eHarmony since 2000!
The slightly higher premium membership price further filters out users who aren't highly motivated to find serious relationships. And make no mistake, eHarmony is one of those dating apps that requires a premium membership to utilize its services fully. You can only see other members' pictures with the upgrades.
The eHarmony Compatibility Matching System
eHarmony is the best-known dating app in the market regarding its matchmaking system and methodology for helping its members find true love, profound commitments, and compatible connections.
How does it work? Let's find out!
How the Compatibility Matching System Works
Our favorite aspect of eHarmony's services is the app's scientific approach to introducing its members, which is reflected in the compatibility scores assigned to each match. By clicking on a profile's compatibility score, you open a detailed breakdown of how your values and personalities compare.
Under the compatibility tab, you'll find the scores for both yourself and your match for the following traits, attitudes, and characteristics – as well as a detailed description explaining each one:
Common Ground

Development Potential

Personality

Habits

Interests

Instinct

Feelings

Intellect

Inner Energy

Self-Control

Logical Traits

Emotional Traits

Desire for Relational Closeness

Empathy

Positive Attitude

Introversion

Extraversion

Desire for Social Interaction

Inhibition Towards Social Interaction

Willingness to Adapt

Pragmatism

Generosity

Tendency to Compensate

Tendency to Withdrawal

Assertiveness

Conventionality

Unconventionality

Desire for Structure

Desire for Domesticity

Need to be Adventurous

Need to be Peaceful

Nurturing Parent Influence

Critical Parent Influence

Natural Childhood Influence

Adapted Childhood Influence

Manipulative Childhood Influence

Current Communication Style
The Role of Personality Assessments in Matchmaking
In addition to the compatibility scores, members will answer profile questions concerning various topics to grant you further insight into their personalities. For example, one of the more popular prompts asks the user to describe their perfect day. Other times they'll break down their ideal first date.
With so much data at your fingertips, eHarmony makes it extremely easy to figure out with whom you will communicate. The thorough psychological breakdowns are mainly responsible for the dating app's high relationship success rate.
eHarmony's Communication Features
If you want to communicate with other singles on the eHarmony dating app, you need to be a premium member. Nearly all communications features come at a cost. However, a few communication methods can be used by eHarmony free trial members.
Let's see what eHarmony has to offer!
Guided Communication
Because there's no dedicated search function for members to perform profile searches on their own, eHarmony uses a system of guided communication. This means they supply all daily match suggestions, including the What If wildcards. Taking complete control over the matchmaking process, eHarmony guarantees its customers will meet singles compatible on the deepest of levels with their personalities, values, and lifestyle.
Secure Messaging and Video Calls
eHarmony uses an SSL-encrypted connection, ensuring secure messaging and video calling between its members. Premium customers can enjoy no-limits messaging with their matches and even meet singles on the app face-to-face using Video Dates. Free trial members don't have this luxury.
Icebreakers and Pre-Written Questions
This is the free communication feature at eHarmony. It comes at no cost to those who pass up on a membership plan. Free or paying members can send an icebreaker or pre-written questions to their daily matches. All they get in return is a limited response, but it's still enough to get a general feel for how well your daily matches align with your dating preferences and standards.
eHarmony's Membership Options
eHarmony is one of the pricier dating services, which has pros and cons. The higher cost of entry ensures a more serious, driven user base that takes finding romance seriously. But it's still a hefty financial commitment – and times are tough, financially speaking!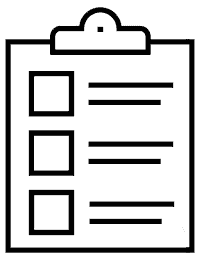 Free Features
These are all the perks and benefits that free users can enjoy without paying any money toward a membership plan. However, the free features can only take you so far!
Register an account
Create a free profile
32 Dimensions of Compatibility testing
View test results
Daily match suggestions
Compatibility reports
Add members to your Favorites List
Send "smiles," "compliments," and "ice breakers."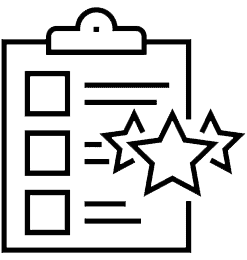 Paid Features
On top of the features listed below, you can also enjoy any of the free features mentioned before. The biggest draw to becoming a premium member of eHarmony is being able to communicate with your matches, either by messaging or video dates.
View profile photos
Unlimited communications
See who viewed your profile
See who added your profile to their Favorites List
Video Dates
What If (wildcard matches)
Premium Membership Benefits and Pricing
The dating service offers 6, 12, and 24-month plans. The longer the duration of your membership, the lower the monthly cost.
Premium Light
6-month plan
$65

90
Monthly
Total Cost: $395.40
View unlimited photos
Unlimited messaging
See who's viewed you
Distance search
Detailed personality profile
Select Plan
Premium Plus
12-month plan
$45

90
Monthly
Total Cost: $550.80
View unlimited photos
Unlimited messaging
See who's viewed you
Distance search
Detailed personality profile
Select Plan
Premium EXTRA
24-month plan
$35

90
Monthly
Total Cost: $861.60
View unlimited photos
Unlimited messaging
See who's viewed you
Distance search
Detailed personality profile
Select Plan
Unfortunately, they do not offer month-to-month financing options. You can either pay the entire total upfront or break it up into as many as four equal monthly installments.
Discounts and Promotions
The good news is that the eHarmony cost can be flexible. If you reach out to their customer service department, they'll often respond with a link offering sizable discounts. We were able to get 60% off with just a simple email.
Additional savings to consider are the reduced monthly cost rates that eHarmony offers on its more extended membership plans. Although you pay more for the longer subscriptions altogether, they come with a lower monthly cost rate that allows you to experience savings over time.
Creating Your eHarmony Profile
The cost of being given such strong matches and robust compatibility data is that eHarmony's sign-up process takes a bit longer upfront. It takes approximately 45 minutes from the time you register your email address and creates your profile until you reach out to potential matches. Think of it as an investment.
However, while the process is long, it's not incredibly labor intensive. It can even be quite fun.
1. Create Your Profile
The first step of the registration process is to fill out some basic information about yourself. You can sign up with your email address or connect your eHarmony profile to your Facebook account.
Once you've provided your login info, name, and age, you're asked some general questions, such as your gender, the gender you are seeking, height, body type, religious/spiritual beliefs, whether you smoke or drink, ethnicity, nationality, location, and distance from your location you're willing to find matches.
eHarmony will also ask you for your match preferences and how much you care about each of those same characteristics when finding a partner.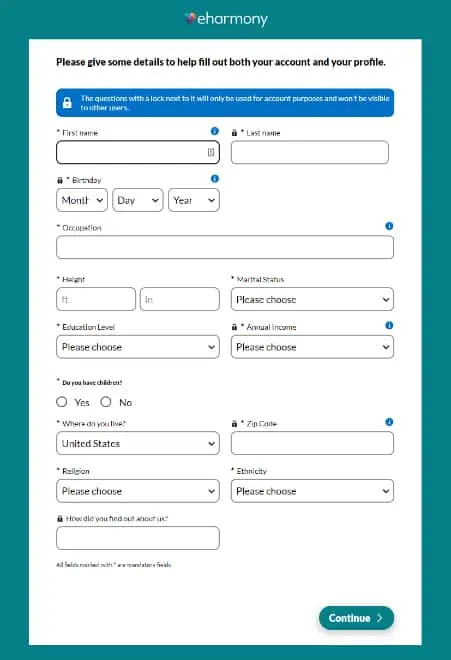 ---
2. Take the Personality Test
Once your basic profile has been created, it's time to take on eHarmony's patented relationship/personality questionnaire – the backbone of the dating app's matching algorithm.
The test helps create a detailed personality profile for each member, which eHarmony then uses to find the most compatible matches with the highest probability of forming lasting relationships.
The quiz consists of roughly 80 "yes or no," "either/or," and multiple-choice questions. There are also several situational questions asking, "what would you do if…?" or "how would you respond to…?" Some of them merely show you two or more pictures and ask which one you like most. At the end of this process, eHarmony has a detailed personality profile for you and compatibility scores with all your matches.
---
3. Upload Pictures
Once you've finished the relationship questionnaire, you're almost done! The time-consuming stuff is finished. By now, the eHarmony app has already matched you with compatible prospects in your area. Next, the dating service will inform you that profiles with multiple pictures attached get significantly more looks and communications than those without pics.
Upload between 1 and 10 pictures of yourself to build the most substantial profile possible. Looks are still important to people, so you want to provide an honest representation of your appearance. Otherwise, it will be extremely awkward when you show up to your first date, and they don't recognize you initially.
---
4. Answer Profile Questions
Now, your profile is ready to go. However, eHarmony will inform you that you can further strengthen your profile by answering some "About Me" questions. These aren't required, but they provide potential matches with conversational starters and additional insight into your personality.
The first section to complete asks you to "introduce yourself." This is a general bio explaining who you are, what you do, and what you're looking for. Then, you can choose from a list of prompts such as:
My best attributes…
An odd habit of mine…
The most important thing I'm looking for in a person…
I spend my free time…
The most influential person in my life…
The first thing people notice about me…
My ideal first date…
My happy place…
My most unforgettable travel story…
I would describe my appearance like this…
I should do this more often…
I have a passion for…
You can answer as many of these writing props as you want. The more you do, the stronger your profile will be and the more opportunities you must have to impress prospective partners. When matches are browsing your profile, they can hit the "like" button on any of your answers, which sends a "compliment" to your messages, effectively opening a dialogue between the two of you.
---
5. Contact Your Matches
All that's left to do now is to start contacting your matches!
However, if you still need to upgrade to a premium membership, your communication options are limited. Free users may send "smiles" and "winks" to other members, as well as "ice breakers," which ask both parties to either choose their five favorite pictures in an automatically generated assortment or answer five questions. These members may also send "compliments" by hitting the like button on various profile sections. They cannot send personalized messages.
Premium members can see which users are online and active and can send messages to their matches at will. You can also expand your filters to include potential matches outside your compatibility area. You can change the age range, location, and multiple other characteristics to narrow or widen your net as necessary.
The eHarmony app will also provide tips for effective communication so that you can open dialogues with the utmost confidence.
How to Delete an eHarmony Account
If you want to delete your eHarmony account for any reason, it can be done in just a few simple steps! Deleting your profile means you no longer have access to your matches or messages. Once the deletion process is done, it's permanent; there's no way to restore or resurrect your old profile once the deed is done.
Follow the instructions below to get rid of your eHarmony account in no time at all: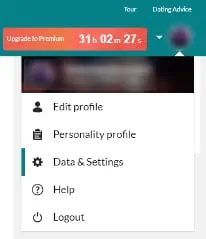 Click on Drop-Down Arrow – Begin by clicking the drop-down arrow next to your profile picture icon at the top right-hand corner of the screen.
Data and Settings – Once the menu drops, click on "Data and Settings."
Profile Visibility – Look under the "Profile Visibility" section, and you'll find a link to "delete your profile permanently." Click on the link, and you'll be asked to enter your account password to finalize the permanent deletion of your eHarmony profile.
eHarmony Customer Service
Like many other dating apps in the online market, eHarmony comes with limited customer service options. These platforms typically need a dedicated team that's on call to take phone calls, respond to emails, or speak face-to-face via live chat. Instead, they come with help centers that feature extensive FAQs and troubleshooting pages.
Welcome to the Help Center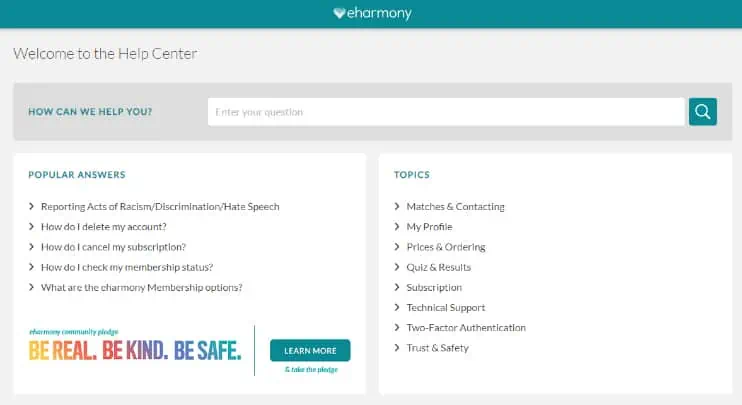 This is what the eHarmony Help Center looks like. Use the search bar at the top to submit your questions and be directed to the correct answer. As you can see, there's also a menu where you can search for your problem or issue by topic. There's even a whole section dedicated to "Popular Answers."
eHarmony and many other popular dating apps leave it to customers to work through problems on their own, a setup that is one of the weaker aspects of the app.
eHarmony's Mobile App
Let's take a moment to talk about the eHarmony mobile app. It's much like the eHarmony website but does have a slightly more streamlined design that's perfect for mobile devices. Whether you're accessing the site on your mobile device using the web browser or downloaded the app from Google Play or the App Store, eHarmony allows its members to find true love or meet their soulmate on the go!
App Features and Functionality
Aside from a more streamlined design, the mobile version of eHarmony comes with the same features that you'd find on the website:
Register an account
Create a free profile
32 Dimensions of Compatibility testing
View test results
Daily match suggestions
Compatibility reports
Add members to your Favorites List
Send "smiles," "compliments," and "ice breakers."
View profile photos
Unlimited communications
See who viewed your profile
See who added your profile to their Favorites List
Video Dates
What If (wildcard matches)
The app functions well and is largely free of glitches, lagging, or other significant errors. The mobile app handles and feels like the website in many ways, but it's ultimately much sleeker and has a more modern feel and functionality.
Compatibility
The eHarmony mobile app and the eHarmony website can be used or accessed on Android and iOS devices. The app is free to download, and both Google Play and the App Store offer in-app purchases.
Google Play
3.1/5 stars
Based on 54.7k reviews
5M+ downloads
App Store
4.0/5 stars
Based on 27.2k reviews
Frequently Asked Questions
Check out some of the most common questions we've gotten in the past from real people about the eHarmony dating app. There's a good chance we'll tie up any loose ends here that we might have missed in our eHarmony review.
Is eHarmony Only for Serious, Long-Term Relationships?
Yes, eHarmony is designed to help singles looking for long-term, committed relationships. They will deny applicants looking for casual relationships or who they deem incapable of maintaining a serious relationship. They do not cater to users seeking casual sexual encounters.
Does the Eharmony App Work the Same as the Website?
Yes, the eHarmony app contains all the same features as the website. However, the layout is slightly more streamlined for the application.
How Does eHarmony Determine My Matches?
eHarmony uses an advanced matching algorithm to determine compatibility based on an extensive personality quiz.
Can You Try eHarmony for Free?
Yes, but free members cannot see their matches' pictures, nor can they write personalized messages. Free users are limited to sending "smiles," "compliments," and "ice breakers."
Why Does eHarmony Reject Some Perspective Members?
eHarmony rejects prospective members who aren't looking for committed long-term relationships. They'll also deny users who have been divorced four or more times or who are suffering from major depressive disorders, preventing them from making lasting connections.
What Do Other eHarmony Members See on My Profile?
Other premium members see your self-authored biography, pictures, and characteristics such as height, body type, religious/spiritual beliefs, and whether you smoke or drink. They can also see your distance from their location and the answers to any "About Me" questions you may have answered for your profile.
To see for yourself what your matches can see, click on "preview my profile."
Will My eHarmony Profile Pictures Appear in Google Search Results?
No, your personal information and pictures will not appear in Google search results.
Is the eHarmony App Safe to Use?
Absolutely! eHarmony is committed to the safety and security of its users. The dating service has implemented a thorough verification process to ensure its customers' safety.
Can I Delete or Remove My Matches on eHarmony?
Yes, you can. Just click on the "x" in the top left corner of one of your matches to remove them from your matches permanently.
Who Owns eHarmony?
eHarmony is a private company owned by the NuCom Group, a joint venture between ProSiebenSat.1 Media (a German mass media company) and General Atlantic, an American private equity firm.
Is eHarmony Right for Me?
If you're a heterosexual single looking for a committed long-term relationship, then eHarmony is the right dating app for you!