SilverSingles is a great dating app for singles who are 50+ and are looking for love or serious relationships with other older singles! SilverSingles keeps things simple for their users and offers three membership plans that offer all the same features but come in lengths of 1, 3, and 6 months.
So how much does SilverSingles dating site cost? What kind of features can I expect when I begin using the app? We will answer these questions and cover a lot of other stuff that is worth knowing about when it comes to SilverSingles! Be sure to read up on cool features like auto-renewal and some free trial opportunities.
---
---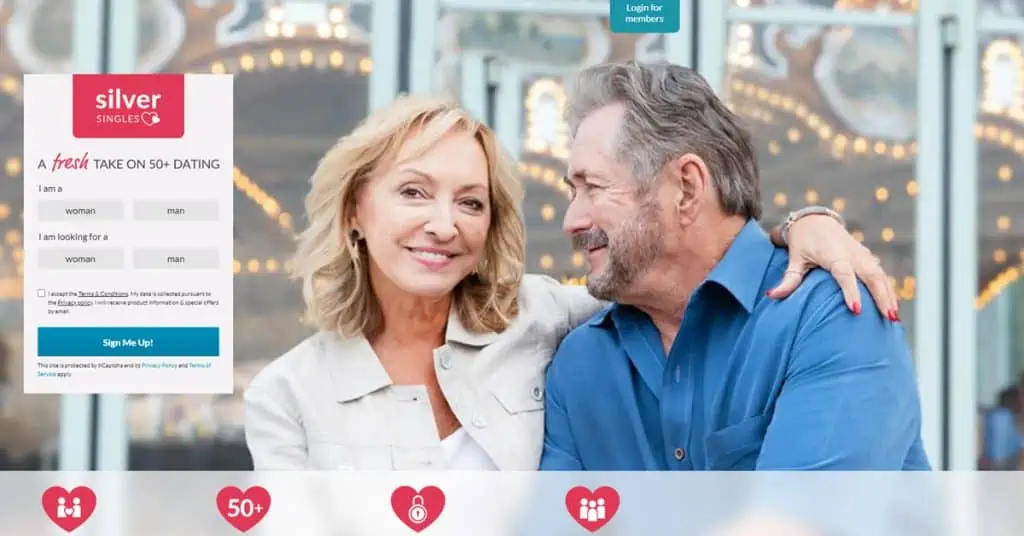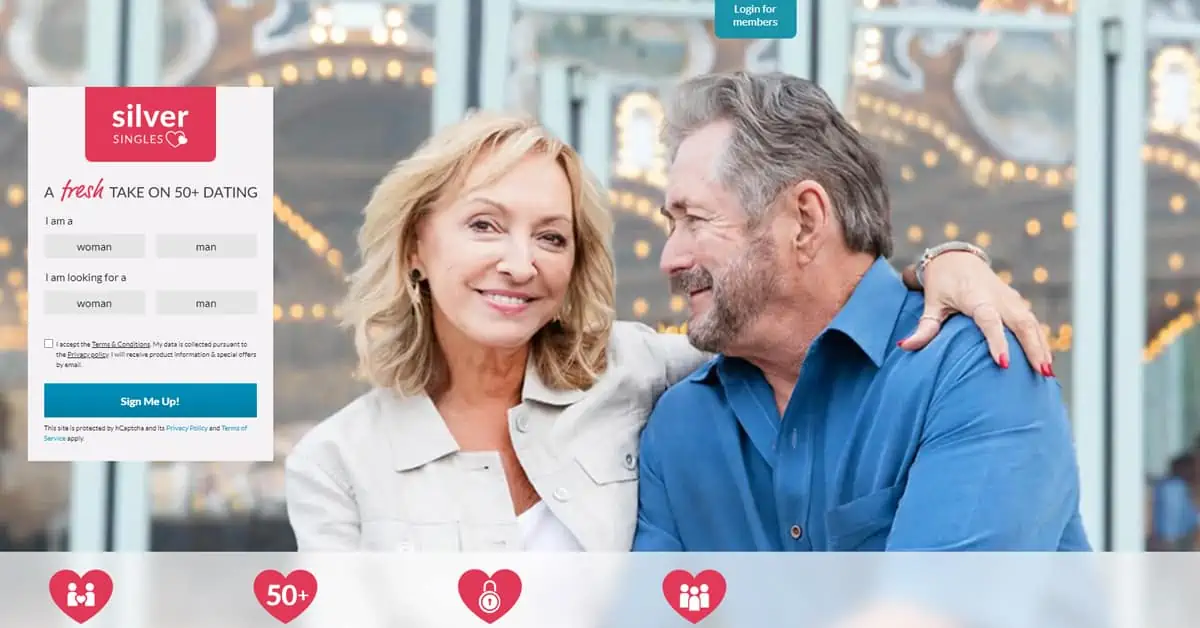 How Much Does SilverSingles Dating App Cost?
SilverSingles only offers three membership plans, and they all include the same features and capabilities for the user. The only way that they differ is in their length! And as you can see, it might be a little more cost-effective to pull the trigger on a longer plan than to renew short plans again and again!
| Membership Length | Yearly Cost |
| --- | --- |
| 1 Month Membership | $695.40 |
| 3 Month Membership | $455.40 |
| 6 Month Membership | $335.40 |
Something to keep in mind is that all SilverSingles memberships are billed as one lump sum to the customer. There are no payment plans or anything like that to spread the payments out over time. You pay all at once. This is something that is just good to know before signing up for a membership!
Start Your SilverSingles Membership Today!
How Much is SilverSingles Per Month?
What do these SilverSingles membership plans look like broken down into cost-per-month? We have included a chart for your convenience laying out the monthly cost breakdowns. Notice that the longer plans have a much better monthly rate! You might strongly consider purchasing a longer plan just in case your search for the right singles takes longer than you originally expected.
| Membership Length | SilverSingles Price Per Month |
| --- | --- |
| 1 Month Membership | $54.95 |
| 3 Month Membership | $37.95 |
| 6 Month Membership | $27.95 |
The SilverSingles Membership Features
So what comes with the SilverSingles membership? Well, SilverSingles keep things really simple, and everything is clear-cut. Every membership in this dating app comes equipped with the same features! So that means there are no extra add-ons and there are no extra charges or hidden fees or anything like that. The only difference between memberships is their length.
Here is a rundown of the features and benefits that come with ANY of SilverSingles premium plans:
Unlimited messaging
Access to the mobile app
Online profile creation
Access to personality quizzes
Daily matches for eligible singles near you
View other singles' profiles
See other singles' photos
Sending virtual smiles
Is SilverSingles.com Free?
If you are not certain about joining SilverSingles right away and you want to take the app out for a spin to see if you like it, you can do so by using the free trial account! Users can get an idea of how the site functions and what kind of features are at their disposal to help them find older singles.
Here are some of the free services that you can take advantage of before you even have to pay a penny in membership costs:
As you can see the functions and capabilities are going to be much more limited with the free trial. That is why our official recommendation is to pay for a membership. The free trial is great for gauging if SilverSingles is a good option for you but, long-term, it is not a viable strategy to meet other older singles. With a membership, you get unlimited messaging and access to the mobile app!
Free Services Offered
Create your online profile
Take the personality test
Get daily match results
Look through other member profiles
Send smiles to other members
Free Trials vs Paid Membership Plan
For a much clearer picture of the differences between the SilverSingles free trial and their membership, we have included a summary in the table below:
| Feature | Free Trial | Premium Membership |
| --- | --- | --- |
| Profile Creations | Yes | Yes |
| Access to Daily Matches | Yes | Yes |
| View Other Users' Profiles | Yes | Yes |
| Personality Quizzes and Testing | Yes | Yes |
| Virtual Smiles | Yes | Yes |
| Ability to Use the SilverSingles Mobile App | No | Yes |
| Unlimited Messaging With All Other Members | No | Yes |
| Ability to View Photos on Users' Profiles | No | Yes |
Payment Options
Like a lot of dating apps, SilverSingles accepts most major credit cards as a form of payment. Keep in mind that all memberships at SilverSingles are billed as one large lump sum on one day. Be sure you have enough money to cover the entire membership all at once!
PayPal
American Express
Mastercard
Visa
Diners Club
Auto-Renewal
All membership plans at SilverSingles are set to automatically renew at the end of the membership timeframe. The user will be billed for the same plan at the same price. For instance, if you purchased a 3-month membership at $37.95/month and you come to the end of your 3-month plan, you will be automatically billed another $37.95/month and get a renewed 3-month membership at SilverSingles!
While auto-renewal is a handy feature, many people are more comfortable opting out of it altogether. And that is fine! All you need to do is contact customer service any time before your plan is set to expire and request that the auto-renewal be turned off. It is that simple!
SilverSingles App Cost FAQ
Looking for more information about the cost of SilverSingles? Be sure to read our answers below to some of the most commonly asked questions we receive about it.
How Much is SilverSingles Per Month?
If you break down the cost per month, you will be paying $54.95/month for the 1-month plan, $37.95/month for the 3-month plan, and $27.95/month for the 6-month plan. The plan that spans a year is obviously going to run you more than the 3- or 6-month plan but notice that the 6-month plan is cheaper and offers you more time than the 3-month plan. It might be worth your while to pay for more time and capture those savings while you can!
Is SilverSingles Really Free?
There is a free trial version of SilverSingles that new customers can use to determine if the app is right for them. The free trial will allow you to search for matches near you and some other limited functions. Ultimately, you are not going to be able to view photos or send messages to any singles on the app unless you opt for a membership upgrade.
Are There Any Memberships That Have Upgrades or Additional Features?
Unfortunately, the only difference between membership plans at SilverSingles is their term length. Each of the three plans is going to have the same features as the next. But in a more positive light, there are no unexpected fees that come with extra add-ons or upgraded features. What you see in this review is what you get!
How Are SilverSingles Memberships Billed?
If you want to get a membership at SilverSingles, know that you will pay for the entire membership in one lump sum on one day. There are no payment plans to spread things out over time. You pay for everything all at once. It definitely keeps things nice and simple.
Is the Cost for SilverSingles Better Going With a Longer Membership Plan?
Ultimately, you need to decide on a plan that will give you adequate time to find the singles you are looking for. It never hurts to play it safe and just go with a longer plan instead of buying a shorter plan and renewing it again and again. You save a lot more money just by buying the longest plan. The monthly cost is a lot lower that way.