Looking for the best dating apps for single parents in 2023? DatingApps.com has just the sites for you to meet single dads and moms on your busy schedule! Being a single parent is not an easy task and you can often find yourself hard-pressed to find the time to even meet someone. And on top of that, there might not be anyone in your local area that interests you. That is where our favorite dating apps for single parents come in! They will provide you with the time and convenience to search in the midst of a hectic calendar. And they will widen the options in your dating pool to ensure you find a good match!
Dating App
Best For
Free Trial
eHarmony

• Number of Users: +10 million
• Gender Ratio: 48% men and 52% women
• Best For: Finding love and quality, compatible connections
• Pricing: Begins at $35.90 per month

Start Free Trial Today!
SingleParentMeet

Number of Users: 77,000
Gender Ratio: 43% men and 57% women
Best For: Single parents looking for serious relationships
Pricing: Begins at $5.94 per month

Start Free Trial Today!
Elite Singles

Number of Users: 2+ million
Gender Ratio: 44% men and 56% women
Best For: Finding love and deep relationships with other professionals
Pricing: Begins at $31.95 per month

Start Free Trial Today!
Zoosk

Number of Users: 35+ million
Gender Ratio: 47% men and 53% women
Best For: Flirting, finding love, and getting dates
Pricing: Begins at $10.00 per month

Start Free Trial Today!
SilverSingles

Number of Users: 800,000
Gender Ratio: 41% men to 59% women
Best For: Senior singles pursuing romantic relationships and casual dating
Pricing: Begins at $24.95 per month

Start Free Trial Today!
You can begin your journey by signing up for a new account at any of our dating apps for single parents. You can also go the route of a free trial if you are unsure and want to test out the site. Free trials are also a great way to hold off and save a little money before committing! Whichever way you go, you will be guaranteed to find matches with other single dads or moms in no time at all.
---
---
What Is the Best Dating App for Single Parents?​
Of the dating apps we recommend for single parents, there is not one that truly stands out as the best. What we have here are five extraordinary dating sites that each offer something special to the user. It is really a matter of you deciding for yourself which sites offer the features and services you need to succeed in your journey. We are all about helping you find a dating app that makes sense for your needs!
#1: eHarmony​
User Base: All singles
Paid Subscription: Yes
Free Trial: Yes, limited
Subscription Price: Starting at $35.90 a month
Number of Users: 10+ million
Paid Subscribers: Over 750,000
Gender Ratio: 48% men to 52% women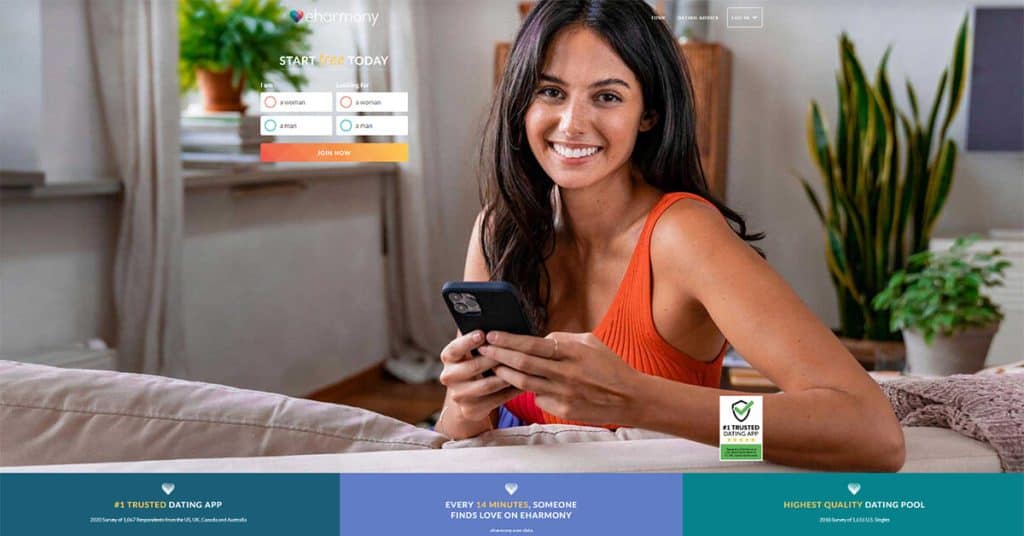 eHarmony knows the struggles and challenges that single parents face. They have a whole page dedicated to this subject! There is the work of taking care of the kids, your regular work/career, and (with whatever energy you have left over) the work to find other single parents to share your life with. eHarmony lauds their compatibility testing for getting to the heart of what it means to be a single parent by asking questions such as "what characterizes you?" or "what drives you?" as well as "how do you organize your life" and how do you communicate?" eHarmony is so rigorous and thorough with their testing (leaving no rock unturned) that we can't help but recommend them as one of the best dating apps for single parents in 2023!
---
#2: Elite Singles​
User Base: All singles
Paid Subscription: Yes
Free Trial: Yes, limited
Subscription Price: Starting at $31.95 a month
Number of Users: 2+ million
Gender Ratio: 51% men to 49% women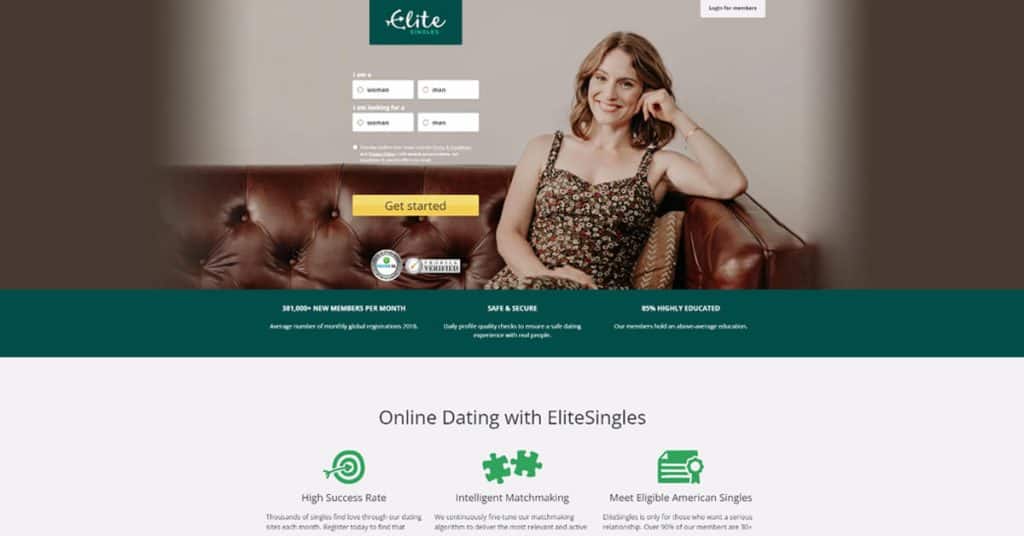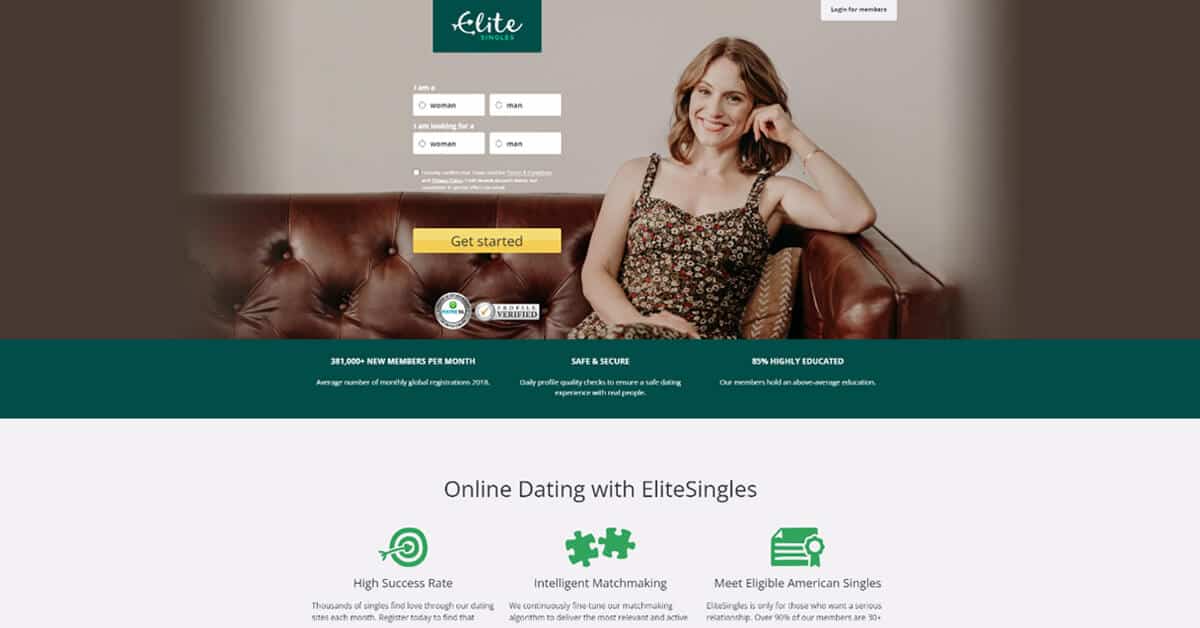 Elite Singles is known for using compatibility testing to create successful matches as well as having a high success rate when it comes to long-term relationships. And when you think about it, most single parents are looking for something serious as opposed to casual dating, hookups, or flings. Elite Singles is a great dating app for single parents because they feature extensive personality testing. Single parents can share their interests, goals, and partner requirements, and Elite Singles does all the legwork to find meaningful matches based on compatibility.
---
#3: Christian Mingle​
User Base: All singles
Paid Subscription: Yes
Free Trial: Yes, limited
Subscription Price: Starting at $14.99 a month
Number of Users: 15 million
Gender Ratio: 46% men and 54% women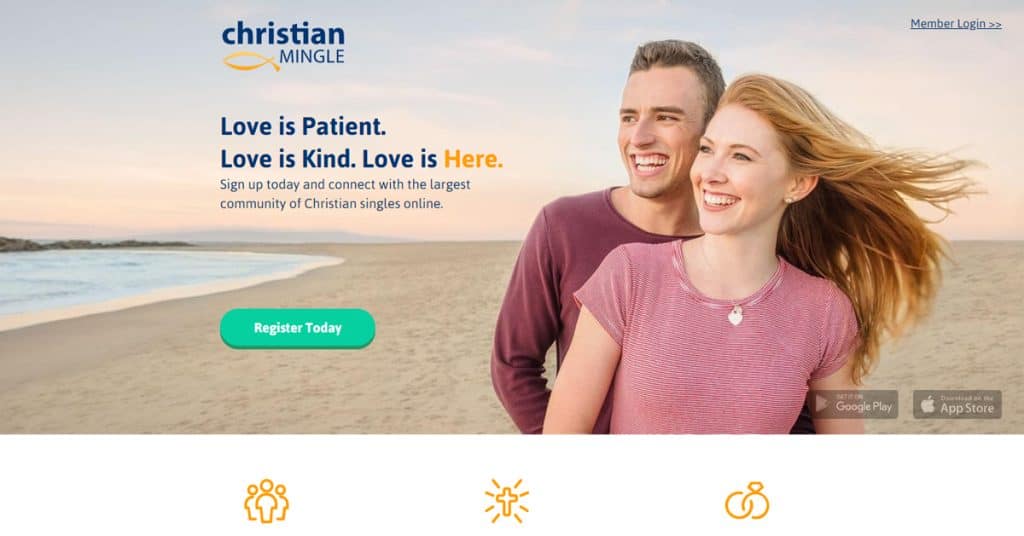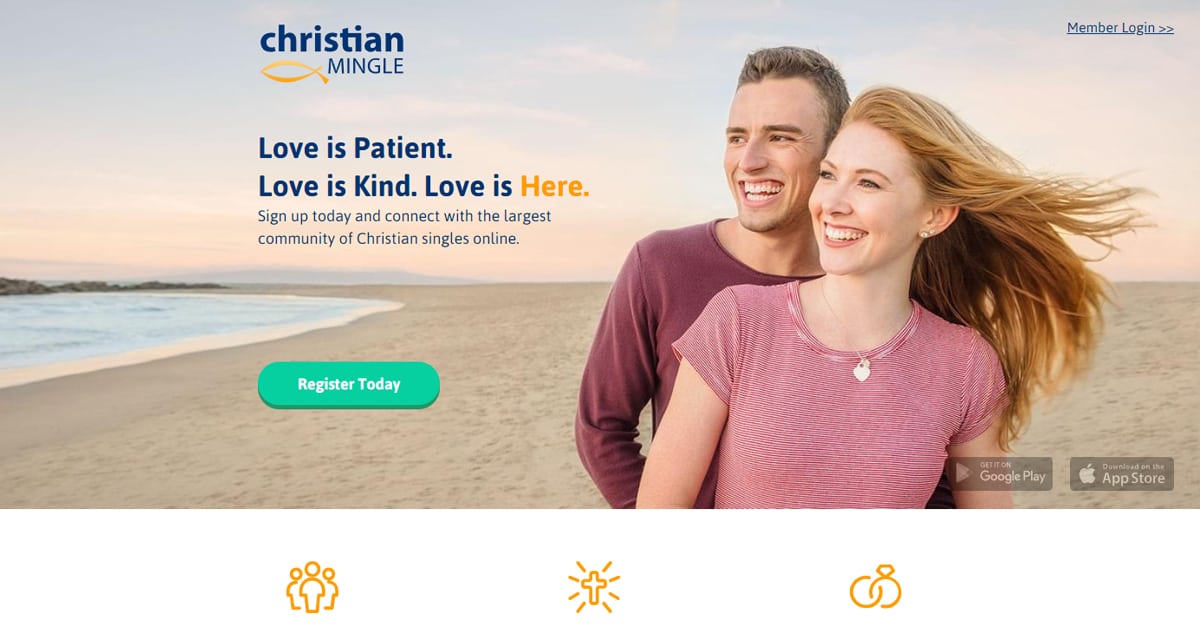 Christian Mingle is another dating app that has a heavy focus on long-term, serious relationships and marriages. Among these success stories are people who were single parents that found love and a quality connection with a suitable match! Christian Mingle offers a ton of appropriate resources on its website such as articles geared toward single parents who are ready to begin using the site. There are also success stories and advice blogs that deal with subjects like the dating experience with children or the unique experiences of having a blended family. Christian Mingle is an extremely helpful dating app when it comes to matching single parents!
---
#4: Zoosk
User Base: All singles
Paid Subscription: Yes
Free Trial: Yes, limited
Subscription Price: Starting at $10.00 a month
Number of Users: 40+ million
Gender Ratio: 48% men and 52% women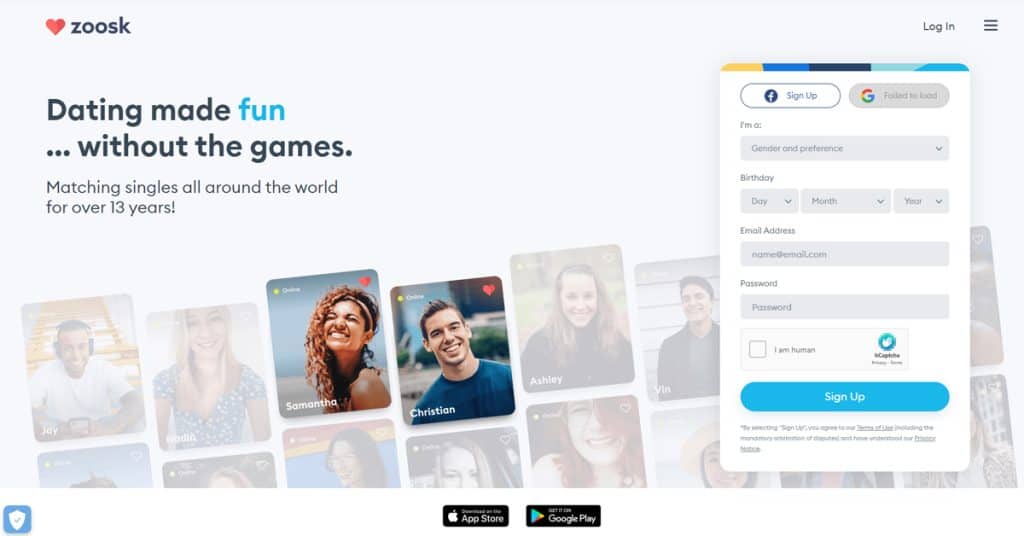 Zoosk boasts 1.6 million messages sent daily through its doors. As a single parent, this means that your pool of potential candidates has just opened up significantly! Zoosk also features advanced filters to find quality matches and a user-friendly design that allows you to meet and chat with other single parents with ease! As a single parent, this means that you now have the time to search for other singles and the convenience of being able to do it all from the comfort of your smartphone, tablet, or computer! Zoosk's simple design and high volume of users is a winning combination for single parents everywhere!
---
#5: NextLove​
User Base: All singles
Paid Subscription: Yes
Free Trial: Yes, limited
Subscription Price: Starting at $20.00 a month
Monthly Users: 2.4 million
Gender Ratio: 39% men and 61% women
NextLove is the self-proclaimed largest dating app in the world for single parents, so we had to include it on our list! One of their big claims of success is that they match single parents every 14 minutes. This site takes its time with new members, running a thorough vetting system that ensures most profiles are completely legitimate and free of scams. They run off of Our Profile Verification, SSL Encryption, and Fraud Detection Systems to ensure single parents are not wasting their time with fake accounts or bots. Try out NextLove, and who knows? Maybe you will find your perfect match in 14 minutes too!
---
Begin a free trial at any one of our top-rated dating apps for single parents, and start on your journey to find that special someone. Create an account and subscribe to enjoy the full range of benefits and perks that these dating apps have to offer!
Dating Apps Exclusively for Single Parents​
There are also options for single parents where the dating app is exclusively focused on the needs and experiences of single parents! This can allow for a more streamlined process for the user as anyone who is on the site is looking for the exact same thing. Here are some of the best dating apps exclusively made for single parents in 2023!
#1: Stir​

This is a dating app for single parents that is brought to you by Match. That is right. Match. The famous compatibility dating app. This is a division of their main site and has its sole focus on the challenges and needs of the single parent. And they bring over the same customer questionnaires and comprehension testing they are so known for over at Match.com! You really cannot go wrong.
eHarmony Pros and Cons
Pros
Cons

Good vetting leads to few fake accounts, scams, or bots
Comprehensive compatibility testing all thanks to Match.com
Stir specializes in creating matches for single parents
You can pay for a longer subscription and pay less in the long run
Paid features include sending gifts, privacy mode, and increased messaging capabilities

Filtering and search options are not as extensive as other services
Searches cast a wide net but weirdly ignore local singles
Prices for stir are higher than Most online dating apps
Shortest subscription plans cost the most
Limited features when using the trial version
#2: NextLove​

Yes, the very site we mentioned in our top five list! This is the single dating app we recommend that is solely devoted to matching single parents exclusively. Check out some of their greatest strengths and areas of improvement in the table below:
NextLove Pros and Cons
Pros
Cons

The free trial mode allows you to use the site anonymously
24/7 service and support keeps users safe and secure
Intuitive filtering and searching capabilities lead to good, quality matches
Most users are between ages of 25 and 45
They are based in Europe but do accept US customers

NextLove pricing is more compared to a lot of other dating apps
Free trial members cannot capitalize on all features
Not a great dating app to use for casual relationships or hookups
The small userbase of 28,000 in the US
You pay more for shorter subscription plans
#3: SingleParentMeet​
SingleParentMeet is another great dating app for single parents to be using in 2023. They cater exclusively to this market. They are committed to helping their customers find serious partners who are single parents with matches being made based on their personal information, preferred dating methods, and geographical location.
SingleParentMeet Pros and Cons
Pros
Cons

The prices here are more affordable compared to other sites of its ilk
Information on the user's past relationships and children is clearly posted for all to see
Same-sex relationships are welcomed at SingleParentMeet
The site also offers users the chance to find friendships and close companions
The longer the subscription plan, the cheaper it is for you

There is no phone line for customer service
SingleParentMeet is prone to fake accounts and scammers
Not a great site for casual dating or affairs
Available only in the US and Canada
The free trial is going to be limited when it comes to features
Are There Free Dating Apps for Single Parents?​
You are going to experience two completely different things when you decide between a dating app free trial and a dating app paid membership. The long and short of it is that free trials are going to be severely lacking in features and benefits, while paid memberships will allow you do to so much more! While you are paying for a membership, many of the dating sites we promote will offer a discount with a longer subscription plan.
Paid vs. Free Dating Apps​
| Paid Apps | Free Apps |
| --- | --- |
| Good vetting leads to few fake accounts, scams, or bots | Filtering and search options are not as extensive as other services |
| Users that pay for the app tend to be more serious in their pursuits | You do not have to pay any money for the service |
| You are paying money, but you get great features like full messaging capabilities and video chatting | You will have limited messaging function |
| You will be able to view matches anonymously using incognito mode | Video chatting will not be available |
| A short-term subscription will cost more then a long-term membership plan | You will not have the ability to browse matches anonymously |
| You can cancel your subscription when you no longer need the service, but your profile will remain intact | The free trial allows you to test of the site before putting money down |
Free Trial Dating Apps for Single Parents​
Each of these dating apps includes a free trial option that you can use to view matches and enjoy limited messaging capabilities. This can be a great way to save money and test out the dating app before paying a membership.
How to Sign Up for the Dating App of Your Choice​
If you are a single parent, we can only assume that you lead a really busy life! The great news is that signing up for a new account at a top-rated dating app only takes a matter of minutes! In fact, we have only included 5 steps. That is how easy it is!
Head over to Google Play or the App Store. Go to the search bar and search for the dating app you are interested in downloading. Download it to your mobile device.
Once the download is complete, fill out the basic information the site requires. This will include your name and age as well as your email address.
In order to create your free trial account, you will also need to create a unique username and password.
The next part of the process is where you can tell the app a little bit about yourself. Fill out the customer questionnaire completely and correctly.
You will then be given the option of going for a paid membership. Simply click the Subscribe button and select a payment plan that works best for you. If you are not interested, simply proceed to find who you were matched with!
Tips for Using Single Parent Dating Apps​
Here are a few hot tips and best practices for using the best dating apps for single parents:
Choose a Reputable and Trusted Online Dating App​
This should be no problem because you are using our favorite dating apps! If you have any doubts about the sites we recommend, feel free to read some of our comprehensive reviews or check out user comments and feedback online. Whatever dating apps you end up landing on, be sure it is one that you can trust in this journey to find other singles with children.
Be Honest With Matches About Past Relationships and How Many Children You Have​
It is important to be honest and upfront with anyone you meet online regarding the number of children you have and anything concerning prior relationships that could affect a future relationship with them. Being honest early on can help you to avoid problems later on.
Be on the Lookout for Scammers or Fake Accounts​
No matter how good the dating app is at vetting new users, there is always the chance that scammers and fake accounts can slip in. Know the red flags and report any fishy activity to customer service. Be aware of profiles that have no photo or a stock image. You might want to be careful with singles who give instantaneous replies or generic-sounding answers.
Single Parent Dating Apps and Sites FAQ​
What Are the Advantages of Using Dating Apps That Are Solely for Single Parents?
If you use dating apps that exclusively cater to single parents, everyone you are matched with will be on the same page as you, by and large. There is no risk of accidentally getting matched with someone who is not a single parent. Everyone on a site like that knows why they are there and what they are looking to get out of the service.
How Do I Choose the Right Dating App for Me?
First, make sure that the dating app you are using caters to single parents either exclusively or in some capacity. Find one that fits your budget. You can scan the paid membership plans and use free trials while you are waiting to decide. The free trial should give you a good idea of what the site offers to single parents as far as benefits, features, and perks go.
How Secure Are These Dating Apps for Single Parents?
Each of the dating apps in this review uses an SSL-encrypted connection ensuring that all their customers' personal and financial information is kept completely safe and confidential. We do ask that customers exercise caution with the people they meet on these sites as many do have fake accounts and scammers that have slipped through the vetting process. Customers are responsible for their own safety in this regard.
What Is the Best Dating App for Single Parents?
As we mentioned earlier, there is not one clear-cut dating app that is the absolute best in our opinion for single parents. They all offer something a little different and play to their strengths in a respectable manner. If there was one thing that we could point to with one of these apps that would allow it to edge out over the others, it would be the fact that Next love caters exclusively to single parents.
Should I Go with a Free Trial or a Paid Membership?
It really all depends on what you want. If you do not want to spend any money but experience limited features, then go with a free trial. Paid memberships are quite affordable (they actually get cheaper if you pay for a longer membership) and offer the full line of features and benefits including messaging, video chatting, invitations to in-person social events, and more!
Can I Use These Dating Apps on My Desktop PC or Just Mobile?
You do have the option to visit the dating app's website page on both mobile and a desktop PC. All you need is a web browser and a reliable internet connection. Dating apps for single parents can be accessed on both Android and iOS devices including smartphones, tablets, and personal computers.
Does It Take Long To Create an Account?
The account creation process will differ based on the site because some have more extensive customer questionnaires. But all in all, creating a new account should take no more than 15 minutes.
Are There Any Good Dating Apps for More Casual Relationships?
If we had to point to one, we would say Zoosk because they do cater to a younger demographic. However, they have also been responsible for the creation of long-lasting relationships for single parents! Zoosk does a great job with establishing strong, long-term connections as well as more casual relationships.
Do Any of These Dating Apps Create Matches for Single Parents That Are the Same Sex?
Absolutely. Sites like eHarmony and Zoosk especially do not limit themselves to creating heterosexual matches only. A lot of these dating apps cover a wide range of possibilities and combinations.
Why Do You Recommend Sites Like Zoosk and Eharmony When They Do Not Exclusively Cater to Single Parents?
Good compatibility testing is the key here. These dating apps have done such a tremendous job over the years with creating successful pairings that we cannot help but include them on our top five list! Dealing with single parents is no different.