It's safe to assume that everyone who uses a dating app is doing so in the hopes of finding love or at least finding high-quality singles to date with the possibility of developing a long-term, serious relationship. No one wants to fall victim to a catfish or a con artist looking to bilk you out of your hard-earned money!
Dating is already stressful enough without having to wonder whether your dating app is safe and secure. And while no dating app, like any other website, is 100 percent safe, some apps take your safety and security more seriously than others! They cannot control the occasional fake profiles or scammers getting through the vetting process, but they do a remarkable job of booting them off the apps pretty quickly.
We have compiled a list of the best, most trustworthy, and safe dating apps so you can confidently pursue online romance.
Our List of the 5 Safest Dating Apps for 2023
About Our Rating and Review Process

Our rating and review process is relatively straightforward–we use in-house dating experts to scour every inch of the dating apps we review and rate them on a scale of match quality, ease of use, the time it takes sign-up, features, safety, security, and cost.
Reviews of the Top 5 Safest Dating Apps
Despite the fact that there are specialist dating apps where you may be sure to meet compatible people, we recommend beginning with one of the popular mainstream dating apps. We've picked the top five safe dating apps to get you started on the safest dating journey possible!
eHarmony
Eharmony is the most trusted and safest dating app we've encountered in our expert reviews. They've been perfecting the science of Internet romance for more than two decades. They want you to feel comfortable browsing for a life partner without worrying about the security of your personal data or financial transactions. The site is well-loved and secure enough to attract 16 million regular users and 4 million monthly visitors.
In terms of security, eharmony is among the best out there. In an effort to further strengthen the safety of their online accounts, they provide users with the option of using two-factor authentication. Additionally, users have the opportunity to report or block accounts they consider dangerous utilizing the messaging system. A group of professionals also carefully review all requests for new profile accounts. By taking these measures, they hope to reduce the number of fake accounts and scammers on the platform.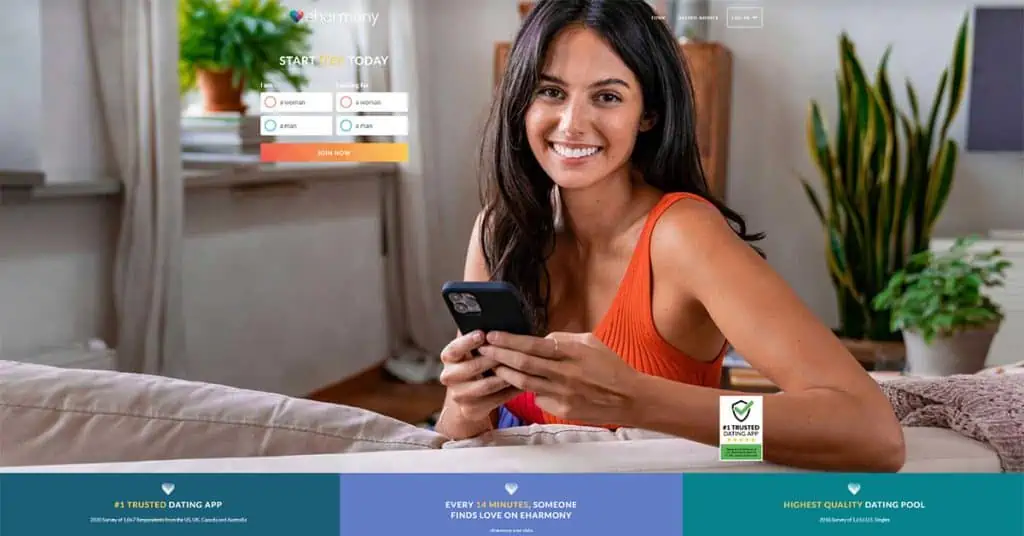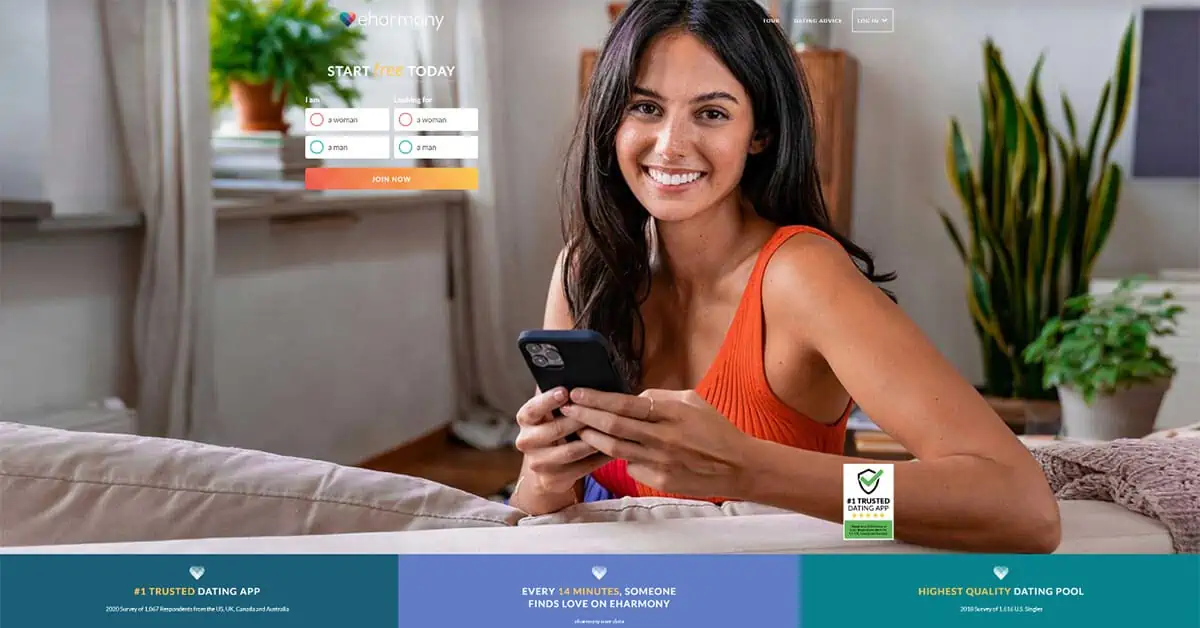 Premium Membership Features:
View Photos: By upgrading to a premium membership, you can unlock photos of members who pop up in your daily match suggestions. Now you can actually see what your matches look like.
Unlimited Communications: As a paying member, you can now send messages or chat with members from your daily match recommendations. No longer are you relegated to simply sending "smiles" or "compliments." You can actually talk with those you that eHarmony is recommending.
See Who Viewed Your Profile: Now that you're paying for a premium membership, you can see who has viewed your profile. Your ability to see what's happening in the app dramatically increases once you're a member.
See Who Added You to Favorites: You can see who added you to their list.
Video Date: This is one of the benefits of being a premium member. You can chat with or get to know your matches by talking face-to-face using Video Date.
What If: This feature is designed to meet other singles outside your daily matches. eHarmony provides 30 wildcard matches each day. They are singles who might be slightly different from your preferences but could be promising.
---
Elite Singles
Elite Singles is a secure dating platform for college-educated and career-minded individuals, accepting approximately 300,000 new members monthly and one of the safest dating apps. However, they don't see as much new monthly traffic as eHarmony and Match.
This is due, in large part, to the extensive screening procedure used by Elite Singles to ensure that all new members are well-suited to the site's niche audience of college-educated and career-minded singles. To cap it all off, this greatly boosts personal safety and security. The Elite Singles free trial does not enable you to submit photos, see profiles, or communicate with other members in any way, unlike the free trials offered by competitors like eharmony and Match. Since only paid members have access to these features, phishing and other types of scams are significantly reduced. If you are a paying member, your photo or profile update must be reviewed and approved by a team of administrators before being made public.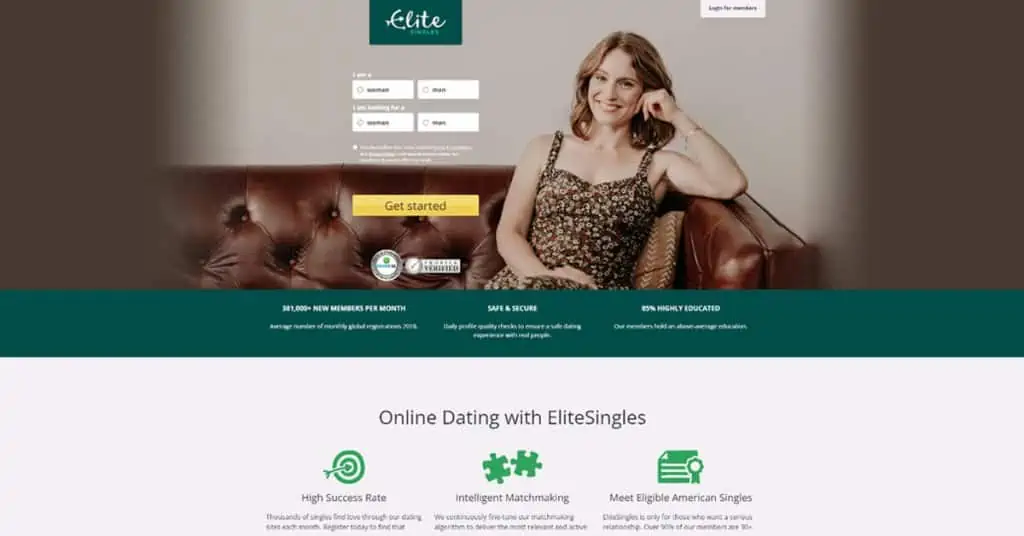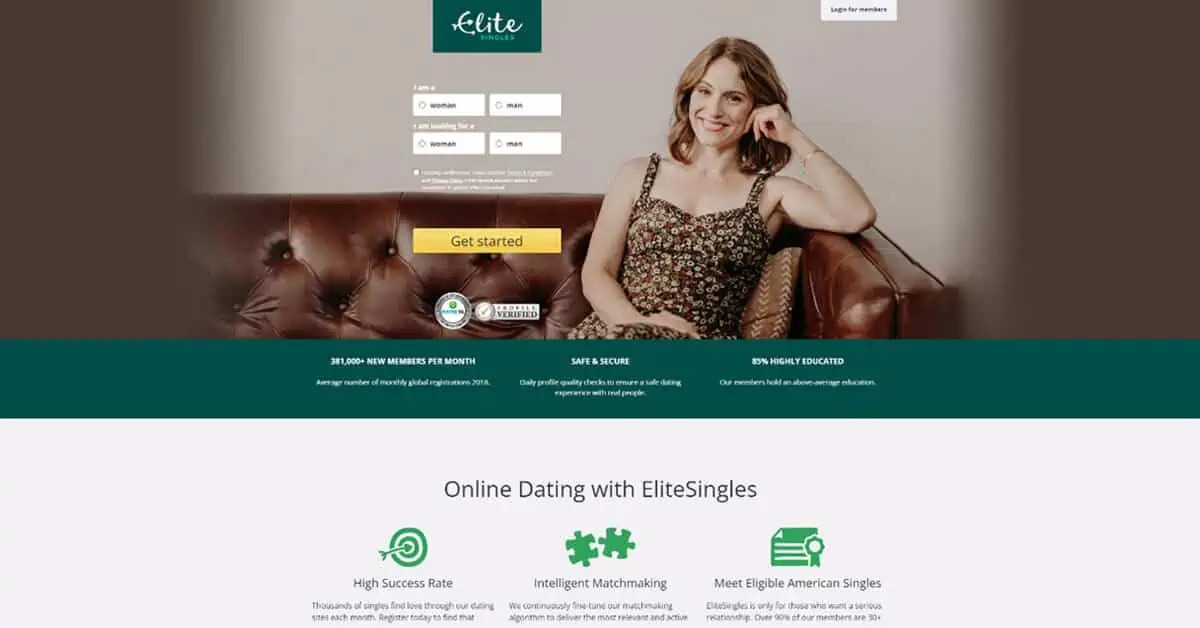 Premium Membership Features:
The Search Tool: We could not locate a search tool on Elite Singles. Don't be alarmed! They tend to steer you toward matches that match your preferences. They strive to personalize your matches rather than having you search through millions. You can go through everyone who matches your preferences.
Have You Met?: In our review, the Elite Singles' "Have you met?" function was extremely impressive. This is the feature where you swipe to like or dislike a match. It's not exactly a swipe—you click an X or a smiling face—but you get the idea. Unlike other dating apps, it provides extensive information about the individual.
Messaging: There is no need for a mutual match before initiating contact. It's simple to contact someone you find appealing; simply send them a quick message expressing your interest. However, as with other swipe-based dating apps, you and your potential match will be notified when there is a match.
---
Christian Mingle
Christian Mingle is yet another of the safest dating apps that allow you to make meaningful connections with like-minded singles without having to worry about the safety of your personal details or financial transactions. This secure dating app, like Elite Singles, has an entire staff devoted to monitoring profile changes and user photos. Christian Mingle's security staff is committed to identifying fake accounts and abusive users, another feature that gives users peace of mind.
Although it is ultimately up to the individual to exercise caution when interacting with strangers on a dating app, Christian Mingle does an excellent job of picking up the slack when necessary. A competent and friendly team is on call seven days a week to help customers. The support staff will quickly respond to any suspicious activity and remove any fake accounts that appear.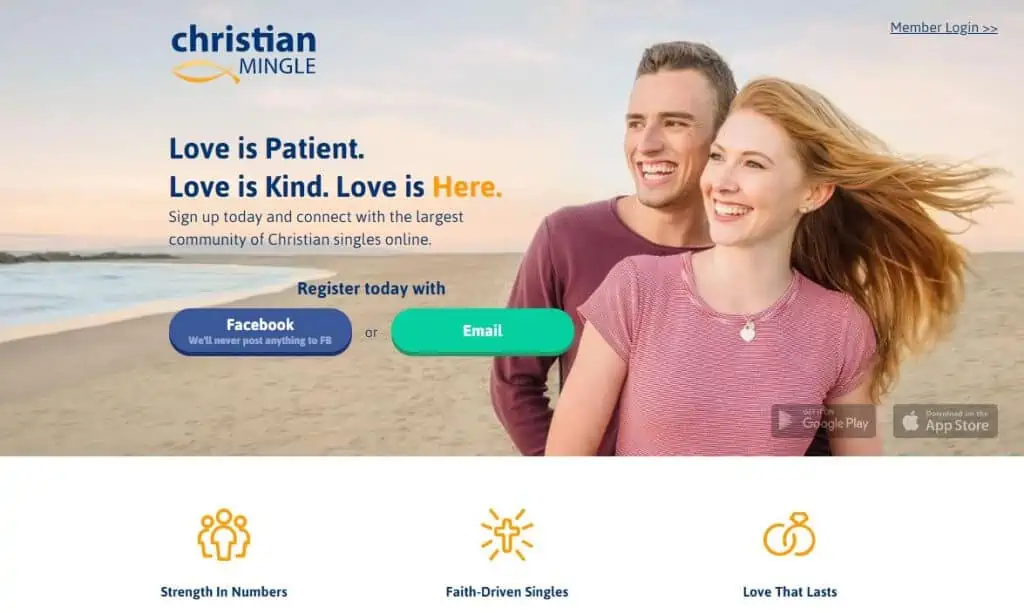 Premium Membership Features:
Messaging+: Members of Christian Mingle gain unlimited communication and messaging abilities with other members using the app. This is reason enough to commit to a paid membership plan. What good is a dating app if you cannot communicate with other singles?
Views: See which members have liked or viewed your profile when you become a paying member of the Christian Mingle app. Unless another member enables anonymous browsing, you'll be able to see anyone who likes or views your profile!
Anonymous Browsing: Paying members can browse other members' profiles anonymously from time to time. This allows members to view profiles in total privacy, with no one being the wiser. The members whose profiles are viewed are not notified that someone is looking at their photos or bio information.
See All Photos: As a "free trial" member, you'll only have access to a limited number of member photos. That all changes when you upgrade to a membership plan. You gain access to all other members' photos.
Read Receipts: You will be notified when the recipient has received and read your messages. You'll know for sure if someone is trying to ghost you!
---
Zoosk
If you're looking for one of the safest dating apps with plenty of users and a diverse demographic, you should definitely check out Zoosk. The site receives over 12 million unique visitors monthly and has over 40 million active users.
Their low prices, user-friendly interface, emphasis on compatibility based on personality and shared interests, stringent screening procedures, and many security measures all add to Zoosk's widespread popularity.
Zoosk Great Dates, a virtual version of traditional speed dating, has become very trendy. Using this fantastic new function, singles can finally put a face to their profile photo and learn more about their potential dates during a video chat. Zoosk also offers a live streaming video service called Zoosk Live, where users can watch other singles on their computers or mobile devices. Not to mention the four ways users can verify their identities on Zoosk: via their phones, Twitter, Facebook, or by having their photos manually approved by Zoosk staff.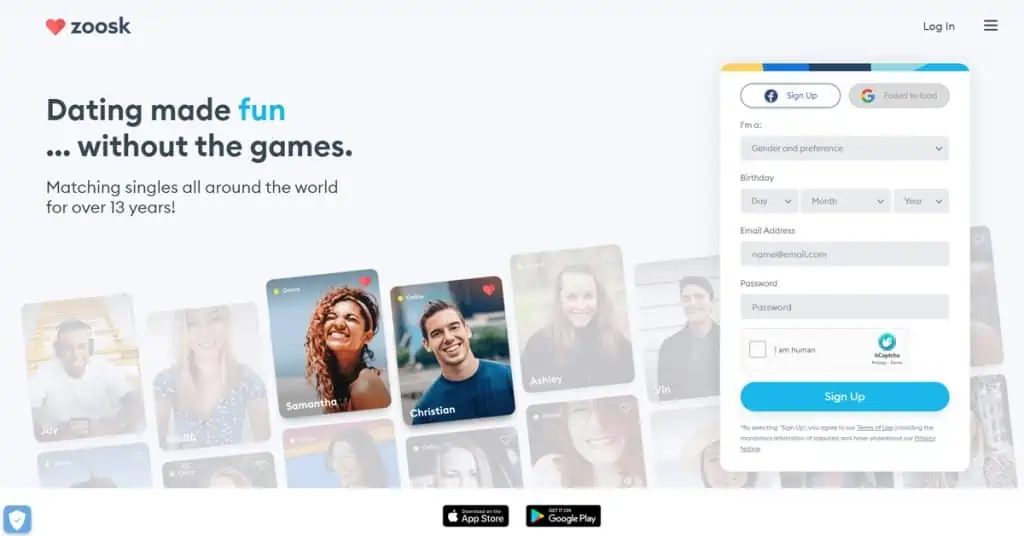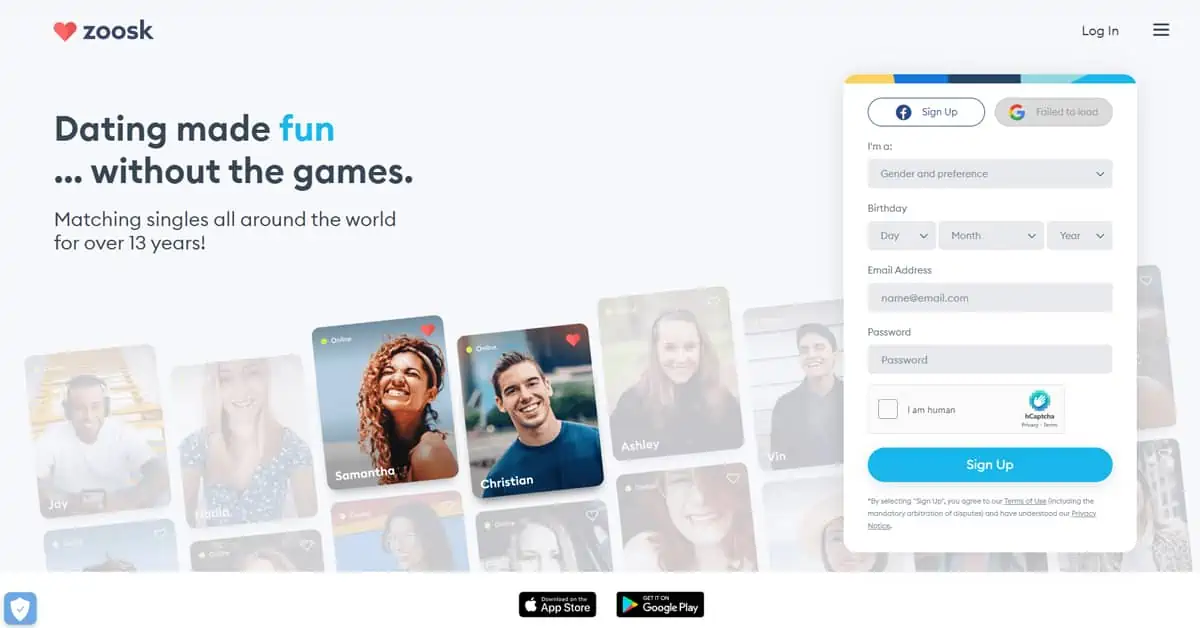 Premium Membership Features:
Unlimited Messaging: Members can enjoy unhindered communications with any members or free trial users on the app. This feature is one of the best aspects of a paid membership plan: the ability to talk and chat with others on Zoosk.
SmartPicks: SmartPicks are generated using the results of your Carousel preferences. Once Zooks has found your "type," they use this information to develop advanced daily matches that are more accurate to your tastes than the Carousel suggestions.
Great Dates: This feature allows Zoosk members to use video chat to get to know other members better. If you're uncertain about someone you just met, you can go on a Great Date and see what they are like for yourself.
Super Send: Zoosk members can send out a mass icebreaker to many members simultaneously. This feature allows members to cover a lot of ground at once to generate good leads for a date or romance.
Views: Those with a Zoosk membership plan can see which members viewed their profile. The only way they cannot see who has viewed them is if that member is using anonymous browsing.
Zoosk Live: This Zoosk feature lets members put out their own streaming broadcasts for others on the app to see. Like Great Dates, Zoosk Live allows other members to see your face and get a taste of your real life.
Send Crushes: Instead of selecting "yes" or "no" on the Carousel, members can send "crushes" to other Zoosk members showing that they are more interested in someone beyond just liking their profile photo or bio information.
Unlimited Undos: If members are browsing through the Carousel quickly, they can make a mistake and accidentally hit "yes" when they mean to hit "no," or vice versa. Unlimited undo's let Zoosk members change any "yes" or "no" issued on the Carousel.
---
Jdate
We strongly recommend Jdate for any Jewish singles flying solo out there in 2023. Jdate is one of the safest dating apps and is responsible for bringing together over 52% of online Jewish singles in marriage, despite having a smaller dating pool than others and not offering many intriguing features for its members.
With Jdate, a dating app exclusively for Jewish singles, you can feel confident that everyone you meet shares your religious values, despite its smaller user base (around 240,000 active users) compared to some of the bigger platforms. The gender ratio is almost even— 53% men to 47% women—shows that there is a very good opportunity for individuals of both genders to find a lasting partner who shares their values and beliefs. In addition, the site has over 180,000 monthly unique visitors, which is a lot of traffic for a niche dating app!
Premium Membership Features:
Unlimited Messaging: Unfortunately, there is no explanation for why all dating apps do not provide unlimited chatting as a paid upgrade. Thankfully, Jdate is not one of these services, so feel free to chat with anybody you choose!
LookBook: Jdate's swipe-based LookBook helps you locate matches quickly. Jdate lets you indicate your interest in a possible partner by touching "heart" or "not interested" (select the X). Jdate will alert you if they're interested in you.
Browse Anonymously: Do you want to be mysterious and creep about without being detected? You can if you use the option to "browse anonymously;" remember to turn it on before you start checking out people's profiles.
Spotlight Feature: Premium and free users can upgrade to Spotlight. Spotlight badges your profile blue, making it stand out and put you at the top of people's search lists. It works like "Boost" on other dating apps.
Discovery Preferences: Unlike other dating apps, Jdate does not have a typical search function. You can tailor your discovery experience by choosing parameters; the site will show you results that best fit your choices.
Translation: Jdate's ability to switch between English, French, and Hebrew is remarkable, so we'd like to highlight it. You can use Google Translate, but Jdate's translation is always accurate.
Read Notifications: Want to know whether someone read your message and left you on read? Maybe you're like us—we want to see if we're being ignored!
---
Why Trust Our Safe Dating App Recommendations
We have been in the dating biz for a long time, and we live and breathe all things online dating apps–but if you're still wary of why we are qualified, we've laid out some of our tried and tested practices below!
Expert Reviews and User Testimonials
While it's easy for us to extol all of the virtues of a dating app in our expert reviews and expect you to take our word for it, we understand that it doesn't work that way! While our in-house dating experts pore over every dating app we review with great care, we know our readers want to hear about people who actually use the dating apps we recommend and their positive and negative experiences.
Our experts use the apps while researching for our assessments, but we want to provide an unbiased and objective full picture, so we always include real user testimonials in every review we publish.
In-Depth Research and Analysis
Our reviews conduct exhaustive, in-depth studies to identify the best choices. If you're single and seeking, we're certain that one of the aforementioned sites will assist you in finding love. We consider several essential criteria that are significant to individuals when choosing which dating apps to highlight, like the size of an app's member pool, match quality, usability, security, safety, unique features, and pricing.
Benefits of Choosing a Safe Dating App
It's hard enough trying to find a date without worrying about the safety of your dating app. It's true that no dating app, just like no website, is completely risk-free, but some put your security and privacy ahead of everything else. Fake accounts and scammers do manage to get through the cracks sometimes, but the applications do a good job of kicking them off the platform in a timely manner.
Greater Compatibility
All of the safe dating apps we recommend offer sophisticated matching algorithms and search filters so users have the best chances to match with a compatible partner. They all offer detailed profiles and photos of members so you can get an idea of a potential match before you even make a move!
Shared Values and Beliefs
Some of the safe dating apps we feel are great choices were created with specific users in mind, such as Christian Mingle and Jdate, which connects like-minded individuals who have shared values and beliefs and want to be in a relationship with someone who aligns with their religious or personal morals.
Targeted User Base
Certain specialized dating apps, like Jdate, target a specific user base because there was a lack of options for Jewish singles looking for other Jewish people to date. While the same can be said for Christian Mingle about a targeted user base, it is in no way a niche app and has over 16 million members.
Finding the Right Dating App for Your Needs
Our goal in writing about safe dating apps is to point readers in the right direction according to their dating wants and needs. Keep reading below for what we think you should look for when trying to find the best dating app
Assessing Your Preferences – We can tell you which safe dating apps we think are the best until the cows come home, but in the end, the decision is yours! We can only guide you toward your options so you can weigh the pros and cons, but it's up to you to figure out what you are looking for in a romantic partnership and which dating app will best serve you in your love life!
Comparing Features and Pricing – While a lot of dating apps have comparable premium membership prices, some are more expensive and have more unique tools and features that can level up your dating experiences. You should always look into what comes with each specific dating app subscription, the cost, the length of the membership, and if that membership automatically renews!
Evaluating Success Stories and Reviews – It's wise to check out what real dating app users you're scoping out on public review sites such as TrustPilot and SiteJabber have said and to ferret out dating success stories! Many dating apps have dedicated pages devoted to the platform's successful pairings!
Downloading and Signing Up
It's never been easier to sign up and create a profile on a safe dating app! All you have to do is log on to a web browser or download the app to your preferred device to get started. Most registration processes are only a few simple steps and take about 5 minutes to complete.
Available Platforms
| Dating App | Internet Browser | Google Play | Apple Store |
| --- | --- | --- | --- |
| eHarmony | Yes | Yes | Yes |
| Elite Singles | Yes | Yes | Yes |
| Christian Mingle | Yes | Yes | Yes |
| Zoosk | Yes | Yes | Yes |
| Jdate | Yes | Yes | Yes |
Are there Free Safe Dating Apps?
There are indeed free safe dating apps, but keep in mind that you'll be severely limited in what you can accomplish when it comes to features and communicating with other members.
Freemium Models – Freemium versions are available for all of these safe dating apps, so there's no risk in giving them a go. Free members can set up a profile, add images, search for others, look at their search results, send and receive flirts, and like other users' photos and posts.
Feature Limitations – When you join up for a free membership, you'll have access to a very limited of features. Users get to experience a taste of a dating platform, but that's about it unless they upgrade to a premium membership.
Paid Upgrades – All of the safe dating apps offer premium paid upgrades so members can have access to all kinds of unique and fun features! Prices vary depending on the dating app, but all offer different tiers of premium plans for their users.
Safety Tips for Using These Apps
Remember these safety precautions and recommended practices the next time you find potential love via an online dating app. You'll learn what works best in both virtual and physical settings, such as how to present oneself in chat rooms and on dates. Ultimately, only you can ensure your safety while meeting new singles; therefore, we advise you to be watchful, exercise common sense, and implement our top four recommended safety measures listed below!
Avoid Communication Outside of the Dating App
There is a caveat to this first safety recommendation: at least initially, stick to using the dating app for all of your communication. You should take this preventative measure while learning about your potential partner.
After establishing trust with someone, you might start talking to them by text, phone, or other apps like WhatsApp and Snapchat. With the encrypted chat systems used by the safest dating apps we recommend, site administrators can see any suspicious activity, such as abusive interactions, scams, fraud, or phony accounts. In the first stages of a potential relationship, keeping your interactions inside the dating app could act as an extra buffer against any dangerous situations that could arise.
Exercise Patience
Developing and building good-quality connections requires time. You should consider reporting or blocking a dating app user if that person is forcing you to do anything you are not okay with or if they are trying to violate boundaries with you in ways that undermine your trust.
It's essential to go at your own speed in a relationship. You are under no time constraints to schedule a date with your potential partner, and you should never, under any circumstances, participate in any kind of intimate activity with a dating app match because of the pressure they place on you.
Meet in a Public Area
We recommend always having your first date in a public setting. Arranging a meeting at your house or any other isolated location is never a bright idea, as it's impossible to tell who you'll end up meeting. They may have pretended to be who they claimed to be online to gain your confidence. Avoid potential danger by holding your first meeting in a public place.
Having others nearby will make you feel safer, as being isolated increases your risk of coming to potential harm. Taking your own car is an excellent idea for getting to and from your first date of meet and letting your friends or family members know where you are and who you are with!
Keep Private Information Private
It's important to exercise caution when sharing personal information with people you meet, even on the safest dating apps, unless you've established high trust with them. At the beginning of a relationship, giving up personal information such as your phone number is never a good idea.
Free Apps and Their Limitations
Many dating apps offer basic free versions where users can look around the platforms, browse other members, and send a "wink" or a "like," but that's about as much as you can accomplish.
Pros and Cons of Free Apps
While there are plenty of pros to using free dating apps, obviously, the operative word here is "free," there are more cons when you line them up side by side. While on the one hand, it's free, which is great if you're just getting a feel for whether a specific dating app will fit your dating needs–but on the other hand, you are going to be severely limited in what you're able to do while on the platform.
Some dating apps offer a free trial period that allows users to take advantage of premium features for a short period of time, but then you'll have to upgrade to continue using those features. The biggest con of free apps is that you cannot message anyone else, which is standard on most platforms. A few allow you to message other users, but it is rare. And if you can't communicate with other people, how are you supposed to make romantic connections?
Paid Features Worth Considering
All the safe dating apps have a lot of fun and innovative paid features that we think are well worth the money! For one, you can message other eligible singles, which is key in online dating. Zoosk and eharmony both have live video chat features, Jdate and Zoosk both have swipe-style dating features ("LookBook" and "Carousel") and Christian Mingle has "Spotlights," a cool feature that gets your profile higher visibility so you'll stand out to other daters!
Tips for Success While Using the Safest Dating Apps
Unfortunately, building a dating profile is just as important as joining a dating app and diving into the dating pool. What you include in your profile about yourself and the kind of relationship you're searching for matters a lot if you want to attract prospective matches' attention. When done thoughtfully and with intent, this can help a lot in your quest for Mr. or Ms. Right!
Creating a Compelling Profile
Make your few phrases count. For your online dating profile, write a brief, detailed bio. Avoid saying, "I like the outdoors" or "I love to travel." Talk about your hobbies or favorite movie instead of a general topic. You can also include a meaningful quote or phrase from poetry in your dating app profile and explain why it fits your personality.
Online daters typically include their dislikes in the "about me" area, but that can come across as cynical and bitter. Try listing your desired traits instead of being negative.
As they say, honey attracts more bees (avoid clichés in your profile). Instead of "I'm looking for someone who is not like my ex," you may say, "I'm looking for someone who is professional, respects others by showing up on time, is responsible, etc."
You should utilize all the characters you have to introduce yourself, even if there is a restriction. Selecting a dating app that allows you to caption your photographs is important as it allows you to add context and more detail to your profile!
Choosing the Right Profile Picture
When people visit your profile, they'll first see your main profile picture. No one will look at your other photos if your main picture is unappealing. Yes, we recognize that people (and this advice) are superficial, but that's the ugly truth.
Keep in mind the significance of making a strong first impression. How attractive your profile is to potential matches depends on the quality of the first image. Make sure your face is clearly visible in a well-lit, attractive first shot. Your primary picture should be taken without any obstructions, so don't look away or conceal your face behind sunglasses. Group pictures and photos taken from a mile away should also be avoided. No one wants to play detective and attempt to figure out which person you are, and you're out of business if you have an attractive companion in the shot since all attention will be drawn to them.
Try asking a friend for their opinion on which of your photos they like best! Each of us has at least one photo of ourselves that we really like, but only a trusted friend will point out that another photo of us floating around out there looks far better.
Crafting Engaging Conversations
It's time to step up your game and ditch the mundane "Hey, how are you?" messages if you want to create deeper connections on dating apps. You can find out whether someone you met on a dating app is worthy of your attention and could be a good fit in real life by asking insightful questions right from the beginning. Here are some tips for crafting engaging conversations:
Get to know someone better by asking them a profile-related question.
Come up with a clever "would you rather" question.
Pose a broad, open-ended question.
Talk about your ideal romantic relationship.
Ask them what they're searching for in a romantic relationship.
Setting Realistic Expectations
An important part of online dating is to avoid letting your negative dating app experiences get you down. Initially, you should check in with yourself and think about what you want. If you know what you are looking for and go for it, you won't let dating apps get the better of you, whether you're on the hunt for love or simply someone to spend the night with!
Navigating Common Challenges
Online dating can be fraught with pitfalls that, sooner or later, every single person experiences when using a dating app. This includes being rejected by a potential match, being scammed or catfished, and walking that fine line between online and offline interactions.
Dealing with Rejection
Everyone has felt rejected at some time in their lives, and after suffering dating rejection, you can take these steps to help yourself heal, including allowing yourself time to recover and, if necessary, seeing a mental health expert. Here are some things to keep in mind:
Online Dating Rejection isn't Personal
Realize that When you Use Dating Apps, you Reject Others
Don't Insult Them
Accept the Rejection
Be Honest
Do Not Attempt to Change Their Mind
Try Not to Obsess
Avoiding Scams and Fraud
Even if you're tech-savvy, it might be hard to spot a carefully crafted dating app profile. There are actually people behind some fake profiles that deceive and scam those searching for meaningful connections, and scammers can wipe out your bank account and emotionally shatter those looking for love. Watch out for these red flags if you want to avoid scams and frauds:
One or no profile photo
They ask for money or private information
Bot-like or incomprehensible language with spelling errors
Too Forward or aggressive
Balancing Online and Offline Interactions
While we love the convenience of online dating apps, and it's taken dating and relationships to new heights, there is a happy medium that you need to maintain in order to stay in touch with the real world. Sometimes it's healthy to unplug and take a break from dating apps to socialize with family and friends and reconnect with the actual world instead of swiping for hours on end!
Safe Dating Apps FAQs
While we've made every effort to ensure that our review is comprehensive, it's always possible that we've forgotten to include an important element of the items we've evaluated. If you have any more questions about the safest dating apps, please read the FAQ section below!
What Makes These Safe Dating Apps?
There is a component in every dating app that teaches its users how to communicate with others in a secure and productive manner. When using these safe dating apps, you feel certain that your personal information, including financial data, will remain private thanks to SSL encryption.
All communications on these sites are encrypted, there is a secondary verification step for user accounts, and the software can identify suspicious accounts, fraudulent activity, or abusive behavior.
Which of the Safe Dating Apps Should I Choose?
We can't tell you which of our safest dating apps you should join, but we can assure you that no matter which one you choose, out of our recommendations, you will have the most secure online dating experience possible. You can't go wrong with any of our recommendations; they are all great sites for fostering connections!
How Can I Spot a Fake Profile?
A red flag should go up if the person you've "matched" with only has one (or no) picture, no bio, and no social media profiles linked to their dating profile. A word of warning: proceed with extreme care if you choose to interact with someone you know very little about.
Can I Block Suspicious Users?
Blocking and reporting suspicious or abusive users varies from app to app, but it is a feature that all dating platforms offer to keep their members safe. If you're unsure how to use the block or report feature, check out the specific app's Frequently Asked Questions page or contact customer service on the help page.
Are These Safe Dating Apps Legit?
Online dating is a legitimate and a great risk-free option for those seeking meaningful connections, but it's important for people who date online to exercise caution when sharing personal details and arranging to meet in person. People using these dating apps should also be wary of romance scams and fake profiles.
Lack of a photo, a made-up name, and demands for favors or money are all very obvious red flags of a dishonest match. Researching someone's history is a smart move, however, in case they turn out to be a catfish or scam artist. If someone gives you the creeps on a dating app, you can always block them or submit a complaint to the platform!
Are Safe Dating Apps Free?
While it's true that many dating apps let you do everything from browsing through profiles and identifying potential matches to talking with other users for free, this is often just the case during the app's free trial period. Features like seeing who has viewed and liked your profile are only accessible when you upgrade to a premium membership. Before signing up, you should always check a dating app's premium and free options!
How Long Does It Take to Sign Up for Safe Dating Apps?
The answer to this question changes based on the dating app in question. The eHarmony compatibility exam is the most time-consuming. You could complete it in as little as 30 minutes, depending on how fast you work. However, signing up for the vast majority of the dating apps on our list takes no more than five minutes.
Can I Find Quality Singles on These Safe Dating Apps?
Yes! Many people use dating apps and talk about how important it is to them to find a serious commitment, a soul mate, a casual fling, a religious connection, or something else entirely!