How do you put a price on falling in love? Well, it turns out it's not all that difficult! As we covered in our review of the industry-leading dating service, eHarmony is one of the premier apps for singles looking for a long-term, committed – and hopefully harmonious – relationship.
With over a million marriages to their name and new matches being made every 14 minutes, the proof is in the pudding. Such a track record of success speaks for itself — all that's left to ask is how much does eHarmony cost? That's what DatingApps.com is here to answer!
At first glance, eHarmony's prices may seem slightly higher than their competitors. But is eHarmony worth it? On this page, we'll answer that question and explore what exactly premium members are getting for that money.
Then, we're going to help you find the best deal possible – because between the plethora of holiday/season sales, coupons, and discount codes available, finding love and happiness can be surprisingly affordable if you're willing to put yourself out there!
---
---
We've compiled the eHarmony costs for all three of their premier membership options for customers in the United States, Canada, Australia, and the United Kingdom. Here are the latest prices before calculating additional discounts and promotions:
| Type | Length | Cost |
| --- | --- | --- |
| Premium Light | 6 Months | $65.90 / month |
| Premium Plus | 12 Months | $45.90 / month |
| Premium Extra | 24 Months | $35.90 / month |
eHarmony Cost Breakdown​
Premium Light
6-month plan
---
$65.90
Monthly
View unlimited photos
Unlimited messaging
See who's viewed you
Distance search
Detailed personality profile
Premium Plus
12-month plan
---
$45.90
Monthly
View unlimited photos
Unlimited messaging
See who's viewed you
Distance search
Detailed personality profile
Premium EXTRA
24-month plan
---
$35.90
Monthly
View unlimited photos
Unlimited messaging
See who's viewed you
Distance search
Detailed personality profile
All three memberships unlock the same benefits and features; the only difference is the lengths of the agreements. You can choose a 6-month, 12-month, or 24-month plan. The longer the term, the less your premium services cost per month.
And that's before applying one of the many potential discounts available! Sometimes, eHarmony will offer significant price cuts for newly registered accounts, if they choose to upgrade their membership before a set deadline – usually on the same day.
For example, they'll take 50% off the total cost of 12 and 24-month eHarmony membership plans (see below).
Premium Light
6-month plan
---
$65.90
Monthly
View unlimited photos
Unlimited messaging
See who's viewed you
Distance search
Detailed personality profile
Premium Plus
12-month plan
---
$22.95
Monthly
50% off the first 3 months
View unlimited photos
Unlimited messaging
See who's viewed you
Distance search
Detailed personality profile
Premium EXTRA
24-month plan
---
$17.95
Monthly
50% off the first 3 months
View unlimited photos
Unlimited messaging
See who's viewed you
Distance search
Detailed personality profile
eHarmony Premium Membership Features​
Regardless of which premium plan you choose, your upgrade unlocks the same features.
View Photos
The most important immediate benefit you'll find is the ability to see what your matches look like! Let's be honest, when you're first looking for a partner before you get to know their personality, you want to make sure you're physically attracted!
Unlimited Messaging
Premium members also have more freedom in how they communicate with each other. After the upgrade, you can send your matches as many personalized messages as you want, opening the door for extensive conversation and getting to know each other better.
Filter Matches
You'll also gain the ability to filter your matches based on a series of criteria. For example, you may narrow your search by distance, only including compatible profiles located within a set number of miles from your home. Or, you can filter the results based on shared hobbies, a specific height range, the desire for children, or religious beliefs.
The basic free account doesn't include this tool, so you're forced to comb through your matches manually and check each individual profile for the data you need. The filtering function saves a lot of time!
Detailed Personality Profile
The free trial membership gives you a compatibility score with each of your matches, but to truly dig into those calculations, you must upgrade. Premium eHarmony accounts have access to detailed insights uncovered by the patented Compatability Quiz.
These breakdowns look at dozens of individual traits related to four key questions:
How do I communicate?
What characterizes me?
How do I organize my everyday life?
What drives me?
Within each of those categories, you'll find between 6 and 11 traits that determine the answers. Premium eHarmony members may also see how their scores compare to each of their matches.
The Compatibility Matching System even uses this data to forecast how two people's results will interact in a relationship setting and whether the pair has strong development potential.
Not only does this info help you to better understand yourself, your communication style, and what you require from a mate — it provides a plethora of fascinating discussion topics. We can't count the number of times we've started a conversation with one of our matches by pointing out an interesting tidbit from our shared compatibility stats.
"Oh wow, our compatibility scores say that we're both introverts – I guess our first date won't be at a karaoke bar!"
See Who's Viewed Your Profile
Another perk that comes with premium eHarmony memberships is the ability to see which accounts have visited your profile page. That way you know that they liked your profile picture enough to take a closer look.
Even if they don't take the extra step to "like" one of your pictures or any of the answer's posted to your page, the "visit" notification gives you a reason to initiate another interaction.
Maybe they're just awkward about taking the first step and hope that by seeing their interest in your profile, you'll take the initiative to introduce yourself. Like a person shooting you a look from across the bar and waiting for you to walk over and say "hello."
New Matches Daily
Included in the cost of eHarmony is a never-ending supply of new and updated matches. Don't see anyone you like among your current crop of prospective partners? Don't worry, a selection of new faces is on the way! eHarmony is always cultivating your collection of matches and looking for compatible users to introduce to your page.
Payment Options at eHarmony​
Once you've selected a plan, it's time to decide how you want to pay. eHarmony doesn't offer month-to-month memberships – they take their jobs as matchmakers seriously and have discovered that more substantial commitments weed out members who aren't ready to fully invest in finding love, resulting in a motivated user base and a higher rate of success stories.
No matter which premium plan you choose, the payment options remain the same. You can either pay for the entire membership term in full or break up your eHarmony costs into 2 – 4 equal payments.
For example, let's say you sign up for the 12-month Premium Plus at the rate of $35.90 per month.
$35.90 x 12 = $430.80
$430.80 is the total cost of your eHarmony membership.
You can either pay this all at once or divide it into monthly installments.
If you choose to break your eHarmony costs into three payments, you'll be charged $143.60 per month in each of the first three months of your membership.
After the membership is paid off, your benefits continue for the remainder of the agreed-upon term with no further financial obligations from you until it's time to renew next year.
Which eHarmony Payment Plan is Best for You?
Choosing the best premium membership or payment plan is entirely dependent upon your personal finances and commitment to finding a relationship. To lock in the lowest eHarmony cost per month, you must commit to a 24-month membership – which comes with a heftier initial investment.
At the low rate of $25.90 per month, the total due for two years of premium benefits comes out to $621.60. Divided into the maximum number of installments, that's $155.40 per month for four consecutive months.
If you have the expendable income to pick that option, it easily provides the most value. Unfortunately, many people don't have the luxury of spending more initially to secure the best deal.
For some readers, it makes more sense to buy 6 months of premium benefits, divided into four payments. While it may result in the priciest eHarmony cost per month, it also comes with the most inexpensive individual payments.
At $55.90 per month, your total membership price is $335.40. Divided into four installments, you're only ever spending $83.85 at any one time. That's the closest thing to a month-to-month price you can find.
If your monthly budget doesn't leave much wiggle room for new expenses, you might be better off limiting your eHarmony costs to four monthly payments of $83.85.
However, if you are financially able to make a more substantial upfront investment toward your dating life, you might as well get the best rate available for the longest duration possible.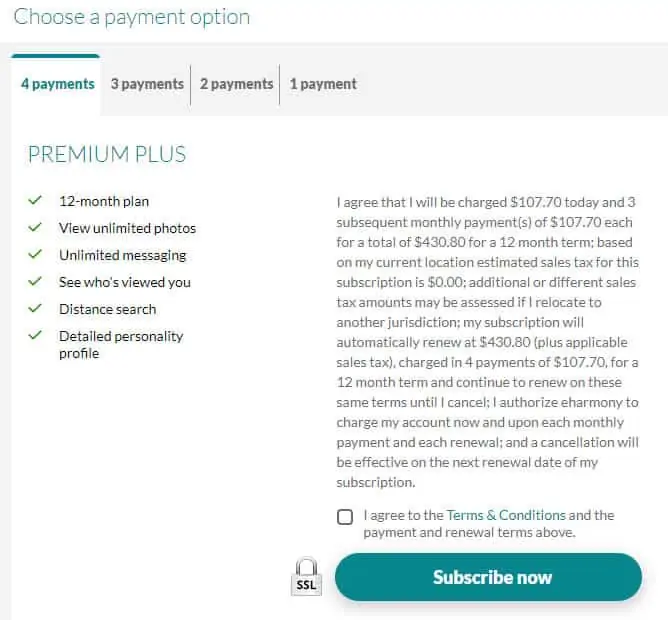 Payment Methods Accepted by eHarmony​
eHarmony only accepts standard methods of payment. They don't take cryptocurrencies or most e-wallets/online payment processors. You can link any of the following payment types to your account:
American Express, Visa, Mastercard, and Discover credit cards
Debit cards containing a Visa or Mastercard logo
PayPal
If you have monthly installments pending, they will be automatically charged to your linked payment method each month until settled. Premium memberships are automatically renewed after their expiration date, using the payment method stored on your account — unless the auto-renewal function is manually turned-off ahead of time. You can find this option on your "Manage Profile" page.
eHarmony Free Trial Details​
Before you worry about the price of eHarmony's premium memberships, it's important to remember that signing up and creating an eHarmony profile is free.
Before being asked about upgrading your account, new members enter their basic information (sex, height, age, location), answer lifestyle questions, and ideally, complete the science-based dating service's in-depth personality/relationship quiz.
From there, you'll be matched with all the members in your region with whom the test deems you compatible. You can read their profiles, send them "smiles," — which are similar to social media "likes" — and communicate via "ice breakers" — a feature that sends five random multiple-choice questions or pictures to both members, and compares the answers, providing a painless conversation starter.
The problem with a free account is that you can't see your matches' pictures, nor can you send unlimited personalized messages, which makes sustained communication difficult.
So, once you see all your compatible matches and find a few profiles you'd like to get to know better, it's only natural to wonder what eHarmony costs, and what you must do to take things to the next level. Click on the "upgrade options" button, and you're well on your way!
Is eHarmony Worth It?​
The answer to whether an eHarmony premium account is worth the price depends on the individual. While the moderately high price tag may be prohibitive for some potential customers, it also serves a purpose.
eHarmony is very clear about what they're offering and to whom they are catering. It's not a dating service that's meant to be used casually and the higher cost helps eliminate candidates who might otherwise try to use their platform for the wrong reasons. They aren't interested in making superficial introductions based on looks or helping to initiate meaningless hook-ups.
This dating app is meant for established singles who are ready to find their significant other and settle down. A more substantial financial barrier of entry is another way for eHarmony to ensure its user base consists of motivated members who are committed to finding love.​
eHarmony is offering much more than that though.
This dating app is meant for established singles who are ready to find their significant other and settle down. A more substantial financial barrier of entry is another way for eHarmony to ensure its user base consists of motivated members who are committed to finding love.
Would a casual swipe-based dating app be worth the cost of eHarmony? Absolutely not. You wouldn't pay hundreds of dollars to swipe left and right on millions of profiles based solely on their pictures.
The science behind the Compatibility Quiz and Personality Profile is surprisingly robust. A new member can learn a lot about themselves, their values, and what they need from a partner before even going on any dates. Its invaluable information for someone hoping to find someone with whom they can share the rest of their life.
Not only does eHarmony introduce you to tons of nearby singles with similar relationship goals, but it also supplies you with the tools and data to make those connections as painlessly as possible.
Before you even interact, you already know how well your personalities mesh, how best to communicate with each other, and what you both want out of life.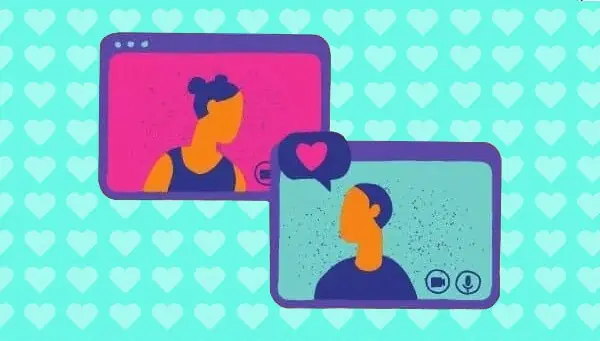 The reality of the situation is that it's almost impossible to meet people out in public the old-fashioned way anymore. That would require the general public to look up from their phones long enough to interact with strangers.
What eHarmony costs – especially if sales or discount codes are being utilized – is worth it for anyone who's sick of being single and ready to do whatever it takes to find a loving long-term relationship. You won't find another dating app that works harder on the front end to ensure that you're being introduced to compatible partners. There's a reason eHarmony has one of the highest success rates in the industry.
If someone approached you and offered to introduce you to the love of your life, and as a result bring an end to your loneliness – and all they asked was for a few hundred dollars in return — would you take the deal?
If so, then the cost of eHarmony is well worth it.
If you're still unsure of whether or not this is the right dating app for you to signup with, we suggest reading through our eHarmony review to find out more in-depth information about all they have to offer.
eHarmony Cost FAQ​
What Comes With an eHarmony Free Trial?
An eHarmony free trial allows you to take the relationship quiz, upload pictures, read your matches' profile pages (but not see their photos), send "smiles" and "ice breakers" to other members, and respond to messages sent by premium users.
What Do I Get as an eHarmony Premium Member?
Included in the cost of eHarmony premium memberships are the following benefits:
• View profile photos
• Unlimited messaging
• Detailed personality and compatibility profiles
• Filter your matches
• See who has viewed your profile
• Search matches by distance
• eHarmony profile check
• New matches daily
Do eHarmony's Different Premium Memberships Come With Different Features or Benefits?
No, all three premium membership plans offer the same benefits and features. The only difference is the eHarmony cost per month and the overall duration of the membership.
Are eHarmony Costs Higher Than Other Online Dating Apps?
Yes, eHarmony's premium membership services are more expensive than many of its competitors. That's because the dating app caters to singles who are serious about settling down with a long-term partner – the cost filters out casual users who aren't committed to finding a relationship and scammers.
Does eHarmony Offer Discounts on Premium Memberships?
Yes, and frequently! Check this site for discount codes and links to generous sales on eHarmony membership costs.
Does eHarmony Offer a Money-back Guarantee?
Yes. If after three months of using their service, you're unhappy with your matches, they'll give you an additional three months for free. eHarmony only asks that you complete the following steps first:
1. Fill out the eHarmony Compatibility Questionnaire
2. Complete your profile in its entirety – including posting pictures and answering "About Me" questions
3. Message at least five of your matches
4. Subscribe for at least three months
5. Comply with the dating app's Terms and Conditions
Which Payment Methods Does eHarmony Accept?
• PayPal
• Credit Cards – Visa, Mastercard, Discover, or American Express
• Debit cards with the Visa or Mastercard logo
How Do eHarmony Costs Appear on My Bank Statement?
The line-item purchase states "eHarmony" as the merchant vendor and includes a phone number for customer service.
Does eHarmony Cost the Same on the Website and the App?
Yes. eHarmony offers the same service and pricing at both locations. The way you use the dating service is merely a matter of preference.
Are There Any Add-on Features or Extra Charges for Premium eHarmony Members?
No. Once you've paid for a premium membership, you have access to all the features that eHarmony offers. There are no add-ons required to obtain the full experience.
Can I Pay for an eHarmony Premium Membership in Installments?
Yes, you can! No matter which premium membership is chosen, the price of eHarmony can be broken up into as many as four monthly payments.
What if I Can't Afford the Price of eHarmony Premium Memberships?
Don't worry! Even if the cost of eHarmony is too high today, there are often sales that slash prices significantly, as well as plenty of discount codes available out there.
eHarmony customer support is also very responsive, and if you reach out to them about the cost, they'll usually send back a link for 50-60% off the membership total.