Are you in your 40s, 50s, or 60s and looking to fall in love or find meaningful, long-term commitments with other older singles? OurTime is one of the best options in today's online dating market for doing just that!
Although they brand themselves as an online dating app that caters to users who are 50+, OurTime has a ton of members who are in their 40s. Not only does this make OurTime.com an excellent place for finding love, romance, or profound relationships with older singles in your general age range.
---
---
Our team has independently researched all products and services that we have listed on this page. If you sign up or purchase through our links, we may receive a commission. See how it works.
Introduction to OurTime
Our goal is to bring you an honest and transparent review of OurTime.com so that we will look at everything. We'll lay out all the OurTime memberships plans, how much they cost, and the features attached. We will also touch on trial accounts and walk you through the sign-up process at the site!
We're not about to leave any stone unturned. We took the time to study each of the pros and cons we found along the way, and we ran OurTime through our five-point rating process to give you an idea of how we rate the dating app overall! This OurTime review examines all significant areas of the site.
A Brief Overview of OurTime's History and Success
OurTime began in 2011, so it's had over ten years of experience in the online dating game. Not much has changed in that time. Many of the features and benefits that OurTime currently offers are the same as they began all those years ago. This is one of the more significant slights against OurTime by other online reviewers and customers.
Still, this is a good dating app for finding mature or senior singles looking for something serious or meaningful. It's generally better for singles who are 50+ than platforms like Senior Match or SilverSingles. OurTime has more interesting, dynamic features and perks to make it attractive for prospective members.
Is Signing Up for OurTime Worth It?
OurTime is not for everyone, but we can say with certainty that it's well worth the time and money if you're in your 40s or older. But it's more than age that makes this dating site a good fit. OurTime is best for singles who want to fall in love or pursue a meaningful relationship with someone their age!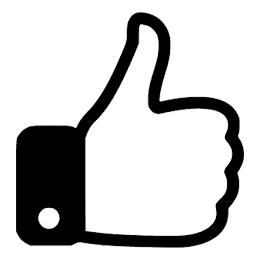 What OurTime Is Good For
Singles who are interested in a dating site with a simple design that's easy to use and operate.
Older singles in their 40s, 50s, or 60s who want to find love or meaningful relationships with those in their age range.
"Our Picks" provides members with swipe-style dating profiles that let them scroll through a bunch of profiles that fit their search parameters.
Finding a variety of singles from a dating pool larger than others (there are 1.5 million active users on the app).
OurTime provides an array of memberships suitable for different kinds of budgets.
OurTime has been known to form friendships or companionship between mature singles.
It's a good platform for finding singles who share your interests.
This is rare, but OurTime can be used by younger female members to find a sugar daddy or younger male members to find a cougar.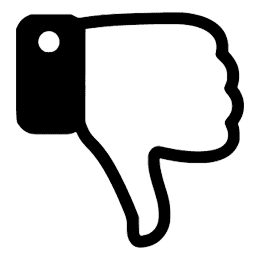 What OurTime Is Not the Best For
OurTime is not worth it if you're interested in casual dates or romance.
This platform is not set up to support short-term connections, low-commitment relationships, hookups, or flings.
The design is simple and easy to use, but it's also dated and has mostly stayed the same over the years.
Some features can only be used if you're willing to pay extra, either through add-on purchases or the token system.
Our Ratings
OurTime.com is worth the time and effort if you're someone who is 50+ and looking for profound relationships or connections. To ensure you'd find out whether this mature dating app is right for you, we used our famous five-point rating system to review OurTime fairly and honestly.
Overall:

| Category | Score |
| --- | --- |
| Features | 3.5 |
| Ease of Use | 3.0 |
| Match Quality | 3.5 |
| Cost | 4.0 |
| Active User Base | 3.5 |
| Overall | 3.5 |
OurTime is a mixed bag. There is plenty to like about the site, but there are some glaringly obvious issues. Overall, we recommend its services, especially to those looking for older or mature singles. But keep in mind some areas need to be improved in the future.
What We Like
OurTime has been a well-established name in the online dating market since 2011.
There are 1.5 million active members, which means a dating pool with true potential.
The sign-up process takes a cool 5 minutes or less to complete.
The PromoteMe feature allows members to rank higher in the top search results.
The ConnectMe feature lets you contact other singles on a private phone line.
Value plan members can get a profile and message highlights.
There are over 8 million site visits per month.
What We Don't Like
Customer support is severely limited, consisting of an FAQ page and a generic contact form.
It takes around 72 hours to hear back from customer service and support.
There is no ID verification when you set up your new account at OurTime.
The free trial doesn't include messaging capabilities for the most part.
OurTime has been known to have fake accounts, bots, and scammers.
Matchmaking is done through location, so some users might have matches that live far.
There are a lot more men than women who use OurTime.
Who Is OurTime Best For?
If you're trying to figure out if OurTime can meet your personal dating needs, it's best to learn everything you can about the website and mobile app. One of the best ways to learn about OurTime is to examine its base of premium members and free trial users. That is why we have included the table below with basic information on OurTime's clientele. These are the people that this site has helped to find love and romance over the last 20 years!
Demographics and User Base
It's essential to note that you don't have to be 50 or older to use OurTime. There's no age verification process to ensure that senior citizens are the only ones using the platform. Because of this, OurTime has a more diverse user base than other senior dating apps, leading to some exciting relationships and dating possibilities.
| Fast Facts | Details |
| --- | --- |
| User Base | All singles (18 or older) |
| What Kind of Relationships? | Finding love and meaningful romance with singles over 50 (generally)  |
| Total Members | 1.5 million (United States) |
| Monthly Traffic (Worldwide) | 8.9 million |
| Monthly Traffic (United States)  | 7.7 Million |
| Active Members | 180,000 each week |
| Gender Distribution | 58% men to 42% women |
| Average Age | 42-47 years |
Compared to SilverSingles and Senior Match (the other two senior dating apps we highly recommend to our readers), OurTime is the more significant dating site in terms of its dating pool and how many users are active each week on the platform. Another place where OurTime excels over these two counterparts is its use of swipe-style dating profiles, made possible by the Our Picks feature (mutual matching).
Relationship Types Best Served by OurTime
Ideally, OurTime is for mature singles over 50 years of age. But as far as we can see, there's no requirement that new users or members be over this age threshold to use the site. The only age requirement that we know of is that you need to be at least 18 years old to become a member.
Here are some of the best kinds of relationships that have flourished on the OurTime dating app since they opened shop in 2011:
Long-term relationships or commitments
Profound, meaningful connections that lead to marriage
Companionship or friendship
Relationships where singles share similar interests
Serious dating
Relationships where compatibility is at the center
The Compatibility Matching System
Compared to SilverSingles, which mainly uses an extensive compatibility questionnaire to inform daily matches, OurTime uses a more casual approach. During the registration process, new members don't have to take any personality or compatibility quizzing. But they are required to fill out an "About Me" section for their profile and set up search filters to find singles who fit their dating preferences and criteria.
Members set up their search filter settings (age, location, appearance, interests, educational background, beliefs, etc.).
Match suggestions are formed based on how the filters are set.
OurTime suggests eight "Our Picks" per day. Members can swipe through these profiles and either "like" or "pass." If there's a mutual match, you're notified!
Members can request that certain members be added to their "Our Picks" suggestions through MatchMe.
OurTime's Communication Features
OurTime comes with a multitude of unique communication features, but many of them don't even come with a premium membership plan. Most of them require a purchase using tokens. So, if you want to enjoy some of the better communication features, you must pay extra! This is one of the aspects of OurTime where things are unnecessarily complicated and convoluted.
Unlimited Communication
There are no limits on communication with other members when you become a premium subscriber. You won't be capped off on how many messages you can send to other members like you would if you were a free trial member. It's one of the best perks of a paid membership plan.
Our Picks (Swipe-Style Profiles)
Paying members get eight "Our Pick" suggestions each day. They are set up in the swipe-style format. Members can cycle through these matches and either "like" or "pass" based on their interests and attraction. All it takes is for two members to like one another's profile, and OurTime will notify them of this fact. Then, a promising conversation can begin!
MatchMe
OurTime members who stumble upon profiles that capture their attention can request to have them sent to their "Our Picks" suggestions by using the MatchMe feature.
PromoteMe (20 Tokens)
Users can increase their profile views by paying extra for PromoteMe. PromoteMe allows your profile to be boosted to the top of the site's search results. You get increased visibility and extra attention from singles you might otherwise never have run across on the app. To experience this feature, members need to use the in-app currency (tokens).
ConnectMe (20 Tokens)
OurTime members can text or call singles they are interested in from a private phone line that is run strictly through the app. Customer can keep their personal phone numbers wholly confidential but still make more direct contact with the profiles that capture their attention.
NotifyMe (20 Tokens)
Say someone is on your radar, but you want to be sure you catch them at the right time when you log into your OurTime account. NotifyMe is a communication feature that ensures you reach someone when they're available. This feature costs 20 tokens and will notify you whenever a specific member logs into their account.
Virtual Gifts (10-75 Tokens)
Virtual gifts are a great way to connect with other singles and let them know you're interested in getting to know them better. Members can pay extra to send virtual gifts like teddy bears or rose bouquets to other members on the app. Like profile or message highlights, these are other features that can help you stand out from the rest of the pack!
Please Note:

These last four features are not to be confused with Boosts, which essentially do the same thing, but they aren't purchased using tokens. These can be bought as an a la carte item outside the realm of membership costs or the token system. 
Membership Options
There's a lot to cover here. In addition to the cost of membership, OurTime also features profile boosts that come at an extra cost as well as the token system, an in-app currency that members can use to experience the app's more substantial features. It's something that complicates things for new users, but it's something we'll go over nonetheless.
Anything that you need to know about OurTime memberships, free trials, and all the extra bells and whistles that the site has in place will all be covered and explained in this section. This way, you can discover your best course of action when you join the OurTime dating app.
Free vs. Paid Memberships
When you create an account at OurTime.com, you will be given the option of paying for a membership or starting a free trial account! The free trial is ideal for anyone wanting to enjoy some complementary features and functions, avoiding having to dish out the money for membership.
However, the free trial could be much better regarding functionality. Aside from creating a free profile and browsing through other members' profiles, there are only so many more things you can do on the app unless you're willing to pay!
Free Trial Features
Here's an idea of the free trial experience. These are the complimentary features that are a part of the free trial:
Message 8 or fewer members per day
Search other users' profiles
See who has viewed your profile
Send limited likes
While we appreciate a free trial available, it's not one of the best we've seen. There's not enough to give you a good taste of what the app can offer. Memberships feature no-limits messaging, allow customers to use the profile or message highlights to stand out from the crowd, and even allow for some limited profile boosting for a better online presence. Our official recommendation is to begin a premium plan.
Premium Membership Benefits and Pricing
We took a close look at what kind of membership plans are offered at OurTime and how much they would cost users. We liked what we saw; the membership plans here are more affordable than most! OurTime is somewhere in the bottom half of the middle if you're looking at a scale of membership pricing for dating apps.
For a cost comparison with alternative dating apps, check out the Cost of OurTime Dating App.
Membership Features
When you become an OurTime member, it opens another world of great features and functions. You're going to get much better messaging capabilities as well as a handful of other great benefits:
Unlimited Messaging
Search Other Users' Profiles
Send Unlimited Likes
See Your Profile Views
See Your Profile Likes
Read and Respond to Messages
Mutual Matches
Swipe-Style Dating Profiles (Our Picks)
Profile Highlights
Message Highlights
Message-Read Confirmation
Tokens
You can always enhance or upgrade your membership experience by purchasing token bundles to pay for add-on features. Tokens are OurTime's dedicated in-app currency, letting paying members experience extra perks and benefits.
| Number of Tokens | Cost Per Token | Total Cost |
| --- | --- | --- |
| 55 Tokens | $0.05 | $2.99 |
| 110 Tokens | $0.05 | $5.99 |
| 280 Tokens | $0.04 | $9.99 |
Tokens help members to pay for features like:
PromoteMe
NotifyMe
MatchMe
Virtual Gifts
Boosts
These are profile boosts that work like the PromoteMe feature, but you don't have to purchase these using tokens. You buy them using your own money. They are a separate cost outside of membership pricing and the token system.
| Number of Boosts | Cost Per Boost | Total Cost |
| --- | --- | --- |
| 1 Boost | $2.49 | $2.49 |
| 5 Boosts | $1.99 | $9.95 |
| 10 Boosts | $1.49 | $14.90 |
We're not too crazy about the idea of paying extra to enjoy the better features that OurTime offers. There are so many other dating sites in the market where you pay one price for your subscription plan, and you gain access to all member features for that one price.
OurTime complicates things by adding the Tokens and Boosts into the mix, which is not the best strategy when dealing with older singles who aren't as keen on using technology.
Discounts and Promotions
Our best advice is to look closely at the monthly cost rate. The plans that run for a longer time have better cost-per-month totals than the one-month membership.
Let's look at the one-month membership versus the six-month membership. The six-month plan costs $95.76. Take a one-month plan at a rate of $34.96 per month and multiply that by six, and you come to a total of $209.76 to cover the same six-month timespan! It's a difference of $114!
If you envision yourself using OurTime for any significant length of time, we recommend taking advantage of these hidden savings and committing to a more extended plan from the start!
Creating Your OurTime Profile
The sign-up process at OurTime is one of the simplest we have seen of any dating apps, and this is excellent news for older singles who might not be too keen on using technology. It's so simple that we can break down the process in less than ten steps!
This is the front half of the sign-up process before you can opt to pay for membership. We will give you an idea of what to do until that point, and then you can decide if you want to spring for membership or continue as a free trial user.
Step #1: Visit the Homepage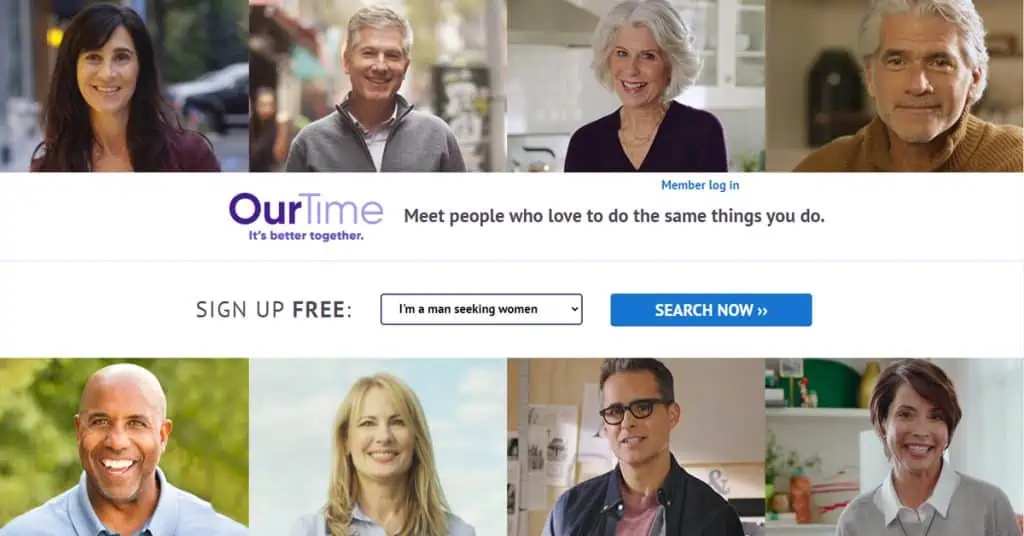 This is what the homepage will look like when you visit OurTime.com. There is an area in the middle where you can sign up for free. Click here even if you're planning on going with the membership because the sign-up process is the same for both.
The first question you'll be asked is your gender and the gender of the singles who you are interested in finding. Click the blue button to the right to continue on.
Steps #2 and #3: Choose Your Location and Add Your ZIP Code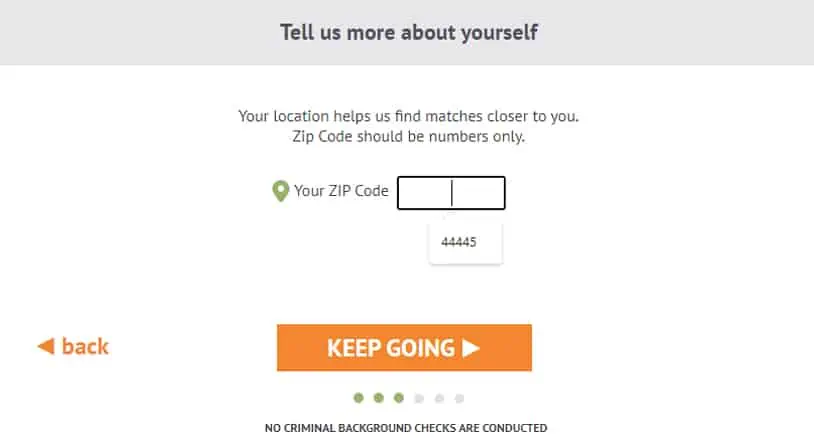 This step is fairly simple. Choose your location and hit the KEEP GOING button.
Enter your ZIP code and hit the KEEP GOING button.
Step #4: Enter Your First Name and Create a Password
Enter the name that you want to appear on your OurTime dating profile. Then create a unique password that you can use to log in and out of your account. Hit the KEEP GOING button to continue.
Step #5: Add Your Date of Birth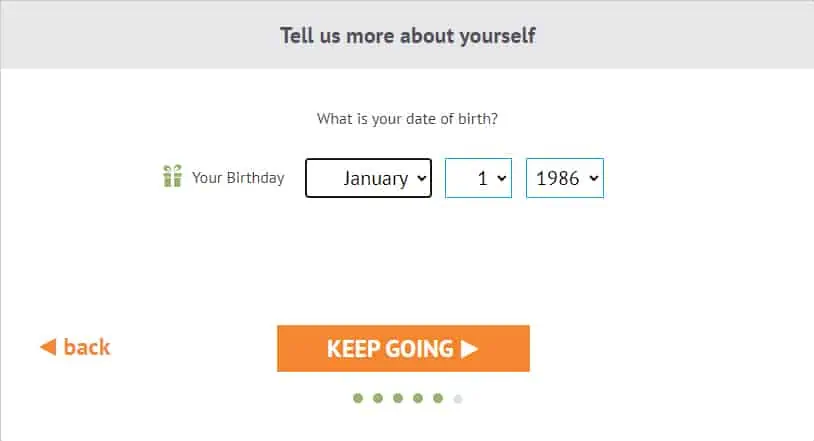 Enter your date of birth and hit the KEEP GOING button.
Step #6: Add Your Email Address
Enter your email address. This is also your chance to view and agree to the OurTime dating app terms and conditions before sending your final information to the site.
Step #7: Include a Photo of Yourself
The next step is to add a photo to your new account profile. You can upload one from your mobile device or PC. And there is also the option to pull from your Facebook photos. Once this is done, you will automatically be taken to the next step.
Step #8: Fill Out the "About You" Portion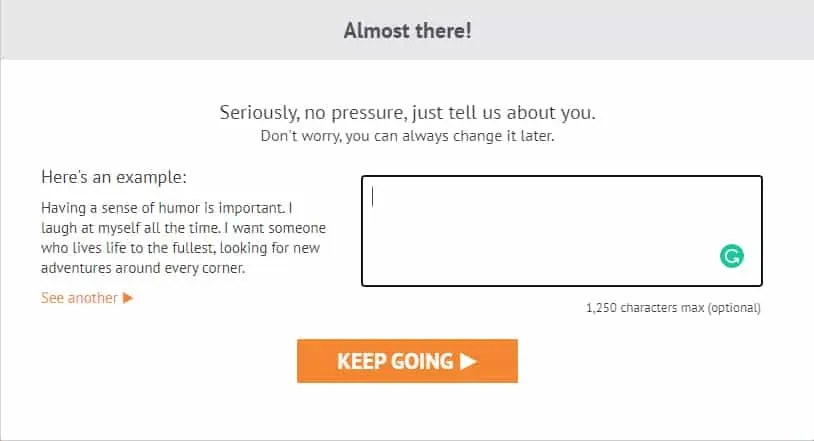 This is your opportunity to shine and include some information about yourself to make your profile pop! There is a maximum limit of 200 characters, so it is more of a tagline. Fill out this small section and hit the KEEP GOING button to continue.
Step #9: Upgrade to a Membership or Continue for Free
This is the final leg of the initial sign-up process. Here, you will be presented with a list of the features that come with the free trial account and with the paid membership. You then have the choice to upgrade to a paid membership or stick with using the site for free!
How to Delete an OurTime Account
There are three methods for using the OurTime dating app. These include visiting the site on your desktop PC, using the web browser on your mobile device, or using the dedicated mobile app. Depending on which method you're using, deleting your OurTime account for goodwill looks different.
But the good news is that we have each of these broken down into simple, easy-to-understand steps:
Desktop
Click on the "Settings" button. This can be found in the upper right-hand corner of OurTime's home screen.
When the drop-down menu appears, click on the "My Account" option.
You'll see a section called "Account Status." Click on the link under this section called "View Account Status."
"More Account Status Changes" is the following link you need to click. Then select "Remove My Profile."
Give a reason for deleting your OurTime account and profile, and then officially confirm your cancellation.
Mobile Browser
In the bottom right-hand corner of the screen, click on your profile photo icon and select "Settings."
When the drop-down menu appears, click on the "My Account" option.
You'll see a section called "Account Status." Click on the link under this section called "View Account Status."
"More Account Status Changes" is the following link you need to click. Then select "Remove My Profile."
Give a reason for deleting your OurTime account and profile, and then officially confirm your cancellation.
Mobile App
In the bottom right-hand corner of the screen, click on your profile photo icon and select "Settings."
You'll see a section called "Account Status." Click on the link under this section called "View Account Status."
"More Account Status Changes" is the following link you need to click. Then select "Remove My Profile."
Give a reason for deleting your OurTime account and profile, and then officially confirm your cancellation.
Canceling Your Membership
It's also worth noting how to discontinue your membership plan with OurTime and keep your account and profile intact. Instead of permanently deleting your account, you're canceling your membership with the site. This way, you can always gain access to your original profile if you ever want to use the OurTime site again.
We cannot discuss canceling your membership with OurTime without first talking about the auto-renewal feature:
Auto-Renewal – When you get to the end of your premium membership plan with OurTime, the subscription will auto-renew. You'll be automatically charged for the same plan once the original has ended. Auto-renewal is optional, however. It's a feature you can cancel. In essence, opting out of this auto-renewal feature is canceling your membership plan. But it needs to be done one week from when your plan is set to end.
Turn Off Auto-Renewal (Cancel Your Membership) – Follow these simple steps to cancel your membership at OurTime while keeping your profile and account intact for later use.

Click on the "Settings" option in the main menu on the home screen.
Find the "Manage Subscriptions" tab and click on it.
Locate the "Cancel Subscription" button and click it to officially terminate the auto-renewal of your membership when the time comes.
Please Note: For the remaining time you have left on your OurTime membership, you can continue to use the site and enjoy its service. But once the plan ends, the benefits will cease, and you will no longer be a member once the plan fails to automatically re-up.
OurTime Customer Service
This was one of the weaker areas of OurTime. There are few options for contacting customer service, and the ones they offer are not ones where you can get quick answers from a customer service associate.
This is the norm for most online dating apps, however. You're never going to see a place that has live chat support or a toll-free phone number for the most part. It's usually a troubleshooting FAQ page and some messaging or email system. That's precisely what OurTime's customer support center is composed of:
FAQ Page
OurTime has an FAQ page so customers can troubleshoot problems. Their FAQ section features a ton of common issues and situations that a customer might find themselves in, along with some straightforward answers to solving said problems.
This is a fairly common practice at many online dating sites, so we were glad to see this option offered.
However, there is not too much beyond that! OurTime doesn't have a live chat feature or phone support, unfortunately. We could not even find an email address. Instead, there is just the generic contact form.
Generic Contact Form
When you supply your email address and phone number, you can state your problem, request, or concern in the description box at the bottom of the screen or add attachments that might be relevant to the situation.
According to many users and different OurTime reviews, the customer support team will typically respond within 72 hours or less. This is a long time! It's something that's not an excellent look for OurTime. We hope that they consider including a toll-free phone line for their customers to experience quicker service.
Contact Home Office
Although this will not put you directly in touch with OurTime customer service, you can still contact the parent company, People Media's corporate offices in Texas, by phone or mail.
People Media: (866) 727-8920
Address: PO Box 12627 Dallas, TX 75225-0627
OurTime's Mobile App
The OurTime dating site is super easy to use and navigate, just like the dedicated mobile app! Mature singles can use the OurTime dating site on their desktop computer or download the app on their mobile device and enjoy using the site on the go! There are two available for download at Google Play and the App Store. For the most part, the mobile app functions just like the website, but there are a few differences worth noting.
App Features and Functionality
The features are unchanging going between the OurTime website and mobile app. While some platforms eliminate certain elements to make the app more straightforward to use, OurTime spares no expense to keep its platform the same across these two formats. This makes it so there's excellent consistency in using the website and the app, a decisive win for OurTime!
The setup, however, is different on the mobile app, with the design being simpler and more linear. Some of the menus are arranged differently to be more accessible and to accommodate the smaller screen. We appreciated seeing the larger icons, fonts, and texts used so that everything is clearly visible for members using the mobile app.
Compatibility
Regarding compatibility, OurTime is a dating app that can be used on any mobile device. There's a dedicated mobile app available for download at Google Play and the App Store. They cost nothing to add to your mobile device, and both allow for in-app purchases to keep things easy and convenient.
Google Play
Rated 2.9/5 stars
Based on 5.91k reviews
Over 1 million downloads
Free to download
Offers in-app purchases
App Store
Rated 3.9/5 stars
Based on 51k reviews
Free to download
Offers in-app purchases
Frequently Asked Questions
This robust FAQ is where we can plug in some of the gaps we forgot to cover in the OurTime review. Check out some of the most common questions we've gotten over time from our customers and readers about the OurTime dating app!
Is the OurTime Dating Site Free?
The OurTime free trial lets newcomers enjoy some complimentary features without having to pay. The free trial also enables you to create a free profile and register an account with OurTime. But keep in mind that a bit of limited messaging (it must be eight or fewer members a day) is all that comes with the package, as well as viewing profiles and sending limited likes to singles who strike your fancy.
What Features Come with an OurTime Membership?
Several significant features come with a premium subscription! Paying members get unlimited likes and messaging and profile/message highlights to make you stand out from other members. There's also read-message confirmation so you can know when your messages have been received and read.
How Much Does OurTime Cost?
There are three major membership plans available at OurTime. There is a one-month standard plan that runs $34.96 a month. There is also a 6-month standard plan that runs $15.96 a month for a total of $95.76. Then there is the 6-month value plan, where the monthly rate is $19.96, and the overall total is $119.76.
Is the Free Trial Worth It?
The free trial is perfect for testing our OurTime to see if it is a good fit and to see some of its benefits. It costs no money whatsoever, and it never hurts to try it. As far as using the free trial to enjoy OurTime without paying, that's an impossible feat. With a free trial, you are only going to be able to send some limited messages and like some profiles, and that is about it! It's much better to go with paid membership.
How Long Does It Take to Sign Up?
This is something that we tested out firsthand! The sign-up process isn't time-consuming by a long shot; it only takes five to ten minutes. The steps are minimal and feature questions on things like your name, location, date of birth, email, and others. They are easy to answer and make the process nice and quick.
What Is the Average Age of Users at OurTime?
Billed as a senior dating service, OurTime is most accurately a dating app for mature singles. Though this dating app caters primarily to singles who are 50 and above, several members are on the younger side as well! The average member is 42 to 47 years of age.
Is This OurTime Review Honest?
We've examined this dating app from all different angles. We have an entire section focusing on the pros, but we also have taken a clear look at the weaker areas where OurTime needs some significant improvement. For instance, we like the membership plans, and they offer some excellent flexibility and affordability for the customer. However, we do not care about their customer service options. They seem limited, and it would be great if there were phone support.
Can I Find Casual Love or Romance at OurTime?
OurTime is a better service for finding meaningful connections with other singles. We found that the average member here is generally in their 40s or older, even though OurTime mainly caters to customers who are 50+. Many of these singles are more interested in falling in love, having profound relationships, and long-term commitments. Not many are joining OurTime looking for casual love or hookups.
Is OurTime Safe?
This OurTime review showed us they respect their customers' information and privacy. An SSL-encrypted connection is used to keep personal and financial information safe and secure. We even investigated OurTime's past as well as their parent company, People Media, and there are no instances of them selling off customer data or misusing or mishandling sensitive information.
If I'm Under 50, Can I Join Ourtime?
Yes, you can make a profile at OurTime, no matter what age you are! We should amend that and say that if you are 18 or older, you are more than welcome to create an account at OurTime, even though they primarily cater to the 50+ crowd. OurTime welcomes younger singles looking for older partners. Some ladies look for sugar daddies, and some young men seek out a "cougar."