Christian Mingle is one of the best online dating apps to be using if you are a Christian and you are looking for other Christians who want serious, God-centered relationships. They are world-renowned, having been around since the early 2000s and they currently boast over 15 million users worldwide. Though they are one of the titans of the online dating industry, they come at an affordable price that is just right!
How much is Christian Mingle anyways? Is there a Christian Mingle price that will work for me?
This is exactly what we are going to look at on this updated cost page! We will go over the cost of Christian Mingle, look at some different monthly membership plans, and give you a rundown of the special features and benefits you will find here! We will also provide you with some links to free trial opportunities as well!
---
---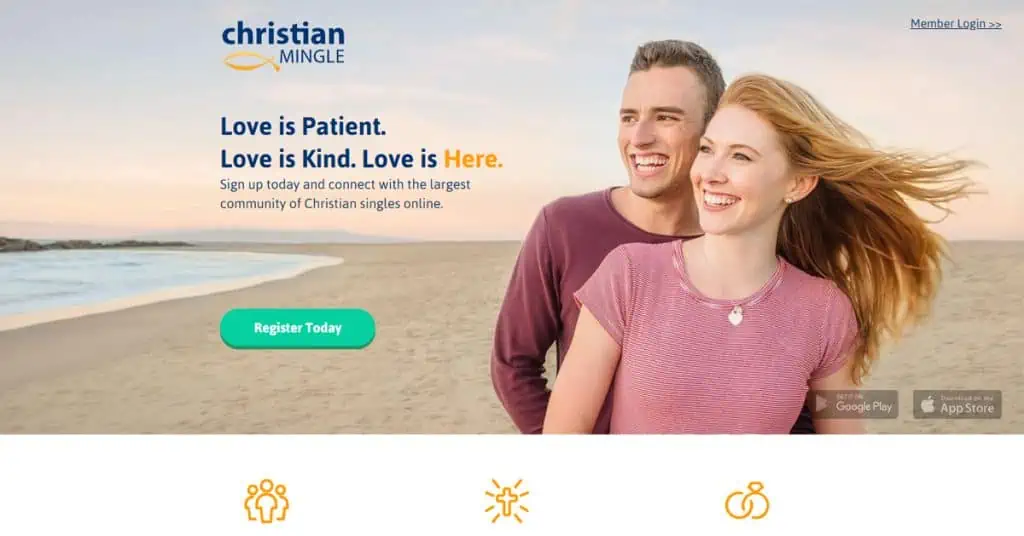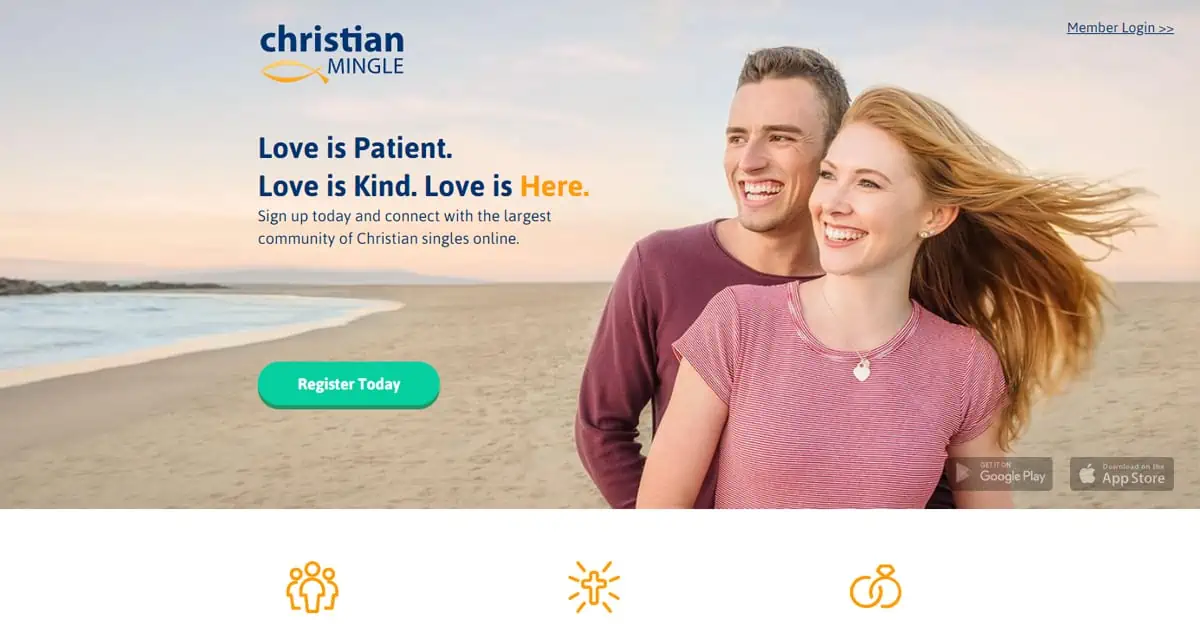 Christian Mingle Membership Plans
All Christian Mingle membership plans listed are considered to be premium plans. As you can see, you get a much better bang for your buck if you pay for a longer-term membership. The savings over the course of one year alone are phenomenal!
| Length of Plan | Price Per Month | Price Per Year |
| --- | --- | --- |
| 6 Months | $24.99 | $299.88 |
| 3 Months | $34.99 | $419.88 |
| 1 Month | $49.99 | $599.88 |
Christian Mingle Free Trial
If you do not have the money to pay for a membership or you want to test out Christian Mingle before putting any money down, we encourage you to check out the Christian Mingle free trial opportunity!
You are not going to pay a single cent to use Christian Mingle in free trial mode, but you will certainly miss out on some of their best features! However, give the free trial a shot and see if Christian Mingle is a dating app that is suitable for you!
Free Trial Features
Post your profile (up to 6 photos)
Search Christian Mingle's vast database
Receive "Your Matches" emails
You don't need to have a subscription to purchase the "Spotlight" feature
Free Trials vs Paid Membership
You are going to have a much different experience using a free trial of Christian Mingle than you will when paying for a membership. Check out some of the primary differences between the two and decide which is the best way for you to be using the site this year!
| Paid Features | Free Features |
| --- | --- |
| You can send messages of your own to other paying members. | You can search for other matches. |
| Paying users have access to Smart Picks, matches that the app generates based on user behavior. | You can register and create your Christian Mingle profile. |
| The chat feature is open to use for all paying members. | You can reply to messages from paying members (you cannot send your own). |
| You can view which profiles have sent you likes. | You can like other users profiles and send smiles. |
| Paying users can browse other profiles anonymously using incognito mode. | You can discover who has visited your profile page. |
Membership Features
As a paying member at Christian Mingle, you have full access to a number of awesome features and benefits, but there are also some special features that can be added on after you pay for a premium account to enhance your experience. We will cover everything in the comprehensive membership feature list below:
Chat Feature: includes full messaging capabilities
Messaging+: allows paying members to communicate with free trial members
SmartPicks: Christian Mingle will suggest matches based on your behavior in the app
Incognito Mode: browse profiles anonymously
LookBook: Christian Mingle's swipe feature allows users to heart profiles they like
Discovery Preferences: search filters that allow you to finetune your search
You can view and like other profiles
You can see which profiles have viewed and liked your profile
Send Smiles to other profiles to generate interest
Add-On Features
Spotlight
The Spotlight feature allows users to boost their profile to the top of the site's search results in order for users to get some more traction in their search for the right singles! You can set Spotlight up for a single day or keep the momentum going all month long. It is up to you! Either way, it is not a whole lot of money to put down and you get much better exposure!
| Plan Length | Price |
| --- | --- |
| 30 Days | $14.99 |
| 7 Days | $6.99 |
| 1 Day | $2.99 |
Payment Options
Compared to a lot of other online dating apps, Christian Mingle is a bit limited. There are currently options to pay using PayPal and Apple Pay as well as five major credit cards.
PayPal*
Apple Pay*
Mastercard
Visa
Discover
American Express
JCB (Japanese Credit Bureau)
*Contact customer service for details
Auto-Renewal
All paid memberships at Christian Mingle are automatically set up to renew at the end of the term. Customers are billed again for the exact same plan that just expired. If you do not want your account to be auto renewed, contact customer service at Christian Mingle and let them know this!
Your Christian Mingle profile still stays intact even if you do not renew your plan. It will not be deleted because there is always the chance that you change your mind and what to continue paying for a membership. Who would want the headache of redoing their profile again, anyways?
Christian Mingle Cost FAQ
If you're still unsure about the cost of Christian Mingle or how all of the pricing and memberships work, be sure to read through our answers to the following questions.
Is Christian Mingle Worth It?
We feel that it is, especially if you are a Christian and you are looking for other Christian singles who desire a God-centered relationship! This dating app has over 15 million users worldwide and has an excellent track record for successfully matching Christian singles up for long-term relationships and marriages over the last 20 years. This one is definitely worth a look if you are Christian single. There is no doubt about that! And the cost of Christian Mingle for a year is just under $40!
Is Christian Mingle Free?
In order to access all the special features that Christian Mingle offers, you will have to pay for a membership. However, there are free trial accounts available to those who want to take advantage of some limited features and not have to pay any money. As a free trial member, you can create your profile for free, respond to messages sent by paying members, find out who has visited your profile, and search for other matches. As a free member, you can also like other users' profiles and send them smiles to catch their attention!
How Much Is Christian Mingle?
Christian Mingle's best plan would have to be their 6-month premium plan priced at $19.99 per month. There is also a 3-month plan priced at $24.99 a month and the 1-month plan which is $42.99. It is definitely worth the money to just go ahead and get the 6-month plan. The savings over time are enormous!
As a Free Trial Member, How Does Messaging Work?
If you are not a paying member, the only thing that you can do as far as messaging goes is the ability to respond to messages sent to you by other members. This still allows you the chance to interact with other singles. Your big limitation is going to be that you cannot send messages of your own unless, of course, it is a reply. Once you have a premium membership, there are no limitations when it comes to messaging other singles.
Why Are Shorter Memberships So Much More Expensive Than Longer Memberships?
Well, for one thing, it helps Christian Mingle get you committed to using their service for a longer period of time. Online dating is not something that typically takes place over the course of a single month. Many users will search for months or even years before they find the right person.
And once you have found someone you are interested in, you might still want to keep the service as a way of connecting with them. Or you might be hanging onto your account to use in case things don't work out with them. Christian Mingle recognizes that online dating can be long-haul, so they price their longer plans more affordably to save their users some money over that time.