Does your Christian faith play a significant role in what you're looking for in a partner? If so, we may have the perfect dating app for you!
Christian Mingle is an online dating service that focuses on building relationships between Christian singles who are looking for long-term relationships that result in marriage. The dating app has been such a successful tool in the Christian dating community that it's responsible for almost 30% of Christian marriages that originated online!
---
---
Our Christian Mingle review lays out everything you need to know about using this online dating service. Below, you'll find our app ratings, an overview of the service – including premium membership prices and benefits – a step-by-step guide to signing up and creating a profile, and more. We'll also examine Christian Mingle's user base and customer support services.
By the time you're done with this ChristianMingle.com review, you'll know everything there is to know about this dating app offered by the Sparks Network!

Our team has independently researched all products and services that we have listed on this page. If you sign up or purchase through our links, we may receive a commission. See how it works.
Introduction to Christian Mingle
Our review of ChristianMingle.com found an excellent online dating service, but it sets itself apart from the other because they cater to a niche market (Christian believers). The sign-up process was like other Sparks Network apps like Elite Singles, Zoosk, and JDate. The profile creation process went quickly, without any lengthy personality tests, and within minutes we were browsing through hundreds of Christian singles in the area.
A Brief Overview of Christian Mingle's History and Success
In 2023, Christian Mingle serves an active base of 16 million members each week and claims to have been responsible for producing 29% of the Christian marriages that got their start online. Although most of its members reside in the United States (83.83%), CM is spread out over seven other international dating markets. But the Christian Mingle of 2023 looks much different than the Christian Mingle of 2001!
Christian Mingle was developed and launched in 2001, back when the Internet was still relatively new and online dating sites were in their infancy. This means that CM is well into its third decade in business. It's the elder statesman of the online Christian dating scene due to its longevity and years of experience.
CM has done a phenomenal job keeping up with modern updates to its platform.
It doesn't feel like a dating site that started in 2001. Perhaps most importantly, Christian Mingle has developed its dedicated form of swipe-style dating profiles in the form of the CM LookBook, a feature that's standard with other Sparks Network dating apps. But we'll talk more about this further in our Christian Mingle review.
Christian Mingle's Unique Approach to Online Dating
Christian Mingle feels like a cross between eHarmony and a casual dating platform like Zoosk or Tinder. The relationships it fosters are profound and meaningful, but there are some cool matchmaking features at CM that you'd find on casual dating apps like Tinder or Zoosk. This is what makes this dating app so unique in terms of its approach the online dating and Christian matchmaking.
How It's Like eHarmony
Christian Mingle has a focus on serious dating and meaningful relationships.
There's also a brief questionnaire that must be completed during the registration process that focuses on faith and denominal beliefs.
How It's Like Zoosk or Tinder
CM members can access advanced search filters that give them a lot of control over their search.
The LookBook features swipe-style dating profiles where members can "like" or "pass" based on their preferences.
Is Signing Up for Christian Mingle Worth It?
Christian Mingle is worth the time and money if you're 1) a Christian believer and 2) interested in meaningful, God-centered relationships with other Christians where faith plays a key role. If you practice another religion, you're an atheist, or you're more focused on casual relationships and dating, Christian Mingle won't be worth it and will not line up at all with your online dating needs.
Start a Christian Mingle Free Trial Today!
Our Ratings
Our 2023 review of Christian Mingle uses our famous five-point rating system. We examined CM's features, ease of use, match quality, cost, and active user base, assigning each an honest, unbiased score. We then pulled the average to arrive at our overall rating of 3.5 out of 5!
Overall:

| Category | Score |
| --- | --- |
| Features | 3.0 |
| Ease of Use | 4.9 |
| Match Quality | 3.0 |
| Cost | 3.5 |
| Active User Base | 3.0 |
| Overall | 3.5 |
5 Reasons Christian Mingle Is Worth It
Features: The LookBook lets members cycle through a variety of profiles in a short time based on personal dating preferences and search parameters.
Ease of Use: The sign-up process takes only five minutes, and the website (and mobile app) are easy to use and learn. The search filters and LookBook allow for quick searches where matches line up with your preferences.
Match Quality: The CM search filter settings cover various aspects like appearance, age, location, and lifestyle choices. Preferences expressed in the CM LookBook further refine the search and improve match suggestions.
Cost: Christian Mingle comes at an affordable price, ranging from $14.99-34.99 per month. The longer membership plans have a lower monthly cost rate, which makes for some significant savings over time.
Active User Base: The dating pool at Christian Mingle is about 16 million deep. It's also available in seven countries. There's an excellent chance of finding the right Christian singles in your local area or abroad!
What We Like
Using Christian Mingle is extremely straightforward through the dating app and the website. The design is very sleek and straightforward, and one can immediately jump in and begin using the service without confusion. These are a few things we liked about Christian Mingle that immediately came to mind; here are a few more aspects that we enjoyed immensely:
Great for singles with strong religious beliefs.
The "LookBook" feature gives users the swipe-based dating app experience for a change of pace.
See matches' photos and read complete profiles before upgrading your membership.
Free users can respond to paid members' messages.
Easy to use app and website designs.
Interesting match ratings based on preferences and religious background.
We also appreciated the way matches are laid out, showing a grid of profiles that continually refresh as you scroll down the page. You can see their main profile picture with extra details about each member and either click on one to read and see more or keep scrolling.
What We Don't Like
The only issue our Christian Mingle review uncovered was that many of the top matches had been inactive on their profile for quite some time. A few hadn't logged on within the past year. Fortunately, there's a tab that filters your matches based on who's "Online Now," which helps alleviate the problem somewhat.
Not for casual hookups and dating.
No search function for matches.
Lots of inactive members appear in matches.
Must call customer service to cancel subscriptions.
Not as many membership features as some competitors.
Who Is Christian Mingle Best For?
The quick answer to this upfront is that Christian Mingle is best for Christian singles looking for meaningful relationships with other Christians who share their faith and beliefs. Fortunately, CM caters to Christian singles from a ton of denominational backgrounds!
Find out more about the people who have experienced success using Christian Mingle and the kinds of relationships they've found once they committed to a premium membership plan!
Demographics and User Base
Christian Mingle is for all singles who want their faith to play a role in finding a partner. The online matchmaking service is meant for Christians interested in forming long-term connections and relationships, not people looking for casual flings and random hookups.
| Fast Facts | Details |
| --- | --- |
| User Base | All singles |
| Average Age | 36-50 years |
| Active Members | 16 million |
| Paid Subscribers | 154,000 |
| Visits Per Month | 3.5 million |
| Gender Distribution | 44% men to 56% women |
Our ChristianMingle.com review found the following religious affiliations available as options when creating your profile:
Anglican/Episcopalian
Apostolic
Baptist
Catholic
Lutheran
Methodist
Orthodox
Pentecostal
Presbyterian
Seventh-day Adventist
Southern Baptist
Interdenominational
Non-denominational
Not sure yet
So, if you identify as any of those denominations and want to find love, Christian Mingle was made for you!
Relationship Types Best Served by Christian Mingle
Christian Mingle is all about meaningful commitments and connections between Christian believers. God and faith play a huge role in the bonds between the singles on the app. For a clearer picture of the types of relationships you're likely to find here, check out a few of our CM fast facts!
Roughly 60,000 singles sign up for Christian Mingle every month.
71% of Christian Mingle app users attend church every week.
90% want to marry a Christian.
CM is responsible for 29% of Christian marriages that began online.
Christian Mingle is mainly geared toward singles interested in getting married, settling down with someone, and having a family together. Sharing a common stance on Christian faith and attending church each week are some of the expectations that many singles on the app have going into new relationships.
The Christian Mingle Compatibility Matching System
No online dating app can do its job correctly if it isn't using a top-rated matching system to create quality connections between singles. Fortunately, Christian Mingle has one of the most moderate, nuanced matching systems we've seen, striking a good balance between using modern techniques found on casual dating platforms and the more traditional methods used by sites with a more serious focus.
How the Compatibility Matching System Works
Some online dating apps only use search filters to establish matches between singles, giving customers a lot of control and an active role in the matchmaking process. Other dating apps use a methodology of advanced compatibility testing, which generates daily match suggestions, and customers assume a more passive role in the search for love.
Christian Mingle is somewhere in between these two matching systems. The platform comes equipped with a small questionnaire during sign-up, which informs the search but is mainly driven by the customer-set search filters and the preferences they display while using the Christian Mingle LookBook. The matching algorithm takes the "likes" and "passes" in the swipe-style profiles into account, using this information to hone its future match recommendations.
The Role of the LookBook in Matchmaking
Christian Mingle doesn't come with advanced personality or compatibility testing during the registration process, but they do feature a small questionnaire that covers aspects of the Christian faith. But this is only a small portion of the matchmaking process.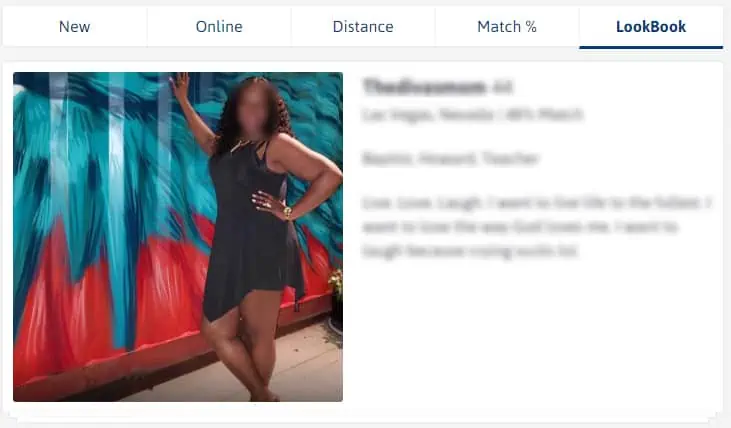 More importantly, there's the LookBook feature. It turns Christian Mingle into a swipe-based dating app like Zoosk or Tinder. The user is shown one profile at a time and clicks the heart for "like" or X for "pass." If you like a member who's also liked you, you're both notified of the "mutual like," and have a reason to start a conversation.
It's a nice change of pace when you want a different way to browse your matches.
Christian Mingle's Communication Features
If you're interested in communication that comes with no limits, you best upgrade your free trial plan to a premium membership. The free trial does allow free users to read and respond to a message sent by paying members of the app, but that's the only free communication you can experience at Christian Mingle!
Unlimited Communication
You can enjoy no-limits communications with other members when you upgrade your free trial to a paid membership plan. And not only can you contact matches that come up in your LookBook suggestions, but you can message or reach out to anyone you find on the app, including free members. This is one of the more significant perks of becoming a premium member.
Send Likes
Aside from passively responding to messages that might come your way from paying members of the app, the only other way to communicate as a free member is to send "likes" to other members. 
Christian Mingle's Membership Options
As always, part of our Christian Mingle review included signing up for an account and completing the entire profile creation process. We even uploaded pictures and answered some questions about ourselves to complete the profile, then began interacting with our matches. We've experienced every aspect of being a Christian Mingle app member.
Now, we'll share everything we've learned. The journey begins with a free membership. Then we'll visit the premium membership packages for sale and the features with which they come. Finally, we'll analyze the demographic breakdowns of the Christian Mingle user base.
Free vs. Paid Memberships
There are two ways you can enjoy Christian Mingle: the free membership plan and a premium subscription. Let's go over the differences and see what you can experience and enjoy with each! Believe us when we say it's way better to go with the paid membership plan over the free trial. But we'll get into this in more detail below.
Free Trial
The Christian Mingle free trial is different from many of the others, where the user gets full access to premium membership benefits for a short period. Unless they cancel before the trial expires, the membership renews as a paid subscription.
They do, however, allow new users to create a free profile and enjoy a limited number of features without paying. Our Christian Mingle review found that non-paying members can do the following things:
Post up to 6 photos
Browse singles' profiles
See matches' main profile picture only
Receive new matches daily
Send Smiles
Can only read and reply to messages sent by premium members
Use LookBook feature
ChristianMingle.com offers one other membership upgrade that doesn't require a premium subscription. It can be purchased as an individual add-on by free and paid members.
Premium Membership
The customer experience using the Christian matchmaking service is greatly enhanced by the plethora of added benefits. Part of this Christian Mingle app review involved buying a premium membership and testing the extra features. The difference was night and day.
Features included with a paid membership:
Access All Photos – See all user's photos.
Read Receipts – Receive notifications when other users read your messages.
Liked You – See which users liked your profile.
Viewed You – See who visits your profile.
Profile Privacy Controls – Browse anonymously, hide your online status, and remove your profile from members' matches and searches.
Messaging+ – Send messages that can be read and replied to by all Christian Mingle users, even if they don't have premium memberships.
Christian Mingle was lighter on added features, but the app offers the usual benefits of a paid membership. One part we loved was that premium members could send and receive messages from any other profile, regardless of their subscription status. That's a separate add-on feature that must be bought separately on most dating apps.
Spotlight
This al-a-carte upgrade highlights your profile and pushes it to the top of other singles' search results, increasing your visibility and generating more activity on your page.
Premium Membership Benefits and Pricing
The Christian Mingle app offers three premium membership packages. The benefits unlocked with each plan are the same. The only difference is their respective durations. The longer your subscription, the cheaper the cost of the service per month.
If you're serious about finding a romantic partner on the dating app, you'll probably want to upgrade your subscription too. For the most part, the premium features are required to communicate.
The only exception is if a premium member uses their Messaging+ privileges to message you first. However, even in that case, you'd only be able to see one of their pictures without subscribing. It's possible to find love this way, but the odds aren't as good for most people.
Auto-Renewal
Christian Mingle subscriptions are renewed automatically at the end of their term unless you cancel before the expiration date. Otherwise, your premium membership will renew for the same length as your previous plan.

Discounts and Promotions
During our Christian Mingle review, we discovered that the dating app offers premium memberships for 1-, 3-, and 6-month terms. No matter which plans you choose, the total price of the subscription is due upon checkout. There are no installments or monthly payment plans for the 3- and 6-month packages.
Creating Your Christian Mingle Profile
As we mentioned previously, part of our Christian Mingle review process involved creating a profile and signing up for a membership. The entire process, from account creation to profile completion and match browsing, was straightforward. It only took about five minutes from start to finish.
1. Create a Christian Mingle Account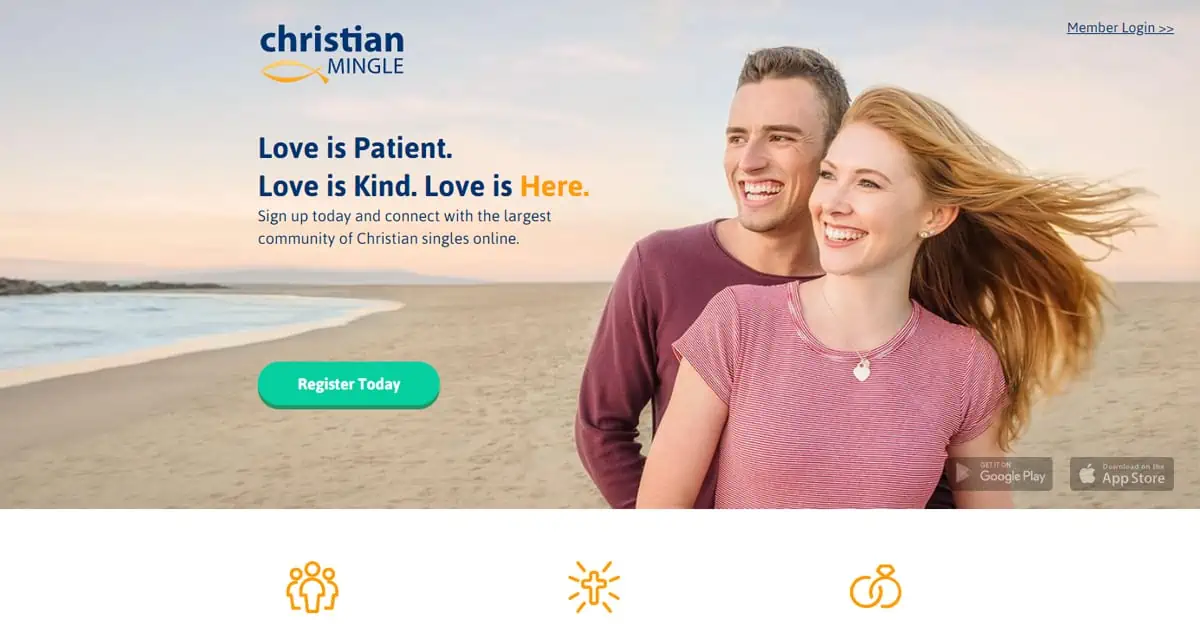 The first step is to create a Christian Mingle account, which can be accomplished on the home page of the website or the startup screen on the app. All you do is enter your name, age, and location. Then you provide an email address and password for your login information.
2. Upload Photos
Right after you create an account, Christian Mingle asks you to upload some profile pictures. You can choose to do this now or skip this step and do it later. If you decide to do it right away, you'll be capped at six photo uploads – that's the limit for unpaid members.
You'll be able to add more after you subscribe to a premium membership.
When choosing your main profile photo, select a picture with a clear shot of your face. Avoid group photos, images where you're far away, or anything that might be confusing for the singles browsing your profile.
3. Fill Out Basic Profile Information
Next, you're taken to the "Tell Us About You" page, which asks for basic details about yourself, including height, marital status, religion, church attendance, occupation, whether you have kids, whether you want kids, and level of education. These answers will determine your compatibility with other members and choose whether your profile fits their preferences.
"Church attendance" is one category unique to Christian Mingle. You can answer that you:
Attend church every week
Attend church on special occasions
Attend church once or twice a month
Attend church several times a year
It's best to answer honestly but also choose wisely! The singles on the Christian Mingle app take their religious practices seriously!
4. Write a Summary
Once the basics are taken care of, it's time to write a profile summary. This is your opportunity to stand out and tell other members who you are, what you're about, and why you're on Christian Mingle.
If you have trouble coming up with something to write, there are several example writing prompts already listed in the text field and a link to tips for writing an excellent profile summary.
5. Choose Your Interests
Next, you're taken to a page with a wide range of interests and hobbies separated into six different categories:
Sports and Fitness
Activities
Arts and Entertainment
Travel
Music
Eats and Drinks
Go through the lists and select as many as applicable to your interests. The answers you select during this step will also impact your compatibility ratings with other members. So, if you want accurate matches, be honest and choose only things you like to do – not stuff you wish you wanted to do or that sounds good.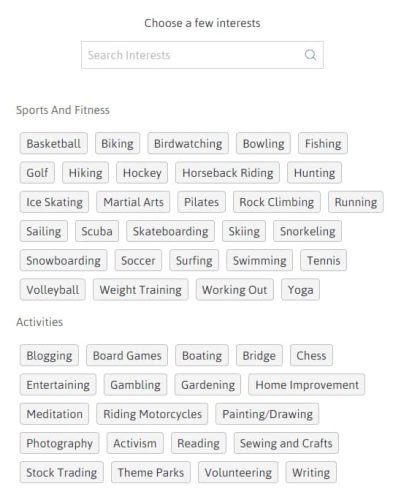 6. Set Your Search Parameters
We're finally done setting up our profile and answering questions for other members. Now, it's time to think about what you want in a partner. On the "What are you looking for?" page, you set the gender you're seeking; the age ranges you're willing to date, and the distance from the location you'd like your matches to be within.
You can also set parameters for religion, relationship type, and every other category from the basic details page. So, if you only want matches who don't smoke, that's an option. Or you can set preferences based on whether your matches have or want kids or their willingness to relocate.
7. Upgrade Your Account
Finally, you're all set up! At this point, you can either start browsing your matches or buy a premium membership. Your best bet is to upgrade right away since it opens your options for communicating with other singles. Why not use every tool at your disposal from the start?
All you must do to upgrade your membership is click the "Get All Features" button at the top of the page, on the right. You'll see it right next to your profile picture.
8. Browse Your Matches
You're good to go! Start checking out some Christian singles in your area. You can filter your match results by New, Online, Distance, or Match %. Once you're on one of these tabs, you can keep scrolling down, and more profiles will load.
Click on any of the pictures to open their profile, read more about your match, and see more of their photos.
9. Send Likes and Messages
After you click on a match's photo and navigate to their profile page, you have two ways to communicate with them. Assuming you like their profile, you can send them a message or click "smile." A "smile" is the same as sending a "like" on other dating apps. It lets them know that you're interested but that you're waiting to see if they're interested before starting an actual conversation.
How to Delete an Christian Mingle Account
Suppose you need to delete your Christian Mingle account. Know that it can be done in a few simple steps. But once it's done, it's over for good. You'll no longer be able to access your account and will need to start over from scratch if you ever want to become a member of Christian Mingle again. Once your account is deleted, it's gone forever.
Follow these five steps to delete your Christian Mingle account permanently:
Click on Profile Picture Icon – Begin by clicking on the icon that has your profile picture.
Click on "Account Settings" – Once the drop-down menu appears, click on "account settings."
Click on "Profile Display Settings" – On the following menu that appears, click "profile display settings." This will direct you to the profile deletion button.
Click on "Permanently Delete Profile" – Click on the button at the bottom of the following menu: "permanently delete profile."
Click on Finalize Permanent Deletion – Before the permanent deletion of your account is finalized, you're given a warning that you won't be able to retrieve or access your current account once the deletion is complete. When you're sure you're ready to delete your account, click "permanently delete profile."
Christian Mingle Customer Service
Regarding customer support, our review of ChristianMingle.com found that the dating app does an excellent job of providing members with the resources they need to find answers. On the Christian Mingle Help page, the first thing you'll see is a search bar you can use to find articles written about specific topics.
Further down the page, you can find links for four different categories of Frequently Asked Questions:
Getting started
Manage your account
Meet someone new
Billing and subscriptions
If your question or issue can't be found among Christian Mingle's customer support articles, there's also a "Contact Us" button at the bottom of the page.
Clicking that button takes you to the "Submit a Request" form. Just enter your email address, the subject of your request, and a description of your issues, along with any attachments that may add context to your query. Christian Mingle's customer service department will respond to your ticket within the next few business days.
Unfortunately, Christian Mingle doesn't have a customer support hotline or any alternative ways of contacting the company besides the request form.
Customer Service Pros and Cons
Pros
Cons

Useful search function.
Library of articles with answers to common customer support issues.
The Contact Us page allows users to submit requests to the customer service team.
Manage subscription in the Account Settings section without needing to contact customer support.

No customer service hotline.
Not as many helpful FAQ articles as some competitors.
No articles helping customers find success on the dating app.
Christian Mingle's Mobile App
Christian Mingle comes with a mobile app in addition to its main website. Both can be accessed on iOS or Android devices like smartphones or tablets.
App Features and Functionality
Christian Mingle functions and feels the same using the website or the app. It's slightly simplified in its mobile app version to accommodate smaller screens, but there's no learning curve if you go from one format to the next. The same free and paid feature can be experienced on the website or mobile.
Compatibility
It's not just for mobile devices. Christian Mingle is free for download at the App Store and Google Play. It's a dating app that can be used on the go on both Apple and Android devices. And as always, CM can be accessed on desktop computers using a reliable internet connection and web browser.
Google Play
1.5/5 stars
Based on 2.85k reviews
1+ million downloads
Free to download
Offers in-app purchases
App Store
3.6/5 stars
Based on 21.8k reviews
Free to download
Offers in-app purchases
Frequently Asked Questions
For more information on Christian Mingle and what they offer as an online dating app, check out our FAQ section, that's filled with a bunch of common questions we get from our customers and readers alike.
What Kind of Relationships Does Christian Mingle Help Facilitate?
Christian Mingle's primary purpose is to help singles from similar religious backgrounds find long-term romantic relationships that preferably lead to marriage. However, the app caters to other forms of connection as well. On the preferences page, you can set the relationship type that you're seeking to Friend/Activity Partner, Long Term Relationship, Marriage, or Marriage & Kids.
How Does Christian Mingle Determine My Matches?
The Christian Mingle app bases your matches on the information you entered when creating your profile, including your religion, desire for kids, church attendance, level of education, and location. They also account for the interests you've chosen and the preferences you set.
Can I Hide My Profile While Browsing Through My Matches?
Yes, but only if you're a premium member. Paid subscribers can browse anonymously (without the members they view being notified), hide their online status, and stop their profiles from appearing in searches.
Can You Try Christian Mingle for Free?
Yes, Christian Mingle can be used for free. You can create a profile, see your match's main profile picture, and send smiles with a basic membership. You can also read and reply to messages sent to you from premium members.
What Features Require a Subscription?
Premium membership is required to read and reply to all messages, see all your matches' pictures, receive read receipts for your messages, and use enhanced privacy control. The Spotlight feature also requires a subscription, but it's a separate purchase from the premium membership. Free users may also purchase the Spotlight add-on.
What Is the Messaging+ Feature?
Messaging+ is the most valuable feature included in a premium subscription. It enables you to message any member on Christian Mingle, and they can write back, whether they are a paid member or not.
What Do Other Christian Mingle Members See on My Profile?
Other members see your profile details, pictures, written summary, and the interests you chose. If you'd like to view your profile from another member's perspective, click your profile picture at the top right of the page. That will open a menu – select My Profile. Now you see what they see!
Will My ChristianMingle.com Profile Pictures Appear in Google Search Results?
No. The pictures you upload won't be searchable on Google. Your Christian Mingle account only uses your first name on your profile.
Will Christian Mingle Tell Me When Another Member Has Read My Message?
Yes, but only if you're a premium member. Paid subscribers get read receipts for messages as part of the benefits package.
Does Christian Mingle Offer a Mobile App, and Is It Free?
Absolutely! It's available for download in the Google Play and Apple App stores.
Does the Christian Mingle Dating App Work the Same as the Website?
Yes, the Christian Mingle website and app work the same.
Is Christian Mingle Right for Me?
That depends. Are you a Christian single looking to make lasting connections with like-minded people in your area? If so, Christian Mingle might be the perfect dating app for you!