If you are a professional seeking out like minded people, it can be difficult to meet someone that you think is compatible for a quality, long-term relationship. It can be even more difficult to find someone who shares your interest in personal success, professionalism, and career goals. It can sometimes seem even stressful to find a good dating app that is aimed at finding professional singles but is also top-notch when it comes to maintaining user discretion.
Our team has independently researched all products and services that we have listed on this page. If you sign up or purchase through our links, we may receive a commission. See how it works.
What if we were to tell you there was a solution to overcome these obstacles? That solution is DatingApps.com where there are several viable options for single professionals seeking out serious, long-term commitments! If you are ready to begin meeting other executives and like-minded people, check out the best dating apps for professionals using the table above. For more information and helpful facts about the online dating applications we recommend you can simply continue down this page.
---
---
5 Best Professional Dating Apps in 2023​
Are you ready to find successful, career-driven singles? Look no further than our favorite dating apps for professionals where they can find other career professional types that might be the perfect fit for a long-term relationship. Create a new account today at one of our favorite dating sites in as little as 10 or 15 minutes. You can begin meeting other executive singles in no time!
#1: eHarmony​
User Base: All singles
Paid Subscription: Yes
Free Trial: Yes, limited
Subscription Price: Starting at $35.90 a month
Number of Users: 10+ million
Paid Subscribers: Over 750,000
Gender Ratio: 48% men to 52% women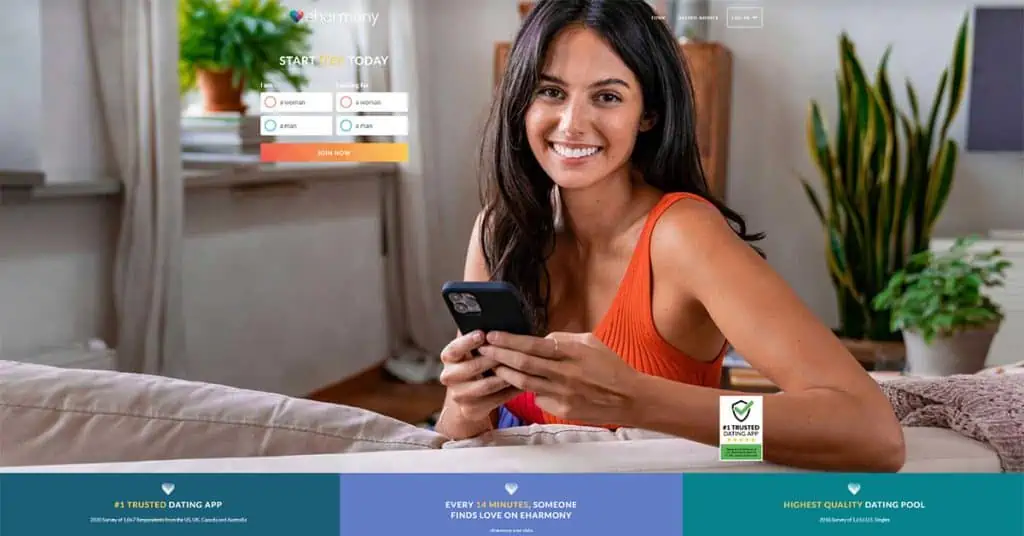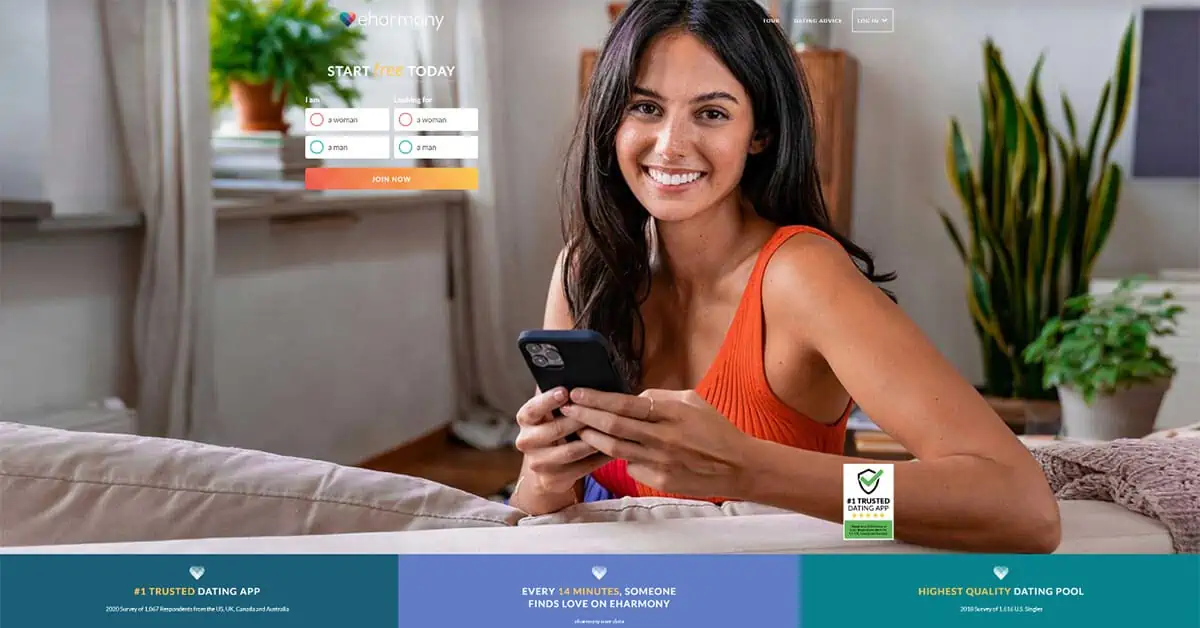 Although this dating application is not solely focused on catering to executives, users can find compatible matches when they complete eHarmony's comprehensive questionnaire. After all, eHarmony is well known for its compatibility testing and is responsible for the creation of many long-term relationships and marriages over the years! eHarmony is a great dating site for professionals who are looking for matches that will share their common interests in personal success and building their careers.
eHarmony Pros and Cons
Pros
Cons

Active in online dating market since 2000
Video dating for paid subscribers and communication weekends for free trial users
Matches are created through comprehensive compatibility testing
Highly successful with creating long-term relationships and marriages
Uses a large team to vet all new accounts created at the site

More expensive compared to other dating app services
Shorter memberships are more expensive
The sign-up process is longer due to the compatibility questionnaire
eHarmony is not a site to use when it comes to casual dates
There are bots and fake accounts on the site
What Does eHarmony Offer Singles with a Professional Career?
Personality profile and questionnaire create matches with other professional singles based on compatibility
Dating blogs and relationship advice pieces are available on the site for career professional people.
24/7 customer service and support are available
Profile builder and interactive tips are available to help you construct your online profile at eHarmony
---
#2: Elite Singles​
User Base: All singles
Paid Subscription: Yes
Free Trial: Yes, limited
Subscription Price: Starting at $31.95 a month
Number of Users: 2+ million
Gender Ratio: 51% men to 49% women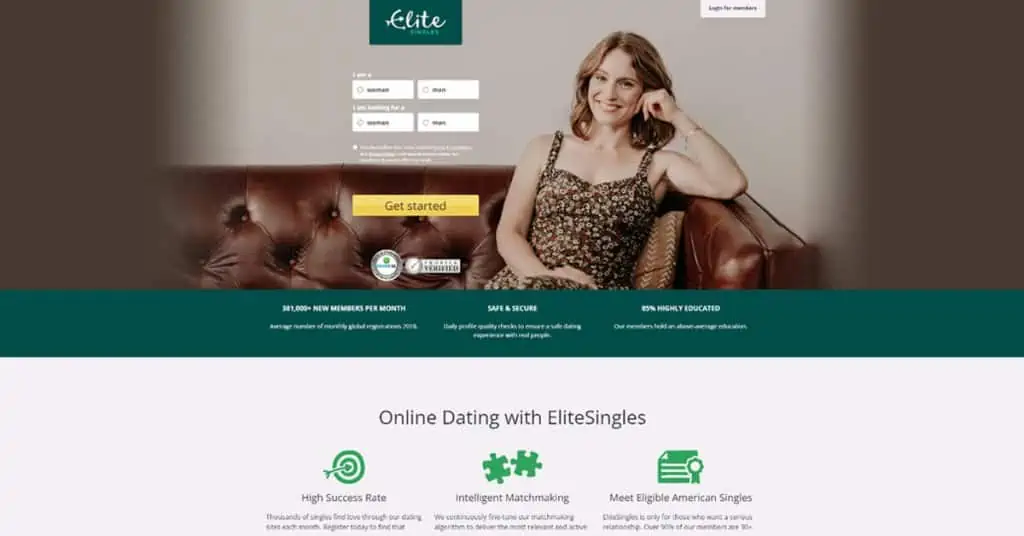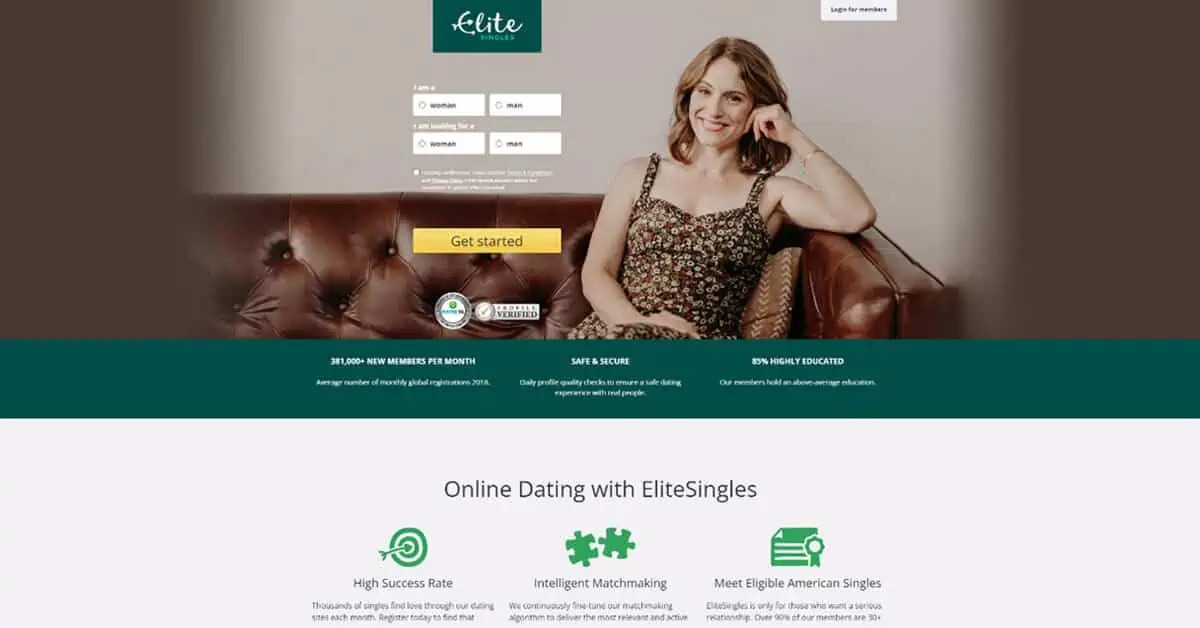 This has to be the best dating app that is specifically geared toward young higher-ups. The mission of Elite Singles is to match singles up with other professional singles who are career driven and strive toward personal success. In fact, they currently boast that 85% of their user base has gone on and completed some form of higher education. Elite Singles is also known for creating their matches using compatibility tests much in the same vein as a site like eHarmony.
Elite Singles Pros and Cons
Pros
Cons

85% of users have completed some forms of higher education
There are dating advice sections and Relationship blogs available to users
Users are typically looking for long-term commitments and relationships
There are not as many fake profiles or bots found on this dating app
Compatibility testing results in many successful matches leading to long-term relationships

Much of the user base is 30+
The free trial account is limited including limited browsing and photo viewing
Lax vetting process compared to a lot of other online dating apps
The cheapest paid subscription offers the least amount of options and features
There are no options for a single-month membership
What Does Elite Singles Offer Executives Looking to Date?
Compatibility testing uses a curated matching system and personality-based algorithms
Elite Singles makes a point of connecting professionals with only the best possible matches
The Have You Met feature that allows professional singles to scan backup lists of matches that may have some potential
Favorites List feature allows singles to save and store matches of other professionals to view at another time
---
#3: Zoosk
User Base: All singles
Paid Subscription: Yes
Free Trial: Yes, limited
Subscription Price: Starting at $10.00 a month
Number of Users: 40+ million
Gender Ratio: 48% men and 52% women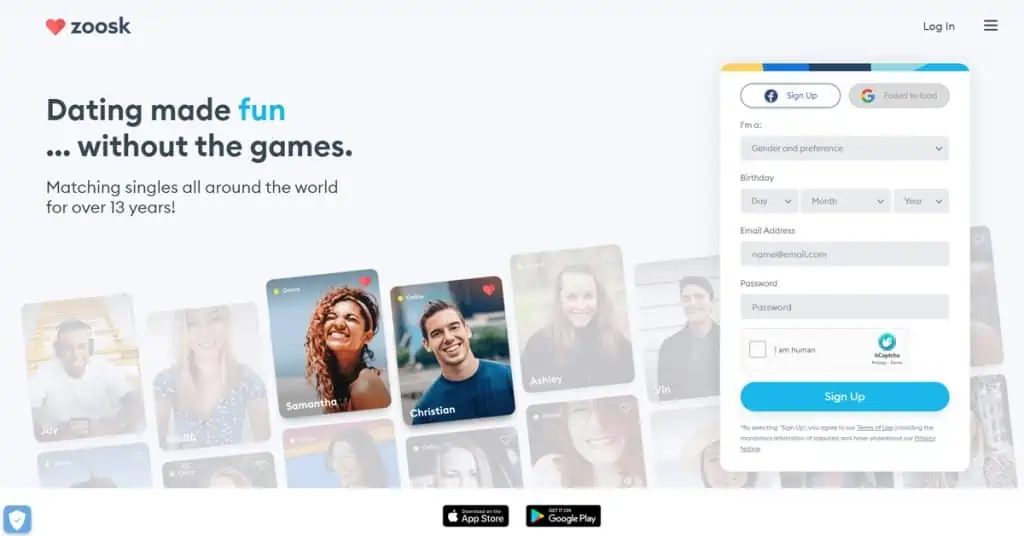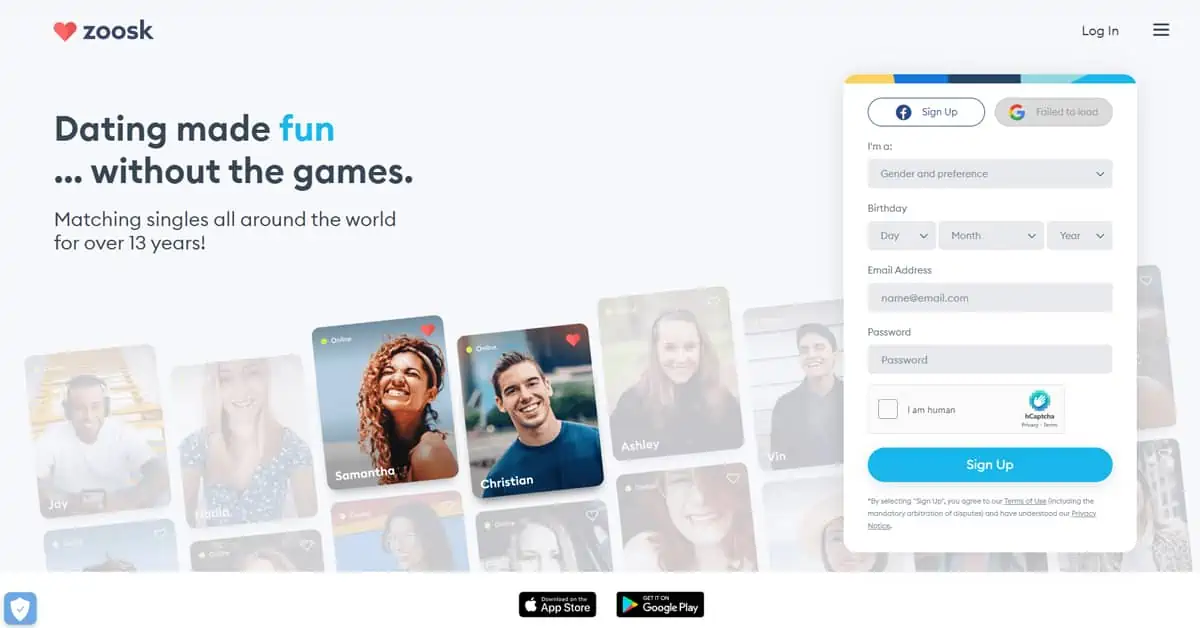 Zoosk is the young buck of dating apps we recommend for professionals in 2023. Their user base tends to be younger compared to dating apps like eHarmony or Match. As a result, Zoosk is more adept at matching singles who are looking for casual dates and hookups. There are some long-term relationships that have come out of this dating application but there is more of a focus on casual relationships which is something that executive singles might be looking for! that is why we have included it as one of the best dating apps for professionals!
Zoosk Pros and Cons
Pros
Cons

3 million messages are sent over Zoosk each and every day
Top-grossing dating app found on the app store
Great vetting process which leads to minimal fake accounts or bots
They feature a personal blog section with user success stories
Dating app with one of the most diverse user bases on the market

Profiles cannot be searched by keywords
They are not really known for creating long-term relationships
The free trial does not include any sort of messaging feature
Compatibility testing is not as extensive as sites like eHarmony or Elite Singles
Incognito browsing is only available to paying subscription members
What Does Zoosk Offer Career Professional and Executive Singles?
Zoosk values the time of the professional and does not feature an over-extensive questionnaire
Profiles are verified and vetted so that executive singles do not waste their time with scammers or fake profiles
The enormous and diverse user base on Zoosk allows professionals to interact with a large number of other singles
---
#4: SilverSingles​
User Base: Mainly singles over 50
Paid Subscription: Yes
Free Trial: Yes, limited
Subscription Price: Starting at $24.95 a month
Number of Users: 800,000
Gender Ratio: 53% men to 47% women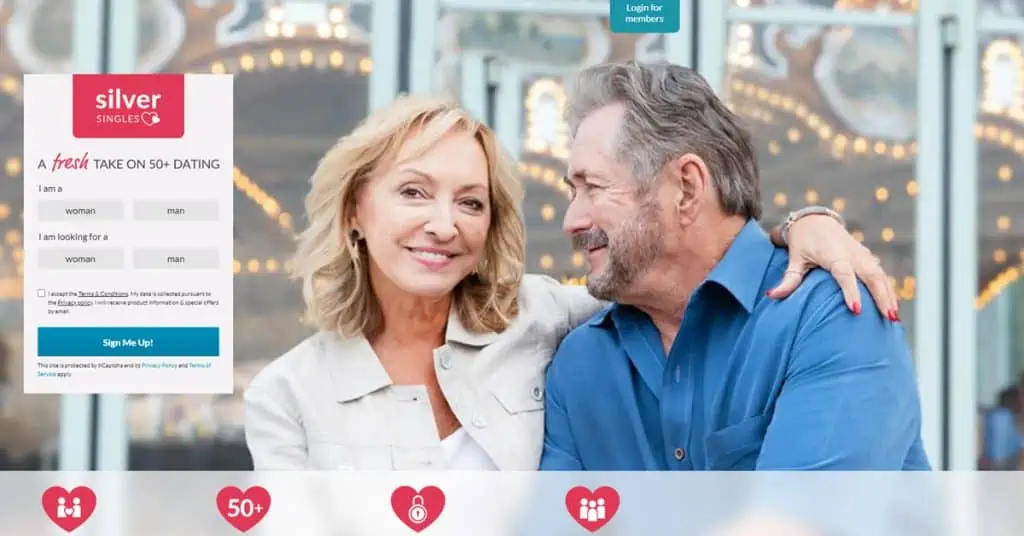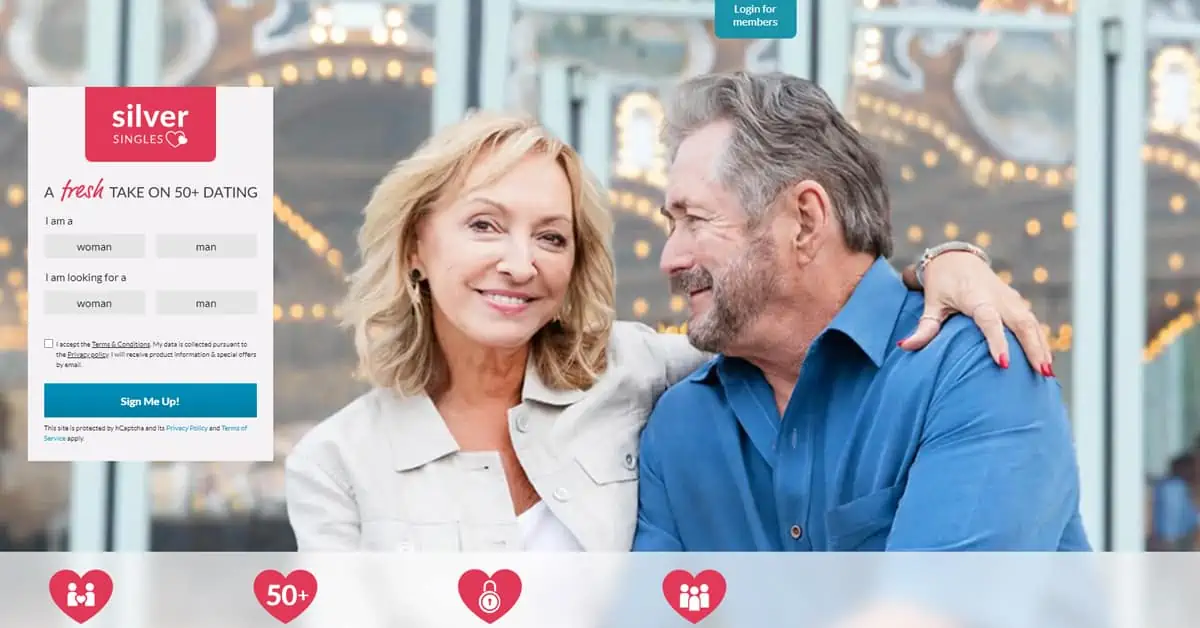 Many professionals and financially successful singles are in their middle years of life or approaching retirement age. They've enjoyed the time they've spent building their empire or giving 110% to the company, but now it's time to find that special someone. And they're looking for a serious relationship or romance with someone their age, someone who shares the same life experience and maturity. The best place to look for senior singles is SilverSingles, hands down!
SilverSingles Pros and Cons
Pros
Cons

Perfect for finding serious relationships with singles between 48 and 52 years
100,000 committed users and 800,000 visitors each month
Intuitive design and easy-to-understand terms
15-20 sign-up process which includes thorough personality testing
Affordable membership pricing

Smaller userbase compared to mainstream dating apps
Time-consuming sign-up process compared to most
Online dating profiles are not as robust as they could be
Reports of catfishers and illegitimate accounts on the platform
Limited free trial experience with no messaging capabilities
What Does SilverSingles Offer Professionals?
Personality testing and assessment takes career and educational backgrounds into account
Toll-free phone and email support is available to all members
SilverSingles give professionals in their late 40s or early 50s (or older) the chance to meet singles in their age range
Affordable membership costs appeal to professionals who might be money-conscience
---
#5: The League​
User Base: Singles with excellent academic and professional backgrounds
Paid Subscription: Yes
Free Trial: Yes, limited
Subscription Price: Starting at $67 a month
Monthly Users: 7.5 million
Gender Ratio: 48% men and 52% women
The League is a rather exclusive dating app for professionals that only includes singles who have excellent academic and professional achievements or backgrounds. This one is much more exclusive compared to a site like Elite Singles which primarily services professionals. The League includes an in-depth vetting process and a waitlist of a few weeks before members can officially join their ranks. This is not one of the most inexpensive or affordable dating sites for professionals, but what you do pay will be well worth it when you consider the benefits and perks you will experience along the way!
The League​ Pros and Cons
Pros
Cons

The League app hosts exclusive networking events for their users
You will not ever waste time with singles that are below your life-level
They filter out Facebook or Linked In connections eliminating anyone you know
No standards are too high at The League
Strict vetting ensures only highly educated and professional singles are on the site

There is a waitlist to join this dating app
The League is more expensive than most professional dating apps
Expediting your membership approval is expensive
The vetting process is time-consuming
Not a great dating app for singles looking to flirt or casually date
What Does The League Offer Professional Singles?
Multi-city dating allows professionals who travel for a living to connect with singles outside of their home city
The Power Move feature allows users at the Owner tier and higher to push their profile higher into the results of other singles to stand out from the rest of the pack
The concierge for VIPs comes in the form of 24/7 live customer support to give professional singles quality care and service when problems arise
Weekly video dates are offered to users on Sundays to go on mini-dates with other professional users from the app
---
If you are ready to use a dating app that is catered toward finding professional singles, start a free trial or create an account at one of our favorite dating sites today! The process is super simple and should not take more than 10 or 15 minutes to complete!
How to Choose the Best Dating App for Professionals​
If you are in any sort of doubt about how to choose the right dating app, check out some of our best tips on making the best choice for your needs and expectations. It's not hard, and the process can be really fun. There are a ton of great options out there (especially the ones we recommend!), so no matter what you choose you should find quality date apps that are perfect for what you need.
Read Online Reviews
The more you know about an online dating app for professionals the better the decision you can eventually make when it comes to choosing the right one! Feel free to check out any of our comprehensive reviews. Our researchers have actually taken the time to create their own accounts on these dating apps to get a firsthand experience and report the hard facts. Feel free to check out another online review. Basically do as much research on the site as you can to determine if it's the best fit for you!
Use One of Our Recommended Dating Apps
If your goal is to find a quality dating app for professionals in the quickest time possible, we honestly recommend going with any of the sites on our list (as long as it fits your needs and expectations).
Several of the sites we recommend are well-known in the online dating game like eHarmony and Match while the others enjoy large userbases and have had great success in creating both long-term relationships and casual date scenarios!
Look for an App That Fits Your Needs
We would never ask you to use a dating app that does not align with your needs and desires. The app you end up choosing needs to make sense for you. If it helps, create a list of what you are looking to get out of a dating app and then search for dating sites that can make that vision a reality.
Ask questions like…
"Am I looking for casual dates or a serious relationship?"
"Do I want to meet a professional single with a career?"
"Do I want to meet someone local or expand my horizons?"
Give One of the Free Trials a Shot
If you are in doubt about any of these dating apps and you want to simply try them out without having to pay anything, check out the free trials that are available! Each of the dating apps we recommend offers these. You can get a good sense of how the site works as well as catch a glimpse of who you matched with! And there is absolutely no money on the line.
Just keep in mind that the free trial will offer limited capabilities and features so your best option at the end of the day is to pay for a subscription!
Why Do You Need a Dating App for Professionals?​
Professionals seeking relationships are a different breed compared with the ordinary, everyday person. Many executives are much, much busier in their day-to-day life.
They typically value their time as they are often spread thin with their responsibilities and balancing that with a personal life. A lot of professionals are straight shooters and appreciate honesty and transparency.
Let's take a look at some of the prime reasons that professionals need a dating app all their own:
Professional-focused App vs Regular Dating Applications​
It is no surprise that our top five dating apps for professionals are a mixed bag with some sites catering to both professionals and non-professionals and others that deal exclusively with singles that are highly educated or well-off in their illustrious careers. What separates a dating site like The League from sites like Match, eHarmony, or Zoosk is the fact that they are going to cater to their customers with much more care and service than a regular dating app.
For instance, The League has a much more secure vetting system because they value the kind of people occupying their site. You will be hard-pressed to find fake accounts or bots at a site like The League. A dating app like The League is also going to feature much better service and support, offering many of their customers 2/4 live support any time of the day or night.
How Do Professionals Generally Use These Apps?​
The people managing it all, VIP's, CEO's, and executives typically know what they want and do not want to waste a whole lot of time spinning their wheels doing the more conventional acts of hitting up a club, bar, or happy hour. Dating apps are the perfect solution for streamlining this process for professionals! They generally use dating apps online to save time and find a quality match!
The Importance of Discretion for Career Professionals​
This is one of the most important facets of using a dating app for professional singles. They want to know before entering any of their information that the dating app they are using is going to be completely safe and secure! After all, the higher up you are on the ladder, the more you have to lose. This is why many executive singles go with dating apps that cater specifically to professionals so that they can enjoy the services of the site without having to worry about anything.
Challenges of Dating as an Executive​
Many professionals use online dating sites because their schedules are so hectic, and the convenience of meeting other singles digitally is a real time-saver! Another challenge that executives find is that their standards are higher than most, so their dating pool is going to be much smaller than most.
Dating apps are perfect for widening that pool of singles!
How Long Does It Take to Sign Up for Professional Dating Apps?​
The process of signing up for a professional dating app is extremely user-friendly and self-explanatory. Although there are some sites that feature in-depth questionnaires and compatibility testing that eat up some extra time, the entire process of simply downloading the dating app and creating a new account is really easy and should only take around 10 minutes.
Visit the App Store or Google Play and type out the name of the dating app in the search bar. Once you have found it, go ahead and download it to your smartphone or tablet.
The download process should not take long at all. Once it has finished, you will begin filling out some personal information like your name, age, and email address.
Create a username and password for your free trial account.
Once this is done, you will want to fill out the compatibility test or customer questionnaire. The part of the sign-up process is more involved and could take a while.
You will then need to select if you would like to subscribe to a membership plan. Nearly all dating apps allow you to create a profile under the free trial account option. You will maintain the free profile, but you can always choose to pay for a plan by hitting the Subscribe button.
And that is about it! Start a free trial today and begin experiencing one of the best dating apps for professionals in 2023:
Best Practices When Using Dating Apps for Professional Singles​
There are several things you will want to keep in mind as you use professional single dating apps. We call these the best practices. These are some good habits to get into that can set you up for success in the future!
1. Treat the Search Like a Job​
It can be a hard job looking for professional singles on dating apps. Many people will make this a round-the-clock search, and they typically burn out pretty fast as they look for someone special. We would love to see you succeed and not grow weary in your search, so that is why we recommend treating this venture like you would if you were finding a job.
The key is having a balance.
Set up a timeframe each day where you use your dating app to find professional singles. Stick to this set schedule and do not deviate. Any time outside of this schedule should be spent on yourself and your responsibilities. Feel free to turn off those notifications during the off time and live your life. People who spend all of their time on dating sites are far more likely to burn out and give it all up completely.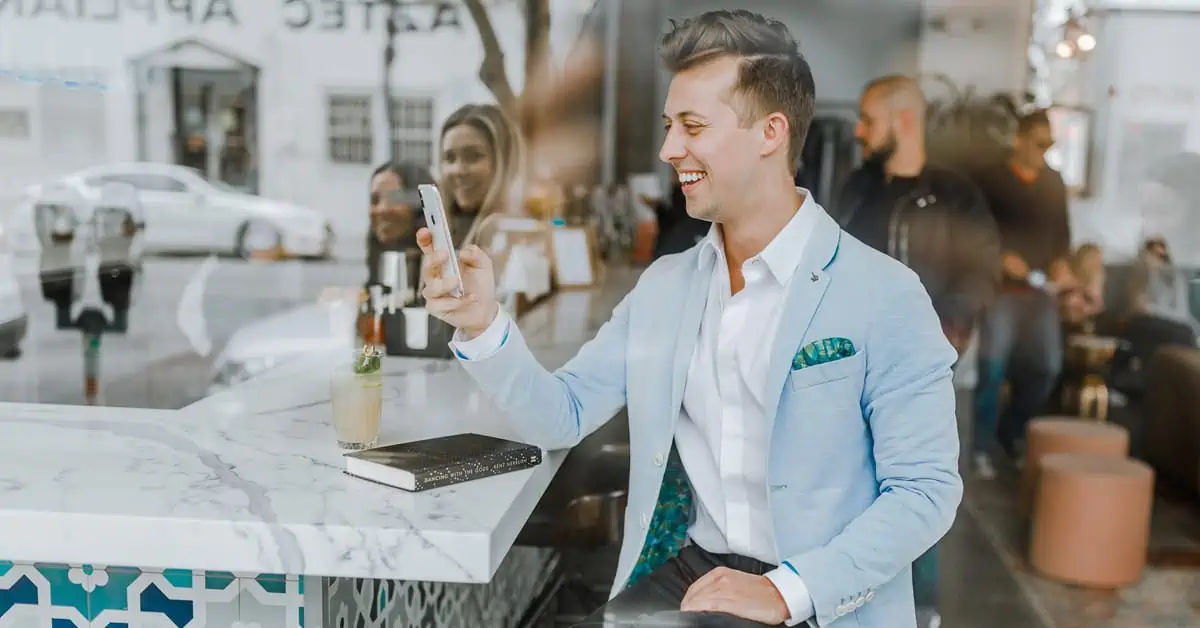 2. Be Vigilant of Fake Accounts or Scammers​
Although many of the dating sites we recommend use a vetting team for all new accounts that pop up on the site, fake accounts and scammers find their way through and can cause trouble for site users or even you! You need to go into using dating apps knowing that this is a reality and to be on your guard against anyone who might be trying to take advantage of you. You are, after all, responsible for your own safety on the site.
If you do suspect any unusual activity, please report it to the online dating site so they can address it accordingly. You can help the site to become even better if you can help them to identify scammers, fake accounts, or bots that have no place there. As for yourself, simply ignore or block these pests and move on to matches that are worth your time!
3. Be Respectful of Response Times​
Executive singles lead busy lives so they might not always respond to your messages in the quickest amount of time. Just be respectful and understanding if it takes a while to get a response. Do everything in your power to message them back in a decent amount of time when they do reach out though. Being considerate and understanding of how busy they are could be the thing that makes you stand out in the sea of potential candidates.
4. Be Honest and Upfront in Your Expectations​
When talking with other executive singles, make it clear to them your intentions. If you are looking for something casual, let them know that. The same applies to long-term commitments. Let them know.
There are a lot of people who use online dating apps for professionals who are not executives themselves or even have a career. If you are one of these, make that known to any professional singles who express interest in a relationship with you.
If you are a professional seeking love who is really invested in their career and only has a bit of time left over to engage in a relationship, be honest about that with the other single you.
At the end of the day, honesty is the best policy to pursue when it comes to dating apps that are catered toward professional singles. If you can be completely honest and transparent, you can set up realistic expectations with the singles you meet and allow them to trust you in good faith.
Honesty will help you to avoid a lot of headaches and heartbreak.
Professional Dating Apps and Sites FAQ​
Why Should Professionals Be Using Their Own Dating Apps?
There are a few reasons we feel that professionals should be using dating apps. For one thing, using dating apps really cuts down on the time it would take to normally meet someone. You can do it all from your phone and avoid the time and money it would take to hit up the bars and clubs. Dating apps also significantly widen the pool of candidates that professionals have to choose from!
What Should I Look For in a Dating App for Professionals?
You should definitely look for a dating app that makes sense for your budget. You will want your dating app to feature a large number of users from many different fields that cover a wide range of ages. If you are not necessarily looking to form a relationship with a professional single, you might also want to use a site that has options to find non-professionals.
What Are the Best Professional Dating Apps for 2023?
We highly recommend using any of the five sites mentioned at the beginning of this page: eHarmony, SilverSingles, Zoosk, Elite Singles, or The League. However, if you are super serious about finding professional matches that are highly educated and have experienced great personal success, we recommend going with Elite Singles or The League.
What Are the Best Dating Applications for Professionals Over 30?
The League has recently allowed users over the age of 40 to begin using their dating app so we highly recommend trying this site out! At the end of the day, they are all great sites to be using, but if you are serious about finding high-quality professional singles, check out The League.
Are Professional Dating Apps Safe and Secure?
When it comes to protecting your personal and financial information, you have absolutely nothing to worry about with these dating apps. You are, however, responsible for your own safety as you use the sites and meet new people. There are a lot of these dating apps that have their fair share of fake accounts and scammers. Just remember to be diligent and watch out for anything suspicious.
Why Should I Use eHarmony, or Zoosk, to Find Professionals?
Although they do not cater specifically to professional singles alone, these sites are known for their customer questionnaires and compatibility testing which have gone a long way in the past for helping professional singles find good quality matches that fit their personal criteria.
How Long Does It Take to Create an Account?
The account creation process will take around 10 to 15 minutes, depending on which dating app you are using. Some feature longer questionnaires and compatibility tests that eat up more time.
What Kind of Features and Benefits Can I Enjoy With These Dating Apps?
This could be a whole other article in and of itself! Professionals can enjoy going on video dates with potential matches. Many sites offer an incognito mode that allows them to browse other singles' profiles without letting them know. Professional singles who use our dating apps will be able to attend in-person dating events sponsored by the site they are using.
A higher-level site like The League will allow customers of a certain tier status to make sure their profile appears in the top results of their matches. There are a ton of features at all five of these sites! Start a free trial today and find out who offers what!