Dating for women has typically been fraught with challenges—whether it's the safety factor, societal "norms" that have, thank goodness, evolved since the last century (yes, the last century was pre-2000), or having to perform a delicate balancing act of having both a career and some semblance of a love life.
Whether you're a busy career gal, a single mom, or concerned about meeting up with a stranger from a dating app, you have a lot more options than previous generations of women looking for a romantic partner. Love is within easier reach than ever before, thanks to the best dating apps for women!
We've narrowed down the field for the ladies and chosen the 6 best dating apps for women. These platforms, some specifically created with women in mind, have everything they need in order to find a compatible partner on their own timetable and with ease.
Below are the best of the best; we explain why in the section below!
These 6 women-focused dating apps have the tools and features that give them the most in terms of features, safety and security, high-quality matches, and ease of use.
About Our Rating and Review Process
Women should have access to the best dating apps available–after all, it's important to find a trustworthy dating platform you feel comfortable using that will meet your dating goals. Our review team is always unbiased when we test and rank women-focused dating apps–our dating experts use these five criteria to rate and review the best dating apps for women:
Membership features
Cost of membership
Overall usability
The number of active members
The quality of the daily matching system
During each review we perform, we issue a rating to each of these five categories, and then we pull an average to arrive at our overall score for the website and mobile app. Our reviews are fair and unbiased because we consider all the pros and cons we run across when appraising these dating platforms. We're confident in pointing out the apps' weaker points or the things that could be better.
We might add extra points to the "membership feature" section of the features to help us to find more singles than other websites, or they help to enrich the connection we establish with daily matches. If the dating app lets free trial members experience extra features that aren't typical of modern free trial setups, we'll note that and add extra points.
But we might knock off points if the features look like those we've seen on a million other dating apps. We might dock the score if the site's search filters are limited, if they fail to offer video chatting, or if they require customers to pay extra for better features.
Top 6 Women-Focused Dating Apps
The reasons why we zeroed in on these specific platforms in a market filled with so many may be obvious to us, but you may be wondering why they made the list—keep reading for a breakdown of each dating app, and you'll see why they made the cut!
The best dating apps for women promise (we promise, too) that you will have the opportunity to meet an abundance of compatible potential partners looking for serious connections, long-term commitments, laid-back romance, or casual dates. They all have a pretty quick and easy sign-up process–except for eharmony, which requires a bit more of a time commitment when creating a dating profile.
eHarmony – Key Features and Benefits
Key Facts
Year Founded: 2000
User Base: All singles
Highest % of Users: United States (92.1% of users)
Gender Ratio: 51% men to 49% women
Active Members: 16 million
Monthly Traffic: 4 million
Membership Pricing: Starting at $35.90 a month
Matchmaking Process: 32 Dimensions of Compatibility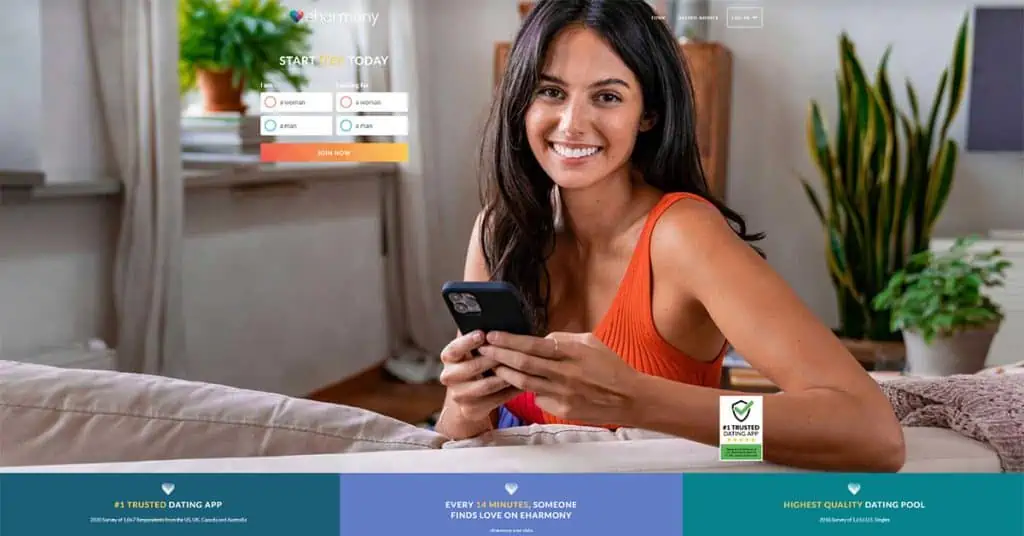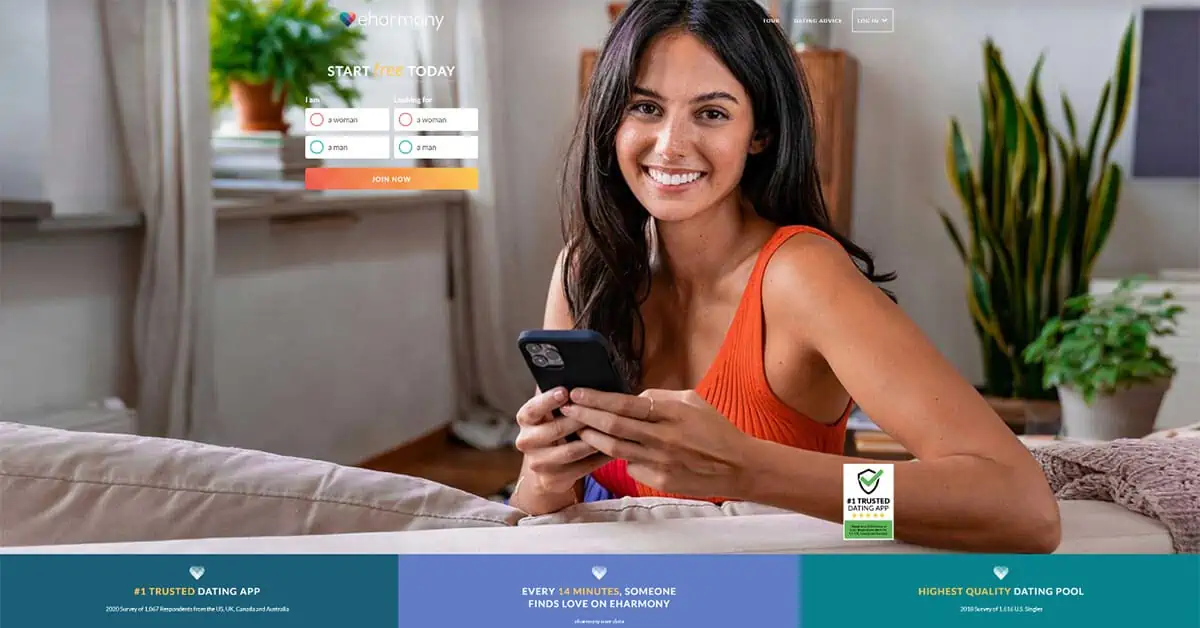 A large percentage of single women are looking for connections that can blossom into a serious, long-term relationship, so when it comes to serious dating and matchmaking, eharmony is the first dating app to come to mind. They have succeeded in building an expansive online dating empire based on the core fundamentals of compatibility and fostering long-lasting relationships. To all the women reading this, we highly recommend eharmony as a dating app to use if you want to find your "person."
There are currently 16 million active users on eharmony, with about equal numbers of men and women–this means that the odds of finding love or making a lasting connection are excellent. eharmony is designed for women seeking a lifelong partner rather than those interested in short-term flings or hookups–it wants to help women find their perfect match.
Membership Features
Take the 32 Dimensions of Compatibility test
Daily match suggestions
Wildcard matches ("What If" feature)
Add profile to your Favorites List
Send "smiles," "compliments," or "icebreakers."
View profile photos
Enjoy unlimited communications
See who has viewed your profile
See who has added your profile to their Favorites List
Video dates
---
Elite Singles – Key Features and Benefits
Key Facts
Year Founded: 2013
User Base: Professional and highly educated singles
Highest % of Users: United States (98.78% of users)
Gender Ratio: 43% men to 57% women
Active Members: 13 million
Monthly Traffic: 2 million
Membership Pricing: Starting at $19.95 a month
Matchmaking Process: Five-Factor Model Theory of Personality Traits (McCrae and Costa)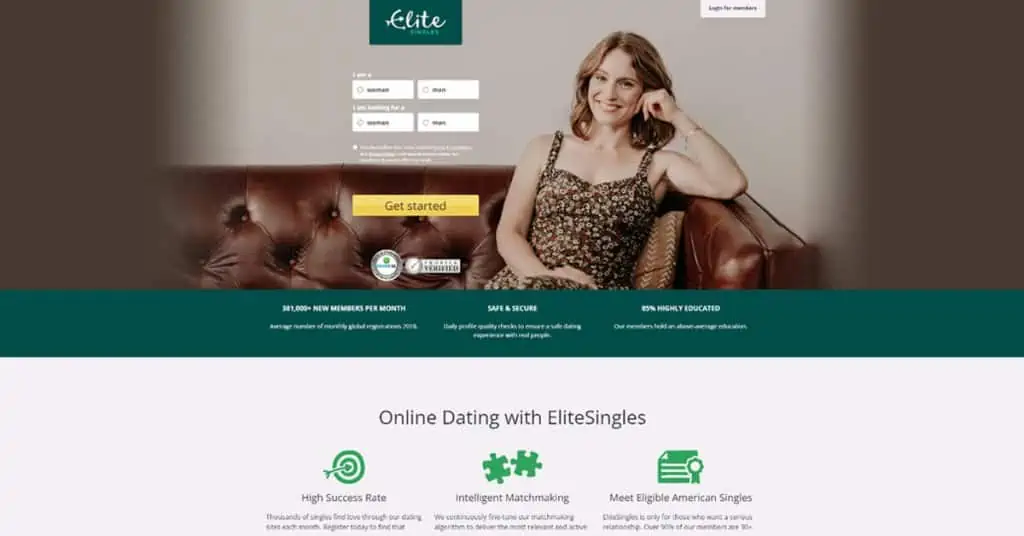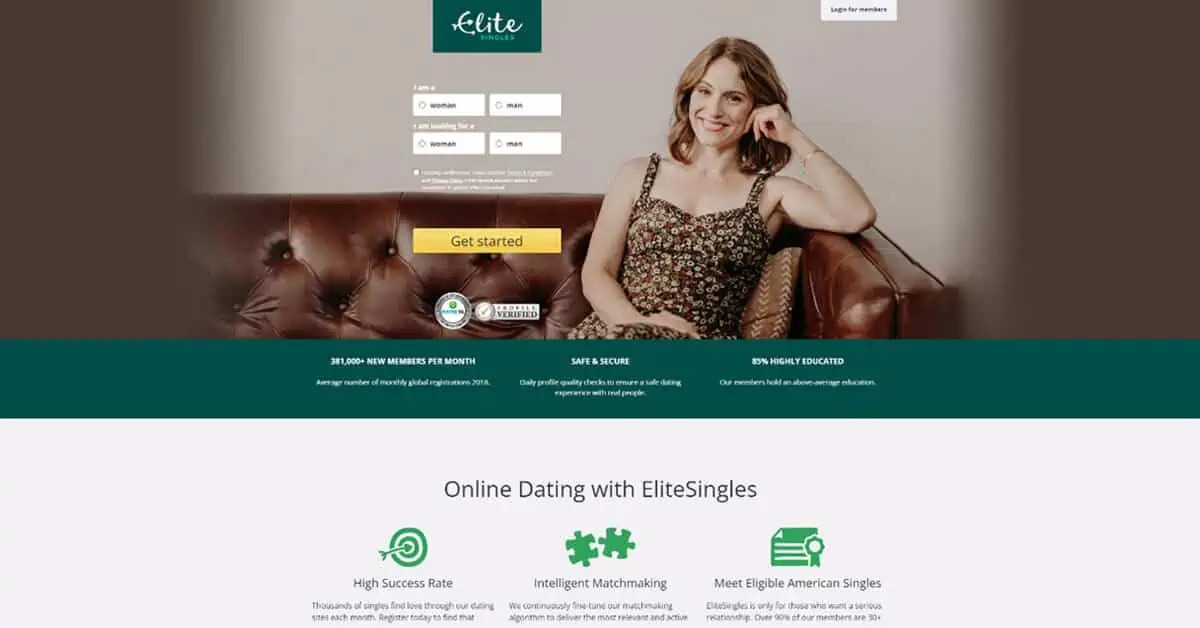 Elite Singles is a dating app that caters specifically to professional singles–the elite population. Like eharmony, most women on this platform seek long-term, quality relationships. What makes Elite Singles different from other dating platforms? Well, for one thing, it targets college-educated or successful women who value intelligence and financial stability–they are successful and want a successful romantic partner as well.
Elite Singles is one of the most exclusive dating services, accepting only 300,000 new users per month. The app's prestige lies in its unique membership of successful people from all walks of life, including entrepreneurs, physicians, attorneys, and other powerful positions. So if you are a professional woman and want to meet other singles who match your education, ambition, and financial success, look no further than Elite Singles.
Membership Features
Take the Five Factor Model Theory of Personality Traits test
View a detailed breakdown of your test results
Daily match results (courtesy of Elite Singles)
See which members looked at your profile
Unlimited communications
View profile photos
20 additional profiles per day ("Have You Met?" feature)
Leave comments on your profile or pictures
---
Bumble – Key Features and Benefits
Key Facts
Year Founded: 2014
User Base: All Singles
Highest % of Users: United States (25.88% of users)
Gender Ratio: 57% men to 43% women
Active Members: 11 million
Monthly Traffic: 12.3 million
Membership Pricing: Starting at $16.99 a month
Matchmaking Process: User location and stated dating preferences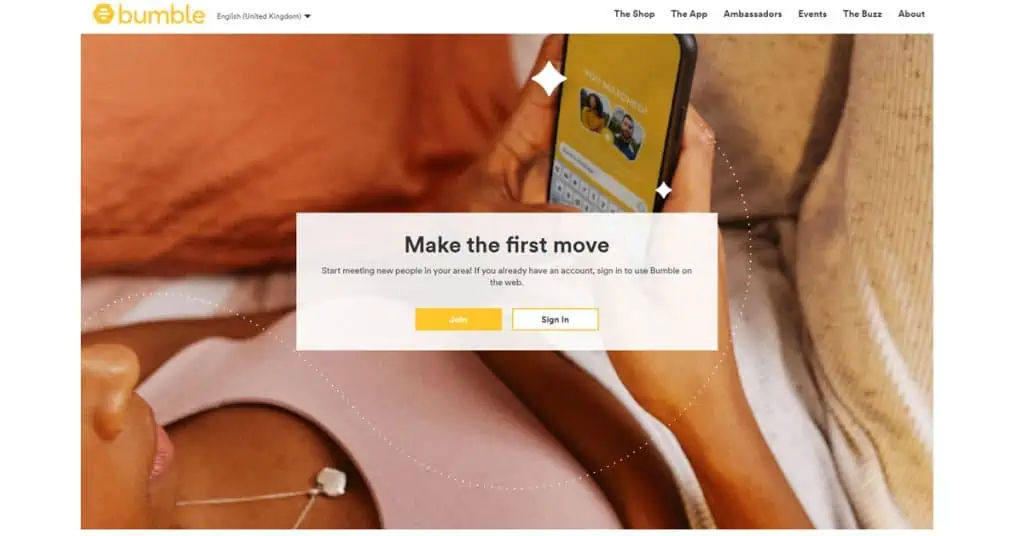 Changing traditional power dynamics and promoting equality from the get-go, Bumble requires women to make the first move when users of the opposite sex match–it's truly a "women first" dating app and one of our favs on the market for this very reason!
When Whitney Wolfe Herd left Tinder in 2014, she saw the forest through the trees and wanted to change the dating landscape for women. Herd says, "When I founded Bumble, it was because I saw a problem I wanted to help solve. It was 2014, but so many of the smart, wonderful women in my life were still waiting around for men to ask them out, to take their numbers, or to start up a conversation on a dating app. For all the advances women had been making in workplaces and corridors of power, the gender dynamics of dating and romance still seemed so outdated. I thought, what if I could flip that on its head? What if women made the first move, and sent the first message?"
With that, the Bumble dating app was born, and women have been flocking to it ever since–it's one of the most popular platforms in the world.
Membership Features
On Bumble, members can either pay for in-app purchases or subscribe to monthly premium memberships.
Bumble Boost includes:
Backtrack
Ability to extend time on your current matches
Unlimited swipes
One Spotlight per week
Five SuperSwipes per week
Bumble Premium includes:
Unlimited Advanced filters
The Beeline, where you can see your admirers
Travel mode (mobile app only)
Backtrack
Ability to extend time on your current matches
Rematch with users who have expired
Unlimited swipes
One Spotlight per week
Five SuperSwipes per week
Incognito Mode (mobile app only)
---
Christian Mingle – Key Features and Benefits
Key Facts
Year Founded: 2001
User Base: All Singles
Highest % of Users: United States (88.3% of users)
Gender Ratio: 44% men to 56% women
Active Members: 15 million
Monthly Traffic: 3.5 million
Membership Pricing: Starting at $24.99 a month
Matchmaking Process: Personality questionnaire, search filter settings, and LookBook preferences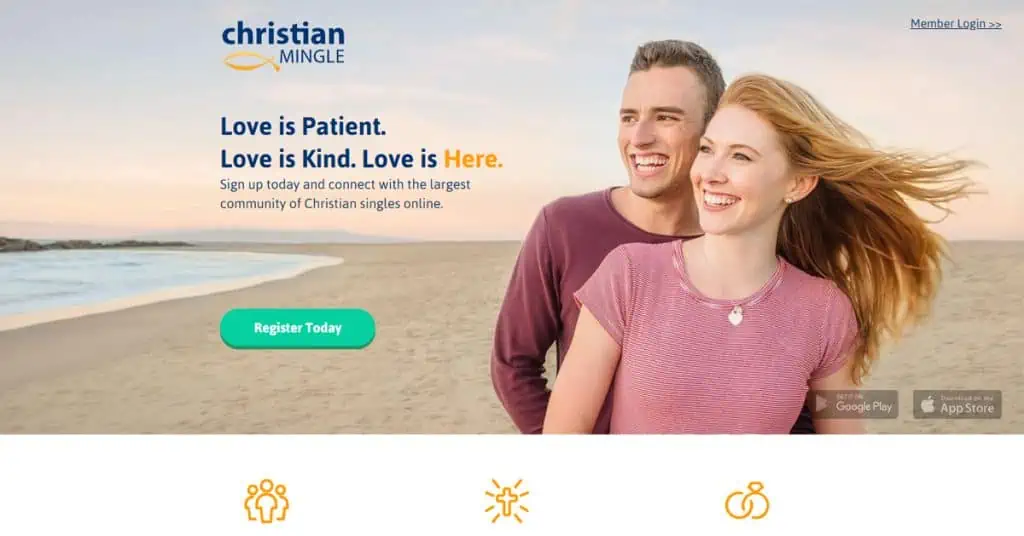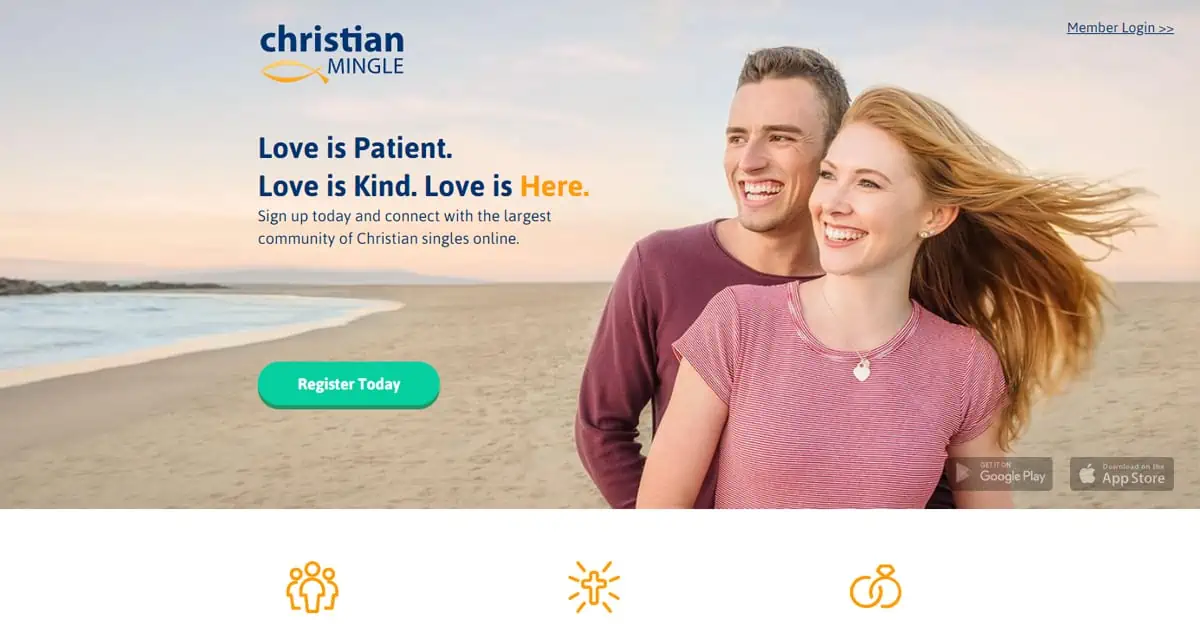 If you're a woman looking for dedicated Christian guys, Christian Mingle is the place for you. There are more women than males on the app, but there are still a whopping 16 million people interested in finding love! If you want to find a Christian lifelong companion or future spouse, you can go about it in a number of ways.
You won't find flings or one-night stands on Christian Mingle–like eharmony; it places a premium on conducting in-depth personality and compatibility tests to find you an enduring relationship. Christian Mingle is precisely where you should be if you're a woman searching for a long-term, committed relationship with a man who shares your beliefs and values.
Membership Features
Access all photos
Unlimited communications with other singles
Swipe through profiles using the LookBook
Send smiles
Daily matches
See who liked or viewed your profile
Read notification receipts
Messaging+ allows you to message with free trial members
Browse profile anonymously
Hide your online status
---
Tinder – Key Features and Benefits
Key Facts
Year Founded: 2012
User Base: All Singles
Highest % of Users: United States (76.9% of users)
Gender Ratio: 61% men to 39% women
Active Members: 8+ million
Monthly Traffic: 86 million
Membership Pricing: Starting at $13.49 a month
Matchmaking Process: Search features and personal preferences
Tinder gets a lot of flack for being a hookup app, but guess what? Women want to casually date too! So if you fall into this category and are looking for something temporary in terms of romance, Tinder is a great option. Yes, there will be some creepers on there, but they are lurking on most dating apps. And besides, women have the power to match with who they want when they want, so if you can block out any bad match static and focus on what you want, Tinder will be your casual dating BFF!
And let's not be too harsh on the OG swiping platform–we know plenty of women who were looking for a casual date or friends-with-benefits arrangement at the start of their Tinder journey and ended up with serious, committed relationships. Tinder is what you make of it for the most part, which means it's great for women looking for some ladi-back dating.
Membership Features
Priority Likes
Message Before Match
Recently Active
Likes You
Passport™
Rewind®
Super Like™
Boost
Super Boost
Top Picks
Read Receipts
---
Zoosk – Key Features and Benefits
Key Facts
Year Founded: 2007
User Base: All Singles
Highest % of Users: United States (83.9% of users)
Gender Ratio: 48% men to 52% women
Active Members: 40 million
Monthly Traffic: 12 million
Membership Pricing: Starting at $7.50 a month
Matchmaking Process: Advanced search filters and Carousel preferences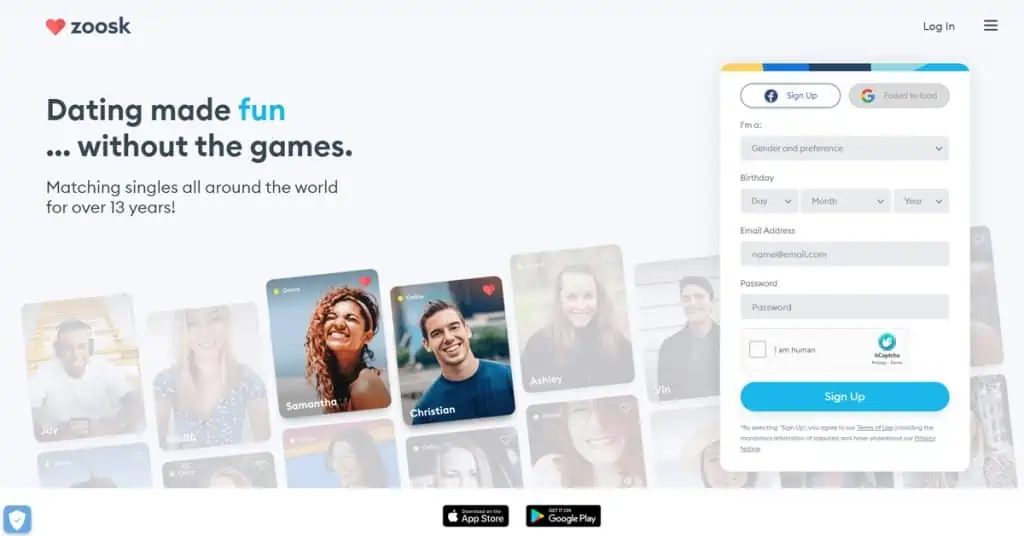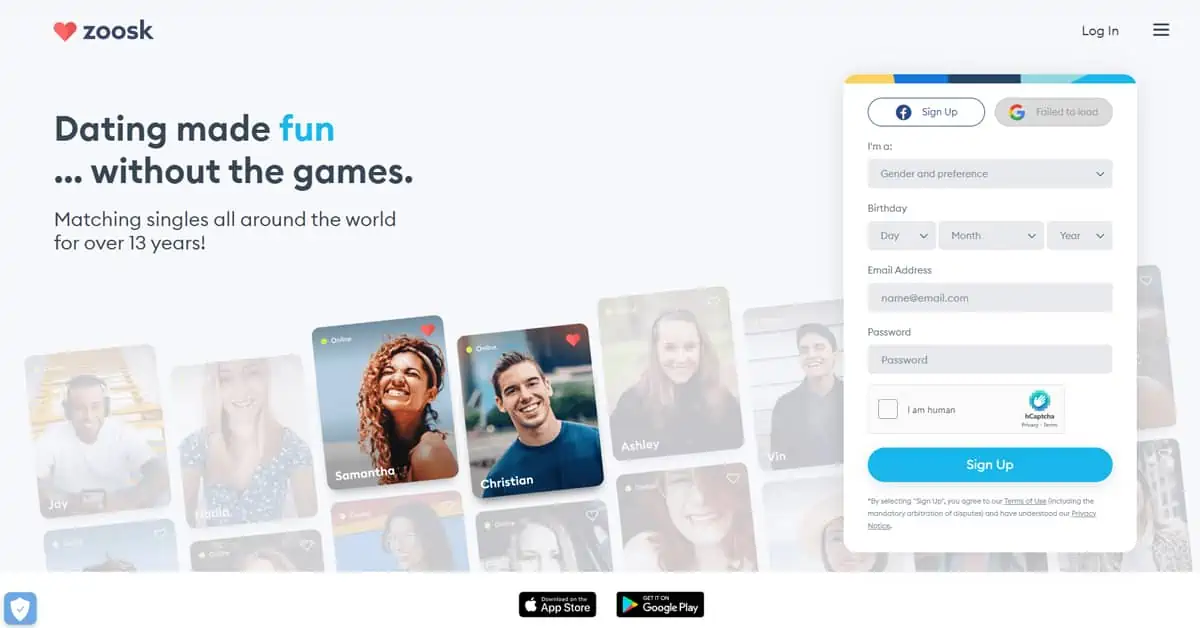 Women interested in casual encounters, hookups, or short-term relationships will find a lot to love on Zoosk! It has a younger user base than the other dating apps we recommend for women, with most of its users in their 20s, and it has a huge user base of over 40 million singles. Among our top choices for women's dating apps, Zoosk is the most adaptable since it's where countless women have met the man of their dreams.
On Zoosk, women can find compatible matches based on location, distance, age, hobbies, and habits. Even though Zoosk performs a lot of the heavy lifting with its SmartPicks (daily matching suggestions), users still have a lot of say in who they encounter on the app; they can change their search filter settings to reflect any shifts in preference or taste. And the Zoosk Carousel is an easy way to rapid-fire through potential matches.
Membership Features
Unlimited messaging
View profiles and photos
SmartPicks (advanced daily matches)
Swipe through profiles using the Carousel
Video dates (Great Dates)
Use Zoosk Live to watch live streams and send gifts to streamers
---
Why Trust Our Women Dating App Recommendations
If you aren't sure if you can rely on our recommendations for the best dating apps for women, we get it! Why should you listen to us? This comes up from time to time and we are happy to provide our readers with our review process and why we are so reliable when it comes to recommending dating apps. When building our rosters of the best platforms for a certain demographic, we take into account a number of variables.
Part of our review process includes the three categories below:
Expert Reviews
Real-world exposure is invaluable, and we have it in spades when it comes to dating apps–we have signed up for, tried out, and paid for all of the best women's dating apps, so we have no doubt that we know of what we speak when it comes to recommending the best one for you. Every one of our reviews is based on our own experiences with the respective app.
Real User Testimonials
In numerous instances, we get input from people who have personally used these dating platforms to gain insights from their experiences. Including actual user reviews adds depth to our evaluations, as our own interactions with a dating app can only provide us with limited data. Incorporating testimonials and reviews from others will offer you with a more comprehensive understanding of the public's feedback and experience while using these platforms.
In-Depth Research and Analysis
Our reviews encompass a wide range of categories, providing readers with detailed evaluations that educate them about the capabilities of each dating app and how it can benefit them. We look at factors like premium membership features, user-friendliness, membership costs, the efficacy of the matching system as a whole, and the level of activity among an app's user base on a weekly basis.
Benefits of Choosing a Dating App for Women
We've recommended each of these platforms for a reason. Trust us; there are some great perks and benefits to choosing one of our preferred dating apps for women. Let's see what makes each of these dating platforms unique and how they approach online dating for women!
Greater Compatibility
No matter which women's dating app you use, you'll find matches that connect well with your personality, interests, and beliefs. A few of these services come with compatibility testing as a part of the registration process, which is later used to gauge compatibility with other members. And the platforms which aren't set up like this have top-rated search filters that play a big role in creating compatible matches.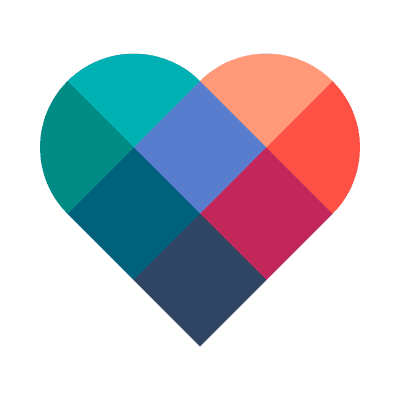 eHarmony
Take the personality testing during the sign-up process: 32 Dimensions of Compatibility.
eHarmony generates daily matches based on your test results. They do all the legwork when it comes to matchmaking (the site doesn't come with a search function).
You are assigned a compatibility score with each of your daily matches. And you get a detailed report of why you match well with each of your suggestions.
As a failsafe, eHarmony assigns its member some wildcard matches ("What If") that don't necessarily line up compatibility-wise but offer a few choices that could work.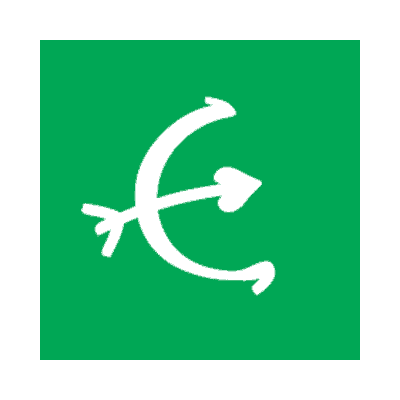 Elite Singles
During the registration process, all new members must take the Five Factor Model Theory of Personality Traits test. It's used as a basis for the matching algorithm.
Elite Singles supplies all daily matches. Each suggestion comes with a compatibility report so you can know why these matches will mesh well with your values, professional goals, and lifestyle choices.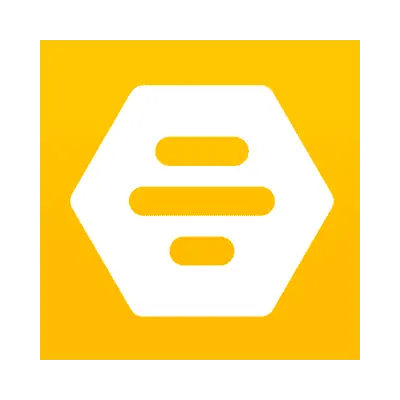 Bumble
Women create a dating profile and state their dating preferences (filters include age, location, religious beliefs, interests, etc.)
Bumble is a location-based dating app that will show you matches in your area.
Users can browse through suggested matches.
Bumble's "Match Queue" will show users you have matched with as well as expired connections.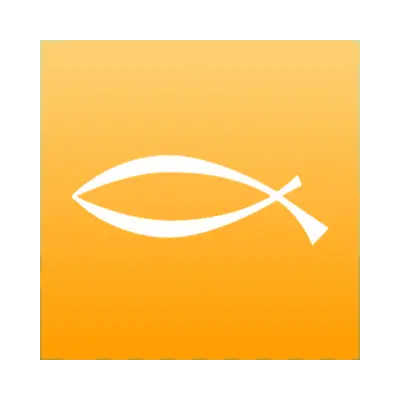 Christian Mingle
Christian Mingle has a simple personality test during registration that touches on your tastes and interests as well as your denominational beliefs and values.
Christian Mingle creates daily match suggestions and sends them to the LookBook. It's here that members can swipe through a lot of profiles and either "like" or "pass."
The app continues to hone its suggestions once it knows what you're looking for in a relationship or partner.
You can view your top match suggestions with the best compatibility score with your profile by clicking on the "Match %" tab.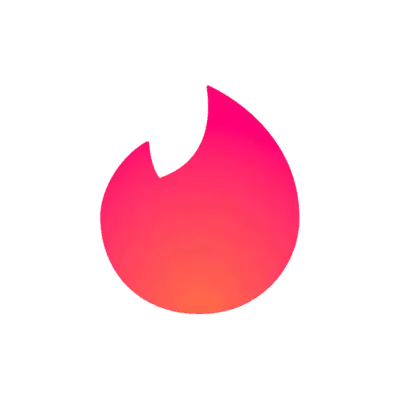 Tinder
Tinder users start out by creating a profile and setting their search filters and personal preferences.
The app relies heavily on users' location.
Over time, Tinder's matching algorithm learns their tastes and will recommend more compatible matches.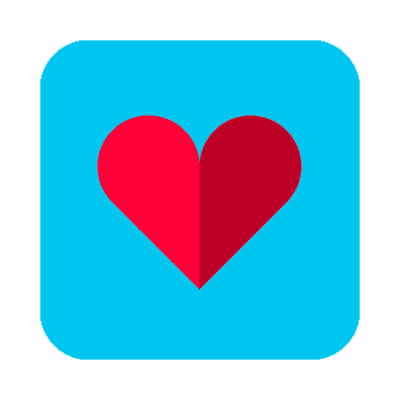 Zoosk
New members add helpful information to their profile page, including their age, ethnicity, educational background, occupation, interests, and lifestyle choices.
Singles need to adjust their search filters based on their dating and relationship preferences.
Zoosk uses these factors to create its first round of Carousel suggestions. Members swipe through profiles and assign "likes" or "passes."
Zoosk uses your Carousel preferences to establish your "type" and send SmartPicks, which are advanced daily matches.
Shared Values and Beliefs
Finding a relationship with someone who shares your values and beliefs is important! Nothing is worse than getting serious with someone where you learn slowly over time that you don't agree on anything, and it's too late to break things off without some significant hurt. You can bypass this by using one of our favorite women's dating apps for its ideal use:
eHarmony: Single women can find someone compatible on all levels. The 32 Dimensions of Compatibility testing will do a lot of that work for you!
Elite Singles: Professional, educated women can find themselves someone special who is interested in success and the finer things in life.
Bumble: Women can make the first move with the users they are interested in based on their stated dating preferences.
Christian Mingle: Christian women can discover a man of God who sees eye-to-eye on denominational beliefs, worldviews, and core values.
Tinder: Women can swipe through a large number of compatible potential matches in a short period of time.
Zoosk: Single women can fall in love, find casual dates, or experience short-term romance. They also have access to a large user base of over 40 million!
Targeted User Base
Each platform comes with its unique clientele. Once you know what you can find, using these apps makes it much easier to choose the one that's right for you! You're going to find that certain people use these dating apps to find certain relationships.
eHarmony: Single women use eHarmony to meet their soulmate or to discover their marriage partner. Relationships here are long-term for the most part.
Elite Singles: This dating app caters to those interested in profound, meaningful relationships. You don't have to be a highly educated professional to use the app, but you'll indeed find them here.
Bumble: Women use Bumble to find both casual and serious romantic relationships.
Christian Mingle: Single Christian women are typically looking for love and romance with Christian men that lead to long-term companionship and marriage.
Tinder: Single women tend to use Tinder for more short-term or casual dates.
Zoosk: It's a casual dating app that can be used to find serious relationships. People who use Zoosk are relatively open to all kinds of relationships.
Finding the Best Dating App for Your Needs
In order to find someone special or possibly meet the partner of your dreams, it is important to choose a dating app that fits your relationship goals and personal preferences! To give you an overview of which dating platforms will meet your specific requirements, we'll go over matching systems, features, membership costs, and user reviews.
Assessing Your Preferences
Each service comes fully equipped with its unique matchmaking process that ensures you wind up with quality matches. A place like eharmony has its 32 dimensions of compatibility testing that gets into the psychological nitty-gritty of the laws on proper matchmaking. Then you have an app like Zoosk that uses detailed search filters that create matches through categories like location, appearance, age, beliefs, interests, and behavior.
| Dating App | Matchmaking Process |
| --- | --- |
| eHarmony | You need to take the 32 Dimension questionnaire, which includes a ton of questions about your ideal partner, your personality, and your interests. These test results are used to generate quality match suggestions. |
| Elite Singles | The Five Factor Model questionnaire finds out what you do for a living, how much income you make, your educational background, and what kind of values and tastes you would like to see in a potential partner. The results of your test are used to generate good daily matches. |
| Bumble | Users specify their dating preferences and then the matching algorithm shows the users based on their interests and location. |
| Christian Mingle | Christian Mingle does a combination of capturing user preferences with a personality questionnaire and seeing which profiles users are "liking" or "passing" on in the LookBook. |
| Tinder | Tinder users are shown matches based on their personal dating preferences and those nearest to them location-wise. Over time, the matching algorithm learns what they like based on their swiping habits and shows them more compatible members. |
| Zoosk | Zoosk allows members to include their preferences on their online profile and then state their preferences for a partner in the search filters. The Zoosk Carousel captures each user's "type" as they swipe through profiles and match suggestions. |
For the most part, each dating platform we recommend puts a great deal of emphasis on compatibility testing to match its users successfully.
Comparing Features and Pricing
Not only does your dating app need the right features to ensure an online dating experience that meets your demands and expectations, but it also needs to come at a price that works well within your budget. You can't put a price on finding love or romance, but our best dating apps for women come at an affordable cost, prices that won't break the bank!
Let's examine each of these services and break them down in terms of features and pricing for their membership plans. You can discover what it is that you're paying for and if it's worth your time and money.
Features
Dating apps for women come with many of the same membership features as other platforms. For instance, all five of our mainline suggestions let their members enjoy unlimited messaging once they upgrade to a premium subscription plan. In addition, all these platforms allow members to view profile photos or see who has liked their profile.
However, we're trying to reveal what's unique about each of these, so the chart below will focus solely on the special membership features you'll find at each of these places:
Dating App
Unique Features

eHarmony

Take the 32 Dimensions of Compatibility test
Get compatibility scores with your daily matches
Send compliments or icebreaker questions to other members
Great Dates: virtual dating via video chat
"What If": wildcard matches

Elite Singles

Take the Five Factor Model (McCrae and Costa) test
View a detailed breakdown of your test results
"Have You Met?": get 20 additional suggestions
Leave comments on profiles or pictures

Bumble

Unlimited Advanced filters
The Beeline, where you can see your admirers
Travel mode (mobile app only)
Backtrack
Ability to extend time on your current matches
Rematch with users who have expired
Unlimited swipes
One Spotlight per week
Five SuperSwipes per week
Incognito Mode (mobile app only

Christian Mingle

LookBook: swipe style dating profiles for finding Christian singles
Read notification receipts
Messaging+: send messages to free trial members
Browse profiles anonymously
Hide your online status

Tinder

Priority Likes
Message Before Match
Recently Active
Likes You
Passport™
Rewind®
Super Like™
Boost
Super Boost
Top Picks
Read Receipts

Zoosk

SmartPicks: advanced daily matches based on Carousel preferences and search filter settings
Carousel: swipe through profiles and issue "likes" or "dislikes."
Great Dates: Meet members in person using the video chat feature
Zoosk Live: watch unique content from other members on their live streams channels
Bumble, Zoosk, Tinder, and Christian Mingle have the most features for their members to enjoy. eharmony and Elite Singles come with fewer features, but this is primarily due to how they do their matchmaking.
Membership Pricing
Always look into how much a paid membership will cost and what features and perks you'll get before deciding to pay for a subscription! Pick a plan that you can afford, and that will get you to your dating goals.
Dating App
Membership Plan
Cost Per Month
Total Cost

eHarmony

6-Month

12-Month

24-Month

$65.90

$45.90

$35.90

$395.40

$550.80

$861.60

Elite Singles

3-Month

6-Month

12-Month

$21.66

$15.00

$11.67

$64.99

$89.99

$139.99

Bumble

1-Month

3-Month

6-Month

$29.99

$19.99

$16.99

$29.99

$59.99

$99.99

Christian Mingle

1-Month

3-Month

6-Month

$49.99

$34.99

$24.99

$49.99

$104.97

$149.94

Tinder

1-Month

6-Month

12-Month

$26.99

$13.50

$9.00

$26.99

$81.00

$108.00

Zoosk

3-Month

6-Month

12-Month

$19.98

$13.35

$10.00

$59.95

$79.99

$119.99
Each service comes with three membership plans, all of which contain the same features. Each subscription differs from the other in terms of the amount of time you can use the service.
Regarding membership prices, Zoosk is the most affordable of all the dating apps listed here, while eHarmony is the pricier choice.
Evaluating Success Stories and Reviews
You should read both expert opinions and reviews written by actual users to get the whole picture when considering which dating app to join–this gives you an accurate picture of whether or not it's worth your time.
We put in the time to find out what actual users and participants have to say about the best women-focused dating apps. Trustpilot, ConsumerAffairs, and SiteJabber are tour go-to review sites to get honest customer feedback about the platforms we are reviewing!
Dating App Ratings and Reviews
| Dating App | SiteJabber | Trustpilot | ConsumerAffairs |
| --- | --- | --- | --- |
| eHarmony | 2.71/5 stars (based on 1,678 reviews) | 1.0/5 stars (based on 833 reviews) | 3.2/5 stars (based on 1,043 reviews) |
| Elite Singles | 1.25/5 stars (based on 480 reviews) | 2.3/5 stars (based on 142 reviews) | N/A |
| Bumble | 1.36 stars (based on 102 reviews) | 1.4/5 stars (based on 1031 reviews) | 3.6/5 stars (based on 261 reviews) |
| Christian Mingle | 1.17/5 stars (based on 145 reviews)  | 1.5/5 stars (based on 31 reviews) | 3.6/5 stars (based on 131 reviews) |
| Tinder | 2.68/5 stars (based on 652 reviews) | 1.2/5 stars (based on 2,582 reviews) | 3.6/5 stars (based on 224 reviews) |
| Zoosk | 3.62/5 stars (based on 4,651 reviews)  | 2.5/5 stars (based on 2,029 reviews)  | 3.8/5 stars (based on 849 reviews)  |
However, we do find a lot of feedback, and we take it with a grain of salt because we know that people are generally more likely to post about a negative experience than something positive that happened to them using one of these platforms. Because these scores are an aggregate of the feedback posted on the site, the lack of positive feedback that needs to be adequately captured would boost these scores higher than they currently appear.
Large, Active Membership Bases
A big dating pool means lots of viable options for women looking for casual dates, hookups, serious relationships, or long-term commitments. And the dating apps we recommend are some of the best in the business when it comes to a voluminous customer base!
Dating Pools
eHarmony: 16+ million
Elite Singles: 13 million
Bumble: 11 million
Christian Mingle: 15 million
Tinder: 8+ million
Zoosk: 40+ million
Solid Customer Service
We only recommend women-focused dating apps that use SSL-encrypted messaging and operating systems so that users can feel more secure when giving personal or financial details when they create an account or purchase a subscription.
Protecting your customers with encrypted messages is an absolute must–when moderators observe sus behavior, they can take a closer look to detect fake or suspicious accounts–encrypted channels make it easier to spot scammers.
Downloading and Signing Up for a Dating App
You can access any of these dating apps from the comfort and convenience of your smartphone or any other mobile device. You can hop onto the app any time of the day or night and search for your true love or casual romance. Finding someone special is so quick and streamlined that you can save yourself a lot of valuable time!
Available Platforms
Our favorite dating platforms for women can be used in three different formats: visiting the website using the web browser on your computer, accessing the site with your mobile device's web browser, or downloading the free mobile app.
Dating App
In-Browser
Google Play
Apple Store

eHarmony

Yes

3.1/5 stars
Based on 54.7k reviews
5M+ downloads

4.0/5 stars
Based on 27.2k reviews

Elite Singles

Yes

Rated 1.9/5 stars
Based on 13.2k reviews
1+ million downloads

Rated 3.0/5 stars
Based on 17.3k reviews

Bumble

Yes

Rated 4/5 stars
Based on 793k reviews
50k+ downloads

Rated 4.3/5 stars
Based on 1.4m reviews

Christian Mingle

Yes

1.5/5 stars
Based on 2.85k reviews
1+ million downloads

3.6/5 stars
Based on 21.8k reviews

Zoosk

Yes

Rated 3.4/5 stars
Based on 626k reviews
+10 million downloads

Rated 4.2/5 stars
Based on 70.2k reviews

Tinder

Yes

Rated 3.7/5 stars
Based on 6.1m reviews
100m+ downloads

Rated 3.9/5 stars
Based on 651.9k reviews
Are there Free Women's Dating Apps?
None of these dating apps for women are entirely free to use. Of course, there are free trials, but they are limited when it comes to features and only allow prospective members the ability to do a few things free of charge.
Freemium Models
The free trials you'll find at our favorite dating platforms for women let the new user try out some of the site's features for free, but they must become premium members to enjoy everything the platform offers.
For instance, new users might be able to view profiles and send "likes" or "smiles" to members who catch their eye, but they won't be able to send messages, use video chat, or browse profiles anonymously.
Feature Limitations
As a free trial member, you can use the service for free, but you're limited to the more basic functions. In most cases with these dating apps, free trial members can enjoy the following complimentary benefits:
Register an account
Create and develop a profile
View bio information on profiles
Send "likes" or "smiles."
Get daily matches suggestions
Add members to a Favorites List
Adjust search filters and see which profiles appear
Reading a response to a message sent by paying members
Paid Upgrades
Once you commit to a premium membership plan, you can engage in all the features that come with the service. Paid features will differ from site to site, but these can include:
Unlimited messaging
Read notification receipts
Profile or message highlights
Viewing profile photos
Go on video dates
See who liked or viewed your profile
Dating Tips for Women
If you are a woman and you are new to online dating, it never hurts to know a few helpful tips and tricks to make your experience as enjoyable and as stress-free as possible! If we can help you avoid many of the simple mistakes that others have made in the past, you can be that much more successful at finding exactly what you are looking for!
Creating a Compelling Profile
One of the best ways to get other singles interested in your profile is to create a well-rounded, robust profile that leaves no stone unturned. Our advice is to fill out as many of the bio information fields as possible and always spring at expanding your profile with self-authored sections where you can describe yourself or your ideal match.
Choosing the Right Profile Picture
The pics you upload to your dating profile are the first thing potential matches will see, and it's not an easy decision! You want the pic to say "this is who I am," but you also want to look CUTE. Here are some tips for picking the perfect profile pic!
Smile!
Know your best angles
Look at the camera
No crazy filters
Post pics of you doing something you love
Don't post group shots–be the one and only person in your profile pic
Use good lighting
Stay away from blurry or poor-quality pics
No selfies (unless you know a way to make a selfie not look like a selfie)
Crafting Engaging Conversations
Have some questions ready to go so you can be prepared for the first conversations you have with your matches. Your first interactions will then have some structure that allows you to learn more about the other person and for them to learn more about you! Include questions like:
What kind of relationship are you looking for?
What's your biggest dating pet peeve?
Tell me about some of your proudest accomplishments.
Do you have a favorite childhood memory?
Who had the biggest impact on you growing up?
What is your greatest fear?
What are your friends like?
Are you close with your family?
Setting Realistic Expectations
One of the best practices when it comes to online dating is honesty. Be honest with what you look like, what you do for a living, how much money you make, your interests, and so forth. Being honest about your intentions for a relationship or partner is important. Nothing is worse than concealing the truth and then having to explain yourself if you are found out.
Dealing with Rejection
Your matches won't always respond to your messages or show you the interest you're hoping for. And that's ok! With many of these apps, you're dealing with enormous dating pools, so getting lost in the mix can be easy. The important thing is not to take rejection personally and focus your attention on the singles who seem interested in connecting. If you've been rejected using an online dating platform, it's important to move on and find someone genuinely interested in getting to know you.
Balancing Online and Offline Interactions
At a certain point, you'll want to meet up with your matches in real life and get to know them better outside of an app or virtual setting. Once you feel comfortable with someone you met online, you should push to meet up in real life and develop those relationships further.
It's suspect if your match hesitates to meet up and avoids interacting outside the confines of the dating app. It usually means they have something to hide about themselves.
How to Stay Safe Online Dating as a Woman
If you meet someone online and they begin acting toward you in ways that make you feel unsafe, it is best to report that person. This might look like people putting pressure on you for personal or financial information, or they might want to communicate outside the app. It is good to report weird, suspicious activity as soon as it happens to you so the platform can address it. It will also help keep other users safe in the future as well.
Avoiding Scams and Fraud
Many of the women-focused dating apps we recommend have fake profiles. These scammers and catfishers pass the vetting process and survive on the site before they are reported by other members and subsequently removed. It's important to go into online dating, knowing this is a reality and being vigilant when meeting someone new.
Avoid a scam by checking your match's social media accounts to verify if they're the real deal. Or you can request a video date if that's a feature available on your platform. One platform we have found that is particularly useful for this is Social Catfish, which was designed for this very purpose.
Dating as an Older Woman
Dating as an older woman can be hard; especially for those who have been out of the game for a while–but these dating apps for women can make it less harrowing. It's still going to be challenging–all dating is! We aren't going to tell you it'll be a walk in the park or you'll find the "one" during your first online dating sesh, but it is not an insurmountable task by any means!
There are two major benefits of using a women-focused dating app who are 40 and over–messages exchanged with a match on a dating platform are a great way to get to know each other before meeting IRL for a first date. And dating apps are getting more user-friendly by the day, with better regulations and better safety features.
The trick is to find a platform that meets your dating goals–for instance, if you are looking to settle down again (or for the first time), you might check out eharmony or Elite Singles since those are designed for women looking for a committed romantic relationship. Or if you just want to get back in the dating game with a few baby step dates, Zoosk, Tinder, and Bumble will have what you are looking for!
Mature women have a big advantage when it comes to dating–they are more experienced, and with age comes wisdom. They know what they want and, more importantly, what they don't want. You are in control no matter which app you choose!
How to Meet Compatible Men Online
Looking for your match online can be tiring if you feel like you aren't clicking with anyone special or aren't getting great matches. We wish we had the secret recipe to meeting compatible men online, but this concoction does not exist—at least not to our knowledge.
What we can do is arm you with a few tips that will make love less of a battlefield and more of a friendly sparring match so you can get much closer to compatibility on these best dating apps for women!
It's all in the approach, so remember the following:
Know what you want in a partner and a relationship
Use your search filters
Complete your dating profile–we mean ALL of it
Be bold and message first
Try to be more open-minded
Be patient
Frequently Asked Questions
Whew, that was a lot of info to digest in one sitting! In case you want a quick refresher or just want a snapshot of the most burning questions our readers ask us about women-focused dating apps, look below for a list of FAQs!
Are the Best Dating Apps For Women Legit?
Yep! All of the dating apps we recommend for women are totally reputable and legit–they've been around for a good bit and are trusted by millions of users.
Can I Use the Best Women-Focused Dating Apps for Free?
You can! Some of the dating apps, like Tinder, Zoosk, and Bumble, have less restrictive "freemium" plans, where members can message other users and communicate without having to pay for a premium membership. But if you are looking for a serious relationship and want to join eharmony or Elite Singles, you'll need to upgrade to a premium membership in order to communicate with potential matches.
We recommend upgrading to a premium membership on all of the dating apps we recommend–you'll get access to so many beneficial features and perks that will make your experience on the platform not only more enjoyable but more successful!
Which of the Recommendations Are Best for Older Women?
Mature women will probably have the best chance at success when using eHarmony, Elite Singles, and Christian Mingle. Each of these platforms places a premium on compatibility testing, which is far more conducive to fostering meaningful or profound relationships. In general, the users of these apps are less focused on casual dates or hookups than on other sites.
Are These Platforms Safe to Use?
They sure are! In reality, lots of women feel safer connecting with people on dating apps than they would in public settings like restaurants, bars, or workplaces.
Are the Premium Memberships Expensive?
The cost of premium memberships varies depending on the dating app and the level of membership you choose–although certain dating platforms targeted towards women may have higher prices, they typically offer enhanced matching algorithms and additional features, making the investment worthwhile.
If you want to test drive a dating app before paying for a subscription, some have trial offers or free versions you can use to see if a certain one is the right fit for you!
Can I Block Other Members?
Of course, you can! All dating apps include a way for users to block or report suspicious or abusive members–you can consult a platform's help section, the frequently asked questions page, or get in touch with customer support if you need help using the blocking or reporting tools.
How Do You Reject A Match Without Offending Them?
We wish we knew! But we do know that it's important to be honest with someone even if there is a chance of hurting their feelings–even if that's awkward and uncomfortable. Act like it's an IRL situation, but remember that you won't have to interact with them ever again–that's one of the many upsides of dating apps.