Tinder is the world's most popular dating app and helps singles find casual love, relationships, and romance with one another with its patented "swipe right"!
You've heard the name. "Swipe right" is now a massive part of the cultural lexicon. But have you ever wondered if this is the right dating app for you? You might ask yourself, "is Tinder even worth it for me?"
In this 2023 review of the Tinder app, we are going to take a look at how this app works, what it offers in terms of features, and what kind of membership plans you can purchase!
We're even going to walk you through the entire signup process (not that there is much to it!). Then, we'll tour the dating app, showing you where everything is located and how you can begin viewing and "swiping right" on visually appealing singles!
---
---

Our team has independently researched all products and services that we have listed on this page. If you sign up or purchase through our links, we may receive a commission. See how it works.
About Tinder.com
Here's a little bit about Tinder.com, the world's most popular dating app, before we hop into our 2023 review! These are a few of the fast facts and most essential pieces of key information that are good to know before making this your dating app of choice!
Fact
Details

Site Name

Key Info

Year Founded: 2012
Best For: Casual relationships and romances as well as networking and making friends
Number of Active Members: 8+ million (the US alone)
Weekly Activity: 8 million
Gender Ratio: 61% of men to 39% of women
Matchmaking Process: Two members need to both "swipe right" on each other in order to send one another a private message. (Tinder combines location and distance with personal preferences regarding attraction to create matches)

Cost of Membership

Tinder prices start at $4.50

Free Trial

Yes

Sign Up Time

Less than 5 minutes
Rating the Tinder App
How did we feel about the Tinder app as a whole? Check out our official ratings for this casual dating app in the table below, then find out why we rated them so highly!
We looked at our five key categories and assigned an individual score. We then took an average to come to our overall score of 4.4/5!
Rating the Tinder App
How did we feel about the Tinder app as a whole? Check out our official ratings for this casual dating app in the table below, then find out why we rated them so highly!
We looked at our five key categories and assigned an individual score. We then took an average to come to our overall score of 4.4/5!
Our goal is to bring you the most honest and accurate Tinder review we can, so we're going to focus a little bit on the primary pros and cons of this dating app before going any further!
| Category | Score |
| --- | --- |
| Features | 4.5/5 |
| Ease of Use | 4.5/5 |
| Match Quality | 4.2/5 |
| Cost | 4/5 |
| Active User Base | 4.8/5 |
| Overall | 4.4/5 |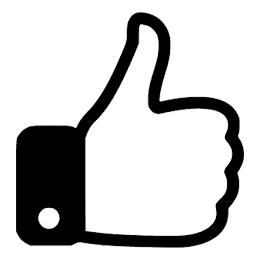 Pros
Swipe-style of dating that makes finding the right singles simple and fun.
Large dating pool with over 57 million members worldwide using the app.
1.6 billion swipes occur on the app daily.
The ideal dating app for casual relationships and romance
Short signup process only takes about 5 minutes (10 minutes at the most).
"Free trial" users can look through singles and "swipe left" or like them.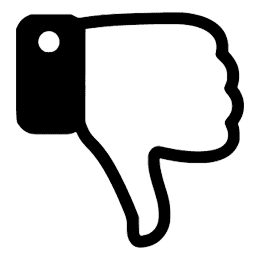 Cons
Free trial" users cannot swipe right or send messages to the singles they find on the app.
Customer service is limited to an in-depth FAQ page and a generic help center.
Not a good dating app for those looking for serious or committed relationships.
Matchmaking is based on attraction, so there is little information on any singles.
You are notified of your likes as a "free trial" user, but you cannot see who they're from.
Fake profiles, spam accounts, and catfishers make their way onto the app past vetting.
While there are many things to like about Tinder, there are also some weak areas where things could be much better for the customer. Most pertain to the "free trial" features (or lack thereof) and the nature of the app itself.
Membership Plans
One of the great things about Tinder is the number of options they offer when it comes to paid membership plans! There are three categories of subscriptions: Platinum, Gold, and Plus. Each category is further divided based on length: 1-month, 6-month, and 12-month plans.
So how much does Tinder cost? Here is a complete breakdown of each plan, its total cost, its cost-per-month figure, and what you get with each plan features-wise. We will begin with the higher-end plans and move down to the more basic packages.
Tinder Platinum
| Platinum Plans | Cost Per Month | Total Cost |
| --- | --- | --- |
| Tinder Platinum 1-Month | $26.99 | $26.99 |
| Tinder Platinum 6-Month | $13.50 | $81.00 |
| Tinder Platinum 12-Month | $9.00 | $108.00 |
What Features Are Included?
Unlimited likes
Priority likes
1 Free Boost per month
Message before matching
Control your profile
Control whom you see
See who likes you
Unlimited rewinds
5 Free Super Likes per week
Passport
Control who sees you
Hide ads
---
Tinder Gold
| Gold Plans | Cost Per Month | Total Cost |
| --- | --- | --- |
| Tinder Gold 1-Month | $22.49 | $22.49 |
| Tinder Gold 6-Month | $11.25 | $67.50 |
| Tinder Gold 12-Month | $7.50 | $90.00 |
What Features Are Included?
Unlimited likes
Unlimited rewinds
5 Free Super Likes per week
See who likes you
1 Free Boost per month
Passport
Control your profile
Control whom you see
Control who sees you
Hide ads
---
Tinder Plus
| Plus Plans | Cost Per Month | Total Cost |
| --- | --- | --- |
| Tinder Plus 1-Month | $13.49 | $13.49 |
| Tinder Plus 6-Month | $6.75 | $40.50 |
| Tinder Plus 12-Month | $4.50 | $54.00 |
What Features Are Included?
Unlimited likes
Passport
Control who sees you
Hide ads
Unlimited rewinds
Control your profile
Control whom you see
Customers can pay for memberships using any major credit card when purchasing the app from Google Play or the Apple Store. Memberships cannot be paid for via payment plans or monthly installments. The entire membership must be paid in full before using the services.
Auto-Renewal
It is essential to know ahead of time that all Tinder memberships are set to automatically renew themselves when they come to the end of their term. When customers get to the end of their subscription, they will automatically be billed under the same terms as before.
While auto-renewal can be convenient for those who want to continue to enjoy Tinder's services, some might want to use the app for the amount of time they paid for and no more. At any point during your subscription, you can change the auto-renewal settings "off" so as not to be charged for another plan.
Free Trial
You can begin a "free trial" at Tinder if you want to check out the app and what it offers before diving headlong into a paid membership. The "free trial" is an excellent way to take the app out for a test drive and see if it will be worth your time and money.
Like many dating apps in today's market, the Tinder "free trial" is not exactly a free trial where you can use the app and its service completely free of charge and unhindered. Unfortunately, you are going to be limited in the features and functions.
We recommend getting one of the three paid memberships if you're in the market for casual dating and romance. You will get so much more in terms of features and benefits. But it never hurts to at least start the "free trial" and see what Tinder has to offer as a whole!
Tinder "Free Trial" Features
Create and develop a personal profile
Set up and manage your age and distance preferences
View singles (see their name, age, distance, and profile photo)
"Swipe left" on and like profiles
One Super Like per day
Create a block list
Manage contact information from other members
Set up push notifications
Free Features vs. Paid Features
While the "free trial" shows you the kinds of singles who use the app and how to find your way around, it is pretty limited, considering all the features you could enjoy with a membership plan!
Below is a breakdown of the features you get for free and which you must pay for. Any that appears under "free features" also falls under the "paid" side! Anything that can be enjoyed for free also applies to paid memberships.
Free Features
Paid Features

Download the Tinder App
Register for an account
Create and develop your personal profile
Swipe left and like profiles
View singles and see their name, ages, profile picture, and distance from you
Enjoy one Super Like per day
Upload pictures to your profile
Set your distance and age preferences
Block members
Manage contact information and push notifications

Unlimited likes
See who likes you
Priority likes (seen first by the people you like)
Rewind your swipes
1 Free Boost per month and 5 Super Likes per week
Message Before Matching
Tinder Passport (Meet or match with anyone in the world)
Control your profile
Control who sees you and whom you see
Hide ads
Customer Service
As with many other major dating apps, the Tinder app is one where customer service is mainly limited to a lengthy FAQ center. You will not find telephone or email support here, much less live chat options.
Navigating to Help & Support
If you want to get to customer service (Help & Support), you will need to go down to the "Help & Support" tab on the left side of the screen. It will be the third section up from the "logout" button.
Click on "Help & Support, and you will be taken to the main help center page.
Navigating to Help & Support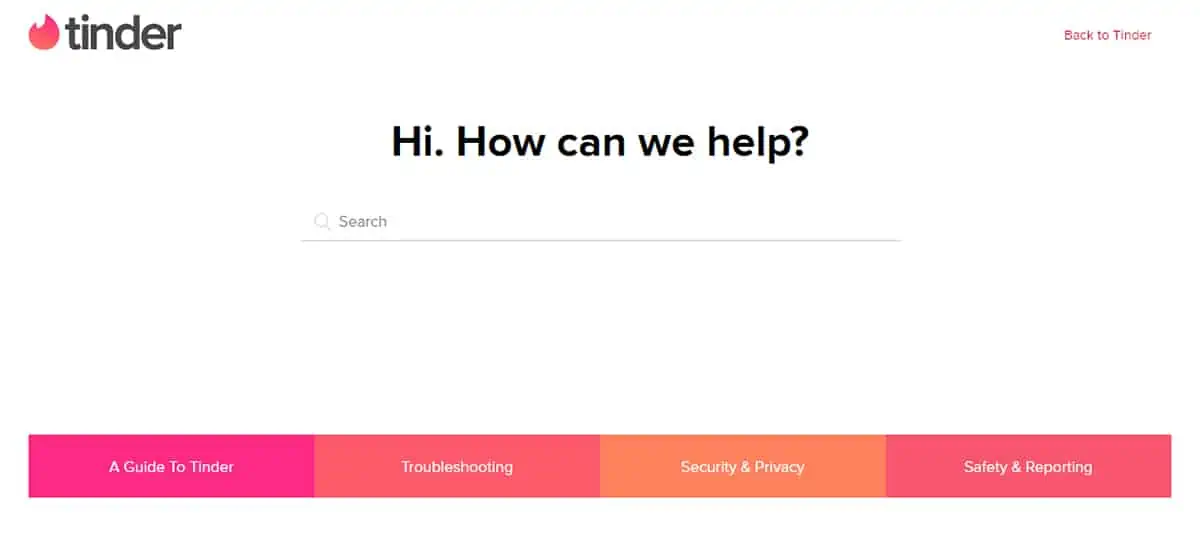 Here's where you will have a few options: A Guide to Tinder, Troubleshooting, Security & Privacy, and Safety & Reporting. Or you can type out your inquiry in the search bar above.
If you need to navigate back for any reason, hit the "back to Tinder" link in the top right-hand corner of the page.
A Guide to Tinder Tab – Do you want to learn all the features that await you at Tinder? Or are you looking for a tip for writing a good Tinder bio? A Guide to Tinder is the place you want to be! Multiple FAQs focus on categories such as Discovery, Messaging and Matching, and Premium Features.
Troubleshooting Tab – Everything covered under the A Guide to Tinder tab comes back in the Troubleshooting tab, but this time the focus is on possible issues or problems that might arise and how to work through them.
Security & Privacy Tab – This is where you will find several FAQs pertaining to security and privacy matters, such as personal data, logging in using Facebook or personal phone numbers, and reporting bugs.
Safety & Reporting Tab – You can go to the Safety & Reporting tab for matters concerning age verification, reporting suspicious accounts, or Tinder's community guidelines.
Signing Up with Tinder
Let's take a moment to give you a step-by-step breakdown of the entire signup process at Tinder. This is one of the shorter signups we have seen out there! It is not complicated or time-consuming.
Remember, this app is all about casual romances, relationships, and friendships. It's all about establishing a quick connection and meeting in real life as soon as possible. You will not be answering extensive, in-depth compatibility or personality tests when creating your account. It's going to be quick, concise, and to the point!
Step #1: Visit Tinder
The first step of the process is visiting www.tinder.com, or you can click on the image above. You must hit the red "create an account" button to get things started.
Step #2: Sign in Using Google or Facebook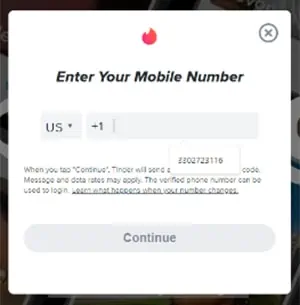 We chose to do our Tinder login using Google, and we were asked right away for a mobile phone number. This is so Tinder can send a verification code.
Step #3: Enter Your Code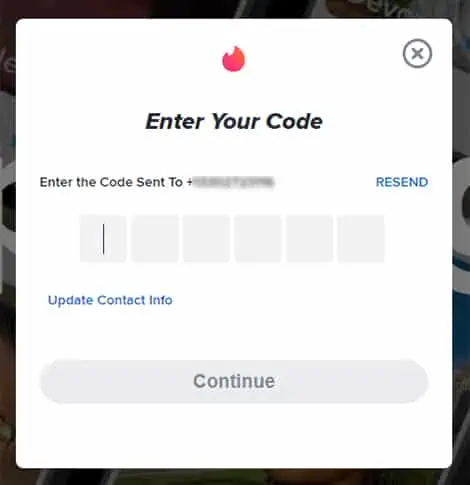 A unique code will be sent to your phone from Tinder. Enter that code into the boxes above and hit the "Continue" button.
Step #4: Read the "House Rules"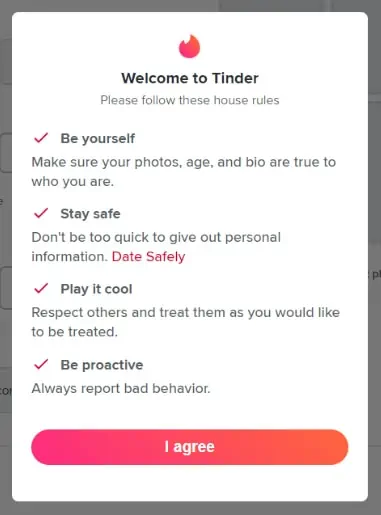 Agree to the "house rules" above and hit "I agree" to continue on to the last step.
Step #5: Input Your Info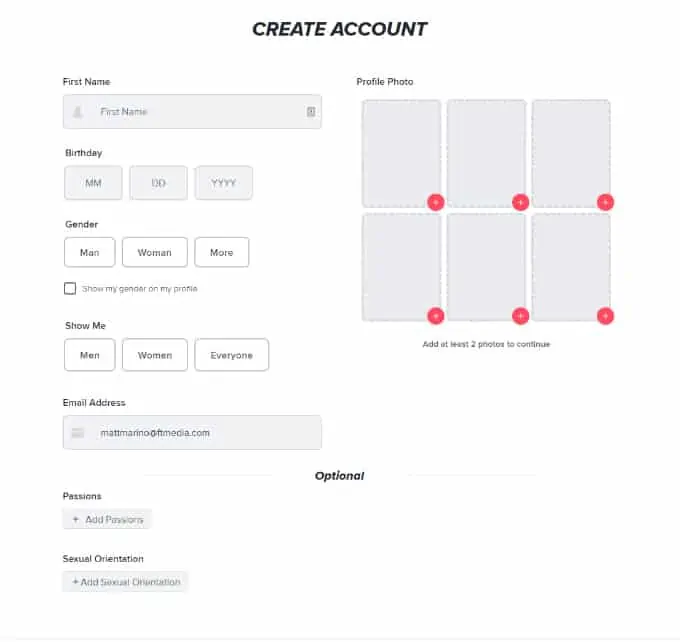 What you will need to include in this section to proceed to your new Tinder profile is your first name, date of birth, email address, gender, and the gender of the singles you want to find. You will also need to upload at least 2 photos as well!
Two optional items include a list of your passions or interests and your sexual orientation. With the passion section, you will find a long list to choose from, and you can select as many that apply to you as you want.
Step #6: Enjoy Your Tinder Profile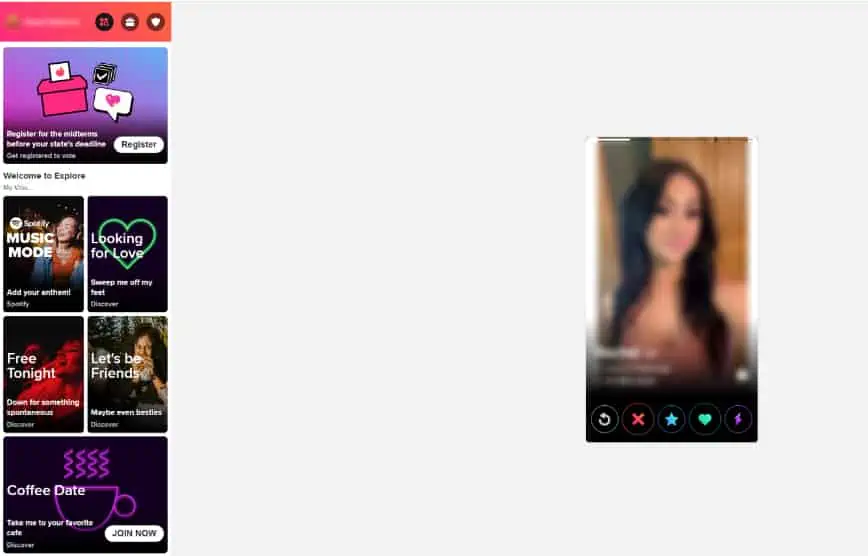 And there you have it: your new Tinder profile is all set to go, and getting it up and running took no more than 5 minutes!
Navigating the Tinder App
We really liked Tinder as a dating app because of how easy it was to navigate the site and the simplicity by which they do matchmaking among their members.
We'll give you an entire tour of everything we saw while using the app. We'll cover what lies behind each tab and menu and show you how to enjoy swiping left or right to find the right singles.
Home Screen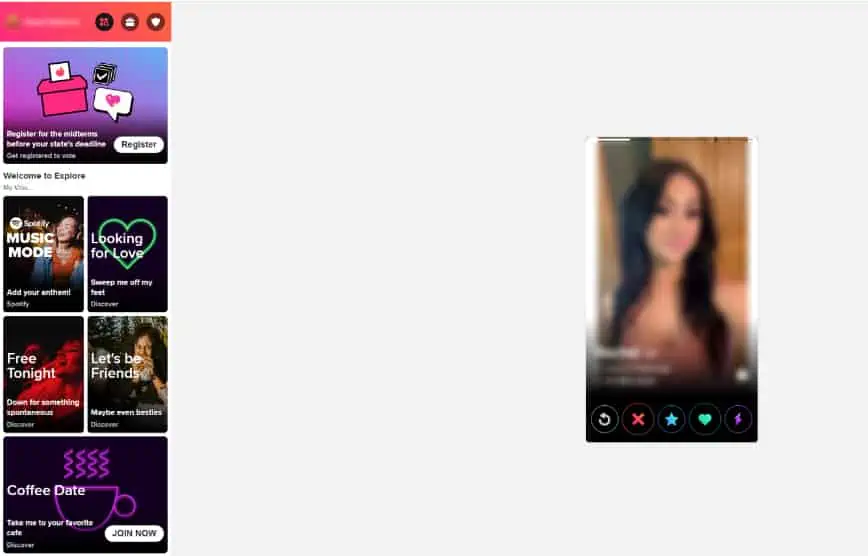 We will begin with what you see when you first visit your profile.
Click on the little icon in the top left-hand corner of the screen with the magnifying glass. You will be taken to the page where you can view singles near you! These will be based on your distance setting, which can always be changed if needed.
You are going to see a few things with these mini-profiles:
Their name (usually just a first name)
Their age
Their gender
Where they live
How far they are from you
Their occupation
Their passions
Their anthem song
Recent Instagram photos
Not all singles are going to post everything that is listed above in the bullet points. You will want to hit the small white circle with the "i" in its center for all this information to appear. You can then scroll down to view whatever they have posted to their profile.
What Do All the Colorful Buttons Do?
Unlimited Rewinds: This is the yellow "redo" button. You can use this if you want to go back and change your previous action. It doesn't matter if you swiped left or right on a profile. This button allows you to go back and redo your decision if you change your mind! This is a feature only open to paying members.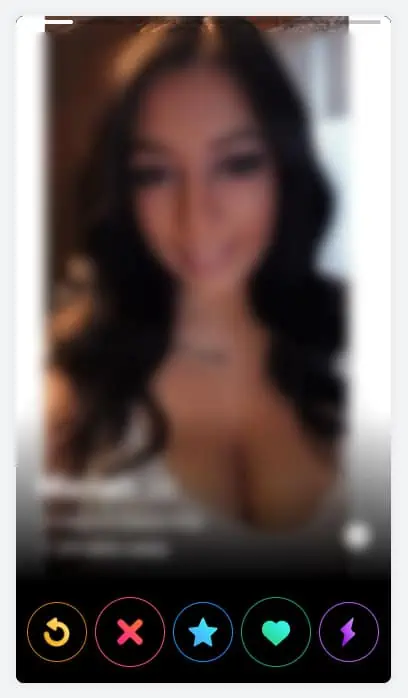 Swipe Left: This is the red "x" button. If you are not interested in the profile, click this button. "Free trial" users and members can use this function.
Super Likes: This is the blue "star" button. When you super like a profile, you show strong interest, increasing your chances of being matched by 3x. Paying members get 5 super likes a week; "free trial" users get 1.
Likes: This is the green "heart" button. This is in place of the "swipe right" feature. "Free trial" members can like profiles but are limited to so many a day.
Be Seen: This is the purple "lightning bolt" button and can only be used by paying members. Clicking on this feature will help you become a top profile in your area for 30 minutes!
Main Menu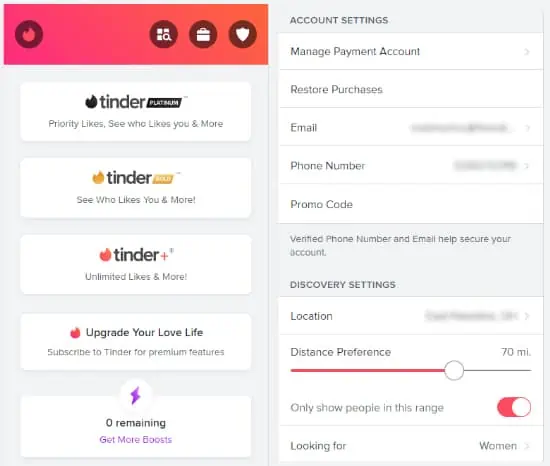 Begin by clicking on your profile name in the top left-hand corner of the screen, and a long drop-down menu will appear.
The top three icons take you to each respective membership plan. "Upgrade your love life" will show you a side-by-side comparison of each. Below, you can see where your Boost levels stand and a link that will allow you to purchase more.
Account Settings
Under "account settings," you will find your personal information, such as email and phone number. You can always go in and alter the info if these need to be changed for any reason.
Click on "manage payment account" to input the credit card information you would like on file at Tinder to upgrade accounts or pay for features like boosts. There is also a place where you can input any promo codes that might apply to your purchase.
Discover Settings
The following menu features "discovery settings," which are the basis for finding singles near you that fit your preferences. You can adjust your search distance, preferred age range, the sex of singles you desire, or what languages you want them to speak (if you have the global setting activated).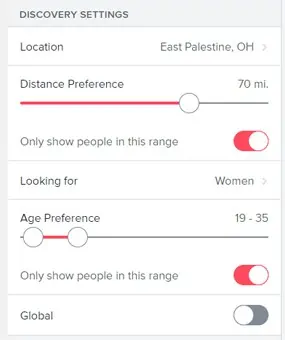 Below are two sections that can only be accessed if you are a paying member: "control whom you see" and "control who sees you." This is pretty self-explanatory; these features help you to adjust your visibility on the Tinder app.
Block Contacts, Web Profile, Read Receipts, Etc.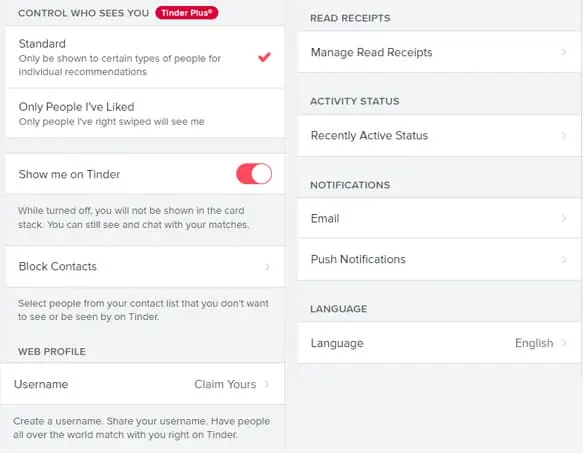 Next is a menu where you can manage profiles you have decided to block. You can adjust your username or increase its visibility. There is also a menu to manage read receipts, activity status, email and push notifications, and preferred language settings.
Customer Service, T&C, Privacy Policy, and Logout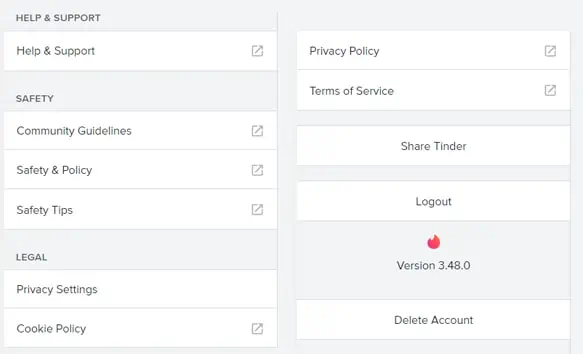 The bottom portion of the menu allows you to access the customer service center under "help & support." You can also access Tinder's terms and conditions or privacy policies under the "safety" and "legal" tabs.
If you want to log out of Tinder, hit the "logout button." And there is an option at the very bottom where you can delete your account if you feel the need to.
What People Are Saying About Tinder
For your convenience, we have included some feedback from those who have actually used the app for themselves! We feel that to bring you the most honest and accurate review of Tinder, we need to have some feedback from those who have firsthand experience with the app!
Keep in mind that everyone will have a different experience than the next person. And people are far more likely to post about a negative experience than they will about something positive that happened to them using the platform. We tried to capture a mix of positive and negative feedback from our primary sources: SiteJabber, ConsumerAffairs, and Trustpilot.

Alternatives to Tinder
If you have perused our Tinder review and you feel that this might not be the best dating app for you and your needs right now, we are more than happy to point you to some great alternatives!
These are dating apps that are geared more toward the casual side of the dating spectrum but do offer some opportunities for more serious relationships as well. Each offers a large base of regular users which makes for a decent dating pool and plenty of opportunities!
Dating App
Fast Facts
More Info
Hinge

User Base: All singles
Active Users: 500,000
Gender Ratio: 55% men to 45% women
Paid Subscription: Yes
Free Trial: Yes (limited)
Subscription Price: begins at $16.66/month

Hinge Review
Bumble

User Base: All singles
Active Users: 11+ million
Gender Ratio: 57% men to 43% women
Paid Subscription: Yes
Free Trial: Yes (limited)
Subscription Price: begins at $16.99/month

Bumble Review
Zoosk

User Base: All singles
Active Users: 50+ million
Gender Ratio: 48% men to 52% women
Paid Subscription: Yes
Free Trial: Yes (limited)
Subscription Price: begins at $12.50/month

Zoosk Review
Frequently Asked Questions About Tinder
Still not sure whether or not Tinder is a good dating app for you? Below we have answered the most commonly asked questions that we receive from real people wanting to know more about this app.
What Is Tinder?
Tinder is currently the world's most popular dating app. Known for its swipe-style matchmaking, it is referred to as the "hookup app" because many users are looking for quick connections and casual romance. Tinder users can look through an extensive catalog of potential matches and "swipe left" if they are uninterested or "swipe right" if they like what they see and want to meet up!
How Does Tinder Work?
Matches on Tinder are made when two people have both "swiped right" on each other. This enables the two users to message each other and firm up a time to meet in real life! Swipes per day at Tinder number around 1.5 billion, with the result being approximately 1 million in-person dates or meetups every week!
Is the Tinder App Worth It?
If you like casual relationships or romance, Tinder is a dating app that might be well worth it! This is a fast-paced app; many of the relationships that come from it do not result in anything serious or committed (there are some exceptions). So if you're looking for commitment, marriage, or anything serious or long-term, Tinder will not be worth the time or money.
Do I Have to Pay to Use the App?
If you want to get the most out of Tinder and enjoy its features and benefits, we recommend paying for any membership over a "free trial." Most people who use the app use the most basic membership plan and have as much success as the higher-paying members in many cases!
What Is the Cost of Tinder?
This will depend on which membership plan you decide to choose. There are Platinum Memberships that start as low as $9 per month, Gold Memberships that begin as low as $7.50 per month, and Plus Memberships that are as cheap as $4 per month. See our "Membership Plans" section for more details on the cost of Tinder.
Can I Cancel My Membership or Delete My Account?
If you want to cancel your membership plan at Tinder, you click on your profile picture in the top left corner of the screen. Scroll down to "account settings" and click "manage payment account." You will then go to "cancel subscription" and hit "cancel." Then confirm that you indeed want to cancel the plan.
To delete your account, you will want to click on your profile picture again, but this time go all the way down the entire menu, below "logout," to the last option, "delete account." You then have the choice to either hide account so that it's not shown to others or delete it completely.
How Does the Tinder App Compare with Tinder.com?
By and large, the experience between using the Tinder app and the website is about the same. Tinder functions similarly, and there is no learning curve from one format to the next. A more appealing aspect of using the app is the ability to swipe left or right (something that cannot be done on the desktop PC)!
What Features Come with a Paid Membership?
There are a ton of great features and benefits that come with a Tinder membership. These include unlimited likes, unlimited rewinds, seeing who has liked you, finding members outside the limited parameters set by the "free trial," and messaging with singles who have swiped right on you! There are so many advantages to a paid membership, making it the only way to experience the app for all its worth!
How Long Does It Take to Sign Up?
This is one of the quickest signup processes we have had the pleasure of witnessing. The entire endeavor might take anywhere from 5 to 10 minutes. There are no personality or compatibility tests taking up time. You are only uploading a photo and putting in some information to create a general profile. The whole idea with Tinder is establishing quick, easy connections with other singles based on attraction and location alone in hopes of casual romance or friendship.
What Are the Best Alternatives to Tinder?
Four outstanding alternatives to the Tinder app are Hinge, Bumble, Match.com, and Zoosk. Hinge and Bumble, in particular, are a little more focused on serious relationships. Still, there are definitely possibilities there for casual romance as well. Plus, they have the volume of users to give you a wide range of suitable options. Zoosk and Match.com are also larger platforms providing quality casual dating opportunities and relationships.
Is Tinder Safe and Secure to Use?
From what we can see, Tinder is a dating app that prioritizes its customers' safety and security. They keep any information shared with the platform safeguarded using an encrypted connection and never sell off information to third parties or for marketing purposes. Any photos or images shared on the service will never appear in Google image searches.
How Many People Use Tinder?
Tinder is available in almost 200 countries worldwide, with around 8 million active users located in the United States! The platform hosts over 75 million active users every month across the globe. You can break this down even further into 8 million active users using the app weekly.