Are you interested in finding a sugar daddy? Then you have come to the right spot–we have found the perfect sugar daddy dating apps for you! These five sugar daddy dating apps are our top picks for 2023 because they provide their users with the most beneficial features, the highest level of security, and millions of potential matches.
As a bonus, if you are a sugar baby seeking a sugar daddy, almost all of these dating platforms provide free signups to sugar babies. If you're looking for a sugar arrangement in 2023, try one of these top-rated apps for finding one–you could find your ideal partner in no time at all with the help offered by these dating apps' extensive search filters and unlimited messaging available to premium paid members.
Plus, we'll talk about the safeguards and security mechanisms employed by our recommended sugar daddy dating apps that make it possible to keep a sugar arrangement on the down low and hush-hush.
Our Picks for the Best Sugar Daddy Dating Apps
Our team has independently researched all products and services that we have listed on this page. If you sign up or purchase through our links, we may receive a commission. See how it works.
About Our Rating and Review Process

To determine which sugar daddy dating apps are the best, we enlist our team of in-house dating specialists to research each one and rank them based on a number of factors, such as the reliability of their matching algorithms, the simplicity of their user interface, the efficacy and safety of their functions and features, the security of their users' personal information, and the cost of their memberships. 
Reviews of the Top 5 Sugar Daddy Dating Apps
There are three things to remember when searching for a suitable sugar daddy dating app. You need an app that gives you access to a vast pool of high-caliber potential partners, sophisticated software with powerful tools to narrow in on the best possible prospects swiftly, and the platform has to include privacy and security features.
Each of the five of our top sugar daddy apps has these three essential features. Because of these, we consider these platforms to be the very best sugar daddy/sugar baby matchmaking services available in 2023.
#1: Sugardaddy.com – Key Features and Benefits​
Key Information
User Base: All singles
Paid Subscription: Yes
Free Trial: Yes, limited
Subscription Price: Starting at $33.99 a month
Active Members: 5 million
Monthly Users: 700,000 million
Gender Ratio: 56% men and 44% women
With 5 million active members, Sugardaddy.com is a sugar arrangement site that is well worth the time and money! Their gender ratio is closer to that ideal 50/50 split which means there should be some decent options for a sugar arrangement in their dating pool. Women do not have to pay for a membership at SugarDaddy.com.
Something that really sets Sugardaddy.com for us is their special Sugar Daddy verification process. This is to ensure that sugar daddies and babies speak with a real person! This is an important safety feature that ensures both parties are not wasting their time or jeopardizing important information.
Premium Membership Features:
Message other users
Access Secret Photos and Videos
Priority Support
Search Highlights
Incognito Browsing
Message Boost
---
#2: Elite Singles – Key Features and Benefits​
Key Information
User Base: All singles
Paid Subscription: Yes
Free Trial: Yes, limited
Subscription Price: Starting at $31.95 a month
Active Members: 13 million
Monthly Users: 1 million
Gender Ratio: 57% men and 43% women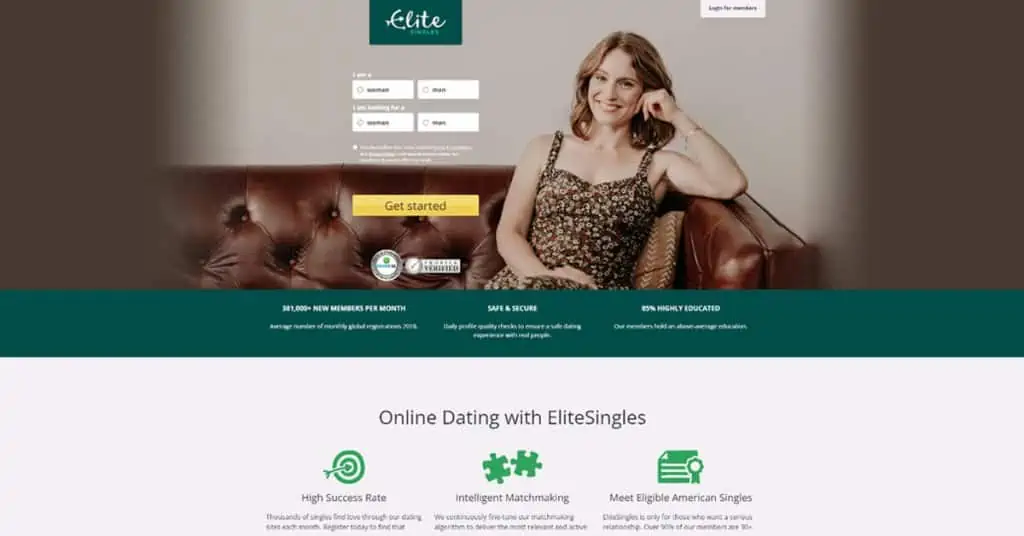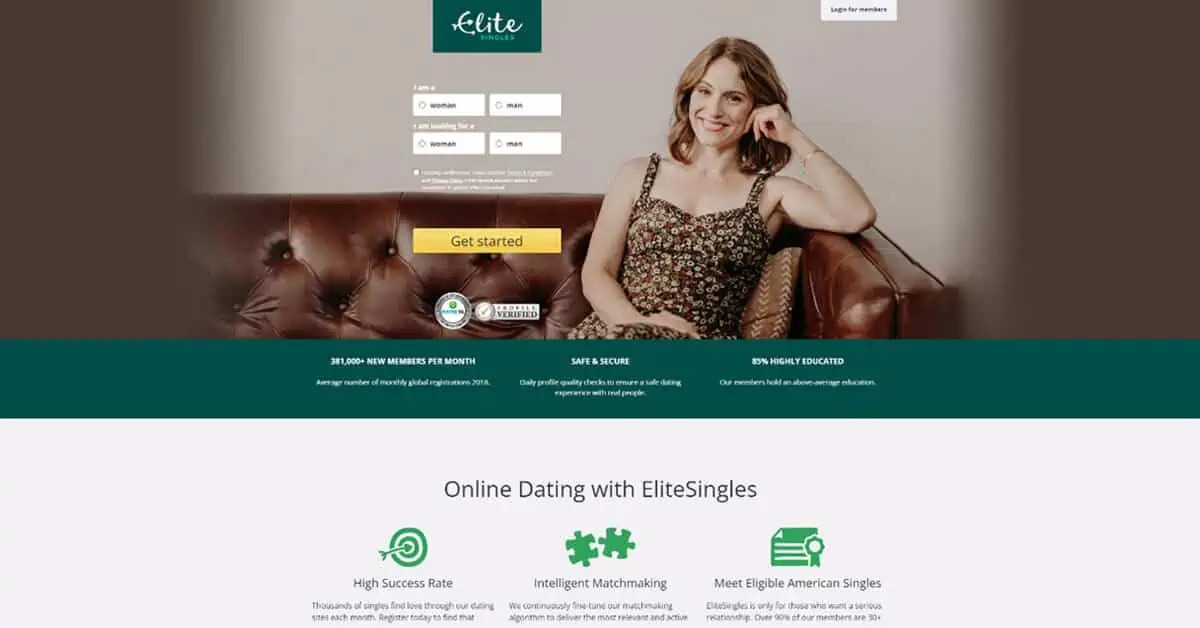 Elite Singles is not a niche dating app for finding sugar arrangements, but they are great for finding successful, highly educated singles. As a result, many sugar arrangements have come forth from the success of this site and its mission. Since beginning in 2013, they have grown to around 13 million members worldwide, making its dating pools one of the most competitive in the market. That is actually why they rank so high on our list!
As a member of Elite Singles, you can enjoy unlimited messaging and get daily "wildcard" matches from the app to keep things fun and exciting. Members can get read receipts on the messages they send and find out who has liked their profile to gauge interest. This is great for sugar daddies and babies to find mutually beneficial matches! And Elite Singles keep things completely cool on the discretion front for their members with a good SSL-encrypted connection that covers messages and site operations. They also require ID authentication upon signing up!
Premium Membership Features:
Access to detailed explanations of personality test results
Profile boosts
Unlimited messaging
Ability to view all your matches' photos
Leave comments on matches' profiles and pictures
The "Have You Met?" feature matches you with up to 20 additional profiles daily
Access to premium features on the Elite Singles mobile apps on iOS and Android
---
#3: SugarDaddie.com – Key Features and Benefits​
Key Information
User Base: All singles
Paid Subscription: Yes
Free Trial: Yes, limited
Subscription Price: Starting at $31.95 a month
Active Members: 13 million
Monthly Users: 1 million
Gender Ratio: 57% men and 43% women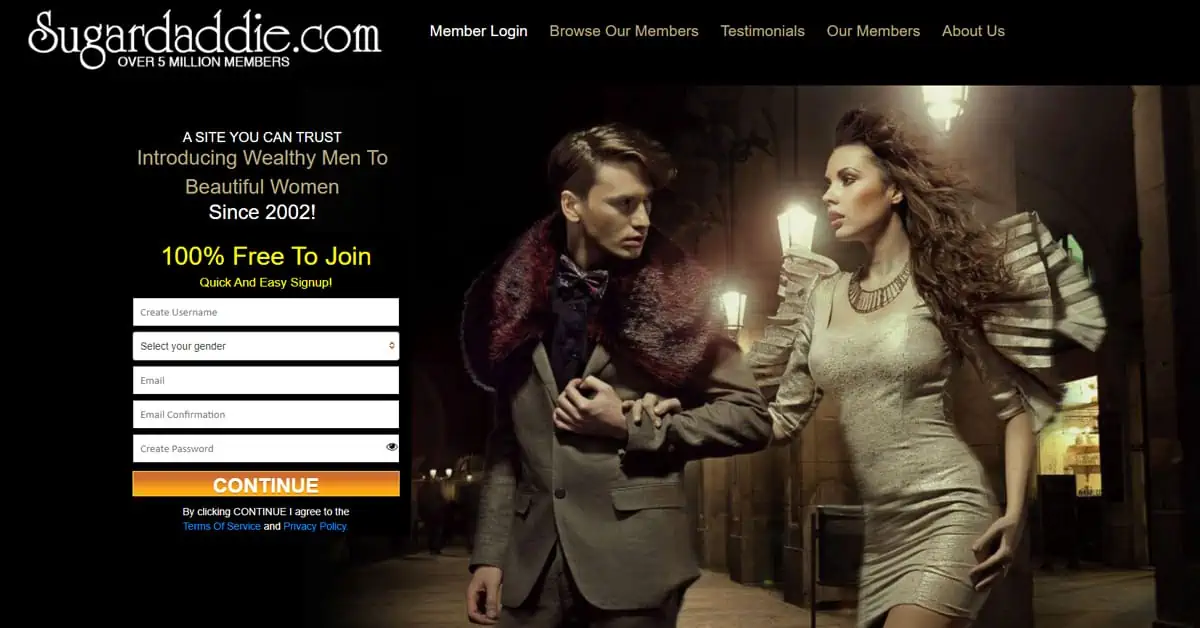 Sugardaddie.com is another strong recommendation for anyone looking for a sugar arrangement. Compared to some of the other sugar daddy dating sites we promote for these purposes, Sugardaddie.com has a smaller user base of a little over 5 million, but this is still a solid pool of potential singles to draw from! Around a third of the app's singles are between the ages of 25 and 34, and the gender ratio is relatively even! Sugar babies, of course, can use the app for free!
Sugardaddie.com has amazing search filters to help sugar daddies or babies find the right singles. And once you have found an ideal match for a sugar arrangement, you can add them to your favorites list, a nice feature that keeps things organized and easy to pull up at a future date. Sugardaddie.com is an amazing site when it comes to safety and security as well. They use an encrypted connection when handling any personal or financial information from customers. They even go as far as to use discreet names on billing statements to protect the dignity and privacy of their members.
Premium Membership Features:
Unlimited messaging
IM Chat with online members
Post in the community forum
---
#4: Seeking.com – Key Features and Benefits​
Key Information
User Base: All singles
Paid Subscription: Yes
Free Trial: Yes, limited
Subscription Price: Starting at $96.66 a month
Active Members: 40 million
Monthly Users: 4 million
Gender Ratio: 50% men and 50% women
Seeking.com is one of our best recommendations for singles looking for a sugar daddy or a sugar baby! It was originally founded in 2006 as SeekingArrangement but has recently rebranded. When the dust settled, Seeking.com emerged, a sugar arrangement dating app with over 40 million customers worldwide in over 130 countries! Each day, over 1 million messages are sent on the app, and over 40,000 photos get uploaded.
One of the biggest appeals to Seeking.com is that women get to use the app free of charge! This creates a huge dating pool of sugar babies for the men who use Seeking.com! Paying service members can enjoy unlimited messaging and plenty of profile boosting to find the right singles. Members can even upgrade to the Diamond-level membership and enjoy being pushed straight to the very top of Seeking.com search results!
Premium Membership Features:
These include the 30-day membership and both 90-day memberships! Here is a complete rundown of features that you will get with these three premium plans:
Unlimited Messaging (reading and receiving)
Visibility Boost
Incognito Mode (conceal your location)
Notes Dashboard
Inbox Filters (organizing your messages)
Diamond Membership Features:
You will pay a bit extra for the Diamond membership, but the benefits you get with that extra money might come back tenfold once you experience increased visibility on the app and a better variety of eligible singles!
Profile Highlight (Diamond badge)
Larger Profile Boost (Attractive Members Dashboard offers increased visibility)
---
#5: Sugarbook – Key Features and Benefits​
Key Information
User Base: All singles
Paid Subscription: Yes
Free Trial: Yes, limited
Subscription Price: Starting at $39.95 a month
Active Members: 3 million
Monthly Users: 100,000
Gender Ratio: 35% men and 65% women
Although this sugar daddy dating app is stacked a little heavier when it comes to male members, Sugarbook has a hefty user base of around 12 million members. There are some great possibilities here! Members can send unlimited messages back and forth to other members, premium badges are available to those who want to highlight their profile and increase their visibility, and women can use the service without having to pay for a membership!
On the safety and discretionary end of things, Sugarbook comes with some heavy SSL encryption to guard all data transactions. They even allow members to conceal when they have logged into their accounts, allowing them to get on and off the site without other members being aware. Combine Sugarbook's immense user base with the importance they place on security measures, and you have a winning combo for one of the best sugar daddy apps in 2023!
Premium Membership Features:
These include the 30-day membership and both 90-day memberships! Here is a complete rundown of features that you will get with these three premium plans:
Verify Your Profile
Read Receipts
Advanced Search Features
Unlimited Messaging
Hide Profile Activity
View Private Photos
See Who Viewed You
See Who Saved You as a Favorite
---
Why Trust Our Sugar Daddy Dating Apps Recommendations
Although our in-depth knowledge of online dating apps is solid, if you're still unsure about our expertise, we've given a few examples of our methods for coming to our judgments regarding dating platforms in case you need more encouragement that we know what we are doing!
Expert Reviews and User Testimonials
Writing favorable reviews of dating apps and expecting you to take us at our word isn't going to cut it, we know. We recognize that our readers are interested in hearing the positives and negatives of the dating apps we suggest from actual users, even though our dating specialists give each dating app we investigate an in-depth review.
While we do have researchers that use the software in question as part of our research for published reviews, we believe that real user testimonies, negative as well as positive, help create a fuller picture; therefore, we always add them!
In-Depth Research and Analysis
We put a lot of time and effort into finding the best choices for our readers, and if you're presently single and seeking, we do not doubt that one of the previously mentioned dating apps could help you find love and romance. We take into account the number of users, the caliber of the app's matches, the app's ease of use, its security and safety measures, any unique features, and the premium membership pricing when deciding which dating apps we feel are your best bet for finding actual compatible partners!
Benefits of Choosing a Sugar Daddy Dating App
There are a lot of benefits that come with being in a sugar relationship–it isn't called "mutually beneficial" for no reason! And in order to locate a potentially perfect partner to embark on this sweet arrangement with, you need to join a sugar daddy dating app.
Because let's be honest; we are pretty sure you are not going to find one out in the wild. It's a very specific situation that calls for a specialized dating app!
Shared Values and Beliefs
If you have joined a sugar daddy dating app, you are among your people, and they share your want for a mutually beneficial relationship. Everyone is on the same page when it comes to the shared values that go along with sugar dating, so there will be little room for misunderstandings.
Targeted User Base
With the exception of Elite Singles, every one of these dating platforms was designed with sugar daddies and sugar babies in mind. The developers saw that this demographic was growing and there was a demand for these services, so they stepped up to the plate and hit it out of the park!
Greater Compatibility
When you join a sugar daddy dating app, it's safe to say that you are among people who are in the same boat and seeking the same thing you are–a sugar arrangement. When you sign up for a niche app that caters to a super specific demographic, the compatibility factor goes sky-high. Why? Because you are all there for the same reason and endgame, the match compatibility is much greater than on a mainstream dating app!
Safety and Security Protocols
Subscribers of sugar daddy apps tend to be very affluent men, so confidentiality and privacy are extremely important to them. They place a premium on privacy and secrecy–the more you possess, whether it is money or prestige, the more you stand to lose if anything were to go awry.
All of the dating apps we tested include an SSL-encrypted connection to keep your private data and financial transactions safe. The use of anonymous billing information will protect members' privacy and confidentiality, and each company has an excellent customer care staff on hand that is always on the lookout for fake or scam accounts that may pop up and remove them from the dating app.
Finding the Best Dating App for Your Needs
Next up, we are going to give readers some helpful tips and details about sugar daddy dating apps in the hopes that they can assist readers in finding a platform that best fits their particular needs. Here is some guidance on how to choose the ideal sugar daddy dating app for your specific wants and needs in a sugar relationship!
Assessing Your Preferences – We can wax poetic about our favorite sugar daddy dating apps from sunup to sundown, but in the end, you are going to decide! It is up to you to figure out what you are searching for in a sugar daddy or baby to determine which dating app will best suit your romantic requirements; all we can do is point you in the right direction.
Comparing Features and Pricing – Premium subscriptions on most sugar daddy dating apps cost around the same, but a few charge extra for access to features that could greatly enhance a user's success in finding a sugar partner. Before you sign up and upgrade to a premium membership, find out what features are included in the subscription, how much it costs, the duration of the plan, and if it automatically renews.
Evaluating Success Stories and Reviews – If you're looking to join a sugar daddy dating app, it's an excellent move to read reviews posted by people who have actually used the app (on websites like TrustPilot, Consumer Reports, and SiteJabber) along with reading any success stories that are online; many dating apps have specific sections to brag about their above-average matching skills!
Downloading and Signing Up for a Dating App
If you're interested in finding a sugar daddy, you can do it easily by signing up for one of the recommended dating apps. There are typically five basic steps; however, this might vary from app to app. Creating a new dating profile is as simple as following the steps shown below!
Available Platforms
| Dating App | Internet Browser | Google Play | Apple Store |
| --- | --- | --- | --- |
| SugarDaddy.com | Yes | Yes | Yes |
| Elite Singles | Yes | Yes | Yes |
| SugarDaddie.com | Yes | Yes | Yes |
| Seeking.com | Yes | Yes | Yes |
| Sugarbook | Yes | Yes | Yes |
Step-by-Step Registration Guide
Go to Google Play or the App Store. In the search bar, search for the dating app you want to download and install it to your mobile device.
Once the installation is complete, fill out the basic information the dating app requires. This includes details such as your name, age, and your email address.
To register and build a dating profile, you'll also need to create a username and password.
The next step is where you can tell the dating app about yourself and what you're searching for in terms of a romantic relationship. Be sure to fill out any questionnaires or personality assessments to the best of your ability—this will ensure compatible matches.
The last step entails either staying with a free membership or upgrading to a paid membership. You can click the "Subscribe" button and select a payment plan that works best for you and your budget. If you don't want to upgrade, you can start browsing and searching for matches!
Free Sugar Daddy Dating Apps and Their Limitations
Every one of these sugar daddy dating apps offers a free trial period during which users may browse profiles and communicate with one another in a limited capacity. This is a great option for those who want to get acquainted with a dating app before committing to a paid subscription.
If you're trying to decide between a free trial and a paid membership for a dating app, you should know that they're quite different experiences. The truth is that compared to paid premium memberships, free trials or basic free versions will have very few features and perks.
But guess what? The light at the end of the tunnel when it comes to upgrading is that most of the dating apps we recommend offer membership discounts if you sign up for a longer period of time.
Pros and Cons of Free Apps
There are several benefits to using free dating apps, but the operative term here is "free." When the advantages and disadvantages are compared, one can confidently say that the disadvantages come out on top, and that's not a brag. There are two sides to this coin: on one side, it's free, which is great if you're only looking to see whether a particular dating app meets your criteria, but on the flip side, you'll be severely limited in your ability to accomplish anything on the platform in consideration.
Many dating apps provide free access to their premium features for a limited time before requiring a paid subscription to continue using them. Everybody acknowledges that the biggest problem with free apps is that you can't message other users, which is the whole point of being on a dating app! Although it happens very rarely, certain dating apps allow users to send and receive private messages, but it's the exception and not the rule. Finding out you cannot communicate with your perfect match after viewing them doesn't seem fair to us!
| Paid Apps | Free Apps |
| --- | --- |
| Better vetting system means less fake accounts, scammers, and bots | Search and filtering capabilities are not as extensive as with paid apps |
| Members who pay for a premium subscription are more likely there for the right reasons | It's free to use—members don't have to pay anything to use the dating app |
| Paying members get beneficial features like unlimited messaging and video chat | Your messaging capabilities are very limited |
| Users can browse for matches anonymously using incognito mode | Any kind of video chatting is not available |
| Most short-term membership packages will cost more than long-term subscription packages | Free users won't have the option to browse for matches in incognito mode |
| Users can cancel a subscription when they no longer require it, but their profile won't be deactivated | A free membership lets you to test the dating before deciding if you want to pay for extra features |
Paid Features Worth Considering
There are a lot of fun and beneficial paid features on the sugar daddy apps we've suggested that are well worth your while in your search for a sugar daddy or sugar baby!
Elite Singles: unlimited messaging, advanced search filters, get "Wildcard" matches daily, view all photos of all members, read receipts, and see who's interested in your profile.
Sugarbook: unlimited messages, read notification receipts, premium badges, immediate profile approval, view crushes
Sugardaddie.com: advanced search filters, privacy mode, favorites list
Sugardaddy.com: receive priority listing in the app's search results, narrow down results with advanced search filters, upload private photos in Secret Album, Sugar Daddy verification
Seeking.com: unlimited messaging, visibility boost, incognito mode, inbox filter, note dashboard
Tips for Success on Sugar Daddy Dating Apps
If you're new to the sugar arrangement scene, you may want some pointers before diving right into the sugar dating app world. We've included some of our most helpful suggestions for using sugar daddy apps and navigating the sometimes complex issues of sugar dating.
Figure Out Their Endgame
It's important to your success in the sugar dating realm to know what your future partner is working towards. Be honest with what it is you want in the arrangement. If you're a sugar daddy and all you're looking for is companionship with a young woman and no sex, be sure they know that from the get-go!
Likewise, sugar babies should be honest with what they want ahead of time. Maybe all you want is a weekly allowance once you have fulfilled your obligation to your sugar daddy; if that is what you want, state that clearly before getting into the arrangement.
Be Aware of Scammers or Fake Profiles
Just like with regular online dating services, dating apps for sugar daddies can have their fair share of fake profiles or scam accounts. It is important to remain vigilant when you're viewing other members' profiles. An alarm should be going off in your head if you see a profile where someone has blurry photos or some part of the identity is concealed.
Be wary of anyone who is asking you for personal or banking information to help them out of a "crisis." These are the tell-tale signs of a scammer!
Try to Video Chat Before Meeting in Person
If you feel uncomfortable at the prospect of meeting a sugar daddy or sugar baby in real life, we highly recommend doing some sort of video chat to put some of those doubts to rest. There are actually some safety features found in our favorite sugar daddy dating apps that verify the true identity of the person you are getting to know (Sugar Daddy Verification at SugarDaddy.com and profile validation at EliteMeetsBeauty).
Do what you have to do to verify your sugar daddy or sugar baby's identity to ensure a safe first meetup!
Choose the Right Sugar Daddy Dating Apps
It's important to use online matchmaking services that are specifically designed for sugar arrangements or for finding successful, highly educated singles. You don't want to go to a site like Match.com, eHarmony, or Zoosk and try to get a sugar arrangement going. Those platforms are not designed for such purposes. Go with one of our recommended dating apps for sugar daddies if you are looking to make it on the scene.
First Conversations Can Predict Relationships
This is a tip specifically for sugar babies. If you begin talking with a sugar daddy and the first conversation goes right to meeting up for sex, this can be a sign of someone who is not really on the site for a sugar arrangement. It could be a sexual predator or someone looking to take advantage of a vulnerable woman.
You will know when someone legitimately wants to begin a sugar arrangement with you. They will ask you questions about yourself, such as your interests, beliefs, etc.
Try Not to Fall in Love
Sugar arrangements are relationships that can move fast and are rooted in getting something from the other partner in the relationship. They can be extremely transactional in nature, so it's important to keep your emotions in check and not fall in love with the person you are in the sugar arrangement with. The chances are that they are not your soulmate or someone who is going to be marriage material.
Sugar Daddy Dating Apps FAQs
How Does Sugar Dating Work?
How your "sugar baby" or "sugar daddy" treats you depends on what your arrangement is. Sugar dating is almost the same as regular dating, and the whole point of it is to give yourself and the other person a real girlfriend-like experience.
Meeting a possible sugar partner via online dating platforms like SugarDaddy or SugarDaddyMeet rather than standard applications like Tinder is the primary distinction between regular dating and sugar dating. Once you've discovered someone you think would be a suitable match, you can set up a first date to find out whether you're compatible with each other.
Are Sugar Daddy Dating Apps Safe?
Yes, you can use the sugar daddy dating apps we recommend for safety and security. In fact, many of these services come with enhanced safety features to ensure that their members can enjoy the perks and benefits while doing so in a discreet and shielded manner.
A lot of these apps allow their users to do things like hide their login details and activity. These apps use encrypted connections to safeguard any sort of personal or financial information. They also allow for discreet names to be placed on the customer billing statement for an added layer of protection.
How Old Is a Sugar Daddy?
Since every guy has different characteristics and requirements, it is impossible to paint a picture of the typical sugar daddy. However, data may help in the understanding of the users of sugar dating websites. Thus, a "typical" sugar daddy would be:
• He is in his early/late 40s
• Makes around $250,000 a year
• Is self-employed or holds a senior management position
• Lives in a big city
At the same time, each year, more young men enter the realm of sugar dating. For instance, Seeking says that 100K+ more SDs in their 20s than daddies in their 40s have registered on the site. According to data, men in their 30s make up the largest age group, with roughly two million members.
Is Sugar Dating Legal?
Sugar mommas and sugar daddies are both legal.
Sugar relationships are neither regulated nor outlawed in the US, unlike prostitution and solicitation. The definition and conditions of a connection are where a slight distinction exists. The majority of state laws have distinct definitions of prostitution and solicitation that include deliberate sexual actions (intercourse) for payment. Many partnerships, including marriages, where one person is more successful than the other, according to some, may be seen as a type of solicitation if the widest definition were to be used.
Contrarily, sugar relationships aren't necessarily sexual, and even when they are, other dating activities are usually involved. Even pay-per-meeting agreements are lawful since they often include some kind of non-sexual contact. Furthermore, some wealthy men choose to use dating websites to become "experience daddies," giving away gifts, clothing, and travel chances rather than cash.
What Is a Sugar Baby?
A young woman who dates an older guy and either attends to his physical needs or keeps him company is known as a "sugar baby." She does this in return for presents, excursions, chances to network with members of high society, and other benefits.
What's the Overall Best Sugar Daddy Dating App?
One of the best online dating services for sugar relationships is SugarDaddy.com, which we highly suggest joining. There are plenty of members and fantastic premium features!
Are Sugar Daddy Apps Free?
Sugar daddies are expected to pay to use these services, but sugar babies are typically able to do so for free. These apps all offer free trials, but they have serious restrictions. Anyone interested in joining the site may do so by creating a profile and an account.
What Are the Benefits of Being a Sugar Baby?
Becoming a sugar baby does have its privileges and advantages. One benefit is that a wealthy guy will provide for your material needs. Many "sugar daddies" provide their "babies" with cash payments on a regular basis, and women can leverage their status as sugar babies to get access to exclusive social circles and further their careers.