Looking for love with someone who has both brains and beauty? Look no further than The League, the dating app for the intellectually elite. But be prepared to wait in line unless you are willing to pay a pretty hefty price tag–we'll explain why in our complete review of The League Dating app for 2023!
---
---

Our team has independently researched all products and services that we have listed on this page. If you sign up or purchase through our links, we may receive a commission. See how it works.
Introduction to The League
Maybe you're here because you have realized that swiping through Tinder is like searching for a needle in a haystack of mediocre suitors. Fear not, our ambitious and intelligent friends–The League dating app may just be the answer to your meh potential partner dating woes.
If you're currently on the hunt for the perfect partner and are wondering if The League app fits the bill, we have all the info you need to know.
Is it worthwhile to hang around in the waiting room for The League Dating App, or are you better off not downloading it at all? Let's find out!
A Brief Overview of The League's History and Success
The League is an elite dating app for successful singles who are eager to meet their other halves. It's invite-only with a queue for acceptance–it manually verifies all new members to keep the network of intelligent, like-minded individuals secure and authentic. The League might be the perfect solution for the time-pressed single professional who is ready to settle down.
Amanda Bradford, now serving as CEO of The League Dating App, created the company in 2014. After having a negative experience with online dating herself, she got the idea for the Uber-exclusive dating platform.
The League's Unique Approach to Online Dating
Although The League keeps the specifics of its rating system under wraps, it is not hesitant about telling its members how their actions may affect their standing:
Members that log in every day are promoted to a higher match rate of 10%, while those who don't are downgraded. The League's concierge says: "We play favorites, and we're proud of it."
Members who are considered "Flaky" by The League's algorithm—that is, those who match but don't communicate or don't react to messages they receive—will also be punished.
There is a "kick-out algorithm" in The League that will remove you as a "Guest" (free) member after 30 days of inactivity.
If a user repeatedly ignores The League's initial communications, they will be removed from membership. The only method to regain access as a Guest after being removed for flakiness or inactivity is to purchase a membership as a Member.
Time Limits on The League
The League match will end if messaging has not begun within 21 days
After 14 days without communication, a match will be deleted.
If you've lost interest in a League member, you're able to unmatch them by selecting the X in the top right-hand corner and choosing "Expire"
Is Signing Up for The League Worth It?
If you're looking for quality in a partner, go no further than The League's members. It's probably worth it if you reside close to a large city where it's accessible and are prepared to go to the trouble of signing up.
Our Ratings
While we usually upgrade to a premium membership in order to get a complete picture of the dating app we are reviewing, not this time, no sir!
We still rate online dating apps based on a variety of criteria, such as the quantity and quality of users, the value of premium memberships, and the simplicity of their interfaces. Our whole verdict on the dating app The League, with rankings and explanations of why we gave them, is provided below.
Overall:
| Category | Score |
| --- | --- |
| Features | 4.0 |
| Ease of Use | 4.0 |
| Match Quality | 3.5 |
| Cost | 1.0 |
| Active User Base | 4.0 |
| Overall | 4.0 |
What We Like
Although not a comprehensive list, we have compiled some of the most compelling reasons to join The League dating app. These are the benefits and features we found to be the most impressive during our review of the platform.
All members, including those who pay the expensive subscription fee of $399 per week, undergo a thorough vetting process. This means that every individual you encounter is highly successful, interesting, and intelligent.
The app will provide you with access to special singles and networking events.
Users that check the app on a daily basis receive preferential treatment from the app's matching algorithm. The League streamlines the process by consistently sending out matches at 5 p.m. every day.
Protecting you from any sort of professional or personal discomfort, this feature automatically excludes your LinkedIn and Facebook friends.
League Groups is a fun social component of the app where singles can talk to one another about things they have in common.
What We Don't Like
The following are a few of the reasons why you may not want to sign up with The League.
Extremely niche dating apps like these typically have a lower user base than more widely used services like eHarmony or Hinge.
You only get a set amount of matches each day, so if you don't like what you see today, you'll have to wait until the next day.
The time it takes to get your profile personally evaluated and approved to become a  Guest (free) member might vary widely from city to city. A paid membership to The League drastically reduces the waiting period from 48 hours for Members to just 24 hours for Owners.
Success on The League needs a greater investment of time than on other dating apps.
The algorithm of the app punishes inactive users and those who seldom check-in or "like" accounts.
The software will eventually lock you out and charge you $25 to re-enter.
The premium membership prices are INSANE
Who Is The League Dating App Best For?
The League is selective regarding its members' occupations and educational levels. The League is a great dating app for those who are: (1) located in a major city, where the pool of potential matches is larger than in smaller towns; (2) stated that they're too particular with regard to romantic partners; (3) patient enough to wait for the best possible matches; and (4) successful and ambitious professionals.
Demographics and User Base
Although Americans make up the bulk of the membership, representation from other countries, including the UK, Canada, Australia, France, Germany, New Zealand, and Austria, is also sizable. While the average age of The League dater may be younger, people of all ages are welcome to join. Women account for 52% of the total membership; therefore, there is just a marginal gender imbalance.
There is a slightly greater number of women than men.
The majority of its members are relatively young adults
Most of the members are American heterosexual singles
There is a great deal of pride among The League's members in their academic and professional accomplishments.
Relationship Types Best Served by The League
If you're a single person with a strong academic background who wants to meet a long-term partner who shares your interests and values, then the League dating platform is for you!
The League is not for you if you want to meet people right away, you don't want to spend time going through the application and waiting list process, or you're seeking a reasonably priced dating app.
The League's Compatibility Matching System
Members can either get suggested matches according to their dating profile information or conduct targeted searches for potential profiles that meet their dating requirements.
How the Compatibility Matching System Works
If accepted, you will start receiving potential matches (called "prospects") each day at 5 o'clock. How many matches you get is proportional to your membership level. You'll receive a "Home Run" alert if any of your daily "5 at 5" potential matches also likes your profile–a Home Run notification prompts the app user to initiate communication. Still, it's only a recommendation, not an obligation.
Users can show their interest by swiping left or right; if the gesture is returned, a chat window will pop up, and a live video chat service is also available within the League.
The Role of Personality Assessments in Matchmaking
The League connects like-minded individuals in search of deep and lasting relationships by highlighting shared interests and other compatible characteristics. This online dating tool helps its users by collecting essential data from their profiles to match them with compatible partners. While personality surveys are important for the efficacy of the compatibility matching method, not all dating apps employ them–The League uses matching algorithms and personal search preferences to generate matches.
Communication Features
A certain amount of matches will be provided to you each day. If this handful of matches does not meet your criteria, you have the option to buy League Tickets. These tickets provide access to an additional pool of prospects, considerably speeding up the matching process.
You can enhance your League experience by becoming a member and paying the high membership costs. In order to access additional daily matches and view read receipts, it is necessary to become a League "Member" or League "Owner," which requires payment.
Membership or ownership provides entry to the app's exclusive features, including ticket allocation, VIP passes, and more. One of the highlighted features is the ability to join League Groups. A League Group is a gathering place for the elite to socialize and relax. Within these groups, users have the ability to interact with one another, make plans to hang out, and ultimately meet in person, as these groups commonly organize events.
Guided Communication
If you come across someone who catches your eye, you can ask to be their friend, and they will receive a notification within the app. To discover more users, you can utilize Instagram's search feature or participate in interest groups and events in your area.  
You'll receive a "Home Run" alert whenever you like a potential match who has shown interest in you already. This means that one of you can start a chat session via text or video call–but you'll need a paid membership to see the users you've shown interest in.
Secure Messaging and Video Calls
Through League Live, singles can go on quick 3-minute video dates with other users. In certain locations, it occurs twice weekly, on both Sundays and Wednesdays at 9 p.m.
If you want to participate, the app will choose three prospective matches based on your location and preferences every Sunday and Wednesday night at 9 p.m. and give you three minutes to chat with each of them. In the event of a successful match, the chatting service will become available to both parties. However, anyone can use the function, paid or not; The League's premium subscribers will be given priority when making matches.  For now, League Live is free, but having an inadequate League Score will prevent you from gaining admission to the event.
Icebreakers and Pre-Written Questions
Each video date begins with an icebreaker that you and your date may use to start talking to one another. You may show you "like" for your date by tapping the heart icon at any moment during or after the date.
The League's Membership Options
The League dating application can be downloaded and used at no cost. As a guest, you will receive a maximum of three possible matches each day at 5 p.m., which is also known as "Happy Hour."
The League is a costly dating app, ranking among the most expensive in the market–the weekly cost exceeds that of even the most expensive monthly plans. The League, though, is obviously not for everyone. Prices are invoiced on a weekly or monthly basis, depending on your preference, and are set to automatically renew (though you can cancel at any time and maintain the unused portion of your subscription).
Free vs. Paid Memberships
Users with free accounts can customize their profiles, browse other users, send friend requests, and engage in IM and video chat with other users who accept their requests. You can additionally link your social media profiles to Instagram's search function and participate in virtual interest groups or events to network with other professionals.
However, you won't be able to see who has viewed your messages, get daily matches, or boost your dating profile. You need to upgrade to a paying member if you want access to all features and the full value of The League's one-of-a-kind dating platform.
Standard Free Services:
Search and browse profiles
Create a photo profile
Send friend requests
Messaging
Create a photo profile
Premium Membership Benefits and Pricing
The cost of joining The League will vary with your choice of membership level. The monthly fee for a Member membership is $299.99, while the Owner membership is $399.99. The highest tier, Investor, will set you back $999.99 a month. Members who pay for three months in advance will receive a discount of 66 percent.
Premium Membership Features:
League Tickets
Expedited entry
VIP Passes
Profile customization
Priority help and support
Advanced matching and searching
| Membership Package | Membership Length | Price Per Month | Total Cost |
| --- | --- | --- | --- |
| Premium Flexible | 1 month | $199.99 | $199.99 |
| Premium Convenient | 3 months | $100.00 | $299.99 |
| Premium Popular | 6 months | $66.67 | $399.99 |
| Premium VIP | 1 week | $399.99 (one week) | $399.99 |
| Premium VIP | 1 month | $399.99 | $399.99 |
| Premium | 3 month | $300.00 | $899.99 |
| Premium | 1 month | $399.99 | $399.99 |
You have three choices for upgrading your League membership level:
Member
The following benefits are yours as a Member:
Instant profile review allows you to bypass the League waitlist.
5 "Prospects" (possible matches) each day
Receipts for read messages
Five video dates or more per week
Check previous "likes"
You can keep your job and education info private or alter it
Access your profile statistics
Conceal your age
Look for matches across various cities
Sort matches based on family planning
Send an introductory message with every match automatically
Get five additional prospects when you buy a membership
Owner
League Owners also get the following benefits:
6 prospects each day
Unlimited Power Moves (which causes a Prospect to view your profile at the top of their daily batch)
6 or more video dates every week
Rematches
Check to see whether a Prospect "liked" your profile using the "X-Ray Vision" feature
Erase a pass
Investor
Your Investor membership includes the following extra features:
7 prospects each day
View the full list of members who have "liked" you and immediately connect with everyone on the list.
When someone likes you, you'll get a new match (10x Your Matches)
Seven or more video dates every week.
Check out your video dates and, if you'd like, pre-reject them.
Free notes on "Power Move"
Only Prospects you "like" will be able to see your profile
The app claims that paying users are noticed by 40% more users and have a match rate that is 2–5 times higher than that of free members in their similar demographic.
League Tickets
Without having to pay a monthly fee, you can access premium services like getting more prospects, messaging a user before a match, and rematching expired matches by purchasing League Tickets.
League Tickets are available in packages beginning at five for $24.99. Fifteen tickets cost $69.99, and 100 of them are $399.99 (price is subject to change according to region).
The League Groups that are most commonly found are "Nantucketers," "Hamptons Crew," "Brunch Lovers," "Golf Buddies," "Yacht Week," and "World Travelers & Road Warriors." These names give a broad indication of the demographics of users of this dating app–bougie!
League Ticket Bundles
| Token Bundle | Cost of Each Token | Bundle Cost |
| --- | --- | --- |
| 5 Credits | $5.00/Credit | $25.00 |
| 15 Credits | $4.00/Credit | $60.00 |
| 50 Credits | $3.98/Credit | $199.00 |
| 300 Credits | $3.33/ Credit | $999.00 |
Discounts and Promotions
Members who prepay for a period of three months will be eligible for a discount of 66 percent of the total cost of their membership.
Creating Your Profile on The League Dating App
The League's sign-up procedure is simple, and you can have your account up and running in less than 10 minutes. Read on for step-by-step details on how to join this exclusive dating app.
NOTE: There is no website available; users will have to download the mobile app from the Apple or Google Play store to get started! We signed up using an iPhone X, but the steps are the same for an Android device.
Step 1: Download The App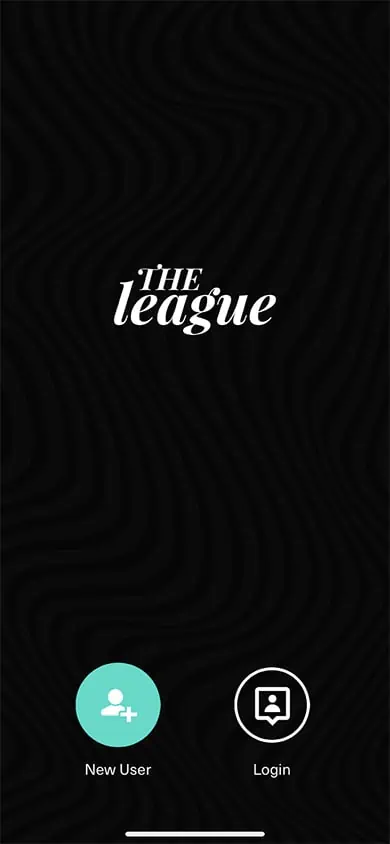 Get The League on your Android or iOS device first or visit TheLeague.com and text yourself the app; you just need your mobile number. You can start using the app after logging in with either Facebook or LinkedIn–you are unable to use this dating app unless you have both! Click the "New User" button to move on.
Step 2: Select Your Reason for Joining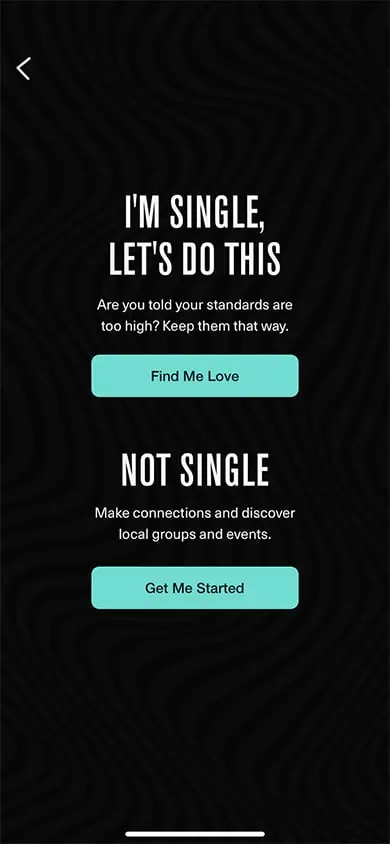 Pick from the two options offered on the next screen–if you are here looking for love, click "Find Me Love," but if you're just signing up to network with other professionals, click the "Get Me Started" button.
Step 3: Choose Your Sign-Up Method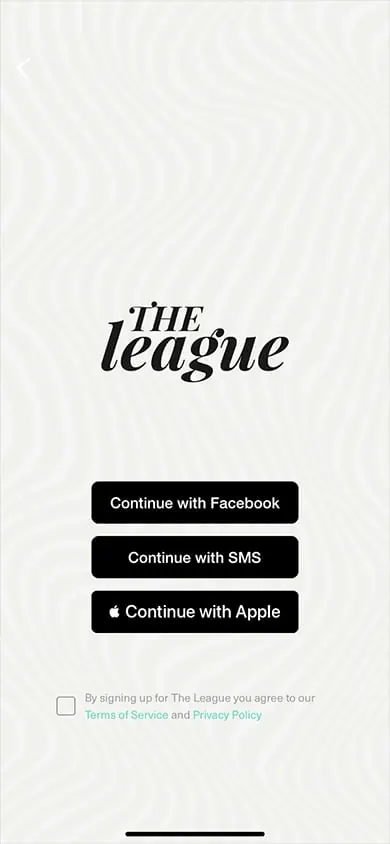 At this step, you'll choose how you want to sign up for The League–you can sign in with your Facebook account, mobile number, or a Google or Apple ID.
Step 4: Enter Basic Info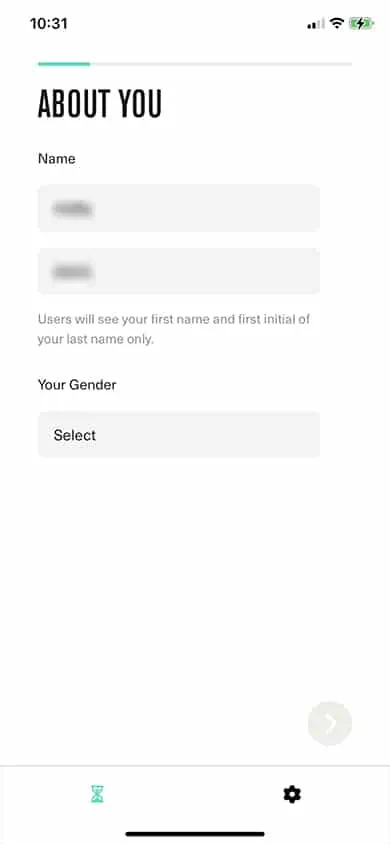 Enter your name, gender, birthday, height, ethnicity, email address, your dating preferences, and enable your location so you can be matched with people near you!
Step 5: Upload Profile Photos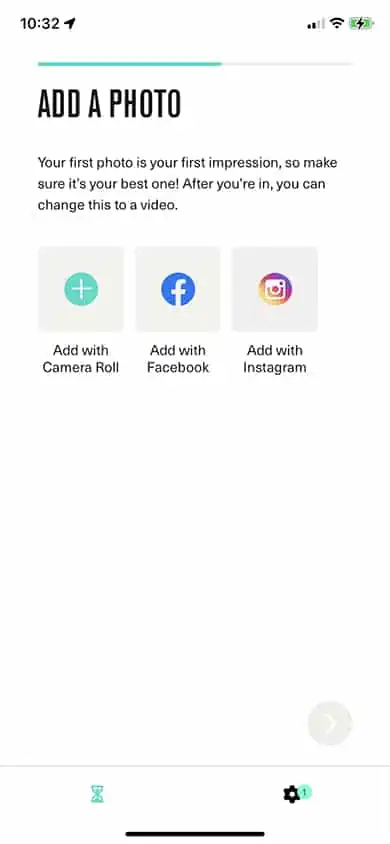 The League can grab your Facebook or Instagram photographs and put them in whichever order you choose, or you can upload them from your mobile device.
You should choose a primary photo where in addition to selecting an appealing HD photo that has excellent contrast:
You are the sole subject of this image
It is a moderate closeup, showing the upper two-thirds of your body
You are looking at the camera
Step 6: Add Education and Profession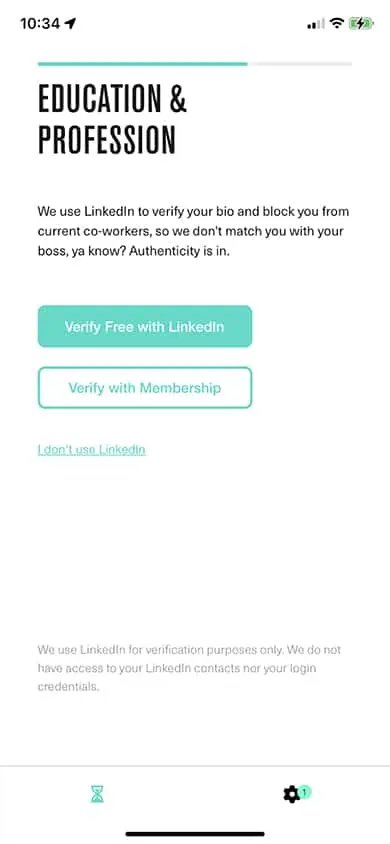 Here is where you'll give The League your education stats, your occupation, and link and verify your LinkedIn account. This will pull all of your data from LinkedIn and populate these areas of your profile for you! Then you have the option to verify your phone number for security purposed or you can skip this step.
Step 7: Add Your Interests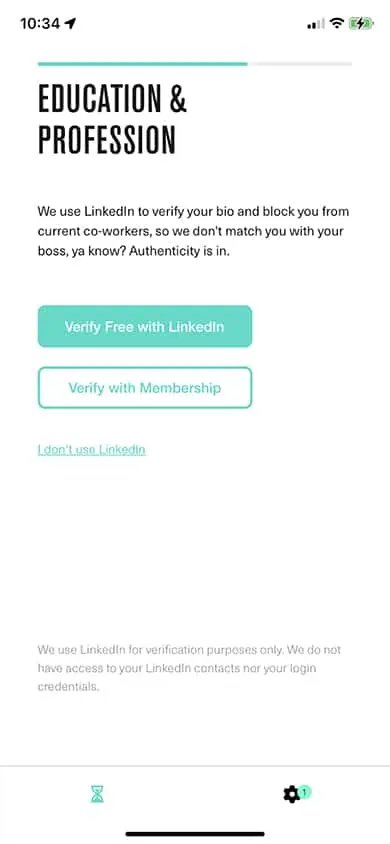 Here's your chance to let other members know what you are into hobby-wise! Add as many as you like–the more, the better!
Step 8: Write "About Me"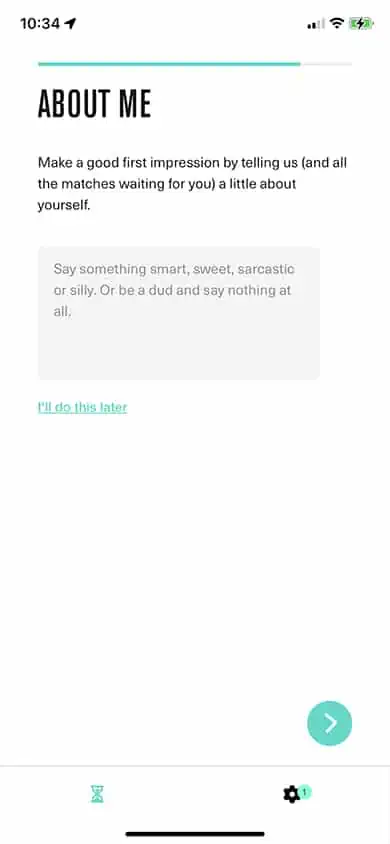 You can skip this step, but we recommend filling in your "About Me" section in order to give other members a sneak peek into what you're all about.
Step 9: Enable Notifications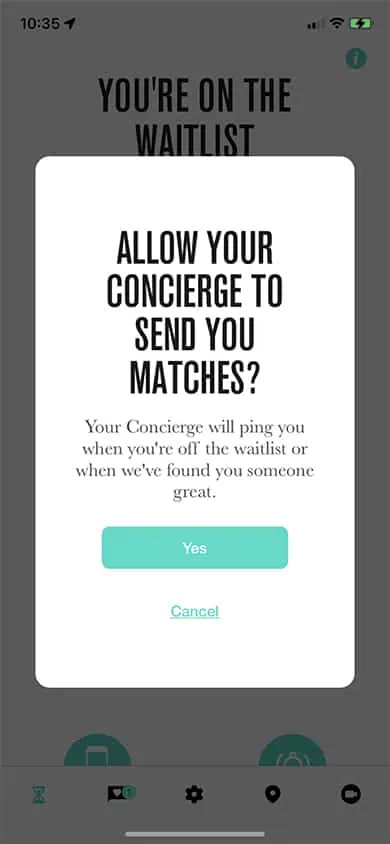 This is where we usually congratulate you and say, "You're all done, go searching for love" but that is not what's gonna happen here unless you shelled out for an expensive membership or completed all the steps to bypass the line (more on that below), you're on the waitlist. What you can do is enable The League to send you matches when you get access to the dating app–we're sorry but we can't tell you how long this takes–we don't know!
Take These Actions to Either Jump the Line Completely or Move Up on the Waitlist
If you want to skip the waitlist, you'll need to upgrade to a premium membership immediately, or if you want to at least move up in line, The League lists some tasks you can complete, which will help, and we've posted them below.
Advice for Getting Off the League Waitlist
If you invest in a Premium Membership, you'll get your submission looked at quickly (typically within 48 hours on weekdays). You can additionally secure your entrance by referring two friends.
Changing your profile or inviting a friend to join will speed up your review on The League, but it won't remove the standard 48-hour time limit.
Reviewers will give priority to free users who have completed each of the following steps:
Connect your phone
Minimum of 3 images required
Connect Instagram and LinkedIn
Fill out your profile
If your League application is rejected, you are going to receive a notification that your profile was not accepted
How to Delete an Account
Deleting a dating account with The League account is for sure easier than getting access to one, so look below for what you need to do!
Step-by-Step Guide to Account Deletion
Step 1: Go To Settings – Head to the settings gear located at the bottom of your screen and click it.
Step 2: Select the Reason For Deleting Your Account – Choose one of the reasons listed why you are choosing to delete your account and click the "Send" button.
NOTE: Deleting is irreversible, and you will have to create a new profile and reapply if you change your mind!
Customer Service
The League doesn't provide phone assistance, but they are available Monday through Friday, 9 a.m. to 5 p.m. Pacific Time (PST), via in-app chat with an actual human rather than a robot, as well as email (contact@theleague.com). Within a matter of several hours, you should hear back from a customer support staff member.
In addition to detailed answers to frequently asked questions, the site offers a variety of blog pieces and advice on how to be safe as you search for the love of your life.
The League's Mobile App
The League's mobile dating app integrates with various apps like Facebook, Instagram, and LinkedIn to create a more streamlined and simple experience for its customers.
App Features and Functionality
The software delivers exactly what it promises, considering its expensive cost. It's clean, elegant, and swanky-looking. When compared to other dating apps, The League's minimalistic design and use of colors like black, teal, white, and gold make it pop.
Compatibility
To simplify and simplify things for the user, The League has simplified and streamlined each button. The software is accessible on iOS and Android and already has over a hundred thousand downloads. Although it's free to download, you won't be able to do much with it until you're accepted!
Frequently Asked Questions
Our reviews are thorough, yet they may still be missing certain minor details that are important to you! Contact us if you notice any issues we may have overlooked, and look below to find answers to some of the most frequently asked questions our readers have sent regarding The League dating app!
Can You Be Rejected from the League Dating App?
The League does, in fact, reject certain individuals if it determines they do not fit the demographic it is targeting. 
What Is the League's Average Member Age?
The typical age range of The League members is between 30 and 38 years.
Which U.S. Cities Does The League Operate In?
The League is available in the following cities: Atlanta, New York City,  Philadelphia, Los Angeles, San Francisco, Chicago, Washington, DC, Boston, Dallas, Seattle, Denver, Miami, Houston, Austin, San Diego, Detroit, Phoenix, Minneapolis, Charlotte, Nashville, Raleigh, Orlando, Portland, Tampa, Pittsburgh, Sacramento, Hartford, St. Louis, Cleveland, Kansas City, Columbus, San Antonio, Salt Lake City, Indianapolis, Las Vegas, Tulsa, Cincinnati, New Orleans, Milwaukee, Richmond, Charleston, Birmingham, Syracuse, Norfolk, Oklahoma City, Louisville, Buffalo, Norfolk, Albany, Madison, Santa Barbara, Providence, Jacksonville, Memphis, Honolulu, Omaha, Baton Rouge, Knoxville, Columbia, Fargo, Mobile-Pensacola (Ft. Walton Beach), Fresno, Little Rock, El Paso, Lexington, Des Moines-Ames, Green Bay-Appleton, Boise, Tallahassee, Wichita, Albuquerque/Santa Fe, Cedar Rapids, Providence, Spokane, Savannah, Fayetteville, Roanoke, Springfield, Charlottesville, Huntsville, Burlington, Jacksonville, Anchorage, Fargo, and Kennewick.
Why Is My LinkedIn Account Needed to Sign Up?
The League uses LinkedIn to keep you from matching with coworkers who are listed as being employed with the same company on LinkedIn. They also utilize this data to construct profiles, confirm members' identities, and display their shared connections, but it never shares that you've joined The League, and they don't have access to your address book or email inbox.
Who Created The League Dating App?
Amanda Bradford founded the League dating app. It was launched in 2015 as a result of Bradford's own frustrations with her online dating experiences.
Why Do I Have to Enable Permissions to My Facebook Account?
The League cannot generate a profile for you without images–the software makes better matches for you based on information like your present location, birthplace, likes, hobbies, and education; however, it can only get these details from Facebook if you permit it to do so.
Can I Use The League On A Desktop Computer?
Unfortunately, the answer is no–you can only access The League dating app by downloading it from Google Play or the App Store to your mobile device.
How Long Is the League's Waitlist?
The League typically has a wait time of three to 32 weeks; however, your individual experience may vary. Your location, age, gender, and other characteristics, such as the participant demographics in your area, all influence how long you stay on the waiting list.
How Much Is a Premium Membership on the League?
The membership deals are subject to rotation, which means they are changed frequently. You can find various membership options, including weekly, monthly, quarterly, and 6-month memberships.
The paid membership is divided into three levels: Member, Owner, and VIP. As a member, the cost of your membership will depend on the current promotion. Typically, a 3-month membership will cost around $299, a 6-month membership will cost $399, and a single-month membership will cost $199.
To become an Owner, the cost is $399 for a one-month membership. At the VIP "Investor" level, the cost to join is $999 for a single month or $399 for one week. The number of matches you receive will increase as your membership level goes up.
Does The League Offer Refunds?
If you're unsatisfied with your purchase within three days, you can request your money back by contacting Apple or Google through their app stores and contact the League staff at contact@theleague.com if you haven't received your refund after 7 business days.