With online dating at the forefront of making romantic connections, combining faith and dating is a growing trend, making it so much easier for Catholic singles to find like-minded companions.
The rise of dedicated Catholic dating apps is a testament to those looking for relationships rooted in shared religious values. These apps aim to provide a friendly space for Catholic singles to meet, chat, and hopefully find a life partner who shares their faith. We are going to go over the seven best Catholic dating apps, exploring their features, ease of use, and what makes them unique in helping form faith-based connections!
Look below for a quick rundown of the best Catholic dating apps and a link to a free trial!
Our team has independently researched all products and services that we have listed on this page. If you sign up or purchase through our links, we may receive a commission. See how it works.
Our in-house dating experts conduct thorough evaluations of each dating app, subsequently ranking them based on a variety of factors. These encompass the quality of matches available, the ease of the sign-up process for newcomers, the effectiveness and value of the app features, the level of data security, user safety, and the affordability of membership prices.
---
---
Top 7 Best Catholic Dating Apps
Among the dating apps we recommend for Catholic singles, there isn't just one that distinctly shines—all of them have their own bright spots! So we picked the best seven dating platforms, and each one brings something unique to the table. Ultimately, the choice comes down to your personal preferences in determining which apps provide the features and services essential for your romantic goals. We are just here to try and help you find a Catholic dating app that aligns with your needs and beliefs!
#1: Christian Mingle
Premium Features
Read and reply to all messages.
Matchmaking Swipe with LookBook feature, allowing for advanced discovery preferences and the ability to filter profiles
Browse profiles anonymously
Hide online status
Remove your profile from appearing in searches
Read Receipts
7 daily curated matches
Spotlight feature to make your profile stand out at the top of the page
In the realm of online dating for Catholics, Christian Mingle undoubtedly offers a stellar experience! Having established a significant reputation in the industry, Christian Mingle accounts for 29% of all online-initiated Christian relationships. Boasting over 15 million active members globally, the app has its own variant of swipe-style dating through the LookBook, delivering a fun way to encounter and connect with other Catholic singles.
Pros
Over 15 million Christian singles with accounts
Simple design that's easy to use
Allows users to search, read complete profiles, and see the main photo during the free trial
Free users can respond to paid users
Shows the last online date on profiles
LookBook swipe-style feature for easier browsing and matching
Faith-based dating platform for daters who prioritize faith in romantic relationships
Cons
No dedicated search function
May experience slower loading of certain features during peak times
Need to email customer support to cancel account
Profiles are not very detailed
Limited communication options for free members and minimal verification process for members
The platform has been reported to have fake profiles and spam accounts, despite having a strict verification system
Free users cannot send initial messages
---
#2: ChristianCupid
Premium Features
Read messages from both free and paying members
Instant messaging
Free members can read your messages
Personality profile
Include email addresses, phone numbers, and other personal contact info in your messages
Higher profile ranking
No ads
Browsing invisibility
Initiate instant messaging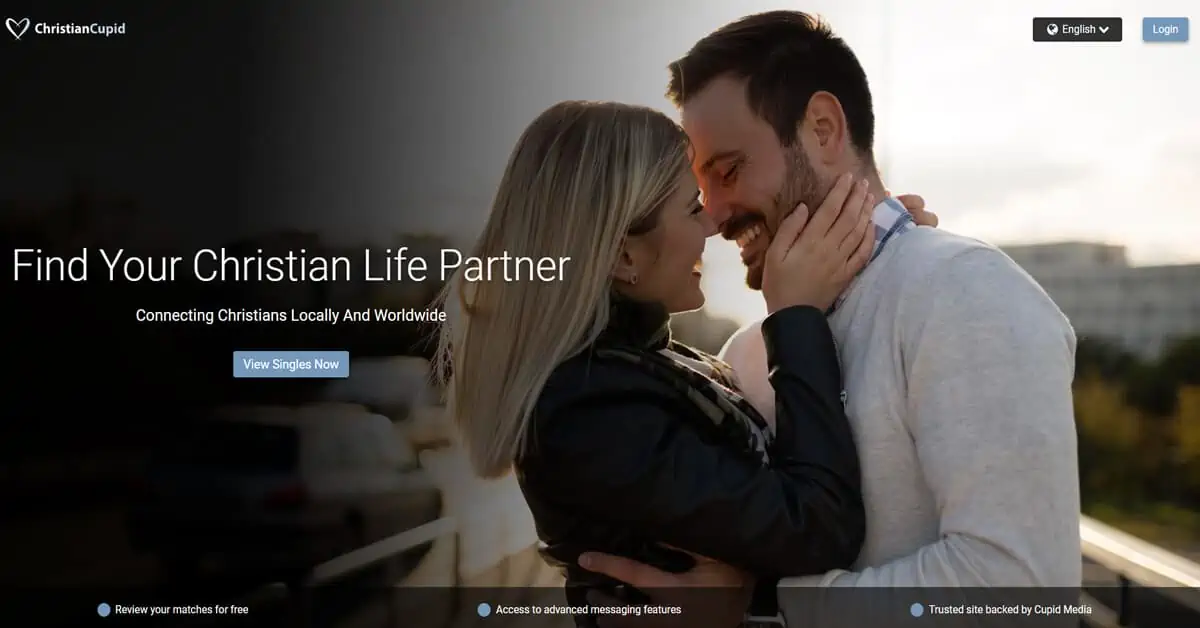 ChristianCupid emerged as a notable Catholic dating app, aiming to foster true love and romance with other Catholic singles. And, as a bonus—it truly excels as a Christian dating platform for making connections with those who share your faith from other countries. As a part of the CupidMedia group, ChristianCupid extends its reach to Christian singles around the globe. The app facilitates international dating with ease through a message translator feature, available in the Platinum Tier membership plan, ensuring that language barriers don't hinder any blossoming romances!
Pros
Operated by Cupid Media, a well-known brand in the online dating industry
Competitive and reasonable subscription prices
Offers distinct and practical features to benefit users
Provides a three-month free trial
Over 300,000 members are active weekly, increasing the chances of finding a match
Members' accounts can be verified to provide dating cred
Users can customize advanced search criteria to improve their search
Cons
The layout of the platform is super outdated
Multiple languages are not supported, which is a roadblock for non-English speakers
Standard "freemium" members have limited access to the platform's features
---
#3: CatholicMatch
Premium Features
Unlimited messaging
Advanced Search Filters
Unlimited profile likes, and view who likes or views your profile
See mutual likes and matches
Forum Posting Privileges
Priority Customer Support
Discounts on Products
Emotigrams
Community Forums Access
Content Access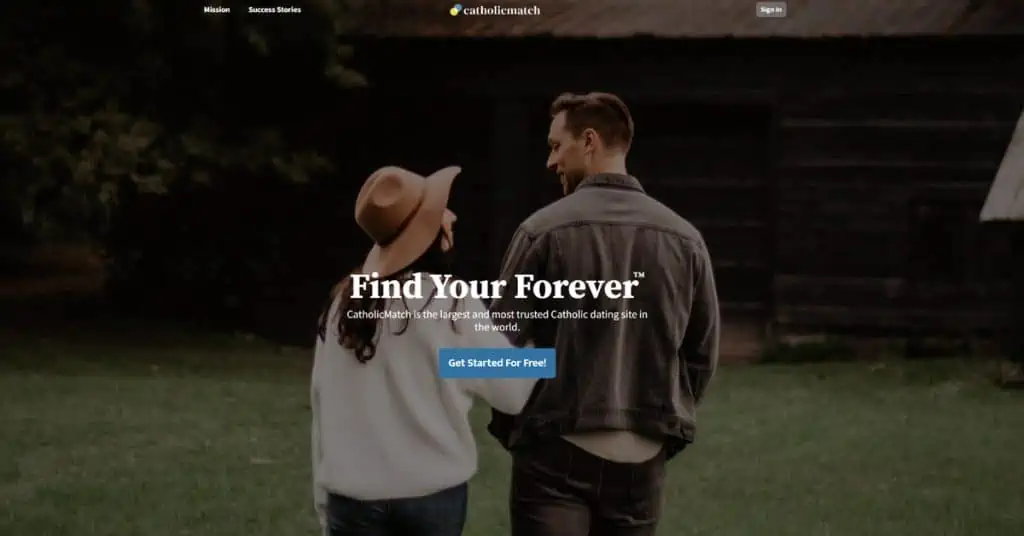 Seeking a serious relationship with a fellow Catholic devotee? CatholicMatch is the app tailored specifically for you! Despite being a niche Catholic dating platform with 1.5 million online members, CatholicMatch boasts a modern appeal with an array of beneficial features for singles. The app's Photo Wall showcases some exceptionally detailed member profiles, lending CatholicMatch a professional, mainstream vibe that can be compared to popular, mainstream platforms.
Pros
Free trial for new users
Faith-based Community
Quick Registration
Supported by Prominent Clergy
Large user base
Reputable Platform
Variety of subscription options
Cons
Messaging restrictions for basic users
Outdated user interface
---
#4: Christian Cafe
Premium Features
Christian forums
Profile visibility features
Birthday search filter
Custom searches by photo, username, age, location, and other factors
Save up to five searches and automatically message those compatible profiles daily, every other day, or weekly
Coffee cup icon indicating a 100% match for one of your saved searches
Sending winks
Chatting via instant messaging
Free 7-day trial allowing access to most features of the app except for sending personal information and a limit of 50 messages per day
Quick Match Function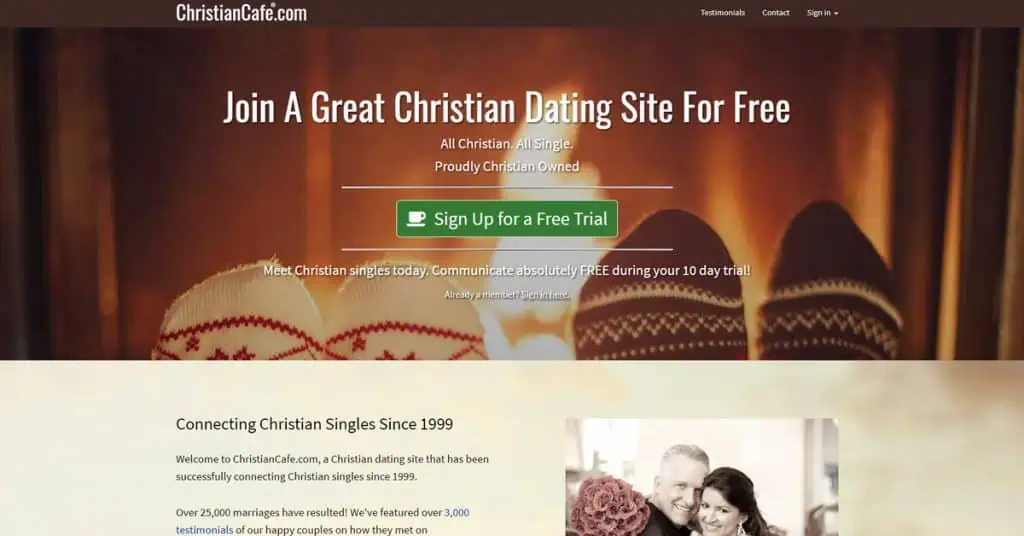 Envisioning a Catholic dating app with a close-knit, community-centric vibe leads us to ChristianCafe. Though a niche Christian dating app that's smaller in scale compared to others, it boasts a vibrant, active membership base with a communal look out for each other. What particularly sets ChristianCafe apart are its community prayer boards and forum, fostering a space where members can uplift each other through prayers and engage in enriching discussions about faith and relationships. Much like a port in any storm, Christian Cafe is a wonderful haven to unwind and feel a sense of belonging with those who share your Catholic faith.
Pros
Christian-owned and operated
7 Day Free Trial
Quality User Base
Access to forums, blogs, and testimonials
Advanced searching
Has a solid reputation among users
Cons
Outdated UI
Costly Monthly Membership
Limiting free version
---
#5: eHarmony
Premium Features
Unlimited messaging with matches
Access to compatibility reports and scores
See who added you to their Favorites List
See who viewed or liked your profile
Receive wildcard matches (What If?)
Video Dates
Send "smiles" and icebreaker prompts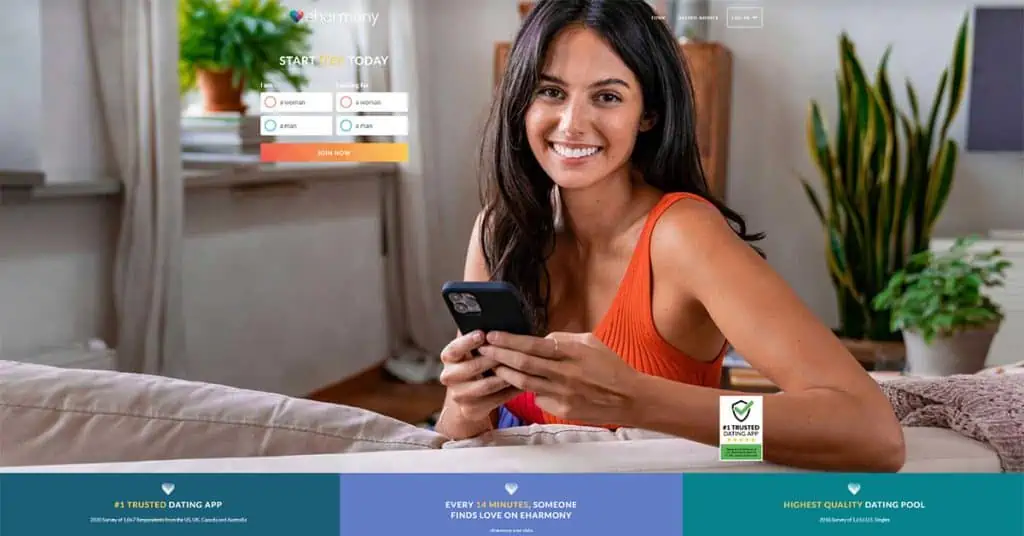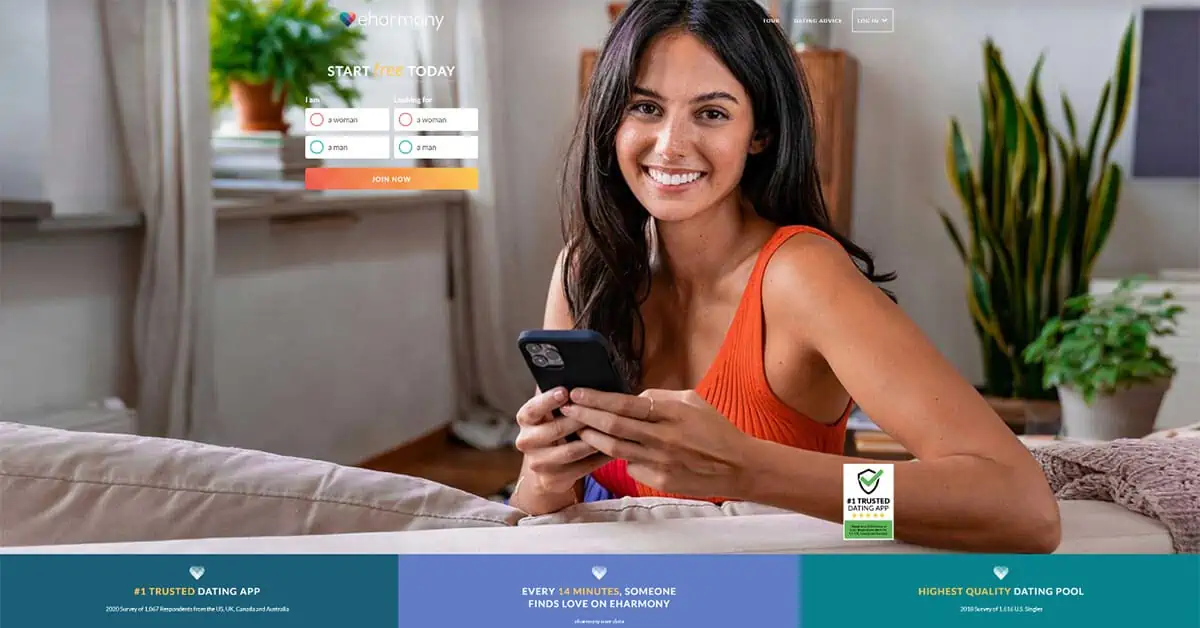 While eHarmony isn't exclusively a Catholic dating app, it is super popular among Catholic singles owing to its laser-focus on fostering serious relationships based on compatible connections. The platform's scientific and stellar compatibility and personality assessments guarantee quality matches for singles across all faiths and backgrounds, Catholicism included! With a huge member base boasting 16 million people worldwide, eHarmony offers a ton of opportunities for Catholic singles, potentially outperforming even the niche Catholic dating apps in terms of relationship possibilities.
Pros
eHarmony has a large membership with over 16 million people worldwide.
Members are given compatibility reports that explain why they are a good match with others.
Has helped more than 600,000 couples get married.
eHarmony chooses matches for you based on a personality test.
Cons
Signing up can take a while, between 30 to 45 minutes.
You might get matched with people who are using the free version.
There's no way to search for other members.
eHarmony tends to send many emails to its users.
---
#6: SilverSingles
Premium Features
Detailed Personality Test Results
Increased Match Suggestions
Ability to see who visited your profile
Unlimited Messaging
Access to All Match Photos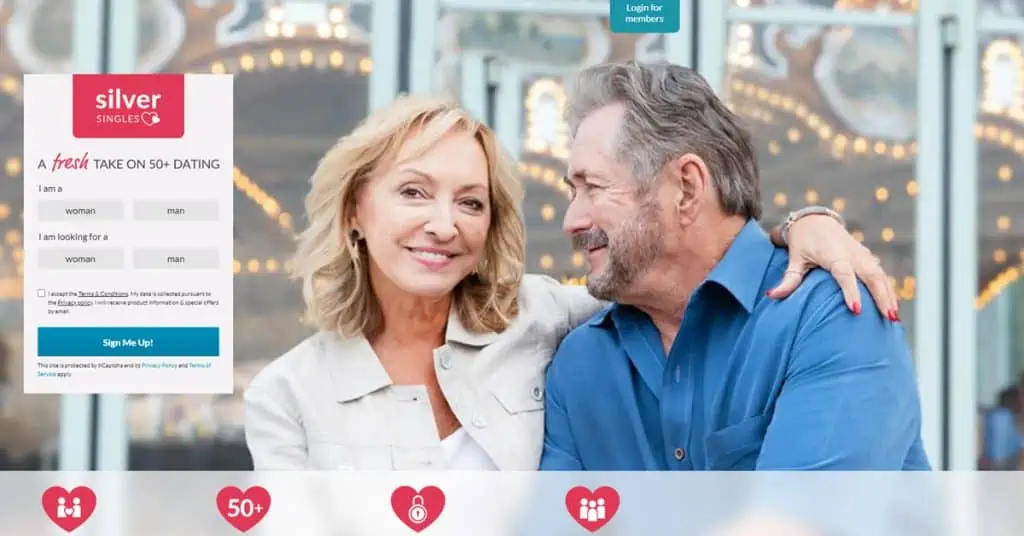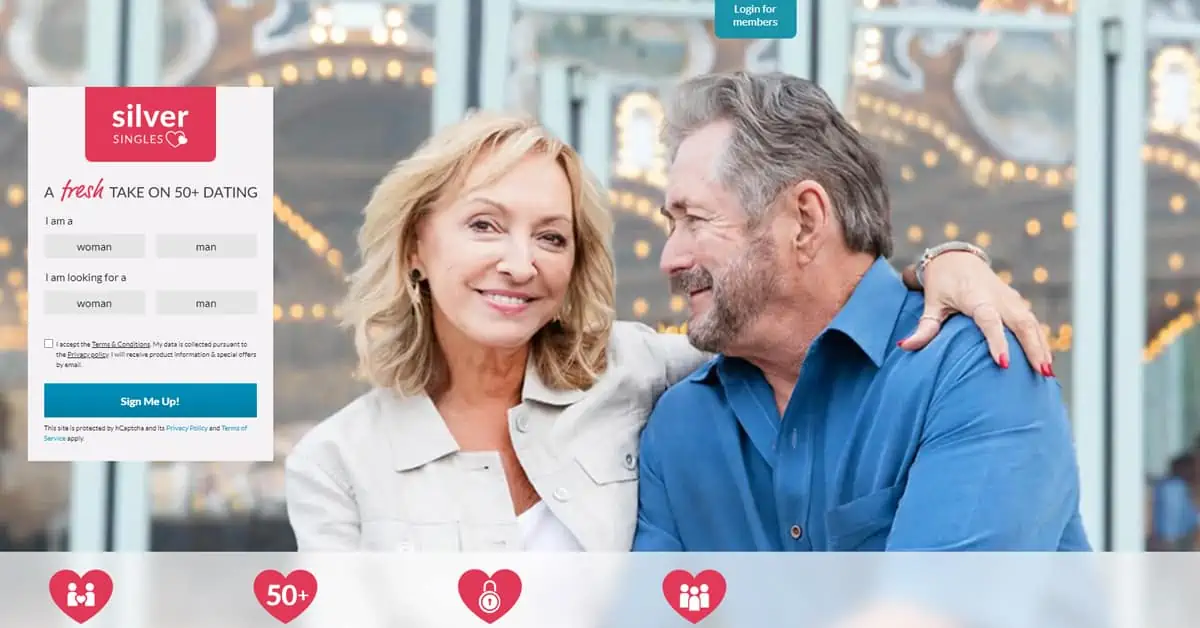 SilverSingles is a top choice among Catholic dating apps for singles over 50, creating a welcoming space for those seeking faith-based connections. The platform is tailored to understand the importance of faith and companionship at a mature age, offering a smart matchmaking system that considers religious values, among other important relationship factors. With its easy-to-use interface and a community of like-minded mature singles, SilverSingles makes it less intimidating for older Catholics to step back into the dating scene.
The app prioritizes meaningful relationships over casual encounters, aligning well with Catholic values. Through SilverSingles, older Catholic singles have a supportive environment to find companionship, love, and faith-centered relationships, showcasing it as a standout choice in Catholic dating.
Pros
Daily Match Suggestions
Personality-based matching tailored to individual preferences
Clean and Beginner-friendly Interface
Diverse User Base
Proactive safety features
Customer support available Monday-Friday
Cons
Long Sign-up Process
Limited Free Communication
Member photos are not visible unless you upgrade to a paid membership
Smaller Membership Base
---
#7: Zoosk
Premium Features
Unlimited messaging
Full access to profiles, bios, and photos
SmartPicks provides advanced daily matches
Great Dates (video chatting)
Know who likes or views your profile
Boost your profile (Zoosk Coins)
Incognito browsing (Zoosk Coins)
Send virtual gifts (Zoosk Coins)
Read receipts on all messages (Zoosk Coins)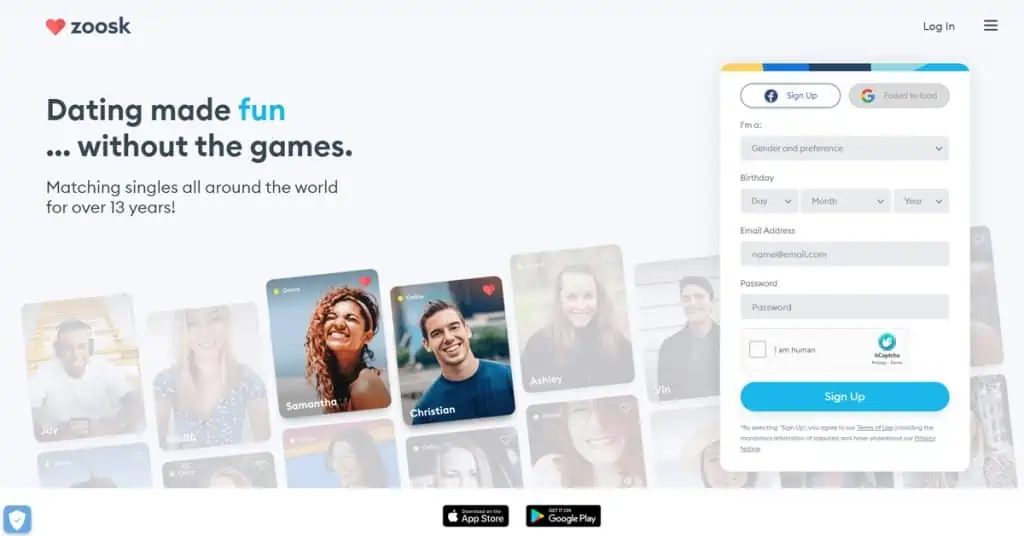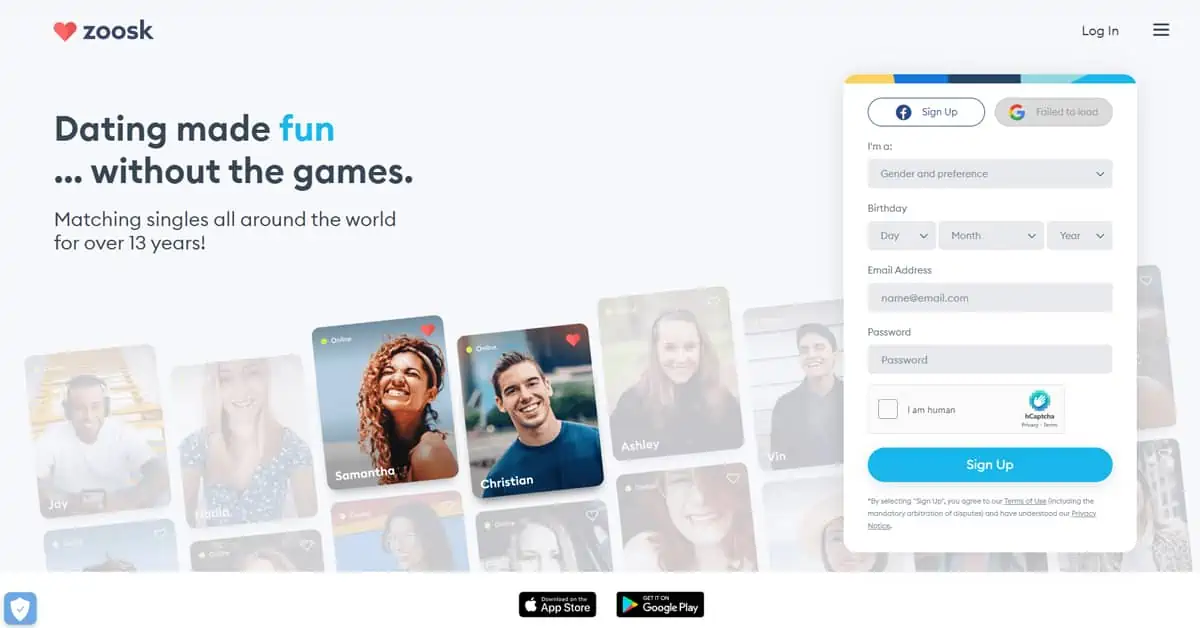 You may not think that Zoosk would be a great choice for Catholic singles, but you'd be mistaken—it just caters to a younger demographic that wants to explore faith-based relationships. While not exclusively Catholic, the platform's large and diverse membership provides an ideal space for young Catholic singles to find like-minded potential partners. The intuitive, modern interface of Zoosk appeals to the tech-savvy nature of younger users, making online dating engaging and straightforward.
Its unique Behavioral Matchmaking technology is a standout feature, adapting to user behaviors and preferences to refine match suggestions over time. This dynamic approach to matchmaking is an advantage for younger Catholics looking to meet compatible partners who share their faith and values. With various communication tools and a fun, social media-like environment, Zoosk offers an active and contemporary space for young Catholic singles to connect and find romantic relationships.
Pros
Zoosk boasts a huge active dating community: 40 million global users with 500,000 paid subscribers.
Well-constructed, comprehensive profiles that are easy to navigate facilitate meeting a diverse range of singles.
SmartPicks offers sophisticated daily matches tailored to your swiping tendencies.
The Great Dates feature enables members to engage in video conversations with their matches.
Zoosk Live provides a platform for members to view live broadcasts shared by other users.
Cons
For access to certain advanced features, members are required to pay additional fees.
Zoosk has been noted for the presence of fraudulent profiles and scammers that bypass its verification processes.
Memberships are set to renew automatically by default.
Customer support can be challenging to connect with, and refunds are not provided for dissatisfied users.
---
Why Trust Our Recommended Dating Apps
If you're still wobbly about our know-how, even with our expert experience in all things online dating apps, look below for an explanation of how we rate and review dating platforms—just in case you need more convincing!
Expert Reviews and User Testimonials: We get that just writing long reviews of the best Catholic dating apps and hoping you'll believe us isn't enough. Our dating experts look at every part of each app they review. We also know our readers need to hear the good and bad from real users of these apps. Even though our researchers try out the apps themselves when writing reviews, we think real user feedback helps give a better overall picture. So, we always include real user comments, whether they're positive or negative!
In-depth Research and Analysis: To recommend the best options for our readers, we get into the weeds with our research, and we believe one of the Catholic dating apps listed above could help you find love if you're currently single and ready to mingle! When deciding which dating apps to include, we consider all of the important factors for users, like the number of people actively using the app, the quality of matches, ease of use, safety features, any special features, if the platforms offer free trials and the cost of premium subscriptions.
Benefits of Choosing a Catholic Dating App
Making the decision to start online dating can be a big move, especially for Catholic singles. Picking a Catholic dating app can make things easier, connecting you with people who share your faith and values from the jump. In the sections ahead, we'll talk about the main advantages of this choice: finding better matches, sharing similar values and beliefs, and joining a community of like-minded potential partners. These benefits undoubtedly make dating more enjoyable and help create solid, lasting connections.
Greater Compatibility
When you choose a Catholic dating app, you're stepping into a space where everyone has a common foundation of faith. This common ground often leads to greater compatibility with potential matches. It's not just about shared religious beliefs but also the values, traditions, and life goals that come with them. Catholic dating apps help filter through online daters to connect you with individuals who have similar life outlooks right from the start.
The matchmaking algorithms on Catholic dating apps often take into account religious beliefs and values, ensuring that the matches you receive are with individuals who value the same things you do. This makes the dating experience more fruitful and less stressful, as the initial screening is already done for you. It can also lead to more meaningful conversations and connections since you and your matches are likely to see eye to eye on most fundamental issues.
Shared Values and Beliefs
Embarking on a relationship with someone who shares your core beliefs and values is like building a house on solid ground. Catholic dating apps provide a platform where the essence of your faith isn't just understood but shared and celebrated. These apps connect you with individuals who appreciate the same moral principles, religious traditions, and spiritual practices that you hold close to your heart.
The significance of shared beliefs and values cannot be overstated in dating. It's not merely about agreeing on religious doctrines; it's about having a common lens through which you see and interact with the world. When you share core beliefs and values with a potential partner, conversations flow more easily, and understanding deepens. You can discuss faith openly, share spiritual goals, and support each other in living a life aligned with your shared values.
Targeted User Base
Most of the platforms we recommend are specifically designed for Catholic singles, providing a concentrated pool of potential matches who share your faith and values. A targeted user base cuts down on the time and effort typically required to scroll or swipe through profiles to find like-minded matches—every user you come across is there with a shared purpose and a common understanding of the faith-based foundation that the platform provides. It's not just about meeting someone who identifies as Catholic but connecting with those who actively practice their faith and uphold the values that come with it!
And the sense of community within a targeted user base can be incredibly reassuring—knowing that you are interacting with others who share your faith can make the online dating experience more comfortable and way less overwhelming.
Safety & Security
Catholic dating apps often offer an enhanced sense of security, both emotionally and digitally. Users on these platforms are typically serious about their intentions and are seeking meaningful relationships, reducing the likelihood of encountering individuals with flighty or harmful intents, like hookups or catfishers.
Community Support
Catholic dating apps do more than just help you find a potential date—they bring together people who share the same faith, creating a supportive community. On these apps, you can talk about your experiences, discuss faith matters, and grow spiritually with others who understand where you're coming from. Many apps have chat rooms or forums and even organize IRL events to help users feel like they belong to a community.
Finding the Best Dating App for Your Needs
By providing specific insights on the best Catholic dating apps, we want to help our readers pick the one that best fits their dating goals and relationship endgames! Read on for advice that will hopefully help you choose the perfect dating app for locating the kind of romantic partner and relationship you are searching for.
Assessing Your Preferences
We could talk at length about the Catholic dating apps we think are top-notch, but ultimately, the choice is yours to make! We can guide you toward the available options, but in the end, it's entirely up to you to decide what you're seeking in a companion and which dating app best matches your romantic goals.
Comparing Features and Pricing
Many dating apps for Catholic singles offer premium memberships at around the same price, but some come with a higher price tag—these offer more advanced features and perks that could really improve your dating experience. It's important to look at the dating app costs and what each subscription covers, how long it lasts, and whether it renews automatically before you sign up!
Evaluating Success Stories and Reviews
It's smart to check out reviews from people who have actually used the Catholic dating app you're interested in on websites like TrustPilot, Consumer Reports, and SiteJabber and to look for and read any success stories. A lot of dating apps have dedicated sections just to share the stories of happy couples who met on the platform!
Downloading and Signing Up for a Dating App
Feeling a tad nervous about the sign-up process? Don't be! Setting up a new profile on any of the recommended best Catholic dating apps is a quick and easy task that only takes a few minutes. Typically, there are five basic steps, but this might vary slightly from one platform to another. Generally speaking, following the registration steps below is all it takes to create a dating profile!
Available Platforms
As you can see in the chart below, every Catholic dating app we recommend has dedicated mobile apps and also works well on any internet browser–both desktop and mobile!
| Dating App | Internet Browser | Google Play | Apple Store |
| --- | --- | --- | --- |
| Christian Mingle | Yes | Yes | Yes |
| ChristianCupid | Yes | No | Yes |
| Catholic Match | Yes | Yes | Yes |
| Christian Cafe | Yes | Yes | Yes |
| eHarmony | Yes | Yes | Yes |
| SilverSingles | Yes | Yes | Yes |
| Zoosk | Yes | Yes | Yes |
Step-by-Step Registration Guide
Open any desktop or mobile browser or go to the Google Play or App Store, use the search bar to find the dating app you're interested in, and download it onto your mobile device.
Once it's downloaded, enter the basic details required by the app, such as your name, age, and email address.
To activate your free trial account, create a unique username and password.
The next step is to share some information about yourself. Fill out the questionnaire provided as accurately and completely as you can.
After this, you'll get the option to upgrade to a paid membership. Click the Subscribe button and pick a payment plan that fits you. If you prefer not to upgrade, simply proceed to check out your matches!
Free Catholic Dating Apps and Their Limitations
Every one of the best Catholic dating apps provides a free trial option, which lets you see your matches and use limited communication features. This can be a great way to test them out without spending any money, giving you a sample of what to expect before committing to a membership.
Choosing between a dating app free trial and a paid membership will lead to two vastly different experiences. Simply put, free trials come with fewer features and perks, while paid memberships open up a lot more possibilities! Though there's a price involved with premium memberships, most of the dating apps we suggest offer discounts if you opt for a longer subscription plan, making it worth the expenditure.
Differences Between Free and Paid Memberships
While there are a few upsides to using free dating apps, the key term here is "free." When you weigh the pros and cons, the downsides often tip the scale. Sure, it's free, which is great if you're just trying it out to see if a particular dating app suits your needs; however, you'll find yourself quite limited in what you can actually do on the platform.
Many dating apps offer premium features for free during trial periods, but you'll need to subscribe to continue using them. The common drawback of free apps is the lack of private messaging capability, making communication with others a major hurdle. Although a rare few might allow free private messaging, it's generally locked behind a paywall. It can be super frustrating to find a match only to realize you can't talk to them due to communication limitations!
| Paid Apps | Free Apps |
| --- | --- |
| Better vetting means fewer fake accounts, scammers, bots, or catfish | The search and filter options are not as extensive as premium apps |
| Members that pay for a dating app tend to be more genuine and looking for serious connections | It's free! |
| You are spending money, but you get beneficial features like unlimited messaging and video chats. | You'll have restricted messaging capabilities and ways to interact with other members |
| You can be view all your matches anonymously with the incognito mode feature | No video chat options |
| A shorter-duration membership cost more than a longer-duration subscription | Cannot browse in incognito mode |
| You can cancel your premium membership when you no longer use the platform, but your dating profile will not be deleted | The free trial allows you to try out the dating app before upgrading to a paid membership |
Paid Features Worth Considering
During the course of our reviews, we found that all of the best Catholic dating apps came with a lot of worthwhile and unique premium features that were definitely worth the extra money. What is the biggest benefit of upgrading to premium memberships on dating apps? Without a doubt, it's getting unlimited messaging.
The features that get an honorable mention are Zoosk and eharmony's live video chat, SilverSingles' daily match delivery, and Zoosk subscribers' access to "Carousel," a swipe-style dating tool.
Catholic Dating Apps FAQ​
When joining a Catholic dating app, we want you to have as much info at your disposal as possible–our goal is for you to enjoy your time online dating as well as find a romantic partner! In our Frequently Asked Questions section, we'll touch on general details and cover some that our readers have sent us.
What Are Catholic Dating Apps, and How Do They Differ from Other Platforms?
Catholic dating apps are online platforms designed specifically for Catholic singles to meet and connect with like-minded individuals who share their faith. They differ from popular or mainstream dating apps by focusing on Catholic values, beliefs, and the intention of finding a potential romantic partner for a committed faith-based relationship.
Are These Catholic Dating Apps Free?
Sort of—some Catholic dating apps offer free basic memberships, but they often provide premium features through subscription plans. The availability of free features varies from app to app, so check out each app's offerings to see which one is the best fit for your dating needs and your wallet.
Are Catholic Dating Apps Safe?
For the most part, yes! All of the recommended apps employ safety and security precautions for users, but they can't do it all, so follow these guidelines:
• Never share personal or financial information with strangers.
• Use the app's reporting and blocking features for suspicious or inappropriate behavior.
• Arrange to meet in public places for first-time IRL meetups.
• Trust your gut; if something feels off, listen to your intuition and bail.
What Features Are Most Beneficial?
Look for features like advanced search filters, compatibility matching algorithms, private messaging, user verification, and detailed profiles that include faith-related details.
Are There Catholic Dating Apps For Certain Age Groups or Demographics?
Yes, some Catholic dating apps cater to specific age groups, such as young adults (Zoosk) or older singles (SilverSingles). There are also niche apps for specific Catholic communities or interests.
How Do These Services Handle User Data and Privacy?
The Catholic dating apps we reviewed all have privacy policies and user guidelines in place to protect user info and let members control what info is collected from them and what is shared on their dating profiles. All of the listed platforms offer options for reporting and blocking users who violate the app's terms of service or if they simply don't want to interact with them.
Are There Success Stories from Couples Who Met On Catholic Dating Apps?
There sure are! Lots of Catholic dating apps share success stories of couples who met on their platforms and went on to have successful, faith-based relationships and even got married! Some even have dedicated pages for these lovebirds.
How Can I Make the Most Out of Using These Platforms?
• Be honest in your profile about your values, interests, and what you're looking for.
• Be patient; finding the right match may take time.
• Start convos with people who share your faith and values.
• Attend Catholic events or social activities organized through the app to meet compatible singles.
• Always communicate openly and respectfully with potential matches.