CatholicMatch is probably the best dating app out there for Catholic singles to find profound or meaningful relationships with those who share the same faith and value system! This niche dating app caters to a specific market, so it is a smaller-scale operation. But they can still provide you with some promising results! As of 2023, they have about 1.5 million active users, and their weekly visitors are around 500,000. That's a nice dating pool for a niche dating app!
So how good is CatholicMatch overall as an online matchmaking service? Are they worth the time, money, and energy to become a member? We will be addressing these questions and more in our CatholicMatch.com review. We are also going to touch on membership pricing and features as well as free trial offers that allow you to use the app free of charge!
---
---

Our team has independently researched all products and services that we have listed on this page. If you sign up or purchase through our links, we may receive a commission. See how it works.
Introduction to CatholicMatch
These are a few things that anyone interested in joining CatholicMatch should know! To be clear, CatholicMatch is a niche religious dating app. There are much smaller in scale than a site like Christian Mingle or eHarmony. The dating pools are going to be a lot smaller but a lot more specific as well, namely for meeting Catholic singles.
A Brief Overview of CatholicMatch's History and Success
CatholicMatch has been in business since 1999 and has proven to be a significant player in the online religious dating services market. They have been responsible for creating a ton of successful matches between Catholic singles for the past 20 years.
Being a niche dating app, CatholicMatch does come with some limitations compared to mainstream dating apps. It caters to a smaller clientele of 500,000 active members (there are 1.5 million registered accounts altogether), and there aren't many features to speak of outside of unlimited messaging and the CatholicMatch forum and chatroom.
Is Signing Up for CatholicMatch Worth It?
We feel that CatholicMatch is well worth the time and money if you are Catholic and are looking for other singles who share the same faith and values as you! It is not a good dating app for people who are non-religious or looking for casual relationships. CatholicMatch is geared toward developing serious relationships between Catholic singles, so if this sounds like you, we highly recommend checking it out! While a site like Christian Mingle could also help you to find Catholic singles, CatholicMatch will help you find Catholic singles every single time!
Who CatholicMatch Is Not For
Our Ratings
But how did we feel about this dating app? Check out our overall ratings for the CatholicMatch app to find out!
Overall:
| Category | Score |
| --- | --- |
| Features | 4.0 |
| Ease of Use | 4.0 |
| Match Quality | 3.5 |
| Cost | 4.0 |
| Active User Base | 3.0 |
| Overall | 3.7 |
CatholicMatch might not be the best dating app for everyone reading this review. If you are still determining if CatholicMatch is the right place to find other singles, we encourage you to keep reading! We will go over the pros and cons of this dating app, essentially reasons to join or not to join.
What We Like
Finding Singles of the Catholic Faith: Everything you need to know about this dating app is in the name! This is one of the best matchmaking services out there for Catholic singles!
Finding Serious Relationships and Dating: This is not a great dating app if you want something casual. CatholicMatch is designed to bring together like-minded singles who share the same faith for serious dating and committed long-term relationships.
Excellent Membership Features and Functions: Where do we begin? There is the CatholicMatch forum, a great support system between members. There is unlimited messaging, a photo wall for newly uploaded user photos, and the ability to send monograms (icebreakers).
Thorough Personality Testing to Create Ideal Matches: Although the sign-up process is time-consuming, it is extensive. There are a ton of faith-based questions around subjects like the sanctity of life and mass attendance as well as questions around stuff like family, political views, habits, diet, and education.
Excellent Customer Service: CatholicMatch, compared to a lot of other dating apps, has dynamic customer support. In addition to phone and email support, they have an incredible community forum where customers can support one another and answer questions.
What We Don't Like
You Are Not Catholic: We would not advise that you use this dating app if you are not of the Catholic faith. People use this site because they are seeking Catholic singles who share their values and faith.
You Want Casual Relationships or Dating: This is not the place to find casual dating scenarios or relationships. People using CatholicMatch are looking for long-term commitments like marriage or meaningful connections in general.
You Live in a Rural Area: Because a lot of CatholicMatch's matchmaking is done by location, you run the risk of not finding a whole lot of singles near you if you live in a more remote or rural area.
You Don't Want to Deal with a Lengthy Sign-Up Process: Sign-up and the personality tests that come with creating a new account at CatholicMatch are time-consuming, taking anywhere from 15-20 minutes. This is one where you need to get through a large volume of questions.
Limited Free Trial Features: There is little you can do with the CatholicMatch app's free trial besides viewing others' profiles, seeing who has viewed your profile, and uploading 50 photos. There are no messaging capabilities whatsoever. We highly recommend getting a CatholicMatch membership.
Who Is CatholicMatch Best For?
The short answer to this question is Catholic singles interested in long-term, meaningful relationships. But let's dig a little deeper into who exactly is using the CatholicMatch dating app, shall we?
Demographics and User Base
These are the people that CatholicMatch is composed of, the members and free users that enjoy the dating app's services and benefits. If you want to know more about CatholicMatch's members, check out these fast facts.
Fast Facts
Details

User Base

All singles (18 or older)

What Kind of Relationships?

Meaningful, faith-based relationships with Catholic singles

Active Members

1.5 million

Weekly Traffic

500,000

US Members

1.2 million

Gender Distribution

50% men to 50% women

Other Countries Served

United Kingdom, Canada, Sweden, Ireland,
Poland, Brazil, El Salvador, etc.

Additional Facts

• Most members are professing Catholics.
• Some members don't agree with the Church's teaching regarding premarital sex.
• Most of the action on the site takes place in the discussion forums.
If you want to give CatholicMatch a try but don't want to spend any money in the process, check out the CatholicMatch free trial offer. Test drive the dating app free of charge with no money coming out of your account!
Relationship Types Best Served by CatholicMatch
CatholicMatch caters to Catholic singles looking for a particular kind of relationship. This is a platform that could be better for casual dating or romance. And it's not the place to go if you're looking for a hookup or short-term flings.
These are the best kind of relationships that you'll find when you become a premium member of the CatholicMatch app:
Meaningful relationships centered around the Catholic faith
Serious dating that leads to marriage
Long-term commitments that are based on compatibility
Falling in love with Catholic singles
Finding your soulmate, someone who sees eye to eye on matters of faith
The CatholicMatch Compatibility Matching System
CM uses a combination of personality testing during the registration process, advanced search filters, and dating parameters to determine daily matches for its members. But there are some additional measures that customers can take to ensure suitable matches are heading their way. We'll explain more about these in the following few sections.
How the Compatibility Matching System Works
The most significant factor in successful matching on CatholicMatch is the advanced search filters. There are a few more methods that you can use in addition to the filters to discover how compatible you are with other CM singles.
Search Filters
This is the portion of the CM matchmaking process where new members or users can have a lot of control over their search for the right singles. They're responsible for setting up their search filters to find those who fit their dating preferences and parameters. CatholicMatch search filters include:
Age range
Appearance
Gender
Location/distance
Lifestyle choices (smoking, drinking, exercise, etc.)
Religious practices
Educational background
Occupation
Ethnicity
And many more!
Interview Questions
CatholicMatch members can set up as many as 20 icebreaker questions on their profile that prospective matches can answer. These are a terrific way to gauge compatibility with other members on the app to discover if someone will be a good fit for you. The results of the interview questions will be sent in a message to your inbox.
Temperament Testing
Although it's not officially part of the CatholicMatch website, the Temperament Quiz is featured on one of their affiliate sites. Members can take this test to gain insight into their personality and how to deal best with singles who might have different temperaments. The results of the Temperament Quiz can be posted to your CM profile for other members to see.
The Role of Personality Assessments in Matchmaking
Some of the time during your CatholicMatch sign-up is spent answering questions that pertain to your personality, lifestyle, and how you practice your Catholic faith. It's the results of this test, along with search filter settings, that allow CatholicMatch to work its matchmaking algorithm to pair you with the best matches on the site!
Personality Testing
These are some of the questions you can expect to answer during the CatholicMatch sign-up process:
What Diocese are you in?
Do you have any children?
What are your political views?
How often do you attend mass?
Do you accept the Church's teachings on Premarital Sex?
How much do you practice your faith?
As you can see, CatholicMatch is diligent in asking about multiple aspects of a new member's life, which includes their religious beliefs and practices as well as lifestyle choices and preferences.
CatholicMatch's Communication Features
In our CatholicMatch review, we found only a few communication features on the website or mobile app. It's a rather run-of-the-mill experience, but we don't describe the communication methods or features as lackluster by any means. CatholicMatch does find a way to differentiate itself from other dating apps, namely its chatrooms and discussion forums.
These are the three primary methods for connecting with Catholic singles on the website and mobile app:
Unlimited Communication
This is the biggest draw for becoming a premium member of the website. Paid subscribers can enjoy no-limits communication with other members. Unlike the free trial membership, where you can receive and read one message for free from a paying member within a ten-day window, premium membership allows you to send, read, and receive messages from anyone and do so without worrying about a time limit!
Community Chatrooms and Forum
The chatrooms and forum available at CatholicMatch are like the water cooler of the site, a communal place where members can linger and chat about anything from faith to current events or life experiences to personal interests. Like a social media site, chatrooms and forums have discussion threads where multiple members can be a part of the conversation. It's a great way to connect with and meet new members on the app!
Emotigrams
Paying and non-paying members of the CatholicMatch dating app can send emotigrams. These are small symbols like a cup of coffee or a flower bouquet that members can send to one another instead of a message or saying hi. In some cases, members can attach a note or message if they want. It's like sending a like or a virtual gift on other dating sites or apps.
CatholicMatch's Membership Options
How can a new member or user join the CatholicMatch dating app? There are two options: free trial members or premium members. While the free trial is helpful for testing out the app, the premium CatholicMatch subscription lets you contact your daily matches and form the basis for a relationship! Joining as a premium member is the much better path to head down.
Free vs. Paid Memberships
So, what can you do with a free trial at CatholicMatch? Well, as it turns out, not too much! This is a dating app where the free trial is limited compared to many of the other free trial offers that we have seen on more prominent dating apps like eHarmony or Christian Mingle.
Free Trial Features
Create a Profile
See Who Viewed Your Profile
View and Search for Other Profiles
Find Daily Matches
Upload 50 Photos
Send Emotigrams (icebreaker questions)
The entire point of a free trial is to get future users interested in a CatholicMatch membership. The free trial is never meant to be a way that you can use the dating app in its entirety for free.
But the free trial is one of the weaker areas of our CatholicMatch reviews. We have reviewed dating apps with free trials that allow trial users to send messages back and forth with other singles. We would love to see CatholicMatch add a few more features to their free trial to give future users more of a taste of what they can expect on the app.
Premium Membership Benefits and Pricing
There are a few membership plans that you can pursue at CatholicMatch. Each has the same features, but they are going to vary in length.
What Comes with a Membership?
All membership plans come with the same features. The only difference is the membership plan lengths. No matter which plans you settle on, you can enjoy this full range of features and functions for finding Catholic Singles.
Send and receive unlimited messages
View daily matches
Search and view other users' profiles
Find out who viewed your profile
Enhanced customer service and support
Personalized Emotigrams (icebreaker questions)
Community chatroom and forum access
Discounts and Promotions
Note that shorter plans will have a higher monthly cost than the longer ones, so choose your strategy wisely. There are some savings there to be had for sure at CatholicMatch. Once you do some simple math, you'll see that it's much cheaper to renew a couple of longer membership plans than to re-up a shorter subscription several times over.
We'll show you exactly what we're talking about:
If you renew a 1-month membership twelve times to reach a year's-worth of benefits from CatholicMatch, you end up paying a hefty $359.88. Meanwhile, simply purchasing a 12-month membership will cost you only $119.88. This is a total savings of $240!
Creating Your CatholicMatch Profile
If you are ready to begin your journey using CatholicMatch, begin by starting a new account today! We will give you step-by-step instructions on how to create and go through the sign-up process. It's self-explanatory, but it is one of the most in-depth sign-up processes we have seen!
Step #1: Visit the Homepage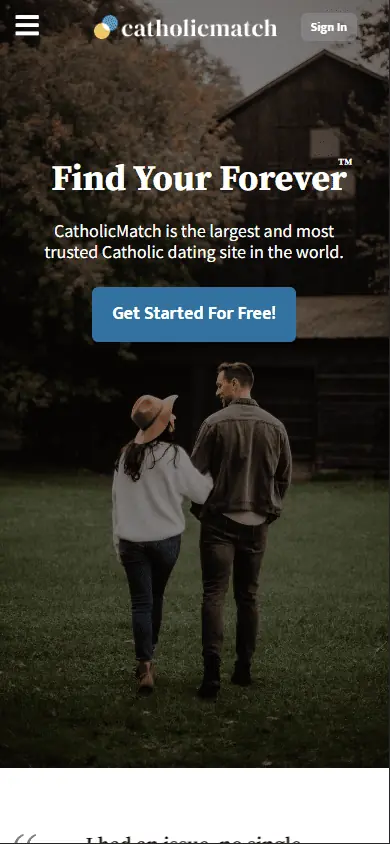 Begin by visiting the CatholicMatch.com homepage. You can start by clicking on the Get Started for Free button right in the middle. Even if you are interested in doing a paid membership, you will want to begin by clicking that button. Whether you are paying or using the app for free, the sign-up process is the same.
Step #2: Provide Your Email and Create a Password
Provide your email address and create a unique password. Also, be sure to agree to the terms and conditions of CatholicMatch before hitting Continue!
Step #3: Initial, Baseline Information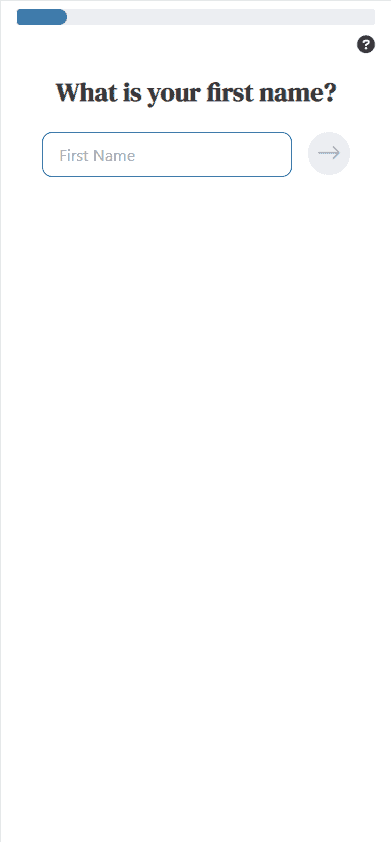 This portion of sign-up captures some initial information about who you are. And after these, the questions become more detailed.
What is your first and last name?
What is your location?
What is your gender?
What is your marital status?
What is your date of birth?
What Diocese are you in?
What is your height?
Step #4: Questions About Your Faith
Now we get into the meat of the questionnaire! We begin seeing a lot more questions about the Catholic faith.
How much do you practice your faith?
How often do you attend mass?
What liturgical style do you prefer?
Do you accept the Church's teachings on the Eucharist?
Do you accept the Church's teachings on Contraception?
Do you accept the Church's teachings on the Sanctity of Life?
Do you accept the Church's teachings on Premarital Sex?
Step #5: Share a Little More About Yourself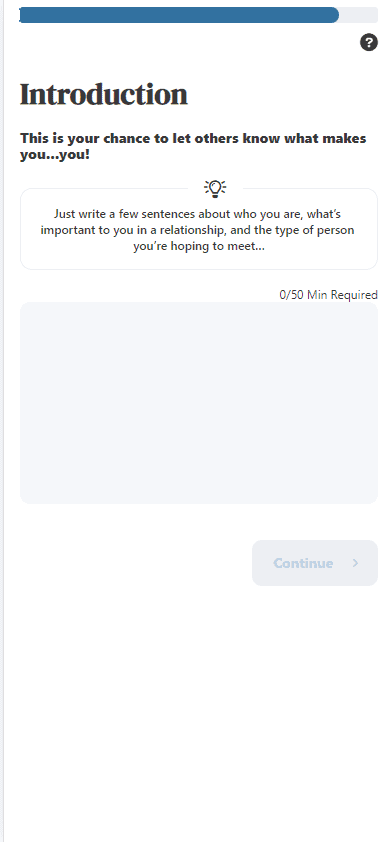 In this step, you get the chance to describe yourself a little better. Keep in mind there is a 50-character minimum requirement and a maximum of 500. Here is your chance to shine with a tagline that really pops!
Step #6: Your Interests
This step involves telling CatholicMatch about what kind of activities you enjoy (good convversations, trying new things, sightseeing, visiting beaches, etc.), what kind of music you listen to (country music, and your ideal travel destinations.
Step #7: Add Some Photos
Add some photos of yourself. With a free trial, you can add up to 50! You have the option of adding photos from your device or even your Facebook account!
Step #8: Sign Up for Membership or Continue for Free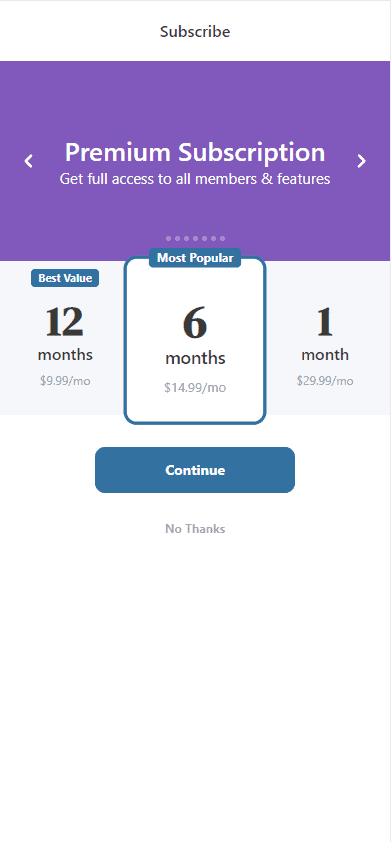 Now you have the choice of continuing with your free trial or paying for a membership with CatholicMatch! Choose wisely. There are a lot more features and benefits with a paid membership like messaging capabilities.
How to Delete a CatholicMatch Account
There are only a few steps to deleting your CatholicMatch account. We'll go over these four simple steps but remember that once your account and profile are permanently deleted, it's gone forever. Any messages or connections you made with your old account will also be lost. You'll need to create a new account to use the platform again.
Follow these steps to delete your CatholicMatch account permanently:
Log into your CatholicMatch account.
Click on the gear wheel icon, and when the drop-down menu appears, click on the "Settings" link.
The next page will have an "Account Settings" section. Click on the "Delete Account."
Give a reason why you're leaving CatholicMatch and proceed with the deletion process.
CatholicMatch Customer Service
One of the biggest strengths of CatholicMatch was its customer service and support center. We have reviewed a lot of other dating apps in the past, and a lot of them have an FAQ center on their help page and nothing more. But CatholicMatch offers their customers five different options! That is excellent in our book!
We even tested the support systems, and we received quick and friendly service! We could have our questions answered or concerns addressed within 24 hours or less by the CatholicMatch support center. This is a far cry from the standard dating app support centers we have seen in the past!
Support Systems at CatholicMatch
☎️  Phone Number: (800) 960-6057
✉️  Mailing Address: PO Box 154 Zelienople, PA 16063
📧  Email: support@catholicmatch.com
🛠️ Help Ticket Support: Located on the side of the screen
CatholicMatch's Mobile App
CatholicMatch offers a dedicated mobile app available at Google Play and the App Store. It makes using the CatholicMatch website super easy to use on the go!
App Features and Functionality
The design of the mobile app is slightly different from the website, which makes it easier to use on the mobile device's smaller screen. The menu configuration is more streamlined, with the simplified design allowing for better handling and navigation overall. As far as the CatholicMatch features go, they remain the same whether you're on the website or using the app.
Compatibility
CatholicMatch is available for download at Google Play and the App Store. Both are rated well with users, notably Google Play, which boasts over 100k+ downloads. Each dedicated mobile app offers in-app purchases, so customers don't have to go back to the website to purchase a premium subscription plan.
Google Play
Rated 3.5/5 stars
Based on 1.32k reviews
100k+ downloads
Free to download
Offers in-app purchases
App Store
Rated 4.0/5 stars
Based on 4.4k reviews
Free to download
Offers in-app purchases
Frequently Asked Questions
If there's anything we missed covering in our CatholicMatch review, you might find it here in the FAQ section. Check out some of the most popular and common questions we've gotten from our readers about the CatholicMatch dating app and website:
Is This CatholicMatch Review Trustworthy and Unbiased?
This CatholicMatch.com review is sincere and transparent, primarily because we addressed both the good and bad aspects of this dating app. If we found something we did not like about the site, we were eager to point that out and offer our feedback on how it could be made better or more user-friendly in the future. But we also gave praise to other areas of the site. Overall, we recommend this dating app to our readers, but it could be better! It's a fair and balanced review of CatholicMatch.
Does CatholicMatch Work?
Yes, there have been plenty of users who have used CatholicMatch and found great success in finding true love or a serious, faith-based relationship. The one thing to remember about CatholicMatch is that it is a smaller site, a niche dating app for specifically finding people of the Catholic faith. A place like eHarmony or Christian Mingle is more likely to give you a larger pool of results. You might get more matches going with those dating apps, but you may find non-Catholic singles too.
Something we encourage our readers to check out is the CatholicMatch success stories. When you sign in, there will be a link at the top left-hand corner of that page that will lead you to customer testimonials that will inspire you. If you have any doubt about CatholicMatch working for you, give one of the success stories a read.
Can I Use CatholicMatch for Free?
Yes, there is a free trial available to CatholicMatch newcomers where they can test out the site to see if it is worth their time and money. We found that this is one of the more restricted free trials we have run across. The only features you can enjoy with a free CatholicMatch account are setting up your profile, searching and viewing other profiles, seeing whom you have matched with, seeing who has viewed your profile, uploading around 50 photos, and sending "emotigrams" to generate interest with other users.
How Much Does CatholicMatch Cost?
There are three membership plans to be found at CatholicMatch: a 1-month membership, a 6-month membership, and a 12-month membership. The 1-month membership costs $29.99 per month. The 6-month membership costs $14.99 per month for a total of $89.94. The 12-month membership costs $9.99 per month for a total of $119.88 for the entire year.
Is It Safe to Use the CatholicMatch App?
We tested out the CatholicMatch app and found out quickly that we had nothing to worry about! The app uses an encrypted connection in its operating system to safeguard any personal or financial information that is shared with the site. We also found that CatholicMatch uses an excellent vetting system to keep fake accounts, bots, or scammers at bay. Some slip through the vetting system, but CatholicMatch, we saw, is diligent at pinpointing any abnormal activity and putting an end to that.
What Kind of Features Do I Get With a Membership?
With a CatholicMatch membership, you can access a community chat room, enjoy unlimited messaging with any other profile at the site, and get a higher level of service from the customer support department. Another perk of being a member is the ability to send personalized monograms! We highly recommend membership at CatholicMatch. The free trial is not a viable way to meet other Catholic singles (primarily since there are no ways to send messages).
Is CatholicMatch Easy to Use?
Something we noticed about the CatholicMatch app was how easy it was to sign up and how easy the entire site was to use! We tested out the sign-up process for both free trial and membership accounts, and we were able to complete everything in around 5 to 10 minutes. Something that makes sign-up even easier is if you use Facebook! A lot of your information will automatically transfer to your new CatholicMatch account, cutting down on time to answer the new customer questionnaire.
Once we were on the site, we found it easy to navigate other singles' profiles. Everything was laid out in a clear and organized fashion!
Is There a Difference Between the CatholicMatch Membership Plans?
The only difference we could see between the three membership offers at CatholicMatch was the plan length: 1 month, 6 months, and 12 months. Readers should note that the monthly rate is cheaper going with one of the longer plans than getting a single-month membership! You get all the same membership features regardless of the plan length.
How Many Active Users Are There at CatholicMatch?
As of 2023, there are around 1.5 million users who actively use CatholicMatch! For a little niche dating app, that is an impressive number. While you are guaranteed to find singles who will share your Catholic faith, you are not going to get the vast and varied results you might find on a dating app like Christian Mingle. But if finding singles who see eye to eye with you on faith is something that matters deeply to you, CatholicMatch is the way to go!
What Is the Gender Breakdown Like?
One of the best features of the CatholicMatch app is that they have a dead-even ratio of men to women! There are plenty of dating apps out there that are worth passing up because the ratios are so out of whack, but CatholicMatch certainly is not one of them!