When Tinder came out with its "swipe right" design, it was a significant game-changer for the online dating industry. The landscape of the business was never the same after that, mostly for the good, unless you're talking about swiping fatigue or FOMO neuroticism going through the roof. The point is that the swipe dating apps feature was a groundbreaker that forever changed how online singles find love or romance digitally.
So, what are the best swiping dating apps out there?
That's what we'll talk about here as we present various services that cater to finding marriage partners and soulmates, casual dating, and romance, or flings and hookups. Finding the ideal match has never been easier than with the comfort and intuitive design of swipe-style dating apps. Still, it's also important to note the other stellar features that come with these platforms, making them true standouts in the sea of dating apps you might encounter.
Swipe Dating App
Key Information
Get Started
Zoosk

Active Users: 40+ million
Gender Ratio: 47% men to 53% women
Best For: Finding a meaningful relationship or casual romance choosing from a large dating pool
Subscription Price: Starting at $10.00/month

Start for Free Today!
eHarmony

Active Users: 16+ million
Gender Ratio: 48% men to 52% women
Best For: Finding a marriage partner or a soulmate where there's a compatible connection
Subscription Price: Starting at $35.90/month

Start for Free Today!
Elite Singles

Active Users: 2+ million
Gender Ratio: 44% men to 56% women
Best For: Finding highly educated, professional singles who want meaningful dating and commitments
Subscription Price: Starting at $31.95/month

Start for Free Today!
Christian Mingle

Active Users: 16 million
Gender Ratio: 44% men to 56% women
Best For: Finding Christian singles interested in marriage and long-term relationships
Subscription Price: Starting at $14.99/month

Start for Free Today!
Tinder

Active Users: 8+ million
Gender Ratio: 61% men to 39% women
Best For: Finding true love or casual dating/romance with a variety of singles from all over the world
Subscription Price: Starting at $4.50/month

Start for Free Today!
SilverSingles

Active Users: 800,000
Gender Ratio: 53% men to 47% women
Best For: Finding true love and compatible connections with singles over 50
Subscription Price: Starting at $24.95/month

Start for Free Today!
Our team has independently researched all products and services that we have listed on this page. If you sign up or purchase through our links, we may receive a commission. See how it works.
A few of these platforms let you swipe through match suggestions, but the daily swiping action is severely capped compared to other services like Bumble, CoffeeMeetsBagel, OkCupid, or Hinge. We recommend checking out these alternative dating apps where matches are less curated, and there's a bit more free play involved in finding love or dates.
Why Trust Our Swipe Dating App Recommendations
You might wonder why you should trust our recommendations for the best swipe dating app. As you'll see below, we take the time to construct honest and realistic reviews of our favorite dating apps. Our goal isn't to write only about the good stuff and gloss over the negative aspects. We aim for fair and balanced takes. See how we appraise these apps and why you can trust what we say.
Expert Reviews
All dating apps we look at are subject to our honest rating and review system, where we look at all the pros and cons we see with the platform and service. We lay it out for our readers to see so they can make the best decision, knowing all the benefits and drawbacks they could experience.
User Testimonials
Not only have we run all swipe-right dating apps through our unbiased rating process, but we consult the experience of people who've used these platforms firsthand. Many of our reviews will look into feedback on review sites like SiteJabber or Trustpilot to get a general sense of how current and former members feel toward the dating app.
In-Depth Research and Analysis
We take the time to glean as much information as possible from the dating apps. We join as free members to see and experience firsthand what new members encounter and what free features they can enjoy. For an idea of the paid experience, we look for firsthand user feedback online and other reviews to get a sense of what most people have witnessed. We draw our analyses from there.
We Link to Free Trials
We have nothing to hide when discussing these online dating apps and services. Nothing stops you from using a free trial link to test the app for yourself to see if what we're telling you is accurate. All our reviews and other content have many free trial links so you can try out these products for free.
About Our Rating and Review Process
Our team of experts has rated and reviewed these swipe apps along several vital criteria, including the matching system, ease of use, the quality of the features, how secure they keep their users, their membership plans and pricing, and several other factors. As a requirement of writing reviews on these platforms, our team has had to register for a free membership with each service and test it out for several days to get the whole experience.
Reviews of the Top 6 Swipe Dating Apps
Discover why we rank these swipe dating apps so highly in terms of their design and ability to get many potential singles within your field of vision. Not only do these platforms have the volume of regular users to back up the swiping action, but they also come with dynamic features that keep the search for love or dates super exciting.
#1: Zoosk
Not only is Zoosk our favorite swipe-style dating app due to its massive dating pool from all over the world (80+ countries), but the SmartPicks they generate for their members make Zoosk stand out amongst the others. As members swipe through profiles, Zoosk better learns members' preferences regarding appearance and dating goals. This helps them to improve their suggestions by sending profiles to the Carousel, where there's a high likelihood of a right swipe.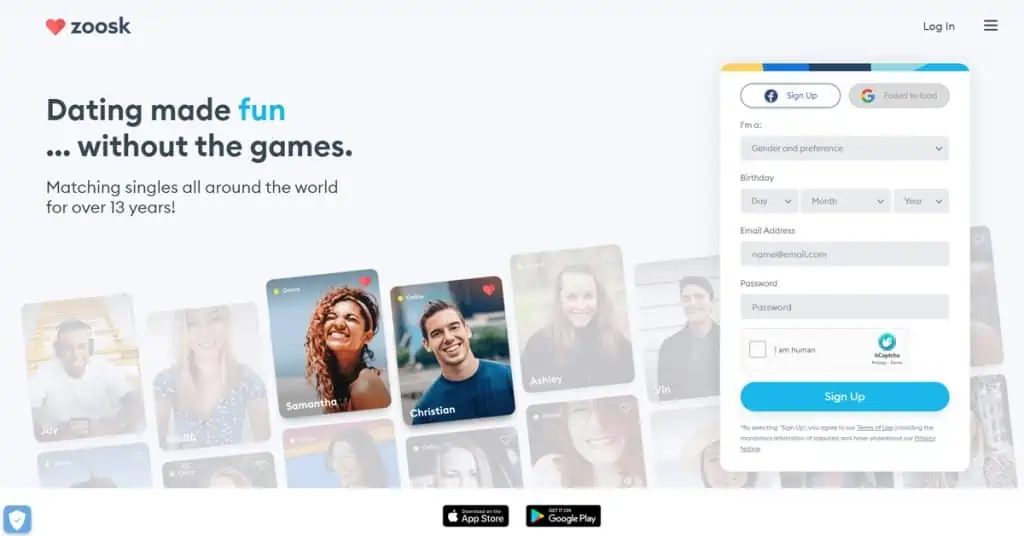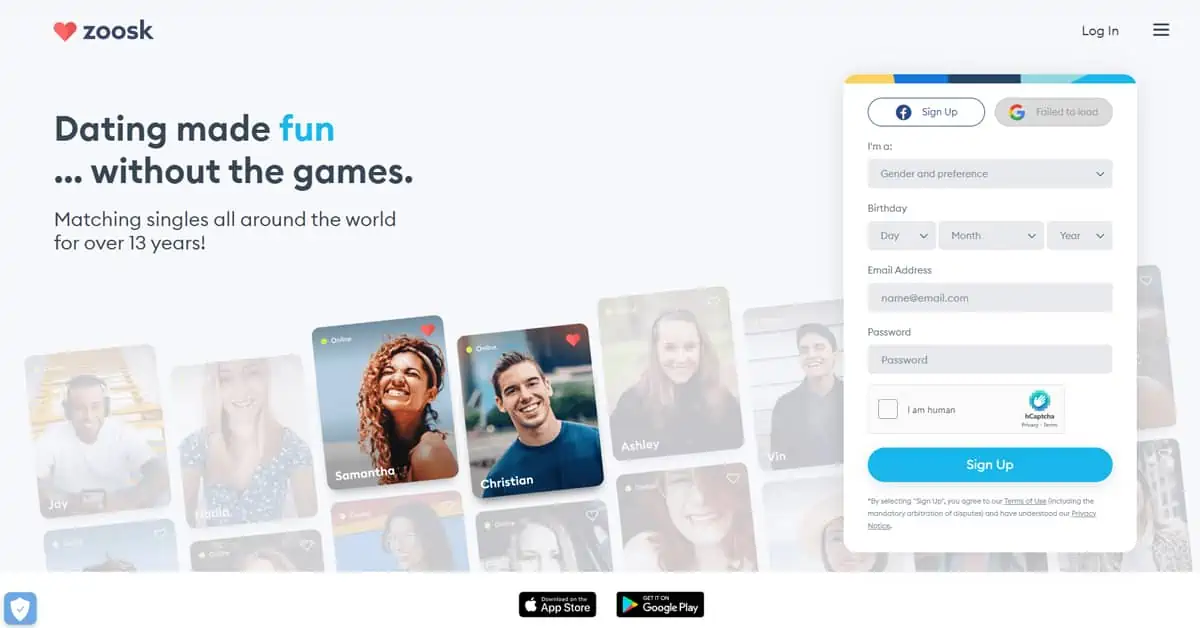 Premium Features
Unlimited Swiping:  Zoosk allows its paying members to swipe on as many daily profiles as they'd like. This feature leads to a ton of potential connections between members.
Unlimited Messages: As long as you like one another's profiles, you can send as many messages as you want to the members you match with.
SmartPicks: Zoosk improves its match suggestions daily after learning your preferences based on your swiping patterns. It's primarily based on appearance, so you get matches that fit the T regarding looks and attraction.
Video Dates: Go on video dates with your matches to see what they look like and how well they can carry on a conversation.
Profile Boosts:  Increase the visibility of your profile and how frequently it features in other members' feeds. Profile boosts cost extra money to apply (Zoosk coins).
Incognito Mode:  Enjoy anonymous browsing as you scroll through profiles on the Carousel. Those members will never be alerted when you look at their profile. Incognito Mode costs extra money to apply (Zoosk coins).
Read Receipts: Discover if the recipients received and read your messages. This is a valuable feature that helps you to know when you're being ghosted.Read receipts cost extra money to apply (Zoosk coins).
---
#2: eHarmony
Something you should know upfront about eHarmony is that it's not a classic swipe-right dating app like Tinder or Zoosk. Members can swipe through their matches suggestions but are limited daily to the number of profiles they can view. Despite this limitation, eHarmony is one of your best bets if you want to swipe for a meaningful, compatible relationship.
New members get a large batch of matches right from the get-go (20-30), and then, depending on location, they get 1-5 quality profiles every day that align with them compatibility-wise, as well as 20 wildcard matches of random profiles that could be promising. eHarmony lets you swipe to find a carefully curated soulmate or marriage partner, but the number of options is capped.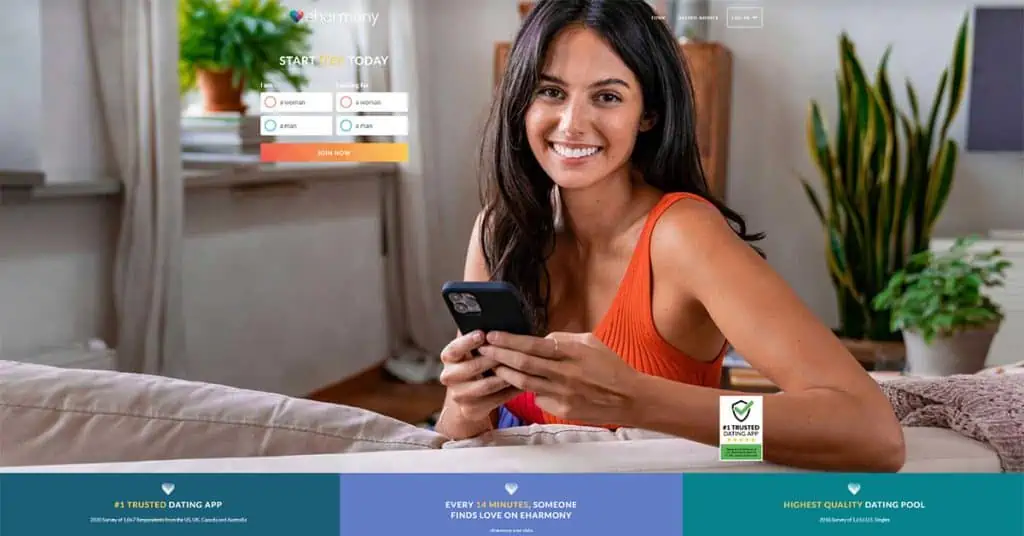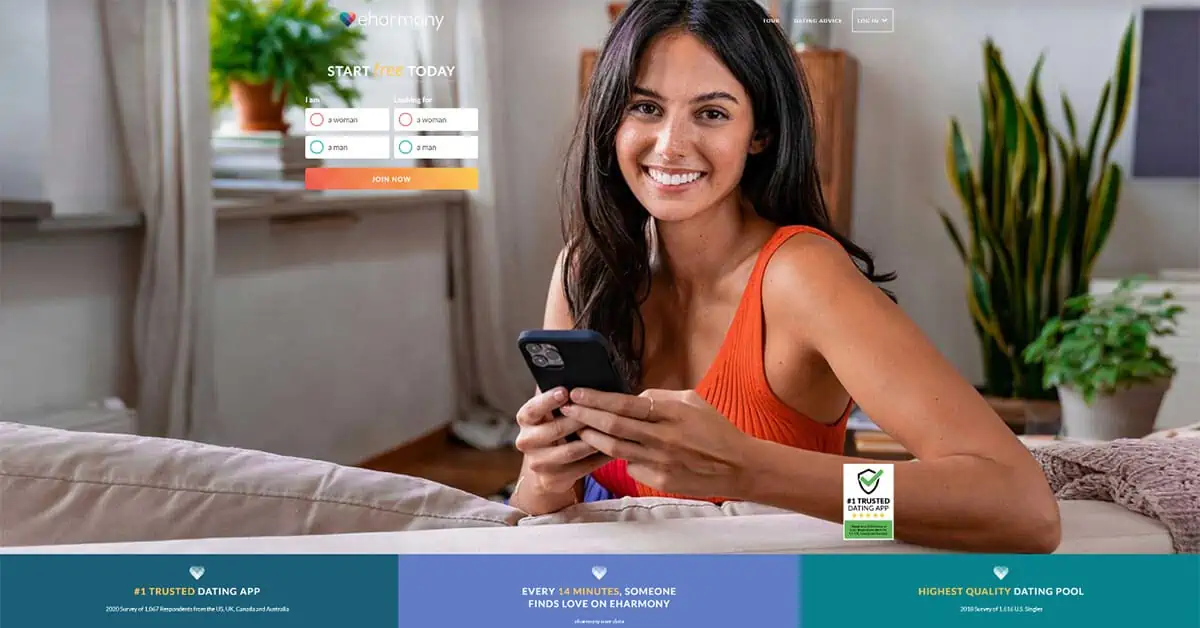 Premium Features
Compatibility Report and Score: Every one of your daily matches is issued a compatibility score that shows where you align with them compatibility-wise and a detailed report explaining why they could be a worthwhile connection.
View Profile Photos:Paying members can swipe through their match suggestions and view all uploaded to that profile.
Unlimited Communications: eHarmony members have the privilege of unlimited messaging and communications with their matches. Because eHarmony already took the liberty of pairing you up, there are no requirements you must fulfill to enable the messaging feature.
See Who Liked Your Profile: Discover which matches have liked your profile. It's an excellent way of narrowing down your viable options. It's clear which matches are worth pursuing if they've already expressed interest in you.
See Who Adds You to Favorites: As with seeing which matches liked your profile, eHarmony lets members become visible who have added you to their Favorites List.
Video Dates: See your matches face-to-face via eHarmony Video Dates. You can know that your match is the real deal, and you can learn more about what they are like beyond their profile and the compatibility report.
Wildcard Matches:Besides your daily matches, eHarmony will set you up with 20 wildcard matches. They won't necessarily line up in compatibility, but they offer another alternative for you beyond the regular matches.
---
#3: Elite Singles
Much like eHarmony, Elite Singles lets its members swipe through its match suggestions, but the number of daily matches is limited. Newcomers get a big batch of matches right away, but then daily recommendations slow down to 5-7 a day, plus 20 wildcard matches called "Have We Met?" Although it's not quite a swipe-right app. Elite Singles is one of the better swipe apps for finding meaningful relationships and quality dating with professionals and highly educated singles.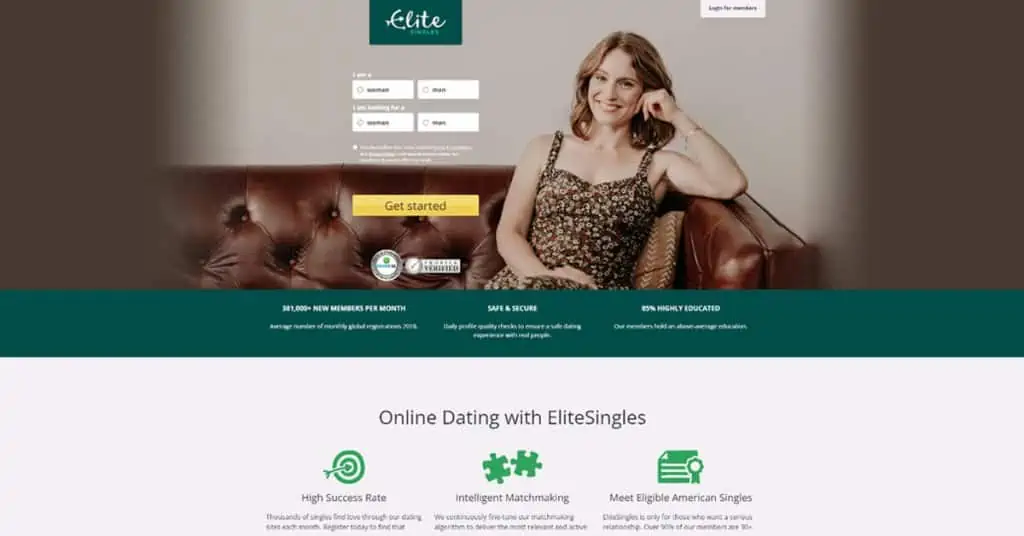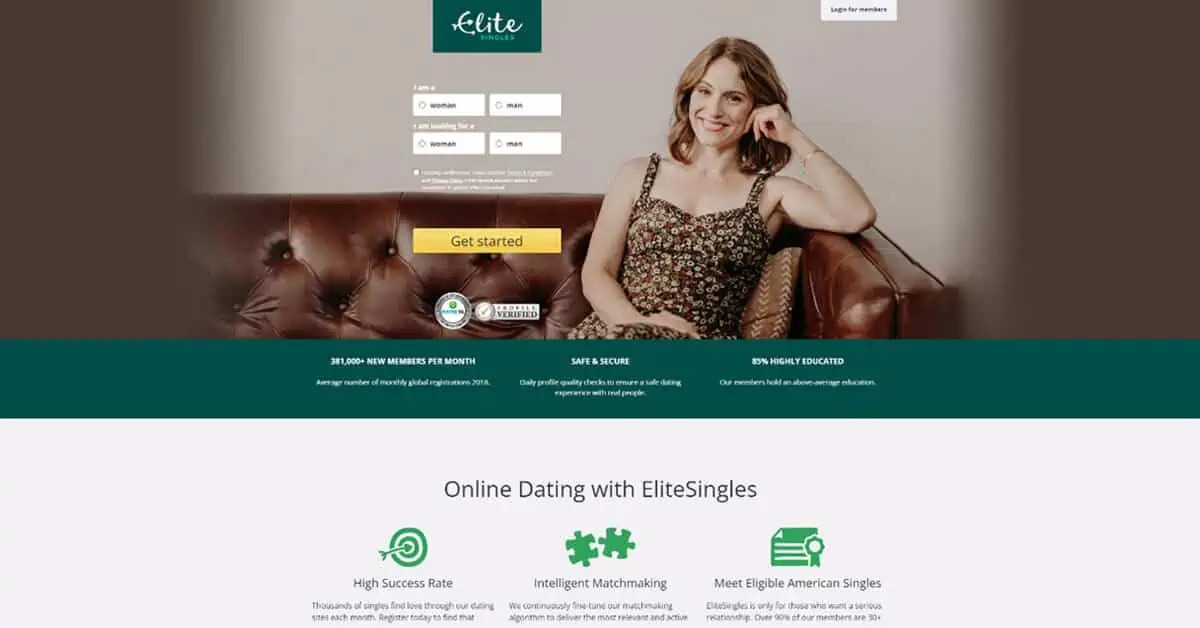 Premium Features
Explanation of Personality Test Results: The basis for matchmaking here is the Five Factor Model Theory of Personality Test, so every premium member gets a detailed breakdown of their results and how that will inform their daily matches.
See Which Members View You: Find out which members like your profile. This gives you an idea of which members will be a promising connection.
Unlimited Communications: Talk as much as you want, whenever possible, with your daily match suggestions.
See All Photos: View complete profiles and all photos your matches have posted at Elite Singles. You get unfettered access to their entire profile.
Wildcard Matches: Get 20 other matches along with your daily suggestions. They aren't ideal in compatibility (at least according to your test results), but it's something different if you want to take a risk.
---
#4: Christian Mingle
The best swipe-style dating app for Christian singles, Christian Mingle, and its LookBook let members cycle through many great profiles in search of love with someone who shares their Christian beliefs and values. Pair this with unlimited messaging and full access to your matches' profiles, and you have a winning combination for Christian believers to find a marriage partner or long-term relationship with someone compatible with faith and connection with God.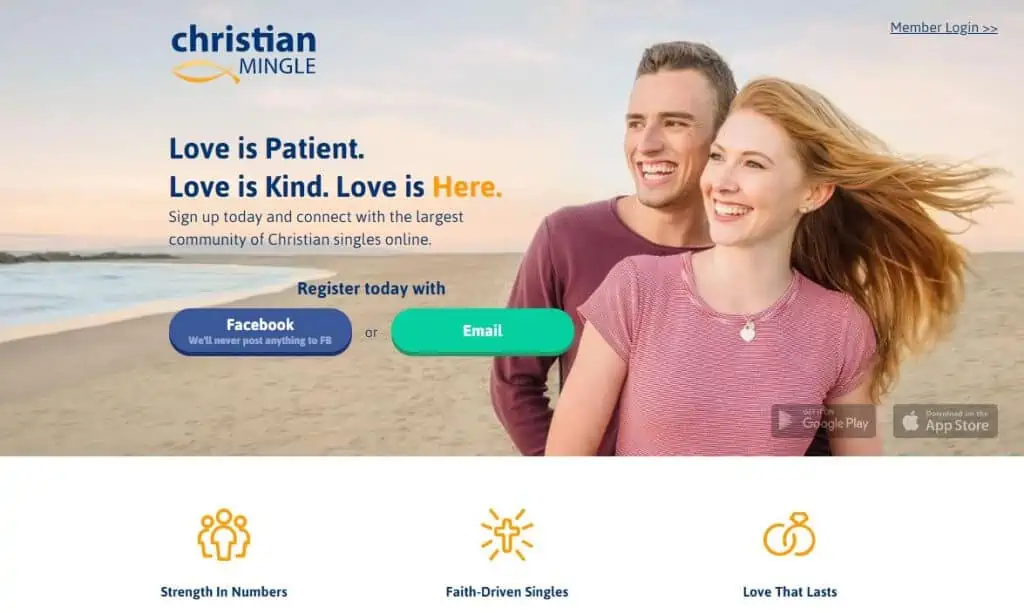 Premium Features
See All Photos: Paying members of the Christian Mingle app can view members' entire profiles, including all posted photos.
Read Notification Receipts: Members are notified when other members receive and read their messages. Discover if the recipient is taking what you have to say seriously.
See Who Liked and Viewed Your Profile: Find out which singles at Christian Mingle have liked or viewed you. Now that you know who's interested in your profile, reaching out and establishing a connection is much easier.
Anonymous Browsing: Members can shift in and out of incognito mode to maneuver undetected on the Christian Mingle app.  
Messaging+: Enjoy unlimited messaging and communications with mutual matches and allow free members the ability to message by sending a message their way and letting them respond.
---
#5: Tinder
Tinder is the one that started it all, the progenitor of all that we see today. They are the inventors of the swipe-right dating app design, so they deserve a place on our favorites list. But everyone places Tinder near the top of their lists; we wanted to be a little different, so we put it lower. We still highly recommend this one to our readers, though, if they're going to swipe through various profiles.
Even though Tinder has had a reputation over the years of being a place where you could only find flings, hookups, and other casual connections, it's becoming a popular choice for singles looking for profound or meaningful connections, so it's become quite versatile in recent years. This is a good choice for open-minded singles to find different relationships.
Premium Features
Unlimited Likes: Send as many likes to as many profiles as you encounter while swiping at Tinder. The app lets you swipe through as many singles as you want in a single day.
See Who Likes You: Once you know who has liked your Tinder profile, it makes it easier to pinpoint the singles that are worth your time to pursue and converse with.
Unlimited Rewinds: If you meant to swipe right when you meant to swipe left (or vice versa), unlimited rewinds let you go back to as many mistakes as you want and fix them to accurately reflect your preferences.
One Free Boost and Five Super Likes: Every week, paying members at Tinder can get their profile boosted once and have five "super likes" to send to the best profiles they encounter while swiping.
Message Before Matching: Premium members of higher membership tiers can send messages to other singles before a mutual match is established. One more barrier is out of the way, leading to new opportunities.
Tinder Passport: This feature allows members going abroad to find love, dates, and connections in other areas of the world. You're not just limited to your home country.
Control Who Sees You: If there are particular members you don't want your profile to be visible to, you can make these adjustments and be featured only with members interested in dating or romance.
---
#6: SilverSingles
Like Elite Singles and eHarmony, SilverSingles operates on matching rooted in personality and compatibility testing. Members get 3-7 daily matches and 20 wildcards for added swiping fun. So, while SilverSingles users can swipe through several profiles a day, the app emphasizes compatible connections and quality matching. Most members are looking for a marriage partner or their soulmate; that's to be expected when the average age of users is 48-52 years. Less is more at SilverSingles.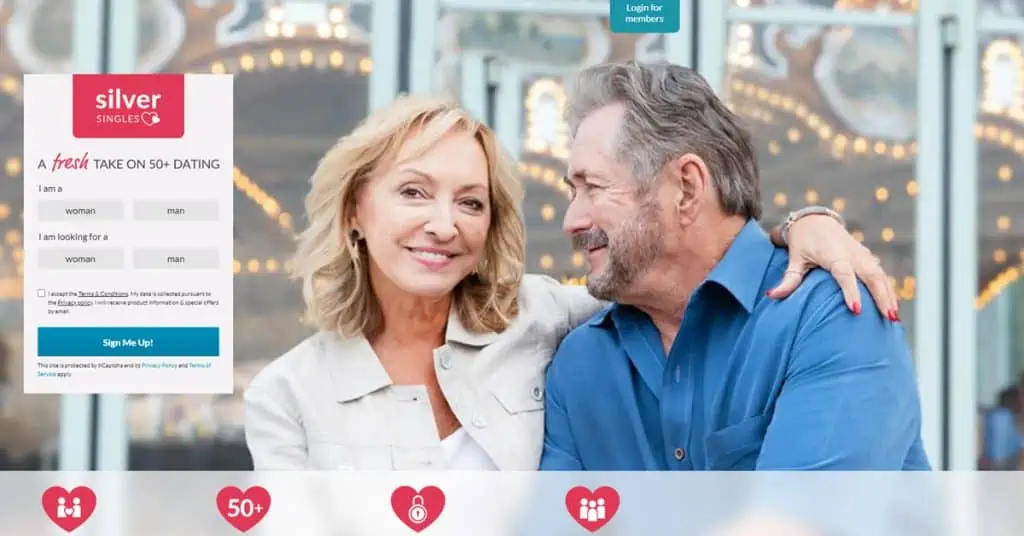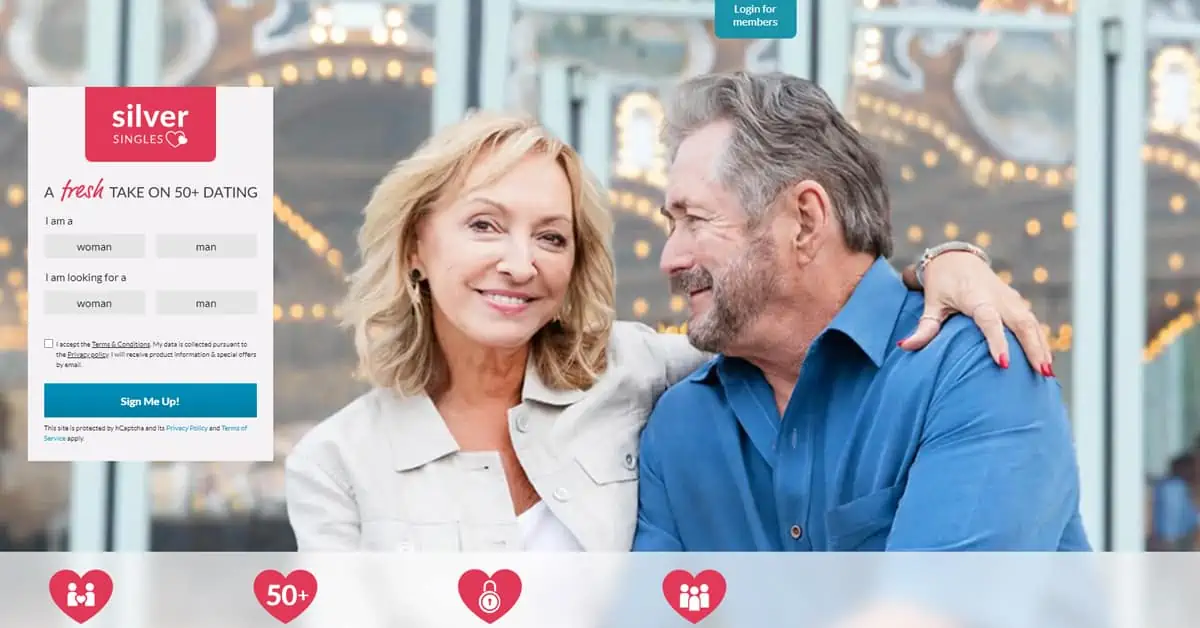 Premium Features
See All Profile Photos: View all uploaded photos to members' profiles on the SilverSingles app. Free members can't see pictures but can view profile bio information.
Unlimited Messaging: Send messages to your daily matches without limitations. SilverSingles has already done the matching work for you, so there's no need for a mutual match to be established.
Access the Mobile App: Free members are barred from using the SilverSingles mobile app until they upgrade to a premium subscription plan. Only paying members can access and download the mobile app.
---
Why These Are the Best Swipe Apps
What is it about these dating apps that make them the best for finding love and romance by swiping? We could go on and on, but we narrowed it down to five main reasons.
Mobile Compatibility
Each of these services comes with an excellent mobile app for an on-the-go dating experience, but they also have a home website where you can "swipe" from the comfort of your home computer, although it's more like clicking right.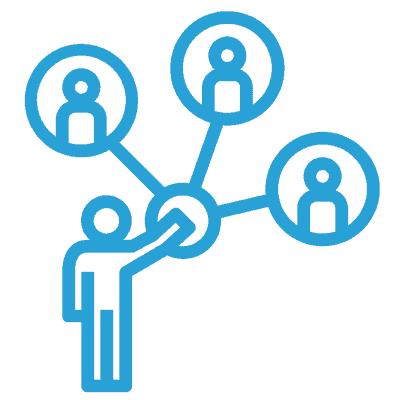 Good Dating Pools
We recommended dating apps with decent dating pools where customers have many choices. Our top recommendations have millions of users worldwide, while some niche platforms cater to hundreds of thousands of regular members.
Matching Based on Testing or Search Settings
Our favorite swipe-style dating apps either matchmake using the results of personality or compatibility testing or advanced search settings. This ensures suitable matching that matches your personal dating or relationship goals.
All Users Accepted
As long as you're 18, there are no other prerequisites for using our best swipe dating apps. You don't have to practice a particular religion, be of a specific ethnic background, or anything else. These apps take on new members, whoever they are.
Good Value for the Price
While there are a few pricey options on our list, most of these apps come at an affordable price and contain a lot of value for how much you end up paying. eHarmony might cost a lot more than the other options, but you're getting a ton of value when considering its advanced matching system and detailed compatibility scores/reports.
Finding the Right Swipe Dating App for Your Needs
There are many excellent swipe dating apps out there, but not all serve the same kind of customers, nor do they cater to the same relationship or dating goals. So, finding the right dating app for you involves three key ingredients: assessing your preferences, comparing features/prices, and evaluating success stories and other online reviews. Let's discuss this in further detail below.
Assess Your Preferences
You must think about the kind of relationship you're interested in pursuing online. Our favorite swipe dating apps cater to a wide bevy of relationship and dating types:
Zoosk: Best for casual relationships or true love with a lean toward flings and short-term romance.
eHarmony: Ideal for finding a marriage partner or soulmate.It's all about meaningful, long-lasting relationships centered around compatibility.
Elite Singles: Best for serious dating and relationships for professional, highly educated singles.
Christian Mingle: Best for finding compatible connections with Christian singles based on faith and beliefs (most relationships lead to marriage).
Tinder: Good for finding various relationships: flings, casual romance, dates, soulmates, or marriage partners.
SilverSingles: Best for long-term relationships and meaningful commitments with singles over 50.
If you already know what kind of relationship you're interested in, making the right choice won't be difficult. But for those uncertain in this area, we recommend Zoosk or Tinder, which don't have a specific focus and have been known to foster various relationship types. These are the two best services to use if you're open-minded to new possibilities.
Comparing Features and Pricing
Another important aspect of finding the right swipe dating app is looking at the features and dating app cost to get the benefits you need at the right price. The key is weighing the price against the features you can access to find quality and value. An app might come at a higher price, but you could be paying for something worthwhile.
Tinder offers the most options as well as some of the most affordable.
Zoosk
| Membership Plan | Cost Per Month | Total Cost |
| --- | --- | --- |
| 3-Month Membership | $19.98 | $59.95 |
| 6-Month Membership | $13.35 | $79.99 |
| 12-Month Membership | $10.00 | $119.99 |
eHarmony
| Membership Plan | Cost Per Month | Total Cost |
| --- | --- | --- |
| 6-Month Membership | $65.90 | $395.40 |
| 12-Month Membership | $45.90 | $550.80 |
| 24-Month Membership | $35.90 | $861.60 |
Elite Singles
| Membership Plan | Cost Per Month | Total Cost |
| --- | --- | --- |
| 3 Month Membership | $21.66 | $64.99 |
| 6 Month Membership | $15.00 | $89.99 |
| 12 Month Membership | $11.67 | $139.99 |
Christian Mingle
| Membership Plan | Cost Per Month | Total Cost |
| --- | --- | --- |
| 3-Month Membership | $34.99 | $104.97 |
| 6-Month Membership | $24.99 | $149.94 |
| 12-Month Membership | $14.99 | $179.88 |
Tinder
| Membership Plan | Cost Per Month | Total Cost |
| --- | --- | --- |
| 1-Month Plus | $13.49 | $13.49 |
| 6-Month Plus | $6.75 | $40.50 |
| 12-Month Plus | $4.50 | $54.00 |
| 1-Month Gold | $22.49 | $22.49 |
| 6-Month Gold | $11.25 | $67.50 |
| 12-Month Gold | $7.50 | $90.00 |
| 1-Month Platinum | $26.99 | $26.99 |
| 6-Month Platinum | $13.50 | $81.00 |
| 12-Month Platinum | $9.00 | $108.00 |
SilverSingles
| Membership Plan | Cost Per Month | Total Cost |
| --- | --- | --- |
| 3-Month Membership | $37.95 | $113.85 |
| 6-Month Membership | $27.95 | $167.70 |
| 12-Month Membership | $19.95 | $239.40 |
Something to note about all the membership plans offered at our favorite swipe-right dating apps is that the longer the plans cover, the cheaper the monthly cost rate. This means you can capture savings over time if you see yourself using the app for 3-6 months or longer.
Evaluating Success Stories and Reviews
As always, looking over reviews and success stories online can be helpful to learn more about what these swipe-style dating apps offer their users.
Online Reviews and Ratings
As mentioned, we consulted review sites like SiteJabber, ConsumerAffairs, and Trustpilot to understand how the public and firsthand users feel toward these dating apps. We recommend checking these out for yourself, but in the meantime, we've included the aggregated scores posted to these sites and the number of customers who've taken the time to review and rate each app.
Zoosk
SiteJabber: 3.61/5 stars (based on 4,666 reviews)
Trustpilot: 2.5/5 stars (based on 2,135 reviews)
ConsumerAffairs: 2.3/5 stars (based on 774 reviews)
eHarmony
SiteJabber: 2.64/5 stars (based on 1,762 reviews)
Trustpilot: 2.8/5 stars (based on 1,138 reviews)
ConsumerAffairs: 1.6/5 stars (based on 2,919 reviews)
Elite Singles
SiteJabber: 1.13/5 stars (based on 520 reviews)
Trustpilot: 2.0/5 stars (based on 190 reviews)
Christian Mingle
SiteJabber: 1.17/5 stars (based on 152 reviews)
Trustpilot: 1.4/5 stars (based on 39 reviews)
ConsumerAffairs: 2.2/5 stars (based on 94 reviews)
Tinder
SiteJabber: 2.64/5 stars (based on 673 reviews)
Trustpilot: 1.2/5 stars (based on 2,774 reviews)
ConsumerAffairs: 2.6/5 stars (based on 202 reviews)
SilverSingles
SiteJabber: 1.27/5 stars (based on 484 reviews)
Trustpilot: 2.4/5 stars (based on 401 reviews)
ConsumerAffairs: 1.8/5 stars (based on 66 reviews)
Downloading and Signing Up for a Swipe Dating App
Swipe-style dating apps make it easy to find love amongst a variety of great singles, so it's unsurprising that they also make it easy to sign up for a new account, download the app, and use them just about anywhere you need. Let's look at where you can use these services and the onboarding process.
Available Platforms
Each of our favorite swipe dating apps can be used on PCs or Macs and various mobile devices like smartphones and tablets. This means that you can find love or dates on the go from the convenience of your iOS or Android device.
| Dating App | Internet Browser | Google Play | Apple Store |
| --- | --- | --- | --- |
| Zoosk | Yes | Yes | Yes |
| eHarmony | Yes | Yes | Yes |
| Elite Singles | Yes | Yes | Yes |
| Christian Mingle | Yes | Yes | Yes |
| Tinder | Yes | Yes | Yes |
| SilverSingles | Yes | Yes | Yes |
The only oddity to remember here is that SilverSingles will only let you download the mobile app once you upgrade to a premium membership from the free trial plan. Free members can only use the website. Paying for a subscription opens up the app download.
Step-By-Step Registration Guide
We're not going to cover each specific sign-up process for each app, but we'll give you a general idea of what you can expect when creating a new account. Most swipe dating apps will include the following steps for new members looking to onboard:
Download the app or visit the website. Click on "Join" or "Register."
Include general information like your name, age, location, and others. You must also create a unique username and password for logging into your account.
In the case of eHarmony, Elite Singles, and SilverSingles, you must complete a personality or compatibility questionnaire. The test results are the basis for matching, so you cannot skip this vital step on these three apps.
Upload a profile photo and include information to form the basis for your dating profile.
Continue as a free member or upgrade to a premium subscription plan to enjoy all perks and benefits.
Sign-Up Time
The sign-up times will vary depending on which swipe-style app you register with. It's going to take a longer time to register if you're using a platform that requires the completion of a personality test. Generally speaking, this is how long it'll take a new member to register without favorite swiping apps:
Zoosk: 5-10 minutes
eHarmony: 30-45 minutes
Elite Singles: 10-15 minutes
Christian Mingle: 5-10 minutes
Tinder: 5-10 minutes
SilverSingles: 10-15 minutes
eHarmony has the 32 Dimensions of Compatibility testing its patented matchmaking questionnaire, so this is the longest sign-up time on our list by far: up to 45 minutes. Elite Singles has its Five Factory Model Theory of Personality Traits testing, bringing its registration time to around 15 minutes. SilverSingles also has its own personality testing, but it's not nearly as extensive as eHarmony's or Elite Singles'.
Free Swiping Apps and Their Limitations
Each swipe app has a free membership plan that all new members start with before upgrading to a premium, paid plan. A dating app free trial is an excellent feature because it allows new members to test out the platform without paying. They can discover if the app will be appropriate for the online dating experience they're going for.
However, several significant limits exist to using these apps for free without becoming an official, paying member. We recommend our readers upgrade once they've found the right dating apps. Check out a few pros and cons of free membership plans and why you should upgrade your experience.
Free Apps Pros
You don't pay any money to use the service.
Free members can create a complimentary profile and get their information out there for other singles to see, all for free.
Non-paying users can set search terms according to their preferences and view profiles that adhere to personal dating/relationship criteria.
Free users can view profiles and photos (some apps limit what you can view) to get a sense of who's using the app.
Free Apps Cons
You cannot enjoy unlimited messaging or swiping.
Free users tend to be less serious about using the app.
Free members don't typically go through all the vetting systems paying members must submit to, so you could be dealing with anyone using the app for free.
You miss out on features like video chatting or anonymous browsing.
FAQ
To learn more about the best swipe dating apps, check out our FAQ section, which features common questions from our readers and customers about these services and platforms.
Are Swipe Dating Apps Legit?
Yes, these dating apps are used by millions of people worldwide. They've yielded excellent results for their customers, helping them find everything from quality dates and long-lasting relationships to casual romance and exciting flings with like-minded people.
What Are the Benefits of Using Swipe Dating Apps?
Swipe profiles allow online singles to cycle through many profiles in a short time as they look around for love or romance. In some cases, the dating app examines its users' swiping patterns and determines better matches based on the behavior and preferences they've seen displayed in the swiping queues and catalogs.
What's Our Favorite Swipe Dating App?
If we're talking about volume, we could choose no other dating apps but Zoosk and Tinder. They cater to millions of committed members all over the globe, and they have some of the best-looking profiles anywhere in the market. They also have the most sophisticated setup and technology for handling the high volume of profiles you encounter during your time there.
Is it Worth it to Use the Free Trials or Memberships?
Free memberships are an excellent way to test the apps to see if they're a platform worth your time and money. For instance, many swipe-style dating apps let new, non-paying members create profiles, set up searches based on their preferences, and view profiles that adhere to the criteria.
How Long Does It Take to Sign Up?
Zoosk and Tinder are the two quickest sign-up times. They range anywhere from five to ten minutes. Christian Mingle and SilverSingles both take somewhere around fifteen minutes. And because eHarmony and Elite Singles feature extensive personality and compatibility questionnaires, signing up at those platforms could take over half an hour.
Which Swiping App Is Good for Serious, Meaningful Relationships?
We highly recommend using eHarmony if you seek a soulmate or marriage partner. Christian Mingle and Elite Singles are good for Christian dating and serious relationships with professional singles. Zoosk and Tinder are more geared toward casual relationships, but there are possibilities for true love at these places, too.
Can I Use Swipe-Style Dating Apps on the Computer?
Yes, every one of these dating apps comes with a web version that members can use from the comfort of their PC or Mac. SilverSingles only lets its paying members use the mobile app, while free members are relegated to the app's web version only.
How Can I Be Successful on Swipe Right Apps?
We know that these apps can provide you with an overwhelming number of choices for finding dating experiences and various kinds of relationships. It can make dating into a game in a weird way. We're primarily referring to Zoosk, Tinder, and Christian Mingle, where there are no caps on swipes for paying members. We highly recommend not getting caught into the pattern of endless swiping , but instead, try to focus on five to ten quality connections and see where those take you.
Are Swipe Dating Apps Safe?
Each platform is committed to keeping its member's private information safe and secure via an encrypted connection. But there's always the risk of running across fake profiles or illegitimate users on the app. For safety purposes, these apps have features for members to block or report profiles. Suppose you're unsure about someone you met online. In that case, we recommend checking their information against their social media accounts, spotting red flags when they surface (excessive flattery, extreme emotions, etc.), and meeting in a public space for a first date.
Are Swiping Dating Apps Expensive?
A few run a bit on the pricey side, but many come at an affordable cost for members and cater well to various budgets and lifestyles. Because of its quality compatibility testing and advanced matchmaking algorithms, eHarmony will be your most expensive option, with monthly plans ranging from $35.90 to $ 65.90. Tinder has twelve different membership plans catering well to multiple budgets, and some subscriptions go as low as $4.50 per month.