The Christian Cafe dating app is one of the best in our book for Christian singles in 2023! They have been around for a long time (since 1999) and offer some great resources to help Christians find profound and meaningful relationships that are God-centered and rooted in faith! But with so many Christian Cafe reviews out there, it's hard to know what to believe about this little niche dating app for Christians.
Check out our candid and transparent review of Christian Cafe and what this matchmaking service offers to its most faithful users! We are going to go over the membership plans, how much they cost, and what perks and benefits members can experience along the way!
---
---

Our team has independently researched all products and services that we have listed on this page. If you sign up or purchase through our links, we may receive a commission. See how it works.
Introduction to Christian Cafe
Our Christian Cafe review will begin with some of the basics, the essential things you should know about the dating app before joining as a free user or a premium member. This section will cover the site's history and its approach to matchmaking. Plus, we'll answer one of the biggest questions you might have about Christian Cafe: is Christian Cafe worth it? Let's get into this so you can know if Christian Cafe is a good dating app for reaching your goals.
A Brief Overview of Christian Cafe's History and Success
This is the original dating site for Christians and remains in the top tier of our favorite platforms for finding love and romance with Christian singles.
Christian Cafe was founded in 1999, which makes it several years older than Christian Mingle. While Christian Mingle has grown into a much larger and more successful platform, Christian Cafe has a much more intimate feel and contains many useful features that appeal to Christian users, including a prayer page and a forum where members can talk about their faith.
In 2023, Christian Cafe remains a small dating app that caters to a niche market of Christian singles. There are 44,000 registered members in the US, and 20,000 actively use the platform each week. It's a dating app that's comprised nearly 100% of Christians who desire profound and meaningful relationships with other believers where a relationship with God plays a prominent role.
Christian Cafe's Unique Approach to Online Dating
The matchmaking process we found during our Christian Cafe review was much like those we've seen with other dating apps; it's just that Christian Cafe focuses on Christian faith and aspects of Christian dating culture, which makes it a bit different from the mainstream platforms. The entire matching process is a blend of personality/compatibility testing and advanced search filters, but we'll cover this more in "The Christian Cafe Compatibility Matching System" section.
Is Signing Up for Christian Cafe Worth It?
This dating app is worth your time if you want to begin a serious relationship with a Christian single who sees eye to eye with you on faith and values! Christian Cafe is ideal for:
Meaningful Christian dating
Christian marriages
Christian friendships and bonding
Long-term Christian relationships
Relationships where compatibility is a top priority
God-centered connections
There are also significant steps you can take while using this app to make it worth your while. Doing these things will increase your traffic and generate interest in your profile!
Feel free to go with a paid membership to the site. This will open you up to unlimited messaging and all sorts of incredible resources like the community forum and the dating blog.
Be sure to fill out the written-response questions during sign-up and include a picture with your profile.
Our Ratings
ChristianCafe is a dating app that we recommend to our readers, especially those looking for serious relationships with other Christian singles. The natural strengths of this site are in how easy it is to use and navigate, as well as its great search filters that help users narrow down the singles they are looking for!
Overall:

| Category | Score |
| --- | --- |
| Features | 2.5 |
| Ease of Use | 4.0 |
| Match Quality | 2.5 |
| Cost | 2.5 |
| Active User Base | 2.5 |
| Overall | 2.8 |
But there are some low points of Christian Cafe too. For instance, they are priced a bit higher than the average dating app, and their feature list is nothing too impressive. The site's appearance also seems a bit dated and could use a facelift.
For more information on the primary strengths and weaknesses of ChristianCafe.com as a dating app overall, check out our pros and cons chart below!
What We Like
We are committed to bringing you an honest and transparent review of Christian Cafe, so we are going to delve into what we like about this dating app as well as some of the areas where it could use some significant improvement.
The sign-up process only takes about 5 to 10 minutes.
Quick Matches help you find singles at Christian Cafe without doing your search.
Advanced search filters break down searches by denominations, beliefs, and convictions.
Great dating app for finding serious relationships with other Christians.
ChristianCafe.com is diligent about removing old, inactive profiles from the site.
The app has a straightforward setup and is easy to navigate.
Members can enjoy unlimited messaging, send winks, and gift memberships to users.
What We Don't Like
While there are tons of great things to love about Christian Cafe, there were several things we weren't too keen on. Of course, this is the case with every dating app we review, but there's more to love here than to dislike.
The free trial is limited to 10 days plus 5 days for each referral to the app.
Christian Cafe's vetting process is not airtight, so there are some fake accounts on the site.
The site design is boring, and the overall look and appearance are dated.
They have a smaller user base of around 44,000 active members in the US.
The free trial only allows for accessing the dating blog, the site forum, and the settings menu.
Customer service is minimal, with no phone or live chat.
It's a smaller dating pool with weekly traffic of about 20,000 visitors.
Who Is Christian Cafe Best For?
Christian Cafe is a great niche dating app for Christian singles looking for others who share the same faith and beliefs. You are guaranteed to find Christian singles while using this app, but your dating pool is going to be relatively small because the site's user base is limited!
Demographics and User Base
Here are some other essential things you should know about ChristianCafe.com before committing to a membership:
| Fast Facts | Details |
| --- | --- |
| User Base | All singles (18 or older) |
| What Kind of Relationships? | Meaningful relationships with other Christian singles that are God-centered. |
| Total Accounts | 2 million worldwide |
| US Members | 44,000 |
| Weekly Traffic | 20,000 |
| Gender Distribution | 46% men to 54% women |
| Where Are Most Members Located? | United States (37.8% of users) |
| Average Age | 60% of members are between 25 and 44 |
Relationship Types Best Served by Christian Cafe
Christian Mingle is made up almost exclusively of Christian singles interested in meaningful relationships where similar faith and beliefs provide a basis for the connection. Several kinds of relationships can be found here, but most of them generally follow the same trajectory.
What Christian Cafe Is For
Quality Christian dating
Christian soulmates
Christian marriages
God-centered relationships
Compatible connections based on faith
Christian friendships
Long-term relationships with Christians
Falling in love with Christians
What Christian Cafe Is Not For
Dating around
Casual hookups
Long-term relationships that involve sex or living together
Affairs or swinging
Dating singles of other religions
Dating singles who are atheists or agnostics
People who are legally married to someone else
The Christian Cafe Compatibility Matching System
Let's take a deeper dive into the world of Christian Cafe's matchmaking system. It's like a lot of other dating apps we've reviewed, but Christian Cafe does have its unique approach with some of the search filters they use and the questions they pose to new members during the registration's personality test.
The Role of Personality Assessments in Matchmaking
Part of the registration process involves taking a personality and compatibility quiz so Christian Cafe can get an idea of who you are and what kind of singles would be a good fit for you. The app uses each member's personalized test answers as the basis for the daily matches they send.
How the Compatibility Matching System Works
Christian Cafe members can take matters into their own hands, performing their own searches for the singles they desire to meet. This can be done by using the advanced search filters that the app offers (location, distance, age, appearance, gender, interests, denominational beliefs, etc.). And there are several other methods for performing searches that can be found under the "Search" bar:
QuickMatch
New Members
By Username
Birthday
Favorites
Search History
Profile Views
Blocked Members
QuickMatches
QuickMatches are the best way to find singles compatible with your Christian beliefs and personality. These are searches where each single comes with a compatibility score that revolves around how consistent they are with the answers you gave in the personality test during registration. Matches are made by how close your answers were to other singles' when it comes to Christian faith and relational goals.
Christian Cafe's Communication Features
One of the most substantial aspects of the Christian Cafe is that most of its features are centered around communicating with other Christian members. Robust communication tools bring members together in a way that has fostered a tight-knit community of believers that generally have the same dating endgames and relational goals in mind, despite some differences in denominational beliefs.
Unlimited Communication – Paying members of Christian Cafe can communicate with other members with no limits. Searches can be made using QuickMatch or by birthdays, usernames, new members, or what have you. Whichever profiles come up in your searches on Christian Cafe, you can send emails, request contact info, gift memberships, or send winks.
Read Receipts – These are confirmation emails that members receive that confirm their messages have been sent successfully to the recipient. Members can also see if the message's recipient has read the message. This is a valuable tool to discover if singles missed getting your message or if they're ghosting you.
Views – Discover who has viewed your Christian Cafe profile. After all, anybody who took the time to look at your profile might be drawn to you based on physical attraction or denominational beliefs. Knowing this information can help you sort out the Christian singles worth pursuing.
Prayer Page – This is a section of the website where members can post prayers or encouraging words for anyone to see. When we talk about Christian Cafe being a communal place, this is what we're referring to. So much of the networking done on this platform is through the prayer page, where members lift one another in prayer and share scriptures to connect and love one another.
Send Winks – Sending a wink is like sending a like on other dating apps. It's a fun, flirty way to show interest in someone without sending a whole message or email.
Gift Membership – Give with a cheerful heart and gift membership to any free user you meet on the app. Enter their username and your payment information, and then proceed to checkout. While it's not precisely a communication feature, it's a way of establishing a connection and building a bridge with someone else on the app.
Exchange Contact Information – For Christian singles looking for a more personalized dating experience at Christian Cafe, there's a way to exchange contact information, including your phone number. This is best done with singles who want to take things to the next level.
Christian Cafe Forum – Christian singles can discuss their faith and relationships with Christ in a communal place thanks to the Christian Cafe forum. This is another communication feature that fosters a community of like-minded believers who can build friendships and connections with one another outside of dating or serious relationships.
Christian Cafe's Membership Options
One thing is for sure. Christian Cafe is great about getting you to sign up for a premium membership plan. That is why they limit how much you can use the free trial! We respect Christian Cafe for putting the customers' feet to the fire and requiring them to decide on membership within a concrete timeframe.
Free vs. Paid Memberships
The ChristianCafe.com free trial allows you to enjoy some of the functions and features of this matchmaking service free of charge! There are some drawbacks to the free trial, among those being that it comes with a limited range of features and is only available for ten days before the customer must commit to a membership plan.
Free Features
As a part of the 10-day, limited free trial, these are the essential features that you can enjoy free of charge:
Create an account and profile
Use the search filters
Add profiles to your Favorite List
Access Christian Cafe forums and blogs
Post prayers
How Does the Free Trial Work?
You can technically use the ChristianCafe.com app for free, but you will be limited to 10 days to use it! Right off the bat, the app gives its new users:
7 free days to set up their profile.
3 free days for uploading photos to their profile.
5 free days for any referrals that successfully create a profile at the Christian Cafe app.
On top of the limited timeframe, you'll be limited when it comes to app features (which is typical for many free trial offers). Newcomers can enjoy reading the dating blog, sending prayers to members, adding singles to their favorites list, and having access to the Christian Cafe forum. There is no unlimited messaging with other members. That only comes with a paid membership.
Regardless of these drawbacks, it is still an excellent option for those who want to try out the app for free!
Premium Membership Benefits and Pricing
But how did we feel about the membership plans at Christian Cafe? They were a bit expensive, and the list of features was not all that impressive if we are sincere. It was fantastic to see that they offer a two-week membership, though, even if it was overpriced.
Note: Read our page on dating apps cost for a full price comparison!
| Membership Plan | Monthly Cost Breakdown | Total Cost |
| --- | --- | --- |
| 2-Week Membership | $69.94 | $34.97 |
| 1-Month Membership | $44.97 | $44.97 |
| 3-Month Membership | $23.33 | $69.97 |
| 6-Month Membership | $18.33 | $109.97 |
| One Year Membership | $12.50 | $149.97 |
Membership Features
In addition to the free feature, which transfers over to a premium membership upgrade, paying users of Christian Cafe can take advantage of these perks and benefits:
Send winks
Unlimited messaging (including emails)
Gift a membership to someone
Exchange contact info
Read notification receipts
Discounts and Promotions
Christian Cafe doesn't offer promotions currently. There aren't any installment plans or month-to-month payments to help new customers cover the cost of their membership. Every membership needs to be paid in full (one lump sum) before new users can even begin using their subscription plan.
Hidden Discounts
There are, however, some hidden savings that all customers and readers have a right to know about. If you look at the price chart and examine each subscription's monthly cost rate, you'll find that the longer membership plans come at a lower price by the month.
$44.97 (1-Month Membership) x 12 = $539.64 (for one year)
$109.97 (6-Month Membership) x 2 = $219.94 (for one year)
That's a savings of $319.70!
Suppose you envision yourself using Christian Cafe long-term. In that case, you might consider choosing a longer membership from the start to avoid the extra dollars that accrue from renewing the short memberships repeatedly.
Creating Your Christian Cafe Profile
Something we appreciate about Christian Cafe is how clear and concise their sign-up process was! We breezed through creating ours in about 5 minutes, but that was with skipping a significant portion where the new user could give written responses to essential questions about their faith and personality.
If you filled everything out in its entirety, it would take you anywhere from 10 to 15 minutes to complete! If you apply to become a member, add another 5 minutes to supply your payment information.
We will show you what you can expect when you sign up for a new account at Christian Cafe. We will go through everything you will find along the way and show you step-by-step how it is done!
Step #1: Visit ChristianCafe.com, Create a Username, and Enter Your Email
Head over to ChristianCafe.com and click on the green button in the middle of their homepage, which says Sign Up for a Free Trial! If you want to begin membership, you will still need to click on this button to go through the entire account sign-up and profile creation process.
You are selecting the name you will want to appear on your ChristianCafe.com profile. Supply your email address as well. This will not be shared with users on the app. It is strictly for Christian Cafe to confirm you as a user and email you any updates about your account in the future.
Step #2: Enter Your Location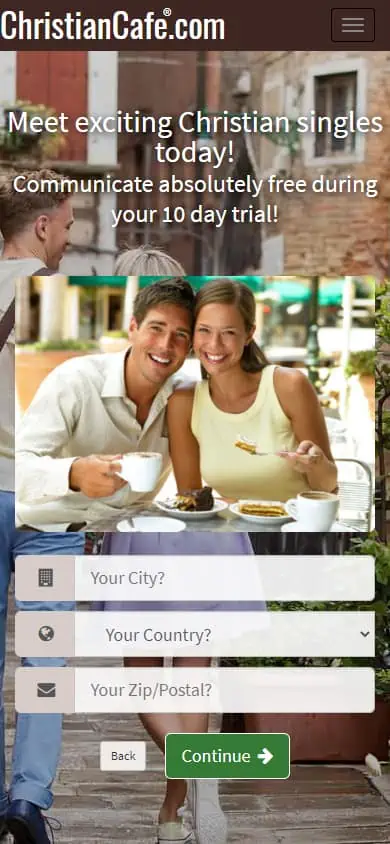 You are probably using the app intending to find Christian singles somewhere close by! This will play an important role later, as Christian Cafe will help you find matches based on your location! Keep in mind that this dating app is used in multiple countries around the world.
Step #3: Enter Your Gender and Your DOB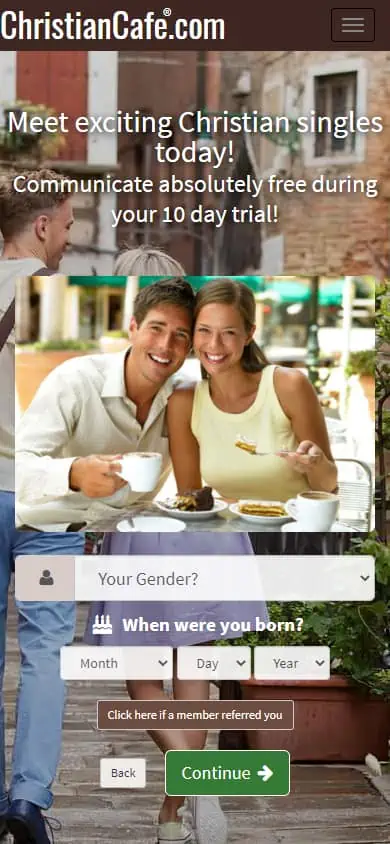 Enter your gender. You will be given two options: man or woman. Enter your date of birth. You must be 18 years of age or older to use ChristianCafe.com. Hit Continue to move on to the next step.
Step #4: Agree to the Terms and Conditions
Now is your chance to review the terms and conditions for Christian Cafe. Once you have read and understood them, click on the green Continue button.
Step #5: Answer a Big Batch of General Questions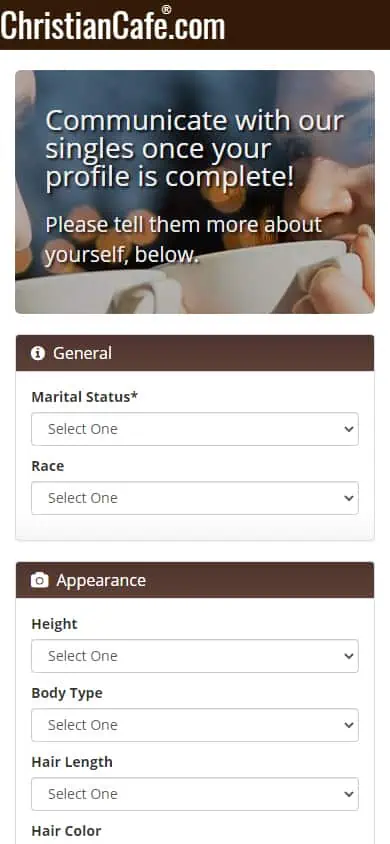 The next step is a little more involved. Here is where you can answer a lot of really general questions based on your appearance, faith, lifestyle, and family. Once you are done completing this section, click on Continue.
Step #6: Complete Your Profile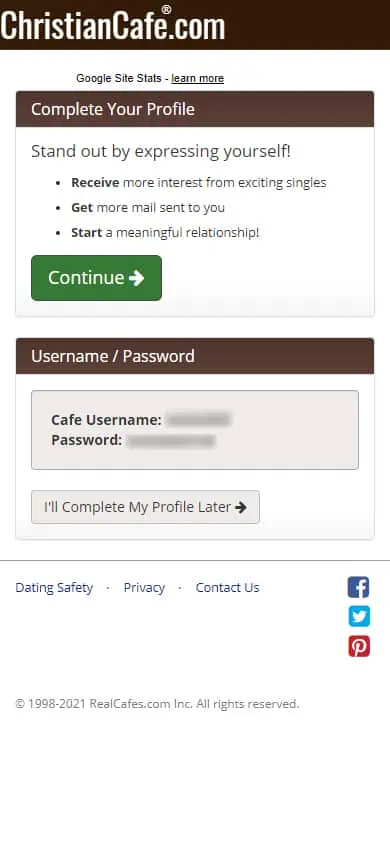 This step can be skipped for the time being if you are dying to get on the site and see what kind of singles are waiting for you. If you want to ignore this portion, click on the button at the bottom of the screen that says I'll Complete My Profile Later.
We advise that you fill out this section. It will add so much more valuable detail to your profile and do wonders for generating interest around your account from other singles! Hit the green Continue button to proceed.
Step #7: Finish Off Your Profile
This is the more time-consuming portion of creating your profile, but it is well worth the time and effort! ChristianCafe.com even claims that you will increase interest in your profile by five times! You can answer as many or as few questions as you feel comfortable with. It is not required that you fill everything out thoroughly before submitting.
Step #8: Share More about Yourself
This is an optional step, but it is one we highly recommend you complete. When you post at least one photo of yourself at ChristianCafe, you will get three more free trial days! Not to mention, you will have more singles interested in your account if they know what you look like!
How to Delete a Christian Cafe Account
If you want to get rid of your Christian Cafe account, there are a few ways this can be done. But regardless of how you want to pull this off, it can always be done in a few easy steps! Check it out in the account deletion instructions below:
Go to the Help Tab – Click on "Help" in the top menu. Click on "Contact," the last option in the drop-down menu. On the page that pops up, click "Account Cancellation" under the "Billing Info" section.
Account Removal Options – Click on the "Account Removal Options" link to continue to the final step of the account deletion process.
Choose How You Want Your Account Removed – Choose one of the four options to delete your Christian Cafe profile and account:

Archive Your Account (Same Day): Archiving your account means suspending it so you can access it later. No one can access the account but you! Other members of the app won't be able to see your profile on the platform, and it's kept wholly safeguarded through your password. Same-day archiving means you can have this done immediately instead of performing it when the plan expires.
Archive Your Account (Upon Expiry): Archive your account, but let your membership run its course until its end date. This will be done automatically once the membership ends.
Delete Your Account (Same Day): Deleting your account means it's permanently wiped from existence. Just as with same-day archiving, you can perform same-day deletion! Once the deletion is complete, you can never reaccess it, and any conversations you might have been having with matches you met using that account will be terminated.
Delete Your Account (Upon Expiry): Permanently delete your Christian Cafe account but have this done automatically when your membership plans come to the end of their term.
Christian Cafe Customer Service
There is little to say about the customer support center at the ChristianCafe.com app. There is no way to contact them via phone or live chat. Your only viable options are to send emails to customer service, and getting a response can take up to 24 hours or more! This is another one of those dating apps where the customer service portion of the business could be more substantial.
All in all, customer service is not one of Christian Cafe's strong points, so this is something that the app could improve in the future for its users. You are not going to be getting speedy service, that is for sure!
Customer Service Options
✉️  Mailing Address: 128 Banchory Crescent Ottawa, Ontario K2K 2V5 Canada
📧  Email (Billing): mailing@christiancafe.com
📧  Email (General): feedback@christiancafe.com
📣 Twitter: @christiancafe
Help Center
Below is an image of what the Christian Cafe help center looks like. This kind of customer service is designed to help users who like to troubleshoot their way through problems and issues. You can get to this section of the site by clicking on the Help tab and going down to the Contact option.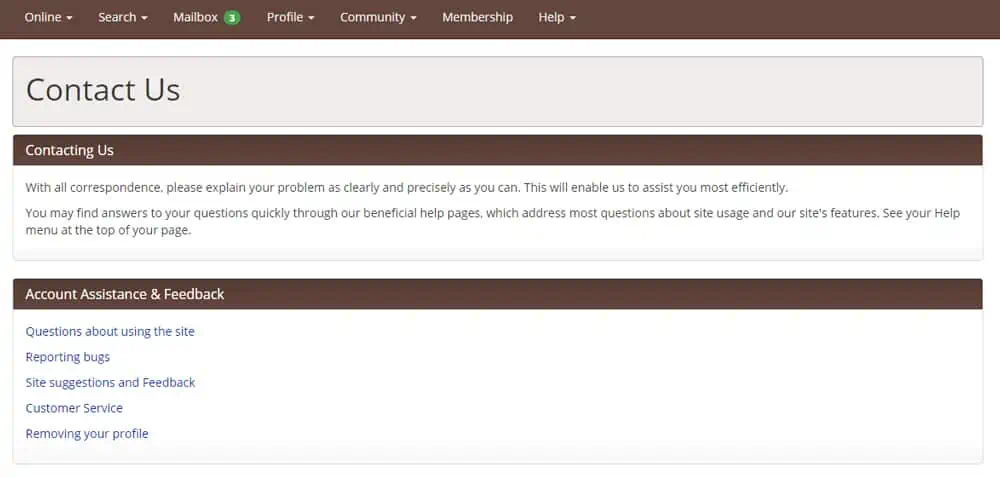 Christian Cafe's Mobile App
Christian Cafe has a dedicated mobile app in addition to its website. But the platform can be used on the go regardless of downloading the app. This is because users can visit the website using their mobile device's web browser. The experience is the same for the most part, though. Let's get into the specifics of using the mobile app.
App Features and Functionality
The mobile app doesn't have all the bells and whistles you'll find on the website, as there are a few features that aren't included. The mobile app doesn't feature the Prayer Page or the Christian Cafe forum. However, you can still perform searches and message other singles using the app. The app's format is also simplified to fit the smaller screen of a smartphone or tablet.
Compatibility
There's a dedicated mobile app for Christian Cafe available at the App Store and (more recently) at Google Play!
App Store
Rated 2.2/5 stars
Based on 29 reviews
Free to download
In-app purchases available
Google Play
Rated 3.3/5 stars
Based on 228 reviews
100k+ downloads
Free to download
In-app purchases available
Frequently Asked Questions
Learn more about Christian Cafe by browsing through some of the common questions we get from our readers about this Christian dating app. If we forgot to cover anything significant in our Christian Cafe review, chances are that you can find it right here in this section!
Is ChristianCafe.com Legit?
In searching other Christian Cafe reviews and performing our audit of the dating app, we can say with all honesty and transparency that Christian Cafe is a legit online dating app! Christian Cafe has never been hacked in the past, they do not sell off customer information to third parties, and they are diligent about cleaning up any fake profiles or abusive users that might slip through the initial vetting process. They even limit the scope of their free trial to cut down on inactive or dead accounts that might be a waste of their legitimate members' time!
How Long Does It Take to Create a Christian Cafe Profile?
It takes little time to create a generic profile for your ChristianCafe.com account. You can complete a bare-minimum profile in around 5 minutes. Still, you would be skipping some significant steps along the way, like adding photos and doing the written response questions that allow you to develop your profile in more detail. If you want to go straight to the site and see what kind of singles are out there, you could blitz through the process in about 5 minutes, but if you wanted to complete everything, we could see it taking anywhere from 10 to 15 minutes.
How Much Does Christian Cafe Cost?
There are five membership plans to be found at Christian Cafe. Customers can pay using any of the four major credit cards as well as PayPal, money orders, and Western Union payments. There is a 2-week membership that costs $34.97. The 1-month membership costs $44.97. The 3-month membership costs $69.97. And there is a 6-month membership that costs $109.97. you can get Christian Cafe for a year as well for $149.97.
What Features Do You Get By Paying for a ChristianCafe.com Membership?
When you sign up for a membership with the Christian Cafe app, you can enjoy unlimited messaging with other singles. You will be able to send winks to other members, which are like flirts or likes to generate interest around your profile. You can find out who has viewed your profile and get read receipt notifications to ensure that the messages you sent were read. You can also buy gift memberships for other users!
What Happens When I Get to the End of My Membership?
Christian Cafe has an auto-renewal feature where members will be charged for the same plan at the same price once their initial membership plan has ended. This feature saves them the time it takes to reapply for a new membership at the site. If you do not want your membership to renew automatically, contact customer service or adjust the auto-renewal function in your settings.
Please Note: That you must opt out of auto-renewal one week before your membership expires.
Can I Trust These Christian Cafe Reviews?
You most certainly can! When it comes to our reviews and ratings of Christian Cafe, you can know for sure that we were honest and transparent because we did not shy away from pointing out the things we did not like or appreciate about the site. But we also took the time to point out where we felt the app did something well!
For instance, we are not crazy about the pricing at this site. It seems more expensive than most out there, and the features are nothing to write home about. But on the other hand, we did like their quick sign-up process and the advanced search filters that the site uses to generate suitable matches for their customers! We covered the pros and cons of ChristianCafe.com, the good and the bad.
Are There Savings by Going with a Longer Christian Cafe Membership?
Yes, the longer the membership you invest in at Christian Cafe, the more savings you will experience every month. Although paying members are required to pay for membership at one time in one large sum, the month-to-month cost breakdown is ultimately going to be cheaper going with a longer plan! The 2-week membership is going to have a monthly cost of $69.94. The 1-month plan is $44.97. and the 3-month and 6-month memberships are going to be $23.33 and $18.33, respectively! The one-year membership has a monthly price of $12.50! Longer plans are going to offer you a lot more savings over time!
Will I Run into Any Fake Accounts at Christian Cafe?
As is the case with many other dating apps, Christian Cafe does have some fake accounts that make their way past the vetting system. One of the most significant advantages that ChristianCafe has is that they put a time limit on how long their free trial users can use the app free. After the free trial time is up, if the user has yet to become a member of Christian Cafe, that trial account is deleted. So, you only have a few inactive accounts just lying around. This makes it a lot easier for users to pinpoint fake profiles.