There's no way around it: We're in the age of instant gratification. Not only can you Google a piece of information in less than three seconds, but you can open your phone, swipe on a handful of profiles, and have drinks with a stranger faster than couples say, 'I Do' in a romantic comedy on Lifetime. So in a world where tens of millions of people are relying on dating apps to find love, where are you supposed to even start?
Tinder has the rep as a hook-up app (not to mention the Netflix docs like Tinder Swindler). And then you have the likes of Hinge, where you're expected to swipe through a limited amount of profiles per day, and then what? Judge someone's profile based on paragraph-length bios and overly polite conversation if this is someone you really want to spend your Thursday evening hanging out with instead of binging Shondaland?
It's exhausting even to write! So where does that leave you? Enter Zoosk–a prominent player in the future world of the online dating landscape.
The Future of Online Dating
Online dating has come a long way since its inception. It started in the late 20th century with the emergence of online platforms that aimed to connect individuals seeking romantic relationships. Initially, online dating was met with skepticism and seen as unconventional in the age of traditional dating. As the internet became more accessible and societal attitudes towards dating shifted, online dating gained traction.
The early stages of online dating involved basic profiles and limited interaction options. Users would browse through profiles and send messages, relying on written descriptions and a few photos to gauge compatibility. As technology advanced, naturally, so did online dating platforms. The rise of technology and the widespread use of smartphones and mobile apps revolutionized the dating scene.
Cell phone apps brought online dating to the literal fingertips of users, making it more accessible, convenient, and pervasive. The ability to swipe, match, and message on the go transformed the way people approach dating and not only expanded the user base exponentially but made this a regular part of everyday life and conversation. According to a study by the Pew Research Center, one in ten married adults met their partner through a dating app, with those numbers increasing for single individuals.
As apps and technology developed, dating sites began to collect and analyze vast amounts of data, an approach that helps these apps develop even more sophisticated algorithms and matching systems, allowing users to increase their chances of finding compatible partners.
In this ever-evolving landscape, Zoosk immediately stood apart. Founded in 2007, Zoosk quickly gained popularity for its user-friendly interface, innovative features, and commitment to enhancing the online dating experience. It has since become one of the leading online dating platforms, boasting millions of users worldwide.
Zoosk's success can be attributed to its ability to adapt to the changing needs and preferences of online daters. The platform constantly evolves and incorporates new technologies to provide a seamless and engaging experience–but they do it in a way that clearly supersedes other dating apps. With its emphasis on personalization, user safety, and fostering genuine connections, Zoosk has established itself as a trusted and influential platform in the online dating industry. But Zoosk has tapped into one aspect of online dating that other apps have yet to fully catch up on: The integration of machine learning and artificial intelligence to improve the accuracy of these matchmaking algorithms.
Zoosk's Unique Behavioral Matchmaking Technology
Zoosk recognizes that each individual is unique. The app's creators understand that everyone has distinct preferences and desires when it comes to dating and relationships. To address this, Zoosk places a strong emphasis on personalization and customization. By considering factors such as interests, values, and behavioral patterns, Zoosk strives to deliver matches that align with individual preferences. This focus on personalization can enhance your experience and increase the likelihood of cultivating a meaningful connection based on shared compatibility.
Zoosk employs advanced behavioral matchmaking technology to enhance the online dating experience. This innovative feature, called SmarkPick, gives users a tailored and relevant selection of potential partners, increasing the likelihood of finding meaningful connections. By leveraging data and algorithms, Zoosk aims to optimize the matching process and help users find compatible matches more efficiently.
How Exactly Do They Do This?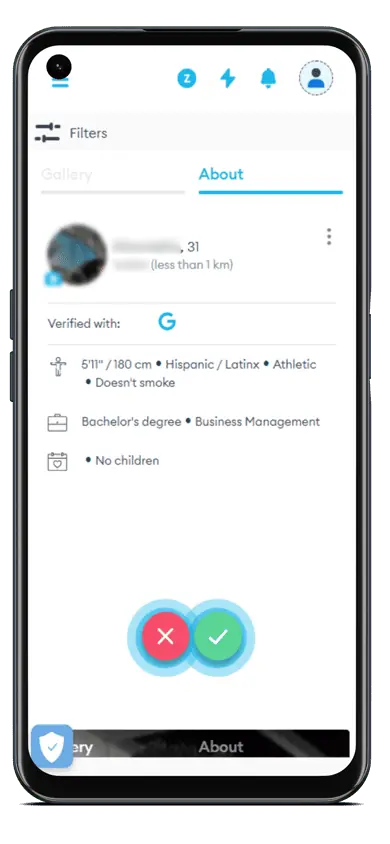 By analyzing user behavior and preferences, Zoosk's algorithm will literally track a user's behavior and experience on the app. Essentially, you have a personal matchmaker on the app, an Artificial Intelligence algorithm that's paying attention to how you interact on the app. This algorithm will study your likes, dislikes, messaging patterns, conversations, and interactions with other users to get an idea of who you are as a person and what you're looking for. After studying your preferences, the app will send you personalized match suggestions that are likely to align with your choices, resulting in a more compatible match.
This SmartPick feature uses machine learning to deliver curated matches by following your behavior and interactions on the app and essentially coming to learn your individual preferences.
Over time, as the app gets "to know you," it will continue to refine its profile suggestions based on what you've expressed you desired on the app. By continuously analyzing user data, Zoosk's SmartPick offers a personalized approach to help enhance your overall experience, saving time and effort while increasing your chances of finding a person who is seeking the same thing you are.
As if that wasn't cool enough, Zoosk also offers a user-friendly interface, creating an intuitive design and providing a seamless dating experience. The platform focuses on simplicity and ease of use, ensuring you can navigate the site or app effortlessly. The layout and well-designed features make it accessible for users of all technological backgrounds, so you should be able to pick it up pretty quickly.
At its forefront, Zoosk recognizes the importance of effective communication in fostering meaningful connections. The platform offers a range of tools to facilitate interaction between users, including instant messaging, chat rooms, and video chat, promoting more in-depth and personal connections.
Besides traditional messaging options, Zoosk also provides virtual gift options allowing users to express their interest and affection in a fun and unique way. Virtual gifts can help break the ice, add a playful element to conversations, and create memorable interactions, enhancing the overall connection-building process.
Zoosk's Photo Verification and Safety Measures
Zoosk strongly emphasizes user safety and takes proactive measures to create a secure online dating environment. Users can verify their profile photos by submitting a video selfie, ensuring that the pictures displayed are authentic and accurately represent the user. These safety measures protect users from fraudulent activities, like fake profiles and catfishing, scams often designed to rob users of their time, affection, and money.
Zoosk's platform employs sophisticated algorithms and manual reviews to detect and remove suspicious profiles, maintaining a high level of safety. In a day and age where so-called 'romance scams' are becoming increasingly more popular, Zoosk allows users some peace of mind while putting themselves out into the online dating world.
Even better, Zoosk is a step beyond being a mere dating platform. The app provides valuable insights and resources to support users in their online dating journey. The Zoosk blog offers a wealth of articles, tips, and advice on various aspects of dating and relationships, meaning if you're unsure of where to start or if you've been out of the game for a while, you're in the right place. These resources cover topics like profile creation, first-date ideas, communication strategies, and relationship advice.
By offering this additional guidance, Zoosk aims to empower users with knowledge and tools to make informed decisions, navigate challenges, and optimize their online dating experiences. The insights and tips provided by Zoosk contribute to building stronger connections and increasing the chances of finding compatible matches that the app delivers to your metaphorical front door.
Zoosk's Impact on the Future of Online Dating
Zoosk has played a significant role in shifting societal attitudes toward online dating. As one of the pioneers in the industry, Zoosk has contributed to the acceptance and normalization of online dating as a legitimate and viable way to meet potential partners. By providing a reliable and trustworthy platform, Zoosk has helped break down barriers and stigmas associated with online dating, encouraging more people to embrace this modern approach to romance. And by encouraging extra safety features, Zook has helped eliminate most stigmas associated with online dating, as well.
Zoosk and the Integration of AI and Machine Learning
Finding meaningful connections can be a daunting task. However, Zoosk has harnessed the power of advanced technologies like AI and machine learning to revolutionize how people find love in the digital age. Unlike other dating apps, Zoosk uses AI technology to get to know you and what you want as an individual. By leveraging the power of AI and machine learning, Zoosk refines its matching algorithms to enhance your experiences with the app. These advanced technologies analyze vast amounts of data, including your preferences, interactions, and feedback, to improve the accuracy and effectiveness of match suggestions.
By integrating AI and machine learning, Zoosk can identify patterns, trends, and compatibility indicators that may not be immediately apparent to users. This enables the platform to provide more compatible matches, increasing the chances of forming stronger connections with less effort. Integrating AI allows for continuous improvement by giving personalized recommendations, insights, and guidance throughout your online dating journey.
In the growing age of AI technology like Chat GPT and Jasper, Zoosk is leading the forefront of Artificial Intelligence by continually developing its app to keep up with the changing times. AI and machine learning are cutting-edge technologies that enable computers to analyze large amounts of data, identify patterns, and learn from user behavior. This adaptive approach ensures that users receive more accurate match suggestions. With the use of AI, Zoosk can also identify areas for enhancement with its algorithm systems, ensuring they remain effective in their goal to help you meet the person you're searching for.
This approach allows Zoosk to stay at the forefront of online dating innovation, providing you with an ever-improving platform for finding love.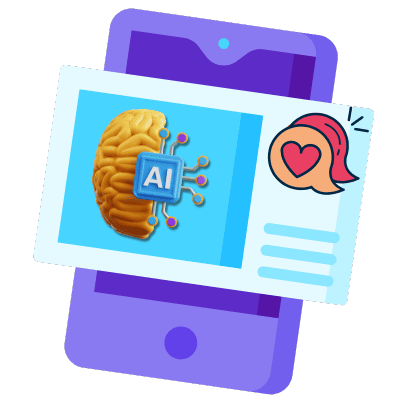 Even better, Zoosk eliminates the often robotic feeling that has come with the arrival stage of early AI technology. AI and machine learning may play a vital role in Zoosk's matching algorithms, but the platform still recognizes the importance of human connection and encourages people to interact with the app foremost. Zoosk combines the power of technology with the human touch to ensure that matches go beyond mere data points. At the end of the day, chemistry and emotional compatibility can't be fully captured by algorithms alone, and the more you use the app, the better you're helping the AI algorithms to give you more precise connections.
Zoosk may be the first to incorporate AI this in-depth with online dating, but it most definitely won't be the last.
By contributing to the acceptance and normalization of online dating, emphasizing personalization and customization, and integrating advanced technologies, Zoosk is shaping the future of online dating. As the platform continues to learn and adapt to your behavior by taking advantage of all the new technology AI offers, it will only enhance your chances of finding genuine connections in the digital realm.
With Zoosk's commitment to continuous improvement and its balance of science and human connection, the future of online dating looks promising. So why not try it? You're only one step away from saying that a robot helped you find your next true love—before saying that becomes the norm.