In the age of technology, dating has taken a new turn–you can say goodbye to the days when you had to rely on chance encounters at the club or local watering hole, or awkward set-ups by friends to meet potential partners.
Now, the dating world is literally at your fingertips and a swipe or a tap away with so many dating apps out there to choose from! But wait! There's more–the latest trend in the digital dating realm is artificial intelligence, and AI dating apps are shaking up how people connect and find love.
The advent of AI has had a profound impact on a number of industries, and the online dating industry is no different. By enhancing the user experience and generating more accurate and personalized matches, AI dating apps are reshaping the way we meet prospective partners.
In this review, we will delve into everything you need to know about the best AI dating apps currently available and talk about two new dedicated AI focused dating platforms–Teaser AI and hily.
Our List of the Best AI Dating Apps
While only two of the services in the table below are dedicated AI dating apps, we have to mention that the others do utilize AI in their matching processes and algorithms–but they don't have AI chatbots that get all of the initial chats and groundwork out of the way for you.
So if the thought of a robotic version of you chatting up a potential match or partner makes you a little uncomfortable, you have some other options that use artificial intelligence to help you out with your dating goals, just in a more subdued manner!
AI Dating App
Key Information
Get Started
Teaser AI

Year Founded: 2023
Best For: Serious relationships, casual romance, and finding singles who want short-term flings
Active Users: N/A
Gender Ratio: N/A
Most Popular Country: United States (no percentage data)
Subscription Price: Starting at $19.99/month

Start for Free Today!
hily

Year Founded: 2017
Best For: Falling in love, casual romance
Active Users: 62% men to 38% women
Gender Ratio: 22 million
Most Popular Country: United States (92.7%)
Subscription Price: Starting at $14.99/month

Start for Free Today!
Zoosk

Year Founded: 2007
Best For: Serious relationships, casual romance, and finding singles who want short-term flings
Active Users: 500,000 (40+ million registered accounts)
Gender Ratio: 48% men to 52% women
Most Popular Country: United States (83.9%)
Subscription Price: Starting at $10.00/month

Start for Free Today!
eHarmony

Year Founded: 2000
Best For: Finding meaningful, long-term relationships centered around compatibility
Active Users: 16+ million
Gender Ratio: 48% men to 52% women
Most Popular Country: United States (92.39%)
Subscription Price: Starting at $35.90/month

Start for Free Today!
Tinder

Year Founded: 2012
Best For: Finding casual romance and dating experiences
Active Users: 8+ million
Gender Ratio: 61% men to 39% women
Most Popular Country: United States (10.55%)
Subscription Price: Starting at $4.50/month

Start for Free Today!
Our team has independently researched all products and services that we have listed on this page. If you sign up or purchase through our links, we may receive a commission. See how it works.
Here at DatingApps.com, we recommend trying out several different dating apps before settling on one–you are not bound to stick to one, despite the general consensus. Expand the scope of your search for a significant other by signing up for as many AI dating apps as you want–the more, the merrier!
About Our Rating and Review Process
When it comes to AI dating apps, our methodology is unmatched–we review every platform by providing objective, honest evaluations. We examine all the benefits and drawbacks we find in every step of our research,/lis and to arrive at the final rating score, we carefully consider the following five factors:
Cost of membership
Membership features and benefits
Usability and ease of use
The number of active members
The effectiveness of the matchmaking system
A Closer Look at the Best AI Dating Apps
We did some digging and found the top 5 AI dating apps that are harnessing the power of artificial intelligence for good instead of evil–making love connections!
While there are only two that have leveled up the use of AI, Teaser AI and hily, all of the others employ it in ways that make it easier to recommend compatible potential romantic partners to members.
#1: Teaser AI
Free Features
Create a Teaser AI dating app account
Build out a complete dating profile
Personalize a profile
Upload up to 6 profile photos
Access to 16 "picks"
Teaser Pro premium users get access to a variety of perks, including extra "picks," super likes, profile boost tools, limitless likes, a trip mode for when you're on the road, and more, all thanks to the beta version of an AI-driven auto match mechanism.
Dating profile boosts
Match Rewinds
Unlimited matches
Unlimited likes
Super likes
Have you heard about Teaser AI? Hold on to your smartphones and get ready for something truly innovative and a lil' unsettling if you're worried about robots phasing out humans and taking over the world–this AI dating app will blow your mind.
What makes it so different from regular dating apps? Well, instead of you matching with someone and then agonizing over sending the initial message, you get your very own chatbot to do it for you. But hang on, your chatbot isn't talking to a real person–it's talking to someone else's AI counterpart.
Is your head spinning? You can read all about this new AI dating app in our Teaser AI review if you want to know all the details!
By automating the icebreaker process, Teaser AI hopes to reduce the frequency of "ghosting" on dating apps. To do this, it depends on artificial intelligence chatbots that replicate users' interests and personalities.
Instead of interacting with a potential match, users can "get a sense" about them through the user's chatbot, which Teaser AI claims "gives you a feel" for the user.
---
#2: hily
Free Features
Sign up and create a dating profile
Limited likes per day
Upload a live stream
Basic searching
Swiping on potential matches
The hily app is an AI powered platform that offers a safe, inclusive, and reputable dating community–it utilizes compatibility and genuine conversations in order to help members find compatible connections. hily employs artificial intelligence to match and screen all users. It is open and welcoming to all genders looking for any kind of relationship, ranging from casual to serious and everything in between.
Premium Features
Unlimited likes
Enhanced, sophisticated search filters
Access to incognito mode
Access to all members' stories
Add-free experience
According to the hily website, "The hily mission is to make conversations between our users easier. We use icebreakers, compatibility checks, messaging, and video calls to make that happen. We empower you to write an exciting romantic story. Ultimately, hily is a platform designed to be used by adults in their efforts to find someone who is genuinely compatible with them. We also offer customer support to ensure users are able to achieve the best possible results."
---
#3: Zoosk
Key Features
Your Facebook login will immediately sync your likes.
Carousel dating operates similarly to the Tinder swipe method.
The "SmartPick" tool determines your type by analyzing preferences in your interactions with other accounts.
A useful tool for identifying singles who will respond to messages quickly is the "See who's online" button.
You can look at notification receipts to see when your messages have been read.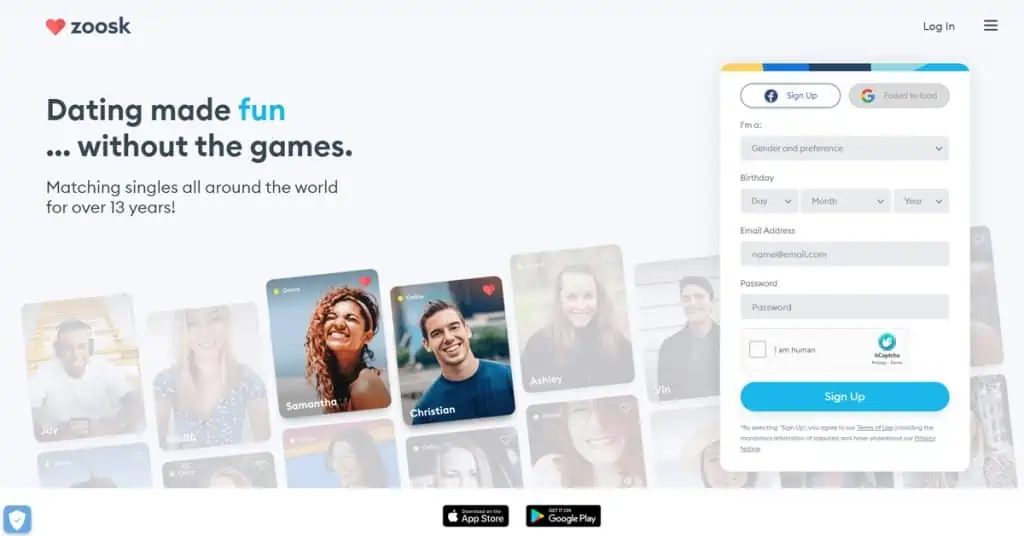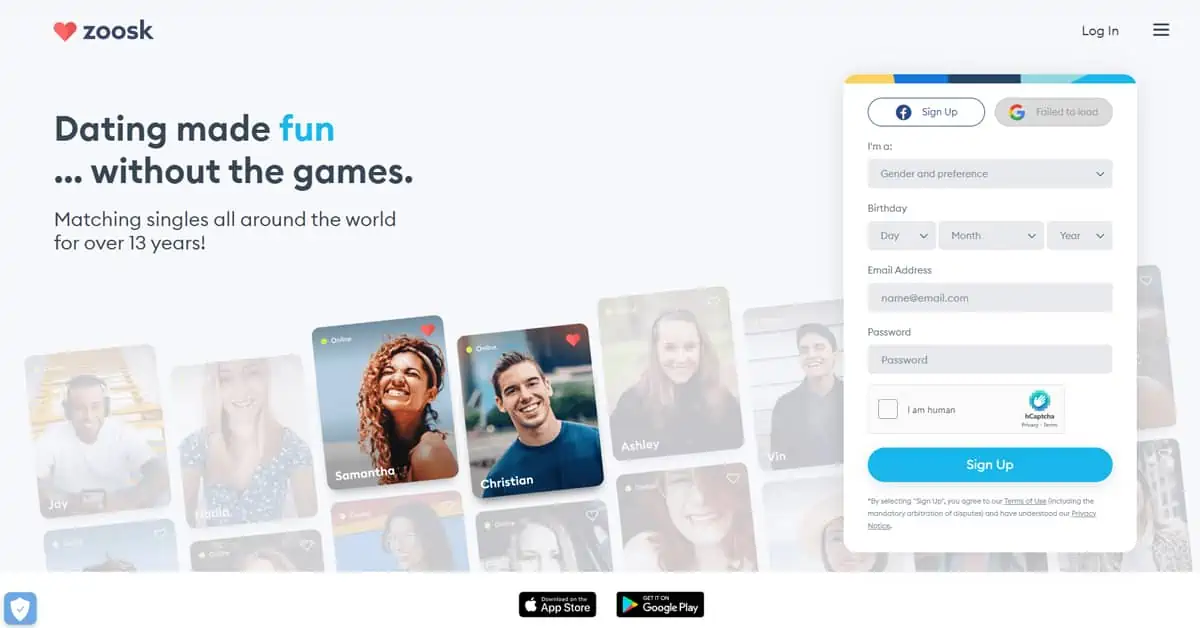 Members of Great Dates can video chat with other Zoosk users. This video verification can prove that users match their profile pictures accurately.
Boost your dating profile to rise to the top of Zoosk's search results.
One of the most distinctive features of the Zoosk dating app is its AI-powered SmartPick tool. This algorithm can learn users' preferences, such as the dating profiles that they have liked or passed over, to offer personalized match recommendations.
---
#4: eHarmony
Key Features
Take and get the results of the 32 Dimensions of Compatibility test.
Access scores and compatibility reports for any of your matches.
You can add others to your favorites list.
Send "smiles" and "compliments" to other members you're interested in getting to know.
See who has liked or looked at your profile.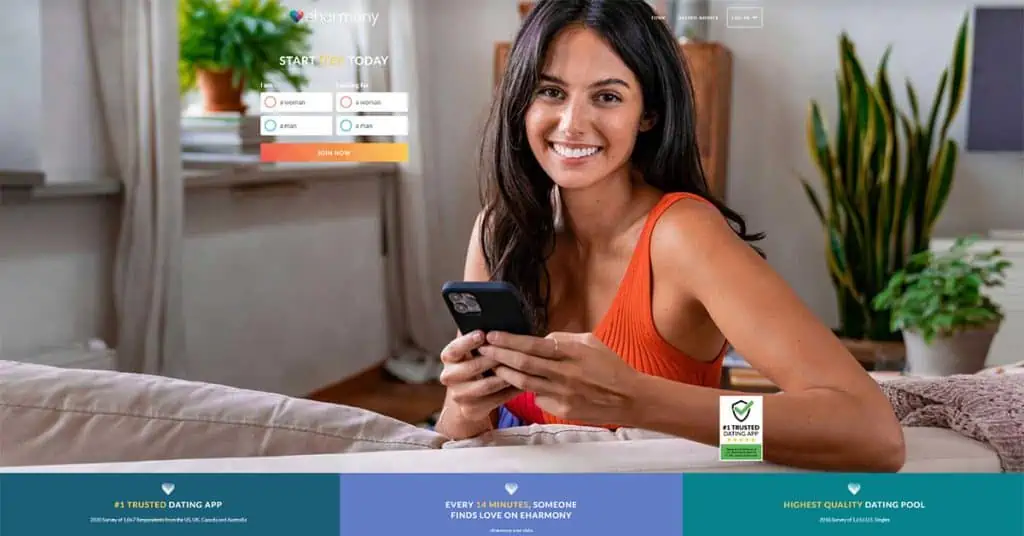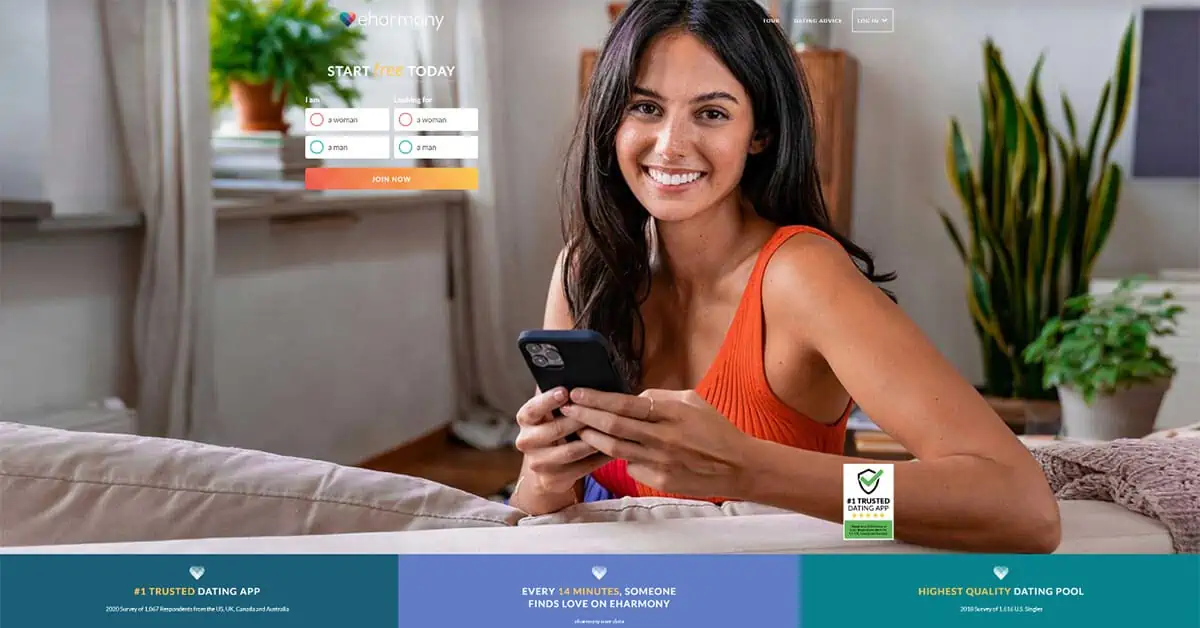 Members can use interactive openers and prompts to get a conversation started.
Access to other app users' profiles and messages is unlimited.
You can check out who added your profile to their Favorites List.
Every day, there are wildcard matches (What If). These are recommendations that are not optimally compatible, but who knows?
Anonymous profile surf with the incognito mode.
Members have access to video dates, which lets them chat face-to-face with their matches.
eHarmony is renowned for its extensive compatibility matching system, which is– you guessed it–powered by AI. The dating app draws on an in-depth questionnaire to gather details about users' personalities, values, and relationship goals. eharmony utilizes AI algorithms for analyzing the collected data and subsequently provides suggestions for highly compatible matches to its members!
---
#5: Tinder
Key Features
Unlimited likes.
See who has liked your profile.
If you've got priority likes, the people you like will see you first.
Swipe right on the profiles you like and left on the ones you're not interested in to browse through a large number of profiles quickly.
Get unlimited rewinds for any accidental swipes.
Premium members receive five "Super Likes" weekly and one free boost each month.
Before matching with another person, you can send them a message.
Members can connect or match with anybody worldwide thanks to Tinder Passport, which is ideal for international dating opportunities.
You can choose who sees your profile.
Ads that disrupt profile browsing are not an issue for premium members–it's an ad-free experience.
Tinder, an incredibly popular dating app used worldwide, has integrated AI technology into its platform. Through its "Smart Photos" feature, Tinder utilizes AI algorithms to analyze users' profile pictures and identify the ones with a higher probability of receiving swipes. This technology helps users showcase themselves in the best possible way, improving their likelihood of finding a compatible match.
---
Why Trust Our Recommendations
How can you trust our recommendations regarding the best AI dating apps? Easy–we have been studying and researching them since the moment they popped up on the market! Even though there are only two true AI dating apps at the moment, we feel confident that more will be released in the near future! Plus, this is what we do for a living–all things dating apps! If you need more convincing, look below.
Expert Reviews
As we've said before, we put all the dating apps we recommend to our readers through a thorough vetting process that takes into account the pros and cons of each service. The following factors are considered:
Reasonable premium costs for membership
Excellent functionality on both the website and the mobile app
Beneficial premium membership features and perks
A reliable AI matching algorithm or process
A large dating pool with diverse options
We carefully weigh the benefits and drawbacks of each of these five primary sections, we cover all the bases, and we never play favorites. We have never been afraid to point out shortcomings or give credit where credit is due. Our main objective is to give reliable and trustworthy reviews of the AI dating apps we've suggested so our readers can make a well-informed decision about signing up.
Real User Testimonials
In addition to our own comprehensive research, we additionally factor in online feedback from actual users and paid subscribers of these AI dating apps–we can tell you we like them until the cows come home. Still, the real users are the MVPs as far as true feedback.
SiteJabber, Trustpilot, and ConsumerAffairs are our go-to BFFs when we look for user reviews–we do read the reviews posted, but we do so with care. Sometimes people are angry when they write a bad review, which is valid. Still, we consider the general consensus instead of focusing on one or two scandalously bad reviews. Doing so enables us to write the best reviews possible!
In-depth Research and Analysis
We put these AI dating apps through a battery of tests by signing up and actually using them! We take advantage of a dating app's free trial (if they offer one) by signing up for a new account, creating a profile, and exploring everything the platform offers. After that, we upgrade to a premium membership and interact with other singles.
We're confident we can give you a better and more comprehensive review by putting these dating platforms through the wringer. All of the reviews we write come directly from our own personal experiences. We go into how we felt about the apps as a whole, how effective the search tools and matchmaking algorithm were, and how interesting the users we came across in our searches were.
Benefits of Choosing an AI Dating App
The benefits of AI dating apps over conventional ones are considerable when you really think about it–to start with, they use sophisticated algorithms that adapt to each individual user. They get to know your particular tastes, lifestyles, and interactions with others to make the best compatible recommendations. This means users can spend less time randomly looking at profiles and more time actually talking to people.
And you are more unlikely to run into scammers or fake profiles while using an AI dating app, which we love! In an effort to offer a safer and more genuine dating experience, advanced AI technology can recognize and remove bogus profiles.
The piece de resistance is AI dating apps use all the data they have about you and your matches to give you dating advice and icebreakers, so if you are new to online dating or have trouble initiating contact due to an introverted or shy nature, this could be a game-changer.
Greater Compatibility – AI-powered algorithms analyze user data, such as interests, preferences, behavior patterns, and social media activity, in order to generate more accurate and compatible matches. AI dating apps use machine learning techniques to enhance their matching capabilities continuously.
Shared Values and Beliefs – Many AI dating apps integrate personality assessments beyond hobbies and interests. These assessments use artificial intelligence technology to evaluate personality traits, values, and relationship priorities, enabling users to find partners with whom they share deep compatibility.
Chatbot Assistance – Chatbots capable of carrying on chats on your behalf is a staple of dedicated AI dating apps–the main purpose of these chatbots is to assist singles throughout the dating process by mimicking human interactions while providing guidance. They can help you get the ball rolling with potential conversation topics, dating profile enhancement tips, and first-date suggestions
Smart Profile Creation – AI dating apps help members to create appealing dating profiles by offering content recommendations and how they can enhance their visual appeal. These software programs analyze user behavior, interests, and preferences in order to create compelling profiles that will make them stand out from the crowd.
Natural Language Processing – AI matchmaking platforms leverage natural language processing to analyze conversational patterns and assess compatibility by evaluating communication styles. This feature assists users in finding matches who are more likely to engage in meaningful conversations and helps them steer clear of people whose communication styles might not be compatible.
Fewer Fake Profiles – AI-based image recognition technology helps users identify fake profiles and potential catfishes. This feature detects inconsistencies, such as stolen images or mismatched facial features, ensuring a safer and more authentic dating experience.
Finding the Best Dating App for Your Needs
Having trouble finding your way through the minefield that is modern romance? Read on for some helpful hints about how to zero in on the best AI dating app!
Assessing Your Preferences
Do you want a short-term or casual relationship? Or are you looking for a deeper connection? Deciding which AI dating app will work best for you involves a realistic assessment of what you want in a potential partner.
For long-term committed relationships:
eHarmony: Everyone knows that if you are looking for a serious relationship, you go to eharmony–it's basically a rule in the dating app world.
Teaser AI: Since the Teaser AI dating app was created to cut down on ghosting, we think it's pretty safe to say that it's looking to create serious romantic relationships!
hily: This AI dating app wants to help users find their "ideal" partner, so if you are in the market for something more concrete in the love department, you can find it here!
For short-term or casual dating:
Tinder: It's Tinder, 'nuff said. Although it isn't unheard of for people to go into thinking it's just a one-time thing, and they end up married. But this is where to go if you are looking for short-term fun!
Zoosk: Zoosk doesn't get the bad rap of Tinder, but it is known for catering more to short-term dating and casual flings.
Comparing Features and Pricing
It doesn't matter if you are rich or poor, you should always explore and compare the features and cost of dating apps when looking to sign up. You should get what you pay for and make sure that the premium features will help you without having to fork over an arm and a leg for an exorbitant subscription fee. Look below for a breakdown of the best AI dating app premium membership plans!
Teaser AI
| Membership Package | Membership Length | Price Per Month | Total Cost |
| --- | --- | --- | --- |
| Teaser Pro | 1 week | $19.99 (one week) | $19.99 |
| Teaser Pro | 1 month | $39.99 | $39.99 |
| Teaser Pro | 3 months | $89.99 | $269.97 |
| Teaser Pro Lifetime | Lifetime | $229.99 | $229.99 |
hily
| Membership Package | Membership Length | Price Per Month | Total Cost |
| --- | --- | --- | --- |
| hily Premium | 1 week | $24.99 (one week) | $24.99 |
| hily Premium | 3 months | $25.00 | $74.99 |
| hily Premium | 12 months | $10.00 | $119.99 |
Zoosk
| Membership Package | Membership Length | Price Per Month | Total Cost |
| --- | --- | --- | --- |
| Zoosk Premium | 3 months | $19.98 | $59.95 |
| Zoosk Premium | 6 months | $13.35 | $79.99 |
| Zoosk Premium | 12 months | $10.00 | $119.99 |
eHarmony
| Membership Package | Membership Length | Price Per Month | Total Cost |
| --- | --- | --- | --- |
| eharmony Premium | 6 months | $65.90 | $395.40 |
| eharmony Premium | 12 months | $45.90 | $550.80 |
| eharmony Premium | 24 months | $35.90 | $861.60 |
Tinder
| Membership Package | Membership Length | Price Per Month | Total Cost |
| --- | --- | --- | --- |
| Tinder Plus | 1 month | $13.49 | $13.49 |
| Tinder Plus | 6 months | $6.75 | $40.50 |
| Tinder Plus | 12 months | $4.50 | $54.00 |
| Tinder Gold | 1 month | $22.49 | $22.49 |
| Tinder Gold | 6 months | $11.25 | $67.50 |
| Tinder Gold | 12 months | $7.50 | $90.00 |
| Tinder Platinum | 1 month | $26.99 | $26.99 |
| Tinder Platinum | 6 months | $13.50 | $81.00 |
| Tinder Platinum | 12 months | $9.00 | $108.00 |
Evaluating Success Stories and Reviews
We recommend reading online reviews and success stories from people who have used the dating apps we feature to get a better sense of which ones are ideal for you–SiteJabber, ConsumerAffairs, and Trustpilot are some great resources to find honest reviews!
Downloading and Signing Up for a Dating App
Most AI dating apps have super quick signup processes. The only one that takes a much bigger chunk of your time is eHarmony's–the personality and compatibility tests can take anywhere from 30 to 45 minutes to complete.
Available Platforms
There are three ways you can use these AI dating apps–you can use an internet browser on your computer, a web browser on your mobile device, or a specialized mobile app on your smartphone! Check out the table below for the specifics.
| Dating App | Internet Browser | Google Play | Apple Store |
| --- | --- | --- | --- |
| Teaser AI | Yes (for support) | Yes | Yes |
| hily | Yes | Yes | Yes |
| Zoosk | Yes | Yes | Yes |
| eHarmony | Yes | Yes | Yes |
| Tinder | Yes | Yes | Yes |
Are There Free AI Dating Apps?
All of the best AI dating apps are free to download, and users can create a dating profile at no cost.
Freemium Models
Our handpicked list of AI dating apps all provide free trials which limit your access to a subset of the paid features–this business strategy is known as a "freemium" model. The app's most fundamental services, such as profile searching using filters and "liking" other members, are available to new users at no cost once they sign up for an account and create a profile.
We discovered that most AI dating apps operate on a freemium trial model, where some features are free while others are only available to paying subscribers. While specifics may vary per service, this is a good representation of what you can expect to find on all online dating apps.
Typical Free Features
Register a new account
Create and develop a dating profile
Enter search criteria and view profiles that come up
Send "likes," "winks," or "flirts" to other dating app profiles you're interested in
View bio information and photos on other members' profiles
Get matches from the app or swipe through profiles that interest you
Typical Paid Features
Communicate or message other members without any limitations
Read receipts for messages
Profile boosts and priority messaging that increases your overall visibility
See who has liked or viewed your profile
Access advanced search filters to hone the results of your online searches
Video dates that enable you to meet your matches face-to-face
Paid Upgrades
Some of the best AI dating apps on our list also offer additional upgrades, at a cost above and beyond the premium membership fee. Among these are:
Dating profile boosts
Message or profile highlights
Priority messaging
Get read receipts
Invisibility or incognito mode
Buying virtual presents for dating app members
Tips for Success on Best AI Dating Apps
To make the most of AI dating apps, it's important to be genuine and detailed in your dating profile–the more information about you and the platform has, the better it can match you with potential partners!
Engage actively with the app–the more you use it, the more it can learn from your choices. This goes a long way in helping AI understand your preferences better and, in turn, recommend more compatible matches.
Don't be afraid to explore and experiment. AI constantly learns and evolves, so the matches it suggests can surprise you. Be open to possibilities; you might just find the perfect match in the most unexpected profile.
While AI can vastly improve your online dating experience, remember it's just a tool–the success of your dating life ultimately lies with you and how you use it!
Creating a Compelling Profile – To get the most out of your bio and "about me" section, you need to be open and honest about your own goals, accomplishments, and your interests. Make sure the person knows exactly what they can expect from your online dating profile so there are no chances of misunderstandings.
Choosing the Right Profile Picture – A great profile picture is super important–it's the first thing other daters see and you only get one chance to make a first impression! Choose a photo that not only shows your face clearly but also communicates something about who you truly are.
Crafting Engaging Conversations – Communicate effectively! Artificial intelligence can recommend potential matches and give icebreakers and conversation starters, but ultimately it is up to you to maintain an initial connection. When interacting with a potential partner, do it in a genuine, polite, and engaged way.
Setting Realistic Expectations – Patience is key when it comes to finding the perfect match, even with the help of a chatbot wingman on an AI dating app! Always take your time and don't rush the process on an AI or any other dating app.
Staying Safe While Online Dating – Always put your well-being and safety first! Make use of the security safeguards and tips that are provided by the Ai dating app, such as blocking and reporting individuals who make you uncomfortable and reporting accounts that appear to be suspicious to the app's customer support team.
The Future of AI Dating Apps
The future of artificial intelligence technology holds an incredible amount of promise for the development of AI dating apps–the following are some exciting possibilities:
Advanced Compatibility Assessments – In the future, AI dating apps are anticipated to include more sophisticated compatibility assessments that explore users' personalities, values, and relationship goals in more detail. By implementing this, the result will be more accurate and compatible matches, ultimately leading to higher chances of establishing long-lasting connections!
Virtual Dating Assistants – AI dating apps have the potential to incorporate virtual dating assistants that can provide personalized advice, conversation prompts, and even real-time coaching during dates. These virtual assistants can analyze conversations, body language, and facial expressions, which can help users traverse the complexities of dating with more success.
Augmented Reality (AR) Dating – As augmented reality (AR) and virtual reality (VR) grow more advanced, AI dating apps have the potential to integrate virtual dating experiences. There are now several dedicated VR dating apps that enable people to go on virtual dates with potential matches–they can explore innovative virtual environments in a totally immersive experience, all from the comfort of their personal space.
Frequently Asked Questions
Reuse some of the current FAQs but maybe reword 1-2, remove 1-2 of the weaker questions and answers, and replace them with 2 fresh questions and answers.
Are the Best AI Dating Apps Safe?
Yes! AI already employs detection and prevention mechanisms against online harassment and fraud This will only improve in conjunction with the advances in AI technology! To increase user safety and create a trustworthy environment, next-generation AI dating apps have additional layers of protection in addition to high-level security measures.
What Is an AI Chatbot?
An AI chatbot is a computer program that utilizes artificial intelligence (AI) and natural language processing (NLP) to comprehend questions and provide automated responses, mimicking human conversation.
Are AI Dating Apps Matching Algorithms Better?
We think so! AI dating apps utilize sophisticated matching algorithms that delve deeper than superficial traits–they take into consideration multiple factors, including personality traits, values, and relationship goals, in order to facilitate more meaningful connections.
AI Dating app users can boost the chances of finding compatible partners and ultimately lead to more successful relationships because these platforms are leveraging AI technology.
Can I Use the Best AI Dating Apps for Free?
Yup! You can try any of the AI dating apps we recommend for free, but your access to certain features, like messaging other users, and the number of potential matches will be limited. We always suggest trying out a dating app for free and if you find you like it, upgrading to a premium membership if it makes sense to do so!
How Much Are AI Dating App Premium Memberships?
Premium membership prices and durations vary from dating app to dating app–they can start at $14.99 and go up to $800. It all depends on the platform, the variety of plans, and the duration of those memberships. On some dating apps, users can also make one-time purchases in-app. If you want to see a complete breakdown of all the plans and prices available for the best AI dating apps, scroll up to the tables in this review!
Do the Premium Memberships on the Best AI Dating Apps Automatically Renew?
All of the AI dating apps' premium membership plans featured in this review do, in fact, automatically renew. If you decide you no longer want to pay for a premium subscription, you have to cancel it on the platform where you purchased it before the plan is set to end (ex: if it's a monthly membership, before the expiration date) to avoid incurring any further fees.
Do the Best AI Dating Platforms Have Mobile Apps?
Of course! All five of our recommended AI dating platforms have dedicated mobile apps that can be downloaded for free from the Apple App Store or the Google Play Store.
What Happens if a Chatbot on an AI Dating App Says Something Odd?
Oh, we can pretty much guarantee that an AI chatbot is going to get weird–it is bound to happen, and the developers of Teaser AI warn you right on the app! But if you think about it, don't real people on dating apps say bizarre and even crude or hostile things all of the time? And that's intentional!
An AI chatbot is not a human and will get some things wrong or come across as garbled from time to time–but if you are on an AI dating app, it comes with the territory and your match will understand that! If it happens, maybe it'll be a funny story you tell your kids about how your chatbot went haywire when mom and dad first met.,