Tired of endless dead ends in your matchmaking experiences? So were the founders of Teaser AI, a brand new dating app designed to "Use Al to stop ghosting and get you to the part that matters: meeting up in person and seeing whether that spark is for real."
Teaser AI is different from other dating apps in that you can really have a conversation with the AI version of a potential match before deciding whether to like them or not. Rather than wasting time with small talk, users can quickly "Decide whether you want to meet up," as stated in the app's description on the App Store.
The creators of Teaser AI are also responsible for Dispo, the popular photo-sharing app that was co-created by YouTube star David Dobrik. The app's description says that the AI technology will counter "ghosting," the act of suddenly ending all communication with a potential romantic partner without warning or explanation, and promises "to ward off catfishing and creeps" by vetting each dating profile.
We signed up and made a dating profile to find out if Teaser AI lives up to its claims of being able to combat ghosting–keep reading for our complete review of the Teaser AI dating app for 2023!
---
---
Our team has independently researched all products and services that we have listed on this page. If you sign up or purchase through our links, we may receive a commission. See how it works.
Introduction to Teaser AI
Teaser utilizes AI to create chatbots that replicate users' interests and personalities, a feature designed to lower the rate of "ghosting" by taking care of the icebreaker phase of dating.
Users can interact with another user's chatbot, which "gives you a feel" for a potential match before actually chatting with them, says Teaser AI, rather than engaging with a match directly. Sounds wild, right? And a little scary, too. But that's ok; we love new and exciting technology, and if it decreases ghosting, we are all for it!
A Brief Overview of Teaser AI's History and Success
The number of app users and the extent to which it helps people find compatible matches are still unknown–Teaser AI is just one example of the various ways that artificial intelligence is changing the online dating industry.
There isn't much to say about Teaser AI's history and success, as it was just released in June 2023. But according to the reviews in the app store, people are quite happy with the dating app and its unique process. From the looks of what people are saying, it looks like it is quite a hit with daters.
According to Business Wire, "Adoption has skyrocketed since Teaser AI launched in open beta two weeks ago, with tens of thousands of downloads and thousands of matches made to-date."
Check out what members of the Teaser AI dating app are saying below: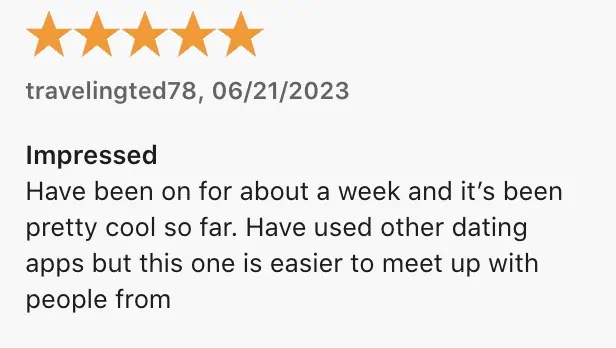 Teaser AI's Unique Approach to Online Dating
Obviously, Teaser AI's approach to online dating veers way off the beaten path due to its use of chatbots that stand in for real people. Your AI will get all of the small talk out of the way for you, and if you don't like the vibe you are getting from a potential match's AI, you can dip out.
The creators said that "dating apps today have endless small talk," but "we don't want a pen pal," hence the creation of the app. The description warns users that Teaser AI is "of course not perfect" before explaining that "when you start Teaser AI, our AI starts learning about you—through your profile and chats, it gets smarter every time. And if you don't say something within 24 hours of a match, consider it expired — so get going."
Is Signing Up for Teaser AI Worth It?
We really want to say that signing up for Teaser AI is absolutely worth your time and energy, but we can't go all in on that sentiment–yet. Because it is in its infancy, we need to collect a little more data about its success rate for pairing up compatible people.
For now, we will say that it is absolutely like nothing else on the dating app market (in a good way). If you are in search of a platform that is truly unique and fun, like the idea of an AI version of you doing the heavy lifting for you, we think it is most definitely worth it!
Our Ratings
The overall score for Teaser AI is a solid 4 stars. If you're searching for a cutting-edge dating app to help you find love or more laid-back relationships, you should definitely try this one! We aren't sure how many people are on the app or how active they are, given that it literally just hit the app store.
Overall:
| Category | Score |
| --- | --- |
| Features | 4.0 |
| Ease of Use | 5.0 |
| Match Quality | 3.0 |
| Cost | 3.0 |
| Active User Base | N/A |
| Overall | 4.0 |
What We Like
There are lots of things to like about Teaser AI, especially since it's the most unique new kid on the block in the dating app industry!
No More Small Talk – Sick of breaking the ice with potential matches on dating apps? On Teaser AI, you can kiss that chit-chat goodbye. You now have your very own AI that will get all those initial messages out of the way for you. How cool is that??
Easy To Use – Teaser AI is not only easy to use, but it's got a colorful, eye-popping layout that is aesthetically pleasing to even the most discerning dating app users.
Unique Matching Method – You won't match with a compatible partner until your artificial intelligence counterparts have had some time to get familiar with one another. When you're trying to determine whether or not to go on a date with someone you've matched with, having access to artificially manufactured exchanges can be extremely beneficial in making a decision.
What We Don't Like
Unknown User Base – Teaser AI is hot off the press, so we aren't sure how many people are signed up and active on the dating app–but no one does! The unknown makes us a little uncomfortable, as we like to find out every detail about a dating app when we review them.
AI Can Be Glitchy – Don't get us wrong, we are impressed with AI's capabilities, but when one is standing in for us on a dating app, that's somewhat nerve-wracking. What if it goes off on a tangent and tells a potential match that we like to eat raw meat for protein? It probably won't happen, but it could.
No Refunds – This is not a strange policy for most dating apps, but when you're brand new and the premium memberships aren't exactly cheap, you may want to make an exception here and there when it comes to refunds.
Who Is Teaser AI Dating App Best For?
The thought of having a digital double of oneself sift through possible suitors may be terrifying to some but fascinating to others. If Teaser AI takes off, it might usher in an entirely fresh phase of online dating in which technology plays a major role in creating romantic partnerships. That being said, Tease AI is best for anyone who is exhausted from the mainstream dating app grind, the endless small talk, and being left on read or flat-out ignored.
Teaser AI is aimed at a younger demographic due to its innovative utilization of AI chatbots, but that doesn't mean that everyone on the platform is going to be in their 20s! Despite stereotypes saying otherwise, some of us old folks are pretty tech-savvy and appreciate any new developments in the dating platform arena. We're guessing there will also be a fair number of the 30-50 crowd on there as well.
Since the app was created to cut down on ghosting, that means that Teaser AI wants to foster long-term connections and serious relationships between its members–remember, if you are branded as a "ghoster," it says so right on your dating profile!
Teaser AI's Compatibility Matching System
How the Compatibility Matching System Works
To encourage users to strike up conversations, Teaser AI limits users to just 16 matches (called "picks") at a time, and users get a "ghost" grade–yes, you will be publicly shamed on this dating app–that reflects how likely they are to disappear without a trace.
You can narrow down prospective matches based on things like location, age, and gender with the Teaser AI dating app. There is no clear description of the specific AI methods employed by the software. Still, the program uses machine learning to help search for a compatible romantic partner.
Teaser AI has the ability to provide others with an understanding of your personality, as well as allowing you to gain insight into theirs. Afterward, you can concentrate on important things such as exchanging phone numbers and suggesting a date.
Communication Features
Rather than positioning itself as a full-fledged matching assistant, Teaser AI seems to be marketing its key feature as an icebreaker.
As soon as you sign up for the app, the AI bot will begin analyzing your profile and conversations to learn more about you. This data is then used to generate conversations with other app-based AI characters.
Guided Communication
The Teaser AI app does not facilitate user-AI chatbot connections–there is absolutely no relation between the two. Instead, it employs AI to build a chatbot that, depending on the answers users provide to an assortment of questions during account creation, takes on the user's hobbies and personality. User interactions with the software will shape the personality of the chatbot.
Icebreakers and Pre-Written Questions
This is where your trusty AI version of you comes in handy–it does all of the pre-gaming chit-chats for you. We love the convenience and innovation of this feature, but sometimes AI can be a bit wonky or unpredictable, so check in on the AI-you from time to time to make sure they aren't saying anything you wouldn't say!
Teaser AI's Membership Options
The AI-driven auto-match tool is presently in beta testing, and Teaser AI has a freemium version with a premium paid membership plan that offers extra features like double the amount of "picks," profile boosts, and unlimited likes.
Free Membership Features
Freemium model members only get to hang onto 16 "picks," while premium membership subscribers receive double the "picks," as well as unlimited likes, super likes, boosts, a traveling mode, and an AI-powered auto-match tool.
Standard (Free) Features
Create an account
Build a dating profile
Personalize a profile
Upload up to 6 profile photos
Access to 16 "picks"
Premium Membership Benefits and Pricing
The beta version of an AI-driven auto match function offers Teaser Pro premium subscribers double the "picks," super likes, profile boost features, unlimited likes, a trip mode for when you're traveling, and more.
Premium Membership Features:
Profile Boosts
Match Rewinds
Unlimited Matches
Unlimited Likes
Super Likes
The price ranges from $19.99 per week to $39.99 per month, $89.99 for a period of three months, and $229.99 for a lifetime membership.
| Membership Package | Membership Length | Price Per Month | Total Cost |
| --- | --- | --- | --- |
| Teaser Pro | 1 week | $19.99 (one week) | $19.99 |
| Teaser Pro | 1 month | $39.99 | $39.99 |
| Teaser Pro | 3 months | $89.99 | $269.97 |
| Teaser Pro Lifetime | Lifetime | $229.99 | $229.99 |
You can also purchase these one-time charge features on the app:
BOOST: $7.99
BOOST: $34.99
BOOST: $59.99
Super Like: $9.99
Super Like: $29.99
Super Like: $74.99
Discounts and Promotions
As of the publication of this review, there are no discounts or promotions for the Teaser AI dating app.
Creating Your Profile on the Teaser AI Dating App
We created our Teaser AI dating app profile in less than 10 minutes, and it was easy to do! Look below for a step-by-step guide on downloading, registering, and creating your dating profile on Teaser AI.
Step 1: Download the Teaser AI Dating App
To create a Teaser AI dating app profile, head to your mobile device's store and search for the app. Once you locate it, click on the "GET" button, and when it's installed, open the app to begin your account creation! You can also go to Teaser AI's homepage and click on the desired app, and you'll be redirected there.
Step 2: Begin Registration
You'll be welcomed to Teaser AI on this screen–click on the "get started" button and remember to check out the terms of service and privacy you'll be agreeing to when you join as well as reading and understanding the general conduct guidelines.
Step 3: Enter and Confirm Your Mobile Number
You need a valid mobile phone number to join Teaser AI. Enter it and when they send you a five-digit confirmation code, enter it into the provided space to move on.
Step 4: Enter Basic Info
Next, you'll need to enable your location so Tease AI can match you with compatible people in your area, enter your first name, date of birth, your gender, and who you are interested in meeting.
Step 5: Upload Profile Photos
The next step is to upload your profile photos! Yes, we mean plural–three are required but you can upload up to six total. Then click on the "next" button.
Step 6: Write Your 'About Me' Section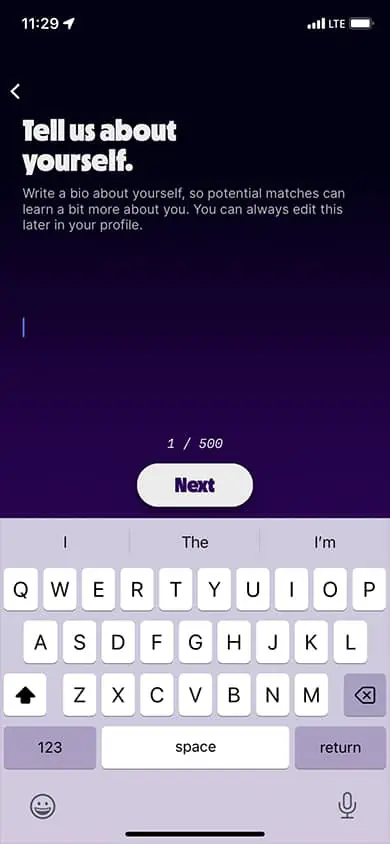 Here is where you can really shine by writing all about yourself–and Teaser AI gives you 500 characters to do so! No, really, you have to write 500 characters, or you can't move on to the next step, so get to bragging about your great qualities!
Step 7: Chat with Your AI
And here we go–you can now start chatting with Teaser's AI! They give you some advice and tips on how to interact and how it helps to get you better matches!
Step 8: Start Matching and Upload to Teaser Pro (Optional)
You're good to go and can start browsing for matches! You are limited to 16 picks in order to "Create a community of intention," but you can unmatch or unlike any of your picks to get different ones. You can also upgrade to a premium Teaser Pro membership to get additional features that will help you toward your dating goals!
How to Delete an Account
Not feeling the AI version of you or found a soulmate on Teaser and want to delete your account? No problem, just follow the steps below to jettison the platform from your device!
Step-by-Step Guide to Account Deletion
Go To Your Teaser AI Profile – Open the Teaser AI dating app, navigate to the bottom right-hand of the screen, and click on the circular picture of yourself.
Click on Settings – In the upper right-hand corner, you'll see the settings gear icon. Click on it!
Delete Your Account – Scroll down to the "DELETE YOUR ACCOUNT" tab and select it. When the "Are you sure?" prompt pops up, click "Delete Account."
Customer Service
There are a number of ways to get in touch with customer service at Teaser AI, including a phone number so you can talk to a live person, which we always like to see!
How to Contact Customer Service
🌐 Teaser AI App Support: https://form.typeform.com/to/qPkhj8FA?typeform-source=apps.apple.com
📧  Email: support@teaserai.com
☎️  Phone Number: (310) 651-6750
✉️ Address: All Summer Long, Inc. – 2810 N Church St #99841 – Wilmington, DE 19802
Teaser AI's Mobile App
Teaser AI is currently available for both iOS and Android devices and can be downloaded from the app stores!
App Features and Functionality
When a match pops up, users can swipe left if they aren't interested and swipe right if they are interested! It's the same swipe-style feature that many other dating apps have adopted to follow in the footsteps of Tinder.
Members also can hit the "Tap to chat with so and so's AI" at the bottom of the screen so their AI counterparts can get better acquainted.
Compatibility
Teaser AI provides a specialized mobile app that enables users to date even when they are on the road with a feature called "Travel Mode" (which requires a premium upgrade). Teaser AI is available for download on the App Store for iOS devices and on the Google Store for all you Android users!
Frequently Asked Questions
If you have any further questions about the Teaser AI dating app, look below for the most frequently asked questions we have received from our readers!
What Is Teaser AI?
Teaser AI is an innovative new dating app that uses the strength of artificial intelligence (AI) to combat the issue of ghosting that is widespread in online dating.
Who Created Teaser AI?
The creators of Teaser AI are the same people that made Dispo, the popular photo-sharing app that was co-created by YouTube star David Dobrik.
Is AI Safe?
In this context, yes! While Teaser AI has the potential to completely change the way we meet and date online, there are certain important issues that need to be resolved before this type of generative AI can be widely used in dating apps.
What if My AI Chatbot Says Something Weird?
Chances are pretty good that the AI version of you is going to say odd or nonsensical things from time to time–it's an ever-evolving technology. Teaser AI warns you upon sign-up that "Our AI might say some crazy sh*t."
Is Teaser AI a Free Dating App?
Yes, Teaser AI can be used for free, but you will be limited in terms of how many matches your receive and communication-wise.
How Much Are Teaser AI Premium Memberships?
The price can range anywhere from $19.99 per week to $39.99 per month, $89.99 for a period of three months, and $229.99 for a lifetime membership. Users can also make one-time purchases in-app.
What Forms of Payment Does Teaser AI Accept?
Due to the fact that the dating app is only available on iOS and Android devices, Teaser AI is only able to process payments made using Apple and Google Pay
Does Teaser AI Offer Refunds?
Nope! There are no refunds available for any purchases or membership subscriptions made through the Teaser AI platform– all sales are final.
Does Teaser AI Sell My Data?
According to the privacy notice, Teaser AI does not sell or give away your personal information to unaffiliated third parties for the purpose of sending you promotional material about their own goods and services.