hily is a newer addition to the online dating market, a dating app marketed toward singles looking for authenticity in an online relationship. There are a ton of great-looking singles using the app, but this platform is more focused on personality and inner beauty than outward appearance. Walk through our hily review and discover if this is the best dating app for you to find meaningful relationships or true love!
---
---
Our review of the hily dating app will cover the dynamic features available to those who download the mobile app, swipe-style dating profiles, and member live streams, to name a few! We've even added a small section that details the main functions and navigating the app menus so you can begin using hily like a seasoned pro. This hily review will show you how easy it is the join the platform as a free trial user or a paying member.

Our team has independently researched all products and services that we have listed on this page. If you sign up or purchase through our links, we may receive a commission. See how it works.
About hily​
hily Fast Facts​
Fact
Details

Site Name

Key Info

• Year Founded: 2017
• Best For: Finding dates, meaningful relationships, or falling in love with legitimate, honest singles
• Total Members: 2 million
• Regular Users: 50,000 (Active weekly)
• Gender Ratio: 62% men to 38% women
• Average Age: 31-38 years
• Matchmaking Process: Search filters that use gender, location, and age range settings

Cost of Membership

hily prices start at $9.99/per month

Sign Up Time

5 to 10 minutes
hily Dating App Overall Rating​
Our hily review was done using our unbiased, five-point rating process that we're well known for, an examination of the apps' features, usability, matchmaking process, membership cost, and the number of members to establish an overall rating. hily performed well in our review, achieving an overall rating of 4.5 out of 5!
Overall:
| Category | Score |
| --- | --- |
| Features | 4.6 |
| Ease of Use | 4.7 |
| Match Quality | 4.3 |
| Cost | 4.6 |
| Active User Base | 4.2 |
| Overall | 4.5 |
Pros and Cons of hily​
Do you know what the hily dating app is suitable for and where its strengths lie? Check out our pros and cons list below and discover if it's worth it for you to become a hily premium member.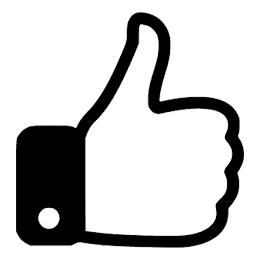 Reasons to Join
Easy Sign-Up Process: The app can be downloaded, and your new profile can be created in less than ten minutes.
Great Verification System: hily verifies all new users using social media or a phone number. They do an excellent job of pinpointing illegitimate profiles and removing them from the platform.
Excellent Mobile App: The hily dating app is easy to use and navigate for first-time users. There are swipe-style dating profiles where it's easy for members to cycle through many accounts in a short amount of time.
Great Membership Pricing: There are several ways to become a member, including using the app for one week, a year, or a lifetime! Weekly prices range from $9.99-14.99, and the yearly membership costs $9.99 per month!
Useful Features: Paying members enjoy unlimited messaging and reactions daily and ten Unblurs, Major Crushes, Rollbacks, and Compatibility Checks! This is a feature-rich dating app!
Auto-Blocker: This handy feature will flag messages that are rude or offensive.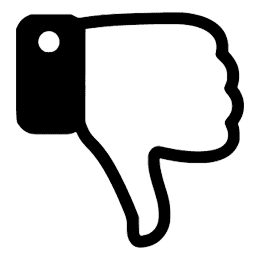 Reasons Not to Join
Unsolicited Messages: Many dating apps require a mutual like to enable the messaging function. hily lets anyone send out a message, so you might be contacted by someone where the interest isn't there.
Intrusive Ads: This is a drawback for free users of the hily app. While swiping through profiles, free users will be bombarded with ads that disrupt the search.
Limited Profiles: The hily profiles could be more robust. Aside from a profile photo and some basic information, there's little to view.
Many More Men Than Women: Although the gender ratio is not highly uneven, more men use hily than women (62% men to 38% women).
Free Trial
All new members on the hily dating app begin as free users and have opportunities to upgrade to premium membership features anytime. The free trial only allows new users to experience some of the perks and benefits paid members enjoy. There are only a few free features available to non-paying members:
hily Free Features
Register an Account
Create a Profile
Set Up Search Filters
Basic Matching
View Swipe-Style Profiles
Limited "Likes" and "Skips"
All free members can do is set up their new account and profile. Then they can adjust their search filters and view the profiles that meet their criteria and dating preferences. Anything more than this requires a premium membership plan.
Becoming a free member is a great way to see how the app works and what kind of singles you can find that fit your dating specifications. It's no premium membership, but it's a decent place to start!
Membership Plans and Cost​
Most importantly, the membership plans at hily have the same perks and benefits. The hily Premium membership comes with limited features, while the other three plans (Premium+) come with all the features that hily offers. These memberships mainly differ in the length of time they allow customers to enjoy hily's services. As you'll see below the prices are fairly comparable compared to other dating apps cost.
Subscription
Cost Per Month
Total Cost

hily Premium
(1 Week)

$9.99 (cost for 1 week)

$9.99

hily Premium+
(1 Week)

$14.99 (cost for 1 week)

$14.99

hily Premium+
(1 Year)

$9.99

$119.99

hily Premium+
(Lifetime)

One-time payment
Of $199.99

$199.99
hily Premium vs. hily Premium+
Premium and Premium+ plans mostly have the same features. The main differences are the number of Reactions, Unblurs, Major Crushes, Rollbacks, and Compatibility Checks members can enjoy daily. The list below features a complete rundown of all the features within each membership tier.
Reactions: These actions you take while swiping through your suggested profiles: likes, skips, and messages. Premium members can react to profiles 100 times each day. Premium+ members have unlimited reactions.
Unblurs: Find out who reacted to your profile by accessing the ability to unblur their profiles. Premium members don't get any unblurs. Premium+ members get 10 per day.
Major Crushes: Send Super Crushes to singles you are intensely interested in, going far beyond a simple "like." Premium members can send 2 Major Crushes daily, and Premium+ members can send 10.
Rollback: If you made a mistake while swiping through profiles, you can go back and fix your error. Premium members can send 2 Rollbacks daily, and Premium+ members can enjoy 10.
Compatibility Checks: These are detailed breakdowns of your compatibility with specific singles. Premium members can send 2 Compatibility Checks daily, and Premium+ members can get 10.
Visible Popular Profiles: Discover the most popular profiles featured on the hily dating app.
Advanced Filters: These upgraded search filters allow you to customize searches beyond age, gender, and location.
Nearby Search: Find matches within a 30-mile radius.
Global Search: Meet singles from anywhere across the world.
Disable Ads: Say goodbye to disruptive ads. Swipe through profiles without experiencing interruptions.
Incognito Mode: Control who sees your profile. You can also browse profiles without anyone knowing you viewed them.
Auto-Renewal
All hily memberships come with an auto-renewal feature. When a subscription plan comes to the end of the billing cycle, it will automatically re-up. New membership begins, the perks and benefits continue as expected, and the customer is automatically billed the new plan's cost. Auto-renewal intends to help customers never experience interruptions as they meet new singles on the app.
Turn Off Auto-Renewal
You can always turn off the auto-renewal feature to avoid being charged for a new member when the original one is done. Go into your account settings under billing preferences and switch the part to "off." Your plan will terminate once it's reached the end of the current billing cycle. You can effectively "cancel" your membership and use it for the remaining time.
hily Sign-Up Process
We went through the entire app download and sign-up process at hily. It's simple and straightforward; we enjoyed getting our free trial up and running! It might have taken up 5 to 10 minutes of our time, which is shorter than most online dating app registration times.
If you're interested in the sign-up process, check out our step-by-step guide below and see how to begin registering your new hily account today!
Step #1: Install the hily Dating App
The first step is to download the hily dating app from either Google Play or the App Store. Click install to get hily up and running on your device. For this example, we used a screenshot from Google Play.
Once the app is downloaded, hily requires you to verify your new account by logging in using your Google or Facebook account information. A third option involves you providing your phone number and resending an SMS code back to hily.
Step #2: Enter Your Basics
In the next few steps, you must provide your gender, age, and location to establish the basis for the matchmaking process. These are the three most essential ingredients that hily uses to help you find singles that fit your dating preferences and parameters.
State your gender and the gender of the singles you're interested in connecting with on the hily dating app.
Add your date of birth so that hily knows you're old enough to use their dating app (you must be 18 years or older). Allow hily to use your approximate location as a point to establish a search radius for singles in your local or regional area.
Step #3: Complete a Short Questionnaire
We combined several steps into one step: completing the personality questionnaire. This information is used in your profile, and it's used to inform the matches that hily sends into your swipe style profile mix each day.
These questions cover a lot of your basic bio information, like your level of education, occupation, ethnic background, etc.
There are several questions that center around lifestyle choices as well as drinking and smoking habits. There's even a section where you can let other singles know of dietary restrictions you have!
Step #4: State Your Online Dating Endgame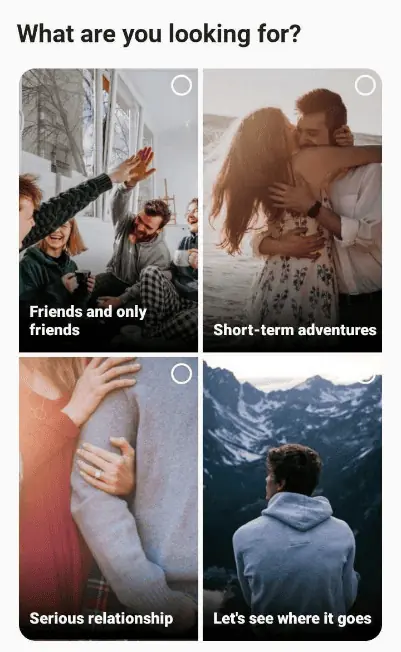 This step lets you state your intentions in using the hily dating app. It helps hily narrow down your search to singles who share similar goals. It helps eliminate any sort of miscommunication or misunderstanding that could occur between members.
There are a few options: friendships, short-term relationships or flings, and meaningful relationships. For those open to any kind of relationship, there's a fourth option called "Let's see where it goes."
Step #5: Set Up Your Preferred Age Range
Set up your age range preferences. Any of the profiles sent as suggestions for hily will fall between the points you set.
If you want to change your preferred age range later, go into your search filter settings and make the appropriate adjustments.
Step #6: Body Type Preferences
To get an idea of what you're into when it comes to your partner's looks and appearance, you can choose from four different body types. This information will be used along with other factors to determine the best profile suggestions.
There are a few options: friendships, short-term relationships or flings, and meaningful relationships. For those open to any kind of relationship, there's a fourth option called "Let's see where it goes."
Step #7: Set Up the Distance Filter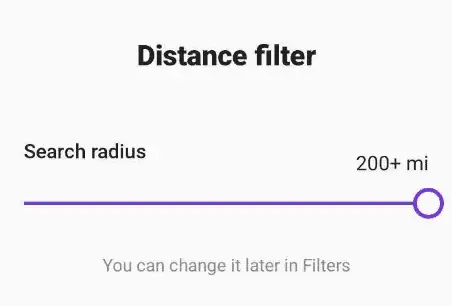 One of the final steps to complete during your hily registration is setting up the distance filter. hily uses your approximate location as a central point, and the distance filter finds singles within your preferred distance radius.
This filter can be adjusted later under your main search filter settings. You can go in at any time and change your distance settings.
Step #8: Upgrade to Premium Member
Before you can access the hily app, upgrade to a premium membership. You don't have to now; free users at hily can upgrade anytime.
All the hily Premium+ memberships are laid out here, along with respective price points. If you want to continue as a free trial user, click on the "x" at the top lefthand corner of the screen.
Using the hily Dating App
This will be a partial guide on using the hily dating app, but we'll cover some of the basic features that are most important to the overall experience. This is to give you a small taste of how the app works on your mobile device and how easy it can be to find singles who fit your dating criteria and preferences.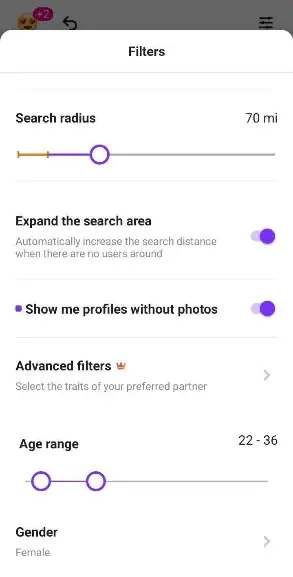 Search Filters
At the top of the hily app's main screen, there's an icon with three horizontal lines. This is where you can access the search filter settings. You can make changes at any time, which usually takes less than a minute.
Once you've clicked on the search filter icon, you can change your search radius, gender setting, or the posted age range. Click on "Advanced Filters" to access additional criteria like body type, verified accounts, educational background, occupation, and lifestyle habits like drinking or smoking.
Discover
However, your search filters are set, and singles that fit your criteria will appear in the swipe-style profiles under the "Discover" tab.
It's not a complicated setup. You can view members' profile pictures and critical bio information. There are a few swipe-style options here: the "x" icon for showing disinterest, the "smiley face" icon, which is a "like," and the "message" icon where you can send a personalized message or stock responses (provided by hily).
Send Messages
Once you've clicked the "message" icon, you can craft a message to send to that member. hily will also provide pre-prepared message suggestions to save time and effort.
Check Messages
The first icon on the bottom menu is Discover (it looks like two playing cards). The next one is the tab where you can check on any message sent to you by other hily members.
Live Streams
The next tab over is where you can access live streams. These are videos that outgoing members of the app post, which reveal more of their personality, interests, or passions.
Live streams are a great supplement to the basic profiles that hily features. Members can showcase talents like cooking or their dance moves. Some might do monologues where you learn more about their sense of humor, temperament, or how they carry themselves.
Account Settings
The icon in the far righthand corner of the bottom menu is where you can access your account settings and make any necessary changes.
View how many visitors you've had to your profile, send gifts, get suggestions on improving your hily profile, and partake in the compatibility quiz.
If you like the looks of the hily dating app and how it works overall, consider becoming a free trial user or a premium member today!
What People Are Saying about hily​
We've provided feedback from real people who have used the hily dating app firsthand so that you can hear others' opinions on hily outside our own! We've consulted SiteJabber and Trustpilot again to see what the public says about the hily dating app. Public sentiment is mixed.
Overall Ratings
After checking each review site, these are the hily ratings we found and the number of customer reviews. hily gets a middle-of-the-road reception for the public. There are plenty of people who have had success and many who've also had bad experiences.
Trustpilot: 4.1/5 stars (based on 209 reviews)
SiteJabber: 3.62/5 stars (based on 145 reviews)
Real User Reviews
We did our best to include a mix of positive and negative feedback in our hily review. Generally, people seem more prone to posting about bad experiences with online dating apps, so we didn't let the more significant number of bad reviews too much affect how we saw the site based on our own experience.
"I'm with a couple of dating apps and by far, this is the most questionable in regards to fake profiles. Never have I seen so many. What's interesting is that once your subscription runs out, all of a sudden you are flooded with "New" hits which of course encourages you to pay for a membership once again in order to see who the other people are. In my opinion it's very very shady and the positive reviews, like a number of other people have mentioned previously, are questionable. Just read a few of them, they are all the same, praising the "excellent customer service"
Jackie Moorehead – February 11, 2023 – Trustpilot Review
"It's pretty terrible. Bad coding and algorithm, is unable to work properly, even after following all steps provided by support. The customer support service from Tina and Anna was so horrible I believe I will discontinue usage entirely. I have numerous people who have reacted to my profile, and yet it shows that there is absolutely nobody in 200+ miles, with ages 18-99 included. Regardless I do not recommend this at all."
JD JD – February 17, 2023 – Trustpilot Review
"hily is an awesome app with tons of potential crushes and so much match-making waiting to be made its all up to you to break the ice and say the hily name with "hey I like you" and see what hily has in store for you. so what are you going to do are you going to give it a chance or you going to let all those connections just float on by in the sea of life"
Rob K. – February 16, 2023 – Trustpilot Review
"Pretty good compared to others. Just wish they would offer Premium+ free trial. Hard to buy something"
Shawn F. – February 22, 2023 – SiteJabber Review
"I met my boyfriend through hily, which is quite funny because I had my settings for locals since I had just moved out and wanted to connect with new people in there, but for whatever reason the algorithm showed me people from another states or even another country (which btw led me to know really nice people, some I still talk to, because yeah, despite the dating apps' reputation, this one has a lot of interesting people and no bs at all). So, thanks to that is how I met my future husband, although at first I just wanted to get some tie dye shirts he happened to display at his profile -no idea if he was trying to sell em- but I decided to ask if he had some shipping to Mexico and that's how the story begins. Long story short, we are +2 years in and about to get married! So, even if your algorithm is weird or has some error going on, I had to quote Bob Ross as a short way to describe your app "We don't make mistakes—we have happy accidents" Thank you, hily!"
Mare C. – September 9, 2022 – SiteJabber Review
hily Dating App FAQ​
You might still have some questions about hily that we should have covered in our hily review. You can learn a lot more about the platform in our FAQ section, which features many of the common inquiries we've gotten from our readers and customers about the hily dating app in general.
What Is hily?
hily is an online dating app designed for singles who want to fall in love, find dates, or develop meaningful relationships with like-minded, authentic people. It's been serving its customers since 2017 and focuses more on character and inner beauty than appearance and looks.
Is the hily Dating App Free?
There is a free version of the hily dating app, but it only allows you to enjoy some membership features without paying. Some perks and benefits can only be experienced if you pay for a premium membership (unlimited messaging, no ads, anonymous browsing, etc.).
What Kind of Relationships Will I Find at hily?
You can find anything from serious, meaningful relationships to casual dates or romance at hily. It's also a place where you can find genuine friendship in addition to love. The one big thing that hily is known for is its legit profiles, which feature honest, regular people looking for a connection with others.
Can I Access the hily Dating App with My Web Browser?
hily is only available as a dedicated mobile app (it can be found at Google Play and the App Store). You must download the app to your mobile device to use the dating service. hily has a website, but it's mainly used to learn more about the company.
Is the Hinge Dating App Free?
You can use Hinge "for free" to an extent. You can create a profile and browse through the Discover feature to find singles matching your search criteria. You can view photos, profile information, and prompts and send a limited number of weekly likes. You can also see who has liked your profile.
How Does hily Do Matchmaking?
hily has swipe-style dating profiles where customers can express their interest in singles by sending "likes" and a few complimentary messages or express disinterest by "skipping." hily mostly takes gender, age, and location into account when they are putting together match suggestions. The rest is left to the customer.
How Long Does It Take to Register a hily Account?
It only takes around five minutes to complete the registration process at hily. It might take more than ten minutes to develop your profile, hone your search filter settings, or enter payment information to upgrade your free trial to a membership plan.
Is hily Worth It?
hily is a great dating app to check out if you're looking for authenticity. Most people using the platform are more interested in singles' personalities, talents, interests, and characters than in their physical appearance.
Which Free Features Are Available to New Users?
New users can use several features for free without paying for a premium membership: creating a free profile, swiping through profile suggestions, adjusting search filters, and sending complimentary messages to daily matches. Anything beyond these simple, accessible functions requires a paid membership plan.
What's the hily Cost of Membership?
There are several ways to purchase a hily membership. The one-week hily Premium plan (with limited features) costs $9.99. Then there are three hily memberships called Premium+ which come in options of one week, one year, and lifetime membership. One week is $14.99, one year is $119.99, and the lifetime deal is a one-time payment of $199.99.
What Kind of People Enjoy Using the hily Dating App?
People using hily are typically in their 30s and are looking for meaningful relationships and connections characterized by long-term commitment and compatibility. The authentic profiles show that most users seek quality relationships where looks and attractive appearance are more secondary.