Is Upward a good dating app for finding a Christian partner? Or is it a service that drums up lukewarm matches because they have one foot in the world?
Upward is a Christian dating app brought to you by MatchGroup, the same company that owns and operates Tinder, Hinge, OkCupid, and other big names in the online dating world. What you have is a non-Christian company running a Christian dating app, so a few elements have caused some controversy with some Christian singles who feel the app is a bit lukewarm in its mission.
Dive into our Upward review and discover if it's worth the time and money. Our review will reveal how the app's matching system works, who is currently using the service, and how the overall setup (almost a clone copy of Tinder) works to the advantage of Christian singles. So, we'll talk about the pros and cons we've found along the way and let you decide if it's a Christian dating app to help you find the meaningful relationship your heart desires.
---
---

Our team has independently researched all products and services that we have listed on this page. If you sign up or purchase through our links, we may receive a commission. See how it works.
Introduction to Upward
Before we get into the thick of our Upward review, we'll cover the brief history of the app and how its matching system works to pair Christian singles successfully. We've noticed many readers and customers asking whether or not it's worth it to sign up as a premium member, so we'll touch on this too before diving into this full review of Upward.
A Brief Overview of Upward's History and Success
Upward is a part of MatchGroup and became a new player in the online dating market in 2020. While the app is geared toward meaningful Christian relationships centered on faith, Upward is owned and operated by a non-Christian company, so it comes off as a Tinder-esque dating app for Christians. From what we've seen while testing Upward, this dating app has made great strides in attracting new members. We never felt we were hurting for a wide variety of matches in the swiping queue.
Upward's Unique Approach to Online Dating
Because Upward uses the same matching approach as its sister sites like Tinder, OkCupid, and Hinge, Christian singles find love by setting their search terms to capture their dating parameters and preferences. These include distance, age, denominational beliefs, lifestyle choices, educational background, etc. Once your search filters are set, your matches appear in the swiping queue where you can "like" or "pass" based on each member's profile photo and bio information.
When two members like one another's profiles, this unlocks messaging. Paying members can see which members have already liked their profile, so they can send a quick "like" back to open the messaging feature for an immediate connection.
Is Signing Up for Upward Worth It?
We'll address this in greater detail as we go further in our Upward review, but we recommend Upward to Christian singles open to different relationship possibilities. Members have an even shot at finding a future marriage partner as they are at connecting with someone more interested in having a fling or casual dating.
Because the app is owned and operated by MatchGroup (a non-Christian company), Upward has a more secular feel than other Christian dating apps. The app's setup, which mirrors Tinder, has resulted in a user base with many "Christian" members; the religious background and upbringing might be there, but current lifestyle choices might not reflect the life of a Christian to many serious-minded believers.
Our Ratings
An essential part of our Upward review was examining the service based on five primary criteria we used in our honest rating system. Upward scored 3.9 out of 5 stars after we took an unbiased look at the app, examining all the pros and cons we found during our trial period.
Overall:

| Category | Score |
| --- | --- |
| Features | 4.1 |
| Ease of Use | 4.3 |
| Match Quality | 3.7 |
| Cost | 4.5 |
| Active User Base | 3.2 |
| Overall | 3.9 |
What We Like
Upward is a Christian dating app like Tinder, where members can swipe through profiles to make quick connections.
Upward premium members can see who has liked their profile, so they can quickly unlock the messaging function.
The sign-up process takes five to ten minutes to complete.
Upward uses location-based matching to help members find love or romance in their local area.
There are a ton of Christian denominational backgrounds to choose from.
Upward is more affordable than most Christian dating apps, with the monthly cost rate starting at $5.99.
This is a good Christian dating app for Christian singles more concerned about meeting attractive matches.
What We Don't Like
Upward profiles aren't super detailed with bio information or self-authored sections. Much of the matching is based on attraction and looks.
Some members seem loosely religious and more open to casual dating experiences, making Upward less ideal for Christian singles who want to find someone serious about their faith.
You must pay extra money for more Super Likes and profile boosts.
Like other dating apps, there are some catfish and fake accounts that members will run into from time to time.
Many customers have complained about the Upward profile stickers with controversial sayings like "Netflix and Chill" or "Let's Hook Up."
Who Is Upward Best For?
Upward was introduced by MatchGroup in 2020, so there's not a lot of information on the dating platform regarding the number of active users or the breakdown of male-to-female members. When Upward has more time under its belt in several years, some of these critical facts will become clearer.
Demographics and User Base
| Fast Facts | Details |
| --- | --- |
| User Base | All singles (Over 18 years) |
| Average Age | 18-35 years |
| Registered Profiles | N/A |
| Active Members | N/A |
| Gender Distribution | N/A |
People using Upward are generally younger. Most users are under 35, and it's a true toss-up whether or not most users are looking for long-term, meaningful relationships or casual dating/romance.
Relationship Types Best Served by Upward
On paper, Upward is aimed at Christian singles who want serious relationships with people who see eye to eye on faith and denominational beliefs. We'd say that Upward is good for finding a long-term relationship or a future husband or wife. But it's a bit more nuanced than this, and there are some other kinds of relationships you'll find using this service, which we'll explain in more detail.
A few things we can say definitively about relationships on Upward include the following:
You must be at least 18 years old to use the app.
Upward doesn't cater to homosexual relationships.
Several elements of Upward give it more of a Tinder feel and suggest that members might be looking for casual dating experiences. We bring this up because the app is oriented primarily around profile photos and minimal bio information, making us feel it's Tinder but for "Christians."
Upward has a more worldly feel than other Christian dating platforms. There's a big emphasis placed on looks and appearance, some of the photos coming across as lightly raunchy in light of Upward being a dating app designed for Christian users. This might not be an issue for many people, but for those struggling with lust, the images presented on Upward might become a problem at some point.
The Upward Compatibility Matching System
Being an offering from MatchGroup, Upward functions like many swipe-style dating apps we've reviewed, like Tinder, Hinge, or OkCupid. The service mainly focuses on profile photos, simple information, and straightforward search filters. Compared to other Christian platforms, Upward functions more like a casual dating app, borrowing many matching features from such platforms.
How the Compatibility Matching System Works
Upward matches its members using advanced search filters that cover a variety of criteria. The search terms also serve as the informational bullet points for every Upward member's profile. So, adding as many details as possible to your profile to be picked up in the searches along various lines is essential.
Search Terms
Distance
Age range
Relationship type
Pets
Children
Political views
Denominational beliefs
Educational background
Height
Body type
Exercise
Drinking/smoking habits
Profile Stickers
Upward members can also include profile stickers that appear with their profile photo. Stickers are visible as you quickly swipe through profiles in the swipe queue. They are quick attention-getters, which allows members to make more of an impression in a few fleeting seconds.
Christian
Volunteer
Pastors Kid
Proverbs 31
Scripture Scrolling
Small Group Leader
Mission Trips
Loves Worship Music
New to Faith
Date Life
Put a Ring on It
Chick-Fil-A #
Netflix and Chill
Lecrae's Faith Collection
Christian Thug
Mix Tape
I'm a Weeb
Let's Hook Up
Madi's Faith Collection
Be Kind to Your Mind
You Got This
Faith > Fear
Know Your Why
Fear Ends Where Faith Begins
Music
My Life
Woke
TikTok Famous
NFT Investor
Wanderlust
Animal Lover
Foodie
Sports Fan
Artist
Gamer
Movie Lover
Outdoorsy
Gym Rat
Founder Life
Vegan Proud
Crafts
Plant Parent
ASMR
Athlete
DIYer
Anime is Life
Canadian
Karaoke
Singles Parents
Make Up
Gardening
Boba
Football Fan
Fishing
Dancing
Pizza Lover
Photographer
Basketball
Tattoos
Upward Unexpected
Daily Bread
Water into Wine
Saved
Interestingly enough, the Upward stickers are a sticking point for some members who feel that some are too worldly to be featured on a Christian dating app. These include "Woke," "Netflix and Chill," or "Let's Hook Up." These sticker subjects don't freak us out too much because it's right in line with the more casual nature of Upward, but for some members who are more devout and serious-minded about their faith, this is a common complaint.
Communication Features
The most significant advantage to upgrading your free plan to a premium plan is unlocking the ability to message your matches. Free members can only connect with their matches if they like their profile. So, on top of chatting and sending messages to your favorite profiles, paying members can enjoy these other communication features:
Unlocking Messaging – Upward members can only message others once they've established a mutual match (liking one another's profiles). Some dating apps allow members to message any profile they encounter, but Upward requires both parties to be interested to unlock the messaging function.
Unlimited Swiping – Free members have an allotted number of swipes they can enjoy daily, but an upgrade to premium allows members to swipe through as many profiles as they'd like. Sure, you'll spend more time on the app, but unlimited swiping lets you connect with more people over time.
Unlimited Rewinds – Once you're into a swiping rhythm, there's a good chance you could accidentally "skip" or "like" a profile when you meant to do the opposite. Premium members can go back as far as they need to fix these mistakes; there are no limits to how many mistakes you can rectify.
One Free Profile Boost – Paid subscribers can enjoy one complimentary profile boost each month. Premium members can get more boosts by making an a la carte purchase, but they get one on the house from Upward, unlike free members.
Five Free Super Likes – On top of the free monthly profile boost, paying members get five free Super Likes every week (twenty free for the entire month). These Super Likes will let you get 5x the attention from other members because of the increased visibility.
See Who Likes Your Profile – Paying members can see which members have liked their profile, which makes it easier to get a quick connection and conversation going.
No Distracting Ads – Free members will experience ads while swiping through profiles, but paying members don't have to deal with ads.It's another paid perk that makes a premium plan all the more appealing.
Premium Membership Benefits and Pricing
Upward offers its members three subscription plans: one month, three months, and six months. The service comes at a reasonable price compared to other dating apps of its ilk.
Upward doesn't offer its members monthly payment plans or installments. If you want to upgrade your free membership to premium, you must pay for the entire thing all at once and in one lump sum. Once Upward has received payment, new members can enjoy the perks and benefits of paid subscriptions.
Paid Features
Unlocking messages
Unlimited swipes
Unlimited rewinds
One free profile boost each month
Five free Super Likes per week
See who likes your profile
No ads
Discounts and Promotions
Upward doesn't offer any discounts or promotions on the surface. But you'll discover a few hidden savings if you look closely at the cost breakdowns of the three premium subscriptions. The more extended plans have a reduced cost rate per month. So, if you see yourself using Upward for six months or more, it's worth immediately springing for the longer subscription to get in on the savings.
Creating Your Christian Connection Profile
We downloaded the Upward mobile app and signed up as a free member to test everything. Our goal was to see how long it would take to register. The sign-up process only took around five minutes, but paying for service and inputting your payment information would take over ten minutes.
If you're curious about the Upward registration process, check out our complete step-by-step guide below.
Step #1- Download the App
Download the mobile app from either Google Play or the App Store. Then, enter your phone number to receive a confirmation code from Upward. Send the code back to the app to get to the next step.
Step #2- Include Your Basics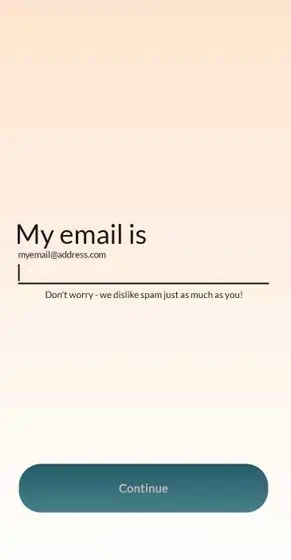 We bundled a bunch of steps into one to keep things simple to understand. The following questions are the basic information about you that are added to your Upward profile.
Add your email address.
Include your name.
Include your birthday so Upward knows you're old enough to use the app legally.
To find Christian singles who share your denominational beliefs and principles, enter the denomination you fall under. This is a crucial step to complete because Upward will select matches that best align with your faith.
Step #3- Talk More About Who You Are
One of the last steps is describing more about yourself. And you can do so in 500 characters or less. You don't have to tell your entire life story, but you can take this opportunity to show more of your personality, relationship goals, or interests/hobbies.
Step #4- Include a Profile Photo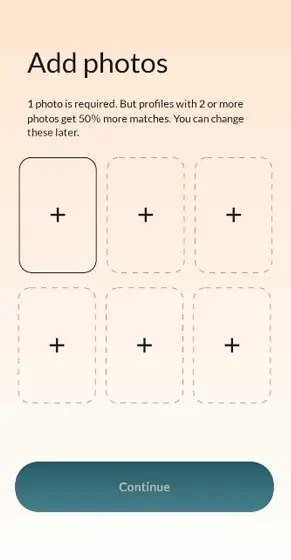 Add at least one photo of yourself as your main Upward profile image. Select photos from your mobile device's files or upload a new selfie.
Step #5- Enable Your Location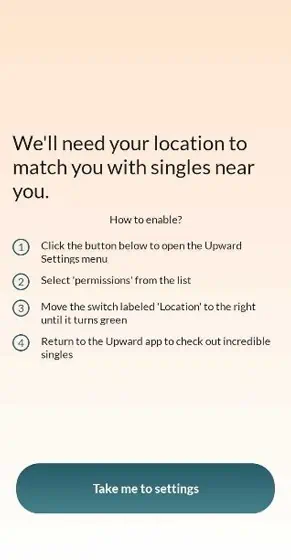 Upward matches its singles based on various factors, but most importantly, by location. You must enable your location so the app can help you find Christian singles in your local area. And your location might change, so your search radius will adjust based on where you are.
Step #6- Verify Your Profile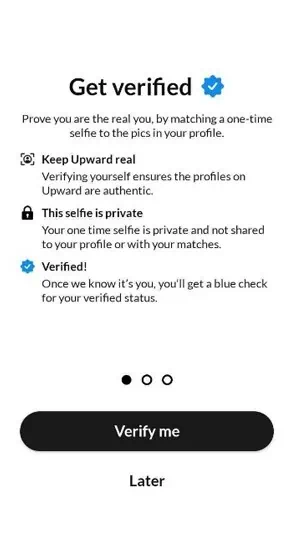 This next step is optional, but we recommend that every new member take the time to verify their identity. It helps build trust with other members and show that you're legit.
Tap "Verify Me" and perform the steps. Upward requires getting your profile officially verified. Once you've completed this, other members will be able to see that you took the time to have upward confirm your true identity.
Step #7- Begin Swiping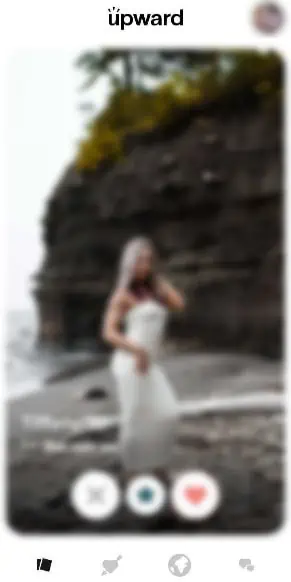 Now, your free profile is all setup. As a free member, you can begin browsing the platform for suitable singles who share your faith and relationship goals. You can make changes to your search terms as you go.
On the Upward profile you're viewing, you can choose to "like" or "pass." These are represented by the heart and "x" icons, respectively. To view that member's profile page, you scroll downward to reveal extra photos and bio information.
Step #8- Upgrade to Premium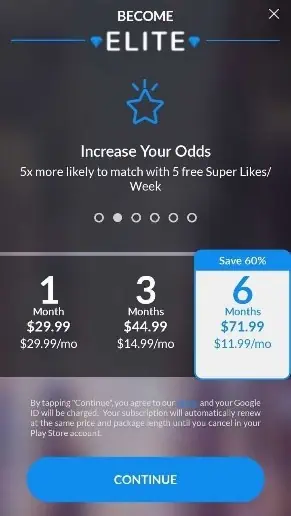 To perform other functions like seeing who likes your profile, messaging your matches, sending Super Likes, or fixing swiping mistakes, you must become a premium app member, requiring a paid subscription.
Tap "Become Elite" under your account settings to view the membership plans. There are three plans to choose from. Select one that works for your budget and enter payment information.
How to Delete an Account
Whether you've found your forever partner or feel there's a better Christian dating app out there, you may have to delete your upward account. Just as signing up for a new account was easy, it's also simple to delete your account.
Follow the steps below to delete your Upward account permanently:
Step-by-Step Guide to Account Deletion
Tap the profile icon in the top right-hand corner.
Tap the gear icon to access your settings.
Scroll down and tap the delete button to remove your account.
Deleting your account will remove all of your connections.
Remember that deleting the app on your mobile device doesn't cancel your account. You also need to delete the profile itself by following the steps above. Once you delete your Upward account, you lose your messages, contacts, and entire profile. After a permanent deletion, there's no getting these things back.
Customer Service
There's only one way to contact the customer service center, but an FAQ page is available for customers who want to work through problems independently. Upward members can send messages directly to a representative, but it could take upwards (no pun intended) of 24 hours or more to hear back.
FAQ Center – The FAQ Center is divided into a few question categories to make finding the answers you need easier.
Send a Message – Tap on "Contact Us" under the FAQ section to draft a message to send to customer service. Include your email address or phone number so a service representative can reach out to you with answers to your questions.
Upward's Mobile App
Upward comes as a mobile app only. It's free to download at Google Play and the App Store. There's an Upward website, but you cannot use the service on the site. Upward will tell you to download the app when you visit the site.
App Features and Functionality
Upward functions without many glitches or lagging. We never experienced any crashes or significant setbacks while testing the mobile app and swiping through various profiles. Overall, the entire platform was easy to use and navigate. The whole Upward experience was smooth. We were able to make quick, quality connections with other Christian singles.
App features include the following:
Unlimited Swiping
Unlimited Rewinds
One Free Profile Boost
Five Free Super Likes
See Who Likes Your Profile
No Distracting Ads
Unlimited Messaging with Matches
Compatibility
Upward can be used on iOS and Android mobile devices. Because you cannot use the service on the Upward website, the platform cannot be used on a desktop computer or any other device that doesn't allow you to perform mobile app downloads.
Frequently Asked Questions
We've gotten plenty of questions from our readers and customers about the Upward dating app, so we've compiled a bunch of them in one place to help you learn more about the service.
What Kind of Relationships Can I Find on Upward?
Upward caters to meaningful relationships and dating between Christian singles. Most members want to meet someone with similar denominational beliefs that make for a long-term commitment based on a compatible connection. As a result, more users find a marriage partner or a soulmate. The relationships here tend to be serious and long-lasting.
Does Upward Work?
Unlike other Christian dating apps, Upward has swiping profiles. So, it's a Christian platform that uses a more modern system of matching where members can set search parameters and then swipe through profiles and "like" or "skip" based on profile photos and some basic information.
Can I Use Upward for Free?
New members can use Upward in a limited fashion without paying. You can create a free profile, set up search terms, and find out what members use the app. New members can look around for free, but the big drawback is that you cannot message your matches.
How Much Does Upward Cost?
Upward offers three membership plans: one month for $14.99, three months for $22.49, and six months for $35.99. Upward comes at a more affordable, reasonable price compared to other Christian dating platforms. There aren't any discounts or payment installments, but some savings are available if members take advantage of the reduced monthly cost rate on longer memberships.
How Long Does It Take to Sign Up at Upward?
We signed up for a free membership plan to test out the app, and it only took about five minutes. For those who want to become paying members, we could see the sign-up process taking around ten minutes to complete, which is on par with other dating apps.
Which Features Come with an Upward Membership?
Paying members can unlock the messaging feature, allowing them to contact their mutual matches. Members can also see who has liked their profile. They also get twenty free Super Likes monthly and one free profile boost for increased attention from other matches. Plus, paid subscribers can also go back and fix swiping mistakes they might have made while browsing other members' profiles.
Will My Plan Renew on Its Own?
Each membership plan is set to automatically re-up once it comes to the end of its term. Auto-renewal or continuous billing is designed for members who want to avoid re-upping their plan manually and reenter payment information. However, the feature can be turned off in your account settings under billing preferences, so you're not automatically charged for a new membership.
Why Does Upward Have a Secular Feel?
Upward is owned and operated by MatchGroup, so the app uses a similar matching system to apps like
Tinder and Hinge. It's a Christian platform run by non-Christians, so you end up with a service based on appearance and looks instead of compatibility centered around Christian faith. Upward is lenient on members posting somewhat revealing photos, and several profile stickers seem weird to include on a Christian dating app.
What Denominations Does Upward Include for its Members?
Upward denominations include Anglican, Baptist, Catholic, Church of Christ, Episcopalian, Evangelical, Lutheran, Methodist, non-denominational, Orthodox, Pentecostal, Presbyterian, Nazarene, and many others.