Hinge is a popular online dating app that bears a striking resemblance to platforms like Tinder and Bumble. They have their own answer to swipe-style online dating: the Discovery feature, which allows members to browse through a catalog of singles and get matches based on location, personal preference, and mutual attraction!
Since being founded in 2012, the Hinge dating app has grown to a steady active user base of around 500,000 in the United States, which means you will be dealing with a smaller dating pool than apps like Tinder and Bumble. However, Hinge is unique because it has a user base roughly the same age range as Tinder but with an emphasis on serious and committed romances or relationships similar to Bumble.
---
---
Check out our 2023 Hinge review and find out if this is a good online dating app for your current needs! We will cover the cost of membership and premium features, a step-by-step sign-up tutorial, a guided app tour, and what it has to offer you!
Our team has independently researched all products and services that we have listed on this page. If you sign up or purchase through our links, we may receive a commission. See how it works.
About Hinge​
Hinge is a lot like Tinder and Bumble but much smaller. They are another one of those dating apps that offer the swipe style of dating, and they are more like Bumble in that they cater to singles looking for more serious, committed relationships.
What else do I need to know about Hinge before starting a "free trial" or a preferred membership plan? Check out some fast facts about Hinge in the table below!
Hinge Fast Facts​
Fact
Details

Site Name

Key Info

• Year Founded: 2012
• Best For: Finding singles who want serious relationships and romances or to fall in love
• Number of Active Members: 500,000 (from the US alone)
• Daily Logins : 90,000
• Gender Ratio: 55% men to 45% women
• Matchmaking Process: Location, personal preferences, and attraction (members who like each other can begin a conversation)

Cost of Membership

Hinge prices start at $16.66

Free Trial

Yes

Sign Up Time

5-10 minutes
Hinge Dating App Overall Rating​
How did we feel about the Hinge dating app overall? Is this a solid place to meet singles who are down for commitment and serious relationships?
Check out our official ratings below; you will see how we feel about Hinge in all categories that count!
Overall:
| Category | Score |
| --- | --- |
| Features | 4.2 |
| Ease of Use | 4.8 |
| Match Quality | 3.8 |
| Cost | 3.7 |
| Active User Base | 4.1 |
| Overall | 3.3 |
Pros and Cons of Hinge​
Our goal is to deliver a completely honest and transparent Hinge dating app review that you can rely on to be unbiased and present this platform in the most accurate light possible.
Well, here you go! This is our list of the most significant advantage Hinge has going for itself and the things that could be made better for future members of the app!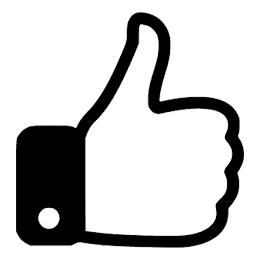 Reasons to Join
Swipe style dating app is great for finding serious relationships and commitment.
"Free trial" users can see members' profiles in their entirety
Gender ratio is more evenly stacked than on Tinder or Bumble (55% men to 45% women)
Video and poll prompts are free and can expand your profile for increased interest.
Attractive user interface that looks great and is super easy to navigate
Dating preferences can be changed at any time to customize your search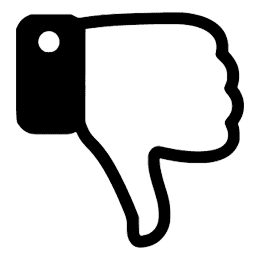 Reasons Not to Join
Hinge cannot be used in-browser on desktop PC or mobile device (app download only)
"Free trial" users are limited to 10 profile likes per day (a lot less than Tinder or Bumble)
Roses and Boosts are additional costs that don't come with a preferred membership.
Skipped members sometimes show up again in feeds
Hinge has its fair share of catfishers and fake profiles
Likes can be limited due to a lot of inactive profiles on the app
Free Trial
You can technically use Hinge "for free," but you will only be able to take advantage of a portion of all the features and benefits found there! The whole idea behind the "free trial" is for users to see what the app is like, see what kind of singles are using it, and see if it's worth it to get a preferred membership.
These are the free features that a "free trial" user can enjoy when they join without a preferred membership. Although it's no viable way to use Hinge for all it was intended, it can never hurt to use the "free trial." It'll help to give you a good idea if Hinge is the right dating app for what you need when it comes to meeting other singles online!
Hinge "Free Trial" Features​
Download the Hinge app and register for an account
Create a Hinge profile for free
View other members' profiles
Send comments and likes (limited to 10 per day)
View singles (see their name, age, distance, and profile photo)
Send 1 rose per week
Set up Poll Prompts and Video Prompts
Message mutual matches
See who has liked your profile
Membership Plans and Cost​
On the Hinge dating app, paid subscription plans are referred to as the "Preferred Membership." There are three plans to choose from, and they can be accessed by going into the "Settings" tab under your "free trial" profile and clicking on "upgrade to Preferred Membership."
Compared with many dating apps out there, Hinge comes at a super affordable price. The price point per month actually drops the longer the plan you choose! Even though you spend more for a more extended term, you can gain savings over time.
Customers can pay for memberships using any major credit card when purchasing the app from Google Play or the Apple Store. Memberships cannot be paid for via payment plans or monthly installments. The entire membership must be paid in full before using the services.
Membership Features​
Download the Hinge app and register for an account
Create a Hinge profile for free
View other members' profiles
Set up Poll Prompts and Video Prompts
Message mutual matches
Send 1 rose per week
Send unlimited likes and comments
See any member who likes your profile
Use advanced preferences to further break down your search
Auto-Renewal
When you choose a Hinge membership plan that works for you, you will see a disclaimer at the top of the screen about "recurring billing." This means that once your membership has come to the end of its term, it will automatically renew itself.
Auto-renewal can be a handy feature if you don't want to go back into the app and purchase another membership, but Hinge knows it might not be a good option for everyone. If you don't want your account to auto-renew, you can cancel this anytime by contacting customer support or going into your account settings.
After you cancel the auto-renewal feature, you can still enjoy what is left of your Hinge membership. Once it has come to the end of its term, your membership and its services will end.
---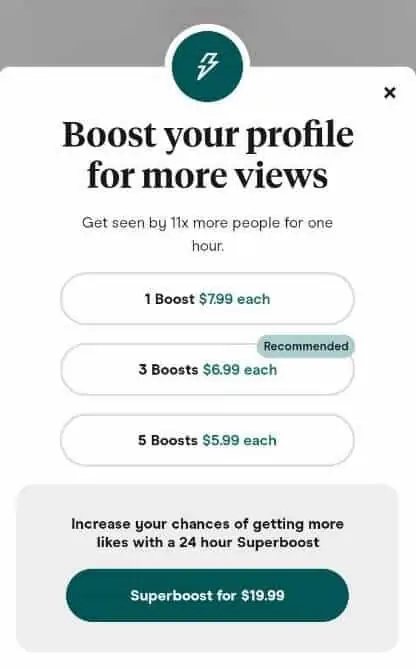 Boosts
In addition to paying for a preferred membership at Hinge, Hinge Boosts are another offering from the dating app that costs extra. When you begin adding Hinge Boosts into the mix, be ready to increase the traffic of eligible singles coming your way!
---
Roses
Roses are also going to cost you extra. As mentioned earlier, roses are equivalent to Super Likes from a dating app like Tinder or Bumble.
Whether you are a preferred member or a "free trial" user, you are limited to sending one free rose per week (unless, of course, you pay for more)!
---
Hinge Sign-Up Process
Unfortunately, you cannot create your Hinge profile on your desktop PC or by visiting their site via your mobile device's web browser. This is a dating app that can only be accessed when you download the app. Luckily for you, the sign-up process for creating a Hinge account should only take between 5 and 10 minutes!
The first step in creating a Hinge account and profile is visiting the Apple Store or Google Play and downloading the Hinge app to your mobile device. We will walk you through the entire sign-up process and what it looks like after downloading the Hinge app to your mobile device.
Step #1: Hinge App Home Screen
This is the first thing you will see when you open the Hinge app. There are two choices for beginning your account, getting in with Facebook or providing your personal phone number.
Step #2: Phone Number (or Facebook)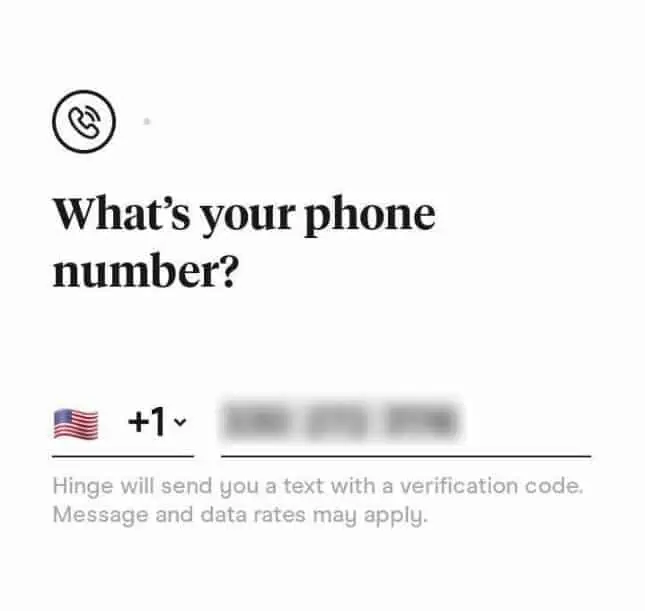 For this walk-through of the Hinge sign-up process, we provided a phone number to gain access. We were promptly sent a verification code by Hinge. We then had to enter that code into the application fields provided to get to the next step of the sign-up process.
Step #3: Enter Your Name and Email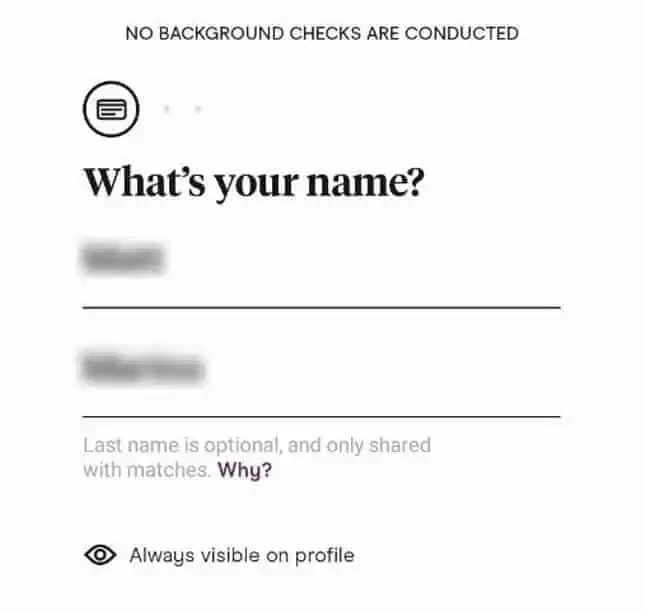 Provide the name that will appear on your Hinge profile and email address for Hinge to keep on file for sending things like confirmations or receipts of purchase if you decide to spring for a Hinge membership.
Step #4: Enter Your Date of Birth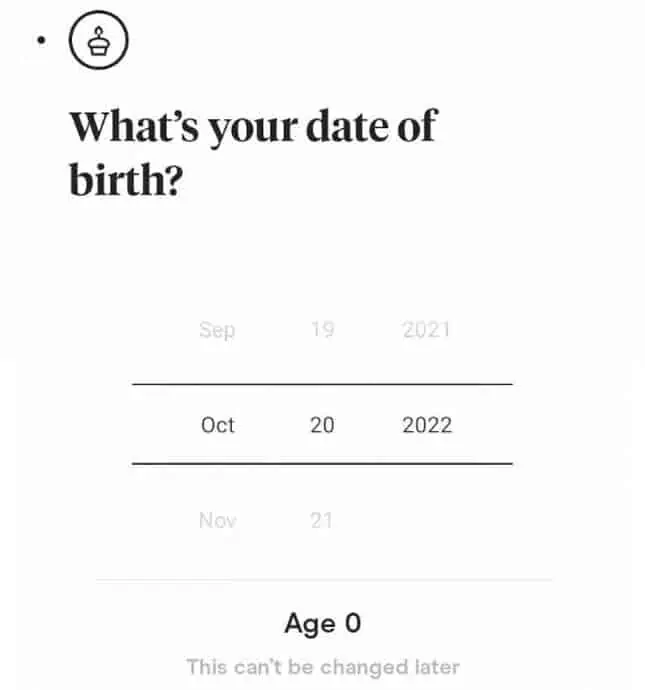 Anyone who uses Hinge must be at least 18 years of age. Enter your DOB to confirm that you are old enough to use Hinge and its services.
Step #5: Questionnaire
The questionnaire will contain basic questions that establish you as a person. Some of these are so easy that it might only take a minute or two to get through them all!
Here's an entire rundown of the questions you will find:
What is your gender?
What's your sexuality?
Who do you want to date?
How tall are you?
What's your ethnicity?
Do you want children?
Where's your hometown?
Where did you go to school?
What's the highest level you attained?
What are your religious beliefs?
What are your political beliefs?
Do you drink?
Do you smoke?
Do you smoke weed?
Do you use drugs?
Step #6: Prompts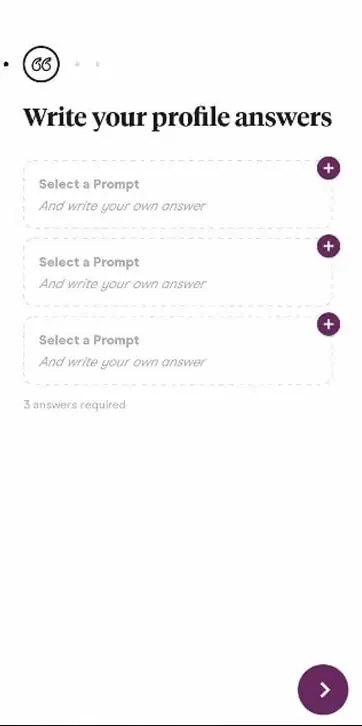 The next step involves including at least three prompts in your profile. These are questions, statements, or scenarios that help to flesh out your profile and can show the flair of your personality or temperament.
Here are examples of some that you can choose from:
About me:
Unusual skills
The way to win me over is
My greatest streght
My simple pleasures
Let's chat about:
I bet you can't
Give me travel tips for
Teach me something about
ry to guess this about me
Choose at least three prompts that you want to add to your profile, provide an answer, and have them added! Before moving to the next step, you can get a preview of your prompts and the responses, showing you how they will display on your profile.
Step #7: Voice Prompts
This feature was only added in recent years. You can record and add a voice prompt to your profile so other singles can hear what your voice sounds like! This step is not required, but it can help to give other singles a better idea of your personality or style!
Step #8: Get a Preferred Membership Plan
Here's your chance to become a paying member at Hinge. It's not required to continue. If you decide later that you want to become a member, you can always do so by going to "settings" and clicking on "Upgrade to Preferred Membership."
When you become a paying member of Hinge, you can send unlimited likes, see who likes you, set additional preferences, and get noticed twice as much!
Once you have finished the sign-up process, you will want to click on "continue" to begin viewing other singles using Hinge!
How Do I Use Hinge?​
Now that you know how to sign up for an account and create a personal profile at Hinge, we'll cover how to use the app and take advantage of everything it offers!
Discover​
You will immediately be launched into Hinge and begin getting recommendations for singles based on your personal preferences during the sign-up process. On the menu at the bottom of the screen, this will fall under the "H" icon, called Discover.
You will get the Hinge member's name and current online status, followed by their primary profile photo and one of their prompts.
Anywhere you see the "heart" icon is where you can like something on their profile. This symbol will appear on photos as well as prompts.
As you scroll down the profile, you will see an "x" icon in the bottom left-hand corner of the screen. This is the skip button, and clicking on it means you're not interested in the profile you're currently viewing. You will then be presented with the following profile.
Continue scrolling down on the profile, and the next thing you'll see is all their essential information, like their location, their age, their gender, their sexual orientation, their occupation, and so on and so forth.
Scroll some more, and you will find more photos and more prompts. Everything is staggered to keep things interesting!
As mentioned before, just about any content on the profile will have the "heart" icon, which means that you can like multiple photos or prompts on a single profile.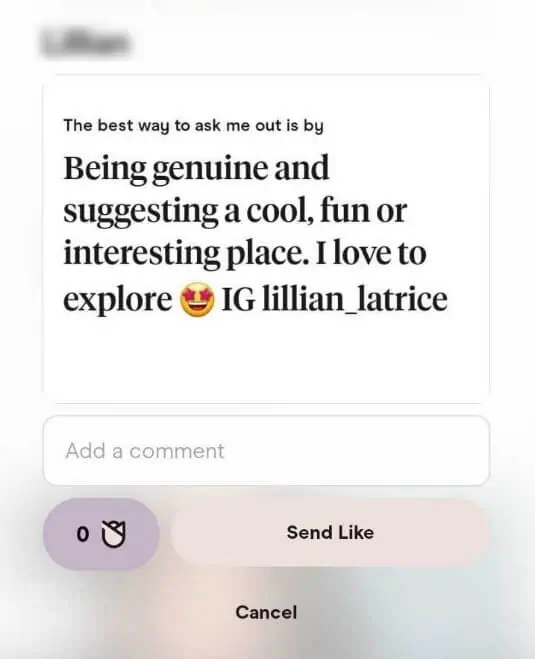 Clicked on the "heart" icon
Let's use the example below of a prompt where we clicked on the "heart" icon. You have three courses of action here, all of which can be done simultaneously if you want!
You can add a comment on the photo or prompt. You can also "send a like" straight up or hit the purple button to send a rose (basically just a Super Like)! This is a way of showing a more intense interest in this member.
If you are a "free trial" user, you are limited to only 1 rose per week. There is also a daily limit of 10 likes you can send to other members. This is why a Hinge Preferred Membership is well worth the time and money!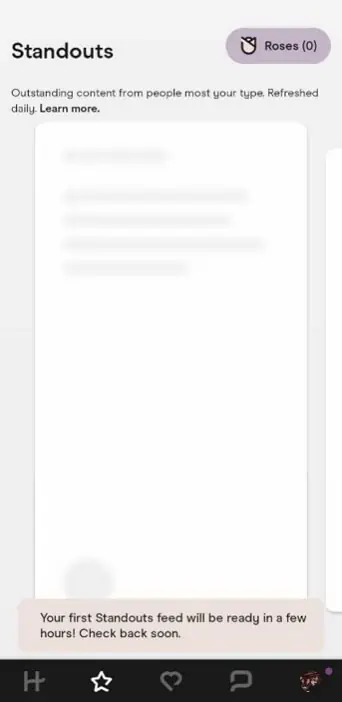 Standouts
This screen pops up when you click on the "star" icon on the bottom menu. "Standouts" are suggestions from Hinge based on their idea of your type. Many of these profiles have been getting a lot of attention from other members.
You can view these strong suggestions separate from the Discover feed, and there's even a conveniently placed "rose" icon at the top of the screen to show your interest in anyone who appears in this batch of singles.
"Free trial" users and preferred members can both use this feature.
---
Likes You
The "likes you" section is indicated by the "heart" icon at the bottom of the main menu. These are members who have liked your profile, photos, or prompts.
As a preferred member at Hinge, you can view all your likes at once, but as a "free trial" member, you will be limited to how many you can see.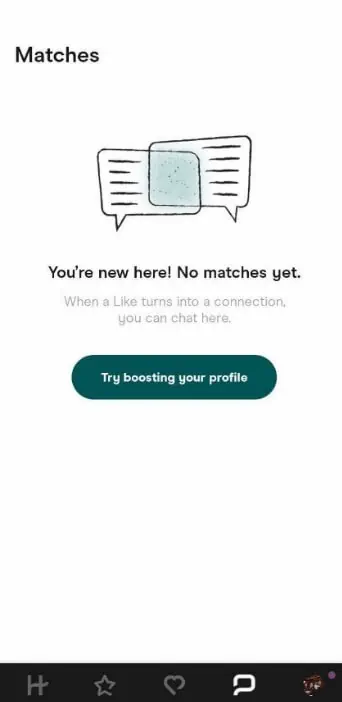 Matches
If you liked someone's Hinge profile and they liked yours right back, a match has been created! This is where you can meet and chat with your "mutual like." The matches icon will be the small "text bubble" icon on the bottom menu.
Those with a preferred membership will get 15 matches per day. "Free trial" members are limited to liking only 10 profiles a day.
---
Your Hinge Profile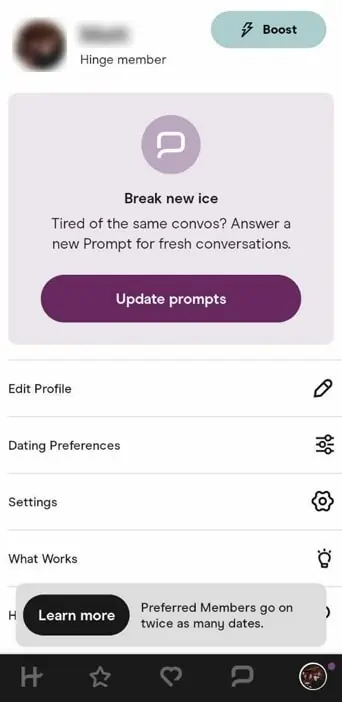 Clicked on the "profile picture" icon
Click on the last icon on the lower menu, which contains your profile picture. This is where you want to go to manage your profile, your preferences, and your account settings.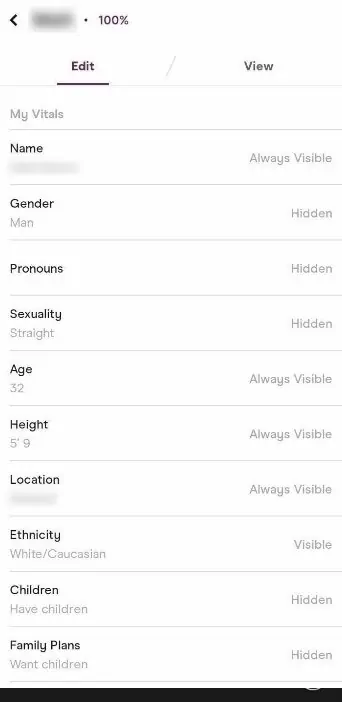 Edit Profile
Go under this menu to edit, add, or omit information about photos from your personal profile.
---
Dating Preferences
Under this menu option, you can adjust your search for the right singles. You can toggle distance preferences and the age of the singles you desire. You can go even deeper and adjust preferences based on things like religion, political leanings, ethnicity, and more!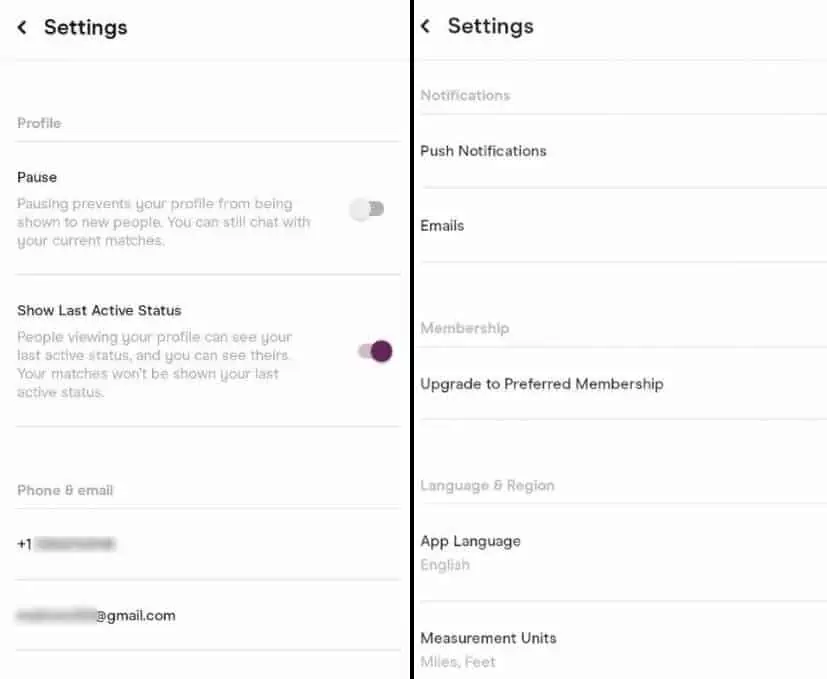 Settings Tab
This section of the app allows you to adjust notification and language settings. You can show your last active status as well as put a pause on notifications if needed.
Under this section, you can also find the link to upgrade to a preferred membership if you refused when you first signed up for your Hinge account.
"Settings" is also home to the Hinge T&Cs and Privacy Policy. There are also buttons to log out of your account and delete your Hinge account.
---
What Works
The "what works" tab comes with some expert tips from Hinge on what it takes to develop a good, quality dating profile that will stand out and give you the best possible results.
---
Customer Service​
Hinge's customer service and support center were much better than we initially expected! With many of these online dating apps, you get a section with some generic FAQs and a contact form where it could take upwards of 24 hours before you get a response back from customer service.
Hinge Inc. Contact Info​
☎️  Phone Number: +1800-952-5210
📧  Email: hello@hinge.co
✉️  Mailing Address: 508 LaGuardia Place, NYC, New York 10012
But Hinge had a few extra features in its customer service center that we really enjoyed seeing! In our minds, Hinge is in a much better place when it comes to service and support than dating apps like Tinder or Bumble.
Help Center Main Screen ​
When using the Hinge app, you can access the customer service page by clicking on the icon that contains your profile picture on the bottom menu all the way over to the right. At the very bottom of that page, there is a button for "help center." The image above is the page you will be taken to once you hit "help center."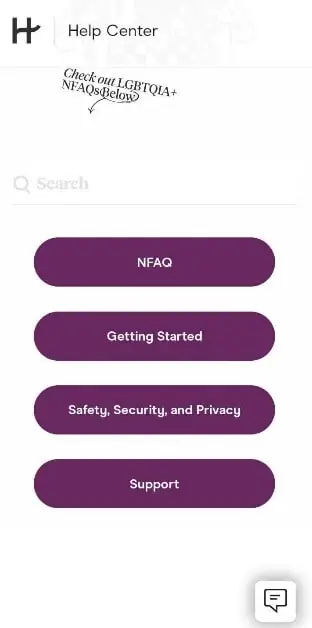 NFAQ Tab
NFAQ stands for not-so-frequently asked questions. This tab provides a separate set of FAQs for users who are a part of the LGBTQ+ community.
Getting Started Tab
The "getting started" tab focuses on many FAQs that most Hinge users will ask when they first begin using the app. Questions here are broken up into main categories: Matching and Messaging, Preferred Memberships, My Profile and Account Settings, and Getting Started With Hinge.
Safety, Security, and Privacy Tab
This is another helpful section within the help center. These FAQs pertain more toward the legal side of Hinge, like their privacy and cookies policy, how they handle customer data, and member principles and expectations.
Support Tab
Under the "support" section, FAQs are more geared toward members who have been using the app for a while and are looking for continued support as problems and issues may arise. FAQ sections here include Logging In, Discover, and Subscriptions.
Click on the Speech Bubble
For every page of the help center you visit, you will see a little white speech bubble in the bottom right-hand corner of the screen. If you click on that icon, instead of a generic contact form for users or members to make their requests or inquiries known, Hinge uses an IM system with a support bot! This makes for much quicker answers to questions, even if you aren't dealing with a warm body.
What People Are Saying About Hinge​
Enjoy feedback and commentary from the people who have used Hinge firsthand as their dating app of choice! We hope these Hinge reviews from the actual users can give you an even more honest and accurate look into Hinge and how they are overall as a dating app!
Hinge Reviews Found Online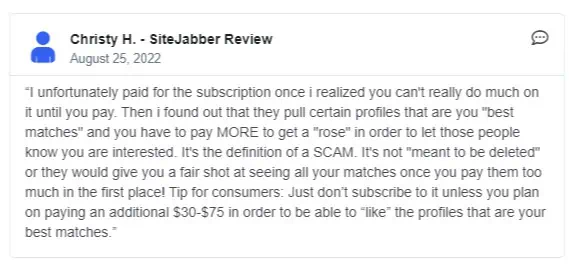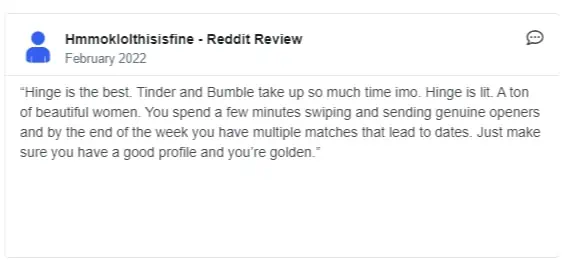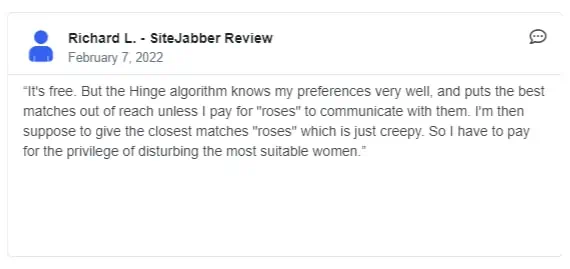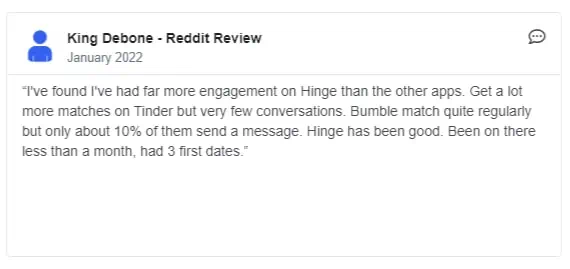 Hinge Dating App Alternatives
If Hinge is not your cup of coffee, have no worries. There are a lot of other good alternative dating apps out there that function in a similar fashion and have their own unique dating pools of eligible singles. And we are happy to guide you in the direction that is right for you!
Dating App
Fast Facts
More Info

Bumble

User Base: All singles
Active Users: 11+ million
Gender Ratio: 57% men to 43% women
Paid Subscription: Yes
Free Trial: Yes (limited)
Subscription Price: begins at $16.99/month

Tinder

User Base: All singles
Active Users: 11+ million
Gender Ratio: 57% men to 43% women
Paid Subscription: Yes
Free Trial: Yes (limited)
Subscription Price: begins at $16.99/month

Match.com

User Base: All singles
Active Users: 8+ million
Gender Ratio: 49% men to 51% women
Paid Subscription: Yes
Free Trial: Yes (limited)
Subscription Price: begins at $18.99/month

Zoosk

User Base: All singles
Active Users: 50+ million
Gender Ratio: 48% men to 52% women
Paid Subscription: Yes
Free Trial: Yes (limited)
Subscription Price: begins at $12.50/month
Hinge App FAQ​
Still have questions about the Hinge dating app and whether it's where you should sign up at? We completely understand. That's why we have put together answers to the most common questions that we receive about Hinge below. We recommend reading through these before going any further.
What Is Hinge App?
Hinge is a dating app that targets a younger demographic of online singles and focuses more on the serious side of dating. Hinge is much more like Bumble than it is Tinder. Hinge creates matches using location, personal preferences, and attraction between its members. Members must be mutual likes for them to speak with one another.
Can I Use Hinge on a Desktop Computer?
This is one of the things we didn't really care for with Hinge. While dating apps like Bumble and Tinder can be accessed on desktop PCs and mobile, Hinge can only be accessed after downloading the mobile app. Hinge does have a website, but there is no way to create an account from that location.
What's It like Creating a Hinge Account?
The process of creating a Hinge account does not really take much more than 5 to 10 minutes. It's a relatively quick and easy sign-up process! You can join Hinge using your mobile phone number or your Facebook account. Developing your Hinge profile is done partly during the sign-up process, but it can be tweaked and modified as you use the app and meet other singles.
What Is the Cost of Hinge?
Hinge offers three different membership plans that they called Preferred Memberships. There is a 1-month plan that costs $34.99, a 3-month plan for $64.99 ($21.66 per month), and a 6-month plan that costs $99.99 ($16.66 per month). The monthly rate is cheaper going with a lengthier membership plan at Hinge!
Is the Hinge Dating App Free?
You can use Hinge "for free" to an extent. You can create a profile and browse through the Discover feature to find singles matching your search criteria. You can view photos, profile information, and prompts and send a limited number of weekly likes. You can also see who has liked your profile.
What Features Come with a Hinge Membership?
With a Hinge membership, you can send unlimited likes each week, send unlimited messages to the singles that you matched up with, and access a more comprehensive panel of advanced features that narrow your search for the right singles even further! Unfortunately, boosts and roses do not come with a paid membership. You must pay extra for them!
How Do I Set Up My Preferences?
You'll want to click on the icon with your profile picture in the bottom right-hand corner of the menu at the bottom of the screen. Click on the tab that says "dating preferences," and it's here that you can adjust your distance, age, religion, and ethnicity settings.
How Does Hinge Do Its Matchmaking?
Hinge operates a lot like Tinder and Bumble. They find singles for you using your location and personal preferences mixed with your attractiveness to other singles based on their profile photos and information. If two members both like each other's profile, they can begin a conversation. The concept of matchmaking here definitely takes a cue from Tinder and Bumble.
What Is the Average Hinge Member Like?
The average member at Hinge will be between the ages of 25 and 35 and seeking out relationships or romances that are more serious in nature. Overall, Hinge has a younger membership base compared to Bumble, more along the lines of Tinder. But unlike Tinder, Hinge members want good, quality relationships and connections for the most part. There are only about 500,000 US members, and the gender breakdown is 55% men to 45% women.
How Can I Cancel My Hinge App Membership?
When you cancel your membership, you're basically making it so that it doesn't automatically renew itself at the end of the billing cycle. You can continue to enjoy the membership services up until the date it's set to end, even after you "cancel" it. You can do this by going into "settings" under the icon with your profile picture. There's also an option to delete your account under "settings" as well.