Are you considering signing up for the leading Jewish online dating app, but you're wondering what using Jdate costs? If so, this Jdate pricing breakdown has you covered.
On this page, you'll find the latest membership plans, what they cost per month (and in total), and the benefits of purchasing a premium subscription.
After our Jdate cost breakdown, we'll examine whether the dating app offers free trial promotions or another way for new users to test drive the platform before buying a membership upgrade. We'll also list the features available to free users and compare them to the tools and functions unlocked for paid subscribers.
Finally, our deep dive into Jdate pricing takes us to payment options. After all, you can't buy a premium membership without the proper banking methods to facilitate the transaction. We've researched the payment options accepted by Jdate, how they are processed, and whether subscriptions renew automatically. By the time you reach our frequently asked questions section, you should be an expert on all things related to Jdate memberships, pricing, and payments!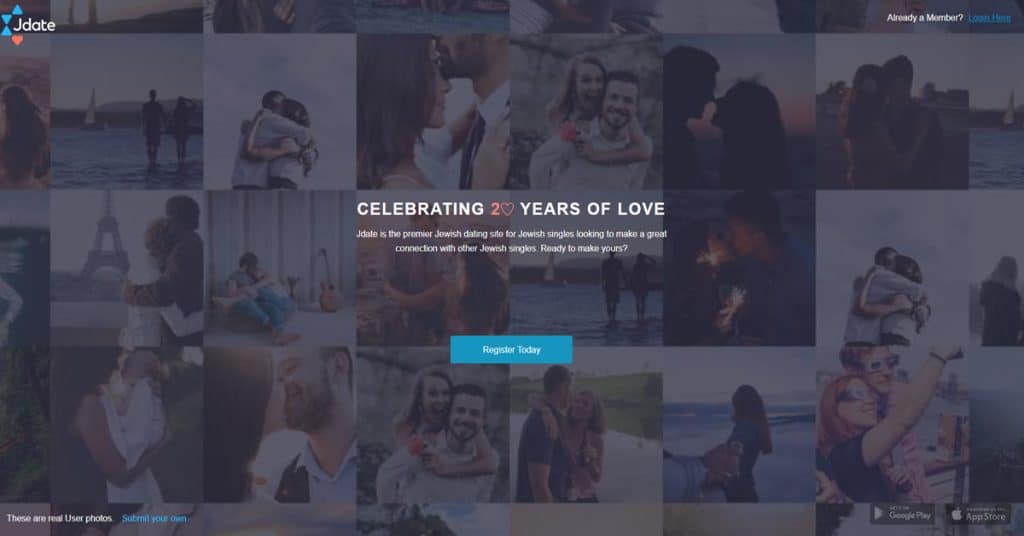 Jdate Membership Cost Breakdown
Membership Length
Cost (US Dollars)
Cost (Canadian Dollars)
Cost (British Pounds)
Cost (Australian Dollars)
1 Month
$59.99 per month
CAD 81.89 per month
£53.22 per month
AUD 92.27 per month
3 Months
$44.99 per month /
one payment of $134.97
CAD 61.42 per month /
one payment of $184.24
£39.91 per month /
one payment of £119.74
AUD 69.20 per month /
one payment of $207.58
6 Months
$29.99 per month /
one payment of $179.94
CAD 40.94 per month /
one payment of $245.64
£26.61 per month /
one payment of £159.64
AUD 46.13 per month /
one payment of $276.77
Jdate's premium membership packages come in three lengths: 1 month, 3 months, or 6 months. Otherwise, all the features and services that they offer are the same. The benefit of the longer plans is that, while more expensive overall, they discount the Jdate cost per month. In fact, the monthly average of the 6-month subscription is half that of paying one month at a time. 
So, unless you're supremely confident in your ability to find love in your first thirty days of becoming a member, a longer-term membership package is usually the best bet. For your convenience, we've also listed the monthly and total rates for each plan in Australian and Canadian dollars, as well as the British Pound Sterling. 
Keep in mind that regardless of the duration of your premium membership, the full price of the package is due upfront. There are no installment plans or long-term contracts with monthly payments.
Jdate's premium memberships are set to renew automatically unless you cancel your subscription before its expiration date. When a plan is automatically renewed, it will be for the same duration as the previous deal.
To avoid a surprise renewal, you can turn off auto-renew at any time. Just navigate to your Account Settings page and click the Manage Subscription link. Select "stop your subscription." 
You'll still have your premium membership for the duration of the plan until it expires – at which point, you'll lose your membership benefits. 
If you purchased your subscription through the Jdate mobile app using the payment method connected to your account in the Apple App Store or Google Play, you must manage your automatic renewal the same way. Instead of visiting your "Account Settings" page in the Jdate app, use your device's mobile app store to manage your subscription.
Jdate is not known to offer free trial periods, but that doesn't mean you can't test drive the dating service first before deciding whether it's worth investing more time and money.
A true free trial is a promotional tool that gives prospective customers access to premium membership benefits for a short period of time. However, before the trial begins, the recipient must provide their payment information. If they don't cancel their membership before the trial period expires, it is automatically renewed at the full subscription rate. 
Instead of offering free trials, Jdate has a free standard membership. You can sign up, create your profile, upload photos, and browse other members – all without paying. And your standard membership never expires or reverts into a paid subscription. 
The downside is that free memberships are severely limited in what they can see and do on the platform. Communicating with other singles is nearly impossible unless a premium member initiates a conversation with you first (more on that later).
A standard Jdate membership has the following capabilities: 
✔️ Upload a maximum of 6 photos
✔️ Search for member profiles
✔️ Receive new matches daily
✔️ Read members' full profiles
✔️ See members' first photo
✔️ Reply to messages received from premium members
✔️ Send smiles
✔️ Browse LookBook matches
✔️ View Activity Lists (I Viewed, My Likes, Mutual Likes)
Jdate is one of the few online dating services that allow free users to read and respond to messages received from premium members. So, if you're fortunate enough to catch the right user's attention, you could meet your future partner, get to know each other, and arrange a date without ever having to pay.
The downside is that you're leaving it up to fate. You still won't be able to see more than one of their profile pictures, nor can you initiate conversations. The most you can do is send smiles to the matches that interest you and hope that they're premium members who respond with a message.
Jdate Free Membership vs. Paid Subscription
| Feature/Benefit | Free Membership | Paid Jdate Membership | Subscription Upgrade |
| --- | --- | --- | --- |
| ⠀Create a Profile | ⠀Yes | ⠀Yes | ⠀N/A |
| ⠀Search Member Profiles | ⠀Yes | ⠀Yes | ⠀N/A |
| ⠀Read Full Profiles | ⠀Yes | ⠀Yes | ⠀N/A |
| ⠀See Members' 1st Photo | ⠀Yes | ⠀Yes | ⠀N/A |
| ⠀Send Smiles | ⠀Yes | ⠀Yes | ⠀N/A |
| ⠀Unlimited Send and Receive Messages | ⠀No | ⠀Yes | ⠀N/A |
| ⠀See All Photos | ⠀No | ⠀Yes | ⠀N/A |
| ⠀See Who Viewed Me | ⠀No | ⠀Yes | ⠀N/A |
| ⠀See Who Liked Me | ⠀No | ⠀Yes | ⠀N/A |
| ⠀Browse Anonymously | ⠀No | ⠀Yes | ⠀N/A |
| ⠀Hide Online Status | ⠀No | ⠀Yes | ⠀N/A |
| ⠀Premium Messaging | ⠀No | ⠀Yes | ⠀N/A |
| ⠀Spotlight Profile | ⠀No | ⠀No | ⠀Yes |
In this table, you'll see Jdate's many features and whether they're accessible to standard members or if they require a paid premium subscription.
As you can see, a premium membership is necessary for anyone looking to introduce themselves to other singles and communicate effectively. Some free users will get lucky and receive messages from the premium members they like, but for most people, not being able to initiate conversations is a major hindrance. 
Having a premium membership means that you can send messages to every other person on the platform, dramatically increasing your prospects of finding love. 
Here's what else you gain by becoming a premium member:
✔️ Everything included in free memberships
✔️ Unlimited messaging
✔️ Receive read receipt notifications for your messages
✔️ Browse anonymously without alerting other members
✔️ Hide online status
✔️ Control whether your profile appears in searches
✔️ See all member's photos
✔️ See who visited your profile
✔️ See who likes your profile
✔️ Messaging+: All Jdate users can read and reply to your messages, even free accounts
When you're ready to upgrade your Jdate subscription, click on the blue "Get All Features" button located in the top right corner of the home page (next to your account's profile picture). This will bring you to the "Upgrade Your Account" page. Once you choose your membership plan, you'll arrive at the checkout cart.
All that's left to do now is enter your payment details. Jdate accepts all major credit cards, including (but not limited to):
Visa
MasterCard
American Express
Discover
You can also use debit cards containing Visa or MasterCard logos.
Google Play Store and Apple's App Store
Members using the Jdate mobile app may purchase a premium membership as an in-app purchase. This links your dating profile to your Google Play or Apple App Store account (depending on your mobile device) and uses whatever payment method is already on file.
If you use this method of payment, you'll also manage your subscription through your designated mobile app store. For example, that's where you'll go to cancel your membership or turn off the automatic renewal feature.
We hope we've covered everything you could ever want to know about Jdate membership costs on this page. If not, here are some answers to a handful of frequently asked questions or be sure to read through our full Jdate.com review.