Since finding a suitable romantic companion is so challenging, a growing number of people are looking to online dating apps for help. Dating is hard enough without adding the challenge of trying to meet someone who shares your values and principles when it comes to religious beliefs.
Some Jewish singles may feel compelled to limit their search for a romantic partner to people they know or those who attend the same synagogue. But you don't have to get the neighborhood yentas involved in your love life! A variety of dating apps and sites already cater specifically to the Jewish community.
Check out our detailed guide to the best Jewish dating apps to discover more about our top recommendations. Various factors, including price, relevance to your requirements, and available features, are considered to help you select the best dating platform. Chances are pretty good that you'll find true love using one of our best Jewish dating apps for 2023.
Dating App
Best For
Free Trial
Jdate

Number of Users: 240,000+
Gender Ratio: 47% men and 53% women
Best For: Finding Jewish singles who are looking for serious relationships or long-term commitments
Pricing: Begins at $29.99 per month

Start Free Trial Today!
eHarmony

Number of Users: 10 million+
Gender Ratio: 48% men and 52% women
Best For: Finding love and quality, compatible connections
Pricing: Begins at $35.90 per month

Start Free Trial Today!
Jswipe

Number of Users: 570,000
Gender Ratio: 54% men to 46% women
Best For: Millennial Jewish singles finding love, romance, and friendship
Pricing: Begins at $9.99 per month

Start Free Trial Today!
Elite Singles

Number of Users: 2+ million
Gender Ratio: 51% men to 49% women
Best For: Serious relationships with highly educated singles
Pricing: Begins at $31.95 per month

Start Free Trial Today!
Our team has independently researched all products and services that we have listed on this page. If you sign up or purchase through our links, we may receive a commission. See how it works.
---
---
Why You Can Trust Us
We have recommended several Jewish dating apps; why should you trust them? Are these really the best Jewish dating apps out there? We've compiled a list of the top five reasons why you should take our suggestions and use the dating apps we suggest!
We Write from Direct Experience – We provide our expert writers free trial accounts on these dating apps so that they can test everything for themselves and offer you thorough and impartial reviews. This method improves the trustworthiness and informativeness of our reviews.
Our Unbiased Review Process – When we review a dating app, it's always with an open mind. We look at the good and the bad while evaluating a platform, and we are quick to provide compliments when they are warranted and just as quick to offer criticism when necessary.
We Promote the Best Platforms and Products – When it comes to recommendations for online dating apps, we only suggest the best. While we will keep you informed of any niche dating apps that may spark your interest, our attention will primarily be focused on the most modern and successful of the bunch.
Free Trial Links Are Everywhere – Each time we recommend a dating app, we always include a link to its free trial version so our readers can try out the dating app without any commitment during the risk-free trial period. If you don't like it, there's nothing to lose, as taking advantage of the trial period won't cost you a thing!
All Our Content is Kept Updated – When there is a significant shift in the industry, such as when a major dating app removes or adds features to its platform, our dedicated team goes back and updates the reviews as well as any other information available. Our reviews can be relied upon because we never fail to include the most recent data, including pricing and other changes since our last review.
A Closer Look at the 4 Best Jewish Dating Apps
#1: Jdate.com
Fast Facts​
Best For: Best for finding Jewish singles who are looking for serious relationships or long-term commitments
Active Users: 240,000 +
Gender Ratio: 53% men to 47% women
Free Trial: Try Jdate Free Trial Now!
Membership Price: begins at $29.99/month
About Jdate​
We strongly recommend Jdate for any Jewish singles flying solo out there in 2023. Jdate is responsible for bringing together over 52% of online Jewish singles in marriage, despite having a smaller dating pool than others and not offering many intriguing features for its members.
With Jdate, a dating app exclusively for Jewish singles, you can feel confident that everyone you meet shares your religious values, despite its smaller user base (around 240,000 active users) compared to some of the more prominent platforms. The gender ratio is almost even— 53% men to 47% women—shows that there is a very good opportunity for individuals of both genders to find a lasting partner who shares their values and beliefs. In addition, the site has over 180,000 monthly unique visitors, which is a lot of traffic for a niche dating app!
---
#2: eHarmony
Fast Facts​
Best For: serious, compatible relationships with Jewish singles
Active Users: 10 million+
Gender Ratio: 48% men to 52% women
Free Trial: Try eHarmony Free Trial Now!
Membership Price: begins at $35.90/month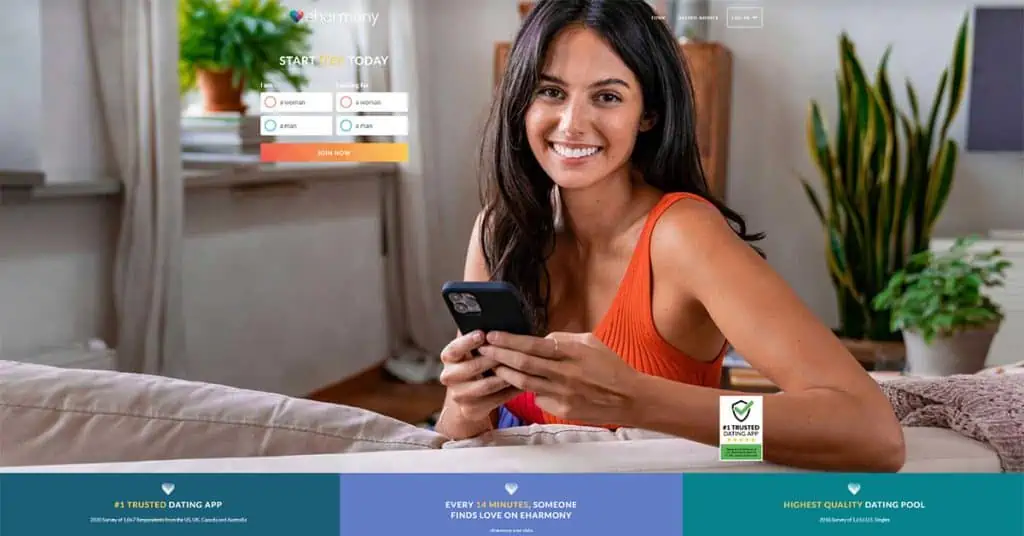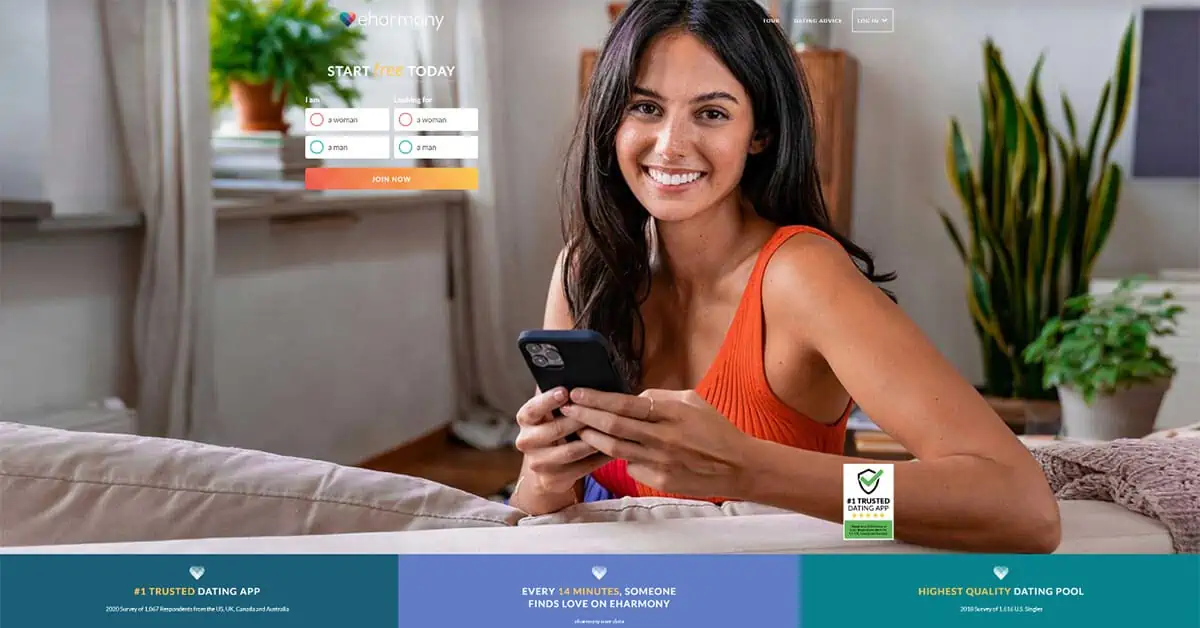 About eHarmony​
eHarmony is one of the most well-liked and successful dating apps for those looking for a lifelong partner. The site's cutting-edge compatibility assessment tools make it much more than just a dating service—its model was developed after years of research into what factors contribute to happy relationships.
According to our research, despite eHarmony's high price tag, it attracts the most users of any dating app. The platform attracts singles from all around the globe and is one of the most popular dating apps worldwide. It's also one of the easiest to use in a variety of respects, and due to the advanced matching algorithm, you won't have to spend time browsing through irrelevant profiles; instead, you'll get recommendations of potentially compatible matches.
---
#3: JSwipe
Fast Facts​
Best For: Millennial Jewish Singles Finding Love, Romance, and Friendship
Active Users: 570,000
Gender Ratio: 46% men to 54% women
Free Trial: Try JSwipe Free Trial Now!
Membership Price: begins at $9.99/month
About JSwipe​
When it comes to finding love and long-term commitment among Jewish singles, JSwipe is the go-to app. JSwipe has a simple signup process and doesn't have any fees. You need a Facebook account to sign up, and the registration process just takes a few moments, and there are no personality tests or questionnaires to take. You'll be asked to upload four profile photographs when you first join the platform. Afterward, you can start using JSwipe's free services or upgrade to a paid account for even more cutting-edge features.
All membership levels include unlimited swipe access. Users who are compatible with one another can freely exchange messages with one another, look at one another's profiles and photos, and "like" the ones they find appealing. Premium customers receive five "Super Swipes" and one "Super Note" per day, while standard users get one "Super Swipe" each day. Premium members can easily explore profiles from a particular country using the swipe function and can always see when their messages have been read.
---
#4: Elite Singles
Fast Facts​
Best For: serious relationships with highly educated Jewish singles
Active Users: 2+ million
Gender Ratio: 51% men to 49% women
Free Trial: Try Elite Singles Free Trial Now!
Membership Price: begins at $31.95/month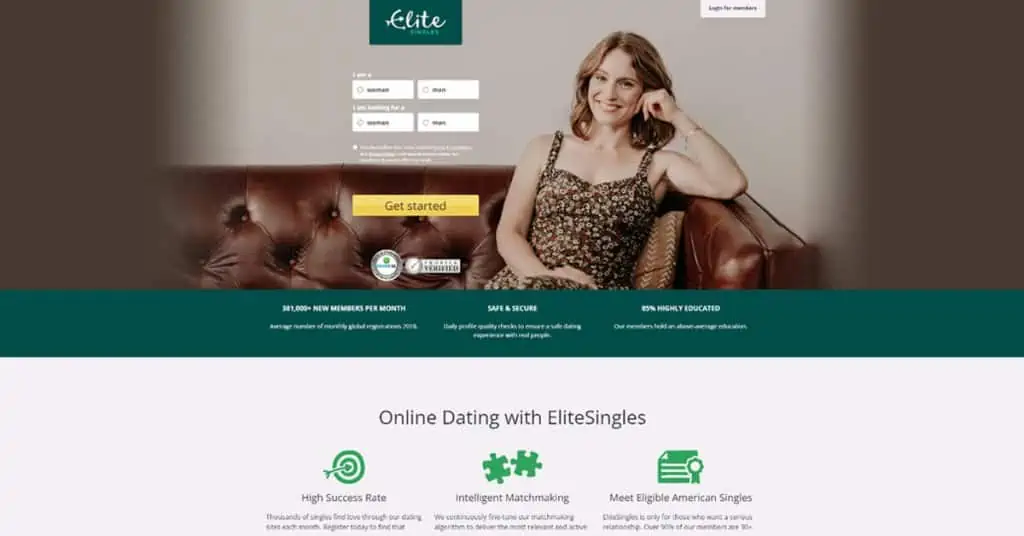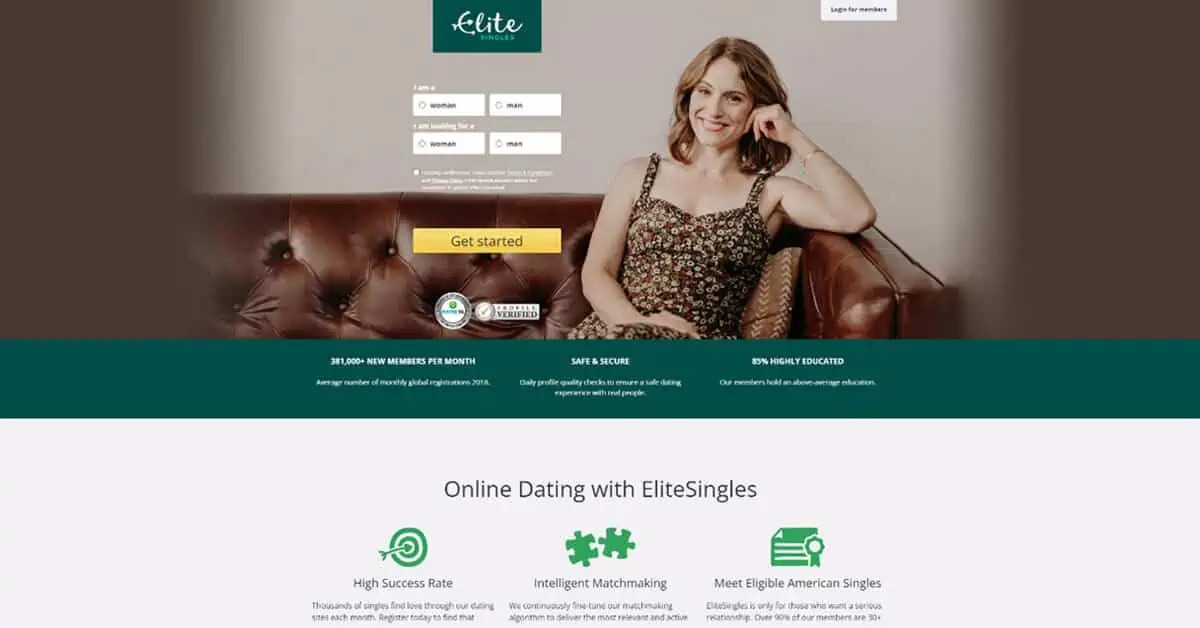 About Elite Singles​
Elite Singles bills itself as an "elite" platform for "highly educated, professionally-minded people searching for a partner who can match all of their discerning criteria."
Elite Singles is committed to helping its well-educated, successful members find meaningful relationships with one another. To find compatible Jewish singles, they use a Five-Factor Model of compatibility testing that considers things such as how each person communicates and how they feel about relationships. When it comes to finding a partner who shares their commitment to Jewish tradition and values, Jewish singles can count on Elite Singles to do the legwork.
---
What Makes These the Best Jewish Apps?
How did we choose these four best Jewish dating apps? Considering the scope of our comparison, we looked for five characteristics across the many dating apps we evaluated. Let's take a look at the four main benefits of utilizing dating apps to find other Jewish singles.
Great Matchmaking
Except for JSwipe, each of the Jewish dating apps we reviewed used in-depth personality tests and complex matching algorithms to help singles find love.
There are many dating apps out there that do more than just introduce you to possible partners. Access to a professional matchmaker who can help you find appropriate partners, a dating concierge who can help you set up dates, and invitations to members-only events are just some of the perks offered by several dating apps. It's possible, however, that adding any of these extras to your premium membership will drive up the price.
Big Dating Pools
In addition to millions of users, we advise large dating pools that attract individuals from all walks of life, including a sizeable Jewish population. This starkly contrasts Jewish-specific dating apps—some singles may have more luck with a mainstream dating app than they would with a niche Jewish platform.
Affordable Pricing for Premium Memberships
Our top-rated dating apps are all affordably priced. Free versions of these platforms sometimes exclude, however, the more sophisticated tools that make meeting people easier. Before committing to a dating app's premium membership, consider how much you have available to spend each month.
A Large Variety of Dating Markets
Since there is such a wide variety of dating markets, bigger mainstream apps tend to appeal to a greater number of demographics. As a result, they attract a wider dating pool of possible partners, as opposed to more specialized niche apps.
Best Jewish Dating Apps Compared
| Dating Site | Active Members | Member Activity | Number of Countries |
| --- | --- | --- | --- |
| Jdate | 240,000+ | 50,000 Active weekly | 70+ countries |
| eHarmony | 10 million+ | 16 million Active weekly | 200+ countries |
| JSwipe | 570,000 | 560,000 Active weekly | 70+ countries |
| Elite Singles | 2+ million | 900,00 Active weekly | 25 countries |
Questions and Answers About Jewish Dating Apps
We always make great efforts to ensure that our reviews are thorough, but it is always possible that we have missed something. Please refer to the Frequently Asked Questions section below if you have any more concerns about the best Jewish dating apps!
Is It Worth It to Join a Jewish Dating App?
Although using a Jewish dating app is no guarantee of finding Mr. or Ms. Right, it significantly increases the likelihood of meeting someone you'd be interested in dating. So far, all the platforms we've looked at have proven useful for Jewish singles looking for serious relationships, fun dates, or new friends.
Is Jewish Dating Limited to Jewish Singles?
It is not, however, in order to qualify as "Jewish dating," one of the people participating in the relationship must be Jewish; otherwise, it is simply regular ol' dating!
How Do I Choose the Best Jewish Dating App?
Online daters in the modern day have a multitude of adult dating apps from which to choose. It could be beneficial to read reviews and consult with other single pals. If you're curious about them, you should take advantage of the free trial or membership before committing to a significant membership fee. Those who use dating apps often may not even require a membership if they take advantage of the free messaging features offered by some of these services, although we always advise our readers to upgrade to a premium membership so they can take full advantage of what an app has to offer in their search for love!
How Does JDate Work?
Matches are made on JDate based on the profile choices of Jewish single men and women in order to match them with potentially compatible partners.
Are the Best Jewish Dating Apps Safe?
Undoubtedly, meeting people online and developing meaningful connections is a safe option. While dating online, it's important to exercise caution when sharing personal details and planning in-person meetings, and you should also be wary of romance frauds and phony profiles.
No photo, a made-up identity, and demands for favors or money are rather obvious red flags for a dishonest match. Still, it's always a good idea to check someone out online to ensure they aren't a catfisher or scam artist.
If someone gives you a bad feeling on an app or in a message, you can always block them or submit a complaint to the dating app!
Does Jewish Dating Permit Physical Contact?
It all depends on the person and what they believe in. Because having sexual relations before marriage is forbidden in the Torah, the standard response to this question is no. But this only applies to conservative Jewish singles such as Hasidic or strict Orthodox followers, and they will most likely not be looking for partners on dating apps.
Are the Best Jewish Dating Apps Free?
Several dating apps provide their full range of features, including the ability to browse profiles, get suggested matches, and communicate with other users at no cost to the user.
There are several paid dating apps and sites with premium features that users may pay to unlock, such as the ability to see who has liked and seen their profiles. It's important to know what features of a dating app are free to use and what needs a paid "premium" membership before committing to using the platform.
Is it Worth It to Pay for the Best Jewish Dating Apps?
The unknown is a major issue when it comes to dating online. Prices for the best Jewish dating apps are approximately $10 per month. If you even have a chance to meet your soul mate within the next few months, we'd say it's well worth it!
How Do I Build a Great Profile?
Hobbies, trips, interests, experiences, and/or curiosity are all great places to start building your profile. Don't give potential suitors the same old boring bio they've read a thousand times, and do not use your online dating profile to voice your frustrations or outline your deal-breakers.