In the quest for finding true love or serious romance online, which is more important: a sleek, modern dating app that has the latest features and does the search for your soulmate or marriage partner fun and exciting OR a dating app with a more thoughtful, science-backed approach to creating quality connections?
Which Is Better for Serious Relationships?

These are the questions that we came to find when we reviewed eHarmony vs Bumble. These are two dating apps where online singles can find true love, romance, and serious commitments, but which app does it better? Let's find out in our 2023 eHarmony vs Bumble review.
eHarmony – Compatible Connections and Meaningful Relationships
We must give the crown to eHarmony for being the absolute best the market has to offer when it comes to serious dating and relationships formed online. The 32 Dimensions testing and the compatibility breakdowns for daily matches are unlike anything else we've seen with other platforms. The heart of this platform is compatible connections. That's the thing that puts eHarmony over the top for us.
Bumble – Modern Online Dating Where Meaningful Relationships Can Happen
Yes, you can find serious relationships using Bumble. But there's also a high chance you'll find something casual. Bumble is designed to be like Tinder in its appearance and feature but with options for relationships and dating that goes beyond the superficial. So, yes, serious dating is a reality using Bumble, but there are better platforms than this one.
---
---
General Breakdown of eHarmony vs Bumble
To establish which of these dating apps is the best for serious dating, we need to look at how active their membership bases are. Good traffic and high engagement on the dating app can indicate a diverse and varied dating pool, which is always a plus in our book!
Key Information
Let's look at eHarmony vs Bumble to see how many people are using these platforms. We'll also cover the main dating endgames of these customers and their average age.
| | eHarmony | Bumble |
| --- | --- | --- |
| Year Founded | 2000 | 2014 |
| Best For | Meaningful relationships based around compatibility | Serious OR casual dating and relationships |
| Site URL | eHarmony.com | Bumble.com |
| Active Members | 16+ million (Active weekly) | 11 million total (700,000 active weekly) |
| Gender Ratio | 48% men to 52% women | 57% men to 43% women |
| Average Age | 35-45 years | 30-40 years |
| Free Trial | Yes | Yes |
| Read Review | | |
Our team has independently researched all products and services that we have listed on this page. If you sign up or purchase through our links, we may receive a commission. See how it works.
Key Points
eHarmony is the better of the two for serious dating and relationships. The end goal of many Bumble users happens to be casual dates and romance, but some want something serious too.
eHarmony is the bigger of the two dating apps and features a more active membership base.
eHarmony also has a more even distribution of men to women using the app.
The average user age is comparable between the platforms.
Main Differences
Now let's examine the primary differences between eHarmony vs Bumble to see how they're unique within their own space in the online dating market. While they're alike in some ways, there are far more differences!
Membership Base
While the gender ratios and the average user age are comparable, there are generally more people using the eHarmony dating app than Bumble. There are 3.5 million members active each week at eHarmony. At the same time, a meager 700,000 are active on the Bumble dating app. eHarmony is the more active dating platform overall and promises more opportunities for its users.
Subscriptions
Customers on a tighter budget will like Bumble and its shorter membership plans (one or three months) which are cheaper than anything eHarmony offers. On the other hand, the membership plans at eHarmony include six, twelve, and twenty-four. The six-month plan is more affordable than Bumble's, while the twelve and twenty-four-month offers are more expensive overall than anything found on the Bumble dating app.
Relational Goals
eHarmony focuses on building and fostering online relationships characterized by commitment and compatibility. Many of those using the platform goes on to meet their soulmate or a marriage partner. Bumble has the potential for serious or meaningful relationships. They are equal opportunities to find casual dating and romance as well.
Profile Set Ups
eHarmony features no swipe-style profiles except for the limited wildcard matches that customers get each day. Bumble has dynamic, fun dating profiles where customers can cycle through many members quickly and assign "likes" or "pass" based on their interests and tastes.
Matching Process
eHarmony develops all matches for its members based on 32 Dimensions of compatibility testing. Bumble lets its customers look for their matches more proactively. Members set up their search filters and dating preferences to find singles who fit their ideal fit and description.
Sign-Up Time
It takes a lot longer to become an eHarmony member due to its exhaustive sign-up process, which can take 30 to 45 minutes to complete. Meanwhile, new members of Bumble can register in five minutes or less!
eHarmony vs Bumble Top Features
Check out our complete rundown of the best features available at each app to see what kind of perks and benefits a premium member can enjoy! eHarmony and Bumble come with their own set of unique features. This can make their dating experiences feel like two different worlds altogether.
eHarmony's Best Features
32 Dimensions of Compatibility – This is the top-rated personality and compatibility testing that customers take during sign-up. The results inform daily matches and the compatibility report that follows.
Compatibility Reports – These reports show why you're compatible with each of your daily match suggestions.
Video Dates – eHarmony lets its member meet one another via video chat features. It's an excellent method for verifying someone's identity or checking to see what they're like before going deeper into the relationship.
Wildcard Matches (What If) – eHarmony provides a few matches each day that is the opposite in terms of the member's preferences and taste. It's for something a little different and lets members swipe through some profiles.
Favorites List – Members can add their favorite profiles to a separate list for later viewing once they've made their way through the profile catalog.
RelyID – eHarmony members can have their profiles officially verified by the app using RelyID. Anyone who views a verified profile will know the account has been thoroughly vetted due to the verification badge.
Bumble's Special Features
Superswipes – These are the next level up from a "like," and you can use these on your favorite members in the swipe-style profile catalogs.
Backtrack – This feature allows you to go back and redo accidental swipes. It's unlimited any day of the week.
Rematch – This can help you to recontact expired matches. You no longer must worry about acting right away on profiles that have captured your interest.
BusyBee Extension – You can take the proactive approach and create an extension that allows you to contain your matches past 24 hours.
Beeline – Get a list of all the Bumble members who swiped right on you.
Spotlight – Rank higher in the search results overall on the Bumble dating app. Your profile will get more attention, and there'll be more opportunities for finding the right singles.
Cost Comparison
This is a tough one to call for either eHarmony or Bumble because each dating app has its own set of strengths regarding its membership plans and pricing. We are going to give eHarmony the slight edge in this case, and we'll explain our thoughts below the membership plan chart.
eHarmony
| Membership Plan | Cost Per Month | Total Cost |
| --- | --- | --- |
| 6-Month Membership | $65.90 | $395.40 |
| 12-Month Membership | $45.90 | $550.80 |
| 24-Month Membership | $35.90 | $861.60 |
eHarmony Memberships
These premium memberships are longer and more expensive than Bumble's.
eHarmony membership is more valuable because you're using the best dating app, and you can take the best compatibility testing the market offers.
Bumble
| Membership Plan | Cost Per Month | Total Cost |
| --- | --- | --- |
| 1-Month Membership | $29.99 | $29.99 |
| 3-Month Membership | $19.99 | $59.97 |
| 6-Month Membership | $16.99 | $101.94 |
Bumble's Additional Membership Plans
1-Day Membership: $3.49
1-Week Membership: $13.99
Lifetime Membership: $149.99
Bumble Memberships
Bumble memberships are a lot cheaper, and they offer options for one day and one week.
There's even a lifetime membership for a one-time payment!
These memberships are better for customers with a tighter budget or looking for flexibility when it comes to time.
Which App Is Better for Serious Relationships?
Few dating apps come close to eHarmony and its 32 Dimensions of Compatibility testing. eHarmony is our best recommendation for serious dating because compatibility is the keystone by which they conduct their matchmaking process. It's all about finding the compatible connections between singles that lead to long-term, fulfilling relationships.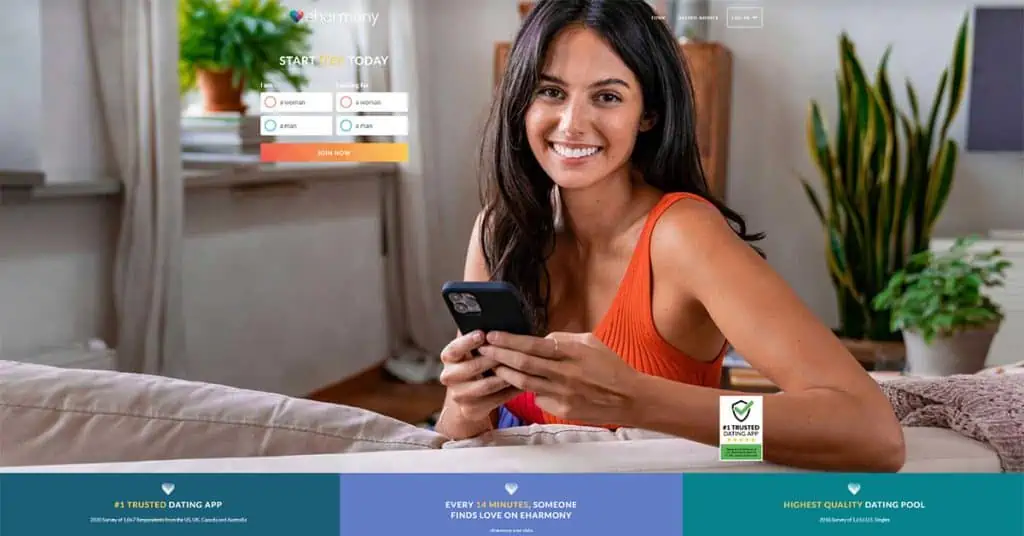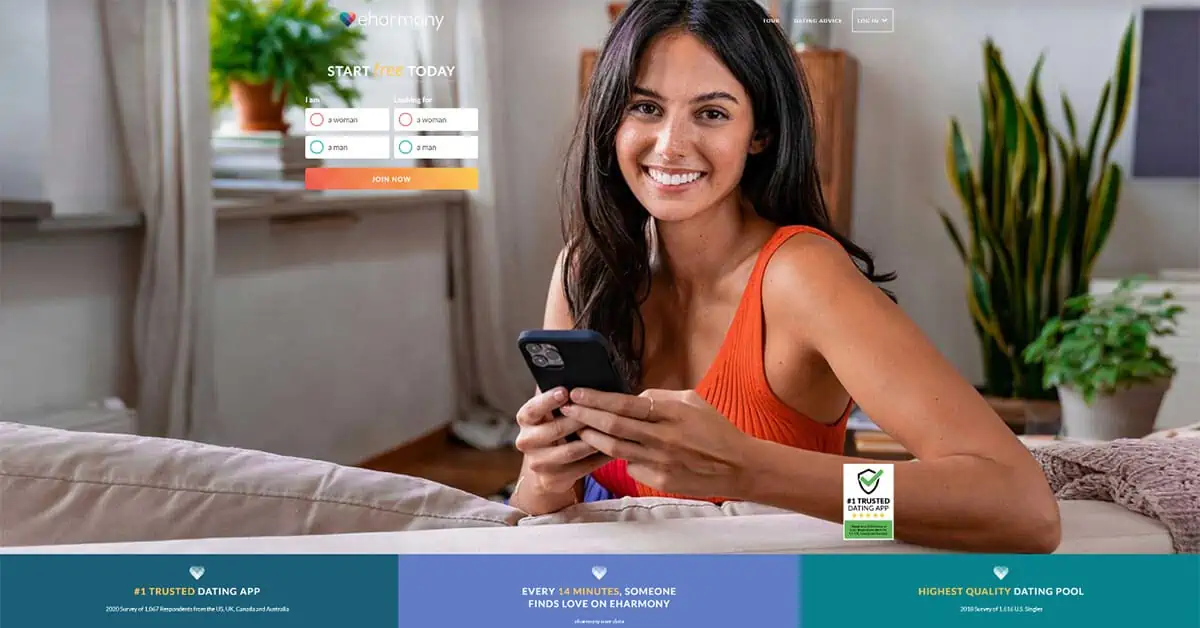 eHarmony
The combination of its top-rated compatibility testing, patented matchmaking process, advanced search parameters, and 16 committed members is what put this online dating app over the top for us. It comes at a higher cost, but you are paying for value. It's like an investment. You are bound to find true love, a marriage partner, or your soulmate using eHarmony.
Which App Is Better for Modern Dating?
There are a ton of people who have used the Bumble app and found true love and romance, but there are a lot who have used the same platform for casual dating as well. It's a mixed bag, catering to both kinds of customers. It reminds us of Hinge or Tinder. You have just a good shot of finding something serious or casual and doing so using a dating app with a more modern appearance and approach.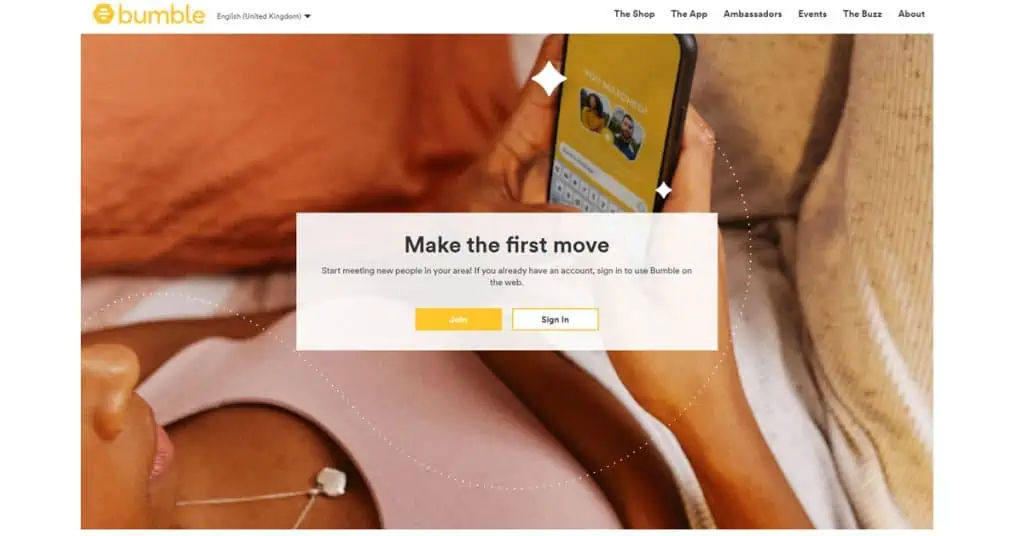 Bumble
Bumble is structured much more like Tinder, featuring swipe-style dating catalogs and a sleek design. It's a serious dating app with a modern flair and feel. Perhaps more than anything else, it's the dynamic swipe-style profiles that make Bumble or top pick for more modern dating techniques. It's an app that lets you view many profiles quickly, using natural attraction and some simple bio information to get the job done!
Which Dating App Is Our Favorite?
We want to call this one a draw because both dating apps rank so closely based on our rating process featured in our DatingApps.com reviews. However, eHarmony and Bumble are masters within their respective realms; eHarmony is ideal for finding a soulmate or marriage partner, and Bumble has the casual dating experience on lock (but does offer opportunities for meaningful relationships as well).
Five-Point Rating Process
Our five-point rating system will show you exactly how eHarmony vs Bumble rank in the most critical dating app categories. Based on these reviews, eHarmony eeks out slightly over Bumble, but like we said, comparing these apps is like comparing apples and oranges because they cater to two different kinds of online dating experiences.
| | eHarmony | Bumble |
| --- | --- | --- |
| Overall Rating | 4.5/5 | 4.3/5 |
| Usability Rating | 4.6/5 | 4.9/5 |
| Active Members Rating | 4.6/5 | 4.4/5 |
| Daily Matches Rating | 4.8/5 | 4.2/5 |
| Features Rating | 4.9/5 | 4.2/5 |
| Cost Rating | 4.0/5 | 3.9/5 |
| Free Trial | | |
Sign up for a free trial account at either of these dating apps to see firsthand a few of the features they offer their customers. We've also included links to full reviews of both eHarmony and Bumble for additional facts and details.
Ease of Use
Taking its design cues from Hinge and Tinder, Bumble is the more modern of the two dating apps and openly caters to casual dating in addition to serious relationships. It's much easier to set up an account and profile and begin meeting new people in a shorter amount of time. When it comes to ease of use, Bumble eeks out over eHarmony.
| | eHarmony | Bumble |
| --- | --- | --- |
| Sign-Up Time | 30-45 minutes | 5 minutes |
| In-Browser Use on Mobile or PC | Yes | Yes |
| Android App | Yes (Free) | Yes (Free) |
| iOS App | Yes (Free) | Yes (Free) |
| Google Play Rating | 3.2/5 | 4.0/5 |
| App Store Rating | 4.0/5 | 4.2/5 |
Key Takeaways
Bumble has better app store ratings than eHarmony.
The sign-up process is so much quicker than eHarmony's.
New users don't have to set up their profiles during the sign-up process. This can be done once a new account has been registered and you've gained access to the platform.
Both dating apps can be downloaded or accessed in-browser.
Both apps can be accessed on desktop PC or mobile devices (iOS and Android).
For solid, meaningful relationships that blossom into long-term commitments like marriage, check out eHarmony. Bumble will help you find serious relationships, but you might find casual dating too! As you can see, eHarmony and Bumble have their differences as well as their unique set of strengths and weaknesses.