If you're a teenager and want to find love or make new friends, there are a ton of great social networking platforms and dating apps for doing just that. Check out our list of the best teen dating apps below for more information.
To be clear, our dating app recommendations are for 18-and-19-year-old teens. Our rule is that we don't recommend anyone over 18 to date or become romantically involved with someone younger than 18. However, we want younger teenagers to feel included in the discussion. A few social networking apps are age-appropriate for 13-17 year-olds who wish to find new friends, so we have included those as well.
Before we get too deep into our review of the best teen dating apps of 2023, let's look at some critical information for our top seven recommendations. After all, each site specializes in different relationships and comes at various price points. Understand which platform might work out best for your goals and needs.
Teen Dating App
Key Information
Get Started
MyLOL

Year Founded: 2014
User Base: 13–19 year-old members
Best For: Finding new friends and networking with other teens
Subscription Price: Starting at $9.95/month
Active Users: 200,000
Gender Ratio: 70% men to 30% women

Start for Free Today!
Skout

Year Founded: 2007
User Base: All singles (18 or older!)
Best For: Finding new friend circles, networking, and relationship opportunities
Subscription Price: Starting at $19.99 for 3,150 credits
Active Users: 4.5 million (US)
Gender Ratio: 65% men to 35% women

Start for Free Today!
Zoosk

Year Founded: 2007
User Base: All singles (18 or older!)
Best For: Finding casual dating experiences, flings, or hookups
Subscription Price: Starting at $10.00/month
Active Users: 40+ million
Gender Ratio: 48% men to 52% women

Start for Free Today!
Coffee Meets Bagel

Year Founded: 2012
User Base: All singles (18 or older!)
Best For: Finding serious relationships and meaningful, long-term commitments
Subscription Price: Starting at $15.00/month
Active Users: 11 million
Gender Ratio: 55% men to 45% women

Start for Free Today!
eHarmony

Year Founded: 2000
User Base: All singles (18 or older!)
Best For: Finding your soulmate or a marriage partner
Subscription Price: Starting at $35.90/month
Active Users: 16+ million
Gender Ratio: 48% men to 52% women

Start for Free Today!
Bumble

Year Founded: 2014
User Base: All singles (18 or older!)
Best For: Finding falling in love or finding romantic connections
Subscription Price: Starting at $16.99/month
Active Users: 11 million
Gender Ratio: 57% men to 43% women

Start for Free Today!
Yubo

Year Founded: 2015
User Base: 13–25 year-old members
Best For: Finding new friends and networking with other teens
Subscription Price: Starting at $8.99/month
Active Users: 40 million
Gender Ratio: 52% men to 48% women

Start for Free Today!
Use any of the free trial links above to test out our favorite dating apps for teenagers without paying for a premium membership plan. Newcomers can register an account, get their free profile set up, and browse the profiles and photos of other members, all for free.
Why Trust Our Recommendations
Why should you trust what we have to say about teen dating apps? We spend a lot of our time reviewing various dating apps for all kinds of singles, so we have a good idea of which are the best to recommend to 18-and-19-year-olds looking to find love or romantic connections.
And there are a few other reasons we can think of off the top of our heads too:
Expert Reviews
Every teen dating app gets run through our honest review process, which examines five main criteria: features, cost, ease of use, active userbase, and the matching system. Once we've taken an unbiased look at each and created five smaller ratings, we pulled the average to arrive at our overall rating for the site. Our analysis, which examines all the pros and cons we discover, can be trusted because we rate the site using a balanced approach where we're realistic about the platform and what customers experience using the service.
Real User Testimonials
Our best teen dating app reviews will often have sections dedicated to user feedback from review sites like ConsumerAffairs, SiteJabber, and Trustpilot. In addition to providing our take on the platform, we know the importance of firsthand user experience and how that can shed extra light on how the service has worked out for real people. Testimonials speak volumes and can be even more important than what we have to say. We're confident in including these in our reviews and feel they add weight to our takes.
In-Depth Research and Analysis
We look at everything from the average age of members using these sites to how many are active each week on the platform. Our reviews cover the cost of membership as well as the features that come with each subscription plan. We review as much as we can about these teen dating apps and do a careful analysis based on our findings. Leave no rock unturned.
Reviews of the Top 7 Teen Dating Apps
Check out our favorite teen dating apps (ages 18-19). And for those between 13-17, we've included a few safe social networking platforms designed for teens looking to make new friends.
#1: MyLOL – Best for Finding New Teen Friends
Premium Features
Send messages and add friends.
Write blogs and join forums
Send shoutouts to other members
Enter search terms
Get prioritizes in searches
See who visited your profile
Read notification receipts
Find out which members want to meet you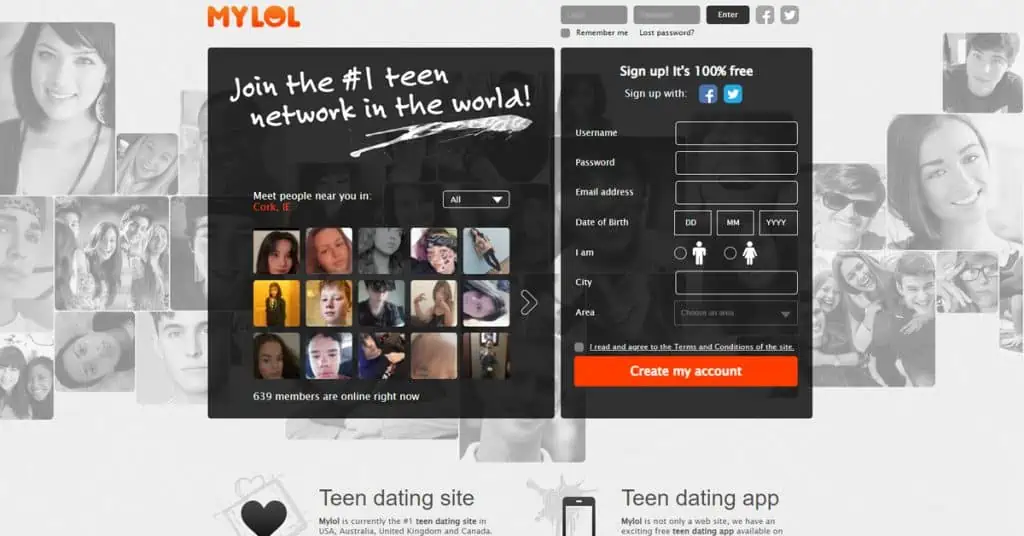 MyLOL is a social networking site aimed at teens between 13 and 19. It's a safe platform that allows its members to connect with like-minded people who share similar hobbies and interests. Finding love on this platform is possible, but nearly all members join to make new friends or network in other circles. Photo moderators work to keep MyLOL clear of age-inappropriate material, and Suspicious Keyword Detection allows moderators to detect if there's anything fishy going on in members' conversations that might be illegal or inappropriate.
Pros
MyLOL is a good networking site for teens who want to meet those with similar interests, hobbies, and passions.
There are 200,000 members from the United States, and 50,000 are active every week.
You can get your profile verified, but it's not required.
The dedicated mobile app is available for iOS and Android users. It has the same features and benefits you find in the website version.
MyLOL comes with Suspicious Keyword Detection to keep members safe from inappropriate or illegal activity.
The photo moderation team vets all images to ensure no offensive content like racism or nudity.
Cons
The platform is dominated by males (70% of all users).
While there's a photo moderation team, MyLOL has no way to check if photos are fakes.
MyLOL is known to be glitchy.
Some members post topics that are not appropriate for the age group.
Like many other networking sites, MyLOL has an imperfect vetting system that allows fake profiles and catfishers access.
---
#2: Skout – Best for Networking and Entering New Social Circles
Premium Features
No ads
Unlimited messaging (directly to inbox)
Profile boosts for increased visibility
See who added you to their Favorite List
Appear at the top of your matches' inboxes
Skout began as a social networking app when it first came to market, but it's evolved over the years to help its members find all kinds of relationships: friendship, romance, true love, social circles, and many others. With over 4.5 million members in the United States alone, teens have an excellent pool of candidates to select from to forge various types of relationships. Skout not only has a strict picture approval process, but they're also quick to block members if they detect inappropriate behavior on the app, like harassment or explicit talk. This makes it a good option for older teens looking to connect with members in their 20s or 30s.
Pros
Skout is available in over 180 countries worldwide. That's nearly all of them!
This app is great for finding dates but also for making friends.
Skout comes with a dedicated mobile app that's free to download.
The dating pool is made up of 4.5 in the United States alone.
Most Skout members are between 25 and 34 years old.
The sign-up process takes less than five minutes to complete.
Cons
The free membership comes with a lot of intrusive ads.
Many of Skout's profiles are partially completed and lack important information.
There are only 130,000 daily logins.
Skout doesn't have the best-designed user interface and can sometimes be confusing to navigate.
---
#3: Zoosk – Best for Casual Dating or Romance
Premium Features
Unlimited communications
View all photos
Get SmartPicks (advanced daily matches)
Be alerted when someone likes or views your profile
Great Dates (video chat)
Send virtual gifts (Zoosk Coins)
Read receipts on all messages (Zoosk coins)
Boost your profile (Zoosk Coins)
Incognito browsing (Zoosk Coins)
Zoosk is the best teen dating app for casual connections, short-term romance, or flings. But you need to be 18 or older! To Zoosk's advantage, most of its 40 million members are in their 20s or early 30s, which puts them in the proper age range (relatively) to date as young as 18 or 19. Swipe through hundreds of profiles as a premium Zoosk member, and their algorithm will continually improve match suggestions based on your swipe preferences and tastes. The dating possibilities are endless; 40 million members are spread out across 80 nations worldwide. Find love or romance with singles from various religious, ethnic, and cultural backgrounds.
Pros
Sign-up and create your profile in as little as 10-15 minutes.
Zoosk has over 40 million members, most of which are in their 20s.
The mobile app is free to download and easy to use.
Swipe through profiles on the Carousel for quick connections that lead to dates or casual romance.
SmartPicks are advanced matches suggested based on your swiping patterns and relationship preferences.
Three million messages are sent on Zoosk every day. It's a high-engagement dating app.
Cons
The free membership only lets members create a profile, send "likes," and view profiles. You must become a premium member to send messages.
Zoosk is known for fake accounts and scammers that get past the vetting system. Proceed with caution in your interactions.
Free members have to endure a lot of annoying ads.
Zoosk might not be the best for profound or meaningful relationships, but they are possible. The kind of relationships you find here can be unpredictable.
---
#4: Coffee Meets Bagel – Best for Authentic Connections
Premium Features
Send unlimited "woos"
See your daily matches' mutual friends
Get 6,000 beans each month
Membership purchases allow you to get 15% more beans
Get five free "takes"
Get message-read notifications
Get an activity report on your daily matches
While it's not marketed as a teen dating app or a platform for finding hookups, Coffee Meets Bagel can be a good option for teens 18+ to find meaningful, authentic connections with people who are purposeful and intentional in their relationships. CMB is not quite to the level of eHarmony where you're seeking a marriage partner or soulmate, but it's also a far cry from apps like Tinder or Bumble, which cater to casual encounters or short-term dating. Coffee Meets Bagel falls somewhere in the middle, perfect for 18 or 19-year-olds who want a relationship or dating experiences marked by commitment.
Pros
50 million matches have been made since Coffee Meets Bagel began.
An easy sign-up process that takes only 5 to 10 minutes to complete.
Plenty of gender preferences are available during sign-ups.
Paying members get 6,000 Beans per month to purchase add-on features.
11 million total members (400,000 admitted every month).
25 million introductions and 120 marriages since 2012 (in the US).
Cons
Mutual likes are the only singles you're paired with.
CMB cannot be accessed using your web browser (app download only).
Limited daily matches lead to fewer possibilities and opportunities.
Matchmaking uses five criteria: distance, height, religion, age, and ethnicity.
Not a great dating app if you're living in a rural area.
All membership plans are set to auto-renew.
---
#5: eHarmony – Best for Marriage Partners or Soulmates
Premium Features
No limits on messaging with your matches
All your matches come with compatibility reports and scores
Know when members view or like your profile
Add members to your Favorite List
See if you were added to someone's Favorite List
Get What If suggestions (wildcard matches)
Video chatting
Send "smiles" and icebreaker prompts
18 or 19 is a young age to tie the knot. But if you're sure you want to settle down, there's no better name when it comes to the marriage game than eHarmony. Upon completing a thorough compatibility questionnaire, eHarmony's service will send daily match suggestions, complete with reports and compatibility scores explaining these connections in great detail. It's like having a professional matchmaker who does all the legwork for you; all you must do is sit back, check out your matches, and communicate with the ones who pique your interest and tick all the boxes on your criteria list.
Pros
eHarmony was founded in 2000, giving it a track record of over 20 years of success.
This dating app is well-designed to help its members find their soulmate, a marriage partner, or a committed, long-term relationship.
Free communication on the weekends for free trial users.
The site offers video dates that are safe and secure.
All matches come with compatibility reports and scores explaining the connection and why it might be fruitful.
Cons
eHarmony has a lengthy registration process: 30-45 minutes.
eHarmony is on the more expensive side. Pricing begins at $35.90 per month and goes up from there.
Members cannot perform their searches. eHarmony does all the work when it comes to daily matchmaking. You can only communicate with the members they match you with.
---
#6: Bumble – Best for Teen Women (18-19 Years)
Premium Features
Use advanced search filters to find good, suitable matches
Extend your match connections past 24 hours
No limits on daily swipes
Unlimited rewinds on any mis-swipes
Get your profile highlighted in the searches using Spotlights
See who liked or viewed your profile
Change your location using Travel Mode
Get five "Super Swipes" every week
Browse profile undetected using Incognito Mode
Attention all teenage women between 18-19: are you tired of getting unsolicited messages using online dating apps? If this sounds like you, we recommend you give Bumble a shot. It's designed to put women in control of the conversation. By design, Bumble required that women send the first message in any interaction with their matches. So, not only is Bumble super pro-women, but they also have stunning swipe-style profiles that grab your attention and some other valuable features like anonymous browsing, unlimited rewinds on mis-swipes, and spotlights that showcase your profile higher in the searches.
Pros
60% of Bumble matches result in a real conversation.
The sign-up process is quick and leaves profile development until later.
Women need to send the first message in all interactions. Bumble cuts down on unwanted or unsolicited messages.
Bumble is excellent for women who want a serious relationship or fall in love.
The user interface has an intuitive design and looks fantastic.
Bumble offers reasonable membership pricing beginning at $16.99 per month.
There are 11 million members from the United States, a relatively large dating pool for great match possibilities.
Cons
If you don't follow up with matches within 24 hours, you lose those connections.
Bumble's free membership plan offers a limited number of premium features. You cannot send messages.
This dating app is known for its fair share of fake profiles, catfishers, and spam accounts due to its popularity.
Premium members only have access to an FAQ page for service and support matters.
Upgraded features like Boosts and Spotlights cost extra money. You're paying for better features on top of your membership cost.
---
#7: Yubo – Best for Making Friends Via Livestreams
Premium Features
Watch livestreams
Chat with members and leave comments
Unlimited profile swipes
Unlimited rewinds
Spotlights increase exposure in the searches
Profile boosts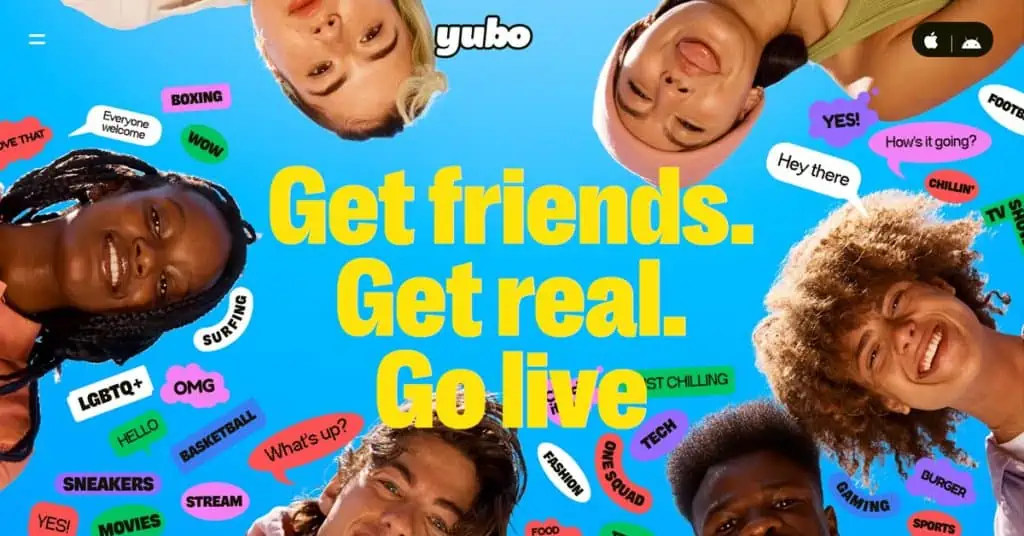 Yubo is not a dating app, per se, but teens can make new friends and break into online social circles through live streams and image-oriented profiles. The site primarily caters to members between 13 and 25 years of age, so, unsurprisingly, there are many safety features in place to protect those under 18. The Auto-Moderation Tool is one such technology that analyzes ten-second audio clips from live streamers' videos to find out if any inappropriate content is being shared. Members can also have their profiles verified by Yubo and are encouraged to connect with other verified members.
Pros
Communication with other members is free.
Your age is verified using photo technology.
The majority of members reside in the United States.
There are over 40 million users worldwide, so you'll have no trouble making new friends.
The sign-up process takes less than five minutes to complete.
Ten streamers can be in session at one time.
Cons
Yubo is less for finding dates and is geared toward networking and making friends.
If your account gets banned or flagged, it can be challenging to dispute the matter with Yubo.
The Yubo profiles are not information heavy but focus more on looks.
---
Finding the Best Teen Dating Apps for Me
If you're new to online dating, knowing which dating app is the best fit for your desired relationship and which is the best fit for your budget can be difficult. Three essential factors can help you narrow your choice to the right dating site or mobile app: your relationship goal, how much you're willing to pay, and how much you trust current or former members' testimonials. As long as you keep these three things in mind, you can take this list of seven teen dating apps and work it down to one or two good choices that are befitting for what you need.
Assessing Your Preferences
Here's where you consider your relationship goals and the connections you want to make with other online singles. It could be something short-term or casual. Maybe you want a solid commitment, period. Knowing which relationships these teen dating apps are good at fostering is half the battle.
MyLOL: Find new friends, new social circles, or network with other teens. This safe and secure social networking app is specially designed for members 13-19 years old.
Skout: What began as a social networking app for all ages has turned into a platform for finding dates, romance, and love too. Members are usually in their late 20s or early 30s. Skout only admits members 18 or older.
Zoosk: This is a mainstream dating app that serves 80 countries and caters to short-term romances, flings, or hookups. You must be 18 years or older to join.
Coffee Meets Bagel: Use CMB to find authentic connections with like-minded singles. Commitment and meaningful relationships are the name of the game here, though you must be 18 to use them.
eHarmony: Use eHarmony to establish a compatible, committed connection that leads to marriage or a long-term relationship. They only admit members who are at least 18 years of age.
Bumble: Find committed relationships or short-term romances with a variety of singles. Members need to be 18 or older, and Bumble is dedicated to helping women avoid unwanted advances or messages.
Yubo: Another safe social networking site that admits members as young as 13, Yubo relies heavily on live streaming and photo-driven profiles to help teens make friends and other connections.
Comparing Features and Pricing
To find a teen dating app that fits your needs, something important to think about is how much it'll cost you and what communication or unique features you get for the price. As far as we saw, none of these dating apps can be used entirely for free. Sure, each has its free trial version, but these only have a few valuable features, like messaging or video chatting, which make the entire experience worthwhile.
MyLOL
| Membership Plan | Cost Per Month | Total Cost |
| --- | --- | --- |
| 1 Week Membership | $3.95 (one week) | $3.95 |
| 1 Month Membership | $9.95 | $9.95 |
| 3 Month Membership | $6.95 | $20.85 |
| 12 Month Membership | $4.95 | $29.70 |
Skout
| Credit Bundles | Cost Per Credit | Total Cost |
| --- | --- | --- |
| 3,150 Credits | $0.01 | $19.99 |
| 8,400 Credits | $0.01 | $49.99 |
| 18,975 Credits | $0.01 | $99.99 |
| 50,000 Credits | $0.01 | $249.99 |
Zoosk
| Membership Plan | Cost Per Month | Total Cost |
| --- | --- | --- |
| 3 Month Membership | $19.98 | $59.95 |
| 6 Month Membership | $13.35 | $79.99 |
| 12 Month Membership | $10.00 | $119.99 |
Coffee Meets Bagel
| Membership Plan | Cost Per Month | Total Cost |
| --- | --- | --- |
| 1 Month Membership | $34.99 | $34.99 |
| 3 Month Membership | $25.00 | $74.99 |
| 6 Month Membership | $20.00 | $119.99 |
| 12 Month Membership | $15.00 | $179.99 |
eHarmony
| Membership Plan | Cost Per Month | Total Cost |
| --- | --- | --- |
| 6 Month Membership | $65.90 | $395.40 |
| 12 Month Membership | $45.90 | $550.80 |
| 24 Month Membership | $35.90 | $861.60 |
Bumble
| Membership Plan | Cost Per Month | Total Cost |
| --- | --- | --- |
| 1 Month Membership | $29.99 | $29.99 |
| 3 Month Membership | $19.99 | $59.99 |
| 6 Month Membership | $16.99 | $99.99 |
Yubo
| Membership Plan | Cost Per Month | Total Cost |
| --- | --- | --- |
| 1 Week Membership | $5.99 (one week) | $5.99 |
| 1 Month Membership | $8.99 | $8.99 |
| 3 Month Membership | $5.00 | $14.99 |
Evaluating Success Stories and Reviews
We encourage our readers to check out reviews and stories left on rating sites like SiteJabber, Trustpilot, or ConsumerAffairs to gain insight into the public's sentiments toward our favorite dating apps for teens. Just be aware that many companies and brands on these sites get excoriated by unhappy consumers, and many times, they look much worse than they are because people tend to post more about negative experiences than positive ones.
Many dating sites and matchmaking services will have a page on their platform dedicated to success stories from current or former members. You should check these out if you want to see some positive experiences from firsthand users.
Downloading and Signing Up for a Teen Dating App
For the most part, every dating platform in this review offers a physical website where members can interact with other singles using their desktop computers. There are a few exceptions to this rule. However, all these sites come with mobile apps at Google Play and the App Store. All sites offer the mobile app free of charge.
Available Platforms
| Dating App | Internet Browser | Google Play | Apple Store |
| --- | --- | --- | --- |
| MyLOL | Yes | Yes | Yes |
| Skout | No | Yes | Yes |
| Zoosk | Yes | Yes | Yes |
| Coffee Meets Bagel | No | Yes | Yes |
| eHarmony | Yes | Yes | Yes |
| Bumble | Yes | Yes | Yes |
| Yubo | No | Yes | Yes |
Nearly every platform on our list has a registration process that takes ten minutes or less to complete. The one exception to the rule is eHarmony. It can take anywhere from 30-45 minutes to become fully signed on, primarily due to the extensive 32 Dimensions of Compatibility testing.
FAQ
We've done our best to cover everything we felt like needed to be discussed when it comes to teen dating apps. However, we realize that isn't always possible so below we have also included our answers to several of the most common questions we receive from users about this subject.
Do I Need to be 18 Years or Older to Use Teen Dating Apps?
All the dating apps we recommend for teenagers require you to be 18 or older to become a free or premium member of the service. The exceptions to the rule are MyLOL and Yubo, both of which are marketed more as social media and networking sites for teenagers looking for new friends or joining new social circles. The latter two sites allow new members to be between 13 and 17 years old.
What Are the Most Common Dangers to Teens on These Apps?
While teenagers are usually good with technology, it doesn't mean they're immune to online scams, harm, or being bamboozled. A few common jams we see teenagers get into with dating apps or social networking sites include harassment, emotional abuse, bullying, data theft, or being stalked.
Are Teen Dating Apps Safe?
Many of the teen dating apps we recommend in this review come with ways for customers to have their profiles verified by the site. Social networking sites (MyLOL and Yubo) have systems in place with photo moderation and keyword usage that can pick up on behavior or material that isn't age-appropriate for users under 18.
What Are Red Flags on Teen Dating Apps to Look Out For?
Beware of profiles that have yet to be officially verified by the app you're using. You only know who you're dealing with if they have a verification badge. Look out for members who pressure you for personal information or explicit images of yourself. You're probably dealing with someone who doesn't have your best interests at heart.
Are There Ways to Block or Remove Members Who Act Inappropriately?
Absolutely. Teen dating apps allow members to block the account and report what happened to the site. The security team usually issues a warning to that member or will have their account removed from the platform, depending on the situation.
Can I Find Love or Romance using Social Networking Sites like Yubo or MyLOL?
There's no rule saying you can't. These sites specialize in connecting teens with new friends and social circles. But they cannot police the direction these relationships are headed. Something we don't recommend, though, is dating someone under 18 if you are over 18. You want to avoid getting involved with that for many reasons.