If you're looking for a modern dating app with all the appeal of Tinder, Bumble, or Hinge, minus the emphasis on casual dating or romance, you'll love Coffee Meets Bagel! This is a modern dating app focused on serious dating and relationships but is attractively designed and functions in the same sleek way that makes platforms like Tinder so incredibly popular in 2023!
Find a serious relationship or a long-term commitment at Coffee Meets Bagel today by signing up for a premium membership or trying the app free of charge via the limited free trial membership. Our Coffee Meets Bagel review will cover the cost of membership and the features that come when you purchase a premium subscription. We'll even cover the entire sign-up process and how to use the "free trial" version of the app!
---
---
Our team has independently researched all products and services that we have listed on this page. If you sign up or purchase through our links, we may receive a commission. See how it works.
About Coffee Meets Bagel
Before we dive into our review of the Coffee Meets Bagel dating app., these are some of the best things to know about the app before signing up for a membership plan or even beginning a free trial membership.
CMB Fast Facts
Fact
Details

Site Name

Key Info

• Year Founded: Founded in San Francisco in 2012; appeared in the 6th season of Shark Tank
• Best For: Serious relationships, long-term commitments, and casual dating or romance
• Number of Active Members: 11 million
• Gender Ratio: 55% men to 45% women
• Matchmaking Process: Members dating preferences and basic criteria like age, location, appearance, ethnicity, and religion

Cost of Membership

CMB prices start at $15.00

Apple Store Stats

4.5 stars based on over 128,000 reviews

Google Play Stats

3.5 stars based on over 95,000 reviews

Sign Up Time

5-10 minutes
Free Trial
Newcomers to Coffee Meets Bagel can use the "free trial" offer to experience some of the premium membership features for a limited period of time. New users will need to upgrade to a premium plan to utilize all that Coffee Meets Bagel offers.
"Free Trial" Features
Register a Coffee Meets Bagel account
Create a personal profile
Set up your search filters
Get limited daily matches ("suggested" menu)
Browse through member profiles ("discover" menu)
Limited messaging (for the first 7 days)
Free beans to start
The Coffee Meets Bagel "free trial" is the mode all new members begin when they create a new account with the app. Posted throughout the platform are links for membership upgrades that members can click on at any time to become official members.
Benefits of Using the "Free Trial"
There are three premium membership plans that customers can choose from at CMB. Each package comes with the same features, so the only difference in price is due to the different membership plan time frames.
Get your face and your information on the app free of charge
Familiarize yourself with where everything is on the app
See what kind of singles are using Coffee Meets Bagel using "Discover."
Set up your search preferences and see what kind of daily matches you get
Premium Membership Plans
There are four membership plans that you can enjoy when joining the Coffee Meets Bagel app. They all come with the same premium features, but they will vary in length.
You'll pay more at the end of the day for a more extended membership plan, but you'll pay a lower monthly rate as the length of the plan increases. You can see the complete price breakdowns in the chart below:
Membership Features
Any features you can enjoy as a free trial member also apply to the premium membership: free account registration, a free personal profile, the ability to search and browse profiles, and free daily matching. Here are the remaining features you can enjoy once you've purchased a Coffee Meets Bagel premium membership plan.
Send unlimited "woos"
See your daily matches' mutual friends
Get 6,000 beans each month
Membership purchases allow you to get 15% more beans
Get 5 free "takes"
Get message-read notifications
Get an activity report on your daily matches
Beans
Beans are an in-app currency that allows you to purchase additional features to enhance your CMB experience! Premium members get 6,000 beans each month, and there are specific actions that members can perform to earn more, like referring their friends to use the app or logging into the app for 7 straight days.
Below is a breakdown of the cost of beans on the Coffee Meets Bagel app:
| # of Credits | Cost | Total Cost |
| --- | --- | --- |
| 2,000 | $0.01 | $23.99 |
| 3,000 | $0.01 | $24.99 |
| 100 | $0.02 | $1.99 |
Auto-Renewal
Any CMB membership package purchased through Google Play or the App Store is set to automatically renew once it comes to the end of its term. Your subscription ends but will automatically start over again, so you don't miss a beat of coverage. You'll get the same plan in terms of length and features and be charged again at the original rate.
If you don't want your membership plan to auto-renew, you have to contact customer service and have that feature disabled or turn it off by entering your billing preferences in the account settings. Deleting or uninstalling the app will not do the trick!
Our Coffee Meets Bagel App Rating
We performed our honest and unbiased rating process for our Coffee Meets Bagel review and arrived at an overall score of 3.9/5! It's not a perfect dating app. It has its fair share of flaws, but we recommend this platform to anyone looking for serious relationships or long-term commitments.
Overall:

| Category | Score |
| --- | --- |
| Features | 4.2 |
| Ease of Use | 4.7 |
| Match Quality | 3.3 |
| Cost | 3.5 |
| Active User Base | 3.5 |
| Overall | 4.2 |
Key Takeaways
Features
The Coffee Meets Bagel dating app comes with a lot of great features, including Discover, which allows you to search for matches outside of the search criteria you set, daily matching conducted each day by the app, and activity reports that enable you to keep tabs on members you have taken an interest in. We also liked the Bean system, where you can purchase additional features thanks to the 6,000 Beans allowance each month.
Usability
The Coffee Meets Bagel app has a great, intuitive design that is easy to figure out and pick up. All the menus and tabs are straightforward. It's simple to access your daily matches and to perform searches for other members outside of your type. Another easy factor of the CMB app is the sign-up process which only takes about 5 to 10 minutes!
Daily Matches
The daily matches at the Coffee Meets Bagel app were decent and adhered well to the criteria we set up in our personal dating preferences. One thing that the CMB app does have going against it in this category is that there are a limited number of daily matches (and it's far fewer than most other dating apps) and the fact that the daily matches are based on mutual likes.
Cost of Membership
The CMB app is middle-of-the-road when it comes to membership pricing overall. We liked that there were four membership plans because they offered the customer some flexibility regarding price and time to use the app. We appreciate the Beans system but also felt that it was weird that you have to pay for more features on top of the membership price.
Active Members
This is a pretty active user base (11 million in the US and 400,000 added each month). The CMB app estimates it has conducted about 50 million matches and 25 million introductions in 10 years, so that's a definite plus. On the downside, the CMB app has an older user base on average, with its members generally being between 30 and 37 years of age. It's less popular with 20-year-olds.
Pros and Cons
We want our review of Coffee Meets Bagels to be as honest and unbiased as possible, so we've focused on covering the pros and cons of using this app. These serve as good reasons to join or not join the Coffee Meets Bagels platform.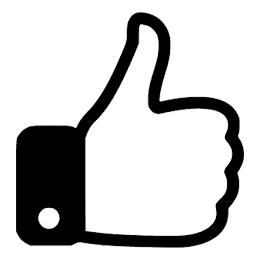 Reasons to Join
50 million matches have been made since Coffee Meets Bagel began
An easy sign-up process that takes only 5 to 10 minutes to complete
Plenty of gender preferences available during sign-ups
Paying members get 6,000 Beans per month to purchase add-on features.
11 million total members (400,000 admitted every month)
25 million introductions and 120 marriages since 2012 (in the US)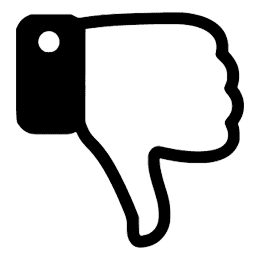 Reasons Not to Join
Mutual likes are the only singles you're paired with
CMB cannot be accessed using your web browser (app download only)
Limited daily matches leading to fewer possibilities and opportunities
Matchmaking uses five criteria: distance, height, religion, age, and ethnicity.
Not a great dating app if you're living in a rural area
All membership plans are set to auto-renew
Check out our best alternative dating apps for good alternatives to the Coffee Meets Bagel app!
Customer Service Information
There's not a whole lot to say here. The customer service factor in the CMB app is almost non-existent. There are no live chat or phone number options available.
You can request help at the app's help center by creating a "help ticket." The only other way to make direct contact (we're being generous by calling it "direct") would be to email the app at contact@coffeemeetsbagel.com.
Signing Up for Coffee Meets Bagel
The sign-up process at the Coffee Meets Bagel app is simple and isn't time-consuming in the least. Creating an account and your personal profile should take, at most, 5 to 10 minutes.
We'll break down the process step-by-step, all of the things you'll see and encounter once you've already gone and downloaded the app to your mobile device. It's self-explanatory, but we'll show you how the whole thing is done!
Step #1: Download the CMB App
Head over to Google Play or the App Store and download the Coffee Meets Bagel dating app. Once you've downloaded the app to your iOS or Android mobile device, you can sign in using Facebook or your personal phone number.
The following few screens you encounter are just for looks, really. Just click "next" to continue on through the process.
Before you hit the "let's do this" button, you'll see CMB flex its muscles by stating how many matches (158,677,369 matches and counting) they've conducted during its time in the online dating market.
Step #2: Initial Information Dump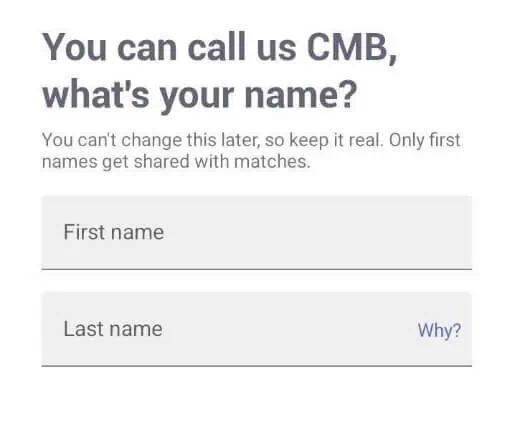 There are several small steps through this portion of the CMB sign-up process, but it should only take a couple of minutes to complete.
Add Your Name (First and Last)
Add Your Email
Describe What Kind of Relationship You Want
Add Your Gender
Alternative Gender Identities Available
Add Your DOB
Step #3: Add Your Location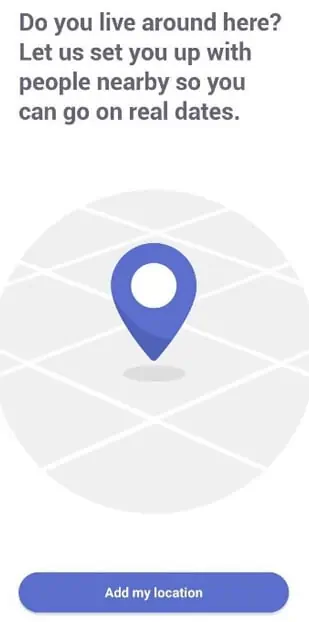 CMB uses location as a primary criterion to create daily matches for you. Add your location, including your current city and country.
Step #4: Begin Creating Your Profile
Answer the question about using dating apps in the past and then begin creating your CMB profile by clicking on "sounds good" on the next screen.
Certain portions of the profile creation process can be skipped, but we highly recommend getting as detailed as possible with your profile because it will draw more attention from other singles using the app.
Upload Photos
Upload a clear photo of yourself from social media or the files on your mobile device. Make sure you post pictures that don't misrepresent your appearance. Getting a clear shot of your face and making good eye contact is also highly recommended.
Add Your Height
Add Your Ethnicity
Add Religious Beliefs
Add Education Level
Step #5: Set Up Your Search Filters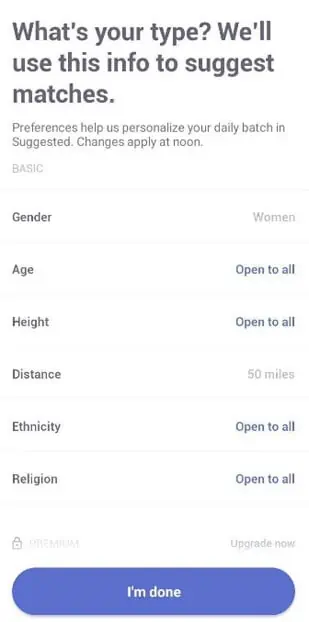 As a free trial user at CMB, there are only five criteria by which you can search for singles near you: distance, height, religion, age, and ethnicity. If you want more criteria points to make your search more specific, you'll need to become a premium app member.
As you can see in the image above, becoming a member at CMB will allow you to widen the scope of your search with added criteria, all listed below the "premium" line.
Step #6: Get Your Daily Matches
Hit the "meet my bagels" button to be sent to your personal CMB account. It's there that you'll be able to meet your daily matches as well as search for other singles using the app.
Using Coffee Meets Bagel
We found using the Coffee Meets Bagel app quite easy and straightforward (at least just using the free trial membership plan). We'll explain what you can do using the app in its limited, free capacity. You can only navigate a few menus and tabs as a free trial member, but we'll explain how to get around the app nonetheless. It's super easy!
Suggested (Daily Matches)
Once you've gained access to your personal profile, you'll soon see where your daily matches are posted. As a free member, these matches are developed around your personal preferences regarding age, location, height, religious belief, and ethnicity. Daily matches will allow you to see your match's profile picture, age, location, and information regarding values and personality.
You may also notice that there are three small icons at the bottom of the screen: an "x" icon, a "heart" icon, and a "speech bubble" icon. This is where you can engage in some swipe-style dating action and send messages during your free 7-day messaging trial. Clicking the "x" indicates you're not interested in the match. Clicking the "heart" means you're interested. Chances are that if you click the "heart," you'll also click on the "speech bubble" and send a message or a like to that member.
Profile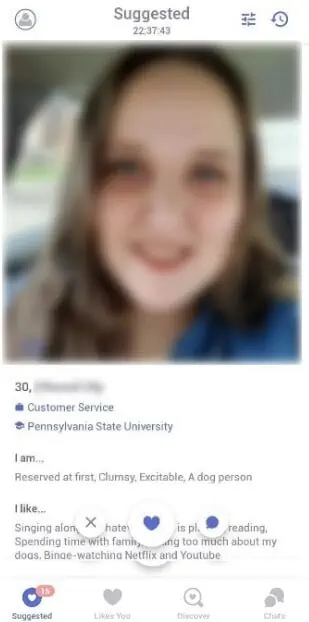 When you click on a profile (be it in "Suggested" or "Search"), you'll be taken to an expanded version of the profile versus the abridged version that appears under the "suggested" menu. With the complete profile, you can see all photos that each member has posted. You can swipe left on the profile photo to see what others posted.
Keep scrolling through, and you can better understand what is included on these pages. You can discover additional information on the member's religious beliefs, relationship goals, and habits when it comes to drinking or smoking.
Likes You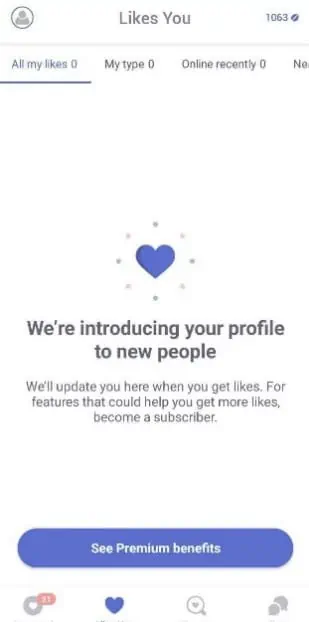 If you go under the "likes you" menu, you can see which members have sent you likes. They are all kept in this convenient tab so you can keep track of everything.
Discover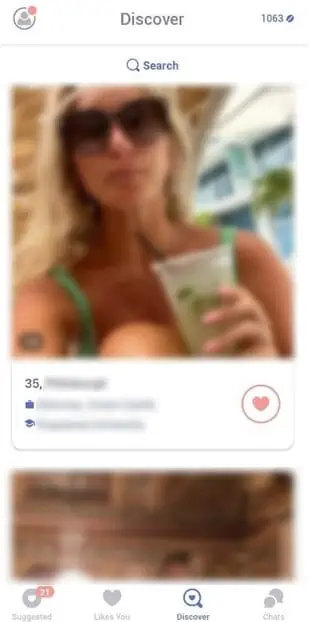 If you want to perform searches outside your daily matches, click on "discover" to literally discover what other members are out there that might fall outside the confines of your search criteria.
Chats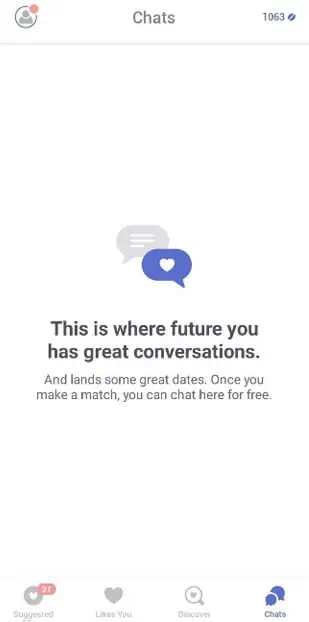 Under the "chats" menu, you can keep track of any conversations that you have going with any members on the Coffee Meets Bagel app. It's a convenient way of keeping all your messages and convos in one place for easy access.
What Are People Saying About Coffee Meets Bagel?
We've been talking a lot about the Coffee Meets Bagel app. Let's hear from the people who have used the app firsthand, shall we? These are reviews that we've found using our trusted go-to sources: Trustpilot and SiteJabber. We did our best to capture both positive and negative feedback from users from the past few years so you can get a good idea of how the public receives Coffee Meets Bagels as a dating app.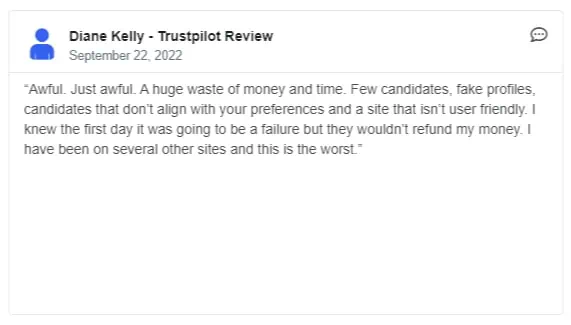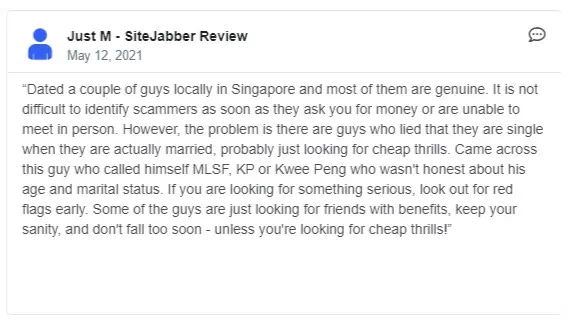 Alternatives to the CMB App
We completely understand if the Coffee Meets Bagel app is not the best course of action for your online dating excursions. There will be better fits for some people. But we have included some tremendous alternative dating apps with the same focus on serious relationships and excellent search filter criteria for finding the right singles fast!
Dating App
Fast Facts
Review

eHarmony

Best For: serious relationships rooted in compatibility
Active Users: 16+ million
Gender Ratio: 48% men to 52% women
Membership Cost: $35.90-65.90/month

Elite Singles

Best For: serious relationships with professional and highly educated singles
Active Users: 2+ million
Gender Ratio: 44% men to 56% women
Membership Cost: $19.95-37.95/month

Match.com

Best For: committed relationships or casual dating and romance
Active Users: 8+ million
Gender Ratio: 51% men to 49% women
Membership Cost: $19.99-34.99/month

Zoosk

Best For: casual dates or serious relationships from a large pool of singles
Active Users: 500,000+
Gender Ratio: 48% men to 52% women
Membership Cost: $12.50-29.95/month

Christian Mingle

Best For: serious relationships with other Christian believers
Active Users: 16 million
Gender Ratio: 44% men to 56% women
Membership Cost: $24.99-49.99/month

SilverSingles

Best For: serious relationships with singles over the age of 50
Active Users: 100,000
Gender Ratio: 53% men to 47% women
Membership Cost: $27.95-54.95/month
Coffee Meets Bagel FAQ
If there's anything we forgot to mention or cover in our review of the Coffee Meets Bagel app, we hope to address it here in our FAQ section. We feature some of the most popular questions from our readers, or anyone interested in the Coffee Meets Bagel app.
Can I Use Coffee Meets Bagel for Free?
You can use the CMB app in a limited fashion for free. It's what's known as the "free trial." Newcomers can sign up, create an account, view profiles, and get limited daily matches without paying any money.
How Many People Use Coffee Meets Bagel?
There are around 11 million active members using the Coffee Meets Bagel app. The average app user is between the ages of 30 and 37.
How Much Does a Coffee Meets Bagel Membership Cost?
This will depend on which membership plan strikes your fancy. There's a 1-month membership for $34.99, a 3-month membership for $74.99, a 6-month membership for $119.99, and a 12-month membership for $179.99.
What Are Beans and How Do They Work?
Beans are an in-app currency that allows you to purchase special add-on features to enhance your overall experience on the app.
What Kind of Relationships Is CMB Best at Shipping?
CMB is more adept at developing and fostering serious relationships. There are definitely opportunities here for casual dating and romance, but Coffee Meets Bagel even comes out and says that around 80% of their user base is more committed to finding a serious relationship versus something more casual in nature.
Can the CMB App Be Used on My Desktop PC?
Unfortunately, the CMB app can only be downloaded as an app to iOS or Android devices. You cannot visit the site using a web browser. This includes desktop computers and even mobile devices like smartphones. The only way to access Coffee Meets Bagel is to download the app.
What Is the Matchmaking Process like at the CMB App?  
If you're a free trial user, there are only five criteria by which your daily matches will be generated: age, height, religion, ethnicity, and distance. You must become a premium member to unlock other search filters criteria such as education, family, and personal habits.
Can I Communicate with Other Members for Free?
After creating a free trial account, new users have 7 days to chat with other members before that service is discontinued. Free trial members must upgrade to a premium membership plan to keep the chat going. Any conversations that were going on before get re-upped upon that user paying for a membership.
Do I Need to Provide My Location to CMB? 
Yes, for the CMB app to perform its matchmaking process, you'll need to provide your location so you can receive daily matches near your general vicinity. 
Is the Coffee Meets Bagel App Safe to Use?
Yes, this is a safe dating app that takes its customers' privacy and the security of their personal and financial information seriously. The app uses a high-quality encrypted connection to ensure that all information shared with the app is kept safe and private. All photos shared with CMB are also kept confidential and will never appear in Google search results.