It should go without saying that sugar dating can be, at times, very different from conventional dating. To handle the unique aspects of this kind of dating, an excellent sugar dating app needs to have specific features geared toward creating mutually beneficial relationships–the homepage can't just declare itself as a sugar dating app and not back it up!
In our experience, we discover new dating apps that claim they cater to sugar dating but don't really offer the tools to do so–which is why we are doing a comprehensive review of the Secret Benefits dating app. In our experience, we discover new dating apps that say they cater to sugar dating but don't really offer the tools to do so–which is why we are doing this review. Is it really worth your money, time, and effort? Above all, will it help you find the sugar relationship you're after? Is Secret Benefits legit? Let's find out!
---
---
Our team has independently researched all products and services that we have listed on this page. If you sign up or purchase through our links, we may receive a commission. See how it works.
Introduction to Secret Benefits
The Secret Benefits dating app is a platform catering to eligible singles interested in the sugar dating lifestyle. It aims to connect single men and women seeking relationships with sugar daddies, sugar mommas, and sugar babies.
A Brief Overview of Secret Benefits' History and Success
Founded in 2015, Secret Benefits has over one million registered users and can be accessed through a desktop or mobile-friendly website, although a downloadable mobile app is not currently available.
In contrast to many traditional dating apps and sugar dating platforms, Secret Benefits does not require upgraded subscription fees; instead, it operates on a credit system. Users purchase credits to "unlock" conversations with singles they are interested in messaging.
Secret Benefits' Unique Approach to Online Dating
Secret Benefits works by matching members based on their online activity, such as favorite profiles, liked photographs, searched accounts, and the people they have asked for access to their private albums. Users can also search for profiles for free using the dating app's adjustable filters. Because the platform targets transactional connections, messaging requires credits.
Is Signing Up for Secret Benefits Worth It?
We think it is! Secret Benefits appears to be one of the top choices in the dating app market for those seeking a sugar dating experience. In our review, we rate the site 4 out of 5, primarily due to its user-friendly interface, premium user base, and relevant features tailored to this particular style of dating.
Our Ratings
Our dating app reviews are always as thorough as possible and objective–we take into account details like the overall user base, the price of premium paid subscriptions, the overall effectiveness of the matching system and algorithms, and the features and benefits provided to members.
If you've been on the lookout for a dating app to help you find a mutually beneficial sugar relationship, we suggest taking a closer look at Secret Benefits, which we gave a lofty 4 out of 5 stars!
Overall:
| Category | Score |
| --- | --- |
| Features | 4.0 |
| Ease of Use | 4.5 |
| Match Quality | 4.0 |
| Cost | 4.0 |
| Active User Base | 4.0 |
| Overall | 4.0 |
What We Like
There are a lot of good things to point out about Secret Benefits, and we want to highlight the following things that we really liked about the platform!
Genuine Members – Users report that most of the members are authentic and seriously looking for mutually beneficial sugar relationships.
Video Verification – If you want to get the most out of Secret Benefits, you have to submit verification in the form of a video upload. And you know what that means–less fake profiles and a decreased chance of being catfished.
Credit System – We love the credit system utilized by Secret Benefits! It offers a more logical approach to accessing premium features, allowing users to pay only for what they use and there is an option to pay a one-time fee for unlimited messaging capabilities.
Free for Sugar Babies – While men have to pay to unlock premium features and to message female members on the platform, the sugar babies get a free ride–they don't have to pay for a thing on Secret Benefits.
What We Don't Like
While we have no doubt that the Secret Benefits dating app has resulted in countless sugar success stories, we did find a few areas where the service could be improved for the benefit of its users.
No Mobile App – While the website and using it on a smartphone or mobile device is not a problem, we would love to see a dedicated mobile app developed!
No Free Trial – Although we really like the credit system, we kinda wish there was a free trial so users could test out the platform before deciding to pay for a bundle of credits.
No Proof of Income – Since this is a sugar dating app, we wish there was a vetting process to verify that sugar babies could be sure that the sugar daddies have the means to enter into a mutually beneficial relationship–it would suck for a woman to get emotionally involved with a potential sugar match only to find out that he was inflating his assets.
Men Don't Have to Upload Profile Photos – We know that mutually beneficial relationships aren't strictly based on a man's appearance, but it would still be nice to see what a potential match looks like!
Who Is the Secret Benefits App Best For?
As for who Secret Benefits is best for, it's hands-down for singles looking for sugar dating, who want an easy dating process, and for men and women who just aren't that into conventional dating! It's also a great choice for those who want to pay as they go for premium features and perks over the usual month-to-month recurring subscription.
Demographics and User Base
With over 2 million active users, the Secret Benefits app is quite busy! Members tend to be attractive younger women looking for wealthy older men (and vice versa), and males make up a slightly bigger slice of the user base, with a gender ratio of 60% men to 40% women.
The main age distribution ranges from 18- 55+. However, the majority of the population falls within the range of 55 and above. Adults between the ages of 45 and 54 are the second-highest age bracket in Secret Benefits. And of course, young adults ranging from 25-34 also form a substantial part of the population.
Relationship Types Best Served by Secret Benefits Dating App
There is only one type of relationship that people are looking for when they join Secret Benefits–sugar relationships. That doesn't mean they can't be long-term and serious connections! In fact, there are mutually beneficial relationships that stand the test of time if both parties are happy.
While it could be used for short-term or casual situations, it's mostly meant for those looking for a serious sugar baby or sugar daddy.
Compatibility Matching System
There isn't a dedicated matching algorithm on Secret Benefits, but there are sophisticated search filters that really help users narrow down what and who they are specifically looking for!
On the Search screen, members can choose between "Recently active," which shows who is currently online or were only just a few minutes ago, and "Newest," which is who just signed up for Secret Benefits. You can look through the dating profiles in any area and connect with any of the profiles that catch your interest!
How the Compatibility Matching System Works
Secret Benefits members can tailor their search results by utilizing 12 different filters:
Distance slide
Photos/videos
Age
Gender
Ethnicity
Height
Body type
Hair color
Tattoos
Smoking
Piercings
Drinking
Secret Benefits' Communication Features
Secret Benefits offers a variety of communication options, including:
Messaging
Favorites
Private photos
Video chat and chat rooms (requires credits)
Requesting access to view secret photos (requires credits)
Guided Communication
With Photo Messaging, which is sort of like Snapchat, you can send photos with your messages.
Here's how to do it:
To attach a photo to a message, just tap the camera icon next to the text input box and follow the on-screen instructions to take a new picture or select an existing one from your device's or computer's storage–you can send several images within a single message.
For security reasons, the person who receives it will only be able to view the photo you send them for 48 hours (counting from the moment you submitted it). You get 60 seconds to look at each photo, and that's it. An on-screen timer will prompt you to remember the moment you view a photo.
Secure Messaging and Video Calls
All messages sent are securely locked and encrypted from end to end to ensure personal security–this guarantees that all the information or messages in your conversations are secure and confidential.
Icebreakers and Pre-Written Questions
The Secret Benefits dating platform has a few fun prompts and pre-written questions you can add to your dating profile:
If the devil is in the details, the most devilish + detail about me is…
The summary of my experience with this type of dating is… I'm looking for someone who will teach me…
Despite their popularity, I just can't bring myself to eat…
I've always wanted to see the world, especially…
Secret Benefits' Membership Options
Secret Benefits is way different from other dating services in its membership options–no monthly subscription model exists. Instead, the platform uses pay-as-you-go credits that can be used to buy enhanced features that can be used to unlock perks on the platform.
The prices for each credit run from $0.28 to $0.59, depending on the credit bundle you buy, and the credit bundles are available in three packs: 100, 500, or 1,000. The bigger the bundle size you buy, the more bang you get for your buck!
There are two ways to use credits on Secret Benefits: unlocking conversations and unlocking secret photos and videos. As of this review, it costs 10 credits to unlock a conversation with a member, but once unlocked, you can keep chatting with them without spending any more credits. For private photo or video albums, you also need to spend 10 credits, and you need permission from the member to access them.
For example: If you only utilize credits to unlock conversations, the cheapest bundle (100) would allow you to have 10 message exchanges, and the biggest bundle would give you access to 100 messages.
Pricing differs for men and women on Secret Benefits—men need to pay for credits to use the dating platform, while women can use it for free as long as they meet the more stringent rules for photo uploads and profile completion/verification.
Free vs. Paid Memberships
Since women can use Secret Benefits for free, that's obviously a boon for the females on the platform. Still, since there are no conventional month-to-month premium membership plans offered, the basic version is not as limiting as some other platforms! Check out the difference between the free and the paid memberships so you can decide if you want to buy one of the coin bundles.
Creating a dating profile
Browsing for matches
Sending messages
Viewing profiles
Adding members to favorites
Viewing "Guests" and "Admirers"
Sending Flirts to other members
Editing your dating profile
Premium features, which are bought with credits, include:
Unlimited messaging
All user pics can be viewed
Options for advanced searches (income, net worth, etc.)
Get your profile featured in search results
Premium Membership Benefits and Pricing
The available credit bundle packages for the Secret Benefits dating platform come in three tiers, and they are listed in the table below.
| Membership Package | Credits | Total Cost |
| --- | --- | --- |
| Secret Benefits Introductory | 100 | $59.00 |
| Secret Benefits Elite | 500 | $169.00 |
| Secret Benefits Best Value Bundle | 1000 | $289.00 |
Discounts and Promotions
At the time of publication, Secret Benefits is not offering any discounts or promotions, but always check the website to see if they've listed any special deals!
Creating Your Profile on the Secret Benefits Dating App
If you're curious about what the sign-up process is like for Secret Benefits, our team has you covered. We were up and running with our new dating profile in under 10 minutes–follow the steps below if you want to create your own dating profile!
Step 1: Go to Secret Benefits Homepage
You can navigate to the homepage from your computer or smartphone. Click on your gender to start your profile creation.
Step 2: Enter Your Basic Info
Now you'll need to enter your email address, create your username and password, and your location, age, body type, and ethnicity.
Step 3: Upload Profile Photos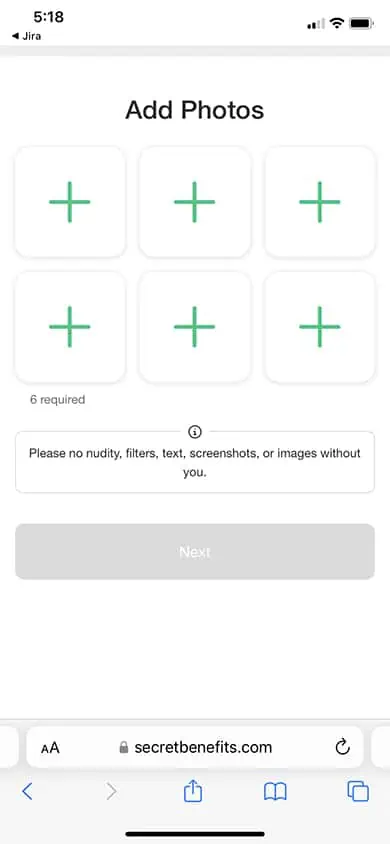 Say cheese! It's time to post your fav photos of yourself, and you have to upload a minimum of six (at least the ladies do). Then click the "Next" button.
Step 4: Specify What You Are Seeking For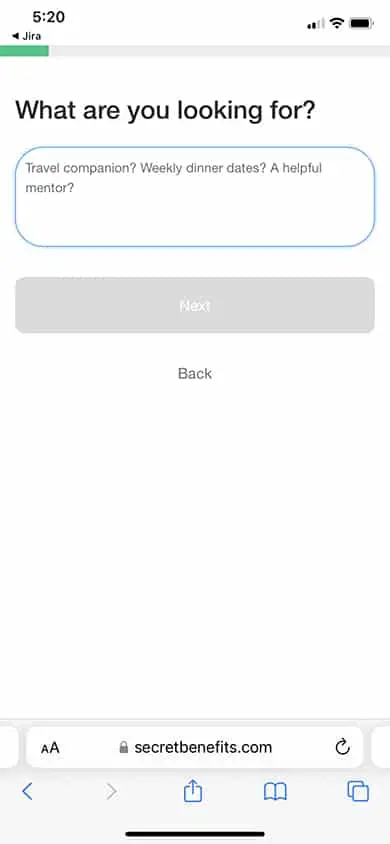 Write a few sentences about what you are looking for, specifically on Secret Benefits, in order to let others know what you want.
Step 5: Create a Greeting & Tagline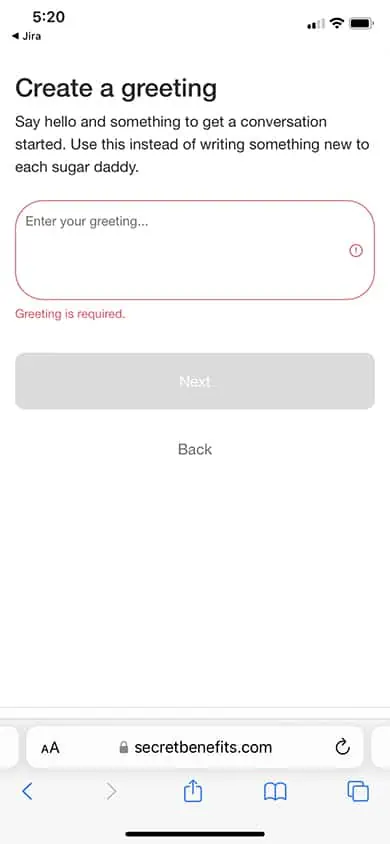 This step requires some thought—create a greeting and a tagline that will entice members to do a double-take at your profile!
Step 6: Describe Yourself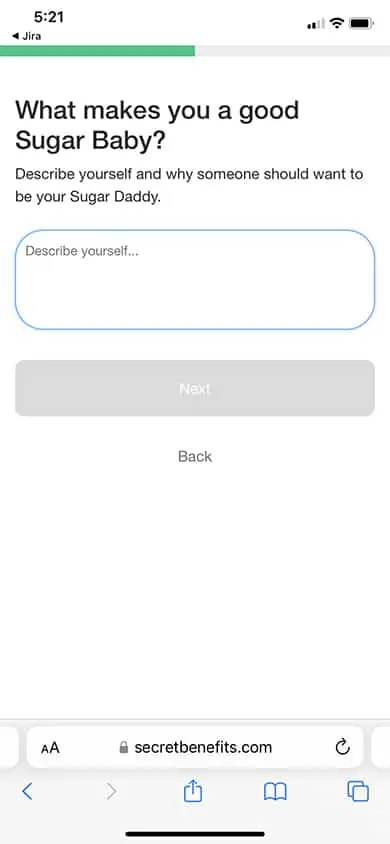 What makes you a good sugar baby? Describe why you'd be a perfect pick for an eligible sugar daddy.
Step 7: Add Secret Album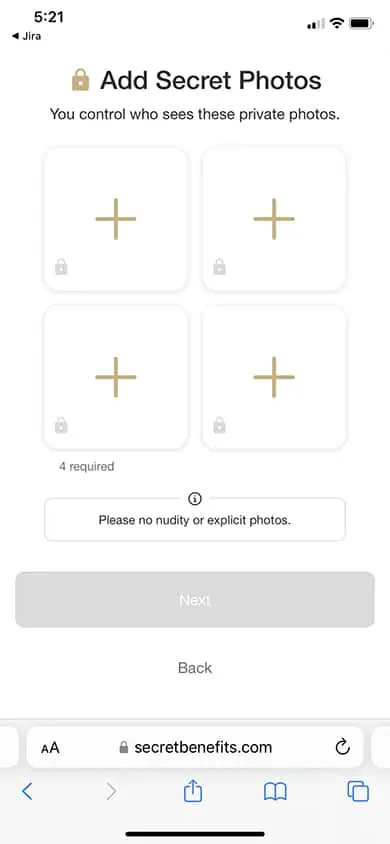 You can add secret photos that will be private—those who want to view them will have to request access.
Step 8: Verify Your Mobile Number
Enter your mobile phone number and when you receive the four-digit verification code, enter it on the next screen.
Step 9: Build Your Profile and Start Searching
That's it! Now you can start browsing for matches; you can also build out your dating profile by adding your lifestyle, interests, physical attributes, education, and add some fun prompts.
How to Delete an Account
So this was very tricky to figure out, and it took quite a bit of trial and error to be able to delete our Secret Benefits profile! But we did it, and if you follow the steps below, so can you.
Step 1: Log into your Secret Benefits dating app account
Step 2: Click on your picture thumbnail in the upper right-hand corner
Step 3: Click on settings
Step 4: Select "Hide My Profile" and then click the pink "Hide My Profile" tab
Step 5: Then click on the "Account Management" tab at the bottom left
Step 6: Select "Deactivate my account" under the green button
Step 7: Give feedback on why you are leaving Secret Benefits, re-enter your password, and hit the pink "Deactivate my account" button
Customer Service
Secret Benefits has a dedicated FAQ section on its website and a contact email (support@secretbenefits.com) if you need to get in touch with customer support! The response time is pretty quick—they got back to us within an hour!
Frequently Asked Questions
We try to think of everything while reviewing dating apps, but there's still a chance we've overlooked something! We've created a list of Frequently Asked Questions (FAQs) about the Secret Benefits app to cover all the bases.
Is Secret Benefits Legit?
Yes! Secret Benefits allows you to meet new eligible singles for sugar relationships, and it has millions of open-minded, sugar relationship-seeking members. Secret Benefits takes the issue of false accounts very seriously, and the company has put in place a number of checks and balances to guarantee that everyone who signs up for the platform is who they say they are and that they are using the service for the right reasons.
It's proud of its welcoming, varied user base, and it responds swiftly to any reports of suspicious profiles by identifying and deleting them in the interest of the greater good.
Is Secret Benefits Safe?
Absolutely! If you take the necessary precautions and use common sense, Secret Benefits is as secure as any other dating app–but they do not conduct background checks on its members for a number of reasons, including their right to privacy and the diversity of its members' motivations for joining. As a rule of thumb, it's best to approach any new sugar relationship with a healthy amount of optimism, balanced by good judgment.
What's the Difference Between Secret and Public Photos?
Public photos are precisely that—public. Anyone who comes across your dating profile can see them–but only those who you've given permission to access them are able to view your secret photos.
FYI: Those who have Secret Photos but no Public Photos will have one of their Secret Photos used as their profile picture. To protect your privacy, however, Secret Benefits will blur the picture in question.
How Can I Verify My Secret Benefits Profile?
You can verify your Secret Benefits profile at any time by doing the following:
• On a mobile device, click the three lines in the upper bar to open the side menu, then click the Get Verified button. On a computer, click "Get Verified" on the site's header image.
You must record a quick video that:
• Complies with all photo standards
• Shows your face clearly
• Includes your voice audibly reciting the special identifying phrase listed on the page with instructions for the video verification
• When you're ready to upload the video, click "Upload Video" on the screen with instructions for video verification.
• Once the clip has been reviewed by the Profile Review team, you will be notified by email. Your profile will display a green "Verified" icon if it has been approved, indicating that your verification was successful!
How Can I Block Someone on Secret Benefits?
To block a user, simply click the ellipsis (…) next to their profile picture, then select a reason in the pop-up box and provide any additional details before clicking the "Block" button. Keep in mind that blocking a member cannot be undone and is permanent.
How Do I Message Someone?
If you want to start talking to another user, simply click the "Message Me" button on their profile page or the "Message" symbol on the search result page.
To send a message, just fill out the body of the field and press the blue "send" button.
What Is Photo Messaging?
Photo Messaging enables you to easily include photos into your private messages with other Secret Benefits members. You are able to customize your messages from the safety of your own Secret Benefits mailbox. The way it works is outlined below:
• To attach a photo to a message, just tap the camera icon next to the text input box and follow the on-screen instructions to shoot a new image or choose an existing one from your device's or computer's storage. Members can attach several images to a single message if they want!
• To protect your privacy, the receiver will only be able to view the photo for 48 hours after you send it, similar to Snapchat and there is a 60-second time limit to viewing each photo. A visual reminder clock will pop up each time you open a photo.,
What Displays on My Financial Statements if I Pay for Coins?
Your financial statements will never contain billing information from Secret Benefits–CCBill Base Ltd will be the company shown.
Is Secret Benefits Just for Intimate Mutually Beneficial Relationships?
Nope! While sugar relationships often get a bad rap and are wrongly conflated with sex work, a great number of users are looking for non-sexual relationships such as friendship, mentorship, or just companionship or company. When you are
creating your dating profile, it is super important that you are honest about the type of connection you are looking for so there are no misunderstandings with matches!