Oh, baby! Pour some sugar on me–in the name of love! Okay, yeah, I just quoted Def Leppard because, come on, we're about to get sugar and sweet and everything nice.
Before we sprinkle some flavor on this blog post, let's look at what exactly it means to be in a sugar relationship–because if this is something you've never heard about, then yeah, you're probably going to want to understand it before you look at the date recommendations I'll be suggesting for your sugar first date.
Why's that, you ask? Because this is an untraditional relationship–and aren't those just the fun?
A sugar daddy is typically an older, wealthy man who provides financial and material support to a younger–but legal–typically a traditionally attractive person (often a woman) in exchange for companionship, affection, or sexual favors. The relationship between a sugar daddy and a "sugar baby" is mutually beneficial and transactional, with both parties agreeing to the terms of the arrangement upfront.
Sugar daddy relationships can take various forms, ranging from casual dating to a more serious long-term commitment. The sugar daddy may provide financial support in the form of gifts, allowances, or paying for expenses such as rent, tuition, or travel. In return, the sugar baby may provide companionship, emotional support, and/or intimacy.
But before the relationship develops, both parties must enter the first stage–the meet and greet, more traditionally known as a first date. This might sound weird until you consider that not only is your date helping you up the stairs of his private jet, but he's paying you in the process. 
Let's look into an ideal sugar first date, what to aim for, what to avoid, and how to lock this relationship in for the long haul. But you've been warned: you're going to want to leave your judgment at the door because my recommendations are going to be unlike any first date you've ever heard of before.
Location, Location, Location
Choosing a luxurious location matters in planning an unforgettable sugar first date. The location sets the tone for the entire experience, creating an atmosphere of indulgence, sophistication, and luxury. Because, after all, luxury is the name of this pretty golden game.
1. Look For Exclusive, High-End Restaurants with Impressive Menus and Wine Lists.
A fancy restaurant with a reputation for fine dining and high-quality wine can create an elegant atmosphere for your sugar first date. Consider restaurants with renowned chefs and unique menus that showcase exotic ingredients or techniques.
These restaurants often have sommeliers who can recommend the perfect wine pairing for your meal. The ambiance, service, and attention to detail in high-end restaurants can make the experience feel truly special. 
2. Choose a Hotel or Resort with Luxurious Amenities, Such as a Spa or Private Pool.
A hotel or resort with luxurious amenities can create a relaxing and indulgent atmosphere on a first date. Consider hotels with spas that offer a variety of treatments, such as couple massages, facials, and body wraps. A private pool or Jacuzzi with a view can be a romantic and intimate setting for you and your sugar baby to relax and enjoy each other's company.
Luxury hotels often offer additional amenities such as room service, butlers, or concierge services can add to the experience. Just try not to reenact Pretty Woman–sugar babies see themselves as worth much more than a lady of the night.
3. Consider Taking a Private Jet to a Secluded Island for a Weekend Getaway.
For the ultimate luxury first-date experience, consider taking a private jet to a secluded island for a weekend getaway. This type of experience is perfect for couples looking to escape the hustle and bustle of everyday life and enjoy each other's company in a beautiful and secluded location.
Choose an island with a luxurious resort or villa where you and your sugar baby can relax and enjoy activities such as snorkeling, surfing, or kayaking. Try to pick somewhere near the ocean but that still has a private, ideally saltwater pool with an infinity design. Insta-worthy, amirite?
4. Consider exotic or unusual locations to add to the excitement.
If you want to add an extra element of excitement to your sugar first date, consider an exotic or unusual location. This could be a destination with a unique culture or landscape, such as a remote beach, a mountain retreat, or even a foreign country.
You could consider locations with unique features or activities, such as a hot-air balloon ride or a private safari tour. These types of experiences can create a sense of adventure and provide ample opportunities for you and your sugar baby to connect and bond over the thrill of a new experience.
Spice It Up
On that note, it's a good idea to come up with interesting and exciting fun ideas to do on your date. Because let's be real: this isn't a regular date. In fact, it's probably not even going to happen in just one day.
Most sugar dates–even the first ones–happen over the span of a weekend to a week. Choose an exciting activity that will create a spark of adventure, but make sure to give your date multiple choices—you never know if she gets seasick or is afraid of heights.
1. Go on a Private Helicopter Tour of the City.
A private helicopter tour of the city you live in is a thrilling and unforgettable experience. Imagine flying over the city at sunset or at the break of dawn, absorbing breathtaking views, and enjoying a glass of champagne with your sugar baby.
If you don't own your own chopper, many companies offer private helicopter tours that can be customized to your preferences, including options for longer or shorter flights or tours that include specific landmarks or neighborhoods.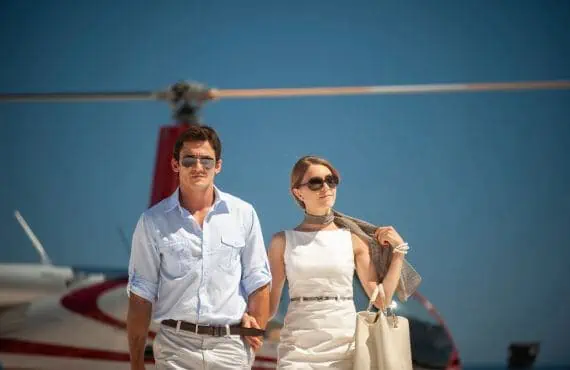 2.Take a Yacht or Private Boat Ride along the Coast.
A yacht or private boat ride along the coast can provide a sense of luxury and indulgence while also allowing you to enjoy the beauty of the ocean and coastline.
Consider renting a yacht or boat for a few hours or a full day, and take a dip in the sea to swim, snorkel, or fish. Some ships come with their own onboard chef and staff who can create a customized menu for your sugar date.
3. Book a Private Tour of an Exclusive Museum or Art Gallery.
If you and your sugar baby are art enthusiasts, consider booking a private tour of a museum or art gallery. Many museums and galleries offer private tours that can be customized to your preferences, including options for specific exhibitions or collections.
A private tour can provide a more intimate and personalized experience, allowing you to enjoy the art at your own pace and ask questions of the expert guide.
4. Attend an Upscale Concert or Performance.
Finally, you have someone to go with you to see Wicked. And sit in the VIP booth. Or maybe you've been itching to use that Jack Johnson meet and greet, and now you have a partner in crime to help you do just that.
Make sure to find out your date's preferences before choosing tickets to something like this, though. You don't want to take someone who loves country music to a rap battle, after all. I mean, that can be fun, but you're trying to impress your date, after all.
Dress to Impress
Dressing to impress is an essential part of planning a sugar first date. How you dress can significantly impact how you feel and how you are perceived by your sugar baby. Designer clothing or other high-end options can make a big impression and help to create a luxurious atmosphere for your sugar first date.
Consider wearing a designer suit, a custom-tailored shirt, or other high-end accessories that showcase your style and taste. You can also opt for further luxurious details such as expensive jewelry, a luxury watch, or a high-quality leather wallet.
When choosing what to wear for your first sugar date, it's important to consider your date's style and preferences. You can ask your sugar baby about their favorite colors, styles, or designers to get an idea of what they might like.
Consider dressing in a way that complements your date's style without sacrificing your own personal taste and comfort. This will show that you are considerate and know how to pay attention to details.
Wrap a Bow on It
Bringing a high-end gift is a great way to make a big impression and show your sugar baby that you care. Consider options such as a designer watch, a piece of expensive jewelry, or a luxury handbag. These items can showcase your style and taste while providing a valuable and cherished gift for your sugar baby.
When choosing a gift for your sugar baby, consider their interests and preferences. Consider giving them presents that reflect their hobbies or passions, such as a book by their favorite author, a piece of artwork, or a unique experience.
Adding a personal touch can make it even more special and memorable. This can create a lasting memory and show your sugar baby that you put thought and effort into the gift.
Discuss Expectations
It's important to discuss any boundaries or preferences ahead of time to avoid misunderstandings. This could include discussing your comfort level with physical intimacy, communication preferences, and other factors that could impact the date–and your future together. By being open and honest about your boundaries and intentions, you can ensure that the data is enjoyable and comfortable for both parties.
Some couples may choose to discuss their expectations and boundaries on the sugar first date, while others may prefer to wait until they have built a deeper connection. That being said, it is generally a good idea to have a clear understanding of the rules and expectations for a sugar dating relationship before entering into it. This can ensure that both parties are on the same page about what they want from the relationship.
Some standard rules that may be discussed on a sugar first date include:
Financial expectations: This can consist of the amount of money or gifts that the sugar daddy is expected to provide to the sugar baby.
Relationship expectations: Are you two exclusive? What's the level of commitment expected from both parties?
Boundaries and preferences: Be honest about your limitations or preferences, and don't shy away from discussing activities that are off-limits or what types of gifts are preferred.
By discussing these rules and expectations early on, you can build a foundation of trust and understanding that can help to make the sugar dating experience more enjoyable and fulfilling for everyone involved.
Be Open, Honest, and Respectful
It's essential to be transparent about your expectations for the sugar first date and also for your future. Discuss your goals, preferences, and desires for the experience. Be direct about what you want to get out of the relationship, whether it's companionship, intimacy, or a combination of both. This will ensure that both parties can work towards a mutually beneficial arrangement.
Throughout the first date, remember to be respectful of each other's time and energy. Be punctual, keep communication open, and be respectful of each other's needs and preferences. By doing so, you can cultivate a positive and enjoyable experience that leaves both parties feeling respected and appreciated.
Be Vulnerable
Now that you have an idea of what kind of dates and experiences you can give your sugar baby, you can start thinking about how you want to act. Yep. We're not done yet! The emotional aspect of the date is just as important as the physical element.
Be generous: One of the key aspects of sugar dating is the financial support sugar daddies provide sugar babies. Be generous with your financial support and furnish your sugar baby with the things she needs to feel comfortable and taken care of. The sugar first date will set the standard of what your sugar baby will expect moving forward.
Be attentive and thoughtful: Show your sugar baby that you are interested by listening to her needs and preferences and by providing thoughtful gifts and surprises. If she asks you to take photos, indulge her!
Show interest in her life: Get to know your sugar baby on a deeper level by showing a genuine interest in her life and interests. Answer her questions with a question back. Keep your phone off! This will help to build a deeper connection.
Provide mentorship and guidance: Many sugar babies are looking for more than just financial support—they are also seeking mentorship and guidance from their sugar daddies. By being a listening ear, your sugar baby will come to trust you and feel comfortable asking you for advice. Support your sugar baby by being there for her if she comes to you asking for help on how to achieve her goals and aspirations.
Take It Slow
And finally, go slow, my friend. There's no rush to the finish line. Dating is part of the fun. It's crucial to take your time getting to know each other and building a genuine connection.
Spend time talking and sharing stories about your lives, interests, and passions. It's important to avoid rushing things or putting pressure on each other–especially when it comes to physical intimacy or making demands on each other's time and energy.
By taking things slow, you can create a relaxed and enjoyable atmosphere that allows both parties to feel comfortable and respected.
See, that wasn't that hard, was it? By staying clear, honest, and direct in your desires and expectations, not only will you, as the sugar daddy, find happiness in indulging your sugar baby in a life of luxury, but they will come to trust you and return the favor with comfort, love, and companionship. You got this!