Sugardaddie is a well-regarded dating app where beautiful single women can meet their ideal wealthy sugar daddies. Our Sugardaddie review immediately discovered that this kind of transactional connection is actually quite prevalent!
While some may be judge-y about mutually beneficial sugar relationships, we think those people are stuck in the past. Consider it this way: being clear on your personal priorities is an essential first move toward living the life you want.
---
---

Our team has independently researched all products and services that we have listed on this page. If you sign up or purchase through our links, we may receive a commission. See how it works.
Introduction to Sugardaddie
While conducting our review of Sugardaddie, we were stunned by the number of beautiful women we found seeking such an arrangement on the dating site. There were thousands of them – and these weren't just bots and scammers! As part of our review process, we created a profile and contacted dozens of other Sugardaddie.com members to verify their legitimacy.
We'll go into greater detail about the signup process and communicating on Sugardaddie.com further down the page. First, we must share our expert ratings and other crucial information we collected during our review.
On this page, you'll find in-depth looks at Sugardaddie's premium membership packages, what they cost, and the features they unlock. We'll also tell you how you can use the service for free and how the experience compares to having a paid subscription.
A Brief Overview of Sugardaddie's History and Success
Before diving into our in-depth analysis of Sugardaddie, let's take a quick look at the platform itself. In this introduction, we'll cover the basics, such as what the app is, how it works, and how long the platform has connected sugar daddies and babies.
Founded in 2002, the dating app has been featured on Dr. Phil's show twice and boasts over five million registered members! They have been successfully connecting younger women with older, wealthy males for two decades. Sugardaddie focuses on a very particular kind of connection–the platform is intended for beautiful young ladies and older, financially well-off men looking for an ongoing relationship.
The woman, known as the Sugar Baby, receives gifts and money from the man, AKA the Sugar Daddy, in return for her company, love, and/or physical intimacy. And they do a bang-up job based on the success of the dating app.
Sugardaddie's Unique Approach to Online Dating
There are no compatibility scores, personality tests, or matchmaking algorithms used by Sugardaddie. Users just set their locations and search criteria, select the profiles they are interested in, and contact them! It's all up to the members when it comes to matchmaking.
Is Signing Up for Sugardaddie Worth It?
It's definitely worth it! Sugardaddie is unrivaled when it comes to fostering long-lasting, mutually beneficial relationships. And bonus: sugar babies can use the service and all of its premium features without ever having to pay a cent.
As for the sugar daddies, who do have to pay for premium membership, they get access to features such as encrypted communication and anonymous billing so they can protect their reps and their data. Sugar daddies can locate the most desirable sugar babies by using the enhanced search functions on Sugardaddie, and the "favorite list" acts as the sugar daddy's address book, collecting all of the women's contact information that he is interested in getting to know better.
Our Ratings
To perform our review, our team of dating app experts researched the company and its history, then created a profile and used the service to get the whole customer experience. They then rated the online dating platform on a five-point scale for five unique factors. Overall, Sugardaddie's score of 3.62 out of five puts the service amongst the upper echelon of sugar dating services.
Overall:
| Category | Score |
| --- | --- |
| Features | 2.6 |
| Ease of Use | 5.0 |
| Match Quality | 2.0 |
| Cost | 4.5 |
| Active User Base | 4.0 |
| Overall | 3.6 |
In this review, we'll discuss our experiences using the SugarDaddie dating app–both the pros and cons of signing up for the platform will be explored. These factors will be helpful when determining if SugarDaddie is the right spot for you to find a sugar daddy or baby!
What We Like
First, let's talk about what we like about the Sugardaddie dating app and why it is a no-brainer for those looking to find a sugar arrangement.
For one thing, it has a massive user base–over 5 million users–meaning that members have a huge dating pool of high-quality singles to choose from, and it increases the chances that you'll meet and connect with someone perfect for you!
Another thing we love is its "Meet My Match" feature, which is a rotating set of potential matches, like those found in carousel-style dating applications. One by one, users' profiles load, revealing only their primary photo, username, age group, and location. The app prompts you with the question "Is (Insert Username Here) a good match for you?" to the right of each profile.
We like that the signup process is easy, fast, and hassle-free; you don't have to waste time with a lengthy questionnaire or go through dozens of profiles; instead, you only need to fill out a few fields, upload some images, and introduce yourself in a few words.
Last but not least, we appreciate Sugardaddie's affordable membership compared to its primary competitors. Premium membership is roughly $30 less per month than several other dating apps of a similar kind, despite providing almost the same features. Oh, and we love that Sugardaddie is totally free for sugar babies!
What We Don't Like
While we really like most of what Sugardaddie has to offer its members, a few things could use some improvement. We aren't saying these things should dissuade you from joining, but we want to let you know that there are some areas we don't exactly love.
As with any dating app, there are fake profiles–it comes with the territory. Unfortunately, SugarDaddie has taken its eye off the ball in this area and hasn't been as vigilant as it should be in monitoring the platform's activities. Many users have complained about receiving unwanted attention from spam bots or being connected to fake profiles.
When it comes to customer service, it may appear that users have a lot of options; the dating platform's major flaw is its lack of customer support for its users. Unlike other dating apps, Sugardaddie does not include a detailed Frequently Asked Questions (FAQ) area with information and guidelines addressing an extensive list of topics–in fact, there are currently no available materials that are even remotely helpful. There are hotlines, and users can email support, but there is no quick way to get an answer if you need help.
The match quality is non-existent due to members having to do all of the legwork when it comes to finding compatible singles. This isn't necessarily a downside for some users if they have the time to browse through profiles–in fact, some people enjoy searching for themselves! But if you are looking for a fancy matching algorithm to pair you with someone compatible, that isn't how Sugardaddie operates.
Who Is Sugardaddie Best For?
Sugardaddie is a dating app for singles of various ages looking for meaningful, mutually beneficial relationships, including older men seeking younger women for casual hookups and younger women seeking financially secure men for long and short-term relationships.
Demographics and User Base
Sugardaddie attracts a wide range of users in terms of age and character. Men and women of all ages have profiles, but women in their early twenties and men in their mid-to-late-thirties are the most active.
Dating a sugar daddy doesn't have to be a May-December kind of deal, as this dating app demonstrated; plenty of wealthy young men are willing to date more mature women. We found some sugar mommas on the dating app; they are attractive and generous with their "cubs."
| Fast Facts | Details |
| --- | --- |
| User Base | All singles (18 or older) |
| What Kind of Relationships? | Meaningful, mutually beneficial sugar relationships |
| Average Age | 18-45 years |
| Total Profiles Registered | 5 million |
| Active Members | 230,000 + |
| Gender Ration | 30% men to 70% women |
Relationship Types Best Served by Sugardaddie
As we have already established, the relationships fostered by the Sugardaddie dating app are mutually beneficial sugar arrangements, which include sugar daddies taking care of sugar babies financially in return for quality time, emotional support, companionship, and sometimes physical intimacy.
So if you are an older gentleman looking for a gorgeous companion to be your arm candy, this platform will serve you well. And for the sugar babies out there seeking a wealthy man to support them financially, whether it's for school tuition or lifestyle support in return for your company, Sugardaddie can hook you up!
The Sugardaddie Compatibility Matching System
Sugardaddie.com's matching system is plain and simple: just browse the profiles of users looking for a sugar daddy or a sugar momma, and send them a message if you find someone you like!
Your dating preferences are established during the initial sign-up process–these consist of what you make and your net worth, interests, and other important details.
Sugardaddie's Communication Features
The most important thing to remember about the Sugardaddie dating app is that communicating with other users requires a premium membership. Free trial users are severely limited in their ability to interact with other users before being required to upgrade to a paid membership plan.
The exception with this dating app is that sugar babies can use all of the premium membership features for free!
Guided Communication
When it comes to guided communication on the Sugardaddie dating app, users have a customizable list of potential partners based on their preferences. Members can then reach out to one another through the platform's messaging features, including direct messages, instant messaging, and commenting on topic-specific forums.
Secure Messaging and Video Calls
Each messaging system provides a secure and private connection via SSL encryption. The platform ensures the complete confidentiality of all user-to-user communications, and Sugardaddie has never been suspected of selling user data or private conversations to third parties for marketing purposes.
Sugardaddie's Membership Options
To thoroughly review the Sugardaddie dating app, we went through the same registration process as all new users. We registered, created a profile, and filled out all required fields.
We started with the free version to determine if we were into it, and we were into it! So, we went further and upgraded to a premium membership in order to take advantage of everything the app had to offer. We spent a lot of time reviewing our potential matches and, when possible, interacting with individuals whose profiles caught our eye. Our review of the Sugardaddie dating app left our team with extensive knowledge of the dating platform.
Free vs. Paid Memberships
Sugardaddie's standard subscription is free for anyone interested in giving it a try. Users can learn more about the dating app and the online community they will be joining through this no-cost trial. The following are some of the free perks of a basic membership:
Create your profile
Upload Photos
Search Membership Pool
See Members' Photos
Meet My Match
See who's viewed your profile
Favorite profiles you like
As a marketing strategy, offering a free trial allows new consumers to try out all the premium membership features for a limited time. Typically, you should expect to wait between three and seven days. However, a potential member must provide payment information before the trial period may begin. If they don't cancel before the trial ends, their account will be converted into a paid subscription, and they'll be charged the full price of the service to the payment method on file.
All standard members of Sugardaddie.com get unlimited access to creating profiles, uploading images, and browsing the profiles of other members at no cost. They will only need to know your credit card details once you decide to pay for a premium membership. The main drawback of the no-cost version is that you can't communicate with other users through private messaging or live chat. Even the community forum is off-limits to you.
In other words, as a free user, you can view the profiles of men and women waiting for you on the dating app, but you will only be able to communicate with them once you upgrade to a paid membership. Try out the service for free for a few days to see whether it's worth it to you, and if it is, go ahead and sign up for a membership.
We've included a table below that compares what you'll receive as a free trial member, a paid member, and an upgraded subscriber, so you can easily see the differences!
| Features and Benefits | Free Membership | Premium Membership | Subscription Upgrade |
| --- | --- | --- | --- |
| Create a Profile | Yes | Yes | N/A |
| Basic Members' Search | Yes | Yes | N/A |
| View User's Pictures | Yes | Yes | N/A |
| Favorite Profiles | Yes | Yes | N/A |
| Video Chats | No | Yes | N/A |
| Comment on Community Forum Posts | No | Yes | N/A |
| Read Community Forum | Yes | Yes | N/A |
| Post Original Content on Community Forum | No | Yes | N/A |
| Send and Receive Messages | No | Yes | N/A |
| Saved and Specialized Searches | No | Yes | N/A |
| Browse by Distance | Yes | Yes | N/A |
| Who Viewed Me | Yes | Yes | N/A |
| Who Liked Me | Yes | Yes | N/A |
Premium Membership Benefits and Pricing
According to our review of Sugardaddie, their pricing is standard across the board. They only offer one form of membership that includes everything, so you won't be surprised by extra fees for features that should be included in the base membership.
As is typically the case, your subscription will cost less per month the longer you commit to it. While we've included a monthly breakdown of costs below, payment must be paid in full at the time of signup.
One Payment of: $191.88
Platinum Package
12 Months
$15

99
Monthly
Select Plan
Premium Membership Features:
Send and Receive Messages: This is a must-have feature, in our opinion–what's the point of being on a dating app if you can't communicate with other members?
Comment in Forum: Sugardaddie has an active forum. Members can talk about anything in the main forum, and there are subforums for Art, Comedy, Books, Outdoor Activities, Politics, and more.
Who Viewed Me: This feature allows members to see who has looked at their profile, which is handy if you want to know whether you wish to return the favor!
Favorite Members' Profiles: This feature lets you "favorite" another user's profile to let them know you are interested!
Meet My Match: Meet My Match uses a swipe-based matching carousel. Each profile shows its primary picture, username, age, and location. The website asks, "Is (Insert Username Here) a good match for you?"
FYI: Your subscription to SugarDaddie.com will be automatically renewed. Click "My Account" and "Billing History and Credit Card Info" if you wish to cancel your subscription. Navigate to the section where you can turn off automatic renewal. As a result, your subscription will no longer renew automatically.
Discounts and Promotions
If you subscribe to one of these plans on the platform during the first day you log in, you can sometimes save 15 percent–if the discount is available, you will see a pop-up indicating so.
Creating Your Sugardaddie Profile
As stated earlier, we're going to show you how to join the SugarDaddie dating app from start to finish. From registering an account to building your profile and interacting with other users, it's all laid out for you below!
Step #1: Create an Account
The first step in the process is to create an account. Simply provide a Username, Gender, Email Address, and Password of your choosing. The gender section of the dating app labels men as "Sugar Daddies" and women as "Sugar Babes," demonstrating that it does not encourage connections between older, wealthy women and younger men. Cougars and Sugar Mommas are not found here.
Step #2: Upload a Profile Photo
You are given a choice to add a primary profile picture after creating your account. You can do this immediately or go on to the next step and upload a photo later.
Step #3: Enter Basic Information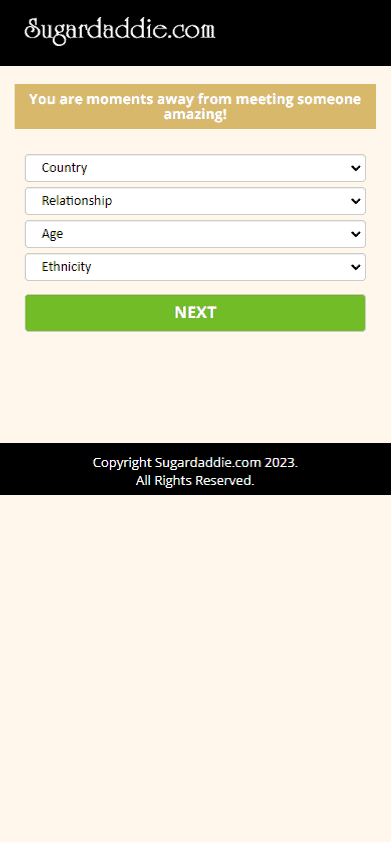 Since this is a sugar dating service, it only makes sense that they start with the money questions right away. Your location, relationship, age, ethnicity, annual salary, and projected net worth are also entered on this page.
Step #4: Enter Physical Information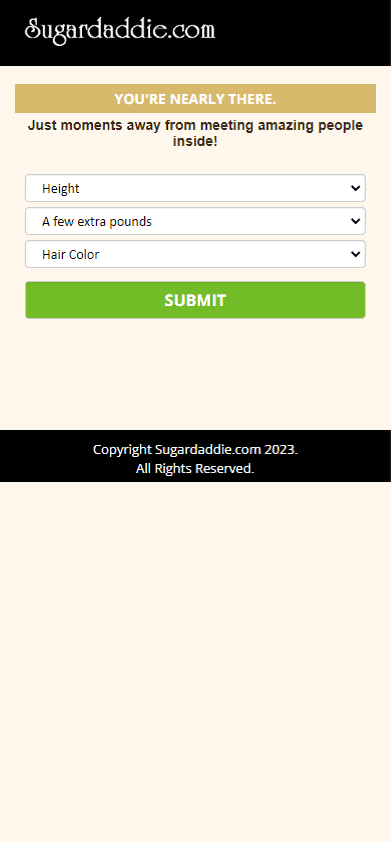 Now, enter the following three fundamental physical characteristics: height, body type, and hair color.
Step #5: Your Personal Summary
You've nearly reached the finish line. Select a profession from the list, and then fill out a short bio about yourself in the profile's last part. Read some of our dating posts to learn how to make an excellent first impression.
After you've finished describing who you are, pick at least three activities you enjoy. Since other members will use anything you have in common to initiate conversation, you should choose at least five.
Step #6: Congratulations, You've Finished Creating Your Profile!
So now the clock is ticking on your premium membership discount for the next 24 hours. Before you get to the main website, Sugardaddie.com will display a pop-up like the one below, giving you a chance to take advantage of the deal right now.
Step #7: Start Looking for Singles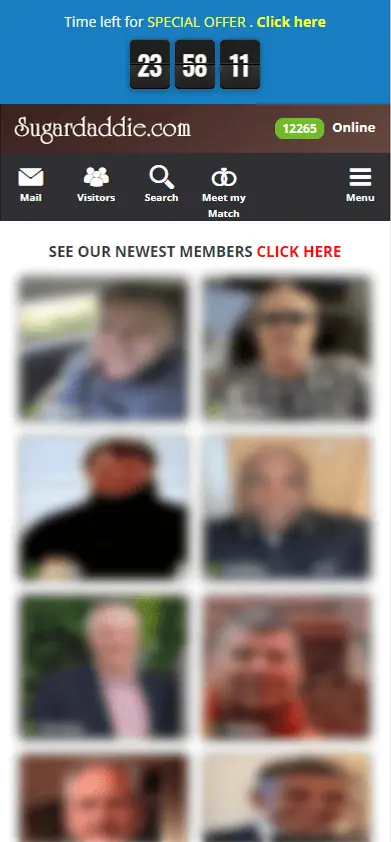 At last, you will be brought to your homepage, where you may browse a grid of thumbnails showing other new members just like you. Unfortunately, there's no real organization to the members you're shown. If you want to see nearby profiles, you'll need to search for them.
Step #8: Complete Your Search
The last step is to complete your search on Sugardaddie.com. Keep looking through profiles until you find a handful you like before upgrading your membership. Make a list of your favorite ones. When you upgrade to a paid account and can finally send messages, you'll know where to look.
How to set your search filters: Navigate to the site's search bar by selecting it from the navigation bar. Selecting this link loads the site's search bar. You may narrow your search using the options on the left side of the page. The profiles on the right will update as you adjust the settings on the left.
How to Delete a Sugardaddie Account
If you have found yourself in a sugar relationship and no longer want to have an active Sugardaddie dating app account or want to delete your account for any number of reasons, we are going to take you step-by-step through how to do just that.
Below are the five simple steps you'll need to take in order to delete your Sugardaddie dating app account.
Step-by-Step Guide to Account Deletion
Open your account at Sugardaddie.com and log in.
Select "Settings/Info" in the menu on the top right.
Choose the 'cancel' tab.
Select "Fully cancel your account."
Explain your decision to delete your profile and click "cancel account."
Sugardaddie Customer Service
Our review of Sugardaddie revealed that its customer support services are its greatest weakness. When compared to other dating apps, Sugardaddie sticks out due to the absence of a detailed support center where users can find solutions to any questions they may have–not a single helpful item could be found.
Users have limited access to helpful information; however, hotlines in four countries are available via Sugardaddie. If you'd prefer not to call, there's a "Contact Us" option in the dropdown menu next to your username in the top right corner of the site. When you click the link, you'll be sent to a form where you can explain the problem and request help from the platform.
How to Contact Customer Service
📧  Email: management@sugardaddie.com
☎️  Phone Number: US and Canada – (888) 644-3330 (toll-free) | Australia – +6 128 091 7221 | UK – +44 845 528 0842🌐 Website: https://sugardaddie.com/privacy-policy
✉️  Mailing Address: 12955 Biscayne Blvd., North Miami, Florida 33181, United States
📣 Social Media: Instagram: sugardaddiedating2021 | Twitter: sugardaddiecom
Sugardaddie's Mobile App
Currently, there is no mobile app available for Android or Apple devices. Of course, that could change in the future, so we'll keep you updated! Even though there is no mobile app, the platform can be used on any device's internet browser as it's mobile-friendly.
Frequently Asked Questions
If you are still looking for answers to questions you have about Sugardaddie, be sure to check the FAQ below. We have answered several of the most commonly asked questions we receive from users, and one of them may have asked the same questions you are wondering about.
What Kind of Relationships Can You Find on Sugardaddie?
Sugardaddie.com caters to affluent men and attractive younger women seeking a mutually beneficial sugar relationship. That's an arrangement in which the man provides money, gifts, vacations, and mentorship in exchange for the company and companionship of the woman.
What Is Sugar Dating?
The terms of your arrangement will determine how your "sugar baby" or "sugar Daddy" interacts with you. Like traditional dating, sugar dating aims to provide each person with a satisfying and mutually beneficial relationship.
Sugar daters, in contrast to those on traditional dating apps, often use websites like Sugardaddie to find suitable sugar companions. Once you've discovered someone you think might be a good match, the next step is to go out on a date to determine whether you really click.
Are Sugar Daddies Legal?
Of course! Sugar relationships, in contrast to prostitution and solicitation, are not illegal nor subject to regulation in the United States. A connection is defined and required somewhat differently depending on the context. Planned sexual behavior (intercourse) for compensation is often included in the definitions of prostitution and solicitation in the vast majority of state legislation. If taken at its most general, the term "solicitation" might be used for a wide variety of partnerships, including marriages, in which one partner has far greater material success than the other.
In contrast, sugar relationships don't always include sexual activity, and even when they do, they often involve other forms of courtship as well. Contracts for "pay per meeting" are also perfectly legal, as they often include only non-sexual activities. Some wealthy men also take on the role of "experience daddies," or providers of luxury items and amenities in place of monetary support.
How Does Sugardaddie Determine My Matches?
They don't–Sugardaddie doesn't use a matchmaking algorithm. There are no personality quizzes or compatibility scores. You just set your location and search parameters, click on the profiles you like, and contact them.
Is Sugardaddie Free?
Yes, Sugardaddie is free to use. You can create a profile, browse members' profiles and, see their pictures favorite profiles, and send pre-written messages through the Meet My Match function. You can even see which members have viewed and/or liked your profile!
Which Features Require a Premium Membership?
Most of Sugardaddie's features are available for free. Of course, the most important three require a subscription. You need a premium membership to send and receive messages, use the IM Chat function, and post in the community forum.
Does Sugardaddie Have a Mobile App, and Is It Free?
No, Sugardaddie does not have a mobile app as of right now. However, the website is mobile-friendly.
Can I Hide My Profile While I'm Browsing?
Yes, but it costs extra. Go to the Settings page and click "Privacy." That will open a page with two options for hiding your profile: Stealth Mode and Private Mode.
Stealth Mode lets you turn off your online status. It's $9.99 per month.
Private Mode makes your profile invisible and hides it from search results. You can browse without other members being notified that you viewed their profile. However, once you contact someone, they can see your profile. It also costs $9.99 per month.
What Payment Types Are Accepted by Sugardaddie?
Sugardaddie accepts credit cards (Visa, Discover, and MasterCard), cashier's checks/money orders sent by mail, or you can pay by credit or debit card over the phone.
Can I Read and Post Content on the Sugardaddie Forum?
Sure thing! Just navigate to the section by clicking the "forum" tab. For even more insightful and interesting articles, you can visit sugardaddie.com/blog/. But you need a premium account if you want to leave comments or make original posts.