Is the SugarDaddyMeet app legit?
This question we will answer in our SugarDaddyMeet.com review is a question that we will put to bed once and for all. Find out how sugar dating works and why it's a perfectly legal and popular dating option for so many people nowadays! Our experts have extensively researched this sugar arrangement service, rated it using an unbiased and honest review process, and broken down the registration procedure into manageable steps.
We've also included detailed layouts of SugarDaddyMeet's premium membership packages, which features come with each plan, and how much it all costs to operate. We analyzed the measures SDM has taken to ensure its customers remain safe and secure from scams or fraudulent profiles as they find a legitimate sugar partner.
---
---
For sugar dating done right, you need a platform that values your privacy and discretion. And SugarDaddyMeet is one of your best options in 2023 for finding the sugar daddy or sugar baby you've been searching for!

Our team has independently researched all products and services that we have listed on this page. If you sign up or purchase through our links, we may receive a commission. See how it works.
Introduction to SugarDaddyMeet
SugarDaddyMeet is an online platform specializing in sugar dating or sugar arrangements between generous affluent men (Sugar Daddies) and attractive, almost always younger, women (Sugar Babies). Men and women enter the relationship with established terms that each must consent to. Both parties are looking for mutually beneficial relationships that are transactional.
What Are Sugar Daddies?
Sugar Daddies are usually older, financially successful men willing to provide cash, gifts, and other luxuries in exchange for a younger attractive woman's companionship and romantic intimacy. These wealthy, affluent men usually work as financiers, businessmen, lawyers, doctors, philanthropists, or benefactors. They have the money needed to pamper the young women they meet and fulfill the requirements of their lifestyle budget.
What Are Sugar Babies?
Sugar Babies at SugarDaddyMeet are typically in their early 20s. Many are college students or young adults with aspirations to become models or actresses. They are super attractive and seek out older, well-to-do men to gain access the gifts, trips, or a weekly allowance in exchange for a romantic relationship.
A Brief Overview of SugarDaddyMeet's History and Success
SugarDaddyMeet opened its doors in 2007 and has since become one of the top choices for sugar daddies and babies across the globe. This service is available in 20 of the world's wealthiest nations. Only 600,000 of its 2 million registered members reside in the United States, which makes SugarDaddyMeet fertile grounds for finding international love or romance.
Many other sugar dating or sugar arrangement sites will offer free subscriptions for sugar babies as well as options for sugar mommas to meet younger men. Since SugarDaddyMeet doesn't provide either of these things, there's potential for a lower amount of traffic on the site, resulting in a limited dating pool. But SDM does extraordinarily well despite this fact; they've focused their efforts solely on sugar daddy-sugar baby relationships and have produced some exciting results over the years.
SugarDaddyMeet's Unique Approach to Online Dating
Like most other dating apps, SugarDaddyMeet uses a combination of advanced search filters and roulette-style matching, done with swipe-style dating profiles. New users set up their dating preferences and parameters by entering them into the search filters, which generate a round of suggestions that appear as daily matches.
The roulette-style matching feature is called "Let's Meet." Free or paying members at SugarDaddyMeet can either "like" or "pass" on these profiles based on their preferences or interests. If there's a mutual match, you can send a message as a paying member. If you're a free member with a mutual match, you can respond to any messages sent by a paying match.
Is Signing Up for SugarDaddyMeet Worth It?
If sugar dating or sugar arrangements pique your interest, SugarDaddyMeet will be worth your time and money. A few things worth noting are that SDM doesn't cater to same-sex relationships and isn't a good option for younger men to find sugar mommies or cougars. It's designed strictly for older men and younger women. SugarDaddyMeet is worth it if you identify with the goals of sugar daddies or sugar babies!
Our Ratings
In our SugarDaddyMeet review, we dug into the dating app's history, went through the process of registering a new account, and tested out all free and paid features to get a feel for the user experience. We rate the platform in five unique categories and average the scores to calculate an overall rating. Each section is judged on a five-point scale.
Overall:
| Category | Score |
| --- | --- |
| Features | 4.7 |
| Ease of Use | 4.8 |
| Match Quality | 2.5 |
| Cost | 3.5 |
| Active User Base | 4.5 |
| Overall | 4.0 |
What We Like
SugarDaddyMeet has 15 years of experience in 20 of the world's wealthiest countries.
Women 18 to 25-year-old comprise the largest demographic of users.
The sign-up process only takes between 10 and 15 minutes to complete and is easy to fill out.
SugarDaddyMeet has more premium features than competitors (40).
The profiles are super detailed, including sections where members can describe their ideal match and a personal bio.
The mobile dating app is free to download at Google Play and the App Store.
Because messages can only be sent between mutual matches, you'll never experience unsolicited messages from singles you're not interested in meeting.
What We Don't Like
SDM doesn't cater to same-sex relationships or offer sugar mommy dating options.
The matchmaking algorithm is made up of search filter settings and "Let's Meet" preferences.
The number of features could be overwhelming for some.
There are no free subscriptions for sugar babies.
Memberships will renew automatically.
Homepage timeline is more reminiscent of a social media platform than a dating app.
Who Is SugarDaddyMeet Best For?
SugarDaddyMeet is a dating app designed for people looking to be part of a sugar arrangement (sugar daddies and sugar babies). When registering a new account at SugarDaddyMeet.com, you will be presented with two options: you're either a sugar daddy looking for sugar babies or a sugar baby looking for a sugar daddy!
Demographics and User Base
Even though there are some limitations that we mentioned earlier (no free membership for sugar babies and no options for sugar mommies), there is still a robust and active user base present on the SugarDaddyMeet app! There are 2 million members worldwide and around 215,000 visits to the app monthly.
| Fast Facts | Details |
| --- | --- |
| User Base | All singles (18 or older) |
| What Kind of Relationships? | Sugar dating arrangements and mutually beneficial relationships |
| Registered Accounts | 2+ million worldwide |
| Visits Per Month | 214.3k |
| US Members | 600,000 |
| Daily Logins | 7,500 |
| Average Age | 18-25 (women) and 35-55 (men) |
| Gender Distribution | 41% men to 59% women |
The user base is also present in 20 of the wealthiest countries worldwide, so you'll find many legit sugar daddies if you happen to be a sugar baby. The most active women on the app are between the ages of 18 and 25, and the men are usually anywhere from 35 to 55 years of age.
Relationship Types Best Served by SugarDaddyMeet
SugarDaddyMeet is designed for matching singles for a specific kind of relationship: a sugar arrangement. It might be the perfect dating site for you if you're:
An older man with money and desire companionship or a romantic relationship with a younger woman.
An older, wealthy man willing to give their sugar babies a weekly allowance or shower them with gifts.
An older man who is looking for some "arm candy."
A younger woman who has a taste for the finer things in life is willing to enter romantic relationships to gain these things.
A younger woman who is okay with paying for a membership plan to use SugarDaddyMeet (there are no free memberships for anyone).
A younger woman interested in networking opportunities or rubbing elbows with the social elite.
A younger woman looking for new experiences (trips, vacations, etc.)
The SugarDaddyMeet Compatibility Matching System
Some sugar dating apps feature complex personality testing or will feature an in-depth compatibility questionnaire. But that's not the case here. The matching algorithm is more simplistic than one would expect but is nevertheless effective at producing the right kind of connections that sugar daddies and babies are looking for.
How the Compatibility Matching System Works
There needs to be more of a matchmaking algorithm to speak of at SugarDaddyMeet aside from the use of search filter settings and the information that members can display in their profile bio. It's a simplistic approach, but it keeps things neat and easy to understand for new users dipping their feet into these waters.
Sugar daddies and babies can enter their preferences into the search filters, performing searches using factors like:
Age
Appearance
Location
Income
Profession
Lifestyle choices
Education level
Beliefs
Interests
One of the other major pieces to the matching compatibility system is the self-authored sections of members' profile bios where they can explain in more detail what it is that they're looking for in a sugar arrangement:
The Profile Headline is a short statement used to capture the viewer's attention and reel them into reading your complete bio. Some members might state their intentions or goal upfront using this piece, but some opt for humor or a bit of creative writing that reveals more about their character, pursuits, or ambitions.
A Short Self-Authored Bio can be between 50 and 4,000 characters and allows members to reveal more about who they are and what other singles on the app can expect in a relationship.
A Section Describing Your Perfect Match is a good place for members to explain further what they're looking for in sugar dating or a sugar arrangement. Members can go into further detail about who they see as their perfect partner or companion.
The Role of Roulette-Style Matching
Based on their search filter settings and dating preferences, members and free users will get a set of profile suggestions that appear in "Let's Meet," the roulette-style matching system where members can swipe through a large volume of eligible profiles. Sugar daddies and sugar babies can either "like" or "pass" on profiles that appear in their daily match suggestions.
The only way paying members can send messages to one another is if there's a mutual match between two members. This means that members "liked" each other's profile while swiping through suggestions in "Let's Meet." Due to this design, SugarDaddyMeet members never have to deal with messages from singles they're not interested in connecting with or meeting.
Note: Paying members can experience mutual matches with free trial members. This allows the paying member to send a message, and the free trial member can read and respond!
SugarDaddyMeet's Communication Features
SugarDaddyMeet shines when it comes to a broad range of features on the website and dedicated mobile app. Subscribers can access 40 new features, including unlimited messaging with all other paying members and a host of other excellent communication features.
Guided Communication
When it comes to guided communication on the Sugardaddie dating app, users have a customizable list of potential partners based on their preferences. Members can then reach out to one another through the platform's messaging features, including direct messages, instant messaging, and commenting on topic-specific forums.
SugarDaddyMeet Blog and Forum
The blog and forum are available to all sugar daddies and babies who are paying members of the platform. It's guided communication in a communal setting! These venues allow members to share stories and anecdotes or post relevant questions that pertain to the sugar dating experience and lifestyle.
There are also member videos where SDM users can leave likes or comments and the First Date Ideas, which features a community board where members can share unique experiences.
SugarDaddyMeet's Membership Options
Compared to similar dating apps, the cost for a premium membership at SugarDaddyMeet is average. But when you sit back and consider that you have access to 40 different features at SugarDaddyMeet, that price tag comes across as super reasonable for what it is you're getting! You're not getting price gouged by any means, but it's not a cheap option either.
SugarDaddyMeet.com comes with three great membership options that allow the user the appropriate time to enjoy the services and features the dating app offers. While you can enjoy the service to a limited extent via the free trial, you're going to miss out on many of the best features that make SugarDaddyMeet so great in the first place! We strongly recommend becoming a SugarDaddyMeet member.
Free vs. Paid Memberships
SugarDaddyMeet offers a surprising number of features for free users – more than enough to keep a person entertained. However, if you're serious about meeting someone and developing a relationship in real life, you'll need the communication tools unlocked through a premium subscription.
Free Trial Features
SugarDaddyMeet gives away free memberships that allow access to the site with limited features; the company does not do free trial promotions – there's a difference.
Here are there features available to free users:
Create your profile
Upload Photos
Search Membership Pool
See Members' Photos
Meet My Match
See who's viewed your profile
Add profiles you like to your Favorites List
Free and Paid Features Compared
For your convenience, we have included the table below to show the difference between the features you'll be getting as a free trial member, as a paying member, and as someone who decides to upgrade their subscription! This helps to lay everything out better and truly see how many more features and benefits you'll have access to by going with a paid membership!
| Features and Benefits | Free Membership | Premium Membership | Subscription Upgrade |
| --- | --- | --- | --- |
| Create a Profile | Yes | Yes | N/A |
| Basic Members' Search | Yes | Yes | N/A |
| View User's Pictures | Yes | Yes | N/A |
| Send Winks and Likes | Yes | Yes | N/A |
| SPARK Matches | Yes | Yes | N/A |
| Chatroom | Yes | Yes | N/A |
| Watch Members' Videos | Yes | Yes | N/A |
| Comment on Members' Posts | Yes | Yes | N/A |
| Read Members' Blogs | Yes | Yes | N/A |
| Post Blogs | Yes | Yes | N/A |
| Send and Receive Messages | No | Yes | N/A |
| Saved and Specialized Searches | No | Yes | N/A |
| Browse by Distance | No | Yes | N/A |
| Customize Profile Privacy | No | Yes | N/A |
| Who Viewed Me | No | Yes | N/A |
| Who Liked Me | No | Yes | N/A |
| Unlimited Rewinds | No | Yes | N/A |
| Boosts | No | No | Yes |
Winks: Almost every online dating platform lets you send "likes" or "smiles" to other members. This conveys interest in other singles. It might stand out less than a direct message, but it'll still show that you are interested in them.
Members' Blogs: This is a place where any members can share their thoughts with other members of the SugarDaddyMeet community. Blog posts or comments will be visible to all members, and comments or likes can be made or shared.
Members' Videos: Members of SugarDaddyMeet.com can post videos of themselves, not only for additional verification of their identity but also to give other singles out there a little taste of their personality, appearance, or presence.
First Date Ideas: This is a community board where users can post great first-date ideas. They are broken down into specific categories, making them easy to find. These include drinks, café, lunch, dinner, brunch, sweets, and many others.
Premium Membership Benefits and Pricing
SugarDaddyMeet.com's membership cost is highly competitive. Similarly, designed apps tend to charge roughly $20 more per month. The prices listed in the table below are what one might expect from a dating platform with such a large user base and many exciting features.
Plus, if you're hoping to become someone's Sugar Daddy, $50 per month (the most expensive monthly rate) is nothing! As you'll see on the dating app, most young ladies looking for a benefactor want a weekly or monthly allowance and claim to need thousands of dollars per month to maintain their desired lifestyle.
Membership Features
Now that we've covered what a premium membership to SugarDaddyMeet costs let's look at what you're getting in exchange for those hard-earned bucks. Over 40 new features are unlocked when you become a paid subscriber. Here are some of the most significant benefits premium members receive:
Unlimited messaging: Premium members can initiate conversations with any other profile they please — even free users can read and respond to your messages.
See who has viewed your profile.
See which members have liked your profile.
Unlimited rewinds: When using the carousel-style SPARK function, experience no more regret after accidentally hitting "No" too hastily.
Customized privacy options: Choose when other members can see your online status and whether they're notified if you view their profile.
Advanced search features: More filters and search criteria to better locate your ideal match.
Unlimited likes: Like as many profiles as you want!
Unlimited winks: Send as many wink comments to other members as you want.
Discover new members daily.
Browse by Distance: Prioritize profiles within 50 or 100 miles of your location.
Control your profile visibility: You decide who can see your profile.
Certified Sugar Daddy: Receive a badge for your profile verifying your income and status as a bonafide Sugar Daddy.
Access to verified sugar babies: A unique search function that shows you Sugar Babies that have been verified by the dating app exclusively.
Pin your favorite profiles' messages to the top of your notifications.
Watch unlimited members' videos.
Receive read receipts for the messages you send, notifying you of when your comment has been seen.
Subscription Upgrades
If you've already purchased a membership but still want to give yourself more of an edge in the dating market, SugarDaddyMeet also sells "boosts." These temporary subscription upgrades increase your profile visibility by making you one of the top profiles for 30 minutes. You'll be seen by ten times as many members, significantly improving your odds of making a love connection.
Boosts can only be purchased through the SugarDaddyMeet mobile app or on the dating service's website – but you must access the site on a mobile device.
Discounts and Promotions
Paying members can get a better cost by the month when they choose to go with a lengthier membership plan. The longer the subscription duration, the cheaper the average cost per month. The highest price point per month is for the single-month subscription. Of course, the difference maker for most users is the upfront fee.
Fun Fact: The monthly rate of the most extended membership is less than half the rate for purchasing a single month.
SugarDaddyMeet offers premium membership plans in 1, 3, and 6-month terms. No matter which package you choose, the total subscription price is due upon checkout. If you buy a three-month premium membership for $30 per month, you'll pay $90 upfront. There are no installment payments or month-to-month contracts available.
Creating Your SugarDaddyMeet Profile
Are you ready to begin a free trial or a paid membership at the SugarDaddyMeet dating app? Registration is a breeze, and it should take you at most 10 to 15 minutes to get everything underway and access your personal profile. If you're becoming a premium member, the sign-up process might take a little longer.
We'll take the time to walk you through all the steps you'll see as you sign up for an account at SugarDaddyMeet.com. In addition to what we reveal here, there's also an option to sign up using Facebook, which syncs a lot of your information automatically to save time.
Step #1: Agree to the Guidelines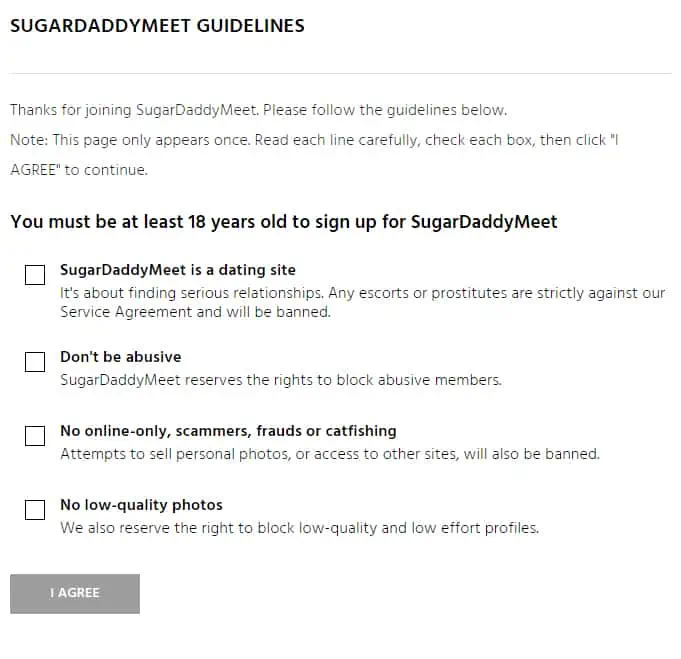 The first step is agreeing to the user guidelines that SugarDaddyMeet has set forth for all its users and members. Perhaps most importantly, you must be 18 years of age or older to use the services of this dating app!
Once you have agreed to the guidelines, hit the "I agree" button to continue to the next step.
Steps #2 – #4: Create a SugarDaddyMeet Account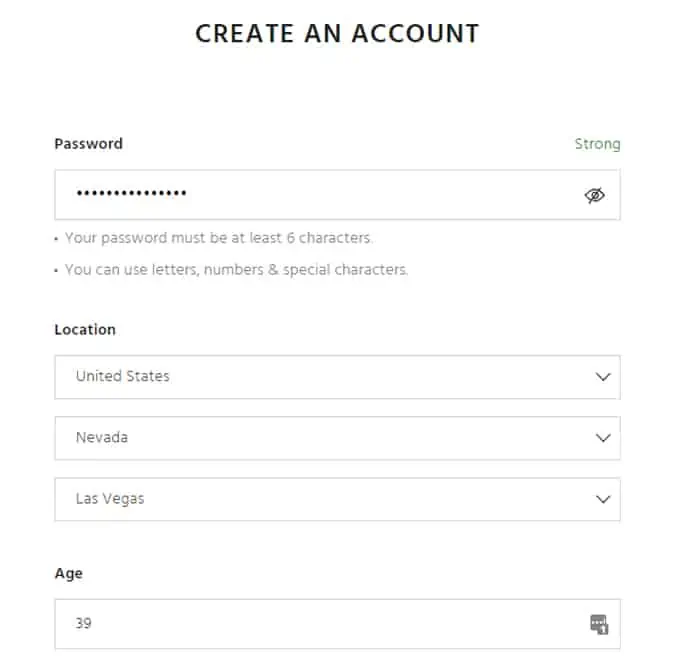 The next step will involve creating a unique password so you can access your SugarDaddyMeet account. You'll need to provide your location and your age as well! These will be crucial factors to help other singles find you when they begin setting their location and age preferences.
SugarDaddyMeet does not cater to same-sex relationships. If you select "I'm a Male/Sugar Daddy," the "Looking for Female / Sugar Baby" option is selected automatically.
Once you've clarified your gender, hit the "continue" button to proceed.
The username you create will be the name that appears on your SugarDaddyMeet personal profile. Hit "continue" once you're finished.
Step #5: Set Annual Income

Select your annual income from the choices provided. This can be essential in finding suitable sugar arrangements because many sugar babies look for certain income levels as they hunt for their ideal partner.
Steps #6 – #8: Enter Basic Information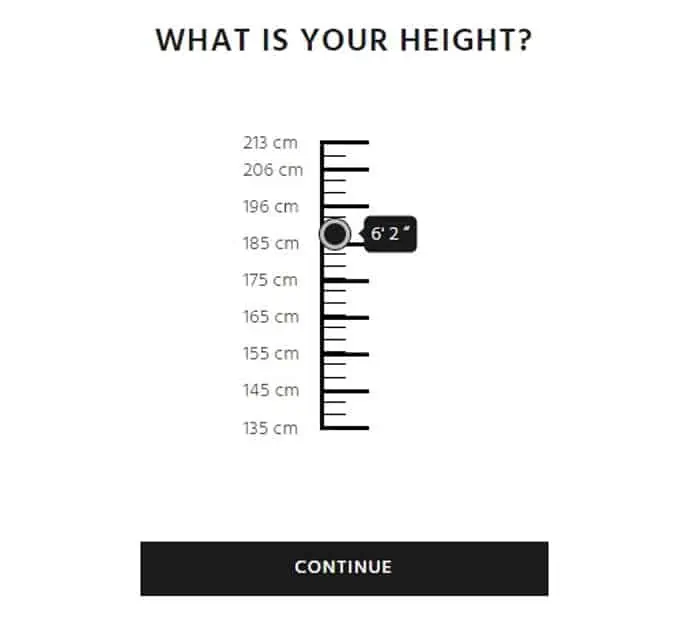 Enter your height using the sliding scale and hit "continue" to proceed to the next step. Choose your ethnicity. And enter your relationship status from the choices above.
Steps #9 and #10: Write a Profile Headline and a Short Bio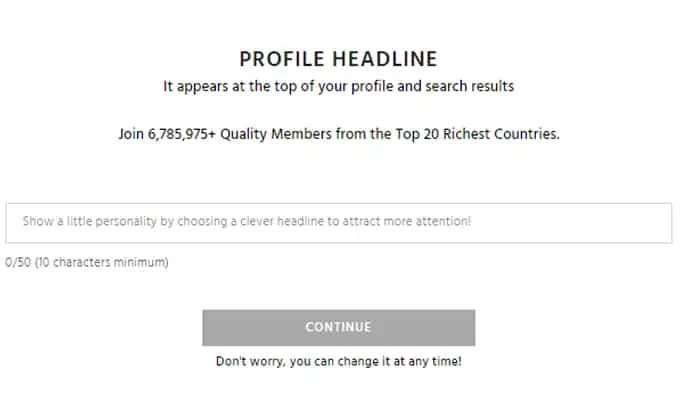 This portion of the sign-up process asks you to choose a headline between 10 and 50 characters. The headline acts as a tagline for your profile. It can give other singles using the app insight into your personality and interests.
You can put your creative writing skills to the test in this next section by crafting a short bio that other singles will be able to view and read on your profile. SugarDaddyMeet recommends using this opportunity to write about your characteristics or interests, but you can honestly write about anything you want to in this section.
It must be a minimum of 50 characters but can be as long as 4,000! You can always make changes to this part later if need be. Hit the "Continue" button once you're finished.
Step #11: Write About Your Ideal Match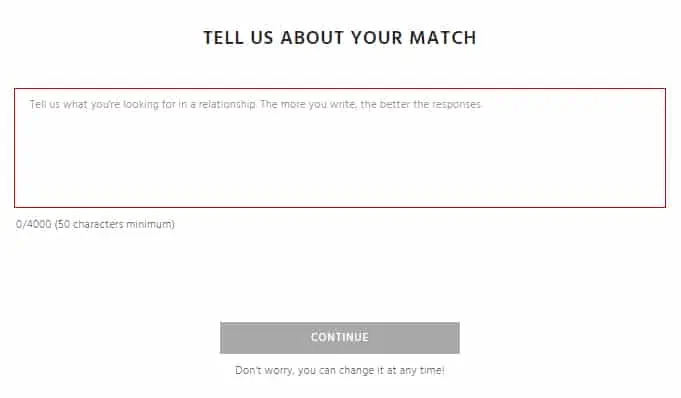 Tell SugarDaddyMeet about your ideal match. They'll consider these thoughts when you begin creating match suggestions for you on the app!
Step #12: Upload Photo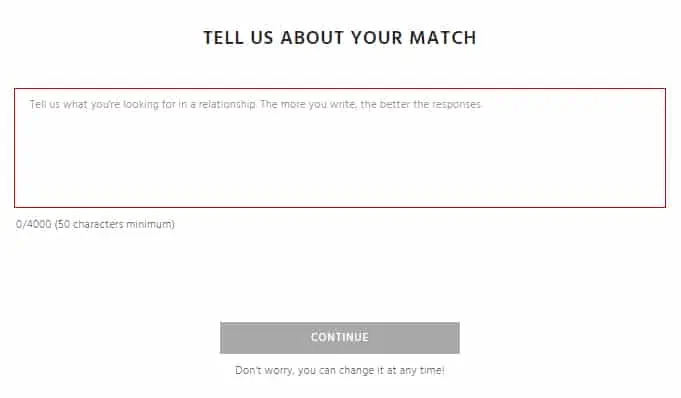 This portion can be skipped, but we highly recommend posting at least one clear photo of yourself so that other singles can see what you look like! Images can be uploaded from your desktop PC, mobile device, or straight off social media platforms.
Step #12: Upload Photo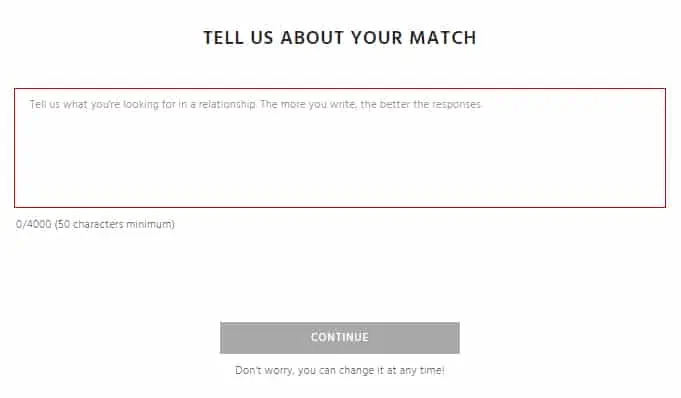 This portion can be skipped, but we highly recommend posting at least one clear photo of yourself so that other singles can see what you look like! Images can be uploaded from your desktop PC, mobile device, or straight off social media platforms.
Step #13: Phone Verification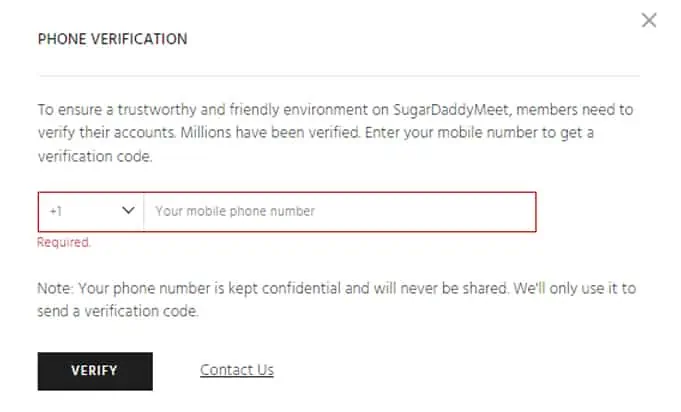 For an added layer of security, SugarDaddyMeet will ask you for your mobile phone number. You'll be sent a verification code which you'll need to text back to the app to verify that you're going to be a legit member of the SugarDaddyMeet!
Step #14: Finish Your Profile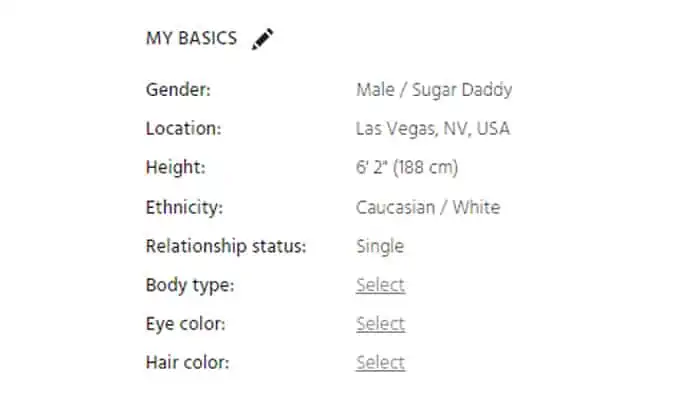 This next portion of the sign-up process will have you tying up the loose ends of your profile. You'll be entering information on things like your appearance, hobbies, pets, education level, and so on.
Step #15: Verify Your Photo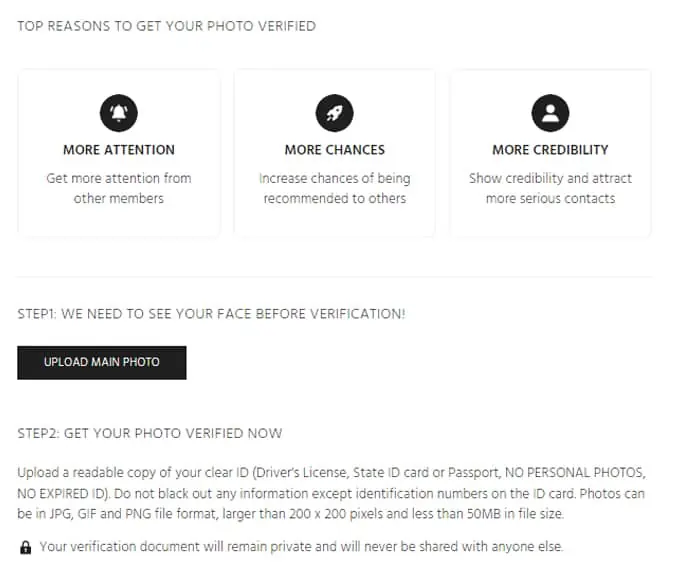 You can take steps to verify your photo on SugarDaddyMeet to establish authenticity with other members who might be wary of scammers or fake profiles. You must upload the main image for your profile, followed by a clear picture of an official ID for the app to verify.
Your ID information is kept private and will not be shared with anyone else. It's used for verification. Other singles utilizing the app will be able to see that your account is verified, and that's about all they'll see!
Step #16: Verify Your Income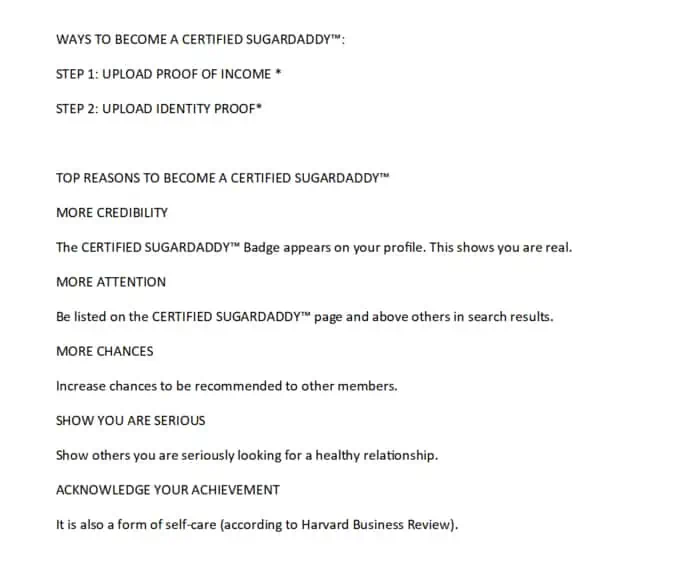 One of the final steps in the sign-up process is verifying your income. It's not required, but it can help you out because many sugar babies are looking for men of certain income levels as a part of their search criteria.
Step #17: Check Out Other Members!
All that's left to do now is head to your profile at SugarDaddyMeet and begin meeting other singles interested in being in a sugar arrangement!
How to Delete a SugarDaddyMeet Account
There are a few ways to delete your SugarDaddyMeet account. It all depends on how you access the website on your computer or mobile device and whether you downloaded the mobile app. However you're currently using the service, you can permanently delete your account in just a minute or two.
Note: Once you've deleted your account at SugarDaddyMeet, it's gone for good. You'll lose any contacts you've established, your entire profile, and the messages you sent while using the service. To use SDM again, you'll need to create an entirely new account and profile!
Just follow these simple steps to delete your account:
Delete Account on the Website (Computer)
Log into your SugarDaddyMeet account.
Click on the "Settings" menu and select "My Account."
Enter your password and confirm.
Then select "Click here to disable or delete your account." It will appear at the bottom of the menu.
Enter your password and confirm again.
Click on "Delete Account."
Choose a reason for deleting your account.
Click again on "Delete Account" to finalize everything.
Delete Account on the Website (Mobile Device)
Log into your SDM on your mobile device.
Click on "Profile" at the bottom of the navigation bar.
Click on "Settings" and then select "Account" at the bottom.
Select "Disable My Account."
Enter your password and confirm.
Click on "Delete My Account."
Share a reason for wanting to delete your SDM account permanently.
Finalize your cancellation by clicking on "Delete My Account" again.
Delete the Account on the Mobile App
Log into the mobile app.
Click on "Me" at the bottom of the app's menu and select "Settings."
Select "Disable My Account."
Enter your password and confirm.
Click on "Delete My Account."
Share a reason for wanting to delete your SDM account permanently.
Finalize your cancellation by clicking on "Delete My Account" again.
There are a few other methods for deleting your account permanently at SugarDaddyMeet, but they'll take up a lot more of your time than is necessary. You can contact customer service via email or live chat and request the deletion of your account with a customer service member. Honestly, it's much easier doing it one of the three ways above!
SugarDaddyMeet Customer Service
Customer service is simple here, which is a plus because so many online dating apps and services could be much better in terms of customer service options. Many only offer a simple FAQ page and a sluggish messaging system where it could take a day or two to hear a response from customer support.
But at SugarDaddyMeet, daddies and babies get some first-rate customer service, and it all begins by clicking on "Contact Us," located in the site's footer menu. SDM offers better customer service than most other dating apps, which makes sense considering the higher price you're paying for a premium membership.
FAQ Center
This is the troubleshooting page for daddies and babies who prefer to solve problems on their own. There's a search bar at the top of the page where members can submit questions or concerns they might have and get the answers they need.
Below the search bar is an expansive list of suggestions, some of the more common problems or issues that customers face while using SugarDaddyMeet.
Contact Us
If you're looking to speak with someone directly on the SugarDaddyMeet support staff, click on "Contact Us." Your customer service options here include:
Email: Access a generic contact form and send messages to a customer service member. Responses can be expected within 24 hours, for the most part.
Contact by Postal Mail: This is the snail mail option and will take a bit longer than the other two contact methods. This is perfect for old-school sugar daddies.
Live Support: Speak to a customer service representative face to face. This is the best option if you're looking for quick answers and the best support possible.
SugarDaddyMeet's Mobile App
You're best off using the SugarDaddyMeet website because it allows you access to all premium membership features the site offers. The mobile app is far more limited in how it can be used. The overall design is constructed for the best ease of use on the smaller screen, so many of the features are omitted in the mobile app version of the SDM website.
App Features and Functionality
SugarDaddyMeet is the name of the website, and the mobile app is called SDM (Seek, Date, and Match). It's the same service, but it's branded differently. You can see other differences between the app and the website when you examine the features. The SDM dating app only allows members two discovery tools: "Search" and "Swipe." It's mainly used for browsing through profiles, liking or commenting on photos or posts, and sending messages to mutual matches.
Omitted features from the mobile app include:
Members' videos
Members' blogs
Community Forums
Chatrooms
First Date Ideas
Compatibility
SugarDaddyMeet can be used when you download the dedicated mobile app "SDM." It's available at Google Play and the App Store. There's no charge to download the app to your device. Each iteration of the app allows customers to perform in-app purchases, so there's no need to return to the site if you wish to upgrade your free trial to a premium subscription!
Frequently Asked Questions
Below we have also compiled a list of the most common questions received about the SugarDaddyMeet App and have answered them as best as possible.
Is SugarDaddyMeet Legit?
Yes, SugarDaddyMeet is a legitimate dating app for finding sugar arrangements. There are around 2 million paying members and about 215,000 visits per month to the app. SugarDaddyMeet keeps all information shared by customers wholly secure and confidential. They do not sell information to third parties or share members' images with Google.
Should I Get My SugarDaddyMeet Profile Verified?
Yes, you should. Verifying your identity and income will show other members of the app that you have taken a step to be transparent. They'll be far more likely to approach you and be interested in what your profile has to say. SugarDaddyMeet will validate your income range and highlight your profile with a badge confirming your financial success.
Is This SugarDaddyMeet.com Review Honest and Unbiased?
This SugarDaddyMeet review is honest and transparent in how it presents its research. In our user comments section, we included positive and negative comments from both men and women to show a variety of experiences across the board. We also took the time to create a free trial account on the app to see SugarDaddyMeet for ourselves, what it looks like, and how it functions.
What Is the Cost of the SugarDaddyMeet App?
Three membership plans available at SugarDaddyMeet.com allow users to enjoy 1, 3, or 6 months of services and features. The 1-month plan costs $50, the 3-month plan costs $90 total ($30 per month), and the 6-month plan costs $144 total ($24 per month). There are no month-to-month payment plans available. All memberships must be paid in total upfront.
Can Sugar Babies Use the SugarDaddyMeet App for Free?
Sugar Babies can give the free trial account at SugarDaddyMeet a shot, but there are no free membership plans for sugar babies here. While many other sugar arrangement dating apps will let sugar babies have free memberships, SugarDaddyMeet charges everyone and anyone to enjoy the features of a paid membership.
Can I Use SugarDaddyMeet.com for Free?
This dating app does come with a free trial offer that allows the user to enjoy only a limited number of features and benefits. You can create a personal profile, upload photos, look through members' profiles, see who has viewed your profile, and add your favorite singles to your Favorites List, among a few other things.
How Can I Cancel My SugarDaddyMeet.com Membership?
You can reach out to customer service and make this request, or you can go into your account settings and turn off the auto-renewal feature for your current membership plan. Once your subscription has reached the end of its term, it will not be renewed. In the meantime, you can enjoy the features and benefits until your current plan expires. If you want to cancel your membership and be done with it, you can delete your account under the settings tab.
Does SugarDaddyMeet Do Refunds?
Yes, if you have a valid reason for wanting a refund, you can get one. All you need to do is reach out to customer service and explain your situation, which will assess whether a refund will be applicable.
What's the Dating Pool like on the SugarDaddyMeetApp?
There are around 2 million registered members worldwide who use this app regularly. Many more men use the app than women, with the gender ratio breakdown being 59% men to 41% women. The typical woman using the app will be between 18 and 25 years of age, while the men are anywhere from 35 to 55.
How Do I Block People on the SugarDaddyMeet App?
You click on the "block" button in the upper right-hand corner of their profile. There's even a menu in your account settings where all the people you have blocked will appear. You can manage them from this point and unblock them if needed.