Are you in search of a mostly transactional relationship in which an older, more successful partner showers their younger, more attractive counterpart with money and presents in exchange for affection? If so, you're not alone!
Sugar Daddy dating apps have exploded in popularity in recent years, becoming one of the industry's most desired niches. Of these specialized online dating services, SugarDaddyMeet arguably provides the most robust, well-designed platform of them all.
Today, we'll examine what SugarDaddyMeet costs before the actual relationship transactions come into play. We'll break down the premium membership plans, the features they unlock, and any additional add-on purchases available on the dating app. Then, we'll talk about free trial promotions and how you can try SugarDaddyMeet for free before deciding whether a subscription is worth the price.
When it comes to Sugar Dating, no other dating app offers as many different ways to customize your user experience as SugarDaddyMeet. In fact, in many ways, it's built more like a major social media platform than a dating service. But is paying for a premium membership worth SugarDaddyMeet's price? The information on this page will help you answer that question for yourself.
---
---

SugarDaddyMeet Cost Breakdown
Membership Plans
Membership Length
Cost (US Dollars)
Cost (Canadian Dollars)
Cost (British Pounds)
Cost (Australian Dollars)

1 Month

$50.00 per month

CAD 68.86 per month

£44.73 per month

AUD 77.60 per month

3 Months

$30.00 per month /
one payment of $90.00

CAD 41.32 per month /
one payment of $123.99

£26.84 per month /
one payment of £80.53

AUD 46.59 per month /
one payment of $139.77

6 Months

$24.00 per month /
one payment of $144

CAD 33.06 per month /
one payment of $198.39

£21.48 per month /
one payment of £128.88

AUD 37.28 per month /
one payment of $223.66
SugarDaddyMeet offers premium membership plans in 1, 3, and 6-month terms. The longer the subscription duration, the cheaper the average cost per month. In fact, the monthly rate of the longest membership is less than half the rate for purchasing a single month. Of course, the difference maker for most users is the upfront fee.
No matter which package you choose, the total subscription price is due upon checkout. There are no installment payments or month-to-month contracts available. If you buy a three-month premium membership for $30 per month, you'll pay $90 upfront.
Regardless, SugarDaddyMeet's membership cost is extremely competitive. The prices listed in the table above are below what one might expect from a dating platform with such a large user base and so many exciting features. Similarly designed apps tend to charge roughly $20 more per month, on average.
Plus, if you're hoping to become someone's Sugar Daddy, $50 per month (the most expensive monthly rate) is nothing! As you'll see on the dating app, most young ladies looking for a benefactor want a weekly or monthly allowance and claim to need thousands of dollars per month to maintain their desired lifestyle.
Welcome to the world of Sugar Dating!
Premium Features
Now that we've covered what a premium membership to SugarDaddyMeet costs, let's look at what you're getting in exchange for those hard-earned bucks. Over 40 new features are unlocked when you become a paid subscriber. Here are some of the biggest benefits premium members receive:
Unlimited messaging to anyone. Premium members can initiate conversations with any profile they please — even free users can read and respond to your messages.
See who has viewed your profile.
See which members have liked your profile.
Unlimited rewinds when using the carousel-style SPARK function. No more regret after accidentally hitting "No" too hastily.
Customized privacy options. Choose when other members can see your online status and whether they're notified if you view their profile.
Advanced search features – More filters and search criteria to better locate your ideal match.
Unlimited likes – Like as many profiles as you want!
Unlimited winks – Send as many wink comments to other members as you want.
Discover new members daily.
Browse by distance – Prioritize profiles located within 50 or 100 miles of your location.
Control your profile visibility – You decide who can see your profile.
Certified Sugar Daddy – receive a badge for your profile verifying your income and status as a bonafide Sugar Daddy.
Access to verified Sugar Babies – A special search function that shows you Sugar Babies that have been verified by the dating app exclusively.
Pin your favorite profiles' messages to the top of your notifications.
Watch unlimited members' videos.
Receive read receipts for the messages you send, notifying you of when your comment has been seen.
SugarDaddyMeet offers a surprising number of features for free users – more than enough to keep a person entertained. However, if you're serious about meeting someone and developing a relationship in real life, you'll need the communication tools unlocked through a premium subscription.
Subscription Upgrades
If you've already purchased a membership but still want to give yourself a little more of an edge in the dating market, SugarDaddyMeet also sells "boosts." These temporary subscription upgrades increase your profile visibility by making you one of the top profiles for 30 minutes. You'll be seen by ten times as many members, significantly improving your odds of making a love connection.
Boosts can only be purchased through the SugarDaddyMeet mobile app or on the dating service's website – but you must access the site on a mobile device.
SugarDaddyMeet Free Trial Details
SugarDaddyMeet doesn't offer free trial promotions, but there's plenty of functionality available to non-paying members. A true free trial gives prospective subscribers access to the benefits and features typically reserved for paying customers.
Free trials of dating apps usually last for one week. During that period, you may enjoy full access to the service. At the conclusion of the free trial, your subscription automatically reverts to a paid membership unless you cancel first.
If you don't have to enter payment information before the promotion begins, it's not a free trial.
SugarDaddyMeet does not offer free trials – the dating app offers its standard membership for free. You can create a profile, upload photos, and browse other members' profiles. You can even send people winks and likes. Unlike a free trial promo, your standard membership never expires.
One of the coolest features SugarDaddyMeet gives to standard members is the ability to read and reply to messages sent by premium subscribers. So, if you encounter the right user, you can do everything you need with a free account. However, if you're interested in initiating conversations and want access to more robust search queries and other tools, you must upgrade to a premium membership.
SugarDaddyMeet Free Membership vs. Paid Subscription
| Feature/Benefit | Free Membership | Premium Membership | Subscription Upgrade |
| --- | --- | --- | --- |
| Create a Profile | Yes | Yes | N/A |
| Basic Members' Search | Yes | Yes | N/A |
| View User's Pictures | Yes | Yes | N/A |
| Send Winks and Likes | Yes | Yes | N/A |
| SPARK Matches | Yes | Yes | N/A |
| Chatroom | Yes | Yes | N/A |
| Watch Members' Videos | Yes | Yes | N/A |
| Comment on Members' Posts | Yes | Yes | N/A |
| Read Members' Blogs | Yes | Yes | N/A |
| Post Blogs | Yes | Yes | N/A |
| Send and Receive Messages | No | Yes | N/A |
| Saved and Specialized Searches | No | Yes | N/A |
| Browse by Distance | No | Yes | N/A |
| Customize Profile Privacy | No | Yes | N/A |
| Who Viewed Me | No | Yes | N/A |
| Who Liked Me | No | Yes | N/A |
| Unlimited Rewinds | No | Yes | N/A |
| Boosts | No | No | Yes |
This table gives you a breakdown of SugarDaddyMeet's most important features and whether they're available to standard members, require a premium subscription to unlock, or must be purchased as an additional upgrade.
We discussed most of the premium features in a previous section, but there are a few other tools and functions that are worth mentioning. SugarDaddyMeet has introduced several community features that help users engage with the platform, even when they're not actively seeking arrangements with other members.
Many of SDM's features more closely resemble a social media network than a traditional dating app.
Winks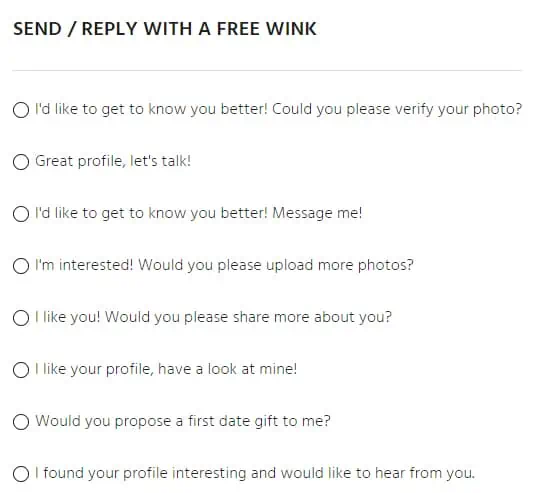 Almost every online dating platform lets you send "likes" or "smiles" to other members. It's a way to show interest without committing to writing a message. SugarDaddyMeet has taken it a step further with the "winks" system. Click the wink icon on any profile, and you'll receive a list of pre-written questions and comments to select and send. 
Plus, you can send winks with a free account. So, if you're hoping to get a conversation started before buying a membership, winks are a valuable tool at your disposal.
Members' Blogs
Another interesting thing about SDM's platform is how much user-created content it hosts. For example, anyone with a profile can write and publish their own blogs on the site. You can also read other members' blogs and leave comments. That's a ton of potential engagement that doesn't require a premium subscription!
Members' Videos
Members' videos are another great way to engage with the dating platform. You can scroll through and see all the latest posts made by your matches. You need a premium membership to watch unlimited videos, but even the free users can consume hours of content or post some of their own. Once again, you may also leave comments under videos and meet other members that way. 
Match or Not
Match or Not is a feature that encourages users to post photos of their outfits. They'll then receive feedback and advice from the community about their fashion. 
For example, you may post an outfit you're planning to wear to a first date. The commenters will tell you whether it's appropriate attire for the occasion and how you may want to improve your overall look. Most of the responses are constructive and encouraging. 
First Date Ideas
You'll also find a library of first date ideas under the Community tab. This resource has thousands of first date ideas organized into different categories and criteria. 
So, you can click on a section like "Food and Drink" or "Arts and Culture" to open a sub-menu with links to topics like "The Movies" or "Performing Arts." Within those labels, you'll find more links to specific date ideas submitted by other members. 
All you must do is keep clicking and reading until you find a first date idea that you want to borrow. 
Friendly Sugar Jokes
Friendly sugar jokes are yet another fun way to mix it up with the community whenever you're not browsing members' profiles. This is a timeline of user-submitted jokes, mostly about Sugar Dating. Then, you and other members can comment on the posts. It's just one more way to meet prospective matches without finding their profile and contacting them directly.
Payment Options at SugarDaddyMeet
To upgrade your membership, click the large "upgrade" button in the top right corner of the header menu. This will take you to the checkout page. All that's left to do now is select the premium subscription you desire and enter your payment information.
Your SugarDaddyMeet costs can be covered using one of three payment types:
Credit Card – Visa, Mastercard, or American Express
Debit Card – Visa or Mastercard Check Card
CCBill
To use CCBill Pay, you must click on "Other Payment" and fill out the required information on the next page.
Google Play Store and Apple's App Store
SugarDaddyMeet mobile app users may also handle their payments and subscriptions through their device's designated app store – Google Play for Androids and the Apple App Store for Apple iOS owners. The app allows you to upgrade your subscription via in-app purchases with the payment information already stored on file. Then, when it's time to cancel or change your membership, you manage everything through the app store.
Automatic Renewal
SugarDaddyMeet memberships will auto-renew until you turn it off or cancel your membership on the settings page (or through your mobile device app store). Otherwise, your membership will be renewed for the same price and duration as your previous subscription.
SugarDaddyMeet Cost FAQ
This guide should cover everything you could ever want to know about SugarDaddyMeet costs. Still, we've compiled a list of some frequently asked questions and their answers for readers who could use a little clarity. If you are looking for even more information, please be sure to check out our SugarDaddyMeet Review.
How Much Does a Premium Subscription to SugarDaddyMeet Cost?
As you'll see in the "SugarDaddyMeet Cost Breakdown" section at the top of the page, premium subscription rates vary depending on the length of the plan. You can pay for one month at a time for $50 each or spend $144 on a six-month package, which comes out to $24 per month.
What Can I Do with a Standard Membership to SugarDaddyMeet?
Standard members can create a free profile, upload pictures, and reply to messages sent from premium members. They can also use basic search filters, read and publish blogs and videos, or comment on other members' posts.
On SugarDaddyMeet, standard members can do just about anything except for initiating conversations via messages.
Is SugarDaddyMeet Worth the Cost?
Yes – if you're looking for a Sugar Baby or Sugar Daddy. SugarDaddyMeet is the largest dating app dedicated to this type of financial/romantic arrangement. It also gives you plenty of tools to find and interact with the partner of your dreams. Plus, SDM is significantly cheaper than its closest competitors, despite providing a much more robust platform on which to meet.
Can Standard Members Send Messages to Other SugarDaddyMeet Profiles?
Only as a response to messages initiated by premium members. Standard members can't start the conversation.
Can Free Members Purchase and Use SugarDaddyMeet Boosts?
Yes! You are not required to upgrade to a premium membership before buying and using boosts. Boosts can be purchased separately in the SugarDaddyMeet mobile app. They dramatically increase the visibility of your profile for 30 minutes.
Actually, boosts are an effective tool for standard members since they increase the odds of being seen by a premium member, who can then initiate a conversation.