If you are around the age of 50 and you want to mingle with other singles around your age, SilverSingles free trial is one of the best ways to check out this dating app for seniors in 2023!
But perhaps you want to see what the site offers you before you commit time and money to a premium membership. And we get that! That is why you should begin using the SilverSingles free trial before committing to a paid membership.

The SilverSingles free trial is a great way to test drive the dating app without paying a dime. Even with the limited features and functions (something we will get to in a moment), you'll get a general idea of how the site works and what kind of singles might lie in store for you!
Overview of SilverSingles Free Trial
SilverSingles Free Trial Fast Facts
Comes with no time limit
Allows you to experience a limited range of the features that come with a paid SilverSingles membership plan
Doesn't let you access the SilverSingles app
Allows you to take the personality testing and create a free profile
"Free trial" can allow you to learn how to navigate the dating site, browse through singles using the site or the app, and get limited matches.
Be sure to check out more information about options beyond SilverSingles free trial using this helpful information: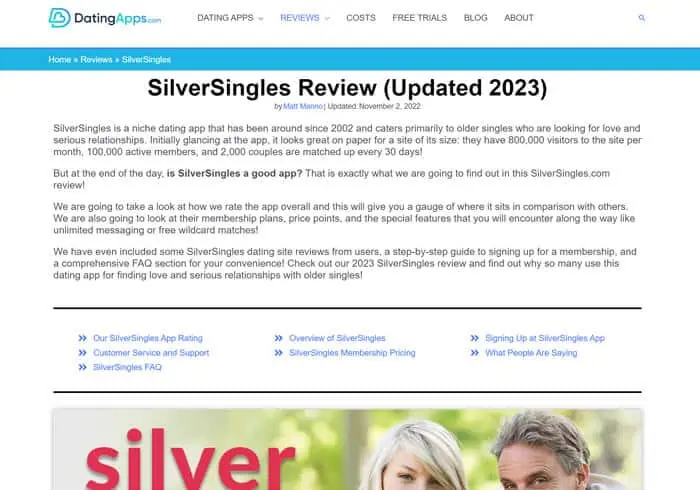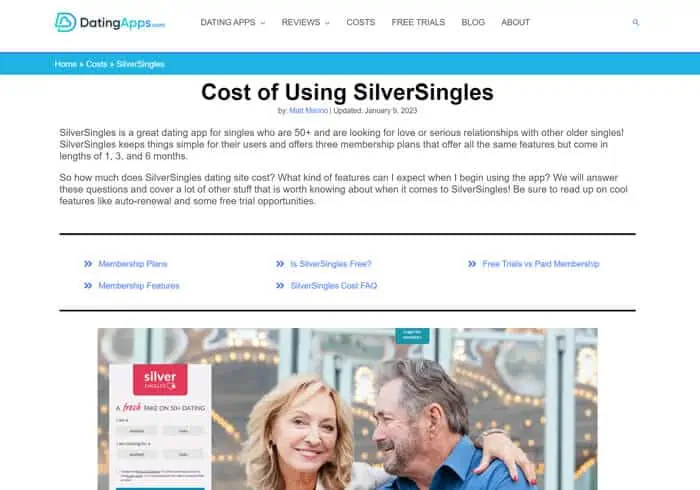 The SilverSingle Free Trial
We use the term free trial lightly because the SilverSingles free trial is not a free trial in the traditional sense. Usually, what is meant or implied by a free trial is that you can use a service in its entirety completely free of charge.
When it comes to SilverSingles, you can use only a portion of the paid features for free. Many important features and functions are omitted; for example, some of the most essential, like unlimited messaging or the ability to use the app.
But even with the limited features, one can still get a good idea if SilverSingles is the right online dating app for them! That's why it never hurts to give the SilverSingles free trial a spin. It's the perfect tool for scoping out the site and helping you to make that final decision to commit or to keep looking!
In the next section, we will get into the weeds on which features come with a SilverSingles free trial and which advanced features come with the premium membership. We officially recommend going with a SilverSingles premium membership plan because you can use the dating app for all it's worth!
The free trial is not a viable substitute for the services and benefits of an official subscription plan at SilverSingles.
Free Features and Paid Features​
With the SilverSingles free trial, you will only have access to a handful of the features and benefits you would find with a premium membership. The chart below details the features you get from using the app "for free" and what you get with a membership.
Unlike an actual free trial that lets you try out the app in its entirety for no charge whatsoever, the SilverSingles free trial is going to be pretty limiting. So limited that you will not be able to send messages to other singles you meet at the site!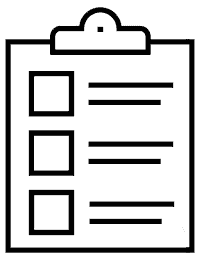 Free Trial
Create a SilverSingles account
Develop your personal profile
Take the personality and compatibility testing
Get suggestions for matches
Add members to your personal favorites list
Send virtual smiles to get other members or users interested in you
View other users' or members' profiles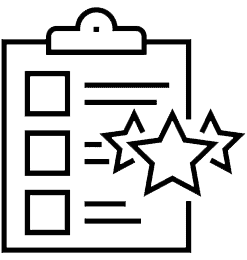 Paid Membership
Unlimited messaging with other members or free trial users
Get read receipts on any messages you send
View any profile at SilverSingles
View any photos from users or members at SilverSingles
View results of the personality profile
The ability to use the SilverSingles mobile app
Get 20 extra Wild Card matches per day
Note: Any features found in the "free features" column are also a part of the "paid features" list. Anything you can do with a free trial at SilverSingles is something you can do with a premium membership.
Again, our official recommendation for our readers is to get a paid membership plan at SilverSingles if you feel this is the right dating app for your needs. When you sign up, you will get 20 extra Wild Card matches per day, unlimited communications with any singles you encounter, and full-range mobile app use!
How Do I Sign Up for the SilverSingles Free Trial?​
Signing up for a free trial at SilverSingles is a process that should not take much more than 15 to 20 minutes. Because of how detailed or minimal you can be with creating your profile, the time to get your "free account" set up will vary from person to person.
We took the time to create a SilverSingles free trial, so here is a step-by-step guide on how to begin the process and trial this senior dating site free of charge!
Step #1: Visit SilverSingles
You will begin by visiting www.silversingles.com, or you can click the image above if that is easier for you!
The process of getting a paid membership or trying the site "for free" follow the same path for the most part. You will begin by selecting your gender and the gender of the singles you are hoping to meet! Agree to the site's terms and conditions and its privacy policy. Then hit the blue "sign me up" button to proceed!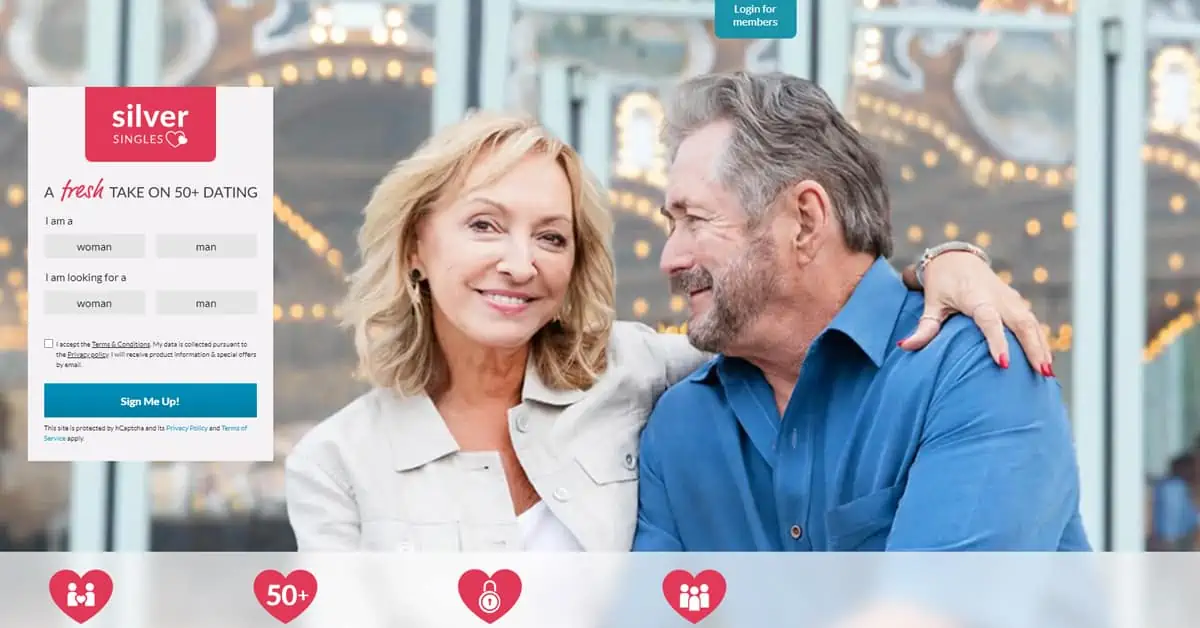 Steps #2 and #3: Stepping Stone Screen and Confirm Your Gender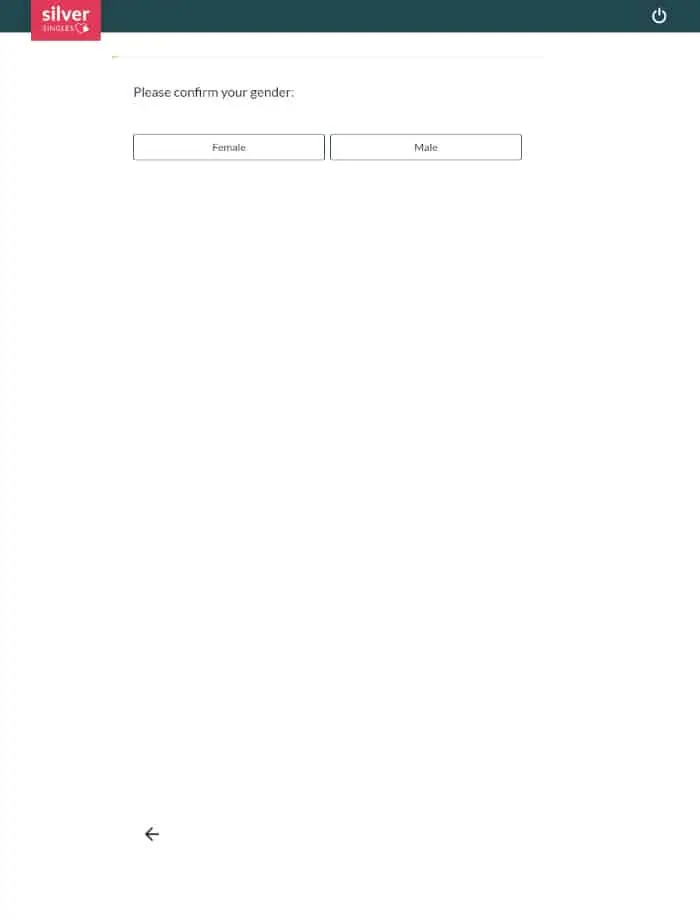 On this screen, you will get an official greeting from SilverSingles, and you will click on the "Continue" button at the bottom to get to the next step.
For some reason, on two separate screens, you will be asked to confirm your gender and the gender of your desired partner. Once this is firmed up, you will be taken to the next step.
Step #4: Complete the Questionnaire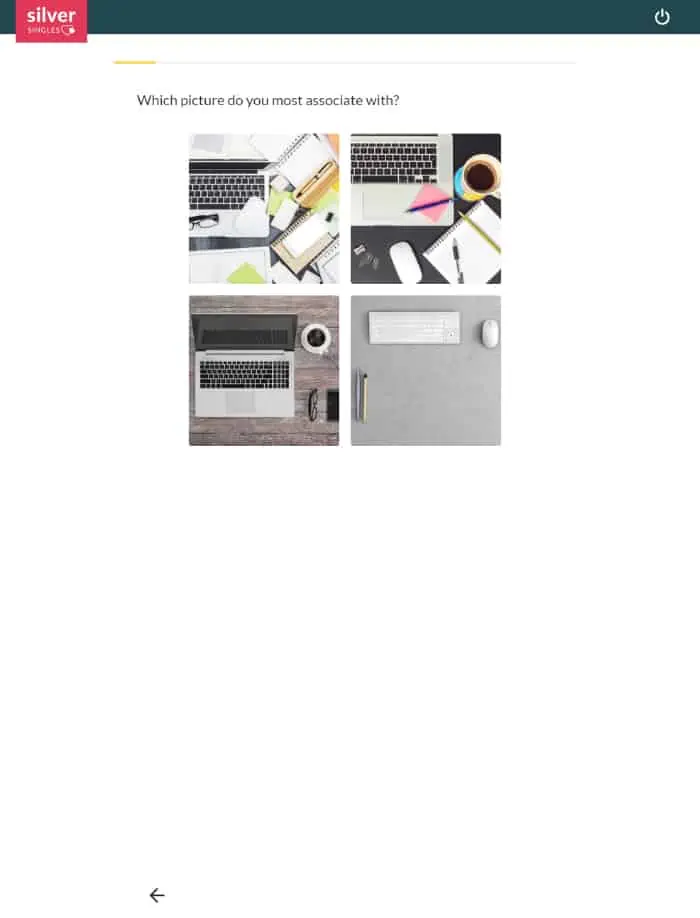 If we had to guess, it is comprised of about 25 to 45 different questions. The questions are broken up pretty well and will shift from multiple-choice to questions where you choose the image that applies best to the situation to questions where you "select all that apply."
SilverSingles will use these questions to gauge compatibility with other singles based on your personal preferences, interests, passions, or beliefs. We found they were all easy to answer, and many of them did not require much thought or consideration, so you should breeze through this portion fairly quickly.
Steps #5 and #6: Another Stepping Stone and Add Profile Photo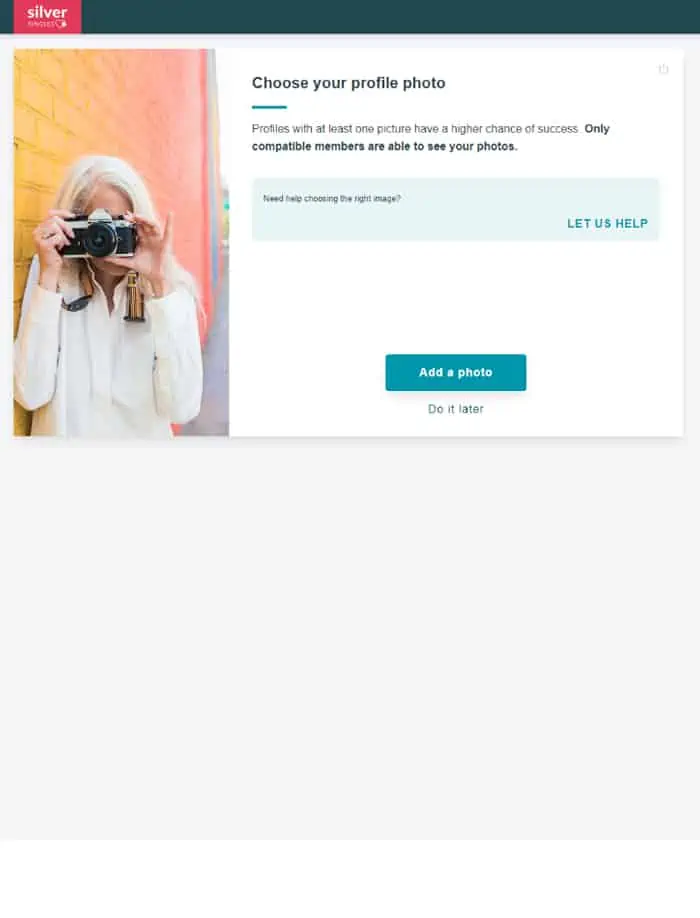 This screen congratulates you on finishing the questionnaire and personality testing. But the work is not yet finished! Click on the red "continue" button to proceed.
Step 6 involves uploading at least one photo of yourself to complete your free trial profile. It is not required. In fact, this part can be skipped, but we highly recommend uploading at least one photo so other singles can pair up a face with a name!
Photos can be uploaded from your personal computer or smart device, Google Drive, or social media platforms like Facebook, Twitter, or Instagram.
Step #7: Written-Response Questions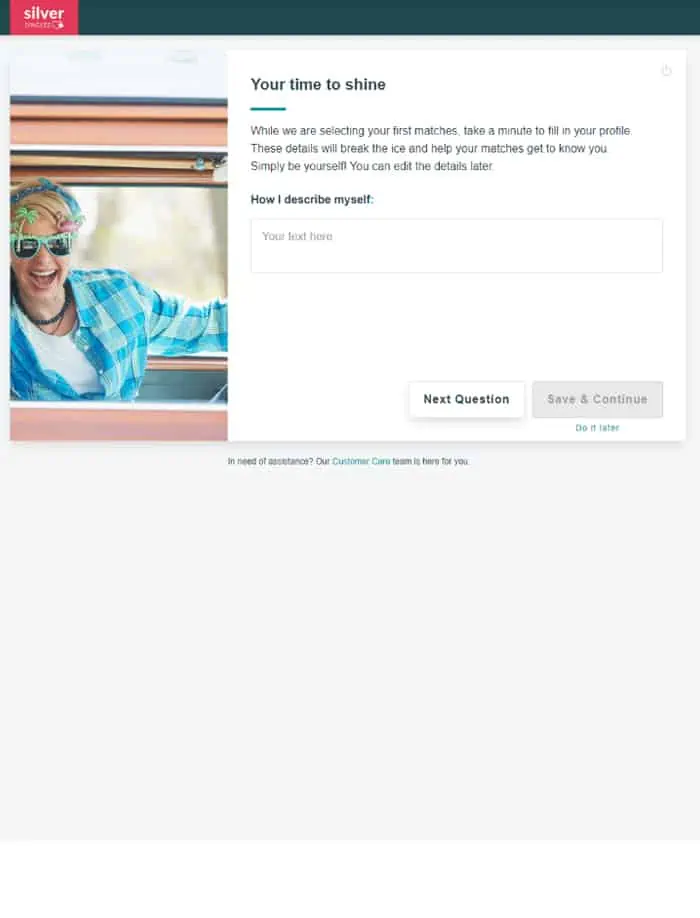 This is the part where a 15-minute sign-up could turn into that 20 or 25 minutes! Actually, if you want to skip right to your free trial account, you can skip this part of the sign-up process for the time being and return to it later!
SilverSingles will present you with some written-response questions. Your answer will be featured in your profile for other singles to see! There are anywhere from 7 to 10 of these that you could potentially answer. So, here is where you can be as detailed or minimal as you want!
Step #8: Visit Your "Free" Profile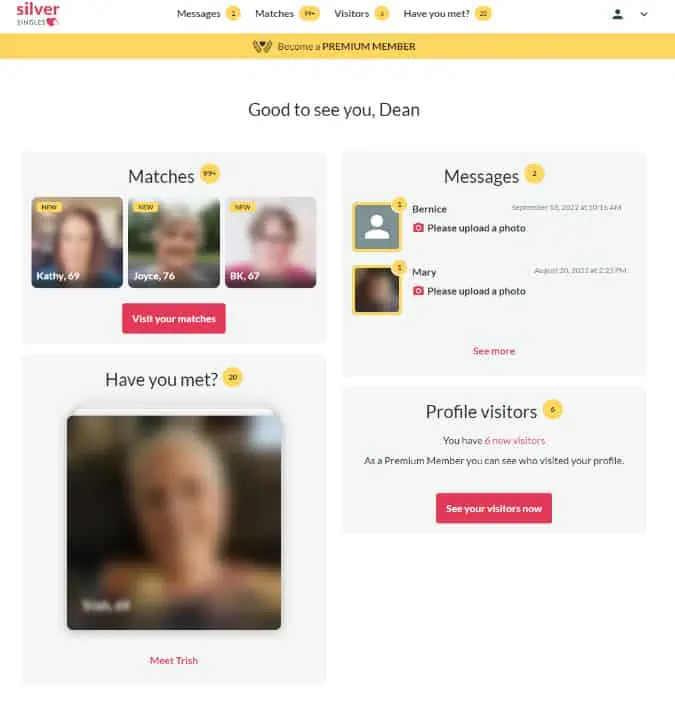 Now you can visit your "free" SilverSingles profile and get a feel for how the site functions, where things are located, and what kind of singles are waiting for you!
Conclusion​
If SilverSingles seems like the right dating app for your needs but you are unsure in any way, we encourage you to give their free trial a shot. Get a feel for how the site operates and discover what kind of singles are using the site!