Calling this a Planet Theta review is rather generous because we're doing an appraisal of this VR dating app that has yet to launch to the public! So, bear with us. We don't have all the facts yet, but enough that you'll get a decent picture of what will come when Planet Theta finally opens its doors for business.
---
---
Our team has independently researched all products and services that we have listed on this page. If you sign up or purchase through our links, we may receive a commission. See how it works.
Introduction to Planet Theta
Our greatest challenge in this Planet Theta review is providing enough helpful information to you, the reader, despite the fact this VR dating app is still in beta testing. Yes, Planet Theta isn't up and running just yet. It was supposed to launch this summer, but the start date has been pushed back to the winter of 2023. So, we'll do our best to tell you everything we can about Planet Theta based on what we know!
A Brief Overview of Planet Theta's History and Success
A Virtual Reality dating app, Planet Theta, is set to launch sometime in the later part of 2023, so this probably means at the end of December. It may be the first of the year at this point. A specific date has yet to be given by the creators or developers.
This platform promises an immersive user experience in the fantastical world of Planet Theta. In this surreal virtual landscape, members can interact with one another via personal avatars. Planet Theta uses AI to generate its match suggestions, but there are several interesting matching systems with a more traditional approach that are used here too.
Planet Theta promises to come loaded with some novel features for its premium members, such as sending real gifts to the real-life members behind the avatars and viewing real-life movies in Planet Theta's virtual theaters. We cannot wait to write more about the specifics of this Horizon Worlds-esque dating app once it launches later this year. It sounds like it could be a game-changer!
Planet Theta's Unique Approach to Online Dating
Premium members of Planet Theta can enjoy AI-generated match suggestions with genuine promise. These lists are created using your bio information included in your Planet Theta profile avatar.
But it doesn't end there. Members can "speed date" in the Microdating Queue to also discover suitable matches. And then there are all sorts of opportunities to connect with your love interests:
Virtual coffee dates.
Excursions across the planet (and to other worlds in the Theta universe).
Going to virtual movies to see real-world films.
Our Ratings
Planet Theta launches this winter, so we'll craft an overall rating once we've officially tried out the platform firsthand. Currently, there's no possible way to even come up with a rating for the site because no one has used it or experienced what the designers have in store for free or paying members.
We'll make updates to this section of our Planet Theta review this winter, but here's an idea of the rating criteria we'll be looking at when we make our appraisal:
Overall: TBA
| Category | Score |
| --- | --- |
| Features | TBA |
| Ease of Use | TBA |
| Match Quality | TBA |
| Cost | TBA |
| Active User Base | TBA |
| Overall | TBA |
Based on what we know about Planet Theta and going off the limited information on what's expected to be available, let's review a few of the things we like and dislike about the platform. If you're looking for an excellent reason to join Planet Theta or a good reason to check out other VR dating apps, consider looking over the following section, even if some of this is conjecture.
What We Like
Virtual Reality Dates: Members can explore Planet Theta or hop over to other planets for a breathtaking adventure. Among the more memorable features Planet Theta is implementing is for its members to visit virtual theaters with their matches to watch real movies in real-world theaters.
Sending Real Gifts: Members can send real gifts to their matches to make a date more enjoyable. Planet Theta has partnered with delivery services (Door Dash and others) to ensure members can send memorable gifts to their love interests like meals, flowers, or chocolates.
Top-Notch Safety Features: Planet Theta uses quantum immune data protection to ensure its members' information stays completely private. Members can pursue relationships and love connections without worrying if their information is safe.
Good For Long-Distance Relationships: Planet Theta will not only help out with long-distance connections, but the nature of its virtual landscape can allow members to bond on an emotional level as well as a "physical" level.
What We Don't Like
VR Headsets Are Expensive: One of the biggest catches with VR dating is that you must buy an expensive headset or goggles to enjoy the immersive experience. Fortunately, Planet Theta is offering a relatively low cost for its monthly subscriptions, but VR goggles certainly aren't cheap!
VR Dating Isn't Real Life: Dating apps like Planet Theta can be a blessing for people who are shy or don't meet many people in their day-to-day life. But VR dating can negatively affect some people because you're not spending time in the real world forging authentic connections and relationships.
Who Is Planet Theta Best For?
Not much is currently known about Planet Theta because it has yet to be officially launched. The date of the app's release has yet to be determined. However, the VR dating app has released some numbers based on their pre-signups that give us some clues as to the average user age thus far and the breakdown of men to women planning on using the service.
Demographics and User Base
Fast Facts
Details

User Base

All singles
(you have to be 18 or older)

Best For

VR dating experiences, making friends, establishing meaningful relationships, etc.

Average Age

18-35
years

Gender Distribution

60% men to 40% women
Relationship Types Best Served by Planet Theta
Again, it's difficult to know precisely what kind of relationships will become popular here once Planet Theta is in full swing. We can imagine that long-distance relationships will thrive here because there's an ambiguous element of having a "physical relationship" with your match that you cannot have using a standard dating app. You can interact with other members avatars, but there's no indication that you can feel their touch or anything like that.
We could see Planet Theta being popular with people with escapist tendencies or who are content to never move their online interactions out into the real world. The whole idea of VR dating is still so novel that it's difficult to know with certainty what peoples' motivations or goals are for using these sites. Only time will tell.
The Planet Theta's Compatibility Matching System
Our Planet Theta review wouldn't be complete if we didn't cover how the matching algorithm sparks interest between members and fosters love connections. As best we can tell, based on the limited information we have to work with, this is how matching is done at Planet Theta:
Creating Your Avatar and Profile
Creating a unique avatar and dating profile is part of this process because Planet Theta needs some information to work with to deliver AI-powered match suggestions to its paying members. The algorithm evaluates things like your interests and personality to churn out match suggestions where compatibility potential exists.
AI-Powered Match Suggestions
Planet Theta will offer match suggestions that best align with your personal dating goals as well as relational preferences and tastes regarding your match's appearance, interests, beliefs, etc.
Microdating Queue
Free members can line up in the Microdating Queue and meet members with possible chemistry or match potential. This is like swiping through dating profiles on other online dating platforms. If you're a premium member, you can skip the line and experience priority matching, saving you time and increasing the number of connections you establish.
Coffee and VR Dates
These are the next steps once you've met someone special. You can begin laying the groundwork of the relationship and establishing a bond with your match. Grab a caffeinated beverage, explore the scenic areas of Planet Theta, watch movies, or hang out at Aaron's Bar.
Communication Features
At this point, not enough is known yet about specific communication features at Planet Theta. The apparent communication feature we can think of right now is interacting with your match's avatar and going on exciting adventures.
But there are also ways to talk with your matches when you aren't exploring Planet Theta or jumping around to other worlds. This information has been shared with the public, but there are no specifics on how these features will work. Once we get more details following the winter launch, we'll provide you with all the ways you can communicate with your matches.
Planet Theta's Membership Options
Planet Theta offers two membership plans for its customers: monthly and yearly subscriptions. But because Planet Theta is still in the beta testing phase, more information on the membership cost must be available. We don't know how much it costs to be a yearly member, but the monthly subscription is between $20 and $25.
Free vs. Paid Memberships
Once Planet Theta launches this winter, they plan on offering a free membership plan which lets newcomers test out the platform to see if they like it. All new members will begin with the free membership plan and can choose to upgrade to the monthly or yearly subscription if they want to commit.
Free Features
Create an account
Create an avatar and profile
Meet other members
Free VR dates
Explore Planet Theta
Free members can set up their accounts and create a unique Planet Theta avatar. This serves as their profile to show other singles their personality, interests, beliefs, and overall style. And then, based on what Planet Theta learns about each new member, non-paying app users can get complimentary match suggestions in their Microdating Queue.
In addition, free members can go out on Coffee Dates and VR Dates, discovering the wonderful world of Planet Theta. We'll see what this all looks like come wintertime, but for now, it seems that Planet Theta is giving their free members a lot of liberties to test out the platform and enjoy quite the immersive experience.
Paid Features
Now let's go over the perks of being a paid subscriber of the Planet Theta dating app. By upgrading, you'll have the chance to experience everything that Planet Theta is ready to bless its premium members with. These paid features include the following:
| Paid Feature | Description |
| --- | --- |
| AI Dating Coach | Planet Theta will watch and evaluate your app interactions and come up with ways you can improve how you connect with your matches. They'll examine your conversations, strategies for building your connections, and overall communication skills. |
| Priority Matching | Instead of waiting for a long time in the Microdating Queue, premium members can skip the long line and meet potential partners more quickly. This means that members can meet more people, go on more dates, and do so saving a ton of time. |
| Customize Your Profile | Premium members can include more information on their profiles than free members. Ultimately, premium members can learn a lot more about each other, which will ostensibly lead to better matching and connections. |
| Purchase Gifts | While many dating apps let their customers purchase and send virtual gifts to their favorite members, Planet Theta lets its members send real gifts in real life! |
| AI-Powered Match Suggestions | Get match suggestions, courtesy of Planet Theta's AI-powered matching algorithm. While free members can meet other avatars and spend time getting to know them, they won't be able to get the quality match suggestions that lead to better compatibility. |
Premium Membership Benefits and Pricing
As mentioned before, not much is known about the subscription plans aside from the fact that Planet Theta offers monthly and yearly memberships. We can only assume that the rest of the pricing information will be released in the winter of 2023.
| Membership Plan | Cost Per Month | Total Cost |
| --- | --- | --- |
| 1-Month Membership | $20.00-25.00 | $20.00-25.00 |
| 12-Month Membership | Unknown | Unknown |
Auto-Renewal on Membership Plans
Something else we know about the Planet Theta memberships is that they'll come equipped with an auto-renewal feature. This means that once a monthly or yearly subscription comes to the end of its term, it'll automatically be re-upped, and the customer will be charged for the new plan using the billing information on file. This feature is designed for the user's convenience. You won't have to reapply for a new membership plan manually, giving you more time and energy to focus on connecting with your potential partners or love interests.
As far as turning off this automated system, we have no specifics yet, but we can imagine there will be some disabling function in your account settings that will allow you to turn this feature off. We'll see once the app launches.
Creating Your Planet Theta Profile
You can find an instructional guide to registering a new account on the Planet Theta homepage. However, since this VR dating platform is still in beta testing, there's no platform where you can put these steps into practice. However, once Planet Theta gets rolling this winter, you'll know exactly what to do and what to expect when you register your new account.
Step 1: Download the Companion App
Head over to Google Play or the App Store and download the Planet Theta Companion App. Once you have it on your mobile device, you can begin registering your new account and creating a free profile. But there's one more piece to the puzzle to complete first.
Step 2: Download the VR App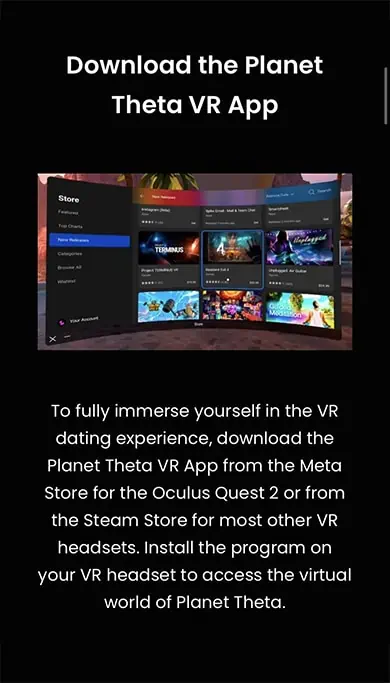 Now it's time to download the VR app, the other half of the Planet Theta setup. Head over to the Meta Store if you have the Oculus Quest 2 headset or to the Steam Store for other VR headsets. Download the VR software onto your goggles. And now you're ready to set up your avatar.
Step 3: Design Your Avatar
Just like you'd create a unique dating profile on a traditional dating app, VR dating apps require you to create an avatar. Build your avatar right in the Planet Theta Companion App. The app offers Ready Player Me integration which lets members design their avatars to showcase what makes them unique.
Step 4: Begin Matching
Based on the information you share with Planet Theta when creating your avatar, the dating app's AI matching system helps you to find singles who match up with your dating tastes and preferences. Unlike traditional dating apps, there aren't any search filters to set. Instead, Planet Theta will send suggestions automatically in the Microdating Queue.
Step 5: ALine Up in the Microdating Queue
Begin going on virtual reality dates by lining up in the Microdating Queue, where you'll find matches best suited to your interests, beliefs, and personality. You could call this Planet Theta's answer to "speed dating." It's similar to swiping through profiles on a dating app like Tinder or Hinge.
Step 6: Coffee Dates
Once you've met singles in the Microdating Queue that have true potential, you can take things to the next level and ask them out on a virtual coffee date to get to know them better and discover a more profound sense of compatibility.
Step 7: Go on VR Dates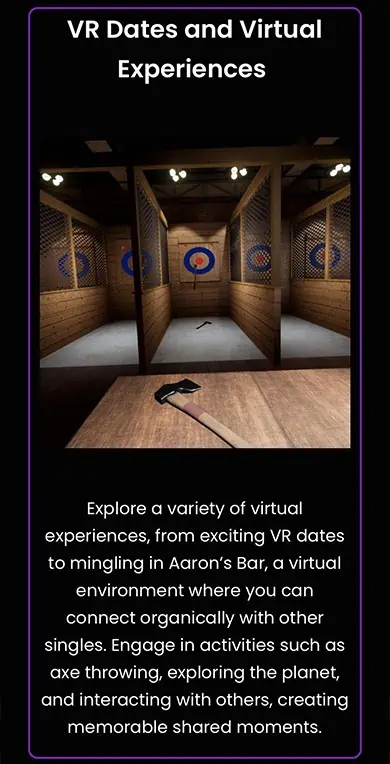 Upgrade from a Coffee Date to a VR Date. It's the next level up, where members can attend various virtual activities. There are many virtual locations on Planet Theta where avatars can hang out or travel, one of the most notable being Aaron's Bar. There are even opportunities to hop around to different planets for memorable excursions.
Step 8: Check Out Profiles and Send Messages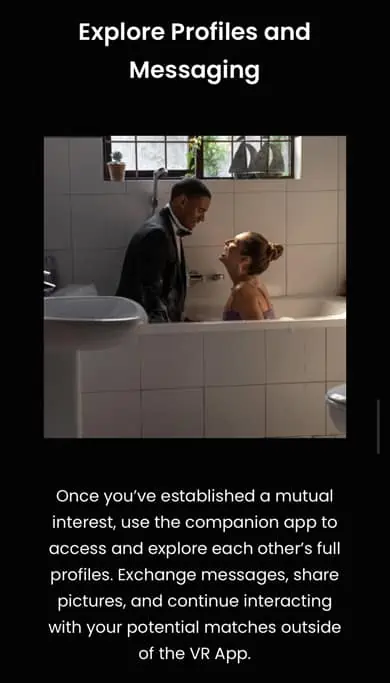 Once you've learned more about your matches, you can access their profiles in the app to learn more about who they are. There's also photo sharing and messaging available in the VR app. If you are offline from Planet Theta, you can keep the conversation going with your matches without interacting with their avatar.
Step 9: Consult the AI Dating Coach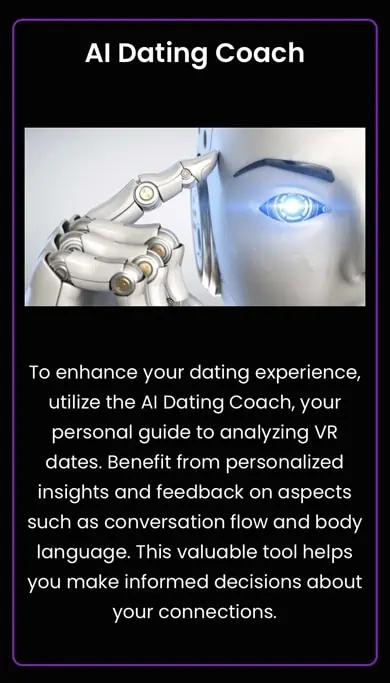 If you need pointers on how to date better at Planet Theta, you can ask the AI Dating Coach for suggestions on keeping your conversations exciting or how to read the body language of your matches better. The AI Dating Coach will analyze your interactions and then offer some tips and tricks for having better dates and interactions.
Customer Service
There are a few ways to contact the customer support team on the Planet Theta dating app:
How to Contact Customer Service
📧  Email: contact@planet-theta.com
☎️  Phone Number: +1 (360) 633–8469
Because the app is still in beta testing and has yet to launch for several more months, we have had no opportunity to test out any of these customer support methods. We cannot speak to how good they are, but we already like seeing that there are two direct ways to contact a real person. Planet Theta didn't just slap up an FAQ page on their site and tell their members, "Good luck."
Planet Theta's Mobile App
Launching this winter, the Planet Theta mobile app will be available at the App Store and Google Play. And unlike many other dating apps, Planet Theta has the distinction of requiring the download of two apps: the Companion App and the VR App. One is for the leading dating app, and the other is for your VR goggles.
The Companion App
For the most part, the website and mobile apps are configured the same way. The app design is slightly simplified for the smaller screens of smartphones and other devices, but the matching, browsing, and features are unaltered. This makes it easy to go from using Christian Connection on your desktop to a much smaller device without sacrificing quality!
The VR App
To download the VR app, head over to the Meta Store or the Stream Store. Which location to purchase will depend entirely on which headset you own. For the Oculus Quest 2 headset, you'll want to download the app from the Meta Store. Download from the Stream Store for all other headset types.
Frequently Asked Questions
If you're looking to learn more about Planet Theta, check out a list of the most frequently asked questions we've gotten over time from our customers and readers about it. We can address some of the most important topics that our Planet Theat review might not have specifically covered.
What Is Planet Theta?
This is a VR dating app (still in beta testing) powered by AI, where members can create their own avatars and interact with other members' avatars in a virtual landscape. It's a platform that's especially popular with shy singles who are hesitant to interact with their matches in person and prefer to have fantastical encounters in a surreal landscape.
What Kind of Relationships Will I Find at Planet Theta?
VR dating is a different context entirely from traditional online dating. You're interacting with your matches with avatars. But as far as we can tell, Planet Theta is designed to foster all kinds of relationships between people interested in VR dating. They're not limited to serious dating or casual dating only. One thing that Planet Theta will be strong with, though, is international dating or long-distance relationships.
Is Planet Theta Free?
Planet Theta will offer a free membership plan with a freemium model. Prospective members can join free of charge and use a limited number of features to see if they want to become a premium member of the app.
Does Planet Theta Share Similarities with Traditional Dating Apps?
By and large, Planet Theta and other VR dating apps work like traditional dating platforms. The most significant difference is that you're using a VR headset and meeting your match's avatar in a virtual reality landscape. You can still chat and flirt with those you meet on Planet Theta, and you can always plan to meet in real life.
Do I Need a VR Headset to Use Planet Theta?
Yes, you need a VR headset if you want to become an active member of Planet Theta, and this is the case with all VR dating apps. Because these headsets are so costly, Planet Theta offers a lower-than-usual price for their membership plans.
What Kind of Headset Do I Need?
The PCVR version of Planet Theta can support HTC, Meta, and Valve headsets. Planet Theta can be accessed with a Meta/Oculus Quest 2 or Quest Pro, launched from the Meta/Oculus App Labs menu. As a standalone alternative, Planet Theta's VR Dating is compatible with the Quest 2 or Quest Pro headsets.
Does Planet Theta Have a Mobile App?
For now, members can only access the Planet Theta site through the web browser on their computer or smartphone. Planet Theta expected to have the mobile app wholly developed and released in the summer of 2023, but the launch has been postponed until the winter.
Can Planet Theta Help Me Find Singles Near Me?
Yes, like any of the best dating apps, Planet Theta will offer match suggestions based on a host of different factors, one of which is location and distance. You might be meeting one another in a virtual world, but Planet Theta connects you with people you can quickly meet in the real world.
Is There a Discord Channel on the Planet Theta App?
The app has yet to launch, but there's a link to their Discord Channel on Planet Theta's homepage. Once you've clicked on the Discord Channel link, you can enter your login information or be invited to sign up.
How Do I Reach Customer Support?
Due to the technical nature of VR dating, Planet Theta has better customer support options than the average dating app or website. You can call the support center at +1 (360) 633–8469 or send email messages to contact@planet-theta.com.