Dating at an older age has its own set of unique challenges. Finding love and romance later in life is more challenging than in your teens or 20s. That's why it's always helpful to use a dating app that makes meeting senior singles as easy and convenient as possible.

And two great dating apps that spring to mind are eHarmony and SilverSingles! We will present you with a side-by-side comparison of these platforms and which is ultimately the best for senior online dating! Some pros and cons come with each, so it's up to you to determine which is best for your needs.
---
---
General Info Breakdown
What are the basics that anyone should know who wants to use eHarmony or SilverSingles for themselves? Check out the general information in the table below for a good idea of what these dating sites are like and who they serve.
Key Information
| | SilverSingles | eHarmony |
| --- | --- | --- |
| Year Founded | 2002 | 2000 |
| Best For | Serious dating and romance for singles over 50 | Serious relationships where compatibility is a crucial component |
| Site URL | SilverSingles.com | eHarmony.com |
| Active Members | 800,000 total (100,000 active weekly) | 16+ million (3.5 million active weekly) |
| Gender Ratio | 53% men to 47% women | 48% men to 52% women |
| Average Age | 48-52 years | 35-45 years |
| Free Trial | Yes | Yes |
| Read Review | | |
Our team has independently researched all products and services that we have listed on this page. If you sign up or purchase through our links, we may receive a commission. See how it works.
Key Takeaways
These trusted and well-respected dating apps have been in the game for over 20 years.
Both have a generally older clientele, with both demographics covering users in their 40s.
The ratio of men to women is generally even on both platforms.
Many active users are present at eHarmony, but not so many at SilverSingles. SilverSingles has a much smaller base of customers by far.
Both apps can be enjoyed on mobile or desktop computers. SilverSingles mobile app can only be used by paying members.
eHarmony and SilverSingles both have limited free trials for testing out the app.
Main Differences
eHarmony and SilverSingles have many things in common: matchmaking done based on compatibility testing, a deep focus on meaningful relationships, and limited member features. But plenty of aspects make these dating apps quite different from one another.
Number of Members
eHarmony is a better-known name in the online dating world and caters to over 16 million users worldwide in various countries. SilverSingles is a niche dating app with a humble user base of 800,000. It needs the name recognition and status that eHarmony enjoys. There are more opportunities for 50+ dating at eHarmony if you sit down and break down all the numbers.
Registration
SilverSingles and eHarmony feature personality and compatibility testing as a significant part of their sign-up process. However, it takes half an hour or more to become a member of eHarmony; the process is much longer because the 32 Dimensions testing is much more in-depth than the SilverSingles testing. It only takes around 15 or 20 minutes to join SilverSingles.
Membership Plans
Becoming a premium member of the SilverSingles dating app is more affordable. The plans range anywhere from $27.95-54.95 a month, while eHarmony's plans are anywhere from $35.90-65.90. However, eHarmony memberships have a lot more quality based on the features you're getting. If you're working on a limited budget and need to watch what you spend, SilverSingles might be the better option.
Mobile App
SilverSingles' free members need to pay for a membership plan if they want to download the mobile from Google Play or the App Store. eHarmony allows free users to download the app regardless of membership status. eHarmony users don't need to pay for a membership to use the app!
Customer Service
While eHarmony is generally better than SilverSingles in many senses, SilverSingles is the superior dating app in the realm of customer support. They offer their customers a toll-free phone number, a fax number, a generic help ticket option, an email address, and an FAQ page in the help center. eHarmony is as bare as it can get with customer service, only offering the FAQ page resource.
Top Features Comparison
Because eHarmony and SilverSingles are laser-focused on compatible matches based on personality testing, these two dating apps aren't equipped with many features.
SilverSingles' Special Features
Access the Mobile App: Paying members can download the mobile app from Google Play or the App Store when they upgrade from a free to a premium membership.
View Member Photos: Premium members can view other members' photos (they don't have access as free trial members).
Unlimited Messaging: There are no limits to messaging and other communications once you become a paying member of the SilverSingles dating app.
eHarmony's Special Features
32 Dimensions of Compatibility – The personality testing eHarmony features during its sign-up process is used to inform quality matches each day for premium members. It's the tool at eHarmony is best known for and what makes them so good at creating long-lasting relationships based on compatibility.
Daily Matches Reports – eHarmony reveals the results of their members' test results. They also generate reports on each daily match explaining to members why there is potential for a relationship or connection. They use both singles' test results to make their point.
What If – eHarmony also supplies its members with wildcard matches in addition to the usual daily match suggestions. These suggestions are not optimally compatible, but they offer exciting alternatives to open-minded singles who are okay with trying something new for a change.
SilverSingles vs eHarmony Cost Comparison
eHarmony memberships are meant to be used over more extended periods. They are typically more money overall, but they offer savings and value if you use eHarmony long-term. SilverSingles membership lasts a much shorter period and comes at a more affordable cost.
SilverSingles
| Membership Plan | Cost Per Month | Total Cost |
| --- | --- | --- |
| 1-Month Membership | $54.95 | $54.95 |
| 3-Month Membership | $37.95 | $113.85 |
| 6-Month Membership | $27.95 | $167.70 |
eHarmony
| Membership Plan | Cost Per Month | Total Cost |
| --- | --- | --- |
| 6-Month Membership | $65.90 | $395.40 |
| 12-Month Membership | $45.90 | $550.80 |
| 24-Month Membership | $35.90 | $861.60 |
Membership Fast Facts
On average, an eHarmony membership is more extended but has a higher monthly cost.
SilverSingles memberships offer shorter plans, and the monthly cost is cheaper than the eHarmony rate.
SilverSingles and eHarmony feature a discounted monthly cost on their longer membership plans. It's less money to buy an extended plan than it would be to renew a shorter plan repeatedly to match the same length of time.
Each dating app has almost identical payment methods.
Which App Is Better for Serious Dating?
How did we feel about eHarmony regarding senior dating in 2023? This is the dating app you'll want to use if you're looking for a larger, more active dating pool. It's the more prominent name and has been around longer than SilverSingles. This gives it an edge over the two apps. It's also the better choice regarding compatibility testing (32 Dimensions) and the quality of the daily matches they send daily.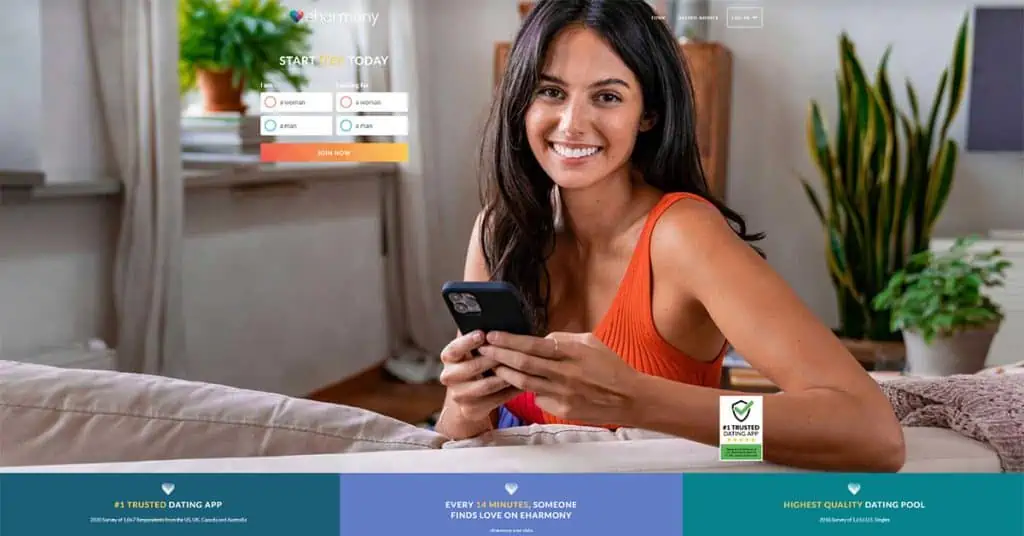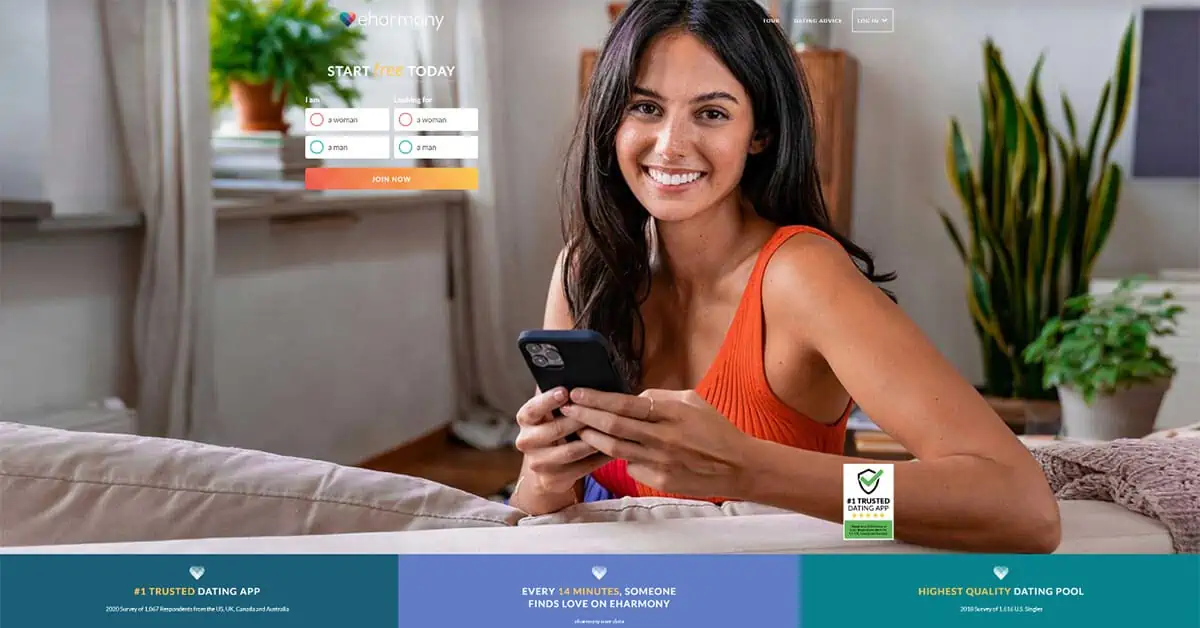 eHarmony
eHarmony is popular with users who are generally in their 30s or 40s. Over 16 million committed members use eHarmony, and its gender ratio of men to women is just about even (48% men to 52% women).
People using this dating app usually look for something serious and committed. And eHarmony certainly delivers when it comes to its compatibility testing and matchmaking process!
Membership and Price
Compared to SilverSingles, eHarmony is a little more expensive. But you must remember that they offer three membership plans with longer lengths (6-, 12-, and 24-month deals), while SilverSingles offers 1-,3-, and 6-month. Customers also pay a bit more for eHarmony because there's a lot of value in its 32 Dimensions of Compatibility testing.
Note: Something that gives eHarmony a leg up on SilverSingles is that they offer payment plans to their customers to help them cover their member costs.
Features
eHarmony is much better in its features than SilverSingles. Two features that make it stand out from the other platform are Video Dates and the What If feature. Video Dates allows users to meet their matches face-to-face through a video chat request. What If is a swipe-style dating system that lets customers browse through catalogs of potential singles. Customers show interest or disinterest by hitting "like" or "pass," respectively.
Customer Service
Customer service at eHarmony is non-existent. There are no phone lines, emails or messaging systems, or live chat. There are no direct ways to contact the support center.
The only way to deal with problems on the app is to head over to the customer service page and consult the FAQ section. That said, the FAQ page is comprehensive and contains a lot of common problems and scenarios, as well as ways to work through the issues using troubleshooting.
Which App Is Better for Senior Dating?
Not necessarily. We feel mixed about SilverSingles. It's the niche senior dating app of the two platforms we covered, so it should be the best for finding single seniors online. While it has a simplistic design and many intuitive features that allow for incredible ease of use (not to mention super-affordable pricing on membership), its active user base is much smaller than eHarmony's, which means a more limited set of opportunities. Read our overview of SilverSingles and decide for yourself.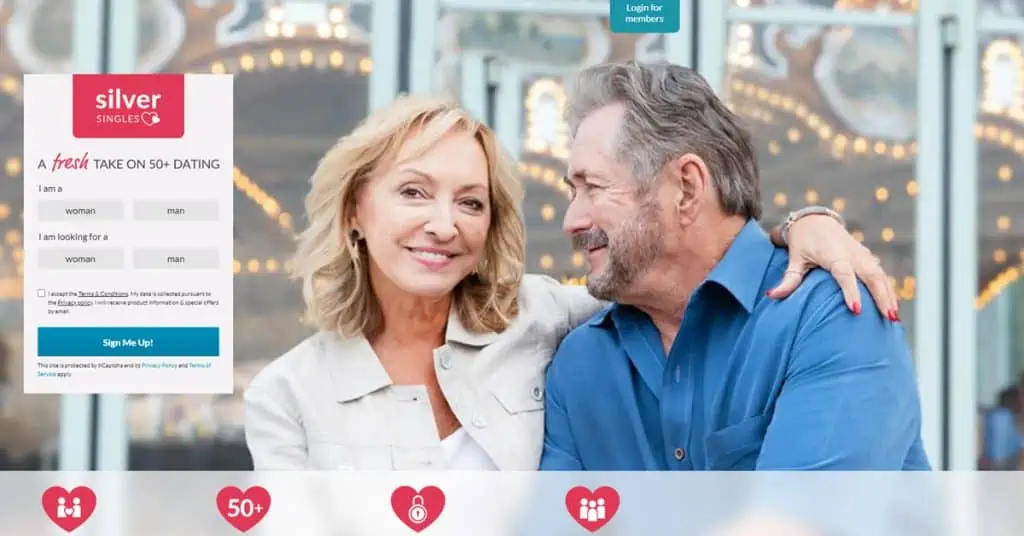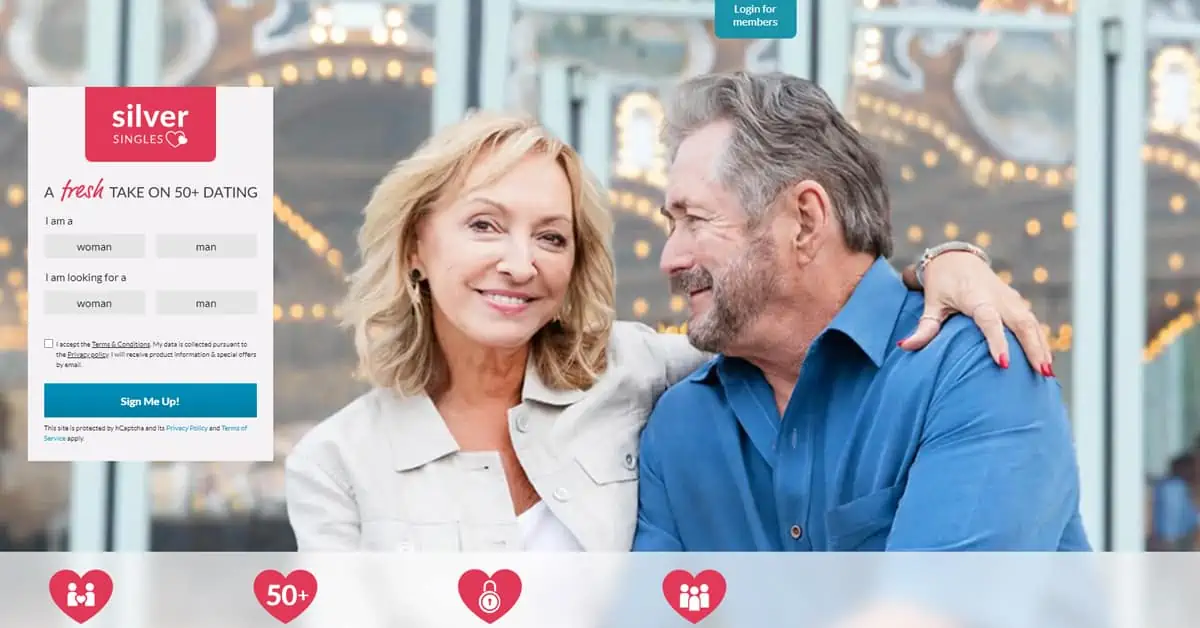 SilverSingles
SilverSingles caters to a specific demographic: seniors. There are only 100,000 active members, all generally between the ages of 48 and 52. This makes it a niche dating app and, thus, a much smaller platform than mainstream dating apps. Compared to eHarmony, there will be fewer singles to choose from, and the quality of daily matches will not be as good.
Note: SilverSingles can only be used as an app if you have paid for a premium membership. It's available as an in-browser dating site for members and free trial users.
Membership and Price
The membership price will be more affordable at SilverSingles, primarily because the plan lengths are much shorter here than at eHarmony. SilverSingles is a little more undeveloped than eHarmony: simplistic design, fewer features, quick and to-the-point personality testing, and lower-grade search filters. Ultimately, you get what you pay for.
Features
By and large, SilverSingles and eHarmony have many of the same features: unlimited communications, read message receipts, matching outside of your personal dating preferences, and many others. SilverSingles does, however, need more in terms of some of the more modern features you'd find at eHarmony. They do not have a form of swipe-style dating or video chatting.
Customer Service
This is where we can confidently say that SilverSingles has the leg up on eHarmony. While eHarmony offers its customers an FAQ section (and that's it!), SilverSingles extend its customers a toll-free phone line, a fax number, and messaging systems which include email and a generic contact form. If you're looking for attentive customer support, SilverSingles is your winner.
Which Dating App Is Our Favorite?
While each dating app brings its own unique perks and benefits to the table, we like eHarmony the best overall!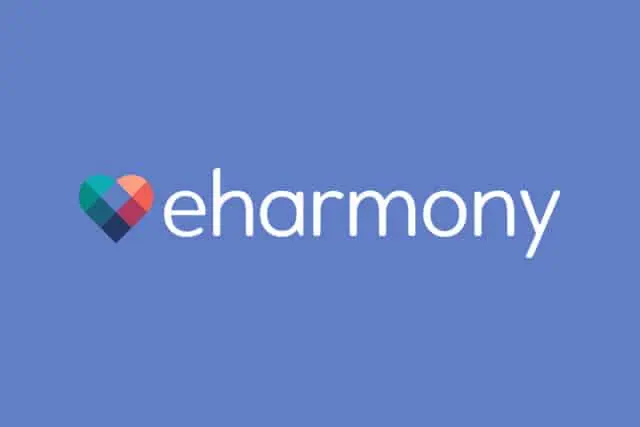 eHarmony: Our Favorite Dating App
eHarmony not only has a much larger dating pool (leading to better possibilities and opportunities for its members), but their members are much more active each week on the platform. You're also going to find a larger range of users when it comes to age. And we cannot stress enough how great the compatibility testing is at eHarmony. Compared to SilverSingles, you're going to find much more suitable matches to satisfy dating preferences and relationship criteria.