SingleParentMeet is a fantastic online dating app for singles to find true love and serious relationships during the hardships that come with being a single parent. We highly recommend this app to anyone interested in starting a relationship with singles who have children, as well as single parents looking for others in a similar position who need some companionship!
---
---

Our team has independently researched all products and services that we have listed on this page. If you sign up or purchase through our links, we may receive a commission. See how it works.
Introduction to SingleParentMeet
We'll begin our SingleParentMeet review with a quick overview of the dating app, how it works, and how long they've been catering to single parents looking for love and romance.
A Brief Overview of SingleParentMeet's History and Success
SingleParentMeet has been around since 2002. It's a niche dating app that revolves around single parents hoping to find meaningful relationships or true love while raising children. It's always been a smaller platform; they have 77,000 active members, and 500,000 visit the app each week.
SingleParentMeet's Unique Approach to Online Dating
SingleParentMeet has a simple process for its matchmaking techniques. It's a simple matter of customers setting up their search filters and dating parameters to find the singles that fit their criteria.
Customers can also develop their profiles with personalized greetings for viewers. They can also craft a self-authored bio, putting their creative writing skills to the test to tell other singles about themselves in more detail. It's the combination of these factors that drives the matchmaking at SingleParentMeet.
Is Signing Up for SingleParentMeet Worth It?
SingleParentMeet is a dating app that is worth the time and money, but it's ideal if the following details best describe your situation:
You're over 18 (a requirement to use the app).
You can have children, or you're interested in dating someone with children.
You're interested in meaningful relationships or long-term commitments.
You are okay with using a smaller dating app with a limited dating pool.
You want a dating app with a lot of fun features which make the process of meeting someone new fun and engaging.
Start a SingleParentMeet Free Trial Today!
Our Ratings
How did we feel about the SingleParentMeet app overall? This is a decent, easy-to-use dating app for finding true love again with other single moms or dads! They do not have the largest pool of users, but they do feature an app that is easy for users to navigate, and their pricing is super affordable, fitting for nearly any budget.
Overall:
| Category | Score |
| --- | --- |
| Features | 3.0 |
| Ease of Use | 4.0 |
| Match Quality | 3.0 |
| Cost | 4.0 |
| Active User Base | 2.5 |
| Overall | 3.3 |
SingleParentMeet.com has its fair share of good and bad. To bring you the most honest and unbiased review we can of this dating app, we are going to focus on some of their greatest strengths as well as some of their areas of greatest weakness. We can guarantee that you will get a completely accurate picture of this dating app!
What We Like
Check out our top reasons for joining SingleParentMeet. If these points sound good to you, there's a good chance that SingleParentMeet will be worth the time and money.
A quick sign-up process that is user-friendly and takes less than 10 minutes.
The overall site setup is easy to use and navigate.
The PromoteMe feature allows users to boost their profile higher in the search.
The NotifyMe feature allows users to know when specific singles log into their accounts.
ConnectMe feature allows users to chat via private phone line with other singles.
50,000 active members are active weekly.
What We Don't Like
You might consider another dating app if you find yourself not wanting to deal with these inconveniences:
Smaller dating pool compared to other dating apps out there (77,000 active members)
Slow customer service and users mostly troubleshoot through issues on their own.
A limited free trial does not allow the user to send or receive messages from other singles.
Available only to residents of the US and Canada.
Not a great dating app for finding casual relationships or dating.
Only a few search filters are used to help find the singles you are looking for.
Who Is SingleParentMeet Best For?
Let's go over the kind of person that SingleParentMeet is designed to help. It's apparent in the name of the dating app, in all fairness, but let's elaborate on this simple concept:
Demographics and User Base
Check out some of the most basic facts about SingleParentMeet, the niche dating app that allows you to find singles with children. Keep in mind that this is a niche dating app that caters to a smaller pool of singles. If you are looking for something bigger with more options, we recommend checking out eHarmony.
| Fast Facts | Details |
| --- | --- |
| User Base | All singles (18 or older) |
| What Kind of Relationships? | Serious relationships with singles who have kids |
| Active Members | 77,000 |
| Visits Per Week | 500,000 |
| Where Are Most Singles Located? | United States (72.2% of users) |
| Gender Distribution | 43% men to 57% women |
Relationship Types Best Served by SingleParentMeet
People who use SingleParentMeet are typically looking for something profound and meaningful, but some use the site to find casual love or romance. There's no hard-and-fast rule that requires customers to be looking for something serious to use the platform.
At SingleParentMeet, you can find the following:
Your soulmate
A marriage partner
Long-term commitment
Serious or meaningful dating
True love
Compatible connections
Casual dates or romance
The SingleParentMeet Compatibility Matching System
There's little to discuss in the matchmaking portion of SingleParentMeet because the concept is super simple. But we'd be remiss if we didn't cover this in our review. We don't want to leave any unturned stones.
How the Compatibility Matching System Works
What it boils down to are the advanced search filters. Customers can adjust these to their dating preferences and parameters. The standard search criteria include an age range, location, and gender, but there are additional factors such as:
Height
Ethnicity
Build
Smoking or drinking habits
How many children
Religion
Zodiac
Members can also develop their profiles in such a way as to attract the right kind of attention and describe what they're looking for in a partner in the best possible detail. There's a profile section called "The One I'm Looking For" where you can further describe your ideal relationship. There are also personality questions you can fill out that give other singles on the app a better idea of who you are.
SingleParentMeet's Communication Features
There are a few ways to communicate with singles on the SingleParentMeet app, but it's a lot better if you're a premium member versus being a free trial user. This is the case with most dating apps: the free trial user is super limited in how they communicate while paying members to experience no limitations whatsoever. We'll show you exactly what we're talking about.
Unlimited Communication
Paying members can enjoy unlimited communications with other app members. No longer are you limited to liking photos or sending "flirts" to members and profiles that catch your eye. You can send messages to any members you meet on the platform and do so with no limitations. This is the most substantial reason for becoming a member of SingleParentMeet. 
ConnectMe
Another excellent communication feature that's available to premium members is ConnectMe. This is talking and texting via a private phone number. It's designed for members who feel a close, intimate connection with one another. Personal phone numbers are completely hidden and secure. 
ConnectMe includes:
A private number
Sending phone requests
Private calls and texts
Online voicemails
Send "Flirts"
Sending "flirts" is like sending "likes" on other dating apps. This is the most basic form of communication on SingleParentMeet. Premium members and free members can send "flirts" to anyone they wish, but these are most notable as being the communication method for free trial members. If you want anything beyond sending "flirts" to other members, you need to upgrade your free trial to a premium membership.
SingleParentMeet's Membership Options
Our SingleParentMeet review wouldn't be complete if we didn't go over the membership options and the free trial offer. Consider this section our official endorsement for getting a premium subscription plan. The free trial has its perks, but it's no viable substitute for official membership. Paying to be a member allows you to successfully connect and foster meaningful relationships with single parents on the website or mobile app.
Free vs. Paid Memberships
There is a free trial offer at SingleParentMeet that lets you use the site (albeit in a limited capacity) without paying for a membership. This is like taking a new car out for a test drive to see how it handles and performs! We tested this out. We clicked on messaging as a free trial member, and the site directed us to the page to sign up for a paid membership!
Free Trial Features
What do you get with a free trial membership anyways? It gives you an idea of what the dating app has for you! This is one of the more limited free trials you will currently find out there.
Create a profile
View and like others' profiles/photos
Get daily matches
Sending flirts (likes)
Adding up to 18 images to your profile
While it is great to save some money and experience some of the services and benefits, this free trial will have its limitations. Most free trials are limited by design. For instance, you are not going to be able to send or receive messages from other singles at SingleParentMeet if you are not a paying member.
Premium Membership Benefits and Pricing
We found that there are only three membership plans offered at SingleParentMeet. We found that their prices are on the lower end of the spectrum, making it one of the most affordable dating apps we have covered! Compared to many other dating apps, this is typical.
We found that all memberships are billed in one lump sum. Even though there is a monthly rate for each plan, you will not be paying month to month. Everything is billed in one payment (the total cost is listed below).
Note: All membership plans are set to auto-renew once finished unless the user notifies customer service or cancels the auto-renewal on the Membership settings page.
Tokens
Paying members also can purchase tokens. These allow them to get add-on features to their SingleParentMeet profile! These extra features include PromoteMe, NotifyMe, and Virtual Gifts. Below is a full breakdown of the token bundle plans for members.
| Number of Tokens | Cost Per Token | Total Cost |
| --- | --- | --- |
| 290 Tokens | $0.04 | $9.99 |
| 110 Tokens | $0.04 | $3.99 |
| 25 Tokens | $0.04 | $0.99 |
Note: If your token balance falls below 20, you will get an automatic renewal of the last token bundle you purchased at the same price. To disable the auto-renewal, you need to cancel on the token settings page.
Payment Methods
There are a handful of methods that customers can use to pay for their membership at SingleParentMeet:
Visa
Mastercard
American Express
Discover
PayPal
Mail-In Order
Membership Features
Our official recommendation is to purchase a membership at SingleParentMeet. You will be able to enjoy the full line of features and functions available in the app! You will also be able to purchase tokens to add special features available only to members!
Unlimited Messaging – This includes sending and receiving messages between all other users at SingleParentMeet.
Sending Flirts – Flirts are the equivalent of "likes" and are used to generate interest with other singles using the app. Not only can you send unlimited flirts, but you can view all the flirts another member has gotten from other users!
ConnectMe – Members at SingleParentMeet can get access to a private phone line that is provided through the app. This private line is completely secure and allows users to get calls, texts, and voicemails from other singles without giving out their phone numbers.
PromoteMe (20 Tokens) – Members can purchase tokens and pay for the PromoteMe feature, which allows them to rank better in the app's search results!
NotifyMe (20 Tokens) – Members can purchase tokens and pay for the NotifyMe feature to be alerted when specific singles log into their accounts!
Virtual Gifts (Number of Tokens Will Vary) – Members can purchase tokens and pay for Virtual Gifts to send to other singles. This helps to drum up some interest and let them know that you want to know them better! Members can purchase tokens and pay for Virtual Gifts to send to other singles. This helps to drum up some interest and let them know that you want to know them better!
Discounts and Promotions
We found there are some savings to be had when you sign up for a more extended membership. SingleParentMeet draws the user's attention to the fact that the 6-month membership plan allows you to save 70% over the 1-month subscription! You will ultimately pay more for a more extended package, but you will save more on the monthly price!
This might come in handy if you need extra time to use the app. Best go with a more extended plan at a cheaper monthly rate than continually renew a one-month membership for more money!
Creating Your SingleParentMeet Profile
The sign-up process was easy to complete, and we did not find it time-consuming. We got ours done in about 5 minutes! Everything was self-explanatory for the most part, and we did not find ourselves engaged in a lot of busy work while creating our profile. It was simple, easy, and fun. The time breezed by!
Here is what you can expect when you begin signing up for an account at SingleParentMeet. We will walk you through it step-by-step!
#1: Go to the Homepage
Head over to SingleParentMeet's homepage and begin the signup process by selecting your gender and your endgame ("I'm a man seeking women," "I'm a woman seeking men," etc.) and then click the orange Search Now button.
Note: Whether you are signing up for the free trial or a membership, you will begin the sign-up process the same way. Select your gender and dating endgame and click that orange Search Now button!
#2 and #3: Choose Your Location and Enter Your Zip Code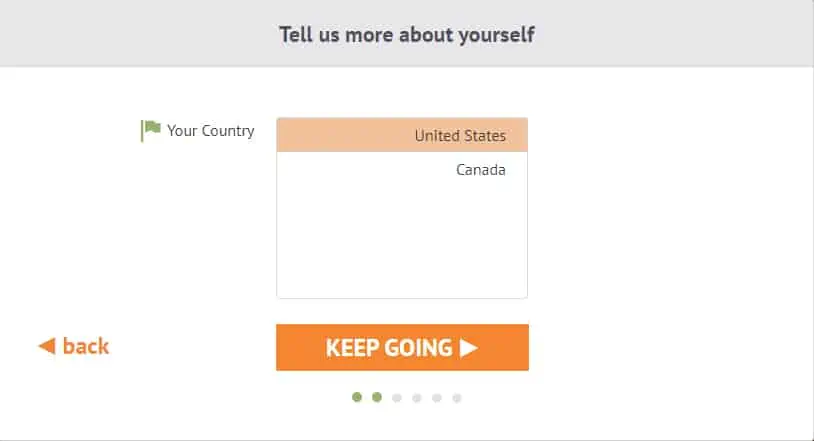 It's nice to know that SingleParentMeet offers international dating opportunities, even if it's only between two countries. So, select the one that applies to you and hit the Keep Going button to continue!
SingleParentMeet helps you find single moms and dads through location and distance settings. It's essential to provide your ZIP code so you can find singles near you or in your general region.
#4 – #6: Provide Your Basic Information
Provide the first name that you want to appear on your SingleParentMeet profile! We highly recommend being honest and using your real name, but nicknames are all right too.
Be sure to create a unique password for your account as well. The app will actually generate a recommended password for you to use! If you are interested in this, it can save you some time coming up with one on your own.
In this SingleParentMeet review, we found that the average user of this app is between 33 and 41 years of age. However, people of any age can sign up for an account here as long as they are 18 years or older! Enter your birth date and hit Keep Going.
The next step is to enter your email address. As stated in the image above, this will not be shared with other users on the app or sold off to a third party. This is also your chance to view the Terms of Use, the Cookie Policy, and the Privacy Policy.
#7: Accept the Privacy and Cookie Policy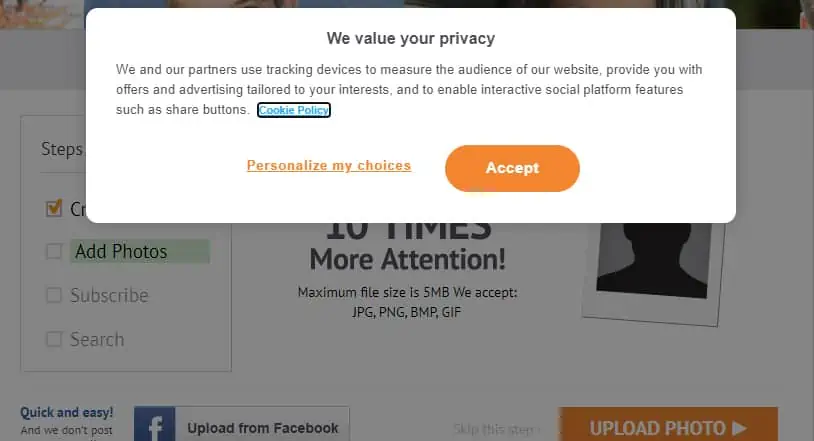 Agree to the app's Privacy and Cookie Policy. You also have the option to personalize your choices. Hit Accept to continue.
#8: Add a Photo of Yourself
Add up to 18 photos of yourself to your free trial account. You can get them off your device (smartphone, tablet, or desktop PC) or from your Facebook account. You do have the option to skip this step, but we highly advise not skipping it. Adding some photos to your SingleParentMeet account is going to generate a lot more interest in your profile!
#9: Share More About Yourself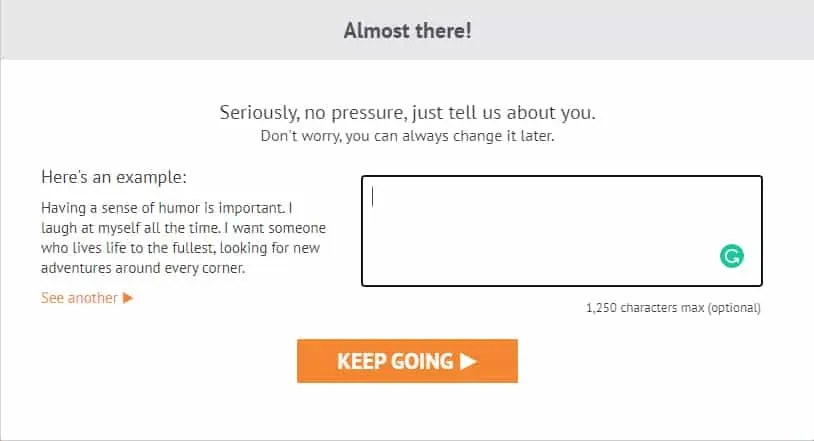 As with the photo step, this step does not need to be completed in order to move to the next step. You can certainly skip it, but, again, we advise that you take advantage of this and use up to 1,250 characters to include some sort of interesting tagline, a clever remark, or some sort of summary about who you are. This can generate all sorts of interest in your profile!
#10: Include a Greeting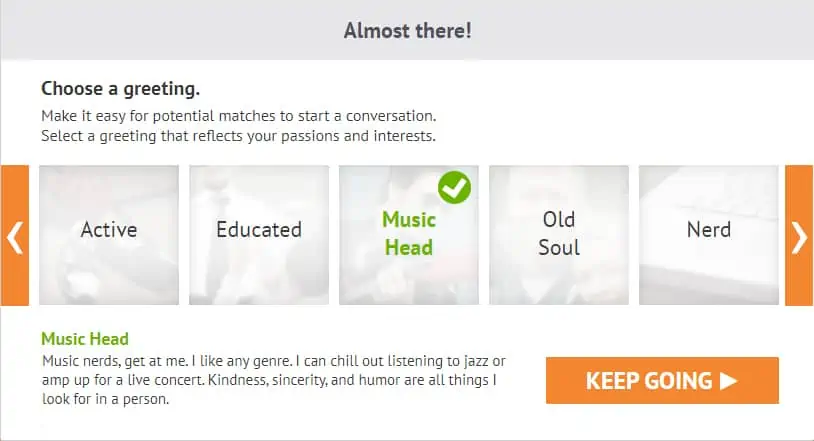 Here, again, is another opportunity to make your profile at SingleParentMeet really stand out! You can customize a greeting for people who visit your profile and base it around your interests or passions.
#11: A Subscription Plug
All you have to do in this next step is to hit the orange Continue button. There is going to be a plug here for getting a paid membership at SingleParentMeet. There will be more information on the plans and pricing in a few more pages, but this page is simply here to remind you of the features that you will be missing out on by sticking with just the free trial membership!
#12: Enter Your Phone Number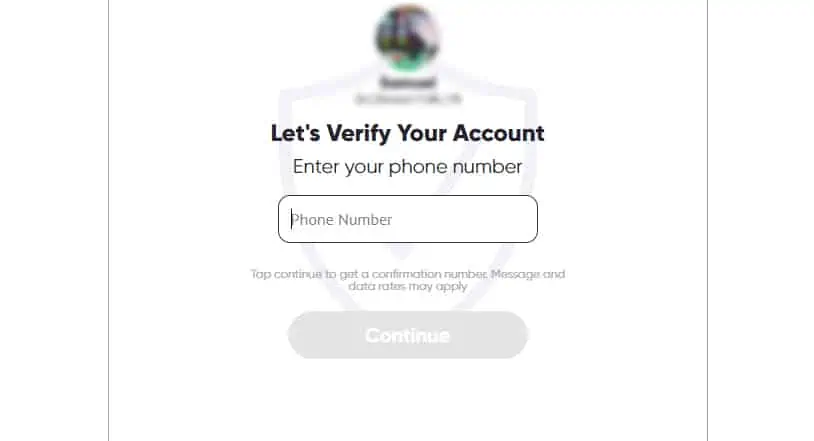 Enter your phone number, and SingleParentMeet will send you a verification code in order to verify your new account and get it up and running! Once you have been texted the code, enter it and hit Continue.
And that is it! You will then be launched into the homepage, and you can begin looking for single moms and dads near you!
How to Delete a SingleParentMeet Account
There are three primary ways to delete your SingleParentMeet account: desktop PC, mobile web browser, and mobile app. Below are detailed instructions that tell you how to go about profile and account cancellation for each of these SingleParentMeet formats.
Website
Click on "Settings."
Once the drop-down menu appears, click on "My Account."
Click on "View Account Status" under "Account Status."
When you get to the next screen, click "More Account Status Changes."
Next, click on the "Remove My Profile" option.
Answer a few questions explaining the reason for deleting your profile and account. Then confirm your cancellation.
Mobile Web Browser
Click on "Me" in the bottom right-hand corner of the screen.
Under your profile photo, click on "Settings."
Click on "View Account Status" under "Account Status."
When you get to the next screen, click "More Account Status Changes."
Next, click on the "Remove My Profile" option.
Answer a few questions explaining the reason for deleting your profile and account. Then confirm your cancellation.
Mobile App
Click on "Me" in the bottom right-hand corner of the screen.
Under your profile photo, click on "Settings."
Click on "View Account Status" under "Account Status."
Answer a few questions explaining the reason for deleting your profile and account. Then confirm your cancellation.
Note: Once you've canceled and deleted your SingleParentMeet profile and account, it's final; there's no way to access that account or connect with the singles you might have been chatting with on the website or app. If you want to use SingleParentMeet or become a member, you'll need to create a new account, starting at square one. 
SingleParentMeet Customer Service
Overall, we were not too impressed with the customer service side of SingleParentMeet. This is another one of those dating apps where there is no human touch when it comes to service and support. You will not find an email address, phone line, or live chat feature that will put you immediately in touch with a human customer service representative or anything like that. There is only a cold and impersonal FAQ page and a generic contact form.
SingleParentMeet is not a great dating app if you are looking for speedy or personalized customer service. If you enjoy troubleshooting problems on your own, however, this might be the perfect dating app for you! All in all, we must rate this as one of the weaker areas of the app! You will not get fast service if there is a pressing issue. The site leaves you to fend for yourself in a way.
FAQ Center
This is what the FAQ center is going to look like at SingleParentMeet. You get here by going to the Settings tab at the top of the homepage and clicking on Help.
Let's say you have a question about your profile or photos. You will want to click on the tab that says Profile and Photos. You will then be launched to the next page with all the FAQ questions that go along with that category. You are going to find six different options for major categories that SingleParentMeet gets a lot of questions about.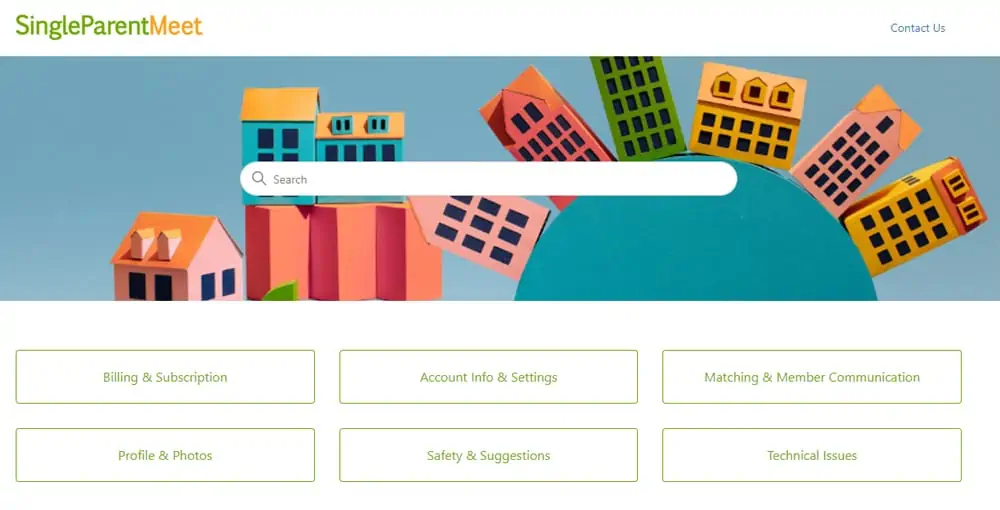 Below are some of the FAQ questions that pertain to your SingleParentMeet profile or photos. Let's say you have a question on Greeting Text Guidelines. Click on that option to find more information on the subject. As you'll see, there is a detailed breakdown of data on the greeting text you put together when you first created your account at SingleParentMeet.
Greeting Text Guidelines
Updating/Changing a Username
How do I update my greeting?
How do I view my own profile?
Photo Guidelines Tips and Rejection Reasons
How do I update my profile?
How do I add a Photo?
How do I update or delete my photos?
How do I add a photo from my mobile device?
Making a Photo a Primary
By and large, this is what you will be dealing with when it comes to customer service and support at SingleParentMeet. You will be solving your own problems. This is a thorough FAQ center, and it does cover most of the common issues that might arise.
Generic Contact Form
While there is no phone support or a live chat feature available at SingleParentMeet, customers can use the generic contact form below to reach out to the support center with any questions, concerns, or comments. The speed at which they will get back to you is going to vary, but we have seen a lot of reports saying that it typically takes 24 hours or less.
You can provide your phone number and email address so that customer service can respond to your questions or inquiries. There is also a large description box for writing out messages, as well as a place where you can include attachments that might be needed.
It's going to be a mixed bag of results, though, judging from many online user reviews.
SingleParentMeet's Mobile App
Yes, SingleParentMeet is a dating site and mobile app that allows you to meet single parents on the go if you wish! There are three primary ways to use SingleParentMeet. We mentioned them earlier, but we'll give you a refresh: the website on a desktop PC, the website using your mobile device's web browser, and the mobile app.
App Features and Functionality
By and large, the features and functionality are the same between the website and the mobile app. There's a slight menu and navigational change with the mobile app, though, so it's easier to use within the context of a smaller screen.
Compatibility
SingleParentMeet can be used on various mobile devices, including smartphones and tablets! The app is available for free download at Google Play and the App Store. Each allows the customer to make in-app purchases which come in handy for those that begin as free members.
Frequently Asked Questions
Check out some of the most common questions we've gotten in the past about SingleParentMeet from readers and customers. If we missed anything in our review of SingleParentMeet, it should be addressed here!
Is SingleParentMeet Worth It?
The SingleParentMeet app is worth your time, money, and energy if you are a single parent and you are looking for singles who are either single parents themselves or open to relationships with single parents! It's only worth using as a single parent or if you are looking for singles who are single parents. With this being a niche dating app, it might not be the best fit for anybody.
How Much Does SingleParentMeet Cost?
There are three membership plans to choose from at SingleParentMeet, so the cost will vary depending on which package you pick. The 1-month membership costs $17.99. the 3-month membership costs $9.99 per month for a total of $29.97. Then there is the 6-month membership plan with a monthly rate of $6.99 for a total of $41.94!
Can I Use SingleParentMeet for Free?
Yes, there is a free trial version of SingleParentMeet available for newcomers. Users can test out the app without having to pay a penny! With the free trial membership, users can create a profile at SingleParentMeet, view daily matches, like photos, upload their photos, and send flirts to other members. Compared to many other dating apps, this free trial is on par with many others we have seen. The biggest drawback is that you cannot send any messages to other members.
What Is the Average Age of SingleParentMeet Users?
With over 70,000 members worldwide, you are bound to find a wide range of ages! The average user at SingleParentMeet will be anywhere from 33 to 41 years of age! Honestly, you will meet singles who fall outside this age range, but these are the kind of singles you will find on average.
Is It Safe to Use SingleParentMeet?
Yes, SingleParentMeet is a dating app that you can use knowing that you will enjoy a safe and secure experience! As we did our review of this site, we found that they have included a bunch of safety features that benefit the customer! These include automatic timing out if there are 15 minutes of inactivity in the app, the ability to block members who are bugging you, and the ability to hide your profile. We also checked into SingleParentMeet's past. There is no record of them selling off their customers' data or misusing/mishandling any of their customers' personal or financial information!
What Kind of Perks Come with a Paid Membership?
The greatest strength of going with a membership at SingleParentMeet is the ability to send and receive unlimited messages from any members at the site! There are a handful of other cool features like ConnectMe (the app supplies you with a private phone line to message singles without giving up your number), NotifyMe (receiving notifications when certain members log onto the site), and PromoteMe (having your profile boosted near the top of the search results of other singles who are using the app).
How Does SingleParentMeet Do Their Matchmaking?
The matchmaking process at this dating app is done through a combination of factors. SingleParentMeet considers the single's location. There is also the personal information that the customer provides that the site uses to gauge compatibility with other singles. Customers can also list their dating preferences utilizing the site's search filters to find singles that match up well with what they are looking for!
Is SingleParentMeet a Good App for Finding Casual Relationships?
SingleParentMeet is a dating app that is good for single parents looking for serious relationships or friendships. It's different from the kind of site you would use to find casual dating or relationships. On the contrary, the people who use this site are typically looking for solid commitment and profound connections.
Are There Any Fake Accounts at SingleParentMeet?
Like any dating app out there, you will find some fake accounts here and there when using SingleParentMeet. Customers are ultimately responsible for their safety when dealing with other users, so we encourage users of the dating app to be vigilant as they use the app's services. All in all, SingleParentMeet does a decent job of keeping fake accounts or profiles at bay. Any that make their way through the vetting system are usually shut down quickly.
What Are the Tokens and How Do They Work at the App?
The tokens at SingleParentMeet can be used to purchase extra add-on features to your membership. These add-ons include ConnectMe, NotifyMe, and PromoteMe, which can go a long way to allowing you to experience success as you use the app! 280 tokens can be purchased for $9.99. 110 tokens can be purchased for $3.99. 25 tokens can be bought for 99 cents! Along with the affordable membership plans, the tokens at SingleParentMeet are super cheap!
Is It Even Worth It to Use the Free Trial?
While it's true that the free trial offer at SingleParentMeet only allows the user to experience a little of what the app has to offer, we still recommend that our readers look. At the end of the day, it's free and not going to cost you anything. So, there is no harm in checking it out.
The free trial is a great way to establish your profile and see what kind of singles you could find on the site. So even though you will not be able to send messages or use any of the cool add-on features, the free trial is enough to give you a little taste of what to expect at SingleParentMeet!