Sugarbook is one of the prime dating apps for finding and hooking the Sugar Daddy or Sugar Baby of your dreams! Peruse our honest and unbiased review of Sugarbook and learn about everything this sugar dating app offers its premium members, how to successfully meet daddies or babies who match your relational goals and criteria, and how you can become a paid subscriber.
Check out our thorough review process and how Sugarbook got a rating of 3.4/5 stars from our expert team! This Sugarbook review will also include detailed information about membership plans, features, pricing, free trials, and the overall user experience. We've even added a step-by-step guide to registering a new account and creating your new profile!
---
---
Our team has independently researched all products and services that we have listed on this page. If you sign up or purchase through our links, we may receive a commission. See how it works.
Introduction to Sugarbook
Sugarbook is a dating app that caters to a niche market called "sugar dating." Founded in Malaysia, the company describes itself as "an industry leader in luxury dating where members connect, meet, and grow mutually beneficial relationships." This Sugarbook app review will provide a detailed look at the sugar dating network that exploded in popularity in Southeast Asia and is quickly spreading across the globe.
A Brief Overview of Sugarbook's History and Success
Founded in 2016, Sugarbook is a relatively new addition to the sugar arrangement and dating scene. The site was founded in Malaysia by Darren Charn and currently features over 3 million members worldwide. It's an excellent choice for finding sugar arrangements at home or abroad, serving countries like the United States, India, Malaysia, Italy, and a few others.
In 2023, Sugarbook allows its members many liberties. For instance, 65% of the platform is comprised of women, as there's no requirement for them to pay for a Sugarbook membership plan. Women can join the site free of charge! Free members can enjoy some limited messaging capabilities without upgrading to a subscription, and premium members can message anyone on the site without waiting around for a mutual match.
Sugarbook is an active platform with 30,000 dedicated members who use the service every week. The site logs around 7,500 daily logins.
Sugarbook's Unique Approach to Online Dating
Sugarbook is an exciting dating site. Despite being low on features, it's surprisingly entertaining – even for free members. While some search filters are locked without a subscription, there are still plenty of parameters available to find a robust sampling of attractive singles in the location of your choice.
Parts of their profiles are obscured without a premium membership, but you can still see all their public photos and read their "About Me" sections. You can also mark them as favorites, which they can see. Unfortunately, the profiles that "viewed me" and "favorited me" are blurred out for free accounts. All you can see is the total number of members occupying those lists.
Free users can also watch live streams and interact with the performers. You can even buy coins that can be used to tip streamers or exchange for digital gifts to give them instead. You can access enough of the dating platform as a free member to decide if it's worth upgrading to a premium subscription. If you like the singles in your area and feel satisfied with the attention your profile is receiving, it's worth paying to unlock the remaining features.
Suppose you're comfortable negotiating a monthly or weekly allowance with someone before dating them. In that case, Sugarbook provides a straightforward way to connect with gorgeous young ladies who would otherwise be out of your league physically. We found the transactional nature of sugar relationships to feel a bit dirty, but our interactions with the women in our area were all pleasant.
Is Signing Up for Sugarbook Worth It?
Sugarbook is a sugar arrangement dating site that connects affluent older men (called Sugar Daddies) with attractive young women (called Sugar Bunnies). The two parties enter a mutually beneficial relationship in which a Sugar Daddy supports a Sugar Baby financially (often in the form of money, gifts, vacations, and mentorship). In return, they receive things like companionship, affection, and sexual relationships from their attractive young partner.
If you're comfortable entering into a transactional relationship built on such an arrangement, Sugarbook is an excellent place to start, a sugar dating app that is well worth your time and money!
Our Ratings
Our Sugarbook review was conducted by our dating app experts, who rated the dating app in five different categories and discovered what the service does well and where it could improve. We underwent the entire end-to-end customer experience: registering an account, creating a profile, uploading photos, browsing matches, upgrading to a premium membership, and connecting with other singles.
Overall:

| Category | Score |
| --- | --- |
| Features | 3.5 |
| Ease of Use | 4.7 |
| Match Quality | 2.5 |
| Cost | 4.3 |
| Active User Base | 2.2 |
| Overall | 3.4 |
We found an online dating platform that requires little to no setup time and is extremely simple to use. It only got low marks for match quality because the app doesn't utilize a matching algorithm. There are no personality tests or compatibility scores. You set the search parameters and reach out to whoever catches your eye.
Our Sugarbook review found the price of a premium membership to be in line with the app's competitors in the sugar dating market. It's also a necessary purchase if you want to do more than look and plan to date other members. We also made it a point to use the free service before purchasing a subscription so that we could compare the features and determine the value upgrading provides.
What We Like
Our reviewers were especially impressed with the selection of Sugar Babies. The company's student policy is paying off because our search results returned hundreds of gorgeous young women. Like all dating apps, some profiles were fake or used the platform for the wrong reasons (selling explicit photos mostly), but most of the women we contacted were legitimate.
You're looking for a mutually beneficial transactional relationship
Quick and easy registration
Customized search options
Free premium accounts for female college students who provide proof of enrollment
The site verifies profiles and photos
The free live-streaming feature
What We Don't Like
Overall, our experience using the Sugarbook app was a pleasant one. Our rating would be higher if it weren't for the lack of matchmaking. For example, the featured members on your home page aren't filtered by location. The search function is customizable and easy enough to use, but it'd be nice if more thought went into choosing which profiles you see first.
Light on features
Too many scam accounts are trying to sell explicit photos
Impossible for free accounts to communicate and verify the legitimacy of other members
Premium memberships are more costly than some competitors
No matching algorithm
The Android mobile app was removed from Google Play
Who Is Sugarbook Best For?
The short answer to this question is "sugar daddies and sugar babies." But let's dive into the weeds more on this and find out more about the user base and demographics to get a clear picture of those who enjoy Sugarbook and its sugar arrangement services.
Demographics and User Base
For established men with disposable incomes, Sugarbook is a never-ending supply of beautiful young women. The online dating service's "student program" gives free premium memberships to girls in college if they provide proof of enrollment. Thanks to the program, women make up 65% of the membership base.
| Fast Facts | Details |
| --- | --- |
| User Base | All singles (18 or older) |
| What Kind of Relationships? | Sugar dating arrangements and mutually beneficial relationships |
| Registered Accounts | 3+ million worldwide |
| US Members | 60,000 |
| Weekly Traffic | 30,000 |
| Daily Logins | 7,500 |
| Gender Distribution | 35% men to 65% women |
| Average Age | 18-25 (women) and 35-45 (men) |
Women are drawn to the platform because of the free membership, making it a risk-free opportunity to meet wealthy benefactors. They can also take advantage of the live streaming service, which sees female members making thousands of dollars a month (or more) from their viewers.
Relationship Types Best Served by Sugarbook
Sugarbook is for straight people interested in entering a sugar relationship. When creating a profile, you select whether you're a man or woman and whether you're seeking a Sugar Daddy/Mommy or Sugar Baby. The platform is primarily used by older men looking to be Sugar Daddies and young women playing the Sugar Bunny role. If you're interested in finding such an arrangement, Sugarbook is for you.
The Sugarbook Compatibility Matching System
Sugarbook has a simple matching system that gets the job done for many satisfied sugar daddies and babies. It all comes down to creating an eye-catching profile, entering your search parameters, and viewing the available options! Not too complicated, but it's worth addressing in more detail.
How the Compatibility Matching System Works
The matching system at Sugarbook is based on advanced search filter settings. Free members can use these free of charge, but they can only use the more basic filters that allow for searches by gender, age, and distance. Premium members can search for matches using advanced criteria such as:
Ethnicity
Educational background
Occupation or income
Children or pets
Lifestyle choices
Exercising, drinking, or smoking habits
Body type
There's even a search bar available in the search section where premium members can do searches using keywords of their choosing. This helps to narrow down the field of choice into super-specific opportunities.
The Role of a Detailed, Informative Profile
But it's not enough to adjust the search filters to your dating preferences and hitting the "Search" button. Another major factor in the matching process is creating and developing a robust profile that will get the attention of other app members. Without these crucial details included, how will sugar daddies or babies know that you fit their tastes or preferences?
There are several sections of the profile that new, registering members of Sugarbook are responsible for including as a part of their bio information:
Physical Appearance Details: This includes factors like hair or eye color, ethnicity, body type, etc.
Personal Information: These delves into the other search filter parameters such as occupation, children, education, lifestyle habits, and the like.
Short Bio: New members can tell other singles more about who they are, their relational goals, and any additional information that'll be useful in helping them to stand out amongst other members.
Set Relationship Terms: Let other members know your relationship expectations and goals. Choose from options like "serious relationship," "discreet," "friends with benefits," "mentorship," "monthly allowance," or "platonic."
Financial Information: This step is significant for sugar daddies to complete. Include your net worth and annual income to give sugar babies an idea of you can accommodate their lifestyle budget.
Lifestyle Budget: This is an essential step for sugar babies to complete. This gives sugar daddies an idea of how big the allowance needs to be each month.
Sugarbook's Communication Features
Some sugar dating sites only let mutual matches messages one another, but Sugarbook allows its premium members to message anyone they meet on the platform. You can't beat that: communication with no restrictions whatsoever!
Unlimited Communication
It's sugar dating with nearly unlimited connections and contacts! Free members can send a few complimentary messages without paying for a membership plan. But to experience messaging with no limits, free users must upgrade. Paid subscribers at Sugarbook can message anyone they meet on the site. There's no mutual match required to enable the chat or messaging functions.
Chat Function
Sugarbook also offers a limited chat function which is excellent for sending quick messages back and forth between your contacts. It will only allow you to connect with singles in your country or immediate vicinity.
Sugarbook's Membership Options
There are a few ways to use the Sugarbook dating site, but the one we highly recommend to our customers and readers is the entire premium membership plan. It's the only way to use the unlimited messaging and chat feature! Check out a couple of ways you can become a member at Sugarbook and discover which will work best for you.
Free vs. Paid Memberships
Our review found that the Sugarbook app offers an adequate, if manageable, number of features for both free and paying members. It's not missing anything, but there's nothing all that exciting, either.
Free and Paid Features Compared
| Features | Free Membership | Paid Membership |
| --- | --- | --- |
| Search Member Profiles | Y | Y |
| View Public Photos | Y | Y |
| Favorite Members' Profiles | Y | Y |
| Watch Live Streams | Y | Y |
| Verify Your Profile | N | Y |
| Read Receipts | N | Y |
| Advanced Search Filters | N | Y |
| Unlimited Messaging | N | Y |
| Hide Profile Activity | N | Y |
| View Private Photos | N | Y |
| See Who Viewed You | N | Y |
| See Who Saved You as a Favorite | N | Y |
As the table above shows, Sugarbook uses the same formula we see in most dating apps: it's free to create a profile, use the search function, browse members' profiles, and see their photos, but you must pay if you want to send and receive messages (or communicate in any meaningful way).
It's just enough access for new users to see what's awaiting them on the platform.
Free Trial
A proper "free trial" is when a prospective customer is given full premium subscription benefits for a short trial period – usually for a week. When the trial period expires, if you haven't already canceled, your membership automatically renews at the full price of a subscription. To claim the promotion, you must first provide payment information.
According to our Sugarbook review, this dating service gives away free profiles with access to a limited number of features. They don't offer any free trial promotions, nor do they require a payment method until you're ready to upgrade your membership.
In the meantime, free accounts have the freedom to search the membership pool, look at photos, watch live streams, and interact with the streamers. They can also see how many members have visited and favored their profile. It's just enough access to get a feel for the platform and whether it's worth upgrading to a premium membership.
Free for College Girls
We mentioned the "student program" earlier, but it bears repeating. Sugarbook gives free premium memberships to young women attending college. All they must do is provide proof of enrollment. It's a brilliant way to keep the dating app stocked with its most crucial membership demographic!
It's just one more freebie for the Sugar Babies! With any luck, it'll be the first of many generous gifts you'll receive thanks to this dating app.
Premium Membership Benefits and Pricing
Sugarbook sells three premium membership packages. They all offer the same access and features; the only difference is their durations and monthly costs.
Sugarbook Premium Features
Here are the features that are unlocked for premium members:
See Full Profiles
While free accounts can visit members' profiles, see their public pictures, and read their basic details, a premium subscription is required to see the most crucial information. Without a paid membership, four out of five of the Terms of Relationship are blurred out on every profile. But that's the stuff you need to know most!
The Terms of Relationship tell you what each member is looking for and what they're willing to do. For example, they may select "weekly allowance," "pay per meet," "in a relationship," "no strings attached," or "passport ready." There's an entire list of options!
With this information, it's easier to know a person's current situation and the nature of the relationship they're hoping to form.
Advanced Search Features
The search functions accessible to free members are already thorough, but some key parameters are locked. Without paying, you can apply filters to the following categories: location, profile photos, ethnicity, lifestyle, relationship, body type, number of children, smoking or drinking habits, education, eye color, and hair color.
A premium member can also apply filters for height and age. It also unlocks an additional search bar where you can enter specific keywords to find profiles that mention things like "hiking" or "sailing."
Verify Your Profile
Premium members' profiles and photos are automatically verified. They're no longer required to wait 24 hours for Sugarbook agents to complete the approval and verification processes.
Read Receipts
Paid members also receive read receipts whenever they send messages. These are helpful when you're unsure whether you're being ignored or the other party has yet to see your message. That way, you save time knowing when to move on.
Hide Profile Activity
A subscription also gives you control over the visibility of your profile activity. Premium members can hide their online status, last login location, and start date.
See Private Photos
There are two photo categories on Sugarbook: public and private. Public profile pictures can be seen by anyone who visits your page. Other members need permission to view your private photos.
Only premium members can request access to private pictures. They're a way to spice things up after you've generated some interest and begun discussing the terms of your arrangement. Most users only reveal their private photos once they've gotten comfortable with someone.
Who Viewed/Favorited You
Paid subscribers have access to lists telling them which members have viewed their profile or added them to their favorites. Free users can see how many people have viewed or liked them, but the names and details are all blurred out.
This is valuable information for subscribers because you can see who's interested in you. You may have never noticed them in your search results before. Now, you know how to reach out and introduce yourself.
Plus, Sugarbook claims that paid subscribers receive five times as many profile views!
Coins
In addition to unlocking the features required to communicate with other members, premium memberships grant their purchasers a monthly stipend of coins. These digital credits can be used in Sugarbook's Livestream chats to show your appreciation for the streamers.
The one and three-month plans are given 1,000 coins per month; the 6-month subscription receives a monthly deposit of 5,000.
If you run out of your monthly allotment of coins, you can always buy more. Just open one of the live broadcasts and find the chat window. At the bottom of the chat section, you'll find three tabs: Coins, Gifts, and Popular.
Coins can be purchased in packages ranging anywhere from 500 for $2.49 to the so-called "mega offer" that costs $1,439.99 for a bundle of 399,999 credits!
The gifts that can be purchased with this digital currency cost between 150 and 15,000 coins.
Each streamer has a list of top fans ranked by how many coins they've been gifted during their broadcasts. Although you may want to make sure they're near your location, so there's some chance of reciprocation. It's just one more way to be someone's Sugar Daddy.
Discounts and Promotions
We refer to the "discounts" offered at Sugarbook as "hidden savings." There's no attention drawn to them; you must take the time to examine the cost breakdown of each membership plan to discover that they even exist! Here's the secret: the longer your subscription plan, the cheaper the service costs per month. It's much cheaper to purchase a 6-month membership than it would be to buy a 1-month membership six times.
Note: The only catch is that you must pay the total price of the membership upfront. There are no installment payments or monthly contracts.
Creating Your Sugarbook Profile
As part of our Sugarbook review, we underwent the process of registering, creating a profile, and using the dating app as intended for customers. It took fewer than five minutes from the time we entered our preferences and started an account before we were browsing and messaging Sugar Babies.
Step #1: Create a Sugarbook Account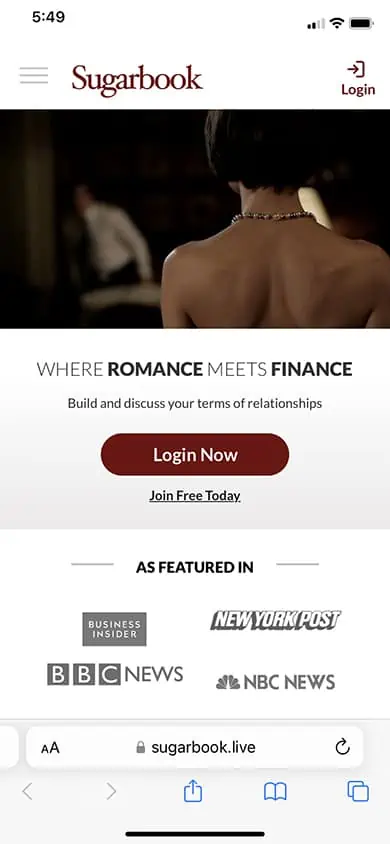 When you click "Join Free Today," you're immediately shown a pop-up that asks for your gender.
After selecting either "Man" or "Woman," the window expands to ask what you're looking for. The options are "Sugar Baby" or "Sugar Mommy" if you answered "Man" before. If you're a woman, your options are to look for a "Sugar Baby" or "Sugar Daddy."
With your gender and preferences out of the way, it's time to create your account. You can either sign up using a phone number or by linking to your Facebook (which pulls your information from the social media platform to verify your identity).
If you sign up with a mobile number, you'll receive a text message containing a verification code. Enter the code in the field that appears on the screen to create your account and move to the next step.
Steps #2 and #3: Enter Physical Details and Personal Information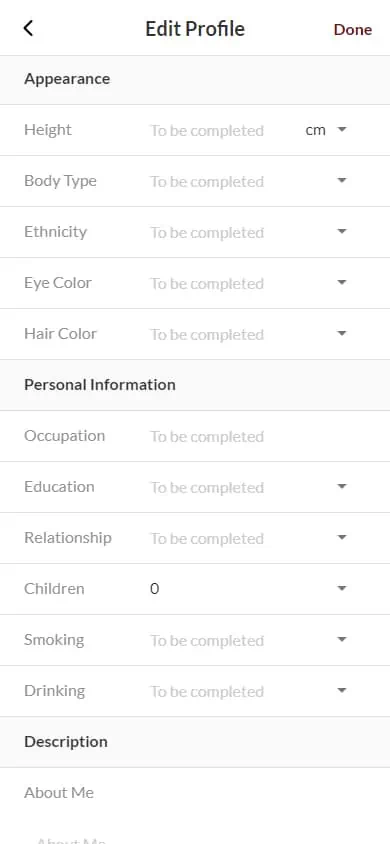 Next, you'll be asked to enter some basic information about your appearance. The app asks for your height, body type, ethnicity, eye color, and hair color. When people use the search function, these are all attributes that can be used as filters.
The personal information page comes next. Here, you provide your occupation, education level, relationship status, number of children, smoking and drinking habits, and languages spoken. Once again, these are basic details that can be used to search the membership database.
Step #4: Write a Short Bio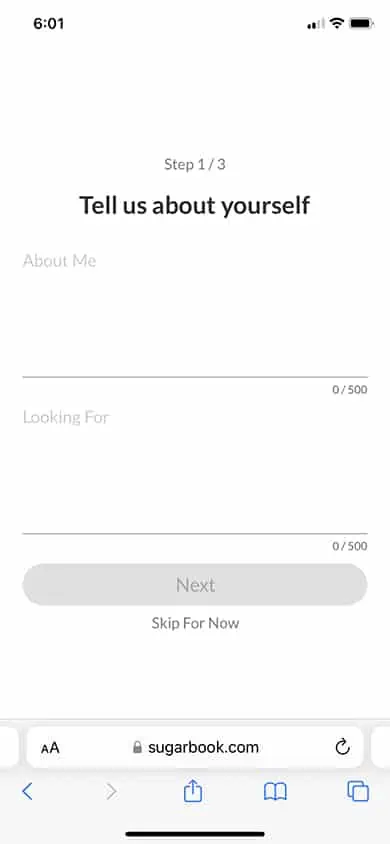 With all the general information out of the way, it's time to get creative. This is your opportunity to introduce yourself in your own words. Write a short bio in the "About Me" field and be honest about your intentions on the dating platform when you write "What I'm looking for."
Step #5: Set Your Terms of Relationship
Perhaps the most critical step in the sign-up process is choosing your five "Terms of Relationship." Your answers here will tell other members what kinds of relationships you're looking for or are open to trying. They can also communicate your intentions or current relationship status.
Step #6: Enter Your Financial Information and Set a Lifestyle Budget
This is a sugar dating service, so your financial information plays a crucial role in the matchmaking process. Be honest. It does you no good to lie about your net worth and annual income if you can't maintain the illusion in real life. Believe us. Your dates will be able to tell. They'll probably want some proof or gesture before they commit to anything physical.
If you're a Sugar Daddy, pick the level you're comfortable spending on your Sugar Baby every month. For "Lifestyle," you can choose "Negotiable," "Minimal," "Practical," "Moderate," "Substantial," or "High." Each of these answers corresponds to an amount of money a Sugar Baby budgets each month to maintain their lifestyle.
Steps #7 – #9: Search the Member Database, Browse Results, and Find a Sugar Daddy/Sugar Baby
Boom! Your profile is finished. Go back to your home page, and you'll see a selection of featured members. Unfortunately, these profiles are located all over the world. If you're ready to see singles in your area, click on the "Search" link at the top of the page. From there, you can play with the filters on the left side of the page to refine your results.
While you set the parameters on the left, the results will reflect your changes on the right. Browse through the results and look for profiles that catch your eye. You can see their main photo, age, location, and a few other basic details on this page. Click on a profile to open that page and see the rest of their pictures and more information.
All that's left to do now is browse more profiles and message the members you like. Hopefully, the two of you will hit it off and negotiate an acceptable arrangement. Just make sure you video chat before you meet in person. You need to be safe and verify that anyone you meet online is who they say they are.
How to Delete a Sugarbook Account
To permanently delete your Sugarbook account, you need to reach out to customer service directly and go through the appropriate steps to get rid of your account altogether (contact support@sugarbook.com). But if you want to deactivate your Sugarbook account, this is something you can do in a few easy steps!
What Is Deactivation?

While deleting your account is permanent and irreversible (and requires you to recreate a new account and profile if you want to use Sugarbook again in the future), deactivation means that your account is temporarily disabled until you say otherwise. It will not be shown to other Sugarbook members, and you won't receive any new messages or match suggestions during the time it's down.

Deactivation is not the same as canceling your subscription plan. Before deactivating your account, make sure you also cancel your membership by turning off the auto-renewal features, essentially avoiding being automatically billed for a new plan once the billing cycle ends.
Deactivation Using the Site
Log into your Sugarbook account.
Click on the icon that features your profile photo.
Click on "Settings."
Click on "Deactivate Account."
Include a reason why you're deactivating your account.
Click "Continue" to finalize.
Deactivation Using the App
Open your Sugarbook mobile app.
Click on the icon that has the three horizontal lines.
Click on "Settings."
Click on "Deactivate Account."
Include a reason why you're deactivating your account.
Click "Deactivate Account" to finalize.
Sugarbook Customer Service
Our Sugarbook review found that this dating app excels at customer support compared to most of the industry. Usually, online dating platforms provide a decent Frequently Asked Questions page and a handful of helpful blog articles, and that's it.
FAQ Page
Sugarbook also offers the standard FAQ page with a search bar to find answers by keyword. There are five categories of questions, and below the links to those sections, you'll find a list of popular questions.
"A Guide to Sugarbook"
"Troubleshooting"
"Sugarbook's Livestreaming"
"Streamer Rewards, Rules & Policy"
"Safety, Security & Privacy"
Contact Us
Sugarbook stands out by having a "Contact Us" page with multiple contact methods. There are two email addresses – one for "general inquiry," the other for "support" — a mailing address, and two telephone numbers! The customer support team is in Cyprus and works from 9 am to 5 pm GMT.
You must review dating apps for a living to fully appreciate having the option to call a customer service representative. You have yet to learn what a rare luxury Sugarbook has given you here!
Pros
Cons

Robust, frequently asked questions page.
Convenient search function to locate helpful articles by keyword.
A "Contact Us" page with multiple email addresses and phone numbers for customer support staff.
Members can also submit account issues from the Account Settings page.

You must contact customer service to cancel memberships.
Subscriptions are still renewed after account deactivation unless you formally cancel.
Customer service representatives only answer telephone calls on weekdays from 9 am to 5 pm GMT.
Sugarbook's Mobile App
Sugarbook has a dedicated mobile app that's free to download from Google Play or the App Store. Your location must be set for the United States if you wish to use it.
App Features and Functionality
As far as we can see, the Sugarbook app works much like the website but has a more streamlined, simplified design, making it easier to navigate. The handling is more intuitive and minimalist, which makes it easier to find sugar dating opportunities on the go. Nothing changes as far as the premium membership features go when you move between the website and the mobile app.
Compatibility
Free users and members of Sugarbook can access the site on their computers or by using the web browser on their mobile devices (smartphone, tablet, etc.). The mobile apps work well on iOS or Android devices. Something that we liked seeing was the fact that the Google Play and App Store apps offered in-app purchases, simplifying matters for the free members who start out using the mobile app and want to avoid redirecting back to the website to upgrade to a paid membership.
Frequently Asked Questions
The Sugarbook app has both positives and negatives to write about, but there have also been many questions we weren't able to address throughout this review. That's why below we've put together a list of the most asked questions we see out there about Sugarbook.com.
What Kind of Relationships Does Sugarbook Help Facilitate?
Sugarbook is an online dating service that specializes in sugar relationships. Sugar dating is an arrangement where consenting adults enter a mutually beneficial relationship in which an older (usually male) Sugar Daddy provides financial support to a younger (usually female) Sugar Baby. Most of the time, a Sugar Daddy includes money, gifts, and experiences and receives companionship, affection, and sexual intimacy in return.
Do Sugarbook's Premium Memberships Renew Automatically?
Yes! Sugarbook memberships renew at the same rate and duration as your previous subscription unless you cancel before the expiration date. If your initial membership was purchased at a discounted rate, your renewal will be charged at the total price. You can see the renewal cost on the checkout page before you submit your payment.
Is Sugarbook Safe to Use?
Yes. Sugarbook is a safe online dating platform that utilizes the latest security technologies, such as SSL encryption.
Can I Hide My Profile Status While Browsing Sugarbook?
Yes, if you're a paid subscriber. Premium members can hide their online status, last login location, and start date.
Can You Try Sugarbook for Free?
Yes, Sugarbook is free to join. You can create a profile, upload pictures, search the members' database, view members' profiles, see members' public photos, and watch live streams.
Can Free Members Purchase and Use Sugarbook Coins?
Yes! Free users can buy and use coins in Sugarbook's live stream area.
Enter any live broadcasts and find the chat window. At the bottom of the window, you'll see options to buy packages of coins or buy digital presents with the coins you already possess.
What Do Other Sugarbook Members See on My Profile?
All members see when they view your profile is the basic information you entered when you signed up. They'll see your role (Sugar Daddy or Sugar Bunny), gender preference, net worth, annual income, lifestyle budget, height, body type, ethnicity, hair color, eye color, education, occupation, relationship status, number of children, and smoking and drinking habits.
They can also see your public photos, Terms of Relationships, and whatever you wrote in your "About Me" and "What I'm looking for" sections. To see for yourself, click the dropdown menu in the top right corner of the page next to your profile photo. Click the "View My Profile" link to see your page from other members' perspectives.
Will My Sugarbook Profile Pictures Appear in Google Search Results?
No. Sugarbook doesn't even use your real name on your profile page. There's only the username that you entered.
Will Sugarbook Tell Me When Members Have Read My Messages?
Yes, if you're a premium member. For one, only paid subscribers can send messages – but they also receive read receipts as a condition of their membership.
Does Sugarbook Offer a Mobile App, and Is It Free?
Yes, but it's currently only available for download in the Apple App Store. Google Play removed Sugarbook and other sugar dating apps from their app store in September 2021.
Does the Sugarbook App Work the Same as the Website?
Yes, the Sugarbook app has the same look and functionality as the website.
Is a Paid Sugarbook Membership Worth the Price?
Definitely! If you're in the market for a transactional sugar relationship, Sugarbook is as good as any dating app catering to this niche. The price of a premium membership may be slightly higher than some competitors but for a good reason.
On the male side, the price tag helps to weed out phonies who don't have the money they claim. Plus, it subsidizes all the free memberships for college girls. And you want as many of them to join the site as possible. If you're a successful man in search of a Sugar Bunny, $70-80 per month is easily worth having access to a massive dating pool filled with the most desirable female demographic.