SingleParentMeet.com Cost of Membership
How much does SingleParentMeet cost? Is SingleParentMeet worth it? These might be some questions that you have if you have stumbled across this niche dating app for finding single parents. Well, you have come to the right place to find out the SingleParentMeet.com cost of membership in 2023, as well as some details about the various subscription plans and what they have to offer!
We will also touch on some free trial offers that SingleParentMeet extends to their newest users, some details on sweet upgrades you can make to your profile using tokens, and some fast facts on the app's auto-renewal process.
SingleParentMeet.com Free Trial Plans
SingleParentMeet offers a free trial to those who want to test out the dating app and not have to pay any money to do so! This is a great option for customers who are not sure if they want to put down money for a membership right away. They can use the free trial to test out some limited features and functions of SingleParentMeet to get an idea if it's a good dating app for their needs!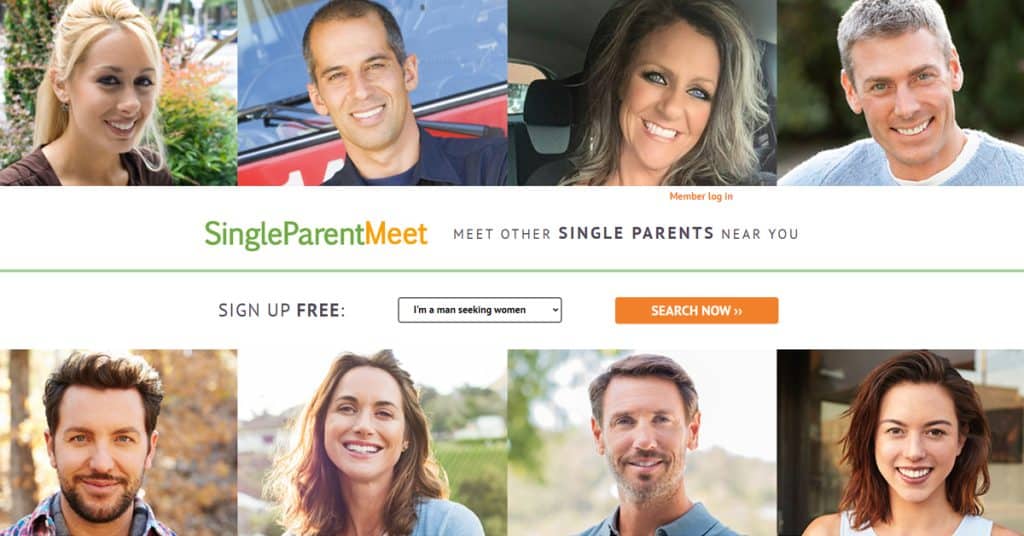 You can also visit SingleParentMeet.com and begin a free trial offer by clicking on the Search Now button located on the home page beside the Sign Up Free bar.
Features of the Free Trial
The free trial at SingleParentMeet is not going to feature the full range of perks and benefits that come with a paid subscription. So what does the free trial come outfitted with? There are only about five major functions that you can perform, one of the more limited free trial offers we have seen!
One of the significant downsides to the free trial offer is that they do not let you message at all with other singles. There is a tab on the site's main interface called Messages, and when you click on it with a SingleParentMeet free trial, it is going to direct you to a page where you can sign up for a membership! There is really no way around it!
SingleParentMeet Subscription Plans
If you want to become a member of SingleParentMeet, you have three options at your disposal: the 1-month membership, the 3-month membership, and the 6-month membership. Despite the plans being of different lengths, they all contain the same features, perks, and benefits for users. Customers are really only paying for the time they have to use the app's services!
We really liked what we saw with the pricing at the SingleParentMeet app! Glancing over the prices at first, they came across to us as super affordable. But we wanted to be sure. We compared these price points to other dating apps out on the market. Our verdict is that SingleParentMeet offers their users some of the best bang for their buck that they could get out there!
How Much Does SingleParentMeet Cost?
There are two things that are important to note about the pricing at SingleParentMeet:
Customers have to pay for their membership plans all at once. Even though there is a cost per month breakdown, customers are required to pay at one time in one total sum.

The price per month figure begins dropping the longer the membership plan you choose. The 6-month membership plan offers customers to chance to save 70% over the 1-month membership!
We also wanted to take the time to address the tokens, how much they cost, and what you can use them on. Tokens can only be used by those who have a paid membership. Tokens can be bought in bundles. These tokens can then be used to buy add-on features to enhance your SingleParentMeet profile!
Here are how the token bundles can be purchased:
| Token Bundle | Cost of Each Token | Bundle Cost |
| --- | --- | --- |
| 290 Tokens | $0.04 | $9.99 |
| 110 Tokens | $0.04 | $3.99 |
| 25 Tokens | $0.04 | $0.99 |
There are two important things to note about the tokens in the SingleParentMeet app:
Tokens can be used to purchase add-on features, including Notify Me, PromoteMe, and Virtual Gifts. We will address these features in a little more detail in the next section!

Once you purchase tokens, you will have a running balance. If this balance falls below 20 tokens, there is an auto-renewal feature that will automatically add on the last amount of tokens that you purchased at the same price. This is something that can always be canceled with customer service.
So, what do customers get when they pay for a membership plan at SingleParentMeet? All we can really say is that it is a whole lot more features than they will get with the free trial! That is why our official recommendation for those who want to join SingleParentMeet is to just pay for a membership with the app!
This might be the biggest selling point for getting a subscription plan with SingleParentMeet. While free trial members are able to view profiles, get matches, and send flirts, they cannot send or receive ANY messages. That is one of the major downsides of the free trial. Going with a paid subscription opens up this important feature and really allows users to get to know the single parents they meet on the app.
Just as you can send flirts with a free trial offer, you can send flirts as a paying member as well! You are not going to be cut off from this feature once you upgrade. But the kicker here is that you can send UNLIMITED flirts. You can also see all the flirts that other members have gotten as well!
Personally, this is one of our favorite features you get when you pay the SingleParentMeet cost of membership! ConnectMe is a feature that provides customers with a private phone line that is separate from their own personal phone numbers. Customers can use this private line as a way to connect with other singles in a more confidential way. They can call each other, send texts, and leave voicemails!
These are the features that you will need to purchase tokens for in order to use. These add-on features can really help to take your profile to the next level!
PromoteMe (20 Tokens) – The PromoteMe feature allows customers to have their profiles rank higher in the search results on the SingleParentMeet app! This can allow them to enjoy increased visibility and possibly meet singles that they would otherwise never meet. The cost for this add-on is 20 tokens.
NotifyMe (20 Tokens) – The NotifyMe feature allows customers to be alerted whenever someone they are interested in logs into their account on the SingleParentMeet app! Customers do not have to waste time wondering if their favorite member is going to be on the app or not. The cost for this add-on is 20 tokens.
Virtual Gifts (Cost Will Vary) – Virtual Gifts are kind of like sending flirts; only they cost you tokens, but they will make you stand out even more to other users! The number of tokens to buy these gifts is going to vary. Visit the SingleParentMeet app for more details.
Free Features vs. Paid Features
Our official recommendation is to get a paid subscription at SingleParentMeet. Although the free trial allows you to use the site for free (kind of), you are still going to be missing out on some of the best features that SingleParentMeet has to offer!
Below is a complete rundown of the free features and the paid membership features. Any features that you get with the free trial are also going to apply to a paid membership!
Free vs Paid
Free Features

Create a Profile at SingleParentMeet
View and Like Profiles
View and Like Photos
Get Daily Matches
Add Up to 18 Photos
Send Flirts

Paid Features

Create a Profile at SingleParentMeet
Unlimited Messaging with Other Singles
NotifyMe and PromoteMe Features
Send Virtual Gifts
Add Over 18 Photos
ConnectMe (Private Phone Line)
There are a few ways that you can pay for a membership at SingleParentMeet, mostly centered around major credit cards. Just remember that you cannot pay month-to-month at SingleParentMeet. You have to pay for your subscription all at once.
Visa
Mastercard
American Express
Discover
PayPal
Mail-In Order
All memberships, regardless of their term length, are set to auto-renew once the plan has come to the end of its road. Once the old plan has ended, a new plan will automatically begin. This means that the customer will be charged for the same plan at the same price. This is a nice time-saver for those who don't want to go back into SingleParentMeet and repurchase their membership plan all over again.
If you are not interested in having your membership auto-renewed, you can reach out to customer service and have it disabled. You can also visit the site and cancel your subscription or go into your membership settings and have your auto-renew set to "off."
SingleParentMeet.com Cost FAQ