Do you want to be wooed while satisfying your wanderlust? If that sounds like the perfect combo, then do we have a dating app for you?
Miss Travel is a luxury travel dating app designed to depart from other mainstream dating platforms. It's where people who want to jet off to exotic destinations with their dates. But don't pack your bags and update your passport yet—read our complete review of the Miss Travel app for 2023 to find out it's the real deal!
---
---
Our team has independently researched all products and services that we have listed on this page. If you sign up or purchase through our links, we may receive a commission. See how it works.
Introduction to the Miss Travel Dating App
According to MissTravel.com, its goal is to "provide a platform that enables travel lovers to connect while also having the opportunity to find love."
That sounds vague, doesn't it? So we did a little more research and found that while you can connect with fellow wanderers and explore the world together, the dating app is typically used to connect sugar babies with generous sugar daddies who will pay for luxury travel in return for a younger woman's companionship while jetting off to exotic locales.
Founded in 2012 by CEO Brandon Wade, who also heads up the specialty dating apps Seeking.com, OpenMinded.com, and WhatsYourPrice.com, Miss Travel has a user base of over one million members worldwide and more than 680,000 active members. Despite criticism that it's a sugar arrangement dating app, the platform's user base keeps growing–not that there is anything wrong with sugar arrangements as long as both parties consent and know what they are getting into!
Miss Travel's Unique Approach to Online Dating
The primary objective of the Miss Travel app is to serve as a platform that fosters connections between financially successful men who travel extensively and attractive women who come with them, with the potential for romantic relationships to blossom. It sounds pretty ideal: if you connect with a compatible match, you can head off into the sunset and get to know each other while exploring whatever destination you've chosen!
The dating app's tagline is "Take a departure from ordinary dating and jet off to luxury destinations across the globe in search of romance using Miss Travel." Users join by creating profiles and searching through the platform's members to find a travel companion.
If and when you connect with a compatible match, you can plan a memorable (and luxurious) vacation with them!
Is Signing Up for Miss Travel Worth It?
In our honest assessment, if you are a hot younger woman who wants to see the world but either doesn't have the financial means to do so or simply wants a free getaway, we think the Miss Travel platform could be worth it!
The same goes for the older rich men, ahem, sugar daddies, who are looking for an attractive younger partner to whisk away to an exotic destination.
While this seems like a win-win for all parties involved, as it usually is with sugar arrangements, we do have a few safety concerns about traveling to a far-flung place with a stranger you met on a dating app that we'll get into later in the review.
Our Ratings
Our reviews of dating apps are always meticulous and objective–we consider various factors, such as the overall number of users, the price of premium memberships, the efficacy of the platform's matching process, and the variety of features and benefits offered to premium subscribers.
If you're interested in an on-the-road sugar relationship, try out the Miss Travel dating app, which came in with a rating of 3.1 out of 5 stars.
Overall:

| Category | Score |
| --- | --- |
| Features | 2.5 |
| Ease of Use | 4.0 |
| Match Quality | 3.0 |
| Cost | 3.0 |
| Active User Base | 3.0 |
| Overall | 3.1 |
What We Like
There's a lot to like about Miss Travel, especially if you are a travel junkie! Here are our favorite things we learned about the platform during the review.
Free Travel – Want to see the world for free? It's possible with the Miss Travel app! Women can search all of the posted trips on the platform, and, if they click with the man who created/is paying for the getaway, they can pack their bags and travel on his dime!
Free for Women – Just like the trips, access to all premium memberships is totally free for the women who join Miss Travel–we love that for them!
Luxury Trips – Look, we saw some of the posted trips, which are lavish with a capital L. Some of our dream destinations were posted on the platform, and our mouths were watering at the thought of hopping on a plane and taking off to a gorgeous place with delicious dining.
Great for Sugar Arrangements – Mutually beneficial sugar arrangements are surging among singles in the last few years, so if you are interested in making a connection and doing so while on an amazing vacation, Miss Travel was made for you.
What We Don't Like
We can't deny that there are benefits to joining the Miss Travel app, but we also have some big concerns–specifically regarding women's safety.
No Background Checks – Hello, if you are heading to a different country with a stranger you met on a dating app, shouldn't he be thoroughly vetted? We think so. We know it's up to users to use caution, but when a platform is built just for travel, we feel it's the app's duty to check out the members to see that they're above board in every way.
Potentially Dangerous for Women – This isn't a dig at Miss Travel, as meeting up with strangers from the internet always comes with a risk, even if you're just going to a bar in your neighborhood. But something about being in a far away, possibly foreign country sounds way more dangerous than a local watering hole.
We don't think it's a Taken scenario where Liam Neeson will have to use his "particular set of skills" to rescue his daughter, but the fact that it even comes to mind is concerning!
Fake Profiles – Since Miss Travel does not vet its members or have any sort of verification system in place, the dating platform has quite a few fake profiles milling around and masquerading as rich men.
No Mobile App – While the dating service functions well on any mobile device's browser, we always like to see a dedicated mobile app for users!
Who Is Miss Travel Best For?
Miss Travel provides a unique way for wanderlusts to explore the world. The community is comprised of real people interested in seeing the world and sparking new connections. Instead of meeting for dinner and drinks at a local restaurant, our members choose to date while traveling in luxury, staying in the best hotels, and indulging in the finest dining.
Travel and culture enthusiasts are the target audience for Miss Travel, and the platform's user base is skewed significantly toward those who appreciate exotic vacations. They're the sort of vacationers who like to dine at Michelin-starred restaurants and stay in only five-star hotels. The male members tend to be middle-aged or older rich guys searching for a traveling buddy.
There are two categories Miss Travel members fall under:
Find a Travel Partner: Generous members have the resources to travel in luxury and wish to share the experience with a beautiful companion.
Travel for Free: Attractive members desire a lavish lifestyle and enjoy spending time with wealthy people who provide companionship and access to the best life offers.
Meaning the sugar daddies are paying, and the free travelers are attractive younger women who come along for the ride. The site boasts a diverse and friendly user base of over 1 million users with a gender ratio of 70% men and 30% women. It attracts primarily American, British, and Belgian members.
Relationship Types Best Served by Miss Travel
To be perfectly honest, this service is a sugar arrangement platform with one key difference between the usual dynamics of a mutually beneficial relationship. Instead of the sugar babies receiving financial assistance and expensive gifts in return for their company, they get to travel the world on an all-expenses-paid vacation with an older man.
The Miss Travel Compatibility Matching System
As far as we can tell, there is no matching system or sophisticated matching algorithm at work on the Miss Travel app. Users simply create a profile and either create a trip to garner interest from others, or they search for a trip they'd been interested in taking.
From there, it's up to the members to connect and communicate!
Miss Travel Dating App's Communication Features
Women have free full access to all methods of communication, while men have to upgrade to paid premium memberships in order to send messages to other members.
There are only two methods of communication available to interact with other members–you can either send a private message or add someone to your favorites list, which lets them know you are interested.
The Miss Travel dating platform employs sophisticated SSL encryption methods to protect user's private data from possible hackers or data breaches.
Miss Travel's Membership Options
Users of Miss Travel can either join for free or have restrictive communication ability, which, what is the point of joining if you can't chat with other members who you want to take on a vacation, or they can upgrade to one of the three available premium membership tiers.
Women have unfettered free access to the service–they don't have to shell out for a premium subscription–only the male members do.
Free vs. Paid Memberships
As a basic free user, you can access search tools, and although they are limited, they are still helpful.
When you click on the search tool icon, you can choose from four ways to search:
Explore members
Upcoming trips
People near me
Top destinations
Premium Membership Features
Unlimited communication (only men have to upgrade for this feature)
Anonymous Browsing
Higher ranking of planned trips in searches
Premium Membership Benefits and Pricing
What do you get when you subscribe to a paid membership? Although you don't get much, some helpful features will benefit your time on the platform:
Create a Trip: This feature will assist you in publicly sharing your future trip plans! After your trip is approved, it will become visible to all other members, who can then request to accompany you. It's important that you give specific details regarding the spot, the dates, and who is responsible for covering the trip's expenses.
Add to Favorites: The Favorites List is a useful tool that allows you to create and maintain a personalized list of profiles that interest you –you can find it at the very top of a member's profile photo when in search mode.
Lists: Miss Travel offers an array of organized lists for your benefit–when you access your list of favorite profiles, you will see tabs that take you to your "Favorited You" list and the "Visited Me" choices.
Discounts and Promotions
At the time of this review, Miss Travel is not offering any discounts or promotions to new users or current members.
Creating Your Miss Travel Dating Profile
We created an account, signed up for Miss Travel, and completed a dating profile. The entire process took about 5 minutes from start to finish and was easy to do!
If you want to know how to create your dating profile, we've outlined the step-by-step process for you below!
Step 1: Go to Miss Travel's Homepage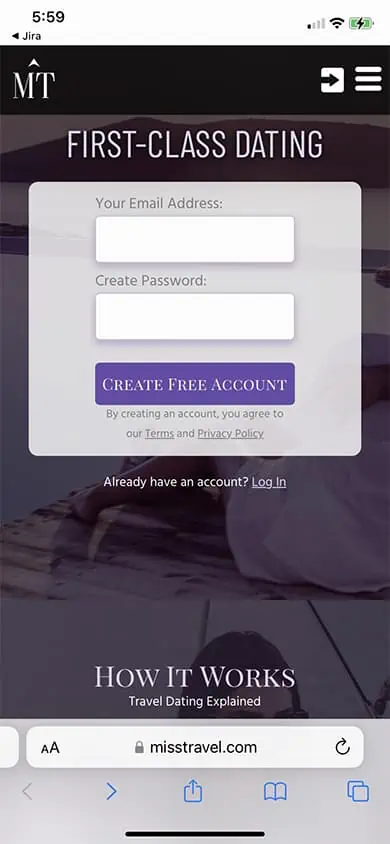 On your computer or mobile phone's web browser, navigate to MissTravel.com, enter your email address, and create a password to begin creating your dating profile.
You can also choose if you want to find a travel partner or travel for free when creating your account, or you can do this when building your profile and choosing your dating preferences.
Step 2: Enter a Username & Create Password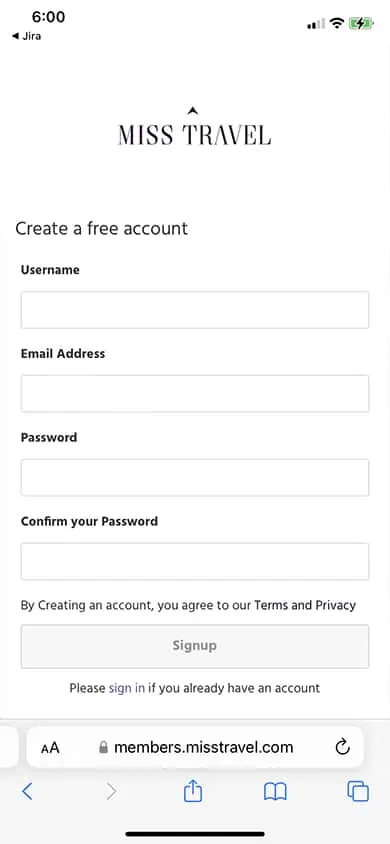 The next step is to create a username, create and confirm a strong password, agree to Miss Travel's terms and privacy, and then click the "signup" button.
Step 3: Enter a Few Basics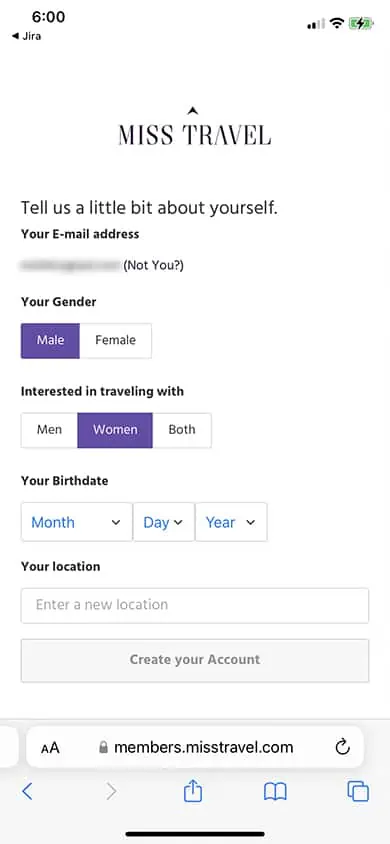 Tell Miss Travel who you want to be matched with in terms of gender, birthdate, and location. Then click "Create your account" to move to the next step.
Step 4: Read the Terms and Privacy Policy
Read and accept Miss Travel's terms of use.
Step 5: Confirm Your Email & Enter Details About Yourself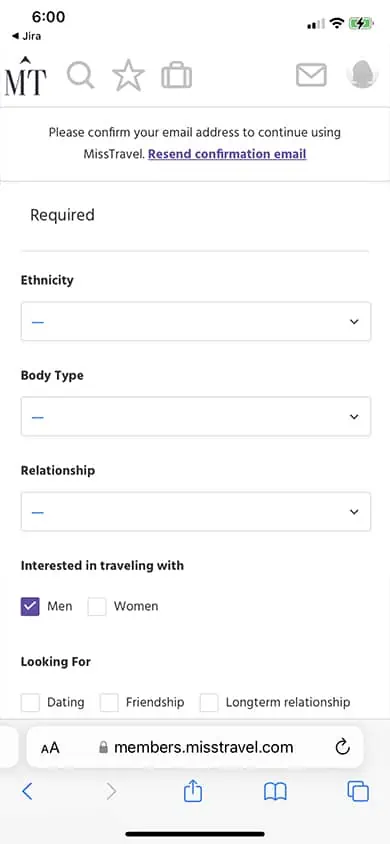 Miss Travel will send an email with a link to activate your account. Once you have done that, you'll need to fill in your ethnicity, body type, relationship status, who you are interested in traveling with, and what you're looking for relationship-wise, and describe yourself to other members so they can get to know you a little!
Now enter your height, education, religion, number of kids, lifestyle habits, and why you want to travel.
Step 6: Explore Potential Traveling Companions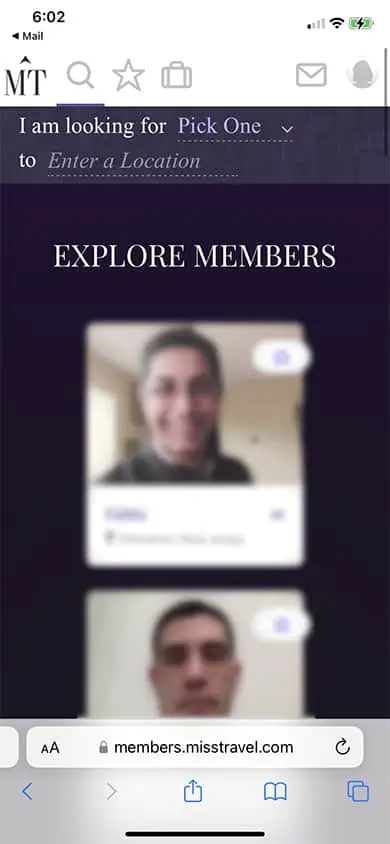 And that's it! You can now search for compatible traveling buddies or potential romantic partners.
You can also check out the trips members are interested in taking and if they are footing the bill.
Step 7: Build Your Profile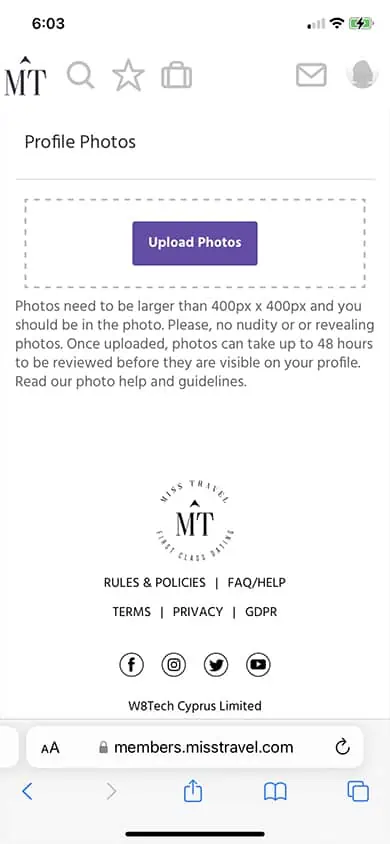 Although it's not required, you should fill out your profile and upload profile pics so other members can see how cute you are and how adorable you'd look wearing a beret in Paris!
You can also create your own trips that others can request to join, but that means you're paying.
How to Delete an Account
If, for any reason, you want to delete your Miss Travel account, whether you've found the perfect traveling companion or if you find it's not for you, the process is simple–just follow the process below.
Step 1: Go to Your Miss Travel Dating Profile – Open your Miss Travel dating profile and click on your profile pic in the upper right corner. Then click on the settings tab.
Step 2: Deactivate Your Account – Scroll down until you see "Deactivate Your Account" in red text and click.
Step 3: Enter Your Account Password – You'll need to enter your Miss Travel profile account password—then read and agree to the terms written. Once you have done that, simply hit "Deactivate My Account" once it turns purple after confirming your password.
Customer Service
As we noted above, the customer service options are adequate, but they could be better! While they have an extensive FAQ section, no live help is available via phone number or chat.
We aren't sure how long it takes them to answer an email (support@MissTravel.com) or a support ticket; while we submitted both at the time of this review, they still hadn't gotten back to us.
Hong Kong Address – Room 2103, Futura Plaza, 111 How Ming Street, Kwun tong, Hong Kong
Cyprus Address – Paster 6, Flat/Office 101, 1055 Nicosia, Cyprus
United States Address – 3250 Pepper Lane, Las Vegas, NV 89120
Frequently Asked Questions
And we are at the end of our Miss Travel review! It's the end of the road, and we hope we've given you more insight into what the platform is about and who it's best for.
If you have any other concerns, check out the frequently asked questions we've heard from our readers regarding Miss Travel.
Is Miss Travel Legit?
Miss Travel is definitely a legit dating platform–while we can't vouch for its members and their assets, we can unequivocally state that it is a legitimate business and dating service.
Can I Use Miss Travel for Free?
Yes! But women have it better when it comes to the "free" version–they don't have to pay for a premium membership to get premium features. And while men can use the free basic version, they won't be able to do much in the way of communicating with other Miss Travel members, so we recommend that the guys upgrade to a paid account if they want to make real connections and find a travel mate!
How Do I Make a Miss Travel Dating Profile?
Head to the Miss Travel homepage to begin the sign-up process; follow the steps to register, activate your account via email, and then fill out your profile with details and images!
How Do I Delete My Account?
Follow the steps below to delete your Miss Travel account:
• Login to your account
• Click "Settings" in the upper right-hand corner of your profile
• Scroll down to the "Deactivate Your Account" button at the bottom of your settings
What Payment Methods Does the Platform Accept?
The Miss Travel app currently accepts the following forms of payment:
• Credit and Debit Cards (Mastercard, Visa, American Express, and Discover)
Does Miss Travel Offer Refunds?
We aren't sure! We read through the terms and policies, and the language about refunds was unclear, so we advise you to contact customer support for a definitive answer to this question.
Does Miss Travel Use Auto-Renewal?
Yes! Your premium membership will auto-renew at the same price at the end of each subscription cycle unless you cancel it–purchasing a premium membership authorizes Miss Travel to charge the card on file at the time of subscription renewal.
How Do I Disable the Automatic Renewal Feature?
Here's how to cancel your premium membership to avoid future billing:
On your desktop:
• Login to your Miss Travel account
• Go to the upper-right side and click on your account drop-down menu
• Hit 'Settings'
• Click on 'Subscriptions'
• Select 'Cancel Subscription' below the payment method you used
On your mobile browser:
• Click on the 'More' button at the bottom
• Select 'Settings'
• Choose 'Cancel Subscription'
How Can I Expedite the Approval of My Photos and Dating Profile?
To verify that users use Miss Travel appropriately, the reviewal team carefully examines all submitted photos before making them public. The review process can take some time, but it is required to uphold community standards and maintain the integrity of the user base.
Submissions are processed in the order they are received, with priority given to premium members in the reviewing queue.
The following are some tips for choosing the best pics for your Miss Travel profile:
Basic Guidelines for Photos
• Format: Pictures must be in JPEG, BMP, PNG, GIF, or TIFF formats.
• Size: Less than 5 MB
• Orientation: Photos need to be upright
• No nudity
• No watermarks
• You are not in the photo
• Has multiple people in them
• Includes personal or identifying information (names, addresses, phone numbers, etc.)
• Includes minors
• Illegal act or activity is depicted
• No collages (more than one photo)
• Offensive to the average user
• Good lighting
• Use a recent photo
• Your main photo should be a close-up or headshot.
• Upload a body shot that fits your selected body type
• Smile!
How Do I Submit a Trip Proposal?
Miss Travel customers may make entirely customized Trip Proposals. All trip ideas are submitted to the central staff for review and approval. An "Approved" label will appear next to the member's proposed trip if/when it has been accepted.
If your travel proposal is rejected, you'll see the word "Denied" displayed next to your proposals, but a user can submit a new Trip Proposal at any time.