Seeking.com is an online dating app that has developed a reputation as a place for elite, sexy singles to meet and begin serious relationships. More specifically, Seeking is known for putting together sugar arrangements between its members. Formerly SeekingArrangement, Seeking.com has a long history of catering to this niche dating market.
---
---
But are they as good as all the hype they get? Is Seeking.com the right dating app for you to be using in 2023? We will answer these questions and more in our review of Seeking.com.

Our team has independently researched all products and services that we have listed on this page. If you sign up or purchase through our links, we may receive a commission. See how it works.
Introduction to Seeking.com
Seeking.com was founded in 2006 (although it was under a different name), and its mission has always been to develop and facilitate sugar arrangements or mutually beneficial relationships between its members. It's undergone some changes over the years, though! We'll cover its history as a sugar arrangement app and the rating system we used to appraise the platform.
Seeking.com's Unique Approach to Online Dating
To be clear, Seeking.com is known for putting together sugar arrangements between elite singles, but each party in the deal sets terms and conditions for said relationship ahead of time. There is mutual agreement and consent from all people involved in that relationship. It is an entirely legal and valid practice within the confines of the law.
What Are Sugar Arrangements?
These are typically relationships between older, well-to-do men (sugar daddies) and younger women (sugar babies); they're characterized by a mutually beneficial relationship where both parties agree ahead of time on the ground rules of the relationship. 
The sugar daddies are the financial supporters of their sugar babies. They might provide a weekly allowance or pamper them with gifts, trips, or vacations. In return, sugar babies typically engage in a physical relationship with their sugar daddy or provide them with companionship. 
Commitment may or may not be a component of the relationship. It depends on the terms of each sugar arrangement. There are many instances where sugar daddies and babies have an open relationship, where they can essentially see other people and still be committed to the arrangement. In some cases, both parties might be super committed to one another, choosing not to date other people on the side.
A Brief Overview of Seeking.com's History and Success
SeekingArrangement was Seeking.com's name until a few years ago when they began to do some significant rebranding. The thing that spurred a redoing of their brand was the fact that the public was conflating SeekingArrangement's services with prostitution and human trafficking circles. To distance themselves from this erroneous and unwanted stigma surrounding their business, SeekingArrangement decided to drop the "arrangement" part of its name and become Seeking.com.
Since 2006, Seeking.com has developed into a well-known sugar arrangement site across the world, serving several countries outside of the US, including the United Kingdom, Canada, Columbia, and India. There are 40 million users worldwide, and women can use the platform free of charge. It's also noted as a dating app that's evenly split between male and female users, which isn't something that most services can boast!
Is Signing Up for Seeking.com Worth It?
Seeking.com is worth your time and money if you're looking for sugar arrangements and relationships. Here are a few of the best reasons to join:
Large Dating Pool – Seeking.com has over 40 million members worldwide, which means a large pool of eligible candidates to draw from! If you are looking for a diverse set of singles, many of which hail from different nations across the globe, you might find yourself at home at Seeking.com! Variety is the spice of life, and you will find plenty of spice at Seeking!
Great Membership Features – This is a terrific dating app in the membership features department. Premium account members have access to unlimited messaging with other members as well as times when they can get their profile boosted in the search results! Things get even better as a Diamond member, where users can get their profile highlighted and get increased boosting for extended periods!
No Cost to Women – If you are one of the ladies, the great news is that Seeking.com will not make you pay for a membership! It would be ridiculous for Seeking.com to charge women for a membership plan! Women get to use Seeking for free! In most cases, women are on this site to find a man who will take care of them and shower them with gifts.
Easy-to-Use Setup – The sign-up process is one of the most uncomplicated and streamlined we have seen of any dating app we have reviewed in the past! Everything is set up intuitively, making for quick navigation and easy access to eligible singles! Once you become a free trial member or paying member, you can browse the site with the greatest of ease.
Sign Up for A Membership at Seeking.com!
Our Ratings
As we put together our overall rating for Seeking.com, there are several factors that we took into consideration, including the features you get with your membership, the quality of your dating pool and daily matches, and the overall usability of the site!
Overall:

| Category | Score |
| --- | --- |
| Features | 4.0 |
| Ease of Use | 4.0 |
| Match Quality | 4.0 |
| Cost | 3.0 |
| Active User Base | 4.0 |
| Overall | 3.8 |
What We Like
We promised you an honest and transparent review of Seeking.com, and part of that promise means going through the good and bad features of their online dating service. These are some of the aspects of Seeking that we like and appreciate!
Large dating pool with over 40 million active users worldwide.
Diamond members get profile highlights and better placement in search results.
Women can use Seeking.com at no cost.
Customers can get a 90-day membership and pay for it all at once.
Seeking.com app is easy to navigate, and its design is mainly free of clutter.
Memberships come with unlimited messaging and profile boosting.
Customer service will address any matters in 24 hours or less.
What We Don't Like
As a future user of Seeking.com, you have a right to know the cons of the app as well. Discover if Seeking is the right dating app for you and if it's worth the time and money! Without further ado, these are some of the weaker points of Seeking.com that we weren't too crazy about:
The free trial only allows users to view profiles and photos.
You will run into some fake accounts or scammers on this dating app.
Women users are not ID-verified.
The Seeking.com app is not available for iOS users.
Customer service and support consists of an FAQ page at Seeking.com.
Customers complain of being locked out of their accounts for no good reason.
Pictures need to be approved by Seeking.com before they can post to your profile.
Reasons Not to Join Seeking.com
You Plan on Only Using the Free Trial – The truth is that Seeking.com does not offer that great of a trial membership. Where many dating apps have free trials that allow the user some bit of functionality at the site, Seeking.com offers trial members the ability to look at member profiles and pictures, but nothing more! The free trial is basically like going window shopping. Free members can only send messages or communicate with other members if they pay for a membership.
You Want Plenty of Customer Support Options – If you join Seeking.com expecting good customer service options, you will be disappointed. The only way to contact the site is via a generic contact form, and there is an FAQ page for support. The FAQ page is quite thorough, but there is no way to contact a service member directly, either by phone or live chat. Any questions or inquiries made through the contact form will be addressed within 24 hours, so that is a bright point. But other than that, getting in touch with customer service at Seeking is like pulling teeth.
You are Overly Concerned with Safety – Let it be known that women who join the site for free are not ID-verified. Because of this, it is easy for fake accounts to slip in through the vetting system. As with any other dating app, you will inevitably be dealing with fake accounts or scammers at some point, but Seeking.com has quite a bit more than the usual dating app. Users beware.
Who Is Seeking.com Best For?
Sugar arrangements are the type of relationship that you'll find using Seeking.com. This means that you need to be a sugar daddy or a sugar baby to use the site! But there are a few other factors that come into play as well which we'll address in this next section.
Demographics and User Base
Let's turn our attention to the Seeking user base and the demographics of those who are typically using this sugar arrangement service. These are some of the crucial details to know before joining the Seeking.com website or downloading the mobile app.
| Fast Facts | Details |
| --- | --- |
| User Base | All singles (18 or older) |
| What Kind of Relationships? | Sugar arrangements and mutually beneficial relationships |
| Where are Most Members Located? | United States (66.8%) |
| US Members | 380,000 |
| Active Members | 150,000 |
| Gender Distribution | 50% men to 50% women |
| Baby-to-Daddy Ratio | 80% sugar babies to 20% sugar daddies |
Relationship Types Best Served by Seeking.com
As we've mentioned, Seeking.com is well-adept at developing sugar arrangements and mutually beneficial relationships between its members. But based on the information in the table above, what can be concluded about the kinds of relationships you'll find at Seeking.com?
Seeking.com is ideal for:
Completely legal sugar arrangements or mutually beneficial relationships (everyone is over 18, and each party sets terms and conditions for the relationship)
Sugar arrangements with someone in the United States
International sugar arrangements (the app serves Canada, the UK, India, and Colombia).
With a 50/50 gender distribution, sugar daddies or sugar mommies can find something that works for them.
Sugar daddies have a better time using the site because 80% of the user base are sugar babies.
The Seeking.com Compatibility Matching System
Seeking.com is notable for being a dating app where advanced search filters are the primary source of the matchmaking process. The conceit of a lengthy questionnaire or personality testing is not a thing at Seeking.com. Searching for singles that fit their dating criteria is left in members' hands. They can customize searches using filters that cover an extensive array of factors.
How the Compatibility Matching System Works
Under the "Search" section of the site, members can adjust the filters to find singles who fit their criteria and dating/relational expectations. The two main searching criteria are done using your location and setting a distance range of how far you're willing to look for a sugar arrangement.
Options
Under the "Options" section of the "New Search" section, you can organize your searches using the following:
ID verified
Photos
Premium members
Unviewed
Viewed
Viewed Me
Favorited
Favorited Me
Other Criteria
There are a few more filters below "Options" where you can hone your search even further, guaranteeing that you find someone who is the total package:
Body Type
Age
Ethnicity
Height
Hair Color
Smoking
Drinking
Relationship Status
Education
Children
Seeking.com's Communication Features
If there's anything we've learned from doing this Seeking.com review, it's that you're way better off with a premium membership than as a free user. Paying members can interact and chat with other app members, while free trial members can only view profiles and look at photos. Let's look at the communication features you can use as a premium member of the Seeking.com app.
Unlimited Communication
Paying members can read and receive messages from other members. They can also send messages out to those they're interested in connecting with. And there are no limits when it comes to the number of messages you can send each day. All messaging systems are private and completely secure thanks to an encrypted connection.
Video Chat
There's a video chat feature where members can talk face-to-face. This is a valuable feature for those who want to learn more about one another beyond profile information and simply sending messages. Video chats are a great way to see how app members carry themselves. You can get a good grasp on their overall vibe.
Seeking.com's Membership Options
In our Seeking.com review, we found some excellent membership plans and pricing for prospective members. Yes, Seeking is one of the pricier dating apps out there in 2023, but it is somewhat justified when you see what kind of features and functions come with the app and the quality of the singles you could meet!
This section of our Seeking.com review will cover everything related to the free trial and membership options currently available to prospective customers. It is important to note that women can become members of Seeking.com at no cost. There's also a limited free trial for new male members that's worth a look.
Free vs. Paid Memberships
Honestly, the free trial at Seeking.com is like going out and window shopping. While some free trials are like test-driving a car, the free trial at Seeking.com is like going to a dealership and only being able to look at which cars are available. With the Seeking free trial, the only two things you can do our view profiles and view the photos on those profiles. And that is it!
Premium Membership Benefits and Pricing
There are a few ways to become a premium member of the Seeking.com dating app; they offer four great membership plans that allow new customers to experience a little bit of flexibility in the amount of time they can use the service and in how much they are willing to pay.
Women can use the service for free, so only men need to think about the cost of Seeking and if it's worth the time and money. That said, Seeking.com is more on the expensive side as far as dating apps go but remember that you're dealing with a sugar arrangement site.
| Plan Length | Cost Per Month | Total Cost |
| --- | --- | --- |
| 1 Month Membership  | $109.99 | $109.99 |
| 3-Month Membership | $96.66 | $289.98 |
| 3-Month Membership | $289.99 (one-time purchase)  | $289.99 (one-time purchase)  |
| 1-Month Diamond Membership | $274.99 | $274.99 |
There is also the option to pay for a 90-day membership all in one shot instead of three separate payments each month. It is the same price as the other 90-day membership, but you can pay for all three months right up front! But aside from the membership length, these are the benefits and features you get as a paying member:
Premium Membership Features
These include the 30-day membership and both 90-day memberships. Check out a complete rundown of the features that you get with these three premium plans:
Unlimited Messaging (reading and receiving)
Visibility Boost
Incognito Mode (conceal your location)
Notes Dashboard
Inbox Filters (organizing your messages)
Diamond Membership Features
You will pay extra for the Diamond membership. Still, the benefits you get with that extra money might come back tenfold once you experience increased visibility on the app and a better variety of eligible singles!
Profile Highlight (Diamond badge)
Larger Profile Boost (Attractive Members Dashboard offers increased visibility)
Discounts and Promotions
Something important to remember is that more extended plans have better monthly price points than shorter plans. You might pay more overall for a 90-day plan compared to a 30-day subscription, but you will be paying less per month, which is significant savings for you!
Creating Your Seeking.com Profile
If you are interested in signing up for a free trial account or membership at Seeking.com, we have attached a step-by-step guide to signing up for your convenience! The entire process should take 5-10 minutes!
Step #1: Go to the Homepage
Go to Seeking.com's home screen, and there will be two different options waiting there for you: Join Free or Start Dating Up. No matter which one you choose it will take you through the same sign-up process.
Even if you begin signing up for free and you change your mind halfway through and want to do a paid membership, it does not matter. You are still going to be offered the chance later on one you have assembled your new account and profile!
Step #2: Select Your Gender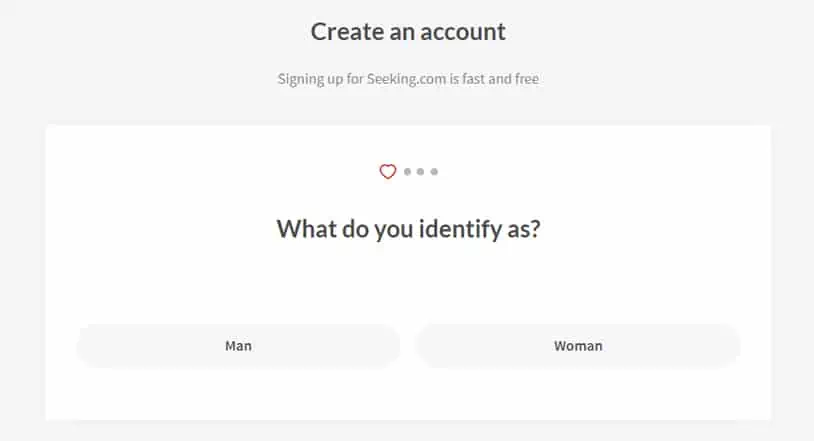 Step #3: Select Who You Are Interested In Dating
Step #4: Select Successful or Attractive Members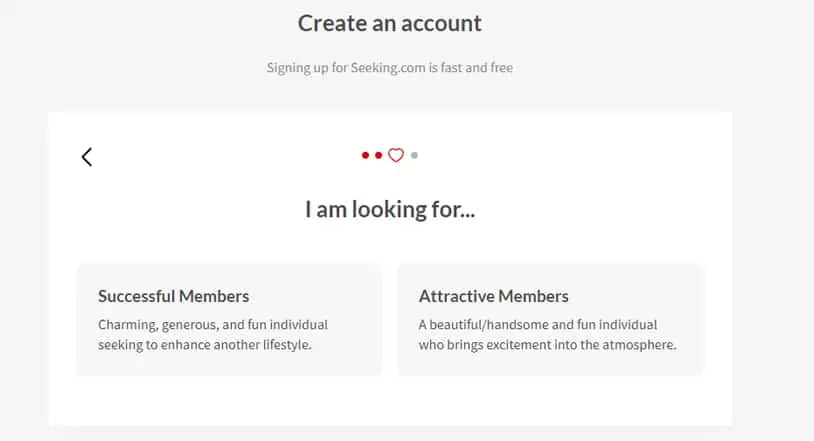 Step #5: Begin Creating Your Account
This step is where things get more involved. You will need to provide an email address, create a unique password, verify you are not a robot, and include your birthday.
You can then proceed by hitting Continue or signing up through your Facebook account.
Step #6: Username and Profile Picture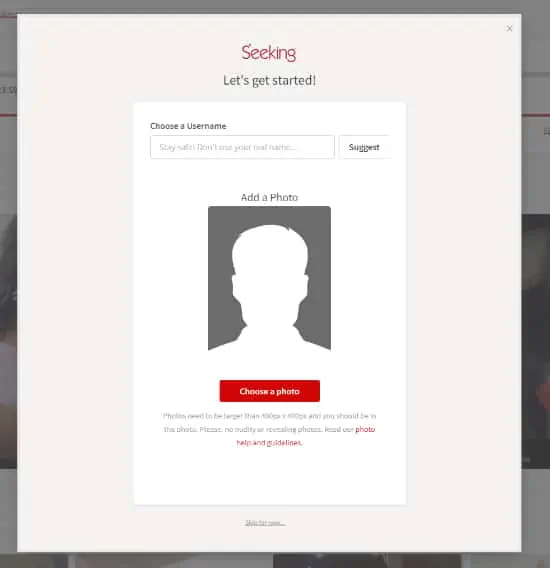 Create a unique username and select a photo for your profile. You can get one from your Facebook account, or you can download one from your mobile device or desktop PC.
Step #7: Select Your Location
You can begin typing out your location in the search bar, and Seeking will generate results automatically for a quicker search of your town, state, and zip code.
Step #8: Tell Seeking What You Look Like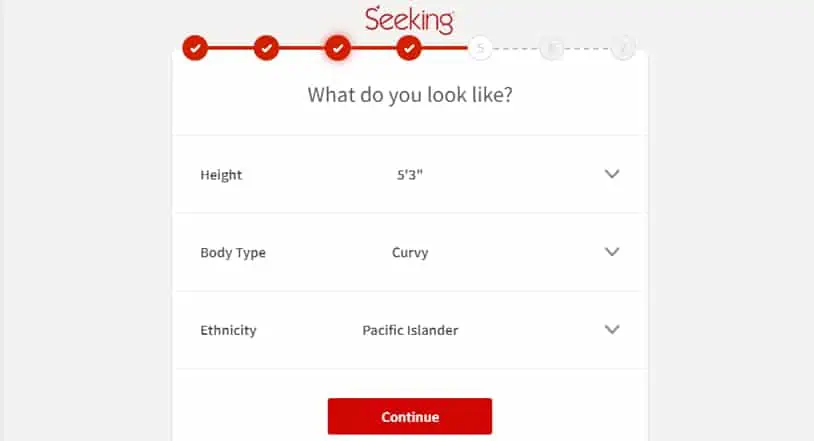 Answer questions about your height, your body type, and your ethnicity.
Step #9: Various Questions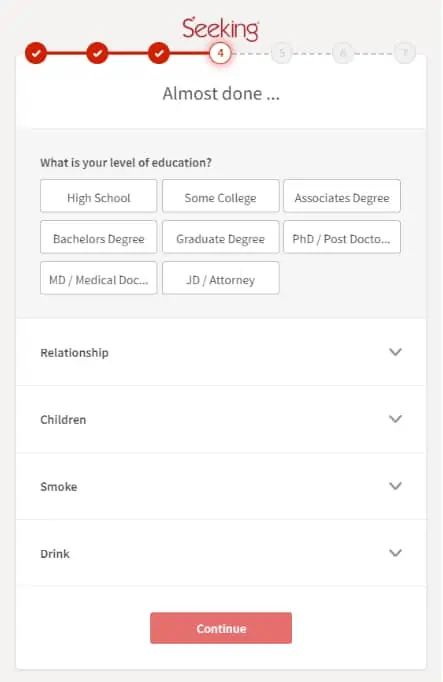 In this step, you will answer questions about your level of education, how many kids you want or have, and whether or not you smoke or drink. Answer all these questions and then hit the Continue button to proceed.
Step #10: List Your Net Worth and Annual Income
Step #11: What Are You Seeking?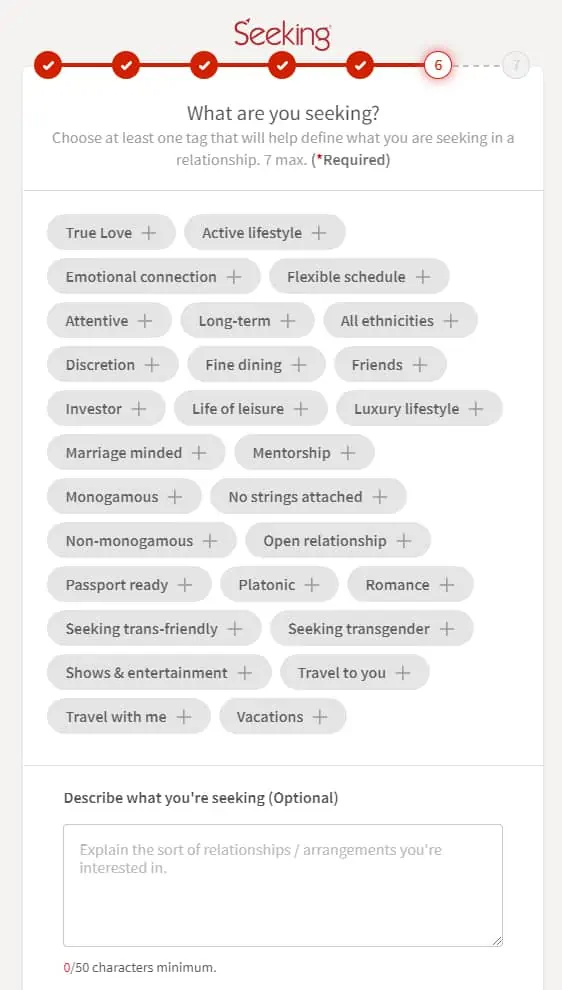 This next step involves selecting all the things that apply to you and what you are seeking out in the online relationship. If you feel the need to expand beyond the available options, you can get more specific in the text box at the bottom.
Step #12: Your Tag
One of the final steps is creating a tagline for your profile that is designed to catch the attention of other members. There is also an About Me section where you can write anything else about yourself that will help your profile to stand out!
Step #13: Sign Up for Membership (Optional)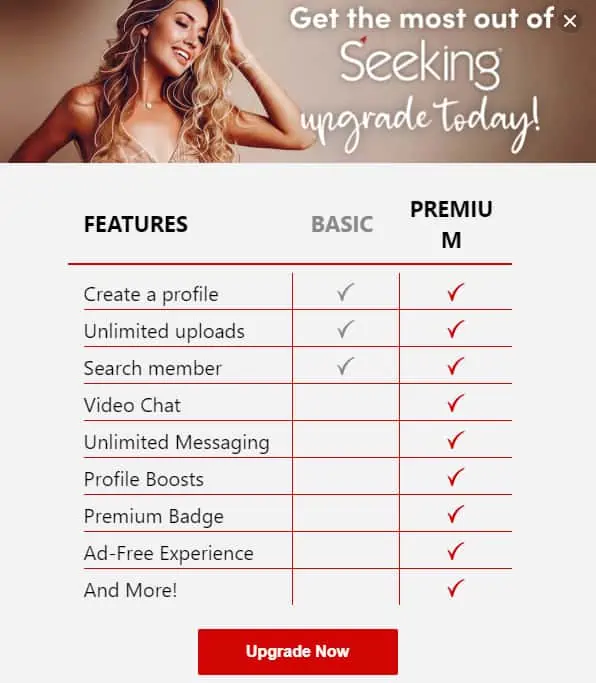 Here is your chance to upgrade to a membership if you want. If not, you can proceed to Seeking.com and view what kind of singles are currently available on the app!
How to Delete a Seeking.com Account
You can delete your Seeking.com account in four easy steps. It's a platform that's easy to quit, but once it's done, your old account is gone forever, and you need to create a new account if you wish to re-access the site.
Here's how you can get rid of your Seeking.com profile and account:
Log into your Seeking.com account.
Click on "Settings" under the drop-down menu in the upper left-hand corner of the screen.
At the bottom of the page, you'll see an option called "Deactivate My Account." Click here to proceed to the last step.
Provide a reason for quitting Seeeking.com. After you've answered, confirm the deletion of your account by clicking on "Deactivate Now."
Seeking.com Customer Service
When it comes to customer service departments at online dating apps, the industry standard is a single FAQ page and no more than that.
Seeking.com follows along with this trend, with their FAQ page being the only way to contact customer service at the site, along with a generic contact form. They respond to customers in a decent time frame. They guarantee that any comments, concerns, or questions will be addressed within 24 hours or less.
We know that the simple FAQ page setup is par for the course for dating apps all over the industry, but we still would love to see a site like Seeking add on some other avenue for contacting customer support, like a toll-free phone number or live chat.
Seeking.com's Mobile App
Not only does Seeking.com allow its members to use the site on their desktop computers, but they also allow for on-the-go dating using two different methods. These include accessing the site using the web browser on your mobile device or downloading the mobile app.
App Features and Functionality
There aren't many changes between the Seeking.com website and the mobile app. There are a few minor format changes that accommodate the smaller screens of Android devices, but Seeking.com retains the same features, perks, and benefits whether you're using the site on your computer or mobile device.
App users and those accessing the Seeking.com site on their mobile devices still have access to the following benefits:
Unlimited Messaging (reading and receiving)
Visibility Boost
Incognito Mode (conceal your location)
Notes Dashboard
Inbox Filters (organizing your messages)
Compatibility
Seeking.com can be used on Android and iOS devices (in-browser access to the site), but there's only a mobile app available for download at Google Play.
Google Play
Rated 3.8/5 stars
Based on 42.6k reviews
1+ million downloads
The app is free to download
In-app purchases available
Frequently Asked Questions
To top off our review of Seeking.com, we've included a comprehensive set of FAQs that cover some of the most common questions and concerns that customers and users have had over the years. If there were any subjects we missed in covering this sugar arrangement app, they should be addressed in this section.
Are Seeking.com and SeekingArrangement the Same Thing?
Yes, Seeking is the same dating app as SeekingArrangement. A few years ago, SeekingArrangement went through a significant rebranding to rid itself of the public perception that they were somehow facilitating prostitution and human trafficking ring. These were unfounded claims, but SeekingArrangement wanted to guard its image and branding, nonetheless. Part of this rebrand was changing its name to Seeking.com.
To be clear, Seeking.com does help singles to set up sugar arrangements on the app. And these arrangements are legit where both parties stipulate terms and conditions with each other ahead of time. While everything they do is legit, Seeking.com still felt it was best the drop the "arrangement" part out of their name.
Is the Seeking.com Legit?
Absolutely. There were several years there when the public was mistakenly associating Seeking.com with a site promoting prostitution or human trafficking. This forced Seeking to begin a rebrand to get away from this erroneous reputation which involved them changing their name from SeekingArrangement to simply Seeking.
As far as we could see in our reviews of Seeking, they are an honest and reputable dating app. They discourage prostitution and human trafficking. Everything we have seen indicates that they operate within the confines of the law.
Can I Use the Seeking App for Free?
Women looking for a sugar daddy can use the app completely free of charge! It gives you an idea of who is available at the site and allows you to determine if a membership is worth your time and money. There is a free trial account that future members can try out before paying for a membership. Still, this free trial only allows the user to look at member profiles and view pictures of the currently available singles. You are not using the site at all with the free trial.
How Much Does Seeking.com Cost?
You can take advantage of three major membership plans at the Seeking.com app. There are two premium memberships available, one that is a 30-day deal and one that is a 90-day deal. Thirty days with a premium membership cost $109.99 in total. The 90 days with a premium membership cost $96.66 per month for a total of $289.98. The next level up is the Diamond membership which costs $274.99.
How Long Does It Take to Find Singles on the App?
Seeking.com claims that, on average, their members find ideal matches with other singles in around five days! The length of time that it could take might vary based on how well your Seeking app profile stands out from the others. There are different ways to make your profile more appealing or eye-catching to other members. One of the best ways to do this is to get a Diamond-level membership, where you will get your profile highlighted with a diamond badge and better placement for your profile in the search results!
Does Seeking.com Have Fake Profiles?
Although they have a pretty good system of vetting new customers, Seeking.com could be better, and some fake profiles make their way onto the app. Something that we noticed in our review of Seeking is that the vetting team is diligent in pinpointing the bogus profiles or accounts that do slip through initial vetting and shutting them down swiftly.
Because fake accounts are so common on so many other dating apps, this is no cause for alarm. But we highly recommend that our readers get well-versed in spotting illegitimate accounts for themselves to stay safe at Seeking.com!
Will My Membership be Automatically Renewed?
Yes, there is an auto-renew feature that is available at Seeking.com! Whenever your paid membership ends, you will be automatically billed for the same plan at the exact pricing again! It saves you the time and effort of going into the app and purchasing another plan. If you do not want your membership to auto-renew, contact customer service and have them turn it off before your membership plan ends.
What Features Come with a Seeking.com Membership?
With a Seeking membership, members can send and receive unlimited messages from other singles on the app. They can use an incognito setting to browse profiles anonymously without giving up their location. There are inbox filters that they can use to keep their messages organized. They can also keep their singles organized with the help of the user dashboard. From time to time, users can also request that their profile be boosted to the top of the app's search results!
What Sets the Diamond Membership Apart from a Standard Membership?
The only extra features you get with the Diamond membership are some profile highlights and better placement in the search results at Seeking.com. But these are valuable features that will allow you to experience better search results when it comes to other singles, dramatically increases your visibility, and will generate a ton of interest around your profile!
What Kind of Messaging Can Free Members Enjoy?
Many dating apps offer limited messaging with their free trial opportunities, but there is nothing at Seeking.com. As a free trial user, you cannot do any messaging with singles at Seeking.com. The only perks of using the free trial are to view profiles and profile pictures. And that is it! To message other members, you need to pay for a membership with Seeking.com.