Are you in the market for an online social network where you can meet others with similar interests in certain topics and activities? One of the best apps you could be using in 2023 who run in the same circles as you and form lasting connections!
But is Meetup legit?
In our Meetup review, we will focus on the authenticity of this platform and what it offers its customers, covering the various membership plans and features. And who could forget the price? Yes, we will supply you with all the different price tags for each of the services offered at Meetup.com!
You will also find a step-by-step guide to creating a new account and links to free trial opportunities if you are interested in joining the Meetup app. We felt the need to add some reviews from app users (they are not all positive). If you think this one is not your cup of joe, we are more than happy to include great Meetup.com alternatives!
---
---

Our team has independently researched all products and services that we have listed on this page. If you sign up or purchase through our links, we may receive a commission. See how it works.
About Meetup.com
Before we dive into things like our overall ratings for Meetup or what kind of memberships and features they offer customers, we will go over some critical information about the app that might be worth your while to know!
Meetup Fast Facts
Fact
Details

Site Name

Key Info

• Year Founded: 2002
• Total Active Members (US): 450,000
• Members Active Weekly: 54,000
• Monthly Visitors: 12 million (globally)
• Gender Ratio: 60% men to 40% women
• Number of Countries Serviced: United States (58.34% of total users)
• Most Popular Country: 60% men to 40% women
• Average User Age: 25-34 years old
• What Is the User Base Like?: People who want to network with others with share similar interests in certain activities, hobbies, passions, or causes.

Cost of Membership

Pro Plan price start at $30

Free Trial

Yes
How Did We Rate Meetup?
We looked at five major criteria to form our Meetup app review. We rated each of them generously because we really liked what we saw on this social networking platform! Once we figured out how we wanted to score each respective category, we drew an average to come to our overall rating:
Overall:

| Category | Score |
| --- | --- |
| Features | 4.2 |
| Ease of Use | 4.4 |
| Match Quality | 4.2 |
| Cost | 3.9 |
| Active User Base | 4.5 |
| Overall | 4.2 |
Meetup Review Key Takeaways
Meetup.com offers their customer quite a bit in the realm of networking, all at a reasonably affordable price! The beginning price for a standard plan stands a $16.49/month! Upgrading to the full premium member only runs $30/month! 
We were floored by the number of groups and networks available at Meetup.com when we set up our free trial membership. They also feature many great tools for building connections, including monthly newsletters, MailChimp integration, customer headers, and network logos!
The user interface was simple and really easy to navigate and figure out how to use! Meetup.com has a good system for finding events using search filters by event type and distance. It was easy to find events, find out how to create a membership, and create or join groups. 
Because everything is based around groups of users with similar interests and hobbies, you will naturally match up well with other users for friendships or networking. And yes, there are even possibilities here to find love or a soulmate (although that is not the app's primary aim). 
One thing is for sure: there are a ton of people out there using Meetup.com! They have over 12 million monthly visits from users in over 179 countries! Their active membership numbers are just under 500,000, 54,000 of which are the core of their base! 
Meetup App Pros and Cons
We are in the business of bringing you an honest and accurate Meetup.com review so you can make the absolute best decision for yourself. Meetup.com might not be for everyone, and part of knowing this is knowing exactly what they are good at and what they need to improve on!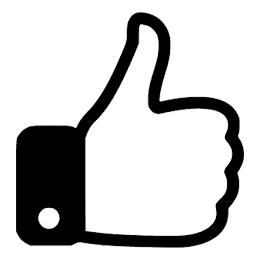 Reasons to Join
Large user base of 500,000 members and over 12 million monthly visits globally
Strong social networking site for meeting people with similar interests and passions
Available in over 179 countries worldwide
Look for groups and events based on type and distance using advanced search filters
Affordable pricing begins at $16.49/month
"Free trial" allows users to create 20 groups and enjoy Meetup.com for one month
The average user age is 25-34 making for a younger crowd using Meetup.com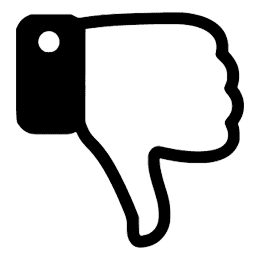 Reasons Not to Join
The "free trial" will not include all features you would get with a Pro Membership
The gender ratio is skewed more toward men (60% men to 40% women)
Although there are users all across the world, the bulk hail from the US, UK, and Australia
Shorter membership plans are going to feature a high monthly cost than longer plans
You have a limited amount of time to get a full refund for a membership plan
There are reports of fake profiles and spam accounts that have gotten through vetting
Customer service consists of a limited help center with an FAQ page
Free Trial
Meetup.com comes with a free trial that allows newcomers to use Meetup Pro for one 1 month free of charge. Free trial users can create up to 20 groups during this time, in addition to a few other things. Remember that the free trial will be limited in what it allows you to do at Meetup.com. "Free trial" users will not be able to experience everything that Meetup was made to do!
What Comes with a Free Trial?
Aside from being able to form 20 free groups as a "free trial" member, there are a few more things you can do with your free account at Meetup. Still, you will miss out on being more directly involved in the groups you join or create. For instance, you will be unable to appoint leaders, set up the fees for the event, or even be involved in the scheduling of the events.
Start an account at Meetup
Get your profile set up (adding information and photos)
Create up to 20 groups
Upload information and images for your events
Search for events
View other events' information and photos
Join groups
Message other members on the Meetup.com app
Something important to note about Meetup.com is that events can only last 14 days without a paying organizer. That means that anyone who is putting together events that last needs to be paying members. Those who join the event do not necessarily have to be paying members to participate!
Membership Plans
When it comes to membership plans, there are four choices for those who decide to join as a paying member at Meetup.com. There are two standard plans and two premium (or pro) plans. Those who go with the standard plans will experience a more limited set of features, while those who go with the pro plans will experience the full range of features.
Some of the price differences here will also reflect the different plan lengths. And a fun fact is that the more extended plans actually come with a lower monthly rate, so there are some significant savings to take advantage of when going with a 6-month plan versus a 1-month plan!
| Cost Per Month | Total Cost | Total Cost |
| --- | --- | --- |
| Standard 1-Month Plan | $23.99 | $23.99 |
| Standard 6-Month Plan | $16.49 | $98.94 |
| Pro 1-Month Plan | $35.00 | $35.00 |
| Pro 6-Month Plan | $30.00 | $180.00 |
As you can see above, you can save around $5 on your monthly cost for Meetup.com when you pay for a longer plan. You will pay more in the long run if you do the 6-month plan, but it would be a lot cheaper if you just renewed a 1-month plan 6 times back-to-back!
The total savings on the standard and the pro plans taking advantage of the discounted rate are $45 and $30, respectively! Do the math yourself, and you will quickly see savings!
Membership Features
While you can essentially use Meetup.com for free as the "joiner" of an event, you cannot be a sustainable "planner" or "creator" of an event or a group because any event or group cannot get past 14 days if they do not have a planner or creator who is a paying member. So there is one great reason to get a membership at Meetup.com.
On top of this, you will miss out on key features like scheduling the event, establishing fees, or organizing a board of leaders. Basically, membership will let you take more charge over and have a controlling hand in events or groups you create.
Let's take a look and see what you can do with each type of membership:
Standard Plan
You can create up to 3 groups
Create or attend unlimited events or groups
Organize events online or in-person
Assign ticket fees and group dues
Support and promote other groups
Appoint and oversee a leadership team
Pro Plan (Premium)
The pro plan will also have all the features of a standard plan.
Advanced network analytics
Branded network page (SEO-friendly)
Network messaging tools
Manage group networks
API access
Access attendee emails
Mailchimp integration
Customized attendance forms
Service and Support
This is definitely one of the weaker aspects of the Meetup.com app. There is no way to really contact customer service by phone, support email, or live chat. Their customer service really only consists of some comprehensive and well-done FAQ pages. This is a social networking platform where you will need to be all right with looking out for yourself and troubleshooting yourself through problems when they arise.
FAQ Center
This is what the Meetup.com FAQ center is going to look like. You access this page by clicking on the icon that contains your profile picture in the upper right-hand corner of the main page. The drop-down menu will have a choice called "help." Click here, and you will be taken to Meetup's FAQ center.
You can search by topic based on what the issue is at hand:
Organizing Groups and Events
Using Meetup
Account, Notifications, and Payments
Technical Issues
Meetup Pro
Policies and Community Guidelines
Creating Your Meetup Account and Profile
If you are interested in joining Meetup, either as a paying member or a "free trial" user, the sign-up process is straightforward. It should take you no more than 5 or 10 minutes to complete! You can follow our simple sign-up steps below to get started:
Step #2: Choose How You Want to Sign In
Next, you will choose how you want to sign in at Meetup.com. With some of these options, they will use the information from social media accounts to auto-fill parts of the application to make the process go quicker.
You can choose to use Facebook, Apple, Google, or your personal email to get signed in.
Step #3: Finishing Signing In
We used the email address to sign in. On this next page, you will need to provide your profile name and email address, and create a unique password. Meetup will even help you with the password and give you a randomized suggestion! Include your location and verify that you're not an android or a machine.
Once you click "sign up" to proceed to the next step, you will be sent a confirmation email. You will need to access your email and click the link that Meetup.com sent you to move on to the next step.
Step #4: Add a Photo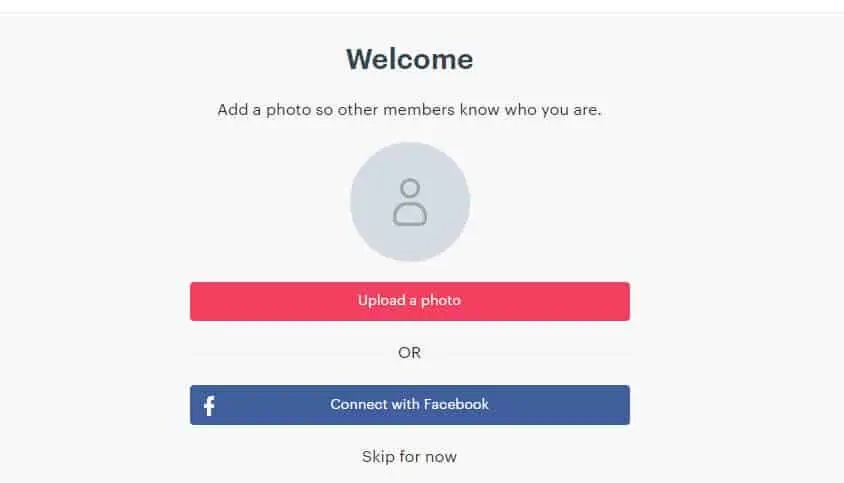 You must upload a photo to be used from your profile picture. You can get it straight from your computer or mobile device. You also have the option to use an image from your Facebook account.
This portion is optional. You can skip putting up a photo of yourself and add it later. Having a clear picture of yourself will help you connect better with others at Meetup, so we recommend adding one to complete your profile.
Step #5: So, What's Your Motivation?
This is where you state your reason for using Meetup.com in the first place. It gives the site and other users an idea of the kind of events or groups that you might be seeking out.
Step #6: Select Your Interests
Again, in order to give Meetup.com a good idea of what you are all about, go ahead and select as many interests as possible that apply to you!
Step #7: Hone Your Interests List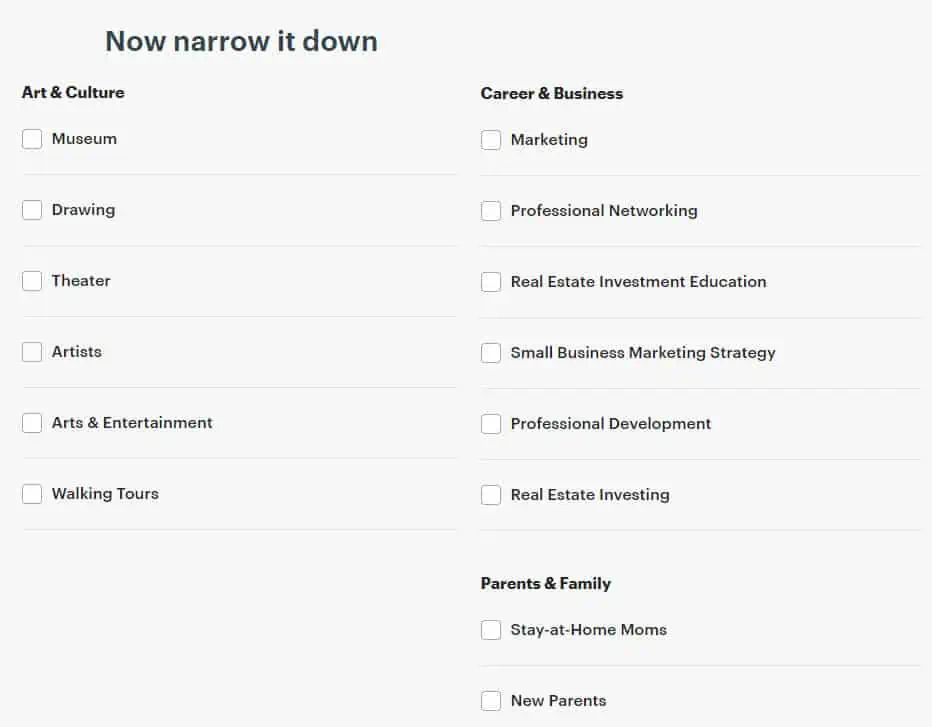 Now you can begin narrowing down your interests into more specific categories. This will allow the site and other users to see the nuances and subtleties of what topics, activities, or causes you might be invested in.
Step #8: Join a Group!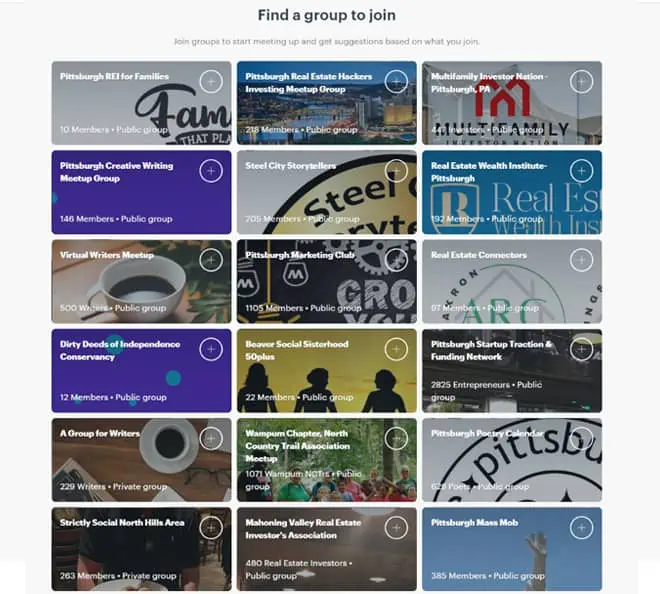 Based on the information you provided, Meetup.com will generate a list of events or groups you might be interested in following. You can choose as many as you would like!
Remember, it does not cost anything to become a "joiner" of a group. If you want to create or manage a group or event, you have a limited time to do so (14 days), but beyond that, you need to be a paying member!
Step #9: Click "Add Me"
Once you have clicked on a group, you will have the opportunity to be added to their list of followers. Click on the red "add me" button to join!
Step #10: Find Events!
The next page will show you some events you might be interested in reading about or attending based on your interests.
Step #11: Begin Your "Free Trial" or Membership
You will then be directed to your personal Meetup profile and account. Here, you can continue to find events or groups to join, customize your interests, manage your calendar, or view the profiles of other members. You can even create up to 20 groups as a free user (just know that they are null and void past 14 days)!
If you want to become a member, you can go to your profile by clicking on "view profile" in the top right-hand corner icon. Toward the bottom of the screen will be the statement "create your own Meetup group." Right beside it is a button that says, "get started." Click on this button, and you will begin becoming a member of Meetup!
What People Are Saying About Meetup
We decided to include feedback from people who have used this social networking app recently to expand on our 2023 Meetup app review. Our mission is to give you the most honest and accurate assessment of the Meetup.com app that is possible, and bringing you unfiltered, unbiased feedback from users can give you the best, most well-rounded picture of this app as a whole!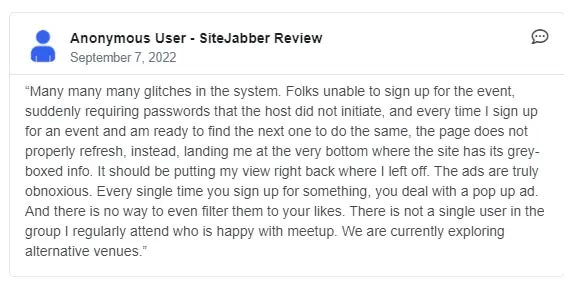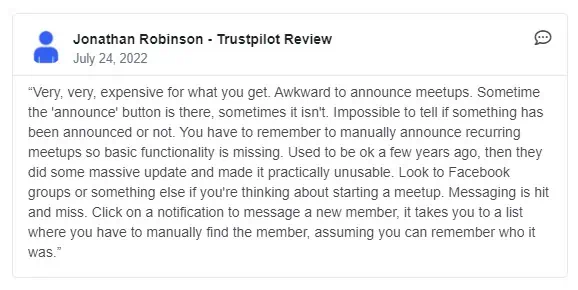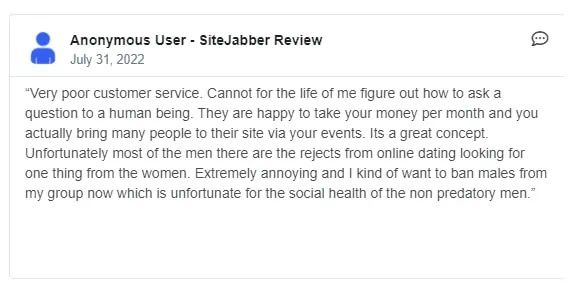 Best Meetup.com App Alternatives
Is Meetup.com not the app for you? That's ok. There are plenty of other social networking sites and dating apps that allow you to meet people who share your interests or passions!
While many of these alternatives are dating apps instead of social networking sites, they all feature a large following of users. They can be used to find profound connections or strong friendships! Apps like Zoosk and Match, especially, can be great for finding the kind of relationships you might find at a place like Meetup.com.
Dating App
Fast Facts
Review

Zoosk

User Base: All singles
Active Users: 50+ million
Gender Ratio: 48% men to 52% women
Paid Subscription: Yes
Free Trial: Yes (limited)
Subscription Price: begins at $12.50/month

Elite Singles

Active Users: 2+ million
Gender Ratio: 44% men to 56% women
Number of Countries Serviced: 20+ countries
Membership Cost: $27.95/month (beginning rate)

Match.com

Active Users: 8+ million
Gender Ratio: 51% men to 49% women
Number of Countries Serviced: 50+ countries
Membership Cost: $18.99/month (beginning rate)
Also, be sure to check out Best Dating Apps for Professionals!
FAQ About Meetup
What Is Meetup Used for Exactly?
Meetup is an online social network where users can host or promote their own events or look for events hosted or promoted by other users. It is a website used to bring together people with similar interests or passions for a specific cause, activity, or topic!
How Do I Create an Event Using Meetup?
The first step is to become a paying member of Meetup. Those who take advantage of the "free trial" will not be able to create events on Meetup. Once you have a membership, you can create an event within your group by going to the group's homepage and clicking on the button that says, "create event."
Is Meetup.com Free to Use?
Newcomers to Meetup can use the site for one month free of charge and create up to 20 different groups if they so choose! Free users can join groups, search for events, message other members, and upload photos. The "free trial" will be limited, so some of the features you could be enjoying as a paying member will be omitted from use.
How Much Does a Meetup Membership Cost?
There are four membership plans at Meetup. There is a 1-month standard plan that costs $23.99 and a 6-month standard plan that costs $16.49/month for a total of $98.94. there are also two premium plans: the 1-month pro plan and the 6-month pro plan. The 1-month pro plan costs $35 total, and the 6-month pro plan costs $30 per month for a total of $180!
How Long Does It Take To Create a New Account?
We ran through the process of signing up for a new account at Meetup and found that it was not time-consuming in the least! It might have taken us about 5 minutes to put in any personal or financial information the site needed and answer a few questions.
Is Meetup.com Safe and Secure?
Yes, you can share your personal and financial information with Meetup. You do not risk anything being used for marketing purposes or sold off to third parties. It is something that will not happen. Meetup uses a high-quality, encrypted connection to ensure everything is completely secure for its users.
Can I Cancel My Subscription?
You can cancel your Meetup subscription by going into your profile settings and simply canceling your subscription plan. Uninstalling the app will not work in place of actually canceling your plan. You need to go into your account settings. These plans are set to auto-renew once they have expired. If you do not cancel your subscription one day before expiration, you will be charged again for the same plan.
Can I Block or Report Other Users at Meetup?
Yes, you can block or report other members acting suspiciously, or that appear to be fraudulent or spam accounts at Meetup. This will stop them from contacting you in the future.
How Can I Leave a Meetup Group?
There are two ways that you can do this, and it will depend on whether or not you are using the site or the app. If you are on the site, you will want to go to the group's homepage and click on the button that says, "you're a member." A drop-down menu will then appear, and you will want to click on "leave group." If you are using the app, you can hit "leave group" once you click on the icon with the three dots at the top right-hand corner of the screen.
Can Meetup Be Used as a Dating App?
In a way, Meetup could be used as a dating app but in a very roundabout way! At its heart, Meetup is a platform for networking and connecting with people with similar interests, causes, or activities. But at the end of the day, it is a site that allows you to meet other people, so you could potentially meet someone interested in going out on a date or developing a serious relationship!
Is It Possible to Delete My Meetup.com Account?
Yes, you can delete or deactivate your Meetup.com account by logging in and entering your account settings. There will be an option called "deactivate your meetup account." you will need to provide your password, follow some directions, and confirm everything before sending your decision through.