How much does Meetup cost? Is Meetup free?
You might have run across Meetup.com and are now wondering how much it costs and what kind of features you can enjoy as a new member. In this review, we will go over the Meetup cost of membership as well as what you can do to become a free trial member. We will also touch on what you can do as both a free trial user and a Meetup Pro member, giving a step-by-step comparison.
---
---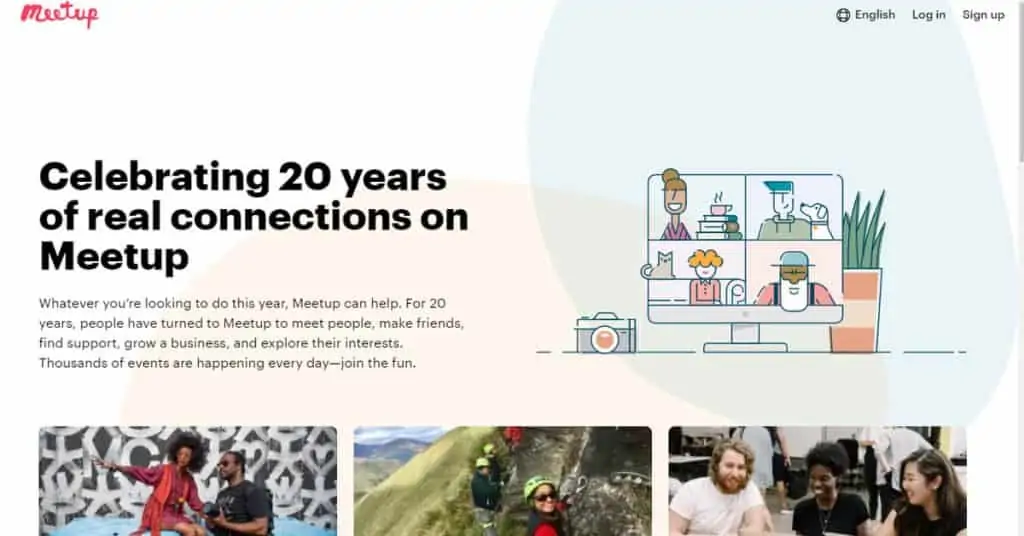 Meetup Membership Plans
There are four membership plans that are available to those who use Meetup.com. The standard plans will differ from the pro plans in that they will have fewer features. There is also going to be a difference in price based on the length of the plan as well!
Here is how everything breaks down:
It might be worth it to just go ahead and get a 6-month membership at Meetup.com! Although you will pay more in the long run, the monthly rate is going to be anywhere from $5-6 cheaper than one of the 1-month memberships.
If you are in a position where you will need to use Meetup.com for more than 6 months, it's going to be way for affordable to get a 6-month plan versus paying month to month! For example, the 6-month Meetup Pro plan is $180 in total. The respective 1-month membership renewed six separate times is going to run $210. The total savings is $30.
Membership Features
What can I do with a Meetup membership anyways? You can do a lot more than you will with a free trial that's for sure! While the free trial allows you to create up to 20 groups, you are going to miss out on some big features like organizing a leadership team or scheduling events. A Meetup membership gets you more into the driver's seat and takes charge of the groups you create and manage.
Here are the differences in features that you will get with a Meetup Pro membership versus a Meetup Standard membership:
Meetup.com Standard Plan
The Meetup.com Standard plan offers a lot more than the free trial but still falls short of the perks and benefits that come with the Meetup.com Pro plan!
Create up to 3 groups
Unlimited events and attendees
Promote groups
Organize events online or in-person
Appoint and oversee a leadership team
Assign ticket fees and group dues
Meetup.com Pro Plan
The bullet points in bold are features that you will only find when you go with a Meetup.com Pro plan.
All the Standard Plan features
Access attendee emails
Advanced network analytics
Branded network page (SEO-friendly) 
API access
Mailchimp integration
Customized attendance forms
Expert support available 7 days a week
Network messaging tools
Manage group networks
Our official recommendation is to choose one of the two memberships at Meetup.com. It will allow you to have a larger role in what goes on in the group. The free trial is fine for seeing if the site is a good fit for your needs but is definitely not any sort of substitute!
Meetup Free Trial
Meetup.com comes with a free trial that allows newcomers to use Meetup Pro for one 1 month free of charge. Free trial users can create up to 20 groups during this time in addition to a few other things. Something to keep in mind is that the free trial is going to be limited in what it allows you to do at Meetup.com.
Free Trial Features
Create a profile and account
Create up to 20 groups
Upload your own event photos
View others' event photos
Search for events
Join groups
Contact and message other members
As you can see, there aren't too many things that you can do with the 1-month free trial at Meetup.com. One of the biggest advantages is being able to create 20 or more groups but you are not going to be able to do enough to get a feel for everything the site has to offer.
A free trial is great for getting a profile established, networking with other users, and becoming a part of various groups, but it is no replacement for a Meetup Pro membership. One of the biggest drawbacks is not being a be more directly involved in the groups you create, doing things like scheduling events, appointing leaders, or setting up event fees.
Free Trial vs Paid Membership
We covered a good deal of information on the Meetup Pro membership and the Meetup free trials. For a better idea of the difference between the two options, we have included a side-by-side comparison in the chart below!
| Free Trial Features | Membership Features |
| --- | --- |
| Create a Meetup.com profile for free | Organize and sponsor unlimited groups |
| Create up to 20 groups | Schedule events |
| Upload and view photos of events | Set due dates and Meetup fees |
| Search for events | Appoint a team of leaders for your group |
| Join groups | Improved communication with customizable lists |
| Message other Meetup.com members | Get customer service 7 days a week |
Any feature or ability that appears in the "trial features" column also applies to the "membership features" column. While you can save some money with the free trial, you will not be able to enjoy every that Meetup.com has to offer. We officially recommend going with the Meetup Pro membership.
Payment Options
The only option to pay for a membership at Meetup.com was using a major credit card. These include American Express, Visa, Discover, and Mastercard. As far as well could tell, there are no other methods for payment like PayPal or ApplePay.
Auto-Renewal
If you sign up for a Meetup Pro membership, you are going to have an auto-renewal at the end of the membership plan. This means that you will be charged for the same membership plan automatically on the day that your current plan expires. This can save customers the time it takes to go back in and purchase another Meetup Pro membership plan.
Not everyone is going to want their membership plan to auto-renew. It is the standard procedure once you sign up for a membership, but you do have a chance to cancel the auto-renewal, so you do not get charged again. You will need to contact customer service or cancel your auto-renewal at least 7 days before your membership sets to expire.
Something else to keep an eye on is the fact that the free trial at Meetup.com is set to expire one month after you sign up.
Once the free trial is over, you will be automatically billed for a 1-month Meetup Pro membership. Again, this is another auto-renewal process that can be canceled before the free trial is up! Be sure to cancel at least 7 days ahead of the expiration date!
Meetup Cost FAQ
How Much Does Meetup Cost?
There are two different membership plans when you sign up for an account at Meetup.com. One is a 1-month plan where the cost is $35. You can also go with a 6-month membership plan, and that is going to cost $30 a month for a total of $180. As you can see, you will save some money (at least on a monthly cost basis) by going with a 6-month membership instead of paying month to month!
Is Meetup Free?
There is a free trial offer that Meetup.com extends to new people who visit the site and want to try it out free of charge. The free trial will allow newcomers to use Meetup.com for one month. In that time, they will be able to create up to 20 groups. They will also be able to search for groups and events on the site and contact other members. For a full range of all the features included with Meetup Pro, we encourage our readers to begin either a 1-month or a 6-month membership.
How Much Does Meetup Cost per Month?
The 1-month membership is going to cost $30 per month. The 6-month membership runs $30 per month for a grand total of $180 once the six-month timeframe ends. You have the chance to save right around $30 if you sign up for a 6-month subscription versus renewing a 1-month membership six times.
What Can I Do with a Meetup Pro Membership?
As a member of Meetup.com, you will have the ability to organize and promote more than three events. And not only can you schedule your own events, but you can also appoint a leadership team to oversee things. You can use the customizable list to streamline communication with your teams. If there are any issues using Meetup.com, you now have access to their customer service available 7 days per week!
Is Meetup.com Worth It?
We feel that Meetup.com is worth the time and money if you are looking to network with other like-minded people over shared interests. Meetup.com is good for finding friends, strong connections, and possibly a serious, committed relationship. Meetup.com might not be worth it for you if you are more into casual dating and friendships.
How Long Does It Take To Create an Account at Meetup.com?
We went through the sign-up process at Meetup.com and found that it took very little time to begin a free trial or a paid membership! It only took us about five minutes to answer a few questions and then input your payment information. If you do not want to waste a lot of time signing up for an account, Meetup.com is the ideal networking site!
Is There Any Way to Get a Refund at Meetup.com?
As far as we could tell, there is no way to get a refund if you are dissatisfied with your experience at Meetup.com. If you are feeling uncertain about what to expect using this networking site, you should definitely try out the free trial to get a feel for what the site can offer you. If you are in doubt but still want to experience all the features available, you could always pay for just one month.
How Do I Cancel the Auto-Renewal Plan?
You will need to contact the customer service team and cancel the standard auto-renewal plan that comes with all memberships and the free trial. You need to be sure and do this a solid week before the auto-renewal is set to kick in. If you cannot do this, your plan will, unfortunately, auto-renew itself.