IndianCupid began in 2000 and is a part of the CupidMedia network of dating apps. They cater to singles who are looking for true love and marriage with Indian singles or those who are interested in Indian culture. There are around 45,000 users worldwide and a faithful user base of 1,000 paying members, roughly 500 of which are active weekly.
Is this the right dating app for your personal needs? Does it come at the right price? Check out our review of the IndianCupid app and find out how much premium membership plans currently cost and which features are available within each membership tier. This might be a small dating app with a few members, but it's one of the best apps for finding love and serious relationships with Indian singles.
---
---

Our team has independently researched all products and services that we have listed on this page. If you sign up or purchase through our links, we may receive a commission. See how it works.
Rating the IndianCupid App
We really appreciate IndianCupid for what it is: a niche dating app that allows Indian singles to find true love and romance. Some downsides include a smaller base of dedicated users, a limited dating pool, and daily matches that could be much better with more members. But there are enough benefits here to outweigh the negative: a reasonable cost, a large variety of great membership plans, modern features that really add to the experience, an intuitive design, and the assurance that you'll meet Indian singles are those interested in Indian culture.
| Category | Score |
| --- | --- |
| Features | 4.2 |
| Ease of Use | 4.4 |
| Match Quality | 3.2 |
| Cost | 3.8 |
| Active User Base | 2.9 |
| Overall Score | 3.7 |
Why Did We Rate Each Category This Way?
Features
We really liked the features that we found with IndianCupid as well as CupidMedia in general. There are many excellent features unique to CupidMedia, like the message translator, priority messaging, and enhanced 24/7 customer support. If there was anything we didn't like, it was that you had to pay more to get more features. Other than that, the features greatly added to the experience and were one of the major highlights at IndianCupid.
Usability
We found it was super easy to get around the IndianCupid app. The design is intuitive and self-explanatory. The tabs and menus are really organized, and it was simple to figure out where things were. On the top main menu, you can browse eligible singles under "matches," adjust your search settings under "search," and view your likes or favorites under "activity." The fact it's so easy to use is easily one of the best aspects of this app and other apps put out by CupidMedia.
Daily Matches
We have to give a lower score comparatively for the daily matches. And this is primarily due to the lower volume of users at IndianCupid. It's a niche dating app with 45,000 users total but only 500 members active on average each week. We liked seeing that free users can enjoy daily match recommendations from IndianCupid, but they could be better given more active members and a larger dating pool.
Cost of Membership
Premium membership plans at IndianCupid are relatively affordable. It's a dating app that offers 12 membership plans, providing great flexibility to the consumer. Three membership tiers have different features; within each tier are four subscriptions of varying lengths. That's a great selection that can be applied to all budgets.
Active Members
In our IndianCupid review, this is one of the more considerable disadvantages of using the app. Sure, there are 45,000 members worldwide, but it ultimately breaks down to 1,000 members and only 500 of those who actively use the app each week. This means a smaller dating pool than most other dating apps, which isn't a big surprise considering this is a niche dating app. You're guaranteed to meet Indian singles or singles interested in Indian culture, but your options might be more limited than most other platforms.
Pros and Cons of IndianCupid
Reasons to Join
Great app for finding true love and marriage with Indian singles
Standard Membership Plan users and paying members can view other singles and get daily matches.
The sign-up process takes less than 5 minutes
Users access the new account and develop profiles or adjust search settings.
A lot more men use the app than women (65% men to 35% women)
12 memberships give the customer excellent flexibility that works with their budget
Unique features include priority messaging and message translators
Reasons Not to Join
Small user base composed of 1,000 members; 500 active each week
The Standard Membership Plan doesn't allow you to message other singles using the app
You need to pay more to experience the full range of IndianCupid features.
Smaller dating pool that reduces the quality of daily matches
The customer service center is really limited, and response can take time
Matchmaking is done via the profile information and dating preferences
Auto-renewal comes with each of the premium membership plans.
About IndianCupid.com
Fact
Details

Site Name

Key Info

Year Founded: 2000
Best For: Finding Indian singles who desire serious relationships resulting in marriage
Number of Active Members: 1,000 (45,000 total users worldwide)
Visitor Per Week: 500
Gender Ratio: 65% men to 35% women
Matchmaking Process: Daily matches are produced by the user's personal information and dating references

Cost of Membership

Prices start at $5.83

Free Version

Yes

Sign Up Time

5 minutes
IndianCupid Memberships
As is the case with many of the offerings from CupidMedia, IndianCupid offers 12 premium membership plans to its customers. These are divided into three tier levels: Gold, Platinum, and Diamond. The higher you move in the tier levels, the more features you can experience along the way. Within each tier are four memberships that will vary in length, but each will contain the same features.
The options when it comes to membership plans are where IndianCupid really excels. A good variety of options leave it wide open for users looking for a package that is a good fit for them both money-wise and features-wise.
Gold Tier Membership
| Plan Length | Cost Per Month | Total Cost |
| --- | --- | --- |
| 1 Week | $8.86 (cost for 1 week) | $8.86 (cost for 1 week) |
| 1 Month | $17.73 | $17.73 |
| 3 Month | $11.50 | $34.49 |
| 12 Month | $5.83 | $69.98 |
---
Platinum Tier Membership
| Plan Length | Cost Per Month | Total Cost |
| --- | --- | --- |
| 1 Week | $11.50 (cost for 1 week) | $11.50 (cost for 1 week) |
| 1 Month | $22.98 | $22.98 |
| 3 Month | $15.33 | $45.99 |
| 12 Month | $7.50 | $89.98 |
---
Diamond Tier Membership
| Plan Length | Cost Per Month | Total Cost |
| --- | --- | --- |
| 1 Week | $23.00 (cost for 1 week) | $23.00 (cost for 1 week) |
| 1 Month | $45.97 | $45.97 |
| 3 Month | $30.66 | $91.98 |
| 12 Month | $15.00 | $179.97 |
Auto-Renewal
As with most dating apps, IndianCupid has an auto-renewal feature on all premium membership plans purchased. Auto-renewal is designed to ensure that members do not have a lapse in service. When a membership comes to an end, it will be re-upped automatically. The customer will be charged again for the same plan they had before, and they can continue using IndianCupid without any lapse in coverage.

If you want to keep your membership from renewing itself, you can contact customer support and request that it be shut off. Members can also adjust their billing preferences in the account settings to ensure the auto-renewal feature doesn't kick in.
Membership Tiers
Before getting into the membership features themselves, check out which features you'll experience at each tier level: Gold, Platinum, and Diamond. The higher up in tiers you advance, the better the features. IndianCupid makes you pay for extra features with the Diamond Plan, allowing you to do the most out of any other members.
| Features | Gold | Platinum | Diamond |
| --- | --- | --- | --- |
| Send Likes | X | X | X |
| Basic Matching | X | X | X |
| Communicate With Paying Members | X | X | X |
| Unlimited Communications | X | X | X |
| Unlock Messages | X | X | X |
| Conceal Your Profile or Photos | X | X | X |
| No Ads | X | X | X |
| Get Better Matches | | X | X |
| Rank Above Gold and Standard Members | | X | X |
| Enhanced Search Features | | X | X |
| Double Your Profile Space | | X | X |
| Message Translator | | X | X |
| Rank Above All Other Members | | | X |
| Priority Messages | | | X |
| Highlight Your Profile | | | X |
| Enhanced 24/7 Customer Support | | | X |
Special Features
Some IndianCupid features, by their names alone, are self-explanatory, but others may seem vague and require some more explanation. If you want to learn about the unique features offered by this app and what it means for you realistically as you experience IndianCupid, keep on reading.
Note: Keep in mind that the features specific to each membership tier also apply to the levels above. For instance, being a member of the Gold Tier will allow you to avoid ads. This applies to the Platinum and Diamond Tiers as well, just not the Standard Membership.
Send Likes  (Standard Plan and Up)
Standard Plan users can send likes to other members or free users they meet on IndianCupid. Because there's no way to send messages to other members, you can convey interest in other singles by liking their profiles or pictures.
Basic Matching  (Standard Plan and Up)
Standard users add basic information to their profile and set their dating preferences which are then used by IndianCupid to form some basic daily matches. So not only can free users browse profiles and proactively search for themselves, but they can also get some great suggestions on the house from IndianCupid.
Communicate with Paying Members  (Standard Plan and Up)
One of the huge disadvantages of the Standard Plan at IndianCupid is that you cannot communicate with other members of the app. Well, that's unless you get a message from a paying member on the app. You can receive and read these messages. And this is the only communication you can experience at IndianCupid without a paid membership plan.
Unlimited Communications  (Gold Plan and Up)
People who use IndianCupid as paying members can communicate with others on the app beyond just sending likes or hoping to receive messages from paying members. This is one of the top reasons to get a membership plan, to begin with!
Unlock Messages  (Gold Plan and Up)
Aside from the messages you could read and respond to from premium members, you can unlock the other communications you might have received as a standard member once you become a Gold Tier member or higher.
Conceal Your Profile or Photos  (Gold Plan and Up)
One of the perks of a premium membership plan is hiding your profile or any photos you might not want certain members to see or access. This is a great way to operate covertly without having to straight up block someone.
No Ads  (Gold Plan and Up)
As a paying member, you are free from ads that previously crowded your free profile space.
Get Better Matches  (Platinum Plan and Up)
You're already getting suitable matches with the Gold Tier membership, but upgrading to the Platinum Tier will open you up to the Mutual and Reverse Match features. Mutual matches allow you to find singles who share your dating preferences and reverse matching lets you see those who are the opposite of what you're looking for to help you narrow your search effectively.
Rank Above Gold and Standard Members  (Platinum Plan and Up)
As a member of the next paid membership tier, you will get better placement in the IndianCupid search results than members of the Gold Tier or any standard members. Diamond Tier members will still get ideal (and better) placement, though.
Enhanced Search Features  (Platinum Plan and Up)
You will also have access to better search filters to make your search for the right singles that much easier.
Double Your Profile Space  (Platinum Plan and Up)
If you have a Gold Tier membership or lower, you will rank lower in the search results mostly because your visible profile space is smaller than those with a higher membership tier. As a Platinum member, your visibility increases because your profile space will double, making you stand out more in the search results. Finding the right singles will go much smoother with double the profile space doing a lot of the heavy lifting for you.
Message Translator  (Platinum Plan and Up)
You might meet someone on IndianCupid who speaks another language, and you want to develop a relationship and not let the language barrier get in your way. The message translator lets you immediately translate any correspondence written in another language.
Rank Above All Other Members  (Diamond Plan Only)
Obviously, the Diamond Membership Plan is at the top of the heap, allowing you to rank above any other members using IndianCupid. You, and other Diamond Tier users, will rank at the top of the app's search results.
Priority Messages  (Diamond Plan Only)
Not only do you rank at the top in other members' searches, but you also rank at the top of their messages. If you and 10 other IndianCupid members send the same user a message and you are the only one who is a Diamond member, your message is going to be the one at the top of their message inbox regardless of the time it was sent.
Highlight Your Profile  (Diamond Plan Only)
Anyone who deals with you on IndianCupid will know where you stand immediately because you'll have a small diamond icon on your profile for all to see. Other members will know you're in the top tier of the app, the diamond icon identifying you as IndianCupid royalty.
Enhanced 24/7 Customer Support  (Diamond Plan Only)
Diamond members will get better customer service and support than regular members who can only use the help ticket and the generic contact form. Diamond members can contact customer service 24/7 and get enhanced support because they're in a higher tier level.
Customer Service
IndianCupid is limited in terms of its customer service feature. It's definitely one of the more lacking aspects of the dating app.
How do you access the customer service center?
On the main page, there's a menu off to the right-hand side with a button to upgrade to a membership, an icon with your profile picture, and a gear icon. Click on the gear icon and choose "help" from the drop-down menu that appears.
Help Ticket
All you'll find with the help ticket is a search bar where you can type in specific questions or keywords to access FAQs that will help answer any questions you might have.
Contact Us
The only other thing that appears in the help ticket beside the search bar is a button at the bottom: "contact us." This is the option for customers to send direct messages to Indian Cupid.
The dating site will autofill your name and your email. You can then choose the issue you're dealing with from a menu of possible options:
Account management
Instant messenger
Likes
Languages
Matches and Searches
Membership Options and Payments
Messages
Profile Management
Photo Management
Safety and Security
Site Requirements and Technical Issues
There's also an area where you can add more description to the problem that you might be facing. You have options to specify which device you're using IndianCupid on, along with a place where you can include any files or attachments which might help describe the issue or problem you're up against.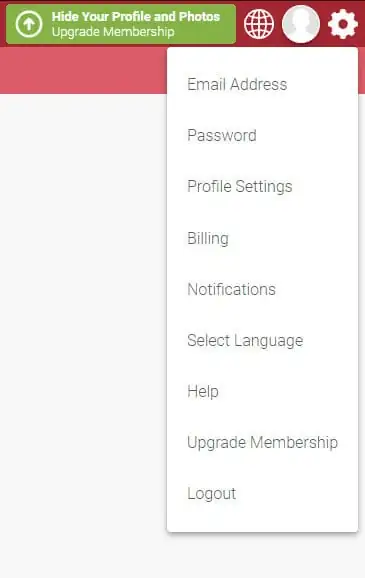 Sign Up at IndianCupid Today!
Something that stood out to us about the sign-up process at IndianCupid was that signing up for a new account was staggered. Typically, dating apps will gather a lot of information from you so that by the time you've accessed your free account, your personal profile is already completely assembled, and your dating preferences are already set up and ready to go.
IndianCupid is different in that they get the bare minimum amount of information from you in the beginning (which takes all of two minutes or less), like your name, gender, and email, and then launch you directly into your new account. You can begin looking at other singles on the app; you don't even need to complete your profile or search preferences. You can work on them as you go at a comfortable pace.
So what does this lightning-fast sign-up process look like? Follow the step-by-step guide below to get started with your Standard Membership account at IndianCupid today!
Step #1: Head Over to IndianCupid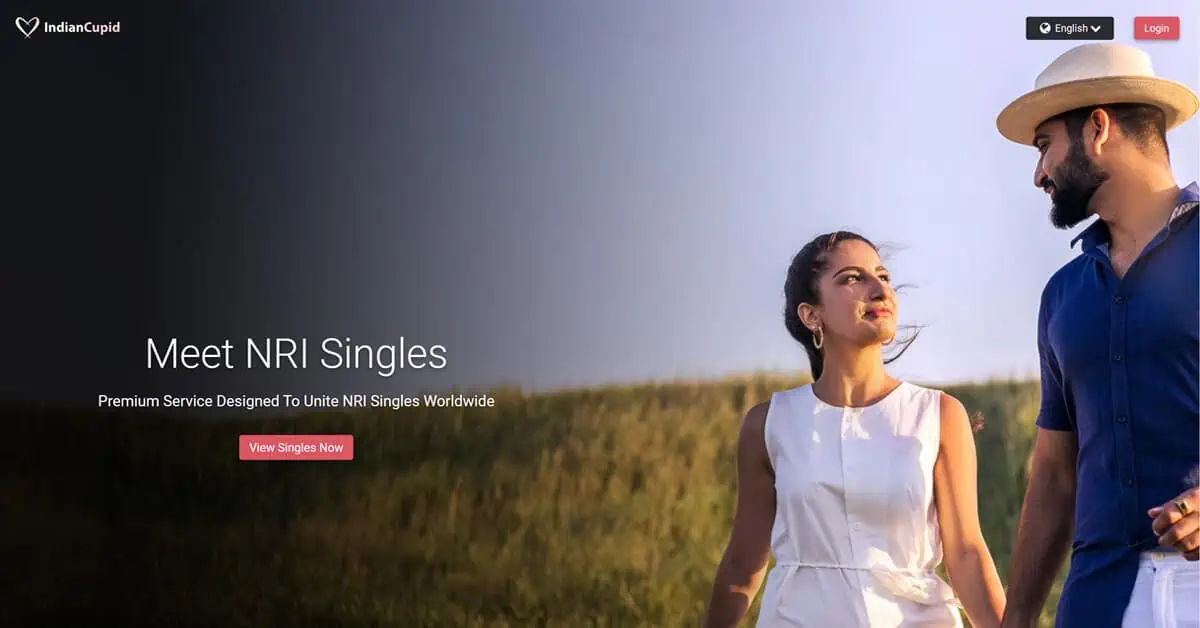 Go to IndianCupid.com to begin the process. There will be a button on the home screen that says, "view singles now." Click that button, and you'll be taken to the next step.
Step #2: Fill Out the Required Information Fields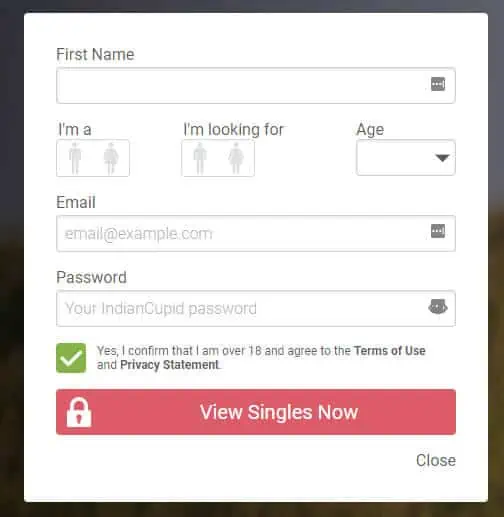 Add your name, your age, your email address, your gender, and the gender of the singles you wish to meet at IndianCupid. You must also create a unique password to access your account. Once you have read and accepted the Terms and Conditions and the Privacy Statement you can go on to the next step.
Step #3: Add Up to Five Photos
As a Standard Plan member on the IndianCupid app, you can upload up to five photos for free. But you do not have to upload an image to get to the next step of the sign-up process. It's only recommended because it will significantly increase your chances of attracting other members.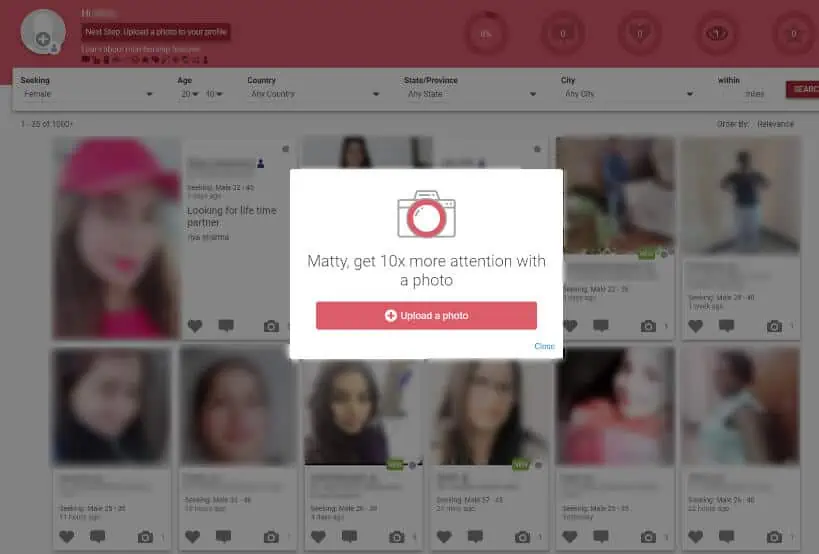 You can upload photos to your new IndianCupid profile from your mobile device or a desktop computer. Posted for your convenience are photo guidelines.
Step #4: Create Your Personal Profile
You can see your profile by clicking "view profile" on the menu that drops down your profile photo icon. There's also an option under that menu: "edit profile." This is where you can make changes.
View Profile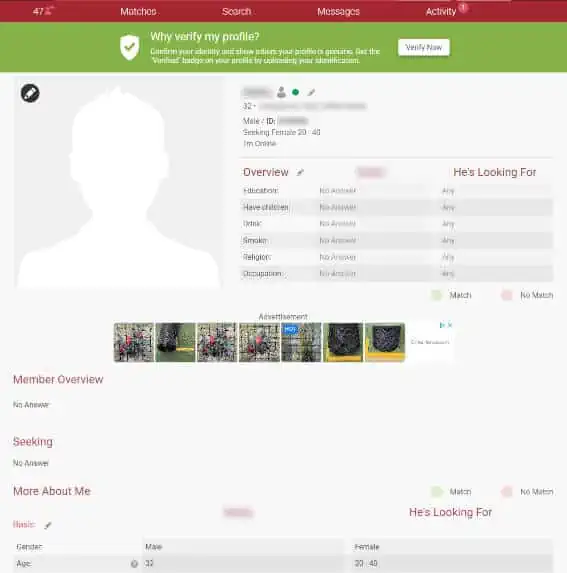 If you've made changes to your profile, you can review your work and see how it appears to other members.
Edit Profile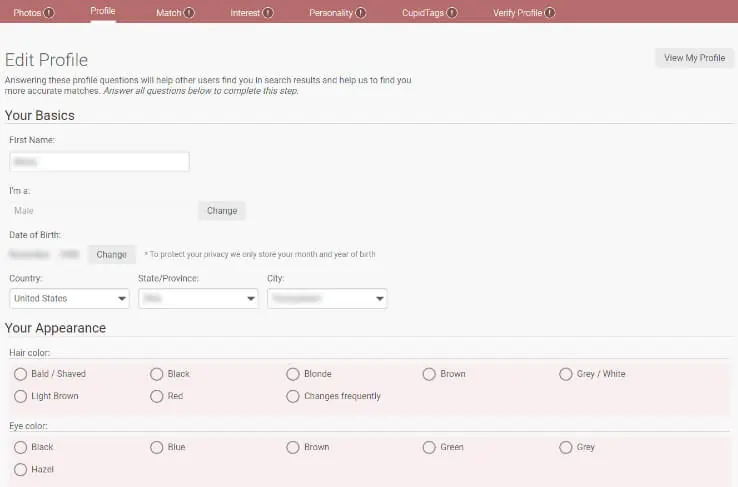 Go to this menu to make the changes you need to your profile. You can add information on your lifestyle choices, appearance, occupation or education, and values or beliefs.
Personality Questions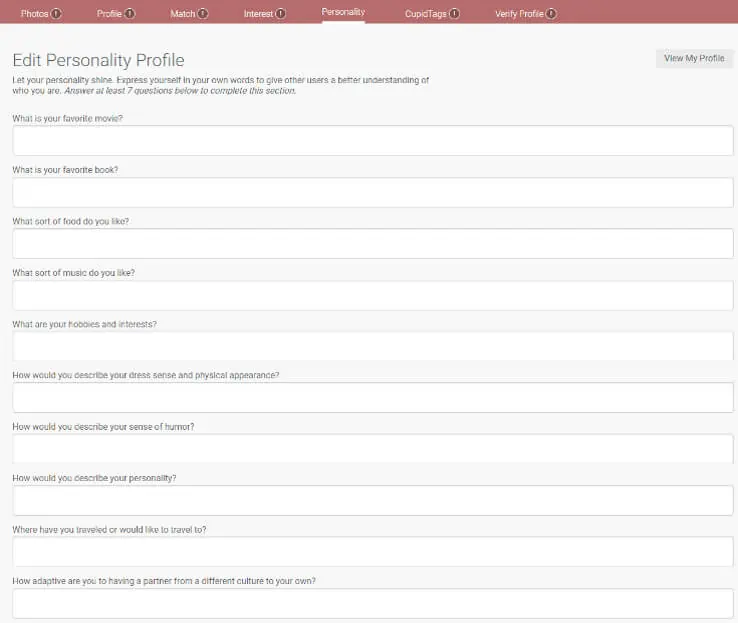 Describe your personality by answering various questions with written-word responses. Any that you fill out will appear on your personal IndianCupid profile.
Hobbies and Interests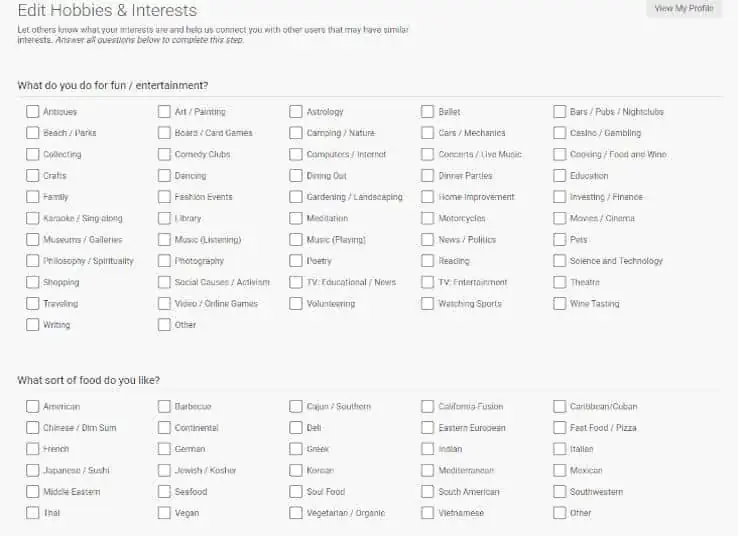 Select all that apply from the choice above. These hobbies and interests will appear on your profile for other singles to see.
Step #5: Establish Your Dating Preferences
The next step is adjusting your dating preferences and describing your ideal match. The information you present here based on factors like appearance, age range, interests, or values will be used as the basis for the daily matches that IndianCupid produces.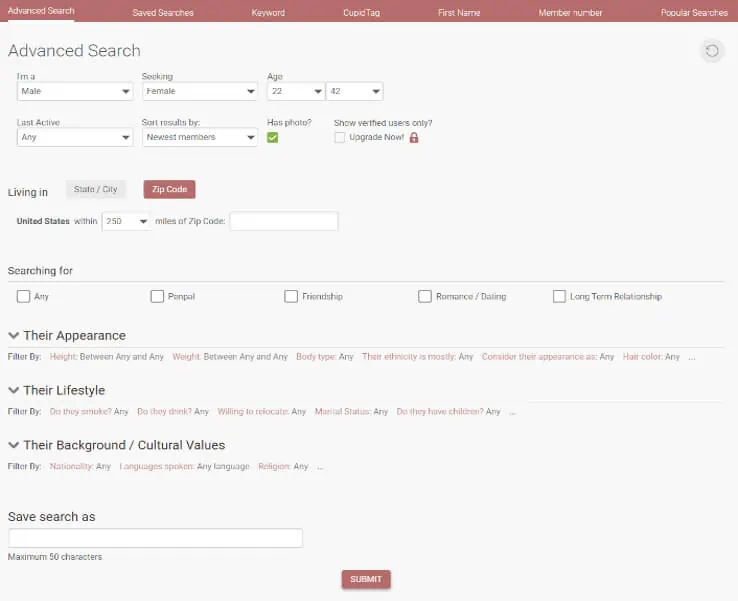 Step #6: View Singles and Daily Matches
View the singles who are using IndianCupid by clicking on the "matches" tab. You'll find an array of matches that align with your dating preferences and personal search criteria.
Matches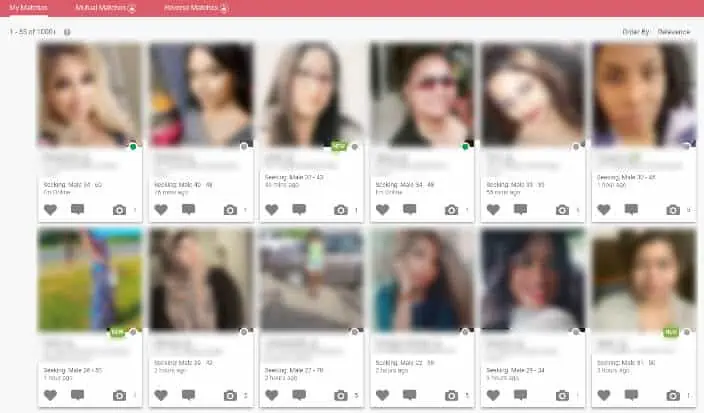 Here's where you'll find matches based on your search criteria. You can perform mutual matches to find singles with their search settings set exactly like you. There are also reverse matches to find those looking for someone who is the complete opposite of your search settings.
Profiles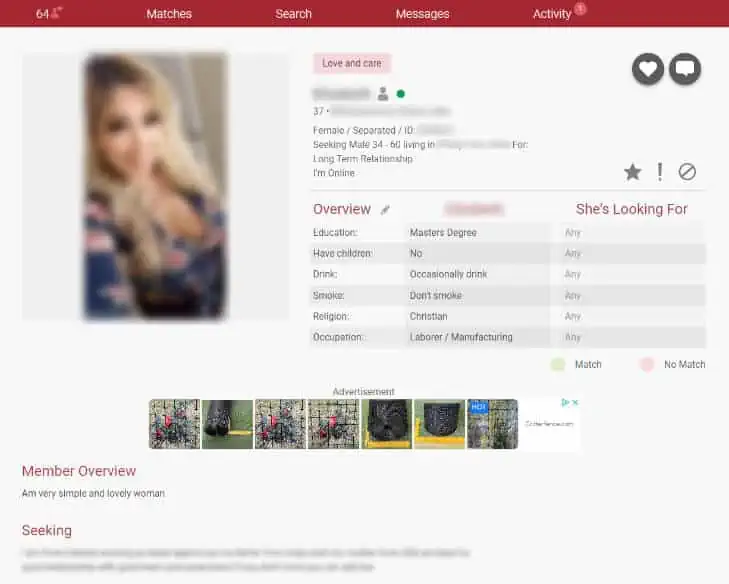 To view other members' profiles, you can click on any singles that appear under "matches." You'll be directed to their full profile, where you can see all their information and photos.
IndianCupid Alternatives
Is IndianCupid not the right dating app for you right now? That's ok! There are plenty of other dating apps out there that allow you to meet Indian singles.
Dating App
Fast Facts
Review
eHarmony

Active Users: 16+ million
Gender Ratio: 48% men to 52% women
Number of Countries Serviced: 200 countries
Membership Cost: $35.90/month (beginning rate)

eHarmony Review
Elite Singles

Active Users: 2+ million
Gender Ratio: 44% men to 56% women
Number of Countries Serviced: 20+ countries
Membership Cost: $27.95/month (beginning rate)

Elite Singles Review
Christian Mingle

Active Users: 16 million
Gender Ratio: 44% men to 56% women
Number of Countries Serviced: 7+ countries
Membership Cost: $24.99/month (beginning rate)

Christian Mingle Review
Zoosk

Active Users: 500,000+
Gender Ratio: 48% men to 52% women
Number of Countries Serviced: 80+ countries
Membership Cost: $12.50/month (beginning rate)

Zoosk Review
In many cases, our best suggestions for IndianCupid alternative apps offer better dating pools and a much larger reach. You won't be guaranteed to meet Indian singles with these alternative mainstream apps, but there's more potential to meet a better variety of candidates.
IndianCupid FAQ
Still want more information about IndianCupid? Check out the most commonly asked questions receive from our readers to see answers to questions you might be asking for yourself.
What Is IndianCupid?
IndianCupid is a small dating app that caters to those who want to meet Indian singles and fall in love. This is considered a matrimonial dating app and because it's focused on Indian singles and meeting Indian singles makes, it a niche platform with a smaller body of users. It's been in business since 2000 and is a part of the CupidMedia family of dating apps.
Is IndianCupid a Safe Dating App?
IndianCupid is a safe dating app. The platform uses a highly secure encrypted connection that keeps members' or trial users' personal or financial information completely safe and out of the hands of marketers or third parties. Any images that customers share with IndianCupid are confined to the app's use and will never appear on Google.
What's the IndianCupid Cost of Membership?
The cost of membership for IndianCupid will differ depending on the membership tier you choose and which of the four plans within the level you end up picking. Check out IndianCupid Cost of Membership for more information on how much this dating app will cost you.
Can I Use IndianCupid for Free?
IndianCupid offers its customers a free opportunity in the form of the Standard Membership Plan, where anyone who registers for an account will begin before purchasing a premium plan. The Standard Plan allows new users to send likes to other members, respond to messages sent by paying members, and get daily matches based on their dating preferences. The Standard Membership only offers limited features making it a great way to test-drive IndianCupid.
How Many People Use IndianCupid?
There are 45,000 users worldwide but only 1,000 paying members at IndianCupid making this a small, niche dating app for meeting Indian singles. When you look at the number of users who use the app every week, it really puts things into perspective. There are only 500 active members, making the dating pool smaller than meets the eye.
How Old Is the Average IndianCupid Member?
The average user at IndianCupid is anywhere from 25-35 years of age.
Can I Block Other Users on the App?
Yes, you can block other IndianCupid members by using the block icons that appear in different areas of the dating app. The block icons appear on the profile of other members or in the instant messenger system. Once you've blocked members, they'll appear in a list of blocked members you can find in the Activity menu.
How Long Does It Take to Sign Up at IndianCupid?
As with many of the CupidMedia dating apps, IndianCupid gathers some initial information from its new sign-ups which takes one or two minutes. New sign-ups are then given immediate access to their Standard Plan and can make edits to their profile or dating preferences as they go.
Why Are There Four Different Tiers of Membership?
IndianCupid is a dating app where you're essentially paying to add features. The more you spend, the more features you can access. You'll experience the fewest features with the Gold Tier. Each tier you graduate to will secure you more and more benefits. The ideal status at IndianCupid is the Diamond Tier where you can get 24/7 customer service, priority messaging, top placement in search results, and profile highlights.
Do I Get the Same Features with Each Subscription?
No, the features will be different between the membership tiers. However, any four membership plans within each level will have the same features but differ in length.
How Can I Pay For My Membership?
There are five methods for purchasing a premium membership plan. You can use credit cards, Paysafecard, the e-wallet Skrill, bank transfers, and Google Pay. Credit cards accepted are Mastercard, Visa, Discover, Diners Club, and American Express.
Can I Pay For My Membership Month to Month?
There are no payment plans available for your membership. All membership plans must be paid for upfront and in one lump sum. All new users must have their membership purchased before they can begin!