Are you looking to discover romance, true love, or a long-lasting connection with someone with a South Asian background? Check out Dil Mil, a dedicated dating app for finding South Asian or Indian ex-pats in the US. You can find international match suggestions in several other countries worldwide as well.
Dil Mil boasts 1,000 new members daily, but is the service as popular and effective as the numbers show? That's what we'll find out in our Dil Mil review as we go over the dating pool, membership features, price points, and matching system. After testing the Dil Mil dating app for a few days, we officially rate the service 3.7 stars out of 5.
---
---
Our team has independently researched all products and services that we have listed on this page. If you sign up or purchase through our links, we may receive a commission. See how it works.
Introduction to Dil Mil
We'll hop into our Dil Mil review with an overview of how the site came into existence and how it's become a unique staple in the online dating market for South Asian and Indian singles. Let's start with the basics and then lay out some of the best reasons to join as a premium subscriber.
A Brief Overview of Dil Mil's History and Success
Dil Mil was initially founded in 2014 by Sukhmeet Toor, KJ Dhaliwal, and Jacob Ilin as a way of connecting South Asian singles across the world. Based in San Francisco, Dil Mil is meant to reach singles all over the globe, but 80% of its active members reside in the US.
After the Dating Group acquired Dil Mil, the site started seeing more volume and growth in its business. Dil Mil began adding 1,000 new members each day, a momentous shift toward becoming more visible in the public eye. The site now has 2 million members worldwide (1.2 million of which are in the US), and 600,000 members actively use the service weekly to find love.
Dil Mil's Unique Approach to Online Dating
Over the years, Dil Mil has become a go-to dating app for finding love, meaningful romance, or long-lasting relationships with South Asian singles, particularly Indian singles. However, this isn't a matrimonial dating site. No, it's a swiping app that allows South Asian singles to find their forever partner or meaningful dating experiences.
Dil Mil Search Filters
Age
Height
Religion
Gender
Location
Community
Career
Education
Raised in
New members construct their profiles with minimal information, enough to attract the attention of other singles and establish a simple connection. And even the search terms are simple. As you can see above, there are less than ten search parameters you can use to find a potential match.
Is Signing Up for Dil Mil Worth It?
As we've already established, Dil Mil is comprised chiefly of South Asian singles, but most live in the United States. So, if you're interested in forming a serious, meaningful relationship with singles with a South Asian cultural heritage, we'd say the Dil Mil free membership is worth a try. After all, there's no risk involved.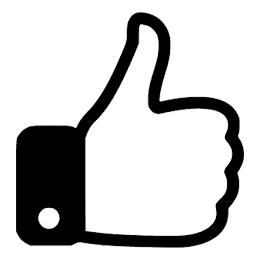 Reasons to Join
You're from the US, and you're seeking South Asian or Indian singles that live in the country—80% of members on Dil Mil hail from the US.
You're interested in discovering serious relationships or long-term commitments with South Asian singles.
You want to find a love connection using a swipe-based dating app.
You're alright with using a platform with a simple design that is made to establish quick connections.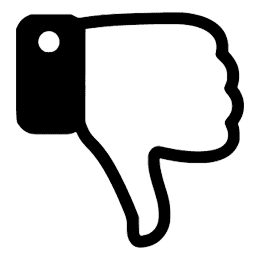 Reasons to Look Elsewhere
You want a fling or short-term fun.
You're not interested in dating someone with an Indian or South Asian cultural background or heritage.
Our Ratings
Upon running Dil Mil through our honest rating system, we came down on an overall score of 3.7 out of 5 stars for the platform. If you want to find a forever partner or a long-term, committed relationship with someone who's South Asian, we thoroughly recommend using Dil Mil, but we found some downsides along the way too.
Overall:
| Category | Score |
| --- | --- |
| Features | 3.8 |
| Ease of Use | 4.1 |
| Match Quality | 3.4 |
| Cost | 3.9 |
| Active User Base | 3.3 |
| Overall | 3.7 |
What We Like
Creating a new account and becoming a premium member only takes ten to fifteen minutes.
Navigating the Dil Mil platform is easy to figure out. Everything is laid out so you can use the app without much thought.
Dil Mil offers a ton of useful features like unlimited rewinds, instant matching, and access to more advanced search terms.
This dating app is more affordable than most, ranging from $16.67-34.99 per month. And the longer memberships have a reduced monthly cost rate for added savings.
Dil Mil has a decent dating pool of 600,000 active members, many of which are in the US.
Free members can read and respond to messages sent by paying members.
Dil Mil has created over 20 million matches since 2014.
What We Don't Like
Many member profiles are minimalistic, offering little information to work with.
Dil Mil has swipe-style profiles, but you get booted back to the main page after "liking" or "disliking." It could be a smoother transition between profiles.
Free members cannot search by location, resulting in many matches being located far away.
Women aren't as responsive on the Dil Mil app.
There are only nine search terms to find matches that meet your needs.
Who Is Dil Mil Best For?
You already know that Dil Mil is suited for finding love and romance with South Asian singles, but what exactly does the site's user base look like? Let's dive into the numbers to discover the scope of Dil Mil, proving why it's a good choice for connecting with South Asian and Indian singles.
Demographics and User Base
Fast Facts
Details

User Base

All singles

(you need to be 18 years or older)

What Kind of Relationships?

Long-term relationships, true love, soulmates, or marriage partners with South Asian singles

Average Age

24-35 years

Active Members

600,000 active each week

US Members

1.2 million

Total Members

2 million

Gender Distribution

46% men to 54% women
Relationship Types Best Served by Dil Mil
Dil Mil can help you find a forever partner, marriage, or a long-term, committed relationship.
Women have a better chance of finding a partner on Dil Mil because the response rate from men is much better.
Dil Mil is more adept at establishing serious relationships between singles in their 20s and 30s.
Interracial couples are paired on the Dil Mil app, but most matches are between South Asian ex-pats in the United States.
The Dil Mil Compatibility Matching System
The matching system we discovered in our Dil Mil review was nothing mind-blowing. It's much like the algorithms we've seen on other dating apps. But it's worth going over this aspect of Dil Mil so you know what to expect when you sign up for a free or premium membership.
How the Compatibility Matching System Works
New members design a basic profile to attract the attention of other singles on the Dil Mil app. You can create a profile quickly because there are only nine criteria you can include in your profile bio:
Age
Height
Religion
Gender
Location
Community
Career
Education
Raised in
In addition to serving as pieces of your profile's bio information, these nine points are the search terms members use for finding matches that meet their criteria and standards. Dil Mil certainly offers scant search terms, and the profiles could be more in-depth, but we can at least applaud the site for keeping things simplistic.
The Role of Personality Assessments in Matchmaking
Personality or compatibility testing doesn't play a role in matching at Dil Mil. It's all about setting up search terms and finding the profiles you're attracted to that best fit your standards in terms of a partner. While some dating apps rely heavily on the results of a questionnaire, Dil Mil takes a much more simplistic route to achieve its matchmaking goals.
Communication Features
Just like its matching system, Dil Mil's communication features are run-of-the-mill in the largest scheme of online dating apps. There's only a little offered here that you don't see on every other dating platform.
Unlimited Communication
Premium members can message any matches they meet at Dil Mil. There's no need for a mutual match as a prerequisite for reaching out to someone. Anyone who strikes your fancy is fair play. There's no guarantee that they'll reply, as we've seen with women's lower response rates on the app.
"Likes" and "Super Likes"
Along with unlimited messaging, Dil Mil members can send unlimited "likes" and "dislikes" as they swipe through members' profiles. It's a way of showing you're interested without creating a message.
Send "Requests"
Sending a "request" allows you to choose certain members whose attention you want to grab. You can guarantee a match with them if they respond positively to your request.
Read and Reply to Paying Members' Messages
A free messaging feature, those with the free membership can read and respond to messages sent by paying members of the Dil Mil app. Because male members are more apt to respond and send messages in the first place to free female members, ladies using Dil Mil can get away with a free membership. They can carry on a conversation without paying as long as a paying man is willing to reach out.
Dil Mil's Membership Options
Like many other dating apps, Dil Mil comes with a free membership and a paid premium plan. The main difference is that Dil Mil's premium membership comes with all the features and functions that are available on the platform. Though it has its limits, the free membership is great for testing out the site to find out if Dil Mil is worthwhile.
Free vs. Paid Memberships
The free membership lets you get onto the Dil Mil platform and look around the profiles to see what kind of singles are available on the platform. But the free experience is super limiting. Other than sending ten free "likes" a day and being able to respond to messages from paying members, there's not much else you can do.
Free Features:
Create a free profile
Use basic search filters
View profiles
Send "likes" or "dislikes" (10 likes per day)
Chat with matches (read and respond to paying members' messages)
Paid Features:
Unlimited "likes"
Send "super likes"
Unlimited rewinds on mis-swipes
See which matches "like" your profile
Match instantly with those who "liked" you
Be a top profile for one hour (once a month)
Use advanced search filters (career, education, etc.)
Change your location
Search for matches globally
Send "Request" to a profile of your choice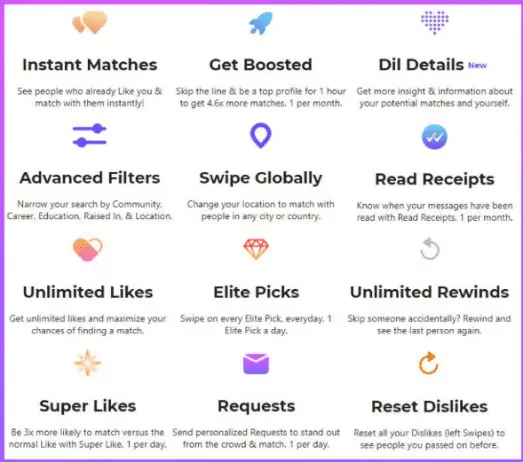 Premium Membership Benefits and Pricing
Dil Mil has three premium membership plans that vary in length (one month, three months, and twelve months) but have the same features, perks, and benefits.
Discounts and Promotions
We tried to find discounts on membership plans or promotions that offer savings to potential members, but to no avail. Upon closer examination, we found some bargains in the form of a lower monthly cost rate on the longer membership plans. You can save a lot of money by committing to a longer plan than choosing to save money initially, go with a shorter subscription, and renew it for the same length of time.
Compare paying $199.99 for twelve months to renewing the one-month plan twelve times for $419.88. You save $219.89 by committing to the twelve-month plan from the get-go.
If you want to capture some of these hidden savings, consider how long you'll realistically use Dil Mil and choose the longest membership plan that's justifiable to you. That way, you won't miss out on opportunities to save.
Creating Your Dil Mil Profile
Becoming a free member and creating a complimentary profile with Dil Mil only takes a few minutes to complete. Your free membership offers the chance to test out the app to see if it's a good fit. And upgrading to a paid membership doesn't take up too much time. It's a simple matter of choosing the right plan and entering payment information.
Follow the registration steps below to get an idea of the length of the onboarding process and what to expect along the way.
Step 1: Head to the Dil Mil Website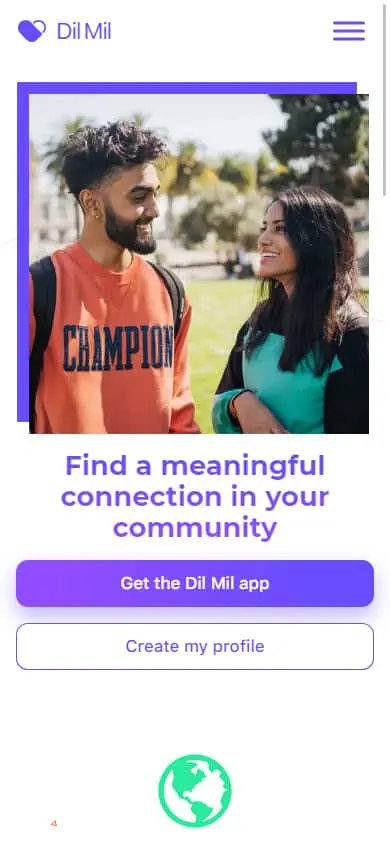 Visit www.DilMil.co and click on the "Create My Profile" button.
Step 2: Provide Your Basic Info
We clustered the first few steps into our second step. The sign-up process begins with providing several pieces of vital information. These include your first name, date of birth, and the age range you're interested in dating.
Step 3: Upload a Profile Photo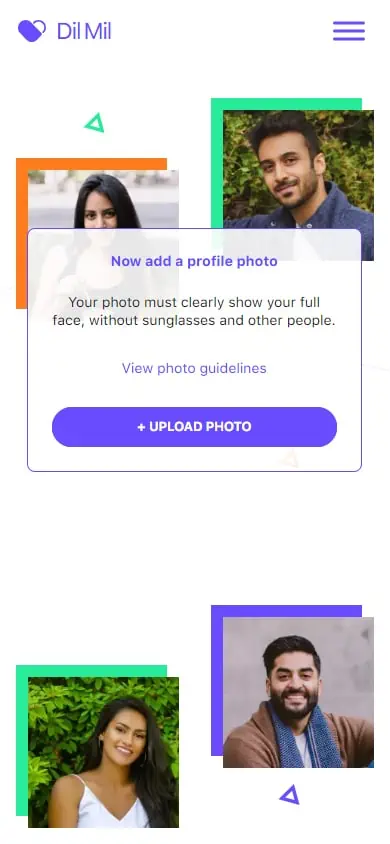 The next step is to upload a primary profile photo. You can upload images from the files on your desktop computer or mobile device.
Step 4: Include Your Phone Number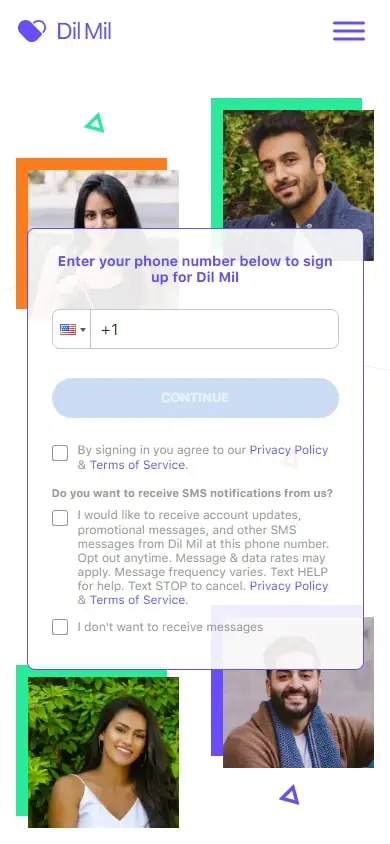 Include your phone number so you can sign up for Dil Mil. They will send you a 6-digit code to verify your number.
Step 5: Begin Searching for South Asian Singles
You'll be automatically directed to the Dil Mil homepage. To look for matches, click on the "Search Filter" symbol above the Photo Wall. To upgrade to a premium membership, click the "Try Dil Mil VIP Elite" button.
Step 6: Adjust Your Search
Click on the "Search Filter" button to adjust your search terms. You can use only nine terms to find suitable matches, and only five can be used by free members. Becoming a premium member unlocks the four advanced search filters.
Once you've entered your search terms, you can go through the Photo Wall and click on the profiles you're interested in. The nine search terms also serve as the profile bio information points.
Step 7: Upgrade to a Paid Membership Plan
If you feel that a Dil Mil premium membership is the right choice, click on the "Try Dil Mil VIP Elite" button to upgrade from your free membership plan.
Choose from one-, three-, or twelve-month membership plans, enter payment information, and begin experiencing the perks and benefits of a paid subscription.
How to Delete an Account
Dil Mil makes the process of deleting your account super easy, whether you're erasing it after finding someone special or dumping the service in favor of something better suited to your needs.
Follow these instructions below to delete your account permanently:
Step-by-Step Guide to Account Deletion
Head over to your Dil Mil profile.
Click on the gear icon. This will get you into your "Account Settings."
Look for the "Deactivate Profile" link.
Select this option to wipe out your Dil Mil completely. Just be sure it's what you want because you'll lose all your matches, messages, and profile.
If you decide to go inactive, you can hide your profile.
Everything will be gone entirely once you've deleted your Dil Mil profile and account. You'll have to register for a new account and create a profile if you want to be a Dil Mil member again.
Customer Service
There are a few options for members who need assistance on the Dil Mil app. While there's the standard FAQ troubleshooting page, there are avenues for reaching support via email, too.
Messaging – Go to "Contact Us" under your account settings. You can send messages to support@dilmil.co or use the generic contact form. There's no timeline on when you should expect a response. Some people hear back within 24-48 hours, while others have reported longer wait times.
FAQ Page – The FAQ page is a convenient way to solve your problems without getting someone else involved. Sometimes it's worth it not to send a message when you can work things out on your own.
Dil Mil's Mobile App
Dil Mil is available for download at the App Store and Google Play. Not only can you use the site with your mobile device's web browser, but you can download the mobile app and use the site without the need for an internet connection.
The App Store version of Dil Mil is rated 3.6/5 stars, an app that current and former members highly recommend.
Despite over 1 million downloads, the Google Play app is rated 1.9/5 stars. The most common complaints in the reviews were lagging and overall user experience.
However, there's no requirement to download the Dil Mil app. You can visit the site using your web browser and a reliable internet connection.
Frequently Asked Questions
Because it's a niche dating app, you might not know much about Dil Mil. You must admit it's a relatively obscure name for a dating service. It doesn't get as much attention as eHarmony or Tinder, that's for sure. So, we researched some of the most common questions real people ask about Dil Mil online. Here's what we found, along with our responses based on the results of our Dil Mil review and appraisal.
Is Dil Mil Worth It?
If you're looking for love, long-term romance, or a marriage partner with South Asian singles, Dil Mil is worth the time and money to become a premium member. From what we can see, most singles on the platform want meaningful connections with their matches, so this isn't a great place to find short-term fun or flings.
Is the Dil Mil Dating App Free?
There's a free membership plan at Dil Mil, but it needs more of the worthwhile features that you get with the paid plan. You cannot send messages to your matches, change your location, or use advanced search filters as a free member. One thing we'll say, though, is that women can get away with using the free plan because they can respond to messages sent by paying members.
How Much Does Dil Mil Cost?
There are three paid plans: one month for $34.99, three months for $69.99, and twelve months for $199.99. And it's important to note that the longer plans have a reduced monthly cost rate, which means huge savings to you over time. We recommend committing to a longer membership.
Are There Any Free Communication Features?
Yes, free members can read and respond to messages sent by paying customers. It's a passive communication feature, but it's one we've found that women have had particular success with since there are more paid male subscribers who are willing to send messages to free female members.
Is There a Dil Mil App?
Dil Mil offers a mobile app at Google Play and the App Store so members can meet South Asian singles on the go via their smartphones or other devices. The Google Play app is rated 1.9 out of 5 stars, while the App Store is rated 3.6 out of 5 stars.
How Many Dil Mil Members Are in the United States?
About 80% of the Dil Mil membership base is in the US. Of the 2 million registered accounts on the platform, 1.2 million of those are members who live in the United States.
What Kind of Relationships Can I Find with Dil Mil?
Most people using Dil Mil are in the market for a marriage partner, a soulmate, or a long-term, committed relationship. If you want to experience short-term fun or low-commitment dating, it's best to look for South Asian singles on other dating platforms like Tinder, Bumble, or Zoosk.
Who Is the Dil Mil Founder?
The main guy who founded Dil Mil was KJ Dhaliwal, but Sukhmeet Toor and Jacob Ilin had a hand in the creation of the dating app as well. Dil Mil came onto the scene in 2014. The headquarters of the company is located in San Francisco.
Are There Any Good Alternatives to Dil Mil?
Of course. Some excellent mainstream dating platforms have plenty of South Asian singles enjoying their services. And there are quality niche Asian dating apps as well.
What's the Significance of the Name "Dil Mil?"
The term "Dil Mil" means "heart meeting" in Hindi. This makes sense as the dating app is geared toward finding a South Asian marriage partner or soulmate.